Eastwood company has been part of the welding community since 1978, and they recognized the potential of the DIY market. As a result, they improved customer interaction and started building great machines for hobbyists and professionals.
Eastwood TIG200 AC/DC is another excellent TIG/Stick, AC/DC welder for your everyday DIY projects and aluminum. The latest and improved version provides some fantastic features 6 years of warranty and great value for the money spent.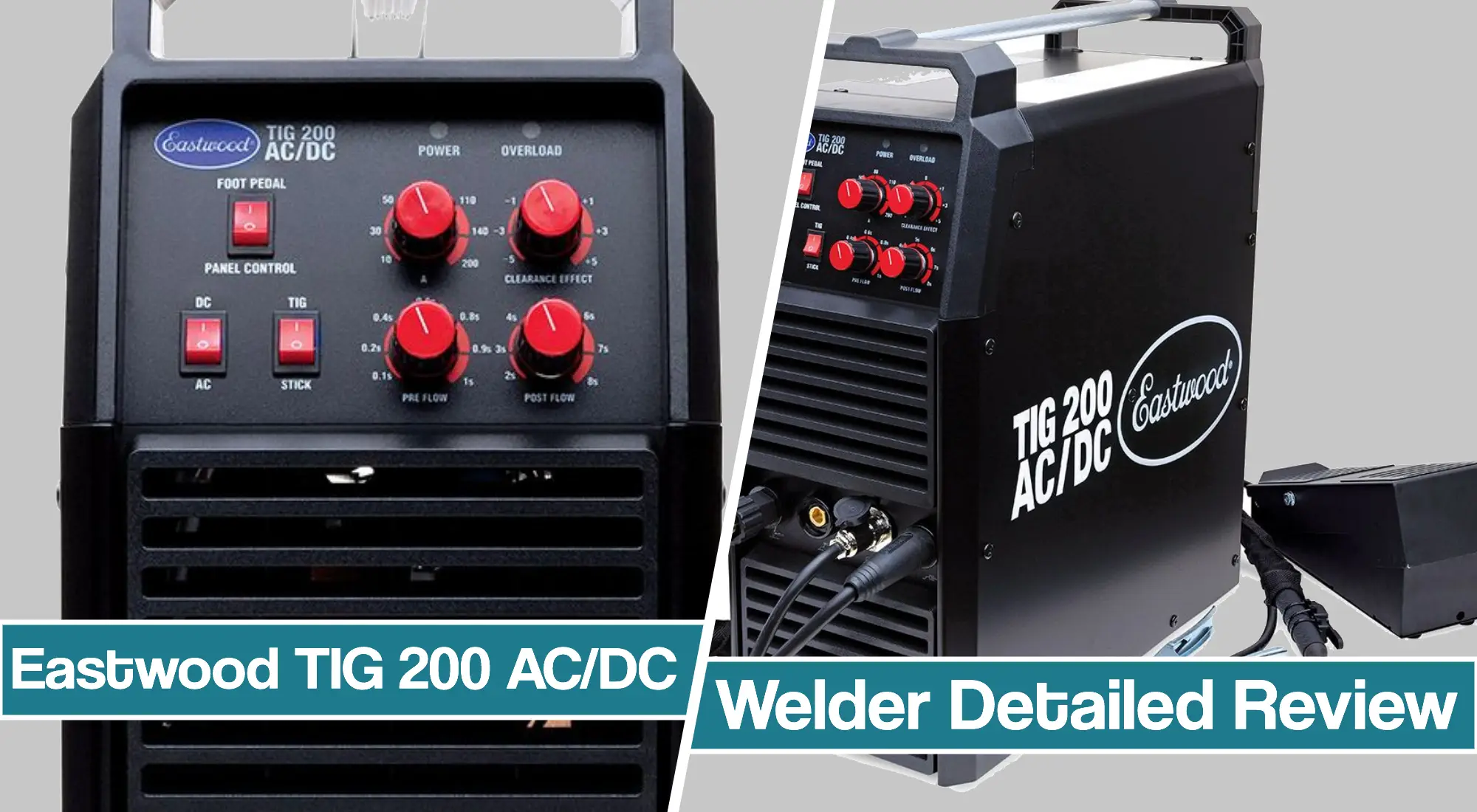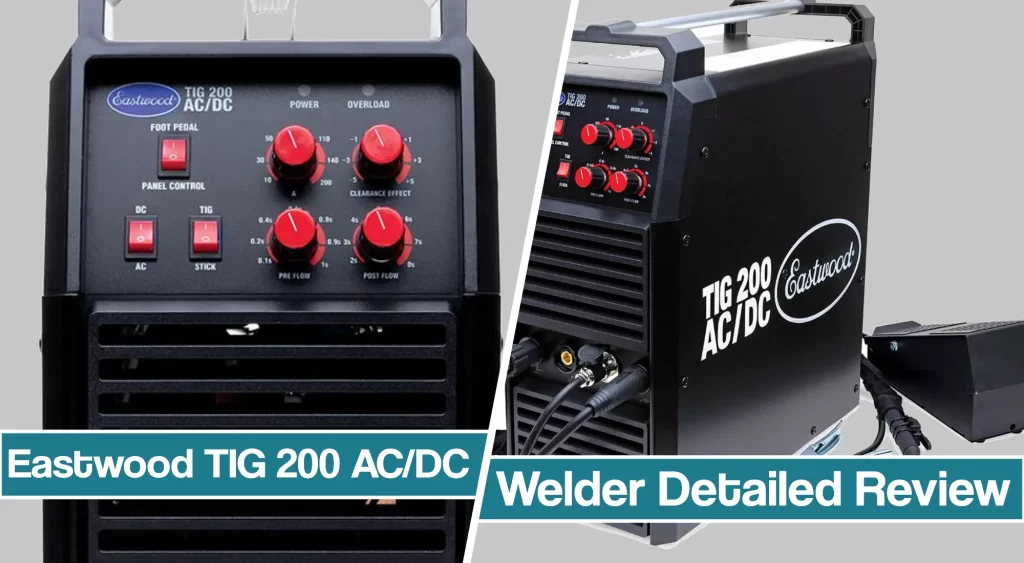 So, read this Eastwood TIG200 AC/DC review to learn more about package content, build, TIG welding capabilities, and value. By the end, you should determine if this is a suitable machine for you.
Eastwood TIG 200 AC/DC Review – Package Content and Technical Specifications
Let's start by going through this Eastwood TIG welder's package content and technical specifications. Seasoned welders can make some deductions simply by looking at these two lists. However, sometimes things look great on paper but differ in practice. That's why we'll separately explain all the features, welding capability, and welding results.
Package Content
When investing in Eastwood TIG 200 AC/DC, for the money spent, you get:
Shielding Gas Flow Regulator with 4.6″ hose
Ground Cable with Clamp (9.5″)
Flex Head Torch (17 Series), which accepts industry-standard cups, collets, and collet bodies (12″ Torch Cable)
Rocker Style Foot Pedal for Amperage Control
110-120 VAC to 220-240 VAC Adapter Plug
Instruction Manual
Hand-Held Shield and Hammer/Brush
#8 Gas Lens
Long Back Cap and Short Back Cap (Installed)
3/32″ Collet Body (Installed)
3/32″ Collet (Installed)
3/32″ x 6″ Red Thoriated Tungsten
3/32″ x 6″ Green Pure Tungsten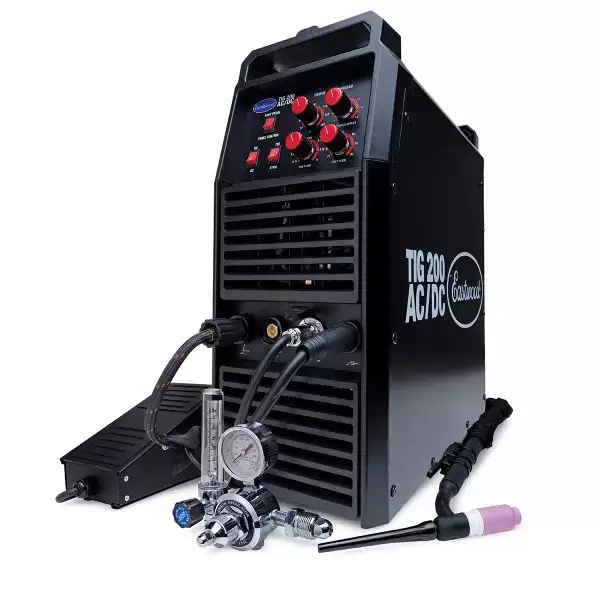 Looking at the package content, it is clear you get great value for the money spent with this TIG machine. Flex head TIG torch WP 17 offers great versatility as you can access tight spots. In addition, you can achieve excellent welding results and beautiful welds with added gas lens kit.
The Rocker-style foot pedal is another improvement that I like since it is large enough to use with the whole foot. You will appreciate the foot pedal if you prefer to control your arc finely. Many complaints referred to poor pedal, and Eastwood decided to answer them.
So to weld straight out of the box, you get a decent amount of consumables, including two tungsten rods, collets, gas nozzles, and a gas flow regulator with a hose. Improved dual gauge regulator is precise, and the hose doesn't leak, but some had trouble reading the values from a certain distance.
However, Eastwood TIG 200 AC/DC can also Stick weld, but you don't get an electrode holder or any electrodes. So if you decide to try it out, you will have small additional costs. In addition, the ground clamp seems a bit smaller as it somewhat reminds me of Hobart one.
Nevertheless, the value is still extraordinary, but the focus seems to be on clean TIG welds.
Technical Specifications
Welding Processes
TIG welding/Stick welding
Weldable Materials
Mild Steel, Stainless Steel, Aluminum
Input Current
240v: 23.8 amps
120v: 20.0 amps
Input Voltage
240v: 10.4v – 17.6v
120v: 10.4v – 15.8v
Current
AC/DC
Output
TIG – 240v: 10-190 amps; 120v: 10-145 amps
Stick – 240v: 10-185 amps; 120v: 10-140 amps
Starting Method
High-frequency
Duty Cycle TIG
240v 60% at 190 amps
120v 60% at 100 amps
Duty Cycle Stick
240v 60% at 185 amps
120v 60% at 60 amps
Welding Capability
Thinner gauge materials up to 1/4″
Post Gas Flow
2-8 sec.
Pre Gas Flow
0.1-1.0 sec.
Overall Dimensions
17.8" x 8.4" x 20.20"
Additionals
Foot pedal and gas lens kit
Warranty
6 years limited period
3 years standard warranty
Weight
38 lbs.
Eastwood TIG 200 AC/DC TIG Welding Features and Power
This section will go through features, build quality, value, and good and the drawbacks of this welder. But, first, let's look at whether the specifications justify the capability.
Input Power and Current
Eastwood TIG 200 AC/DC is an inverter and a dual voltage machine working at a 110/220V power source. Dual voltage plug increases versatility significantly, as you find 110V input in your everyday household, shop, and garage. In addition, you can also plug it at the remote job site location, ranch, and farm.
If you need more power, you can always use a 220V input to join metals up to 1/4″ thick. However, if you decide to opt for 220V, you will need a 30-amp circuit breaker.
One of the significant advantages is the DC/AC setting. You can use DC mode for your everyday steel and stainless steel welding. But once you decide to weld aluminum, you can switch to AC. To help you with the performance, this welder offers a square wave inverter switch. Squarewave technology provides more time during cleaning and heating, resulting in perfect welds, significant for aluminum TIG weld.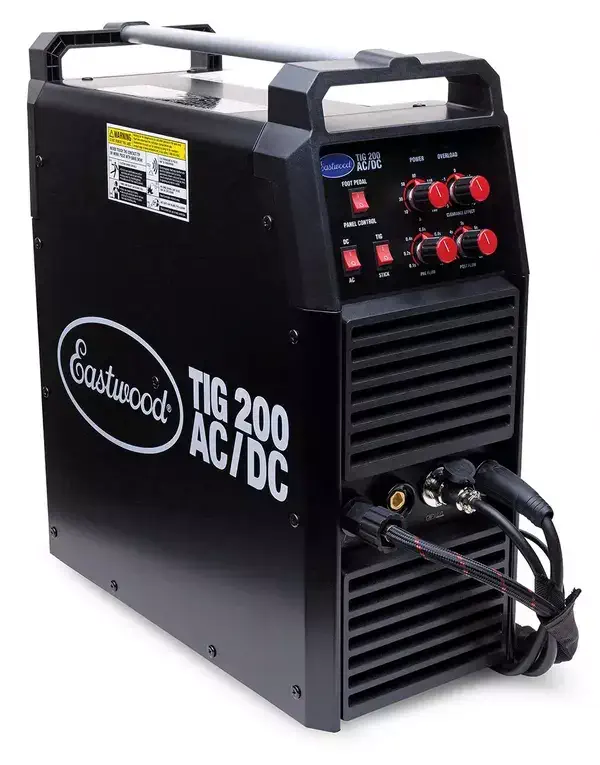 Welding Power and Capability
When discussing welding power, we should mention Eastwood TIG welder can output 10-190 amps when plugged into 240V outlet or 10-145 amps when plugged into 110V outlet. Thus, you can use it to weld steel, stainless steel, or aluminum up to 1/4″ thick. However, the output power is moderately lower when stick welding, as it ranges from 10-185 amps.
Provided power is more than suitable for your everyday medium to light-duty welding projects. Still, one of the distinctive features of inverter technology build is efficiency. Keep in mind that this welder uses a high-frequency instant start which is a beginner-friendly way of lightning an arc. The high-frequency start is the best option for AC/DC TIG welding.
Eastwood TIG welder has a rated duty cycle of 60% at a maximum output power of 190 amps at 220V or 100 amps at 110V. That means you can weld for six minutes straight before making a four-minute break, increasing the overall welding time and efficiency.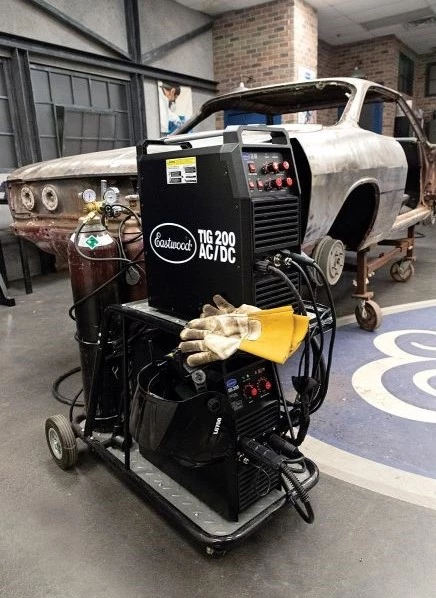 Keep in mind that most transformer-based, brand-name units such as Hobart or Lincoln TIG welders rated at 200 amps usually provide a 20% duty cycle.
TIG Welder Build and Controls
The first look at Eastwood TIG 200 AC/DC leaves a sturdy and well-constructed welder impression. Even though this is not so compact TIG welder, most welders find it lightweight. However, with 39 lbs, I don't suggest moving it around by hand. Instead, a welding cart will increase portability significantly, as you can always buy one or build it as your first welding project.
The front panel might seem confusing if you are a complete beginner, but you will master it in no time. Still, I can say Eastwood did their best to combine enough controls with a simplistic design. So, you don't get as many settings as Miller Synchrowave 250 offers, but you can still fine-tune the welder.
Thus, you can set the amperage and the clearance effect for the best results. In addition, you can set pre-flow and post-flow of the shielding gas for accurate aluminum welding.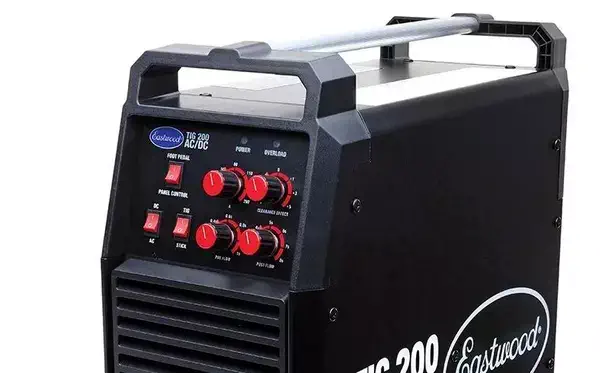 Besides knobs, there are three switches. One controls the welding process, either TIG or Stick, the other selects the current mode, whether AC or DC, while the last helps you switch between pedal and torch trigger control.
If you are looking for more detailed and precise controls, you should consider Eastwood TIG 200 digital TIG welder. Digital TIG welder offers pulse control, a possible LIFT start, or spot welding features.
Welder Value and Protection
Money-wise, this Eastwood TIG welder is ranked somewhat in the middle price range. For example, this welder is significantly cheaper than advanced welders such as Miller, Hobart, or Lincoln units. Still, it might be more expensive than budget-friendly options, but it undoubtedly offers more value. In addition, you will hardly find an AC TIG unit with great accessories such as a flex-head torch and a comfortable foot pedal at this price range.
One feature that denotes the build quality is a limited-time offer with a 6-years warranty. At the moment, Hobart offers the most extended initial protection in the hobbyist market with a 5/3/1 year warranty. So, Eastwood stepped up the game by introducing an industry-leading agreement. In addition, the welder will shut down once you exceed the rated duty cycle, protecting the internal components from damage. Still, many welders were surprised as it was hard to hit the duty cycle.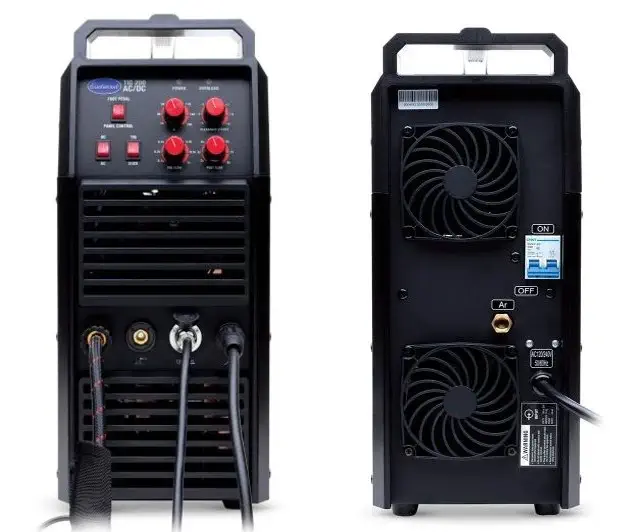 Pros and Cons Summarized
Eastwood TIG 200 AC/DC welder is a great and versatile dual voltage TIG and Stick welding machine. You get everything you need to weld straight out of the box, including tungsten electrode and decent quality accessories such as a foot pedal and a flex head torch for precise arc control.
Still, you don't get an electrode holder for Stick welding feature, and some find the 6″ power chord a bit short.
This is a more than capable TIG welder that ideally suits your everyday welding needs. Remember that AC mode TIG weld results in perfect, clean welds, ideal for welding aluminum. Thus, versatility is high enough to weld materials such as steel, stainless steel, or aluminum. Remember that this is a TIG welder, meaning you cannot use a spool gun to weld aluminum.
One of the things I liked was a high-level rated duty cycle. As a result, you can use this Eastwood TIG welder to weld more extended periods without having to wait for the machine to cool down. In addition, Eastwood TIG 200 offers a high-frequency start, a must-have feature of AC/DC TIG welders for better welds and excellent aluminum welding.
I have to compliment the build quality of Eastwood welders. This Eastwood TIG welder seems like a well-constructed machine built to last. The Control panel represents a combination of simplicity and functionality. You don't get all the fine controls, such as the renowned TIG welders feature, but you retain the ability to adjust the machine.
Price-wise, you get an excellent value for the money spent. Even though Eastwood TIG welder 200 AC/DC is not one of the cheapest units, investing won't break your bank. In addition, your investment is well-protected by a special six-year warranty or a regular three years protection with possible extension.