Whether you are a veteran welder or are only beginning to learn, having the ESAB rebel 205ic at your side is more than favorable.
The company is mostly known as a quality manufactures of welding equipment. However, besides that, they also dabble in robotics.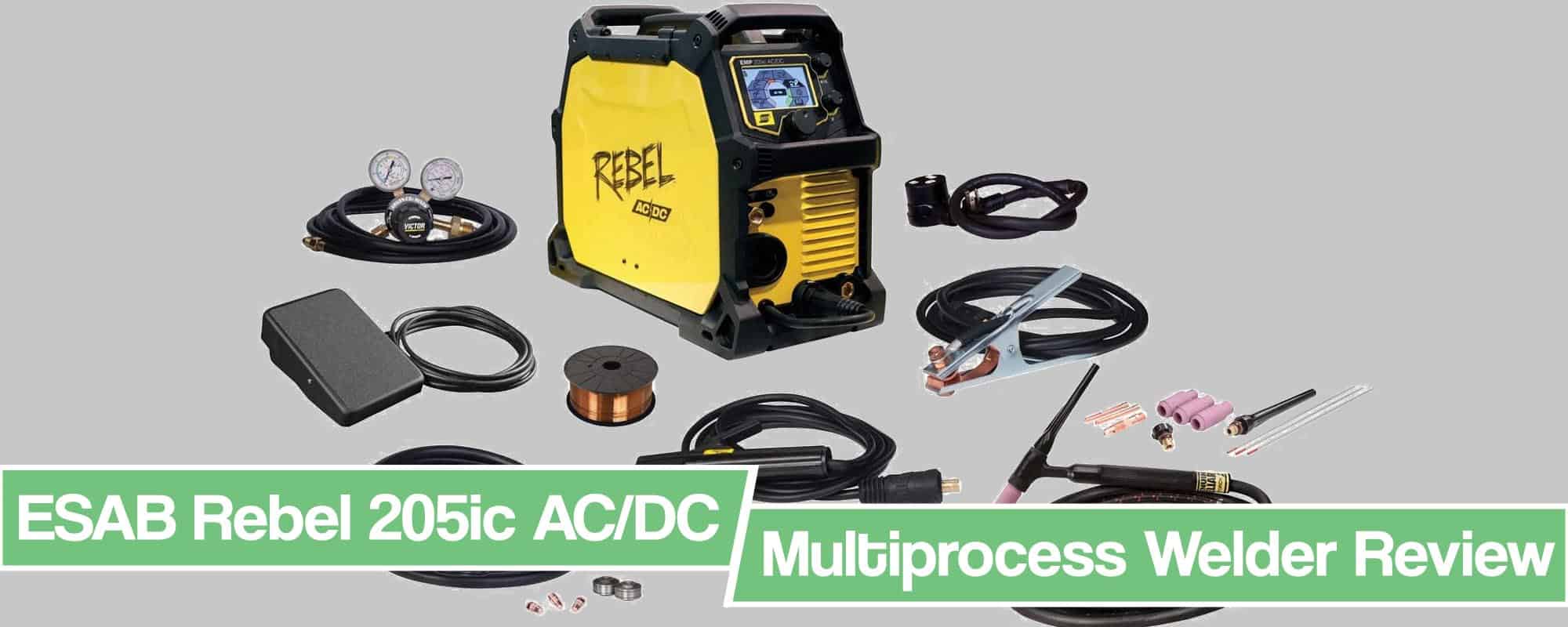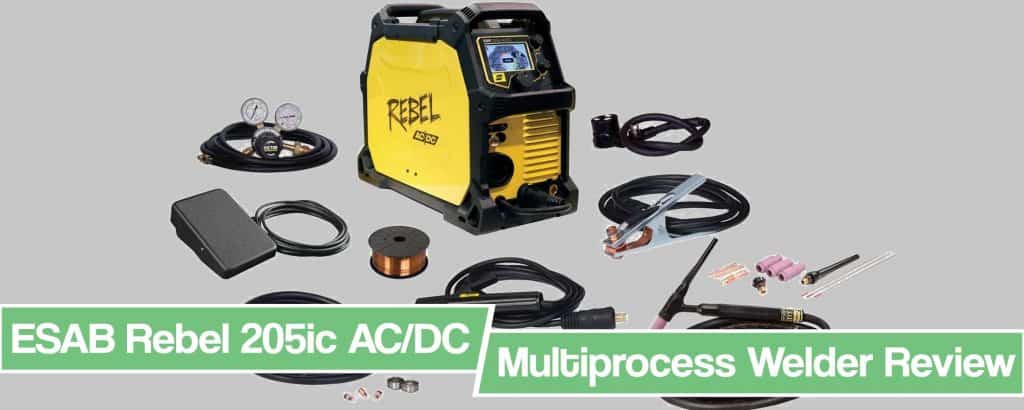 This welding unit was introduced at the 2018 SEMA. it has caught the eye of many welders and along with the ESAB Rebel 215 multi-process, it is one of their most prolific products.
We are here today to bring you a closer look at what exactly this multi-purpose welder has to offer with our detailed ESAB welder review
ESAB Rebel 205ic Quick Overveiw
Even though the name of the Rebel 205ic suggests that it is a multi process welder, you can actually consider it as an all-purpose welding machine. It is a high-frequency machine that is able to go anywhere and weld anything.
Being that it is highly durable and portable, you can move it around with you any way you like. Its weight is only 22kg (49lbs) and has dimensions of 16 in. (406 mm) x 23 in. (584 mm) x 9 in. (229 mm). Furthermore, it has a steel unibody construction, with a five-handle drive rolls cage, which makes it very sturdy and easy to move.
But the biggest highlight is still it's multi-purpose. The ESAB Rebel EMP 205ic is capable of doing MIG, DC pulse TIG, DC TIG, Stick, Flux-Cored, and ​AC TIG. However, as opposed to the ESAB Rebel EMP 215ic, the Rebel EMP 205ic is capable of, besides doing DC TIG welding, AC TIG welding for both aluminum and titanium.
But what really sets apart the REBEL EMP 205ic welder from the others is the inclusion of MIG technology. It offers the welder exceptional arc control that results in smooth and superior repeatable welds.
The welder comes with two modes, basic and advanced, further emphasizing its usability.With the basic mode you can set wire diameters and material thickness with a pull of the trigger. While the advanced mode gives you complete control over all arc characteristics
What is partially useful is its ease of use as you don't have to be a rocket scientist to set and use the machine correctly.
No products found.
Pros & Cons Summarized
Pros
The smart MIG control feature
HF arc start for TIG
You can connect two gases simultaniously
ALL accessories are included (such as MIG Gun, TIG Torch, TIG pedal, earth clamp, etc.)
It's quite portable (49lbs)
Doesn't overheat quickly and stays running at an optimum level without getting
warm.
Works with 120-230V voltage input
The TFT display control panel is beautiful
Accessibility to user manual via display
The roll cage is excellent
The case is hardy and long-lasting
3 year warranty
Cons
Not really a budget-friendly option.
Plastic connector of the gun can be damaged during TIG use.
Specifications
Process Type: MIG, DC TIG, AC TIG, DC Stick
Current Type: AC & DC
Voltage/phase: Both 120/230 1 PHASE
Max Wire Feed Speed: 475 IPM
Max Wire Roll Diameter: 8"
Weight: 49 pounds
OCV: 68
Amps/Volts @ Rated Duty Cycle:

MIG: [125A/20.3V @ 60%] [205A/24.3V @ 25%]
TIG: [125A/15.0V @ 60%] [205A/18.2V@ 25%]
Stick: [125A/25.0V @ 60%] [170A/26.8V @ 25%]

Maximum Amperage output for process type:

MIG: [235A]
TIG: [205A]
Stick: [180A]
Smart Technology
What most users will be astounded with is the addition of the ESAB's groundbreaking smart MIG technology. This is especially useful for novice users as it can help improve the quality of welding.
It comes in two modes – basic and advanced. The basic one is much more suitable for rookies. Not only does it make the setup much easier, but it also helps with controlling the arc. On the other hand, the advanced mode is aimed at more professional and experienced welders.
It actually gives the user complete control of all arc characteristics. It is capable of adapting to the welder's technique as you work. The built-in arc control will constantly adapt to the weld as you go along and will produce far superior welds.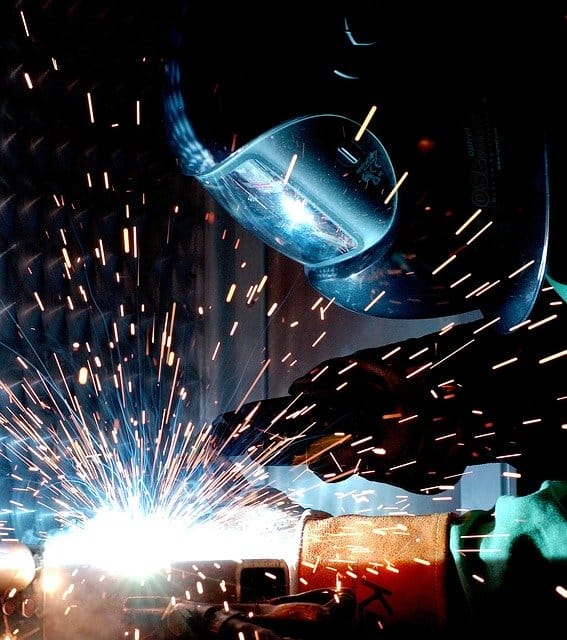 Furthermore, you can adjust everything using the TFT screen and monitor your work. The display is very clear, with better lighting and larger pixel density, which grants the user a much clearer view of the area. You will be able to monitor the wire feed speed, welding amps, and volts all at the same time.
The ESAB Rebel EMP 205ic AC DC multi-process machine offers the full function of its AC TIG capabilities. The machine comes with frequency control (25 – 400 hz), arc starts of high frequency, and AC wave balance (60% – 90%). The direct current TIG performance is down up to 5 amps.
The ESAB Rebel EMP 205ic can pulse thin materials of between 1 and 500 PPS. It can be plugged in a standard 230 volt or 120-volt input power.
hen it comes to sticking welding for the ESAB Rebel EMP 205ic the welder is capable of performing exceptionally well. This is mainly due to the added smartMIG that helps you to stabilize weld. The stick welding arc is able to perform conveniently even when using the E7018 and the E7018-1 electrodes. But, due to the added technology.
the ESAB Rebel EMP 205ic is more than compatible with the four general-purpose 6013 stick electrodes ESAB and 6010 electrodes, that are considered a bit difficult to weld. This goes double for the 6010 electrodes.
ESAB Rebel EMP 205ic standout feature is the sMIG welding option. I basically allow you to start welding right off the bat. Beginners can start their work almost immediately after they unbox it. The main thing is that with the ESAB Rebel EMP 205ic can now adapt based on the materials and the desired bead profile you enter. The machine will adapt and help you proceed with your work.
There are two user modes, basic and advanced. The high-frequency welder reduces the number of mistakes an inexperienced welder can make. One of the biggest mistakes that beginners make is running the machine too hot or even cold. But with this option, this possibility is immediately eliminated. More so, it allows you to switch between processes much faster.
Seasoned welders will also enjoy using this great feature that the ESAB Rebel EMP 205ic has. If you need to increase stability you have to tweak the voltage and adjust the wire speed. with the sMIG technology on hand, the only thing that you need to do is to determine the type of metal you are welding, its thickness, and the wire you are using. Everything else is left to the Rebel EMP 205ic.
The TFT Screen
The TFT screen is a pretty helpful part of the high-frequency ESAB Rebel EMP 205ic. The added 4.3-inch, innovative, high-density display offers a clear view and a precise welding status of your work. It is very user-friendly and it actually makes things a lot easier in understanding how to use the machine.
The screen displays the user manual and the list of spare parts kits. Additionally, it comes offered in multiple languages, so you can adjust it accordingly.
Makes your life and especially any welding process a lot easier.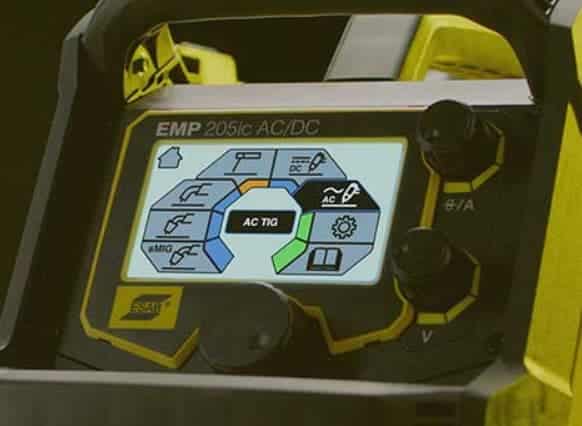 [F.A.Q] – Frequently Asked Questions
Can I weld without the foot pedal?
Yes, the Rebel 205ic can weld without the foot pedal. The welder is completely capable of achieving lift arc TIG start so you don't really need to have the foot pedal.
Can you add a foot pedal for TIG welding?
Yes, the foot pedal for the Rebel 205ic welder can be used for welding TIG as well. Thanks to the added package that includes that added Tweco fusion foot pedal, it can be used to start the arc in both AC and DC TIG modes.
Conclusion
As you are able to see in our Rebel EMP 205ic review, this welder is a great multi-purpose machine. You can use it for various processes that include MIG, DC pulse TIG, DC TIG, Stick, MIG Flux-Cored, and ​AC TIG welding. But its functionality lies in the fact that it is an all-purpose welder.
But the greatest advantage is still the added technology. It puts this welding machine miles in front of the rest a one can use it right out of the box and without any experience. However, experienced users will also appreciate using this machine as well.
Furthermore, it comes with an added kit of parts that includes a MIG gun, an electrode holder, the Tweco ground clamp, and more.