What does every welder need? Many of you would say safety, but there are a lot of you who prefer comfort and utility… while a handful still values technology.
What if I tell you that there is something that can satisfy you all? The ESAB Sentinel A50 welding helmet.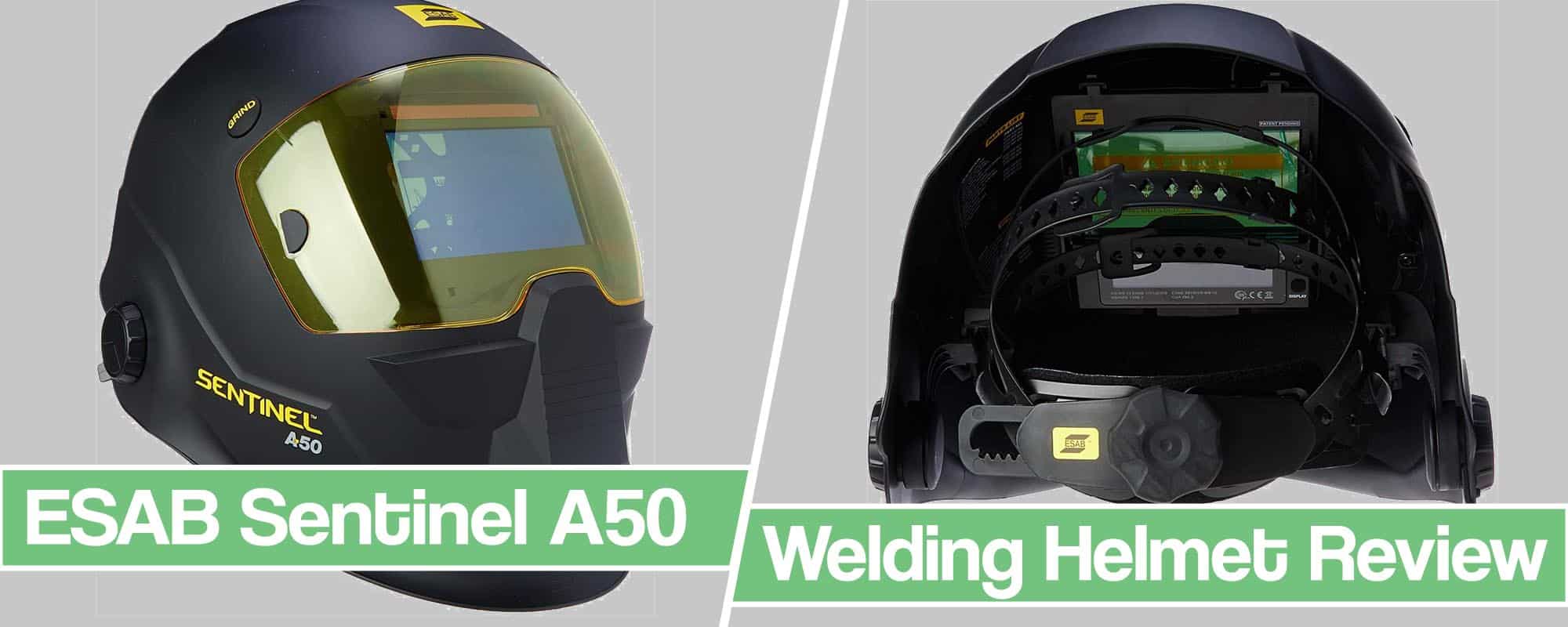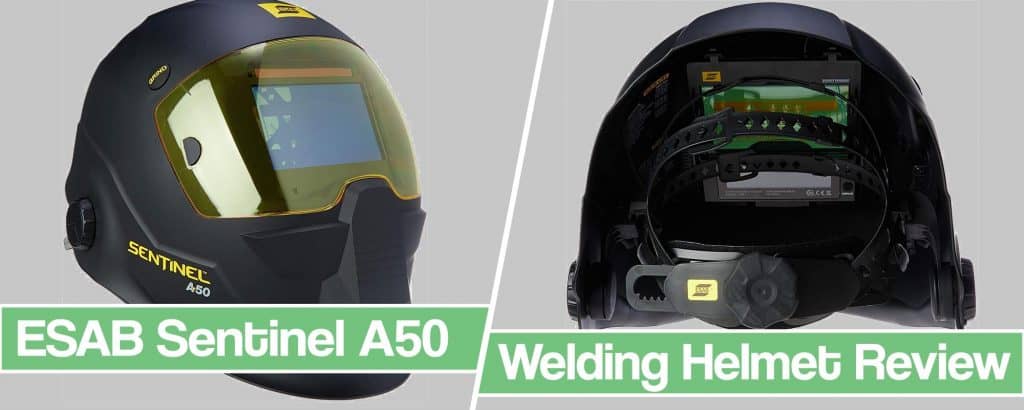 I am not here to preach the importance of choosing a good welding hood. Experienced welders are aware of this, and it's what separates the pros from starters. But it would help if you understood how to determine the advantages and disadvantages first. And it all comes down to catering to your personal needs.
The ESAB Sentinel A50 welding helmet promises the inclusion of high-end technology, comfortable design, and advanced protection. This is more than enough to help you achieve amazing results when working in all types of conditions.
ESAB Sentinel A50 Review
The Sentinel A50 was created by the Swedish company ESAB (Electric Welding Limited Company). You might have heard of it as it is one of the oldest brands for welding supplies in the world. Their idea for this helmet was to create something more than the conventional welding helmets everyone wears now. They wanted to make something special, and by many accounts, they did.
This welding helmet meets the expected safety stands of the United States (ANSI Z781.1), it also meets the DIN plus; CE; EN175; EN379; EN166; CSA Z94.3; AS/NZS1338.1 standards.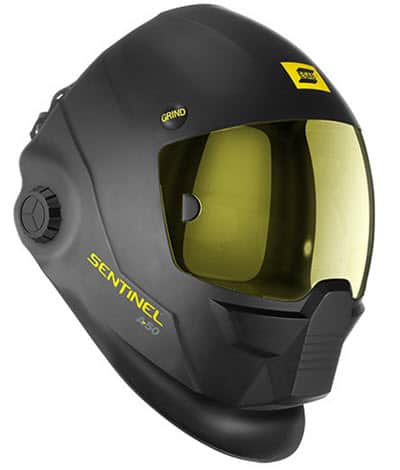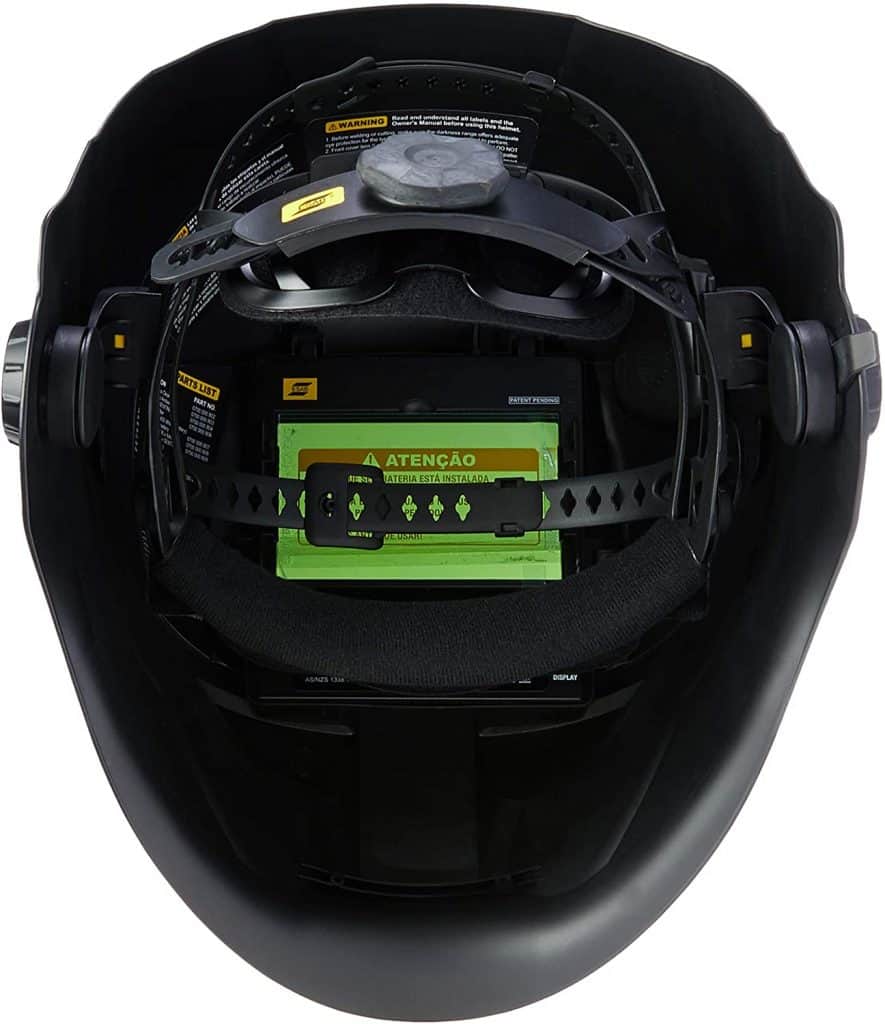 Believe me when I say that the ESAB Sentinel A50 welding helmet was created specifically for those who care for their safety during welding. It meets all the safety standards and offers protection from sparks and spatter, as well as harmful radiation during the welding process.
The hood is pretty comfortable, and you might even forget that you are wearing it. It weighs only 1.4 pounds and does not create the feeling of wearing a heavy bucket on your head. The welding helmet is suitable for long hours of work, as a five-point HALO headgear supports it.
The Sentinel A50 welding helmet also sports a lot of advanced features. A large viewing port, colored touch screens, and high-quality lenses are just some of the included properties that the helmet includes.
Let's talk in more detail about the technical mumbo jumbo with the ESAB Sentinel A50 review features.
No products found.
Features & Benefits of ESAB Sentinel A50
My opinion is that all the advanced features that the ESAB Sentinel A50 comes with will benefit the professionals first. However, I also think that it makes a lot of things easier for beginners. The features will serve equally well for a novice welder and make not only look like pros but also weld like professionals.
Provided Comfort and Headgear
I know that experienced welders understand the importance of comfortable headgear.
The newest Sentinel A50 helmet takes care of that by adding five-point HALO headgear. What is crazier is that the helmet offers over half a million contact points for the adjustment.
This means that there are countless combinations that the welder can set and personalize. These are five times more adjustment settings than a regular helmet has.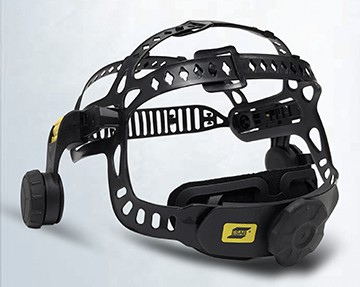 Combine that with the sturdy and durable shell of the Sentinel helmet, and you get a top-of-the-line bucket for long hours of work that are not going to stile your head nor make your neck cramp.
Simply shift the weight around to reduce pressure points and use the ratcheting feature to get the desired effects.
Helmet Lens
The True Color lenses on this auto-darkening helmet make it seem like you are not wearing anything at all. Belvie me, and I tried it.
The ESAB Sentinel A50 welding helmet comes with an Optical Class Rating of 1/1/1/2.
This means that the optical clarity is pretty high, allowing you a clear view of the weld pool while working.
The areas where the lens has been given a high rating include Optical Class (determining the level of distortion), Diffusion of Light (showing the glass impurity), Luminous Transmittance Variation (the consistency of shading), and Angle Dependence.
The only flaw that I was able to notice was that it occasionally could be a little bit off when doing out-of-position cutting in terms of angle dependence.
View Screen
One of the biggest advantages that the ESAB Sentinel helmet has is the large viewing area. The lens size of 3.93 inches x 2.36 inches greatly increases the range of view. The visuals are additionally improved with the added curved lens design that comes alongside the smooth anti-scratch finish. The curved design also helps extend the viewing area, helping you see more of the working area.
To make things easier, there is an added LCD screen with a touch screen feature. You will find additional buttons for added settings inside the helmet.
Shade Selector
What is better than the shade range of 9 to 13 that most auto-darkening welding helmets have today?
But the ESAB Sentinel A50 welding helmet ups the ante by offering an auto-darkening shade range of 5 to 13. Also, the auto-darkening feature comes at a speed of 1/25,000 a second, making even some complex TIG welding processes possible.
Additional adjustments for the shade come with an optionally added amber or clear lens.
But what trumps the convenience of other conventional helmets is ESAB adding an external grind mode button. So you don't have to stop whatever hard work you are doing by taking off your helmet. It is effortless to simply turn on the grind mode while wearing the helmet and finishing the job fast.
Settings Memory
Something that many welders are frustrated with is that traditional helmets don't have a memory settings feature. Which makes you adjust your settings, again and again, every time you use the helmet. But the Sentinel A50 helmet is able to memorize those settings.
You can set up everything only once, and the next time you want to use the helmet, just put it on your head and start cutting. The features will remain the same, and you will save yourself and a huge headache.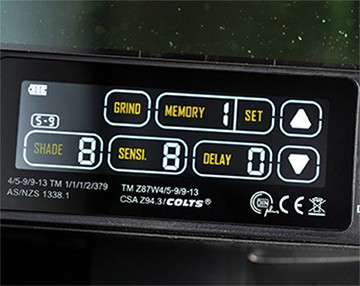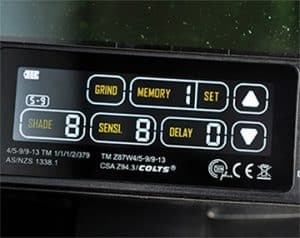 Available Accessories
I have a few more things left that will surely decide on your purchase. The accessories are what make a difference between a premium product as opposed to standard products.
First of all, the Sentinel A50 comes with a carrying bag, so you have somewhere to put the helmet when you are not using it. You also get a hard hat adapter as some job sites require a minimum PPE.
Welders will also get an added magnifying lense (cheater lense) and replacement cover lenses. Users can actually change the lenses in as much as 10 seconds if they need to.
And last but not least, not included, but the helmet is compatible with respirators. So if you are welding in particularly hard working conditions, you may add a respirator to help you breathe better.
Technical Specifications
Shade levels: inactive: shade level DIN 3.0 active, manual: shade level 5-8, 9-13
Power supply: Solar cells, 2x lithium batteries (CR2450)
Sensors: Four (4) Sensors
Sensitivity: Low–high. Adjustable with an infinite dial knob
Switching time: 0.04 ms at 131°F (55°C) / 0.075 ms at room temperature
TIG rating: ≥ 2 amps AC/DC
Optical clarity rating: 1/1/1/2
Viewing Area: 3.93 in. x 2.36 in.
Weight: 1.4lb (640g)
Warranty: 3 Years
F.A.Q
Is this helmet good for MIG welding?
These types of welding helmets are suitable for a variety of welding processes. So besides MIG welding, the helmet allows for other types of work such as TIG welding, Plasma Cutting, Oxy-Fuel Cutting, Plasma Arc Welding, and groundwork.
Is there a hard hat adapter available for this hood?
Most welding helmets from ESAB come with a hard hat adapter, and so does this helmet. It comes available as an added accessory that you will get, and may use it whenever you need it.
Can the cheater lens be fitted?
A great thing about these types of welding helmets is that they are completely adaptable for various added accessories. As far as a cheater lens goes, it is available as part of the added equipment package. The cheater lens can be used and is easy to fit, allowing you to improve your vision and clarity of the weld puddle.
Conclusion
So here we are at the end of my ESAB Sentinel A50 review! I can truly guarantee that this is among the best products that I have ever tried.
The pros of the Sentinel welding helmet are definitely its array of wide offered features. It provides an improved viewing area thanks to the variety of sensors that it posses and advanced technological features packed into it. My personal best advantage is the comfort and high-end adjustability that it provides. Finally, the welding helmet allows you to adjust all the mentioned features fully. So ai was able to cater to my personal needs just the way I like them.
As far as cons go, there are few, but the biggest concern is the price tag. I think that it is a steep price to pay, but it is well worth it.
All in all, I completely support the use of this welding helmet as it can make a difference and improve your work and ability as a welder. It certainly worked for me!