Do you want a serious welder but don't have the budget to afford one. The Everlast PowerTIG 250EX is the best solution for you.
It is a welding machine that is aimed at professionals but comes at a much lower price than you would expect it to.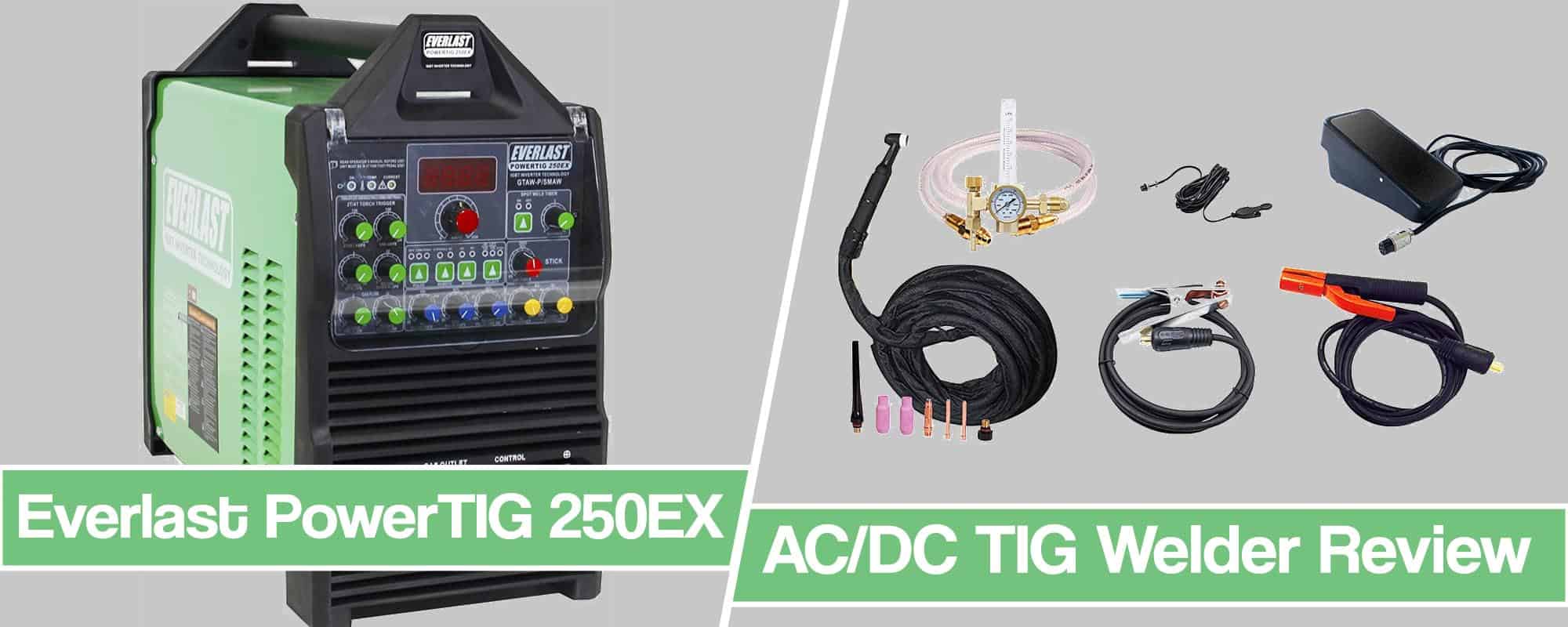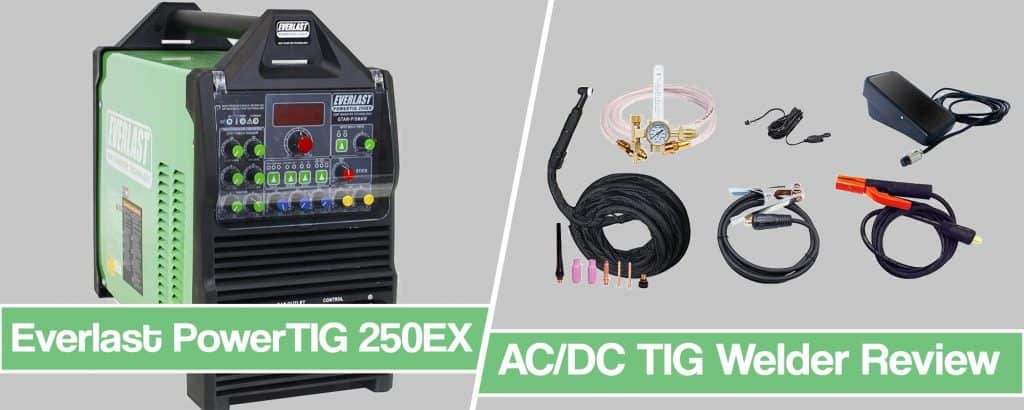 Fit with all the necessary features to help a seasoned welder finish any type of job, the Everlast PowerTIG 250EX is no joke.
Even though there are more powerful welders that come at a much higher cost. This one has the capacity to do the same type of job with near similar weld quality. More so, it is still beginner-friendly so novice welders or welding enthusiasts can use it in order to learn how to weld.
You don't need to spend the big bucks in order to get great results and this is exactly what our Everlast PowerTIG 250EX review is here to explain.
Everlast 250EX in Brief
As our Everlast welder review is here to explain, this is an exceptional welding machine. Right of the bat, we can say that the Everlast PowerTIG 250EX is a versatile TIG welder that provides great welding power.
It comes with a 250 amps AC/DC TIG pulse function, and 200 amps Stick function. Additionally, it comes with a 60% duty cycle, which is more than efficient, on a single phase input power of 240v. But it is also possible to use it 3 phase power at 240v.
The built-in start circuit design means that there are not going to be any maintenance issues as this welding unit does not require as much maintenance as other units of a similar kind. However, although it is one of the small welding machines it is not as light as you would think. It weighs some 65 pounds and not so easy to move around a worksite.
Finally, the Everlast PowerTIG EX250 can weld almost anything. It is a professional machine that can provide good work on any kind of metal and materials like steel, stainless steel, titanium, copper, and chrome-moly.
Finally, the last but not the least thing to note, besides the welding equipment, is the 5-year warranty.
No products found.
Specs, Pros & Cons
Pros & Cons Summarized
Pros
Suitable for beginner and professional precision welding
Low 5 amp Start
Filled with adjustable settings
Easy to setup and use with color coded controls
High Frequency start
Built in 240V receptacle on the TIG welder for water cooler
5 Year warranty
Cons
Can only be used on 220/240V power input
It is heavy sitting at 65lb
Specifications
Processes: TIG (GTAW) Stick (SMAW).
Weld Thickness Range: Plain Steel – 24 ga. – 1/2 in.
Weldable Materials: Steel, Stainless Steel, Aluminum
Input Power: 220/240 V, 60 Hz.
Input Phase: 1-Phase.
Current Type: AC/DC.
Rated Output: TIG 250A @ 60% duty cycle.
Amperage Output Range: TIG 5 A – 250 A.
AC Frequency (Hz): 20-250Hz
AC/DC Pulse Frequency: 5-500Hz
Weight: 65 lbs.
Welding Performance
The Everlast PowerTIG 250EX is both an AC and DC TIG welder but also performs as a stick welder. As such, it has the capacity to weld pretty much any type of metal as well as welding aluminum.
With 250 amps, it offers a lot of power and can easily weld 1/2 inch of steel in a single pass. More so, on multiple passes, it can weld materials of 1-inch thickness. With these types of properties, you can use it for any serious construction work or any thick gauge material.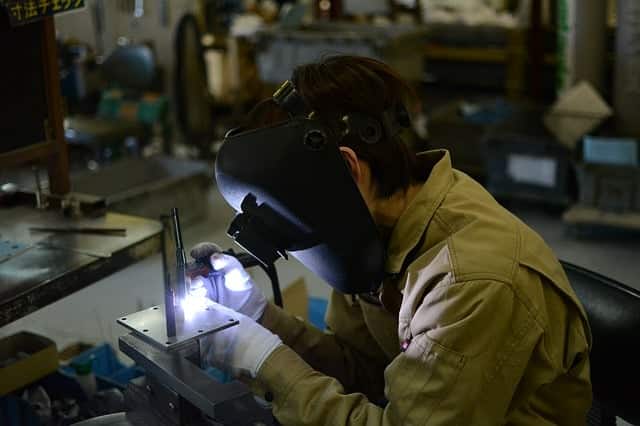 But what all the Everlast welder reviews will emphasize is the fact how the Everlast TIG welder handles with low amp output. it can actually go as low as 5 amps. This is more than helpful when working on thinner types of metal and especially when making an arc start.
At its maximum TIG output of 250 amperages, the machine has the capacity to provide a 60% duty cycle. This means that you won't have to cool down often or at all if you use less than max output.
Welder Setup and Use
The Everlast PowerTIG 250EX is easy to set and use. The setup process is almost the same as with other welders. Additionally, the settings themselves are very easy to understand. You only need to take one look at the color-coded panel to understand how to operate it. The manufacturer has designed the color-coded control panel way so it is intuitive and user-friendly.
The panel is a bit old-school as it has knobs and buttons. Some people may prefer a touch screen menu instead, but in my opinion, the old-fashioned way is more applicable in this case.
However, when it comes to Everlast PowerTIG 250EX problems, one comes up in terms of usability. Since these welder machines work on a 240 single-phase voltage power supply, you cannot use it with a regular household outlet.
Top Features of Everlast 250EX
The Everlast PowerTIG 250EX has a lot of high-quality features that you would otherwise find in a professional welding machine.
With such features at your disposal, you can easily tweak the temperature or the welding arc performance in order to produce better welds. Additionally, one can also manipulate the flow control of shielding gas protection.
As with all quality TIG welders, the Everlast 250EX has both AC balance control and AC frequency, besides the mentioned arc force control. The AC frequency allows you to go up to 250hz or go as low as 20hz. The pulse TIG welder also comes with pulse frequency capability that you can also tweak up high.
The added high-frequency arc start for TIG and lift start is another added feature. It is particularly useful when you cannot use HF or if it simply is not suitable for your current project. But there are the 2T and 4T options and a high-quality foot pedal that comes with this machine.
Other helpful features that I want to emphasize in my Everlast PowerTIG 250EXreview are the ability to set starting and ending amps as well as the upslope and downslope when not using the foot pedal. One even has the option of adjusting the pre and post flow gas setting as well.
Quality of the Build
This is a very quality machine in terms of price. There is almost nothing negative to emphasize in terms of build quality.
The machine itself is more than sturdy and the materials in question do not look at all cheap.
It is not loud when working with it and the duty cycle being high as it is with the combination of quality inner cooling keeps the machine cool and running.
However, even though it has a nice handle on top for carrying it is a bit hard to move the machine about. Mainly because of the weight. It may look like a welder small for its size, but the weight of 65lbs speaks otherwise.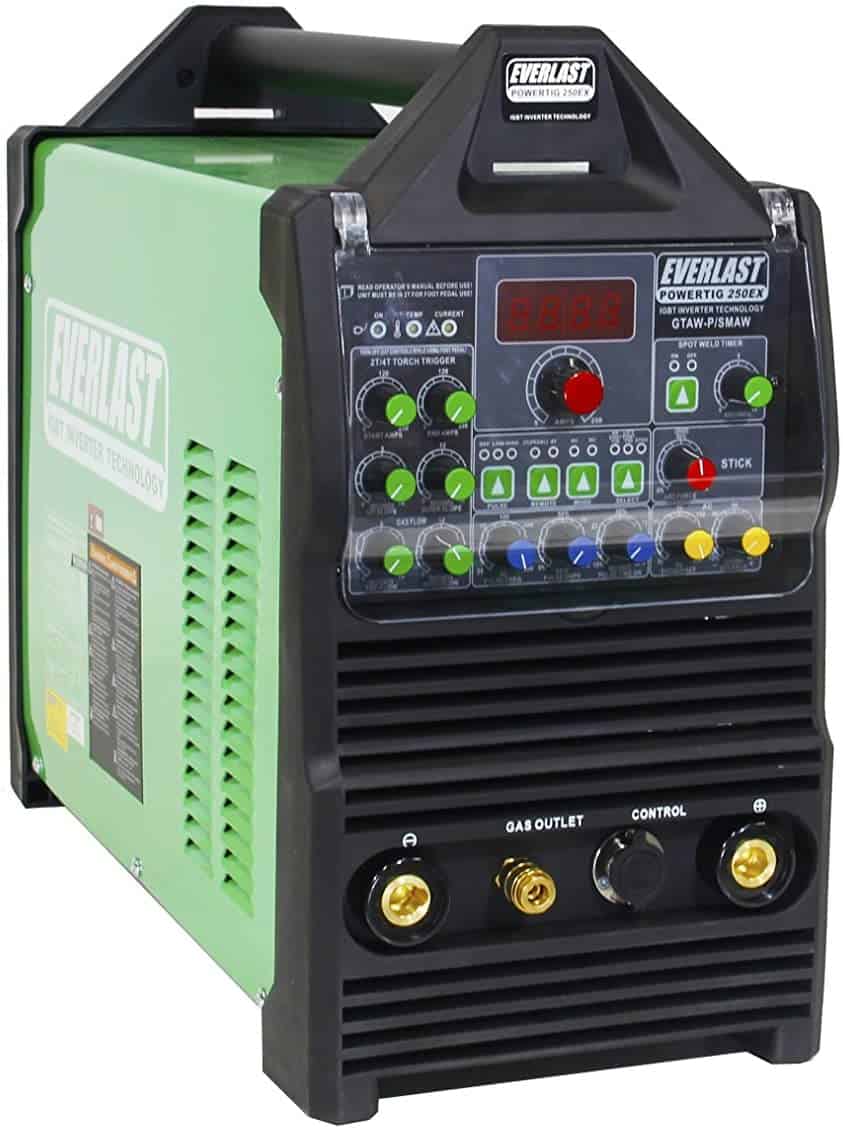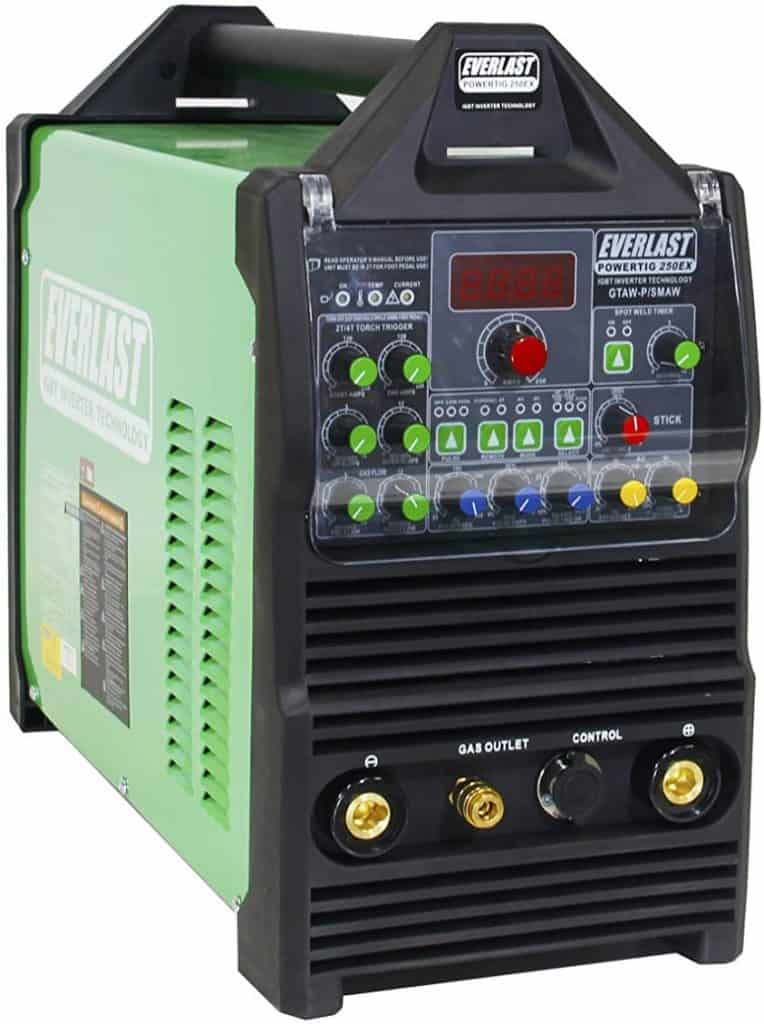 Who Should Consider Buying This Welder?
This machine is aimed at people who are serious about TIG welding. It is a welding unit aimed at professional use and I would recommend to people who are experienced and want a good machine for the job. It is more than useful for work around welding shops, fabrication, construction, the automotive industry, pipeline welding the metal industry, and so forth.
Novice welders who are learning TIG welding and are thinking of making a career out of it could also have a go at this machine. A high-tier machine with great TIG welding power will do them a lot of good. Keep in mind that it also has both AC and DC modes available.
But I would not recommend this machine for hobbyists and DIY enthusiasts as they may not be able to utilize the machine to the fullest.
Warranty and Return Policy
Everlast may be known for producing machines with outstanding welding performance at a suitable price range. But in this case, they also give a pretty nice warranty, five years to be exact. This further confirms the fact about this being a good investment.
More so, if the unit is damaged during transport or one of the parts starts failing within 30 days of receiving it, you can return it and get a full refund.
[F.A.Q] – Frequently Asked Questions
Who makes Everlast welders?
Everlast has ISO-certified manufacturing operations that have a worldwide influence. This means that they are capable of producing exclusive US and Canadian models.
Are Everlast welders any good?
Everlast is a known producer of welding equipment and they have already been around for years. They are known for their high-end but budget-friendly units. Their products have a reputation for being durable, having good weld parameters, excellent quality, and a good warranty.
Conclusion
So if you see the Everlast PowerTIG 250EX for sale, my advice is to buy it immediately. As our Everlast 250EX TIG welder review is able to show, it is a welding unit that provides more than enough for the money invested in it. It is mainly aimed at professional and experienced welders, as they can make the most use of it, but people that are learning to weld will also find it useful. Spending a little bit more, in this case, will benefit a novice welder in the long run.
With both the AC and DC modes offed, IGBT inverter module, start function, and the ability to weld even thin sheet metal, not to mention all the welding accessories it also offers, it is enough to capture the attention of any welding enthusiast. It has certainly captured mine and I truly recommend this unit for professional welding.