Welding is getting thoughtfully more popular among hobbyists and DIYers, but you will need the right tools to do it properly. If you are looking for a great first MIG welder, you should consider Forney 309.
The Forney 309 is a 140-amp, 120V reliable MIG and Flux-cored welder that offers excellent value for the money spent. Respected American and European engineers designed this welder, and you won't have any troubles using it, especially if you are a beginner.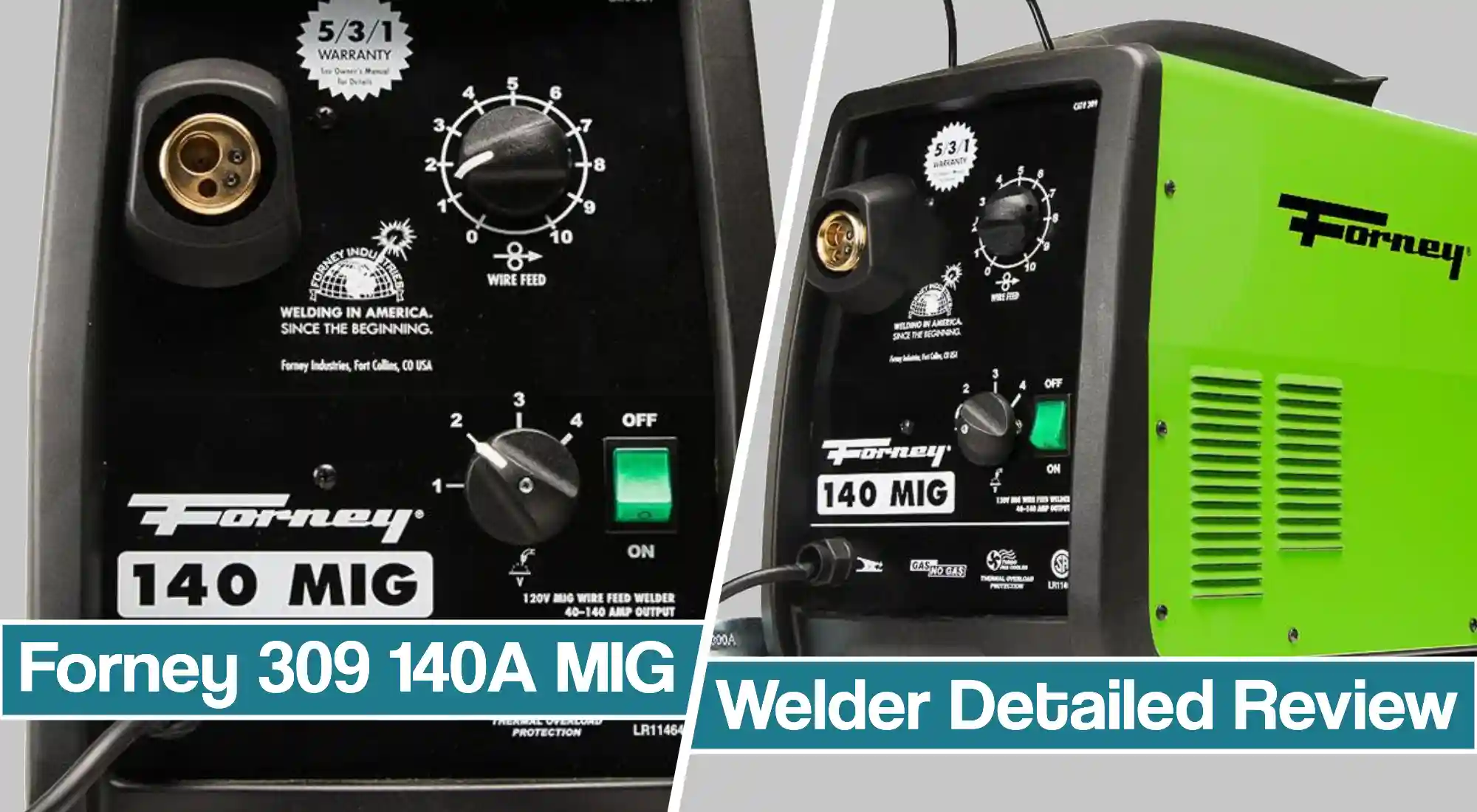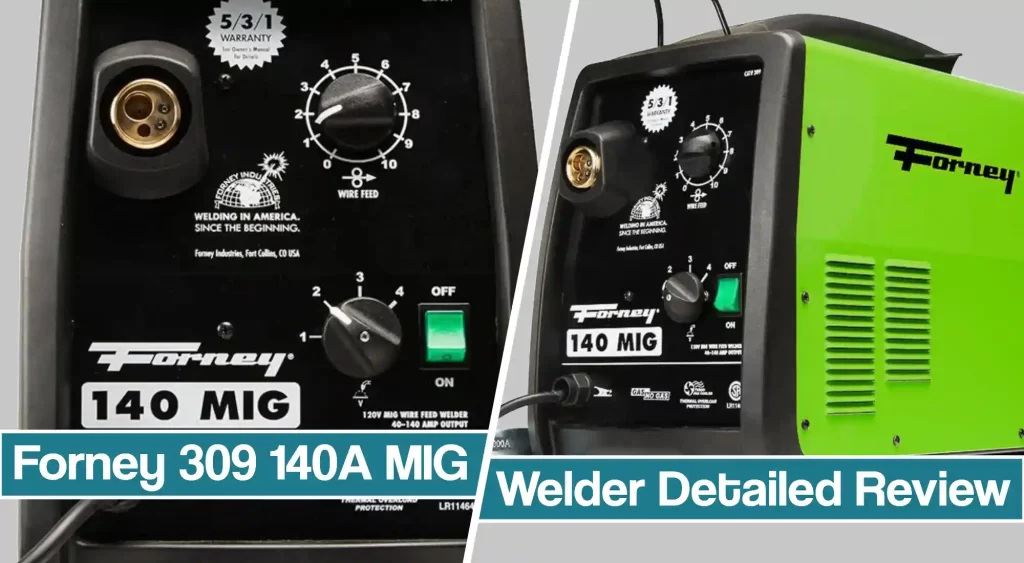 So, read this Forney 309 140-amp MIG review to learn more about package content, special features, capability, and drawbacks.
Forney 309 140-amp MIG Review, Package Content, and Technical Specifications
If you decide to buy Forney 309 for the money spent, you will get a Tweco style MIG gun with 10″ lead, 10″ ground clamp and cable, and regulator with gas hose.
Looking at the package content, you can notice you get only a few things. For example, brand-name machines such as Lincoln EasyMIG 140 or Millermatic 140 include replacement nozzles, drive rolls, or even a sample wire spool. So with this welder, you will need quite a few things to start welding.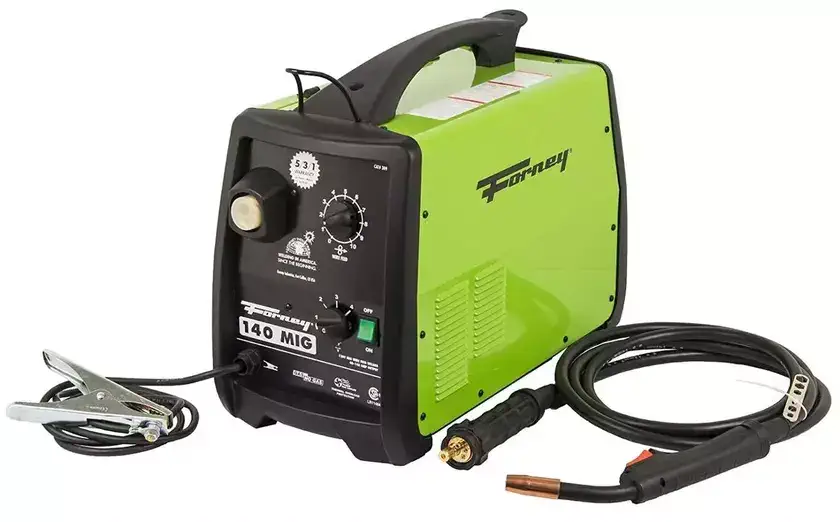 However, you get a comfortable and sturdy Tweco style MIG torch with a Euro-style connection and strain relief. Thus, you can purchase consumables in every local shop or even after-hours or on weekends. In addition, the Euro-connect MIG gun provides excellent conductivity, while the torch is easy to plugin or change liner.
One of the things I like is the long leads. Since the unit is a bit heavier, you won't have to move it around the garage often. Keep in mind that some welding machines, such as Everlast PowerI-MIG 140, provide 6.5″ leads which are almost useless.
Technical Specifications
Welding Processes:
Gas Shielded MIG Welding
Gasless Flux-cored welding
Input Voltage:
120V
Weldable Materials:
Mild Steel, Stainless Steel
Output Amperage:
30-140A
Plate Thickness Range:
24 ga. – 1/4″
Duty Cycle:
90A, 18.5V @ 35% Duty Cycle;
60A, 21V @ 60% Duty Cycle
Spool Diameter:
4″ (1-2 lb.) and 8″ (10-11 lb.) spools
Dimensions:
19″ x 9.5″ x 16.5″
Weight:
62 lbs. out of the box
Warranty:
5/3/1 years
No products found.
Input Power
To run the Forney 309, 140-amp MIG welder, you will need a 120V input. Thus, you can plug this device almost anywhere, in your garage, on the farm, or remote job site location. That feature offers even more versatility.
However, keep in mind that 120V input grats somewhat limited output. Nevertheless, it is more than enough for fabrication and light-duty jobs. Also, remember that this 140-amp welder uses transformer-based technology, meaning you cannot use the generator to power it.
One of the things I should warn you about is the circuit breaker. Many users report that Forney 309 may break the 20-amp circuit breaker, primarily once you turn it up to maximum power. So, if you decide to tackle more serious projects or thicker materials, you might want to install a 30-amp breaker.
MIG Welding and Flux Core Welding Capability
The Forney 309 output power ranges from 30-140 amps, which is more than suitable for DIY, metal fabrication, maintenance & repair, farm & ranch, and automotive applications. In addition, you can weld mild steel and stainless steel 24 ga. up to 1/4″ thick. Compared to other entry-level units, Forney 309 ranks among the higher welding power units, mainly if you chose flux core welding.
However, if you are looking for a heavy-duty weld, you should consider a 240V welder, such as Forney 318.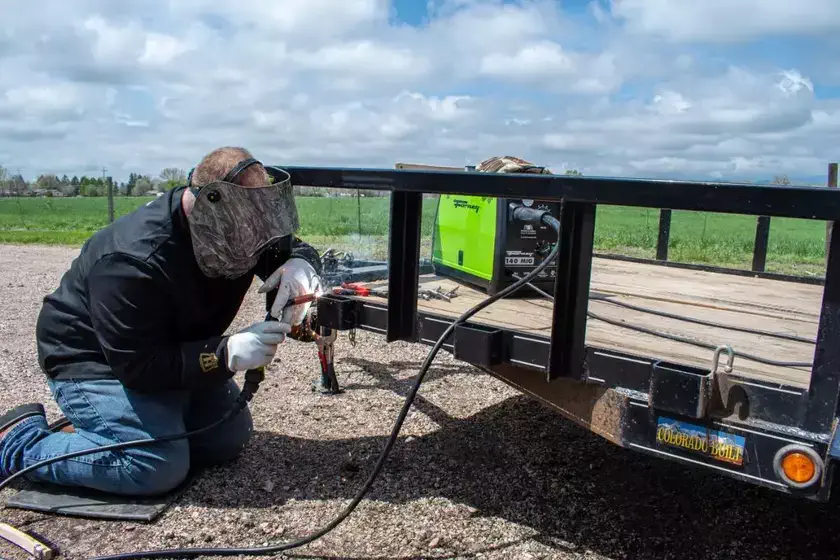 You should know that this transformer-based MIG welder provides a high duty cycle of 90 amps @ 35%. That means you can work for three and a half minutes at 90 amps before making a break. Branded devices such as Lincoln EasyMIG 140 or Hobart Handler 140 usually offer a 20-30% rated duty cycle, meaning you get a higher duty cycle for the money spent. However, IGBT machines such as Eastwood 140 provide a 60% rated duty cycle.
I have to compliment the welds. Forney 309 features a steady arc and decent weld quality, even for beginners. You might have to spend some time getting used to it, but the results are satisfying.
One of the most significant drawbacks of this MIG welder is that it is not spool-gun-ready. In addition, feed speed is not high enough to provide smooth wire feed, meaning you cannot MIG weld aluminum by any means. However, keep in mind that most 140-amp MIG welders are at least spool gun ready. So if you plan to weld aluminum occasionally, you might have to look further.
MIG Welder Build Quality
As soon as you look at Forney 309, you can notice a sturdy, well-constructed welding machine. Forney Industries are one of America's oldest distributors of welding and metalworking products and equipment. Integrated feet make the welder steady, handle helps you with transportation, while manufacturers introduced torch wrap to help you with cable management.
However, this is a massive welder that weighs 62 lbs out of the box. Once you add welding wire and a shielding gas cylinder, I suggest getting a cart as you cannot easily carry it around.
To compete with other welders on the market, the manufacturers improved the drive feed system. The new cast aluminum drive system is durable, while dual geared idler provides smooth feed. In addition, there is a de-spooler, which helps you change the wire quickly and adjust the tension.
The side door features a recommendation chart, which will help beginners adjust their machines accurately. However, professionals may find the recommended setting too hot or cold, so you might want to tweak them.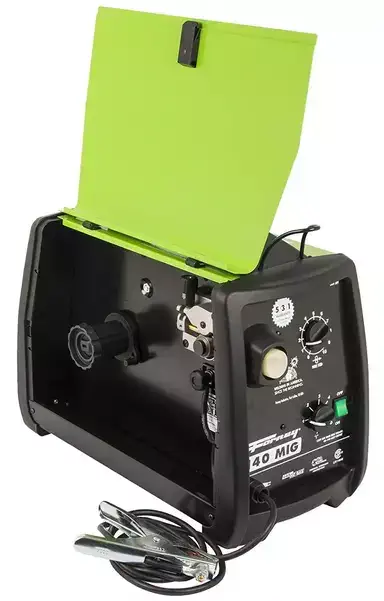 In addition, the Quick Start guide is not that helpful, so you might want to watch some How-to YouTube videos if you are a complete beginner.
Control Panel
The Forney 309 MIG welder features a straightforward control panel, which is easy to use. However, there is no digital display, as you only get tapped voltage control knob, feed speed knob, and on/off button.
Beginners might prefer the digital display since you don't have to remember an exact knob position. However, a simple control panel doesn't look like a plane cockpit with many buttons and flashing lights. In addition, the settings are precise, and the arc is forgiving, which is a great feature for beginners.
Keep in mind that most beginner-friendly, 140-amp rated MIG welders feature a simplistic control panel design. However, some inverter-based machines offer infinitely adjustable voltage, which is excellent for workers that like to fine-tune their unit. In addition, some budget-friendly welders feature a digital display.
Price and Value
Compared to other 140-amp rated units, Forney 309 ranks in the middle of the price range. This welder is cheaper than brand-name machines such as Hobart Handler 140, Miller Millermatic 140, or Lincoln Electric EasyMIG 140. However, 309 is more expensive than budget options such as Eastwood 140 or Lotos MIG 140.
Nevertheless, you get great value for the money spent. Forney Industries build reliable machines that combine the price of budget-friendly units and the performance of brand-name machines. So buying this MIG welder won't break your bank.
To protect your investment, the manufacturer offers an industry-leading 5/3/1 year warranty. Transformers and rectifiers are covered for five years (parts and labor).
All internal electrical components that cannot be accessed without removing the welder cover or inside the battery charger come with a three-year deal with full replacement. MIG torch is covered by a 90 days warranty, while you have the option of a 30-day return policy.
Overall, Forney offers the same warranty as Hobart units, while other branded devices usually provide 3-year protection. In addition, most budget welders are protected by a 1-year contract.
Pros and Cons Summarized
Forney 140 is a great beginner-friendly, entry-level 140-amp 120-volt MIG welder that is more than capable of doing light-duty projects and thin metal. You will love the ease of use and bead quality, but if you look to work with aluminum occasionally, you might want to skip this MIG welder.
This MIG/Flux core welder offers excellent value. Still, keep in mind that you will need more than a few things to start welding since the accurate regulator and gas hose and Euro-connect MIG gun are not enough.
Nevertheless, long cables help you plug it in every regular 120V input: in a garage, farm, or industrial worksite. However, 309 may kick your 20-amp circuit breaker if you turn it up to maximum output power.
I liked the straightforward control panel and how easy this MIG welder is to set up. However, seasoned users might find the somewhat limited tuning options restricting. Nevertheless, you can achieve significant welds in a matter of seconds.
A high-quality and sturdy build ensures long years of work. Still, if you have any doubts, you get a 5/3/1 years warranty which is excellent. So overall, you will be satisfied with the MIG/Flux-cored welding performance you get for the money spent, and some even tried welding cast iron.
There is a similar welder from Forney with slight differences named Forney 318 that works on 220v current and has up to 190A of output. We also made an extensive review for that welding machine and if you are interested to check this slightly stronger welder you can do it here.