Are you in need of a powerful plasma cutting machine? Made in the USA? Do you want something reliable but don't want to pay the outrageously high prices that some manufacturers demand?
Well, you can't get more reliable and more American than Hobart 40i Plasma Cutter.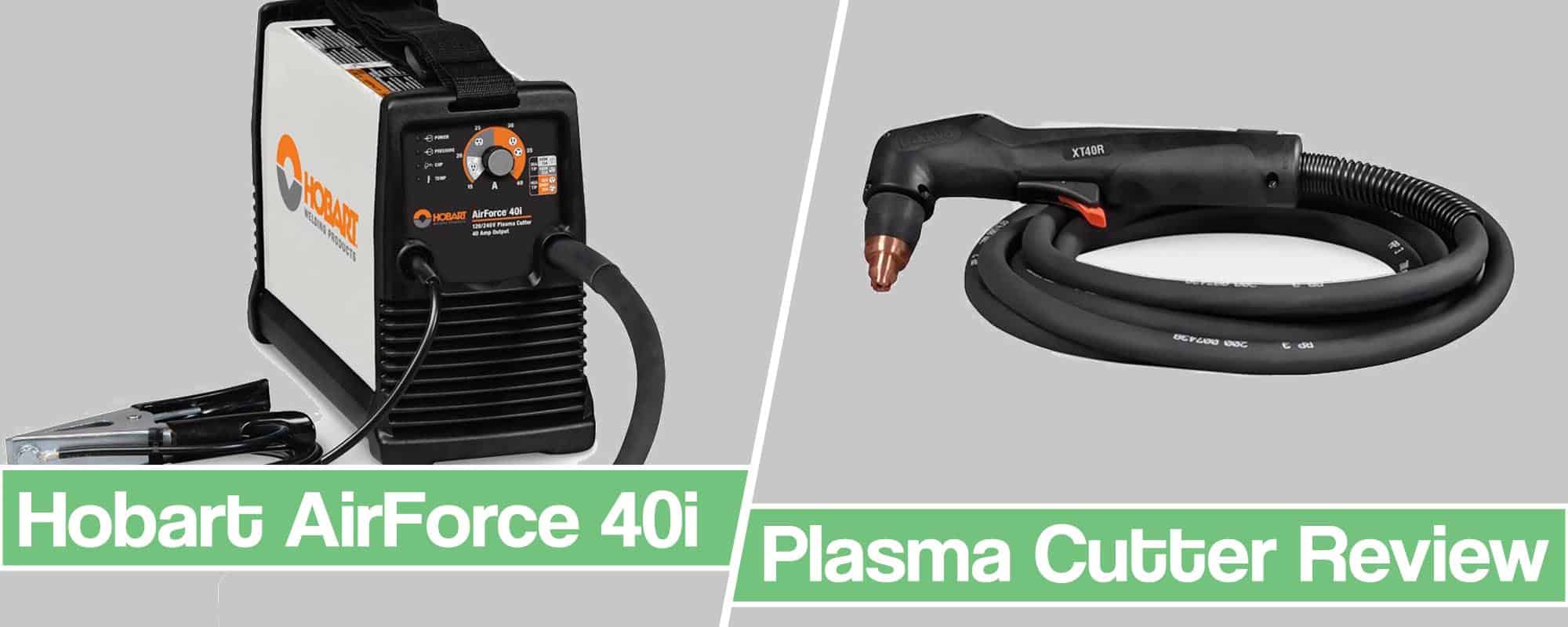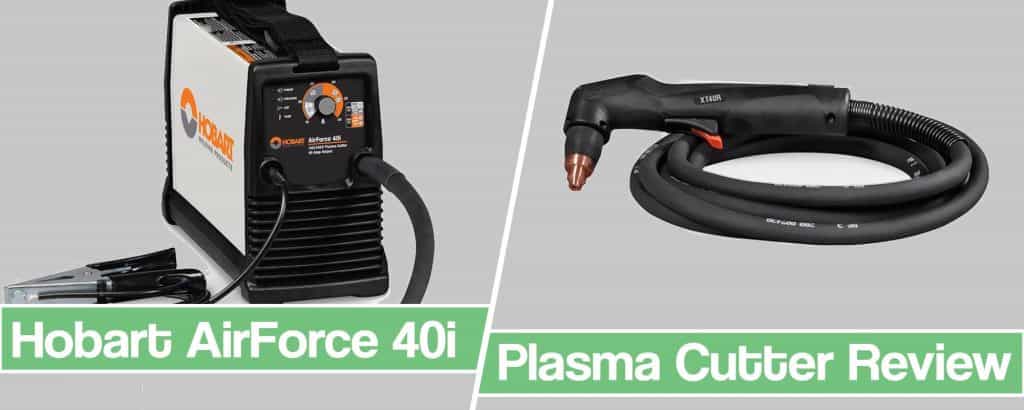 This piece of cutting handheld equipment can cater to all of your cutting needs. It is powerful enough, actually more than you would expect it, and is fairly on the cheaper side, as opposed to some competitors on the market.
Hobart is one of the best companies in terms of welding and cutting machine manufacturing. It is right there at the very top and is well known for its simple yet quality units.
Let's take a closer look at the Hobart 40i Plasma Cutter and what it offers.
Hobart 40i Plasma Cutter Review
Hobart has just recently started making plasma cutters. The 40i is their most expensive, but also the most reliable one, is the 40i Plasma Cutter.
Actually, it is a very powerful tool for cutting steel of up to 7/8″ thickness. This is actually very thick if you compare it to other competitors that are able to cut 3/8″ at entry-level.
The Hobart 40i cutter offers great performance and allows fast cutting with a very solid duty cycle at high amps (40A). It is also a very reliable plasma cutter that can be used for industrial and non-industrial work equally well.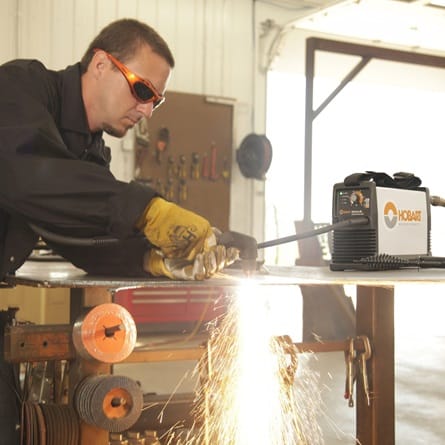 Hobart may be new to the plasma cutter market but is an already established name among welders. The machines they produce are known for offering quality at a reasonable price.
This one is a good bet for a variety of users as it is easy to use, has an exceptional build quality and frame, and is generally safe. Its recommended usage is very versatile as you can use it in your garage, around the farm, workshop, etc.
Pros & Cons Summarized
Pros
Powerful cutting performance
It has an enhanced wind technology system
Able to cut expanded metal, coated or painted surfaces
Provide precise cut and produce less slag
Easy to set up
Comfortable cutting torch
No flame tuning or pressure setting is needed
Single knob design
Quick, easy and clean cutting process
Hobart's bulletproof 5/3/1 warranty
On board diagnostic system allows you to see at a glance what's going on with your unit, especially with the LED display
USA brand
Lightweight with portable dimensions
Cons
Ground clamp is pretty weak but easy to workaround
Shorter power cord, so you might have to move it around a bit
It might be a bit pricey to some people and maybe hard too for first-time users.
Specifications
Processes: Plasma cutting.
Cuttable Thickness: Steel – 5/8in clean-cut and 7/8in the max cut.
Cuttable Materials: Steel, Stainless Steel, Alloy Steel, Aluminum, etc.
Input Power: 120/240 V, 60 Hz.
Input Phase: 1-Phase.
Current Type: DC.
Air Requirements: 6.0 CFM @ 90-120 PSI
Maximum output: 40A
Rated Output: 120v 20 A @ duty cycle 60% / 240v 40 A @ duty cycle 60%
Weight: 21 lbs.
No products found.
Hobart 40i Plasma Cutter Features
1. Cutting Capacity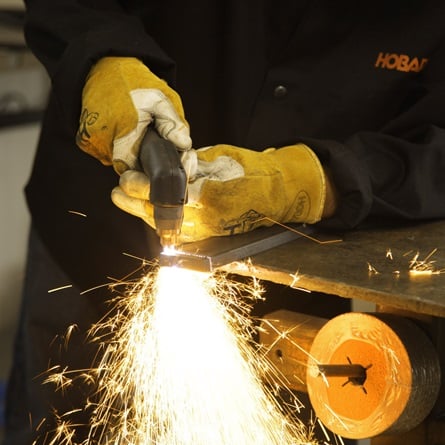 Probably the best thing, which at the same time is the most important, about the 40i Plasma Cutter is the fact that it is very powerful.
You will be blown away by its cutting ability as it offers maximum cutting that measures 5/8 inch steel, 3/8 inch aluminum, 3/16 inch copper, 3/8 inch stainless, 3/8 inch galvanized, and ¼ inch brass.
It even cuts mild steel and has the capacity to cut through 52 inches per minute on quarter-inch steel makes it really fast. Allowing you to finish up your work in a matter of minutes.
2. Lightweight & Portable
Another great feature that you will like about this cutter is its weight. It actually has an inverter design and weighs half as much (only 21lbs/9.5kg) as other cutters on the market do. It accounts for it being portable as you can move it about your working ground however you want. Additionally, the weight of the machine does not compromise its performance in any way.
3. Ergonomic Design XT40R Torch
The Hobart 40i also comes with an XT40R torch. This version is characterized by an ergonomic design that reduces fatigue and allows prolonged working hours. It will feel natural and very comfortable in the user's hand.
4. Engine-Driven Welders Compatibility
Something that many plasma cutters don't have is engine-driven compatibility. But the Hobart 40i provides you with this function. This means that you can increase its cutting capabilities by hooking it up with a power cord to a 240 v generator power outlet of 8KW or more.
The engine-driven welder will then allow you to cut 3/8 to 5/8 inch mild steel.
5. Airforce 40i Fan-on-Demand Technology
Something that will probably interest you is that the Hobart 40i unit is integrated with the fan-on-demand technology. This means that when the Hobart Airforce 40i plasma cutter is on it also helps to prevent dust and debris from entering the unit.
Protecting the internal components this way protects the machine from being damaged and will also increase the overall life cycle of the machine. Also, not to worry, the fan only runs when the machine is turned on. There is no additional power consumption while the Hobart Airforce 40i plasma cutter is working.
6. Wind Tunnel Technology
The added wind tunnel technology is another part of the Hobart 500566 airforce 40i cutter that helps protect its parts. The wind tunnel tech draws internal air flow and protects the PC board and other crucial components from coming dust, debris, or unwanted particles. Generally, it provides oversold protection that not many units have.
7. Airforce 40i Thermal Overload Protection
The Hobart Airforce 40i thermal overload protection feature is very useful to have. It prevents the unit from being phased by any working conditions during cutting. So in cases where the airflow gets blocked or the duty cycle crosses its limit, the terminal overload protection will kick in and automatically shut down the machine. This protects it from any further damage that may come to it.
8. Post-Flow Cooling System
Finally, the offered post-flow colling system on the Hobart 40i allows it to cool down rather quickly after work. This prolongs the functionality of the machine and protects the tips and the electrodes as well.
Who Should You Buy it?
If you are looking for a cutting machine that has a reliable plasma cutting system, provides great performance, and comes with a warranty, then look no further than the Hobart 40i unit. You don't need a cheaper as the price of this is more than sound and plus it comes with great specs. Also, it will pay off in the long run as it will definitely last longer than most similar products.
[F.A.Q] – Frequently Asked Questions
Does the working piece need any preheating?
No, using this product preheating the metal is absolutely not required. Preheating is a method that uses oxy-fuel but is inferior to plasma cutting.
Is the unit suitable to cut rusty and painted materials?
Yes, the cutter is more than suitable for cutting any painted or rusty materials. But keep in mind that you will need clean ground before doing so.
Conclusion
All in all, the Hobart 40i is one of the best plasma cutters that you will find in its price range. By stepping into the plasma cutter field, Hobart has really outdone themselves. They continue to provide a great warranty for their products and exceptional performance. Their plasma cutter is not different compared to other brands in terms of quality.
In fact, it provides more than you will get with other similar units on the market. But this model has more suitable dimensions and generates greater power.
Definitely, something every welder should look into for various types of work they intend to do.