Getting the best MIG welder for the money spent can be difficult, as there are way too many machines on the market.
If you already own a Hobart Handler 140 and feel it is not powerful enough to handle more serious projects, you might consider opting for Hobart Handler 190.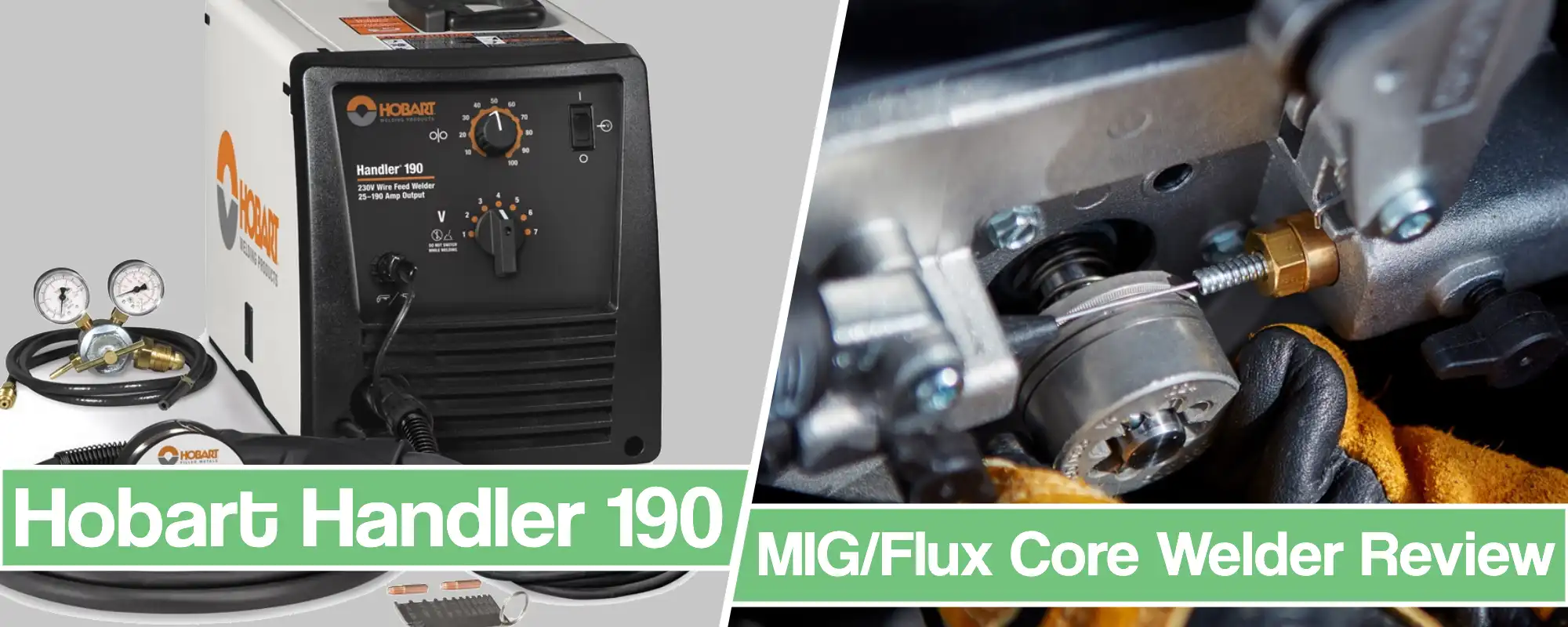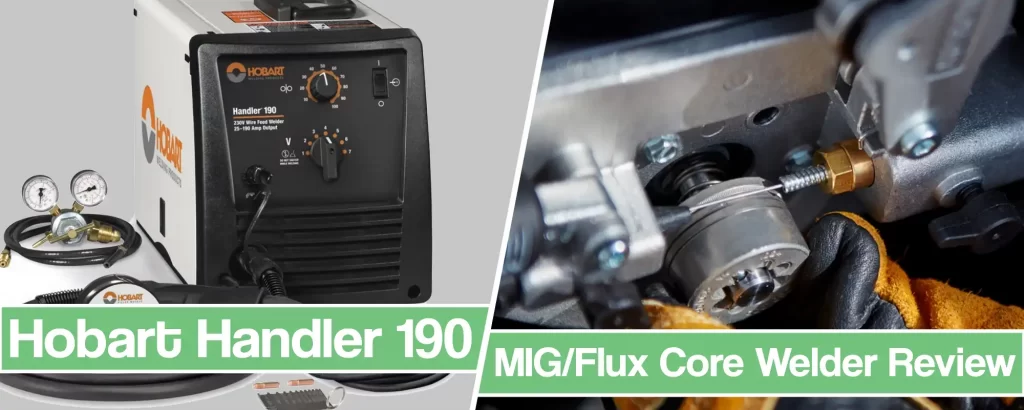 If you are looking to purchase a brand new, beginner-friendly MIG welder, then look no further. Hobart Handler 190 is a reliable machine that is easy to use and set up. You can weld steel or use it for aluminum wire welding, and it won't let you down.
Still, this welder has some limitations that might not suit every welder out there, so read this extender Hobart Handler 190 MIG Welder review to find out if this is a perfect machine for you.
Hobart Handler 190 MIG Welder Review – Package Content, Specifications, Pros & Cons
Let's have a quick look at what does Hobart Handler 190 has to offer. First, we'll have a brief overview of package content to help you understand what you are getting for money spent, specifications to make sure it is the suitable machine for you, and pros & cons to summarize everything quickly.
So, let's dig in!
Hobart Handler 190 Package Content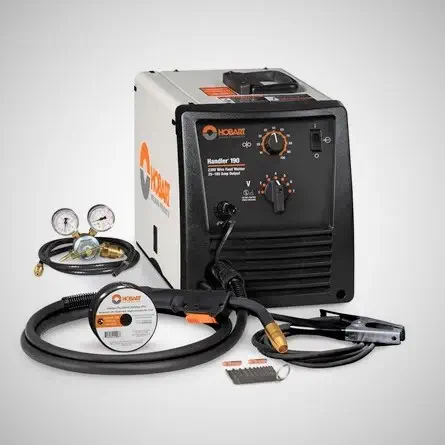 Improved HS100S4-10 MIG gun with ten ft. lead
The instruction manual which will help you install, operate and maintain the machine
Work cable with clamp (10 ft.)
Dual-gauge regulator with gas hose and built-in gas solenoid valve
Spool hub assembly, which accommodates 4or 8″ spools
Sample spool of 0.030 in. flux-cored wire
Spare 0.030 contact tips
Quick select drive roll, which can fit 0.030/0.035 in mild or stainless steel wires, and 0.30/0.35 flux core wire.
Power cord with plug
Material thickness gauge with welding guide
Comfortable HR-100 Gun
Technical Specifications, Pros & Cons
| | |
| --- | --- |
| Welding processes: | MIG welding, Flux Core |
| Input Power: | 220/230/240 V |
| Rated Duty Cycle: | 30% at 130 A (21.5V) |
| Amperage Output: | 25-190 A |
| Voltage Control: | 7 tap knob |
| Wire Feed Speed Control: | Infinite wire speed |
| Materials: | Mild Steel, Stainless Steel, and Aluminum |
| Welding Power (Mild Steel): | 24 ga. to 5/16 inch |
| WFS – Wire Feed Speed: | 40-700 IPM |
| Welding Wire Sizes: | 0.023 – 0.035 in. solid wire 0.030 – 0.045 in. flux-cored wire |
| Spool Sizes: | 4 and 8 inch |
| Welder Dimensions: | 12.375 in. x 10.625 in. x 19.5 in. |
| Weight: | 68 lbs. |
| Warranty: | Hobart 5/3/1 years warranty |
No products found.
Pros
Beginner-friendly welder which is easy to set up and use
High-quality Quick Select drive roller with triple groove
Built-in motor protection, self-resetting thermal overload ensure the machine will last longer and won't break
Spool gun ready – you can weld aluminum with it
Package content includes a handy stock thickness gauge and decent quality regulator
Safety mechanism which makes wire electrically cold until you pull the trigger
Overload and thermal and short circuit protection for the wire drive motor
Even though it is a transformer-based unit, you can still use the generator to power it
Hobart 5/3/1 warranty that applies differently on specific components
Cons
You cannot use the machine for any heavy-duty work
This is a 230V machine only, so you might have trouble connecting it to a regular household outlet
You will need at least a 7000-watt strong generator to power the welder
Hobart Handler 190 is more expensive than other machines in the same category, which may still offer more, but still, you get a brand-name, high-quality welder
Great Features I Liked About Hobart Handler 190
Here are some of the great things and features I liked about Hobart Handler 190. Then, I will talk about welding capabilities, ease of use, build quality, and protection.
Welding Capability and Usability
If you had a chance to work with Handler 140, you would notice a power output improvement.
That means you can weld steel, stainless steel, and aluminum ranging from 24 gauge up to 5/16 inch.
To achieve enough power, you have seven different voltage settings and an infinitely adjustable wire speed control. Fine-tuning the settings will significantly increase the functionality and welding capability.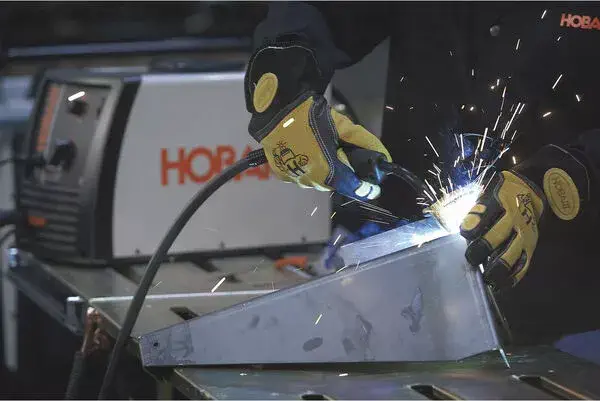 Beginners can use a side door chart, which is straightforward to read, ensuring decent bead quality straight out of the box.
Welding Power and Duty Cycle
Hobart Handler 190 is capable of producing the 25-190 amp output, which is quite decent. Still, you might lack power if you tackle the very thick materials. Nevertheless, that's greater than Hobart Handler 140, meaning it's a more powerful MIG welding machine.
You will need an input power of 230V higher than the normal household power outlet to run the machine. Still, you can use a generator to power the device, making it great to work in remote locations.
Keep in mind that Hobart Handler 190 has a rated duty cycle of 30% at 130 amps. That is enough for light industrial work, but MIG welding more extended hours might be difficult, as you will need to let the welder cool down.


Control Panel and Welder Settings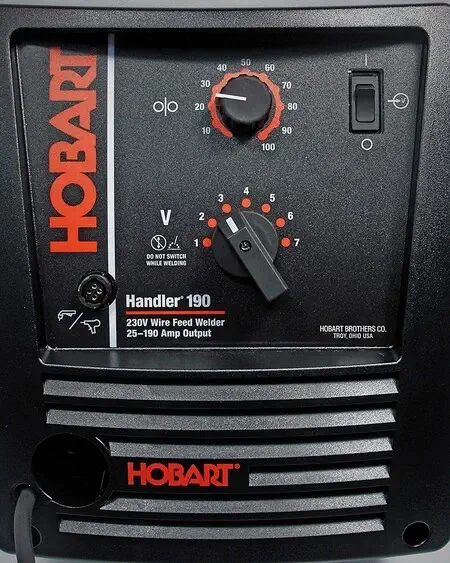 The first thing you notice when looking into the Hobart Handler 190 is the straightforward control panel. There are only two knobs and an on/off control switch.
That's it; there are no flashing lights and digital displays, that might give beginners a headache. But don't get me wrong, these settings are still enough to make your device quite functional.
The voltage control knob has seven taps, while you still have an infinite wire speed control. If you are a beginner, you will love how easy this welder is to use. Still, if you are an experienced welder, you get the ability to fine-tune your welder.
Build Quality and Drive Roll Mechanism
When you decide to buy a brand-name welder, you get what you pay. Therefore, investing in Hobart machines was always a great choice when considering build quality.
In addition, Hobart Handler 190 has been improved quite a few times. The latest upgrade brings the triple instead of the dual groove Quick Select Roller.
You can run flux core, steel solid wires easily, without fear of birdnesting or clogging. So, you can use any 0.023 to 0.035-inch solid wire size or 0.030 to 0.045-inch flux-cored wire diameter with just one roller.
In addition, there is a marked drive roll lever, that helps you adjust tension.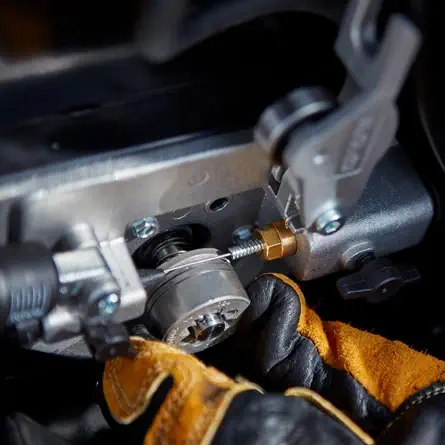 This is just one more reason why this unit is excellent for beginners, enthusiasts, and DIY lovers. But still, even experienced welders appreciate the smooth MIG welding wire feed and improved arc performance.
Welder Protection Features
When building a Handler 190 MIG welder, Hobart wanted to make sure they protected the welder's investments. That's why there are various built-in protection mechanisms.
One of the great features Hobart Handler 190 offers is the drive motor protection. The circuitry will cut off the motor to protect the drive motor from overloading.
In addition, if you surpass the rated duty cycle, transformers in a welder may get damaged. Hobart included a thermal trip to make sure that doesn't happen, which will shut down the machine once it gets too hot. Self-resetting thermal overload will reboot once it is cool enough.
You should keep in mind that Handler 190 wire is electrically cold when not in use. That means you don't have to worry about accidentally starting the MIG welding arc before intentionally pulling the gun trigger.
Warranty
Even if something unexpected happens to your machine or the shipping goes wrong, Hobart offers a 5/3/1 years warranty, which is one of the best you'll find on the market. In addition, if you receive a damaged or malfunctioning unit, customer support will make sure you get a new one.
When talking about warranty, the transformer, stabilizers, and rectifier are warranted for five years, generators, PC boards, and drive system warranty will last 3, while MIG gun warranty one year.
Things I Disliked About Hobart Handler 190 MIG Welder
Even though there are many great things I mentioned in this Hobart Handler 190 review, here are some of the things you should consider before making the final choice.
These are some drawbacks some might find limiting, while most beginners won't mind.
Input Power
I already noted Hobart Handler 190 MIG welder is a 240V only machine, meaning you will have a proper outlet with at least a 30 amp circuit breaker available. Some machines rated at 190 amps such as Forney 324 or Everlast PowerMIG 200 offer dual voltage options, while brand name units such as Millermatic 190 or Lincoln Powercraft 190 are also 240V only welders.
Even though you can use the generator to run this welder, you will need at least 7000 watts to achieve maximum power. In addition, a 5000-watt continuous generator will be enough to achieve a 130 amp output.
Who is This Welder For?
Hobart Handler 190 will put out a welding range of 25 to 190 amps, with a reasonably limited duty cycle rated at 30%, meaning you won't be able to get a hang off serious MIG welding projects.
Millermatic 190 has a rated duty cycle of 40%, while Lincoln Powercraft 190 is rated at 20%.
In addition, you can handle up to 5/16 thick materials, which is relatively low in this price range.
Nevertheless, you will be more than satisfied if you plan to use it for automotive work, home DIY projects, construction, and maintenance work.
In my opinion, this is a portable machine that makes a great first welder. Still, it might not be an efficient MIG welder if you are doing some more serious work.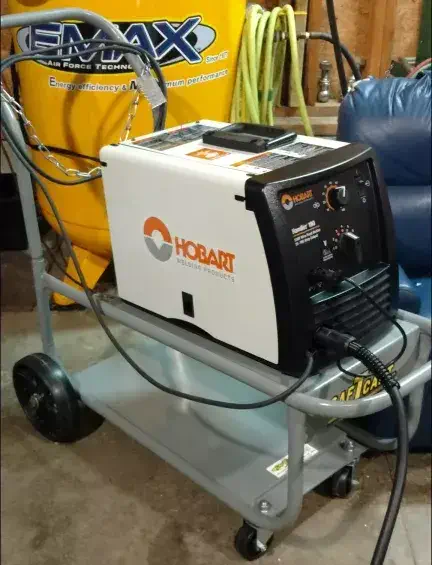 Aluminum Wire Welding Capability
The Handler 190 is a spool gun-ready unit, but you don't get one in the essential bundle. In addition, wire feed speed is not high enough to handle aluminum wire without birdnesting, so if you plan to weld aluminum more than few times a week, you might opt for a spool gun.
Luckily, there is a bundle with a spool gun included, and the overall price is slightly lower than what you get when buying it separately. Unfortunately, that's the brand-name welder trend, as you are most likely to purchase a spool gun independently.
Keep in mind that you can weld 16 ga, up to 1/4 inch thick aluminum.
Provided Consumables
Even though Hobart offers a decent package content with a great regulator with a gas hose, consumables won't be enough to keep you going for long. So besides the high initial price, there is an extra cost.
If you decide to weld with a pure CO2 shielding gas, keep in mind that provided regulator might freeze, as it is not meant for C100. A damaged regulator will not give an accurate reading or even cause leakage.
Unit Weight and Portability
Remember that Handler 190 is a transformer-based unit, meaning it is a bit heavier than other welders.
The unit weighs 68 pounds, making it quite heavy, but still a portable unit. For example, Eastwood MIG 180 weighs 25 lbs, Everlast PowerMIG 200 is 35 lbs, as well as Millermatic 190.
Alternatives to Consider
If you want a more versatile, budget but not a brand-name machine you can consider an Eastwood MIG 180. The unit's value compares with Hobart Handler 190 pretty well.
With Eastwood MIG 180, you get a dual voltage, pretty lightweight inverter, with a higher amp cycle and infinite voltage settings. And yes, you get more than half of the price. If you prefer a value over a build, you might want to consider it.
Summing Things Up
Considering all the things I mentioned in this Hobart Handler 190 review, this is a beginner-friendly welder with heavy power output, compared to other hobbyist machines. You get a high-quality build with a sturdy roll system.
Still, Hobart Handler 190 cannot handle heavy industrial tasks. You can tackle an occasional heavy job, and weld materials that are not too thick. Nevertheless, the unit produces beautiful welds, the highest quality arc, and a professional bead appearance.
While it's not the cheapest and light weight welder on the market, built-in safety features will protect your investment. You really get what you pay for, as the Hobart makes pretty reliable welders.
Overall, Handler 190 is a decent unit for DIY projects that require a bit more heat and especially fits the new welder's needs. Just remember that unit is limited to light to medium capability,