Having a reliable stick welder is what every experienced welder strives for.
If reliability combined with performance is what you are looking for, then your safest bet has to be the Hobart Stickmate 160i.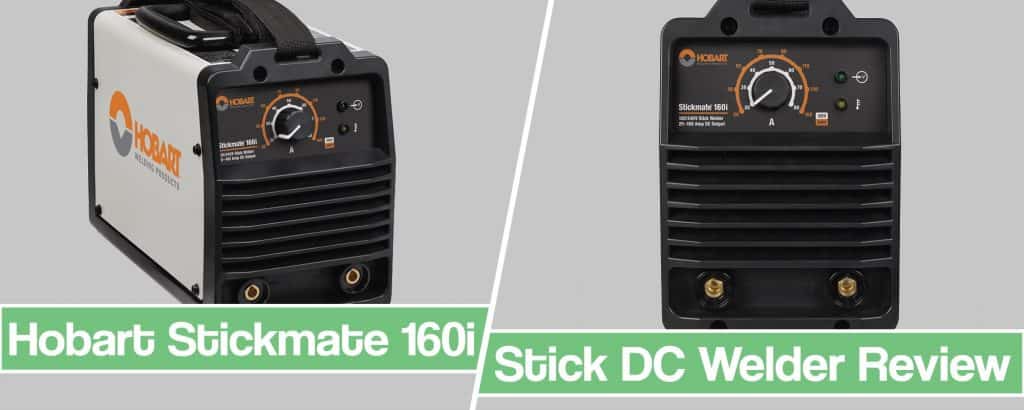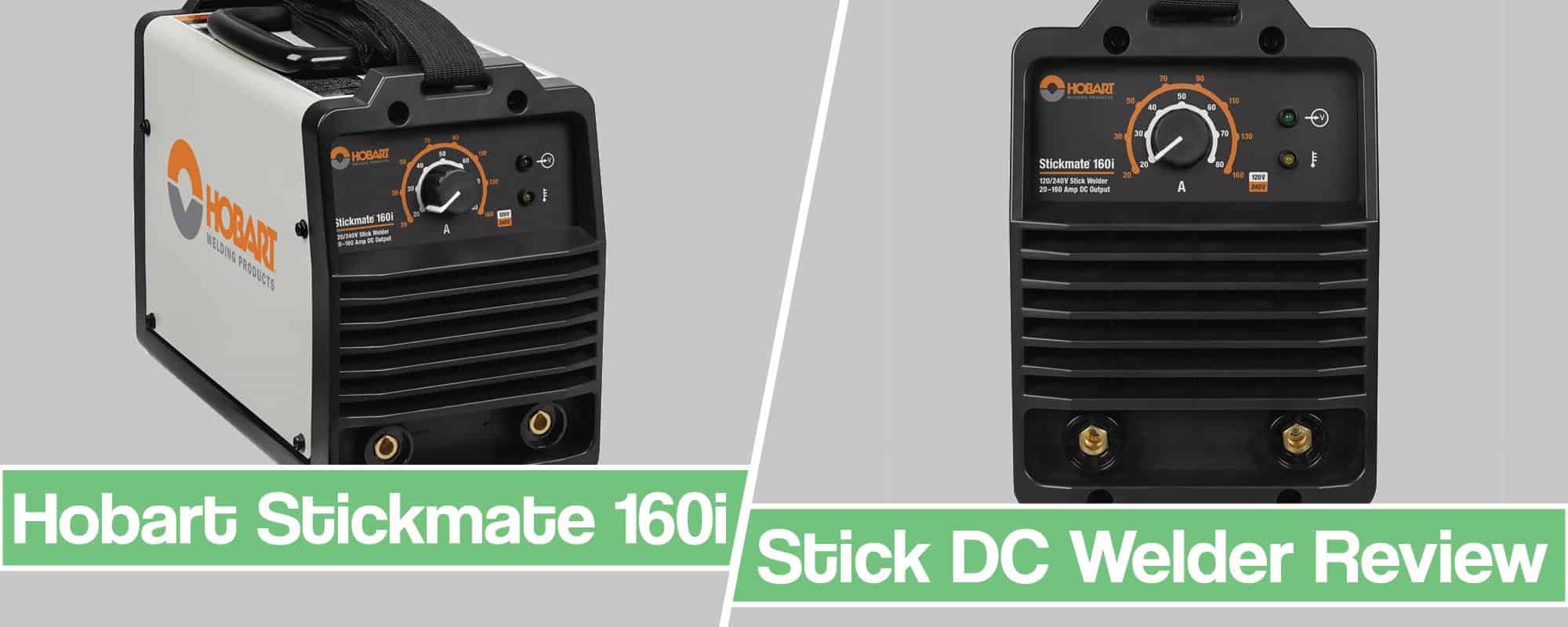 Considered as one of the best stick welders for a variety of purposes the good people from Hobart have created it with improved functionality.
This Hobart stick welder will definitely exceed your expectations. But you should be aware that it is a bit expensive as opposed to other similar products. However, paying a bit more for an infinite amperage control mechanism is definitely worth having for a few extra bucks. And there is the five-year warranty that comes with it as well.
Let's check out all of its exceptional features.
Hobart Stickmate 160i Review
The Hobart 160i is definitely one of the Hobart stick welders that produce the nicest welds. It is a 160 amp DC welder that can run on dual voltage input of 120 or 240 volts. This welding unit has the highest quality as expected from Hobart welding machines and is exceptionally lightweight, with a weight 15 pounds. Not only that, but it is also extremely compact with dimensions of 3.4 x 7.1 x 10.5 inches, making it more than easy for welders to carry.
Compared to other, older, Hobart stick welders, this one is not only lighter but also comes with more amperage power DC welding arc. With the 240-volt it is capable of producing 160 amps while with a 120-volt power input it can create 80 amps.
The built of this welding machine is also more than exceptional. It has a different design when comparing it to other stick welder Hobart welding machines, which is durable and has more quality to it.
Finally, the technology that the Hobart Stickmate welder has pitted it ahead of other similar welders. The built-in infinite amperage control mechanism is definitely something to look forward to as it is a precise adjustable control for heat and amperage outputs. It essentially allows a welder to make one-amp increments for respective welding applications. Also notable to mention is the hot-start technology.
No products found.
Pros & Cons Summarized
Pros
Dual voltage welder
Very simple to use
Lightweight and portable
Machine of excellent quality
Excellent user experience
Duty cycle indicator
Rugged and sturdy
Hobart 5/3/1 Warranty. Parts and labor
Cons
Duty cycle on the low end
More expensive than an average stick welder
Specifications
Processes: Stick (Shielded metal arc welding).
Weld Thickness Range: Steel – 25 ga. – 3/8 in.
Weldable Metals: Steel, Stainless Steel, Aluminum.
Input Voltage: works with 120/240 V, 60 Hz.
Input Phase: 1-Phase.
Current Type: Direct current.
Rated Output: 240V: 160 A @ duty cycle 30% , 120V: 65 A @ duty cycle 20%
Amperage Range: 240V: 20 A – 160 A , 120V: 20 A – 80 A
Weight: 15 lbs.
Hot Start Technology
The added hot start technology for the Stickmate 160i improves the overall quality of the welds. With the ground clamp accounting for a reliable arc contact This will improve your capability of using this DC stick welder for both commercial and domestic welding jobs.
After you actually do some welding, you will notice how impeccable the quality of your work is going to be with this stick welder and the improved technology. It is not only easy to use but it also offers high-quality results.
Dual Voltage Capability
The dual voltage capability makes it easier for the user to plug in and work anywhere with this Hobart Stick welding product. The product has 160 amps and dual voltage of 120v and 240v. The only thing that you need to worry about is that the electric plug and adapter cord fit the receptacle.
It is not difficult to connect it as this product doesn't really require any additional tools in order to connect the components. The power cord comes with a twist lock for easier attachment. With two input voltage offered you can do with any DC power output available.
Sturdy Design With Complete Accessories
Another advantage for the Stickmate welder is the exceptionally sturdy design that it has. It is not only light to carry because of it being extremely lightweight at 15lbs, but it also comes with all sorts of amenities that help you do so.
It has an adjustable shoulder strap that makes carrying it around sights a breeze. You definitely don't have to worry about fatigue anymore as it is quite easy to move this machine about.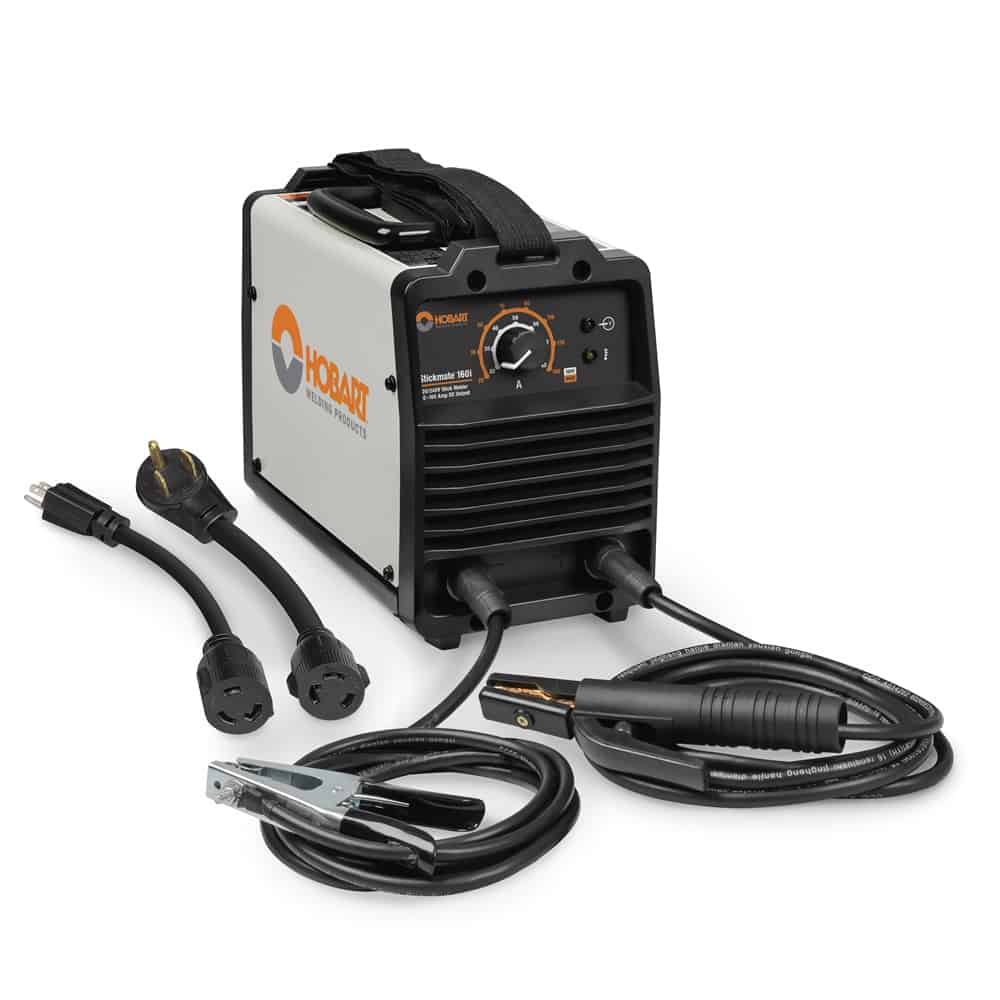 The product also comes with a full set of accessories that you will easily fit inside your toolbox. It comes with a 2-meter power cord with MVP (multi-voltage plug) adapters. There is also the 10 ft. (3 m) electrode cable with a heavy-duty electrode holder, the 10 ft. (3 m) work cable with a ground clamp and a 120 V and 240 V plug.
[F.A.Q] – Frequently Asked Questions
Can you run 6010 with this welder?
Yes, you can! Besides the 6010 electrodes, you can use the 3/32 6013 and 6011 ones and also the 3/32 7018 electrode rods. But the limitation of the rod will generally depend on the amperage range.
Can you add a foot pedal for TIG welding?
You actually can't use a foot pedal for a TIG because this welder does not double as stick/TIG officially. People have been using stick only welders to do TIG but since there is no official support there is also no support for the TIG pedal.
What's the ideal way of connecting the lead cable of this welder?
It is recommended that you use Dinse connectors with the work clamp and electrode holder for this machine. But a good 25-mm Dinse connector is best suited for the job.
Conclusion
Basically speaking, what we are trying to say is that the Stickmate 160 machine from Hobart provides everything that you would need for producing a beautiful weld. Not only that, but it comes with added features and technology that only improves your welding results. The power is also pretty good and the arc start features are also more than good to have.
The only downside may be its price. But, as you will no doubt be able to see from other reviews, for better results you have to pay a little more. However, this one comes with better results than most of the welders on the market. Great, portable, and definitely a sound purchase for anyone.