Once the weld projects, repair, or maintenance jobs move into the field and away from the power source, you will need a reliable and capable engine-driven welder.
Lincoln Electric Eagle 10,000 plus is just the right machine for construction contractors, maintenance crews, farmers, or ranchers. Eagle is a multi-process welder that runs off an ac welder generator rated at 10.500 watts of surge power and 9,000 watts of continuous power.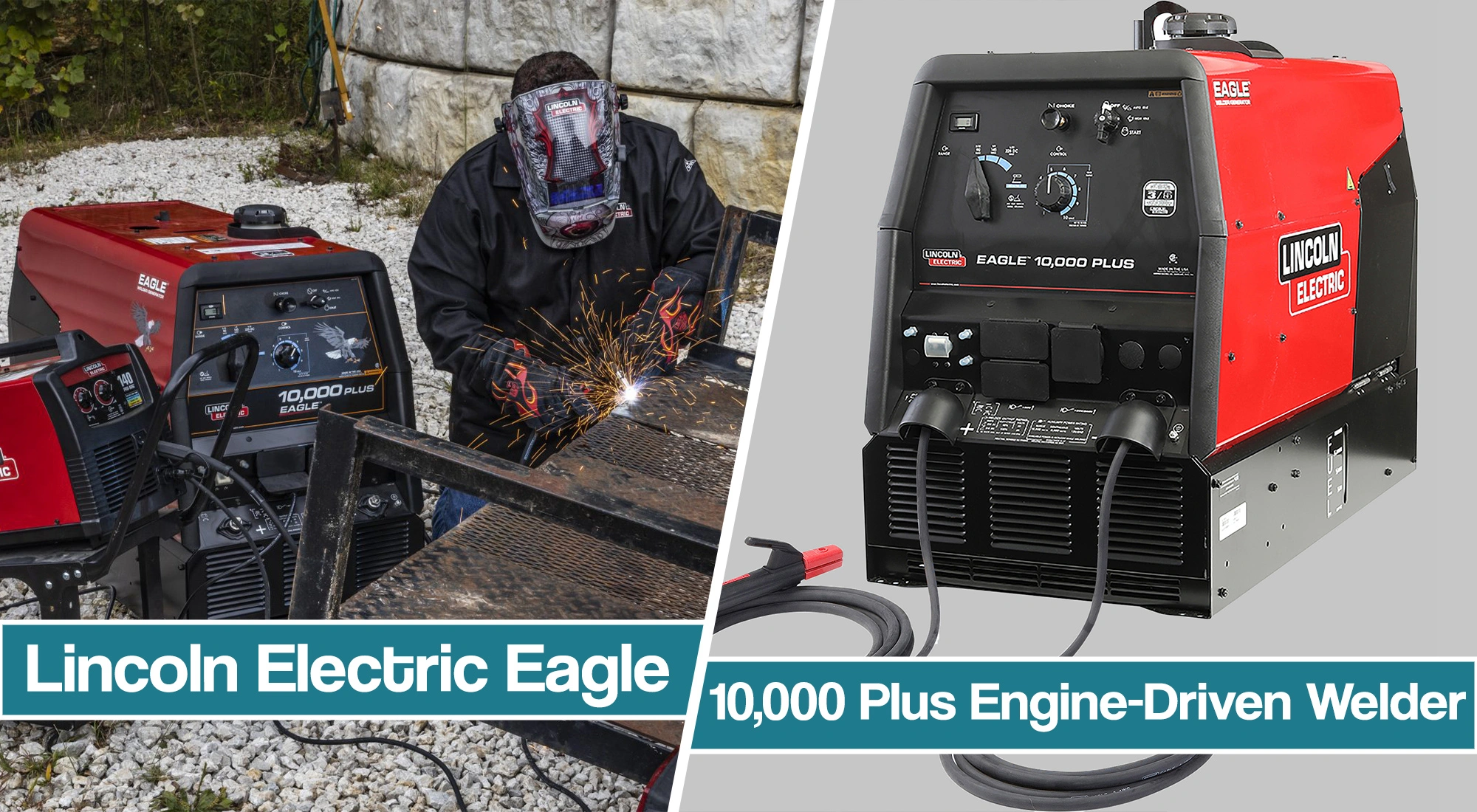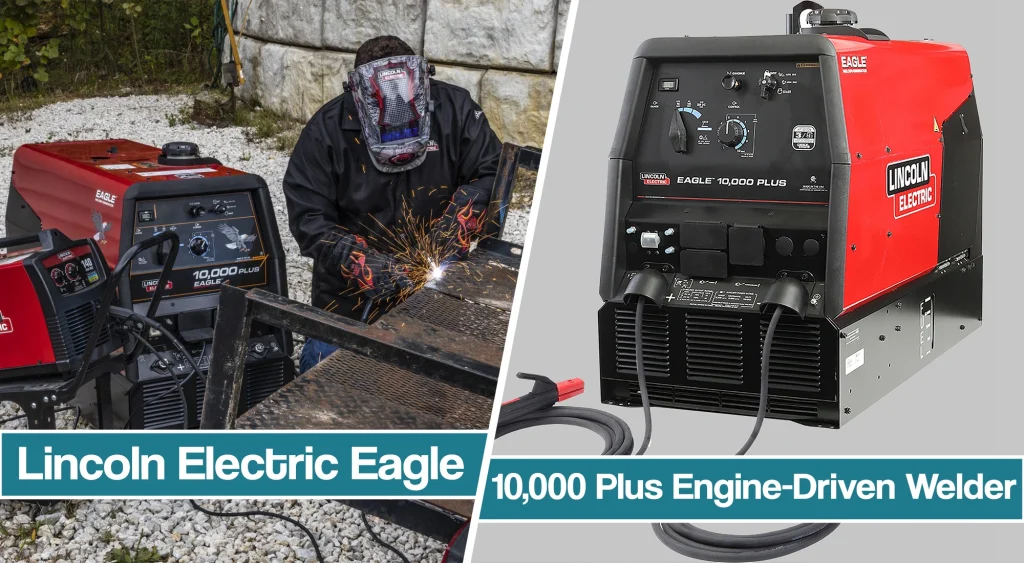 The generator provides a constant current mode for stable MIG/Flux cored, Stick welding. In this Lincoln electric eagle 10000 plus review, we will discuss its versatility and features, the good and the bad.
Lincoln Electric Eagle 10000 Plus Review – Engine-Driven Welder
Professional Generator Welder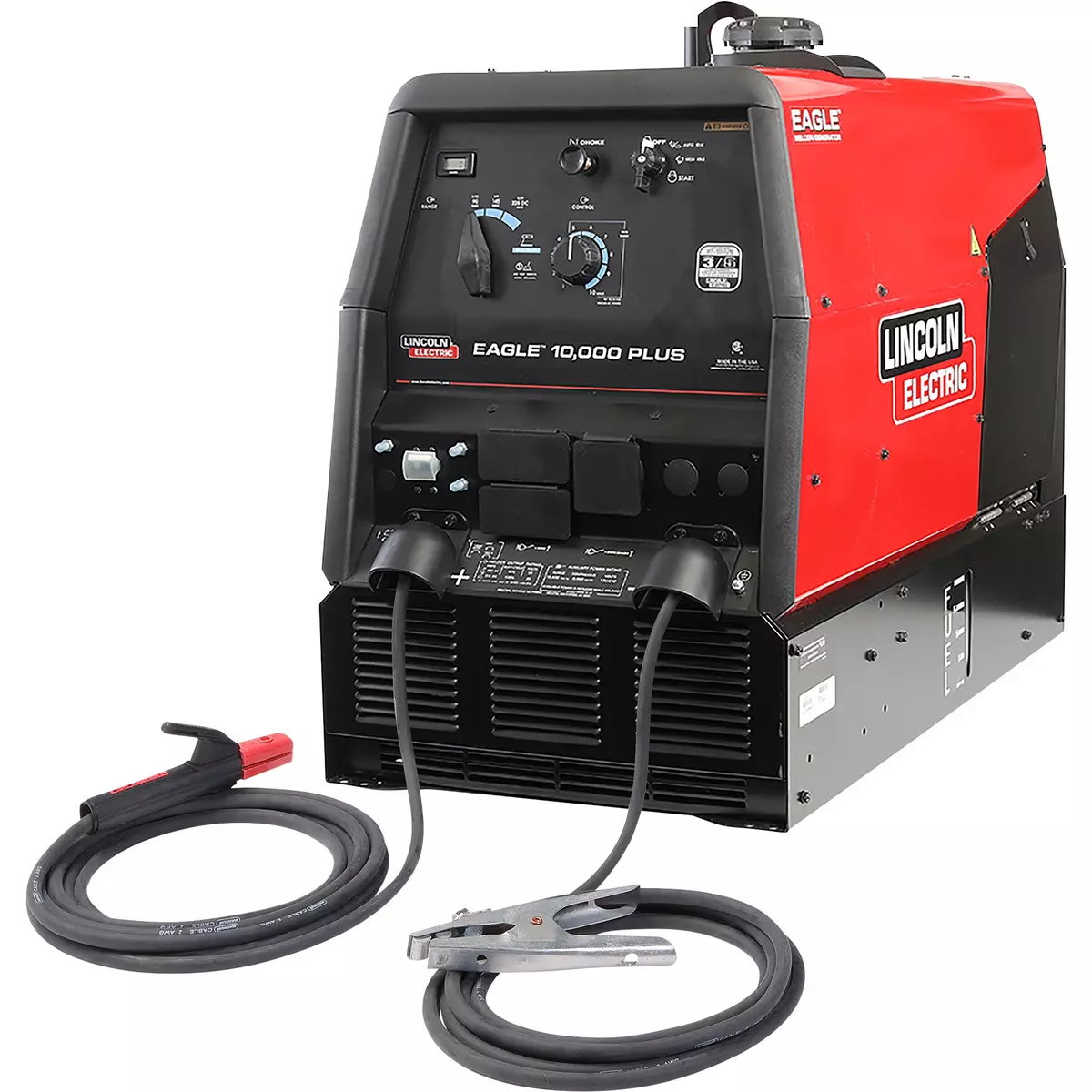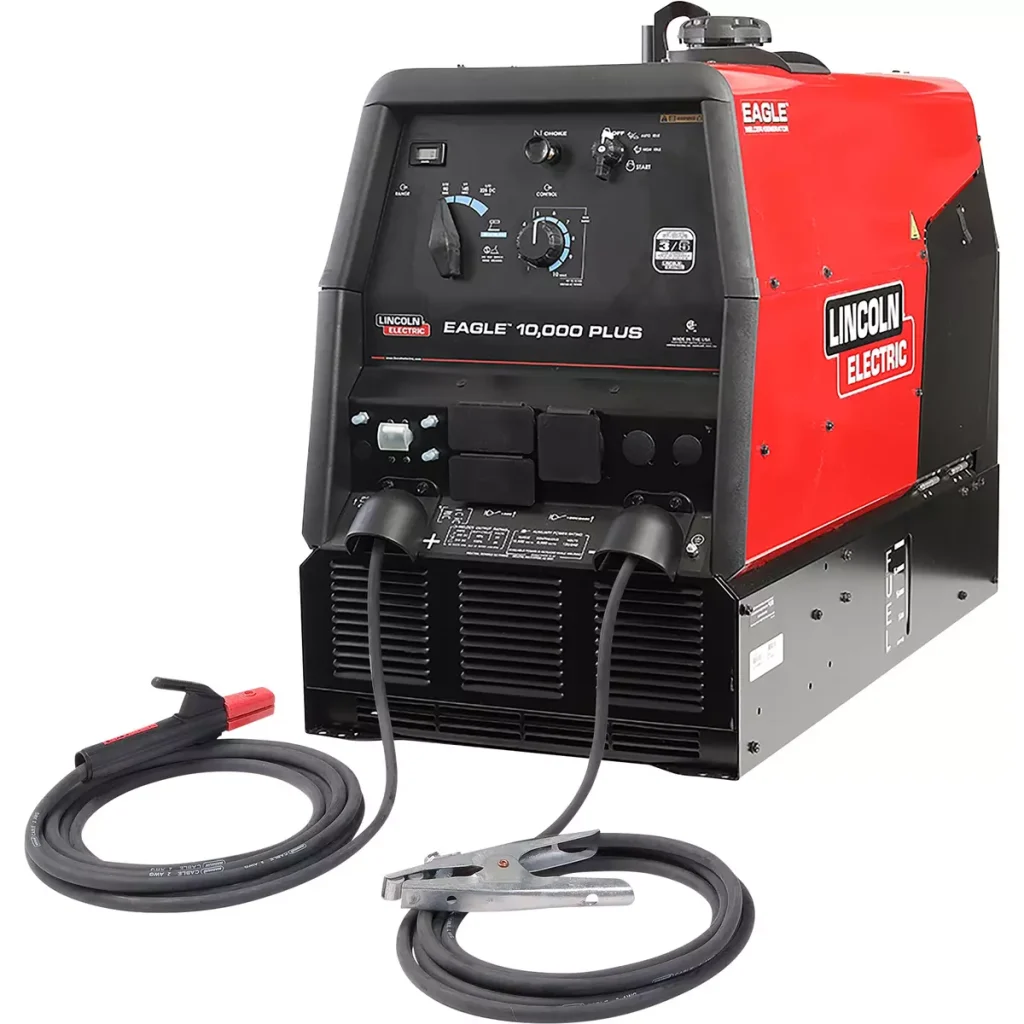 Lincoln Electric Eagle 10000
Lincoln Electric Eagle is a multi-process welder that uses a highly rated generator to power the welder but also lights, grinder, power tools, and everything you need for your on-field jobs. In addition, it offers excellent versatility, as you can use it to run a MIG welder, for basic TIG welding, or as a reliable Stick welder.
Since the MIG welder is not the most suitable machine for outdoor work, Eagle 10,000 plus is fully compatible with self-shielded flux wire and wire feeder applications. Fundamentally, the basic pack is aimed at DC welding, so you cannot use it as an aluminum TIG welder. Nonetheless, the welding generator provides an AC current, so you can plug any AC/DC TIG welder that can run on a 10 kW power source.
Technical Specifications :
Welding Types:
Built-in Stick welder; MIG welder, Flux cored welder,
DC TIG welder with optional equipment
Rated Watts:
9,000 watts continuous power
Surge Watts:
10,500 watts surge single phase ac
Receptacles :
3
Circuit Breakers:
4
Welding Output:
120–225A;
70–145A;
50–90A
Maximum welding thickness:
1/2″
Work clamp length:
20 ft.
Engine:
23 hp Kohler gasoline engine
Fuel Capacity:
12 gallons
Weight:
514 lbs
As a Stick welder, Eagle 10,000 plus engine-driven welder supports various Stick electrode types such as E6013, E7014, E6011, or E7018 with 100% Duty Cycle at 210 amps. Therefore, you can use Lincoln Eagle 10,000 for basic welding jobs or advanced welding.
Remember that Lincoln advertises this machine as a multi-process welder. In practice, it is a Stick welder with the ability to run any transformer or inverter MIG/Flux core or AC/DC TIG welder that can run off a 10 kW generator.
Lincoln Eagle 10,000 Build Quality
Eagle 10,000 plus engine-driven welder is yet another well-built and reliable machine from Lincoln Electric that is built to last and perform. With the totally enclosed case, the engine is protected from any damage and harmful particle, but that doesn't affect maintenance. There are three service access doors you can easily take off and access the engine.
Remember that Lincoln electric eagle 10,000 is a robust and massive engine-driven welder weighing 514 lbs. Nonetheless, the base has front and rear holes for convenient truck or trailer mounting. In addition, the Red and black powder paint finish offers increased durability with added protection from rust and corrosion. Also ultraviolet resistant to better retain color and gloss.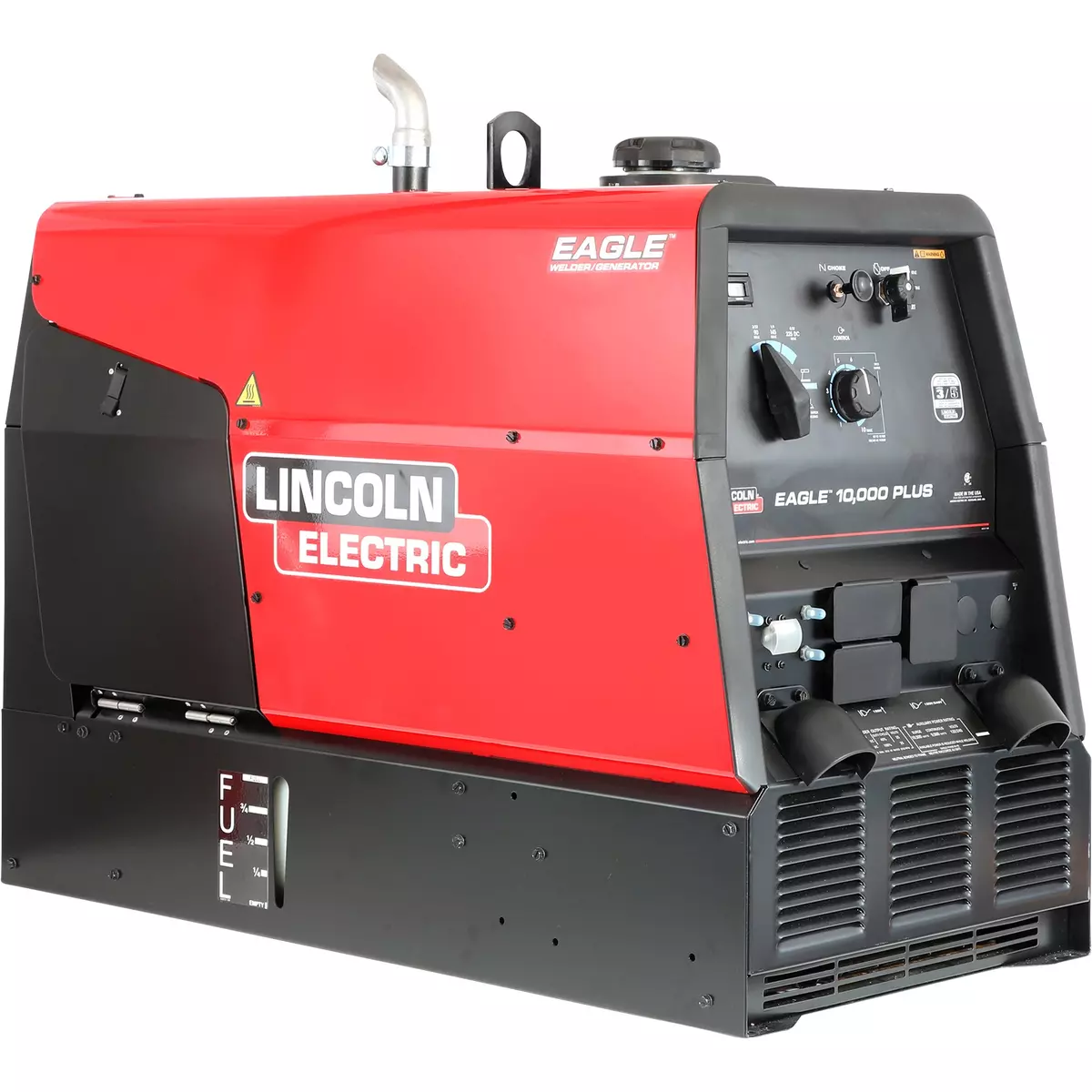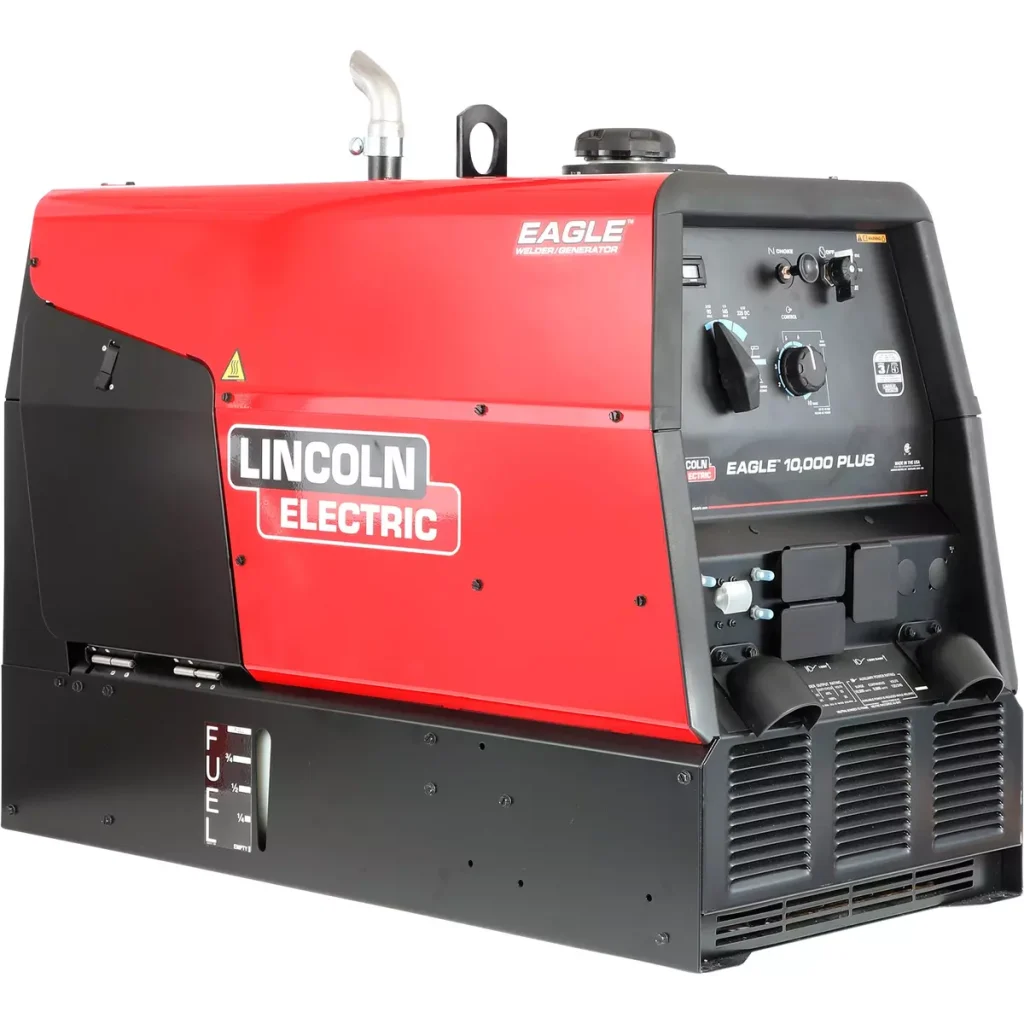 I liked the easy-to-read fuel level slots on both sides of the base. The entire build feels like it is dedicated to ease of use, maintenance, and convenient welding.
About Welding Power
Lincoln Electric Eagle 10,000 has a rated output of 225 amps, which makes it one of the most powerful in its line of petroleum engine-driven welders.
The broad range output of 120–225A; 70–145A; 50–90A will cover most of your light to medium duty needs with MIG welder and TIG welder, as well as material thickness up to 1/2″ with Stick welder.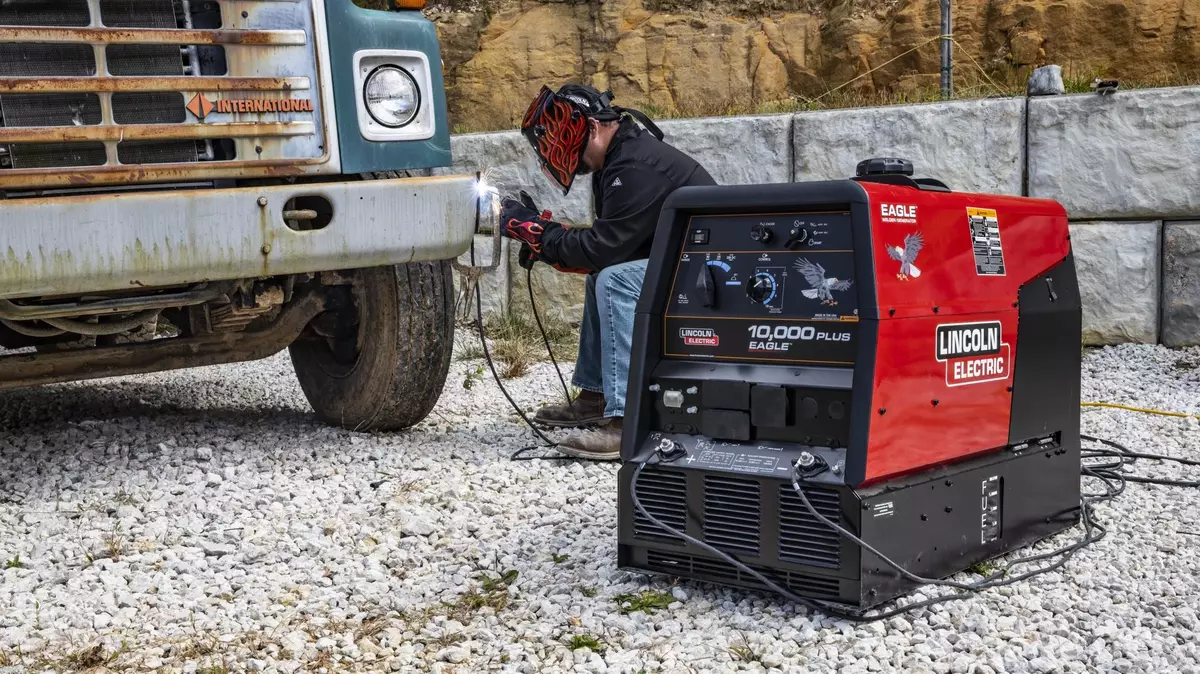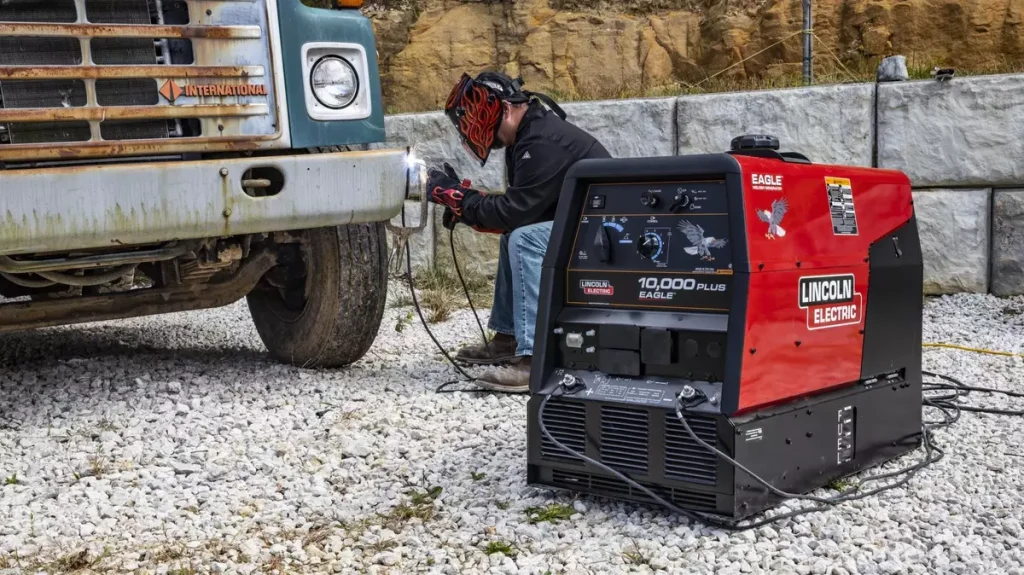 Only Lincoln Electric Ranger has a higher-rated output of 305 amps, but you will rarely get a chance to weld or repair that thick metals. In addition, petroleum welders are aimed at lower-duty jobs, and the welding power is commonly limited to 300 amps.
On the other hand, Lincoln Eagle's rated duty cycle of 210 amps DC, 25V at 100%, will keep you welding for a long without having to cool down. At the maximum power of 225 amps, the duty cycle drops to 40%, but it is more than enough when you need to get the job done. AC generator outputs are rated at 104°F (40°C)
Any Lincoln Electric machine will give you the best weld quality and deposition properties regardless of power. The constant voltage of the generator provides smooth dc welding output with high weld quality and rugged reliability welding.
Eagle 10,000 Generator
The Lincoln electric eagle 10,000 plus uses a powerful and reliable 23 HP Kohler Gasoline Engine with 2 cylinders, 4-cycle overhead valve, 750 cc engine displacement, and an air-cooled design.
Surge ac generator power is rated at 10,500 watts, which is more than enough to support turning on a welder or added power tools or emergency power.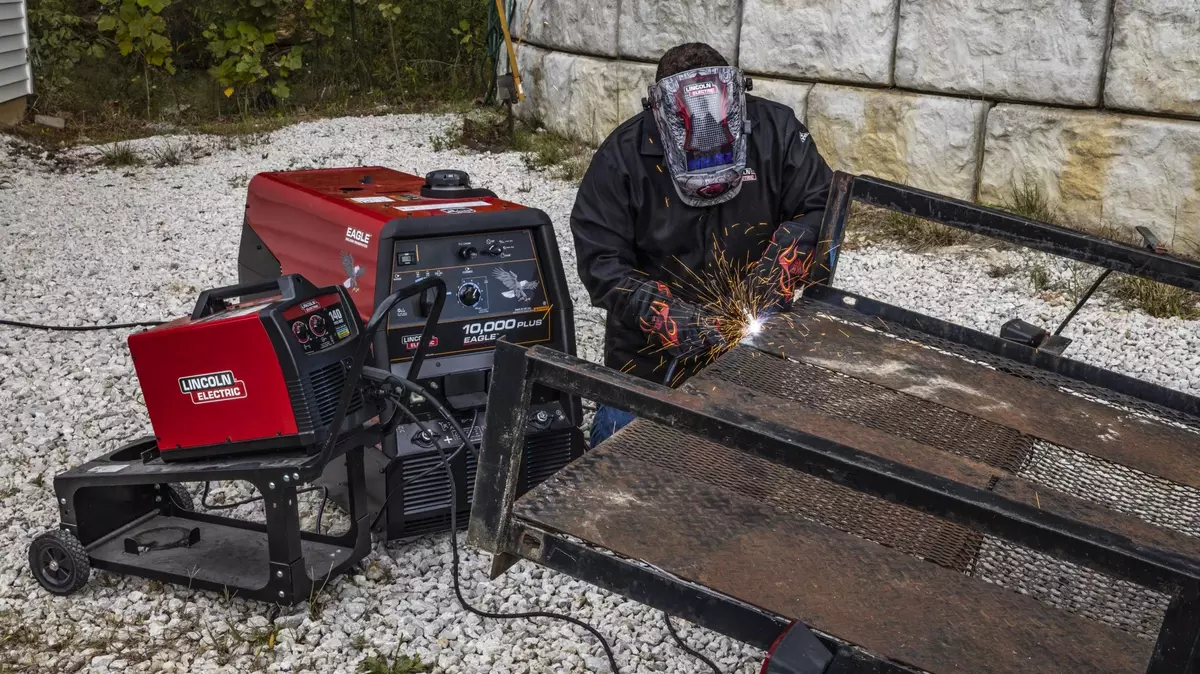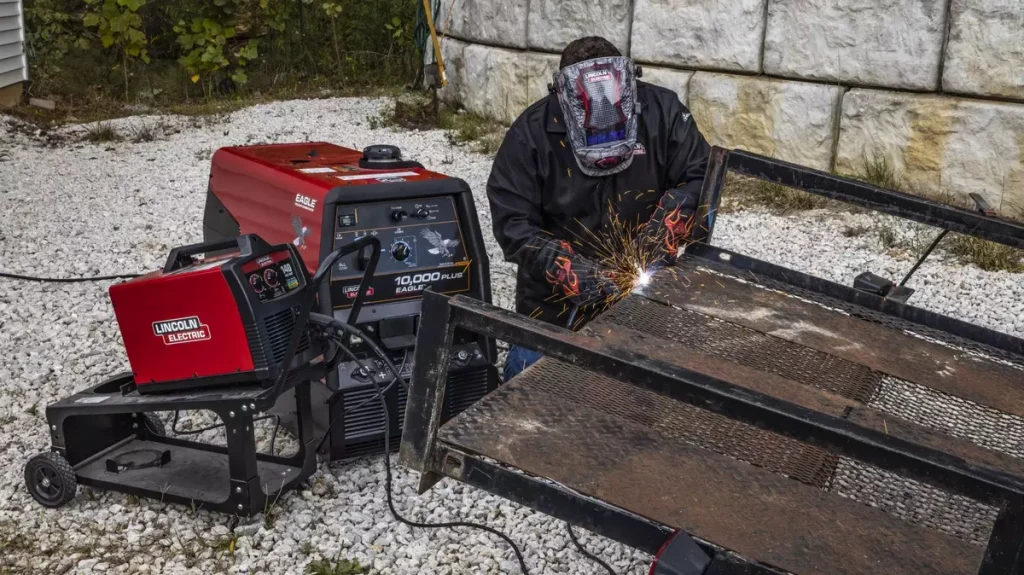 Meanwhile, AC generator outputs rated at 9,000 watts continuous power, suitable for added Lincoln Electric inverter welder or plasma cutter. However, remember about the separate air supply needed for plasma cutting.
The welder generator has a 12-gallon tank which allows extended run times. The large top fuel filler neck is easily accessed for refueling. With 1.3 gallons/hour at 100% duty cycle, a full tank will keep you going for a long, and you can always track it with a visual fuel level gauge.
I loved the easy maintenance, which is simplified by the oil drain valve with a removable oil drain extension tube. Petroleum-powered generators are usually subjected to higher wear, therefore, require more frequent servicing.
Nonetheless, the engine requires an oil change every 100 hours and every 200 hours for the oil filter. In addition, there is an engine hour meter that makes it easy to schedule regular maintenance. With the 76.4 dBA sound level at 23 ft. and 100.7 dB sound power (Lwa) at rated output, this generator is not extremely loud nor the quietest.
Welder Settings
The simplistic and straightforward design makes the Lincoln Electric Eagle 10,000 plus engine-driven welder easy to set up and run. The start-up is electrical, but the button allows three positions: START, OFF, and IDLER. The Group 58 battery with 435 cold cranking amps provides reliable starts every time, and idle mode provides longer engine life, reduced noise emissions, and greater fuel economy.
Besides the start button, the control panel features an engine hour meter, output range, and amperage selectors, with 120V receptacles and a 120/240V receptacle. Therefore, you can easily plug in any optional equipment or electrode holder of your choice. In addition, starting and setting the engine-driven welder is super-easy.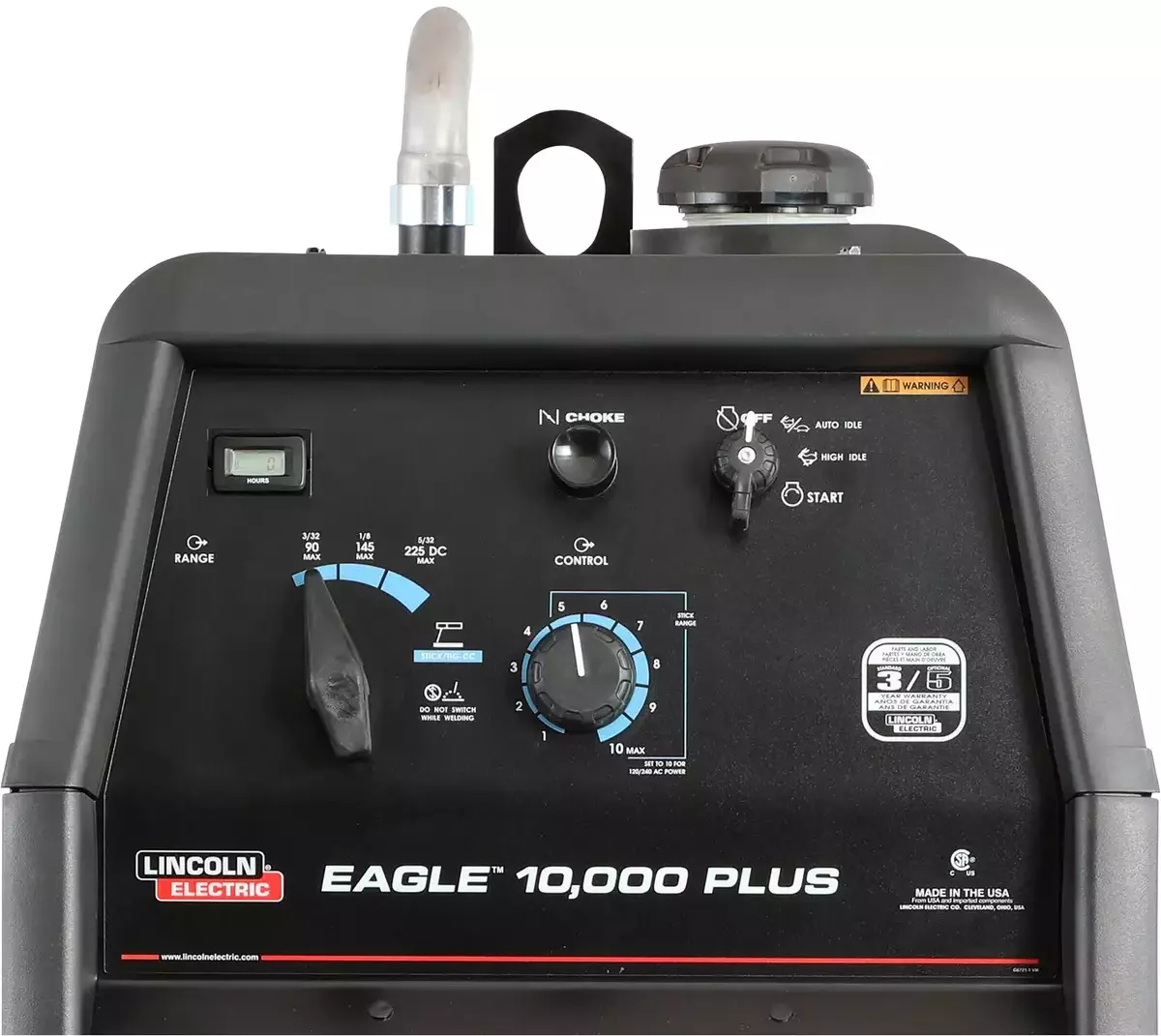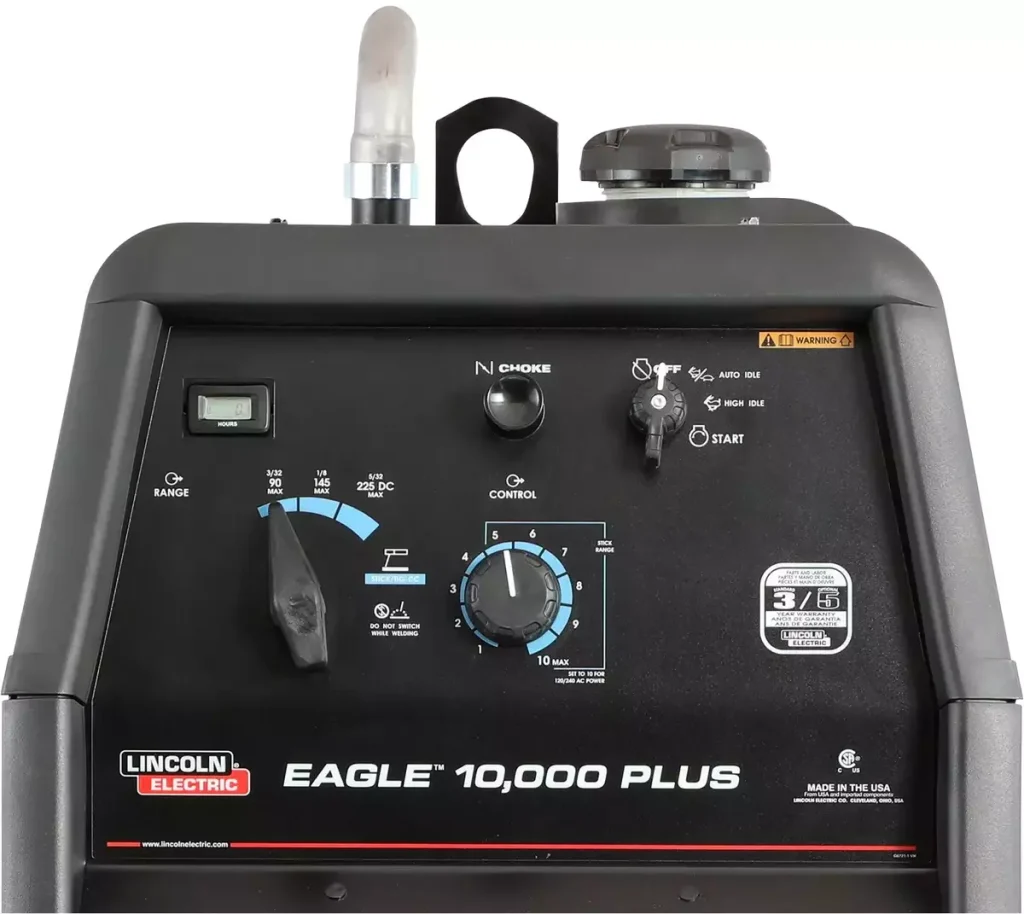 Welder Value and Protection
The high-quality build with totally enclosed. Case engine features that extend the lifespan and durability of the parts and a 3-year warranty on the welder make sure your investment is fully protected. The manufacturer warrants the engine separately, and Kohler usually protects its products for two years. In addition, welding accessories are typically covered for a year.
Money-wise, the Lincoln Electric Eagle 10,000 plus engine-driven multi-process welder isn't the cheapest machine. You will have to spend quite a few bucks to buy it, but the investment is, in my opinion, well worth it.
Lincoln Electric machines are renowned for their durability and long operations. Therefore, spending more will ensure you years of reliable operation. If you use it for contractor work, it will surely pay off in a matter of no time.
Pros And Cons Summarized
Lincoln electric eagle 10,000 plus engine driven welder is a highly versatile and powerful machine that is built to last and perform. This petroleum welder is aimed at applications requiring up to 225 amp output, including ranch or on-field maintenance and repairs or contractor work.
The engine is highly reliable, with easy start and maintenance options and the ability to run multiple 120 or 240V welders and power tools off it. It produces relatively low noise, but as a petroleum engine drive welder, it has somewhat higher parts wear and tear.
I disliked the fact Lincoln Electric Eagle 10,000 Plus is advertised as a multi-process welder. In practice, it is a Stick welder with the ability to run any transformer or inverter welder that can run off a 10 kW generator.
Nonetheless, you get an excellent value and a high-quality Lincoln Electric machine that will serve you or even your grandchildren.