When it comes to welding equipment, Lincoln Electric is a name that resonates with reliability, reputation, and innovation. In the world of DIY welding, their products have long been regarded as top-tier choices.
In this Lincoln Electric FC90 review, we delve into the performance and features of this welder, a compact and versatile machine designed for both novices and experienced welders alike.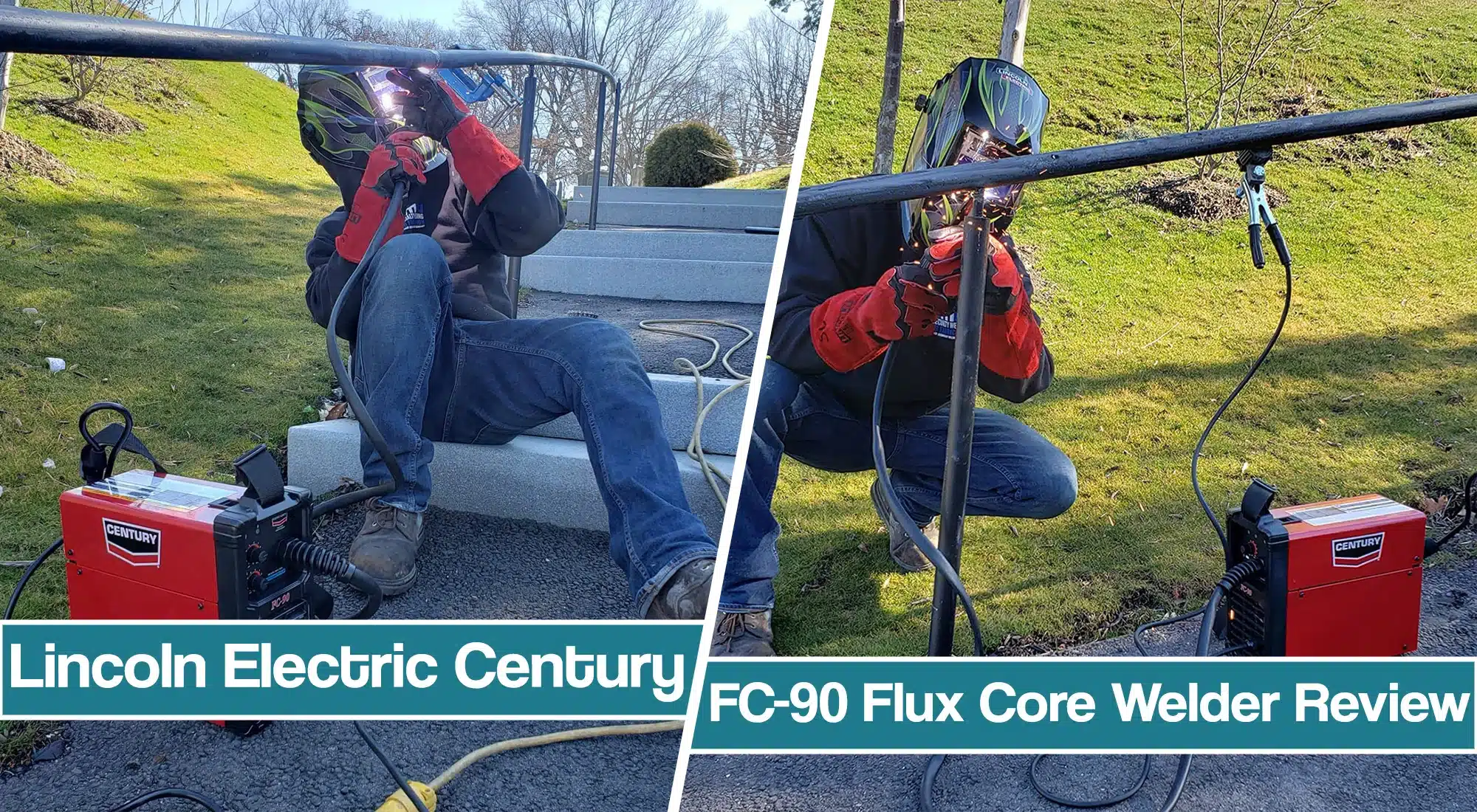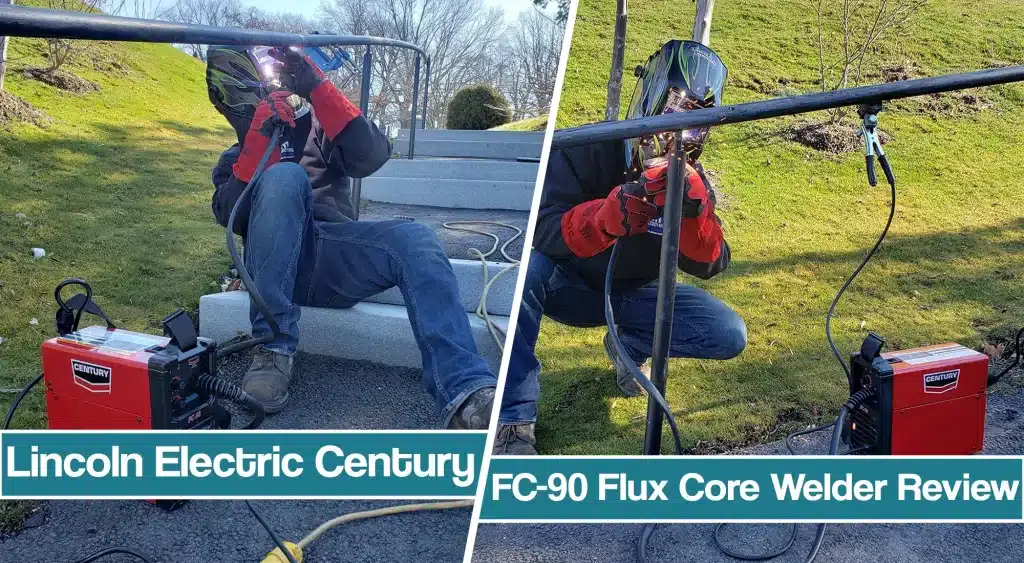 Packed with power and precision, this welder promises to deliver exceptional results across a range of welding applications. From its impressive welding capabilities to its user-friendly design, we explore the key attributes that make the Lincoln Electric FC90 Welder a must-have tool in any welding arsenal.
Century FC-90 Flux-Cored Wire Feed Welder – Compact Portable, Lightweight, Easy to Use
Lincoln Electric is known for its excellent machines for high-end professionals, but today, we will be presenting a compact welder for everyday welding, repair, and DIY needs. Lincoln Electric Century FC-90 is a 120V-only flux core welder rated at 20-90 amps, that is portable, lightweight, and easy to use.
It has a built-in shoulder strap which will help you carry it around the workshop or into the field for repairs. I loved the plug-and-weld approach, which makes it super easy to set up and use straight out of the box. The MIG gun is connected, and you get a 6″ power cord and ground cable assembly with a clamp.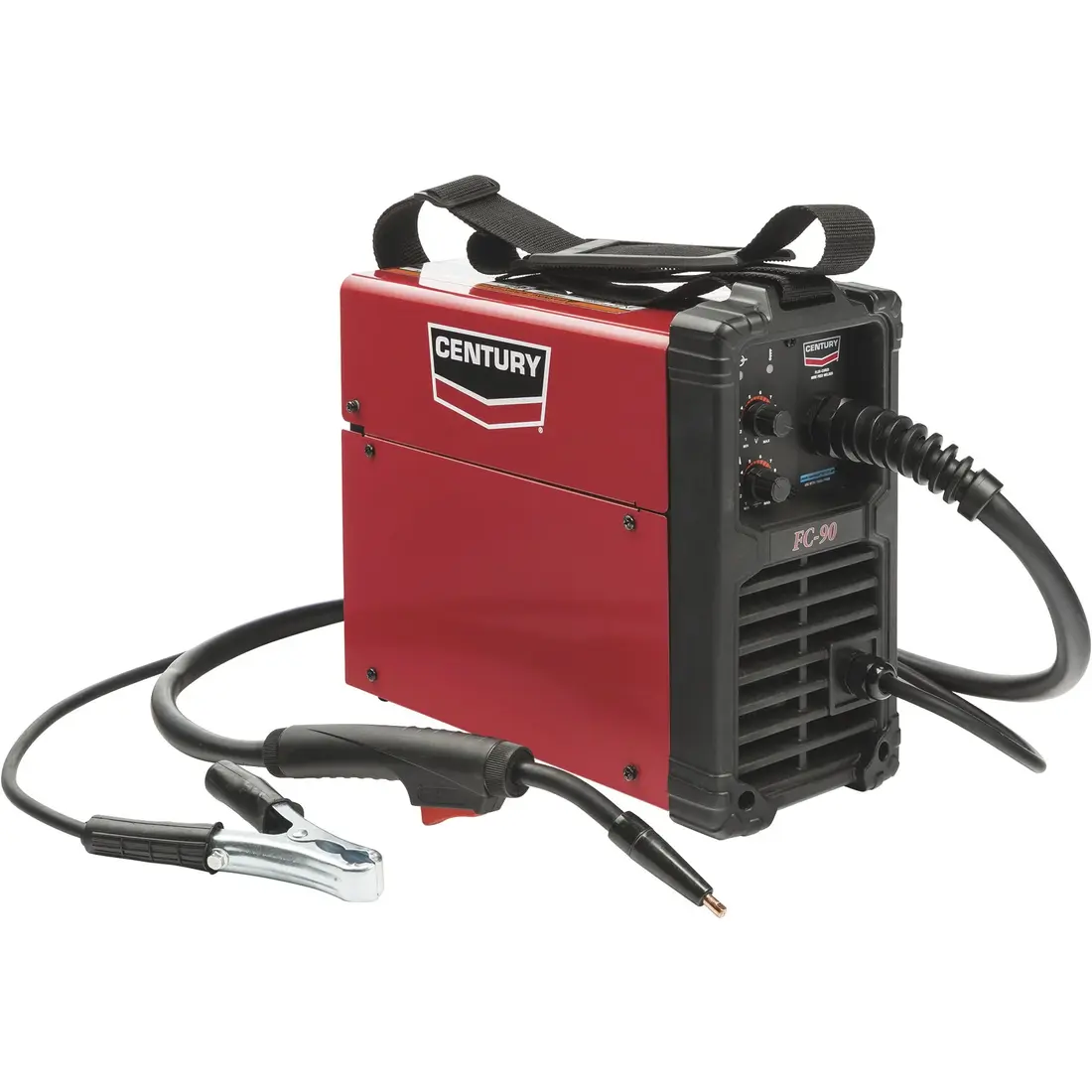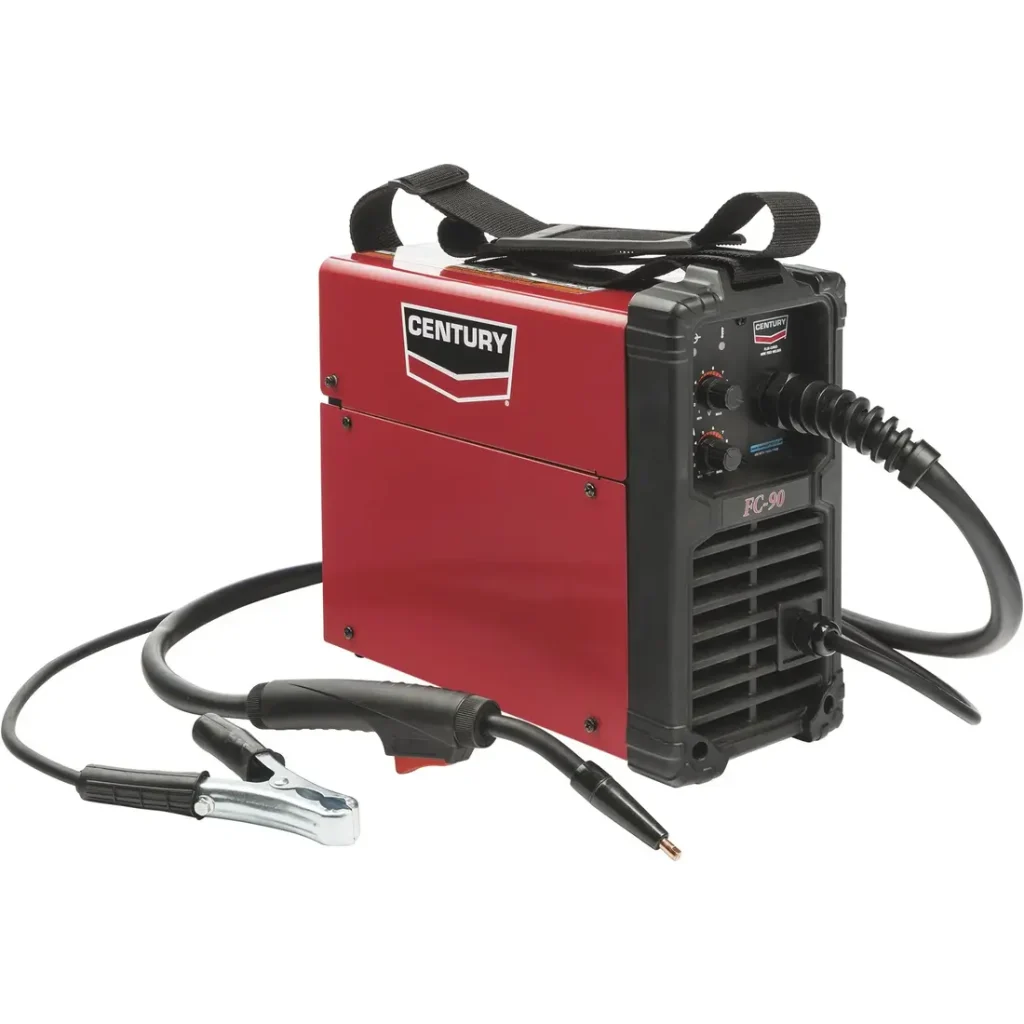 Specifications
Welding Process:
Flux Core welding
Weldable Materials:
Mild steel
Power Input:
120V, 60 Hz
Amperage output:
30-90 amp DC
Max. Weld Thickness:
0.25 in
Spool Size:
Up to 2 lbs
Max. Welding Wire Diameter:
0.035 in
Duty Cycle:
30% at 80A
Dimensions:
11.25 x 5.75 x 17 inches
Weight:
18 lbs
Warranty:
6 months on the welder,
90 days on gun and cables
Build Quality And Size Of Welding Machine
Century is a Lincoln brand, which means the quality control is at the finest level. As a result, FC-90 is yet another high-quality welding machine from Lincoln, that is built to last and perform. I loved the compact build, which makes the welder easy to store or transport. Despite its small dimensions and lightweight (18 lbs), this is still a durable and sturdy welder.
The low weight is courtesy of an inverter power source, which makes Century FC-90 power effective, powerful, and portable. Comparison-wise, Hobart 140, which is also a 110V-only welder, is 3 times heavier than FC-90 with 57 lbs.
What makes this welder unique is a top-side wiring compartment. Unlike most MIG/Flux core welders, you will have to open the top side of the FC-90 to mount a wire. This approach makes a welder more narrow, therefore, compact, but compared to traditional side mounting, you are limited to smaller spools of wire.
Wire Feed Speed And Mechanism
It is a surprise to see a plastic wire feed mechanism in a Lincoln machine, but looking at the price tag and its use, you shouldn't expect too much. Despite the plastics, many welders confirm that the feeder is pretty sturdy and well-built.
So unlike cheap Chinese welders, it won't fall apart after a couple of uses. Drive rollers are metal, with knurled grooves designed for flux-cored wire.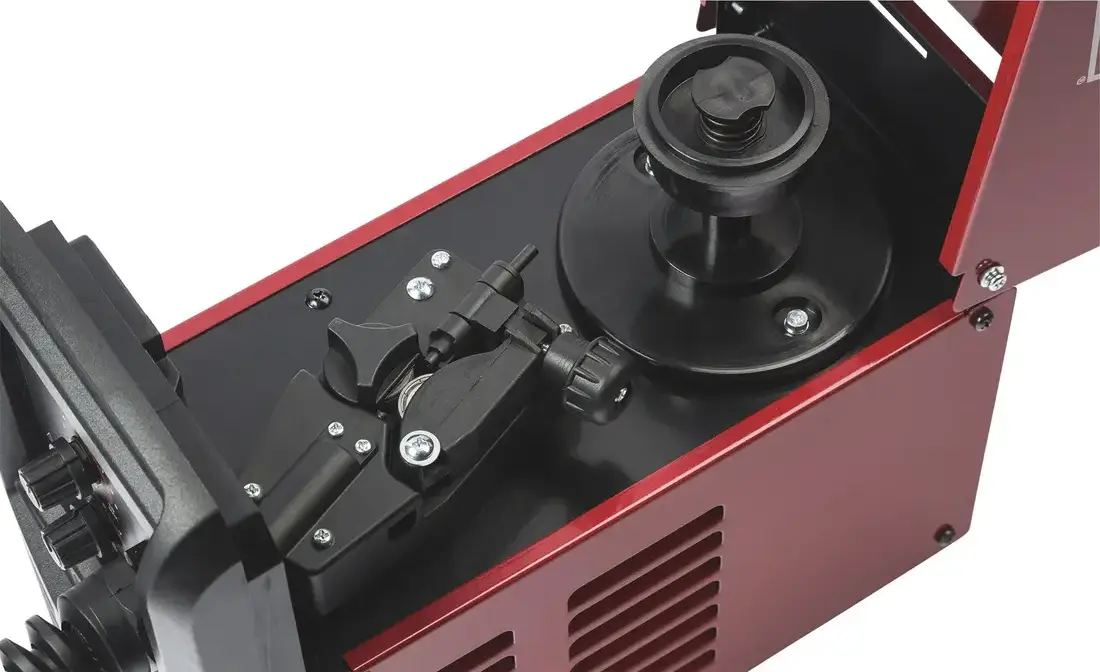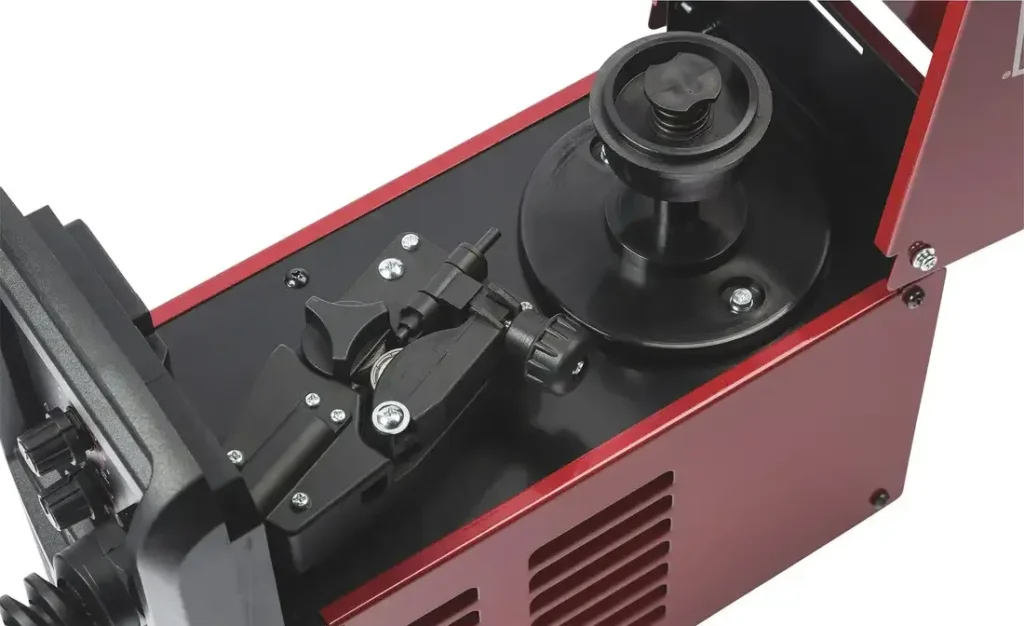 I disliked the tensioner on the feeder, which doesn't seem to do too much work. It will hold the wire in place, but there are no clear markings that you usually find in today's market. However, despite the quality, the flux core wire feed is pretty smooth, which is essential for the best flux core welds.
Due to the smaller size, the compartment can only fit smaller spools, up to 2 lbs. Additionally, you can use up to .035″ flux cored wire, which is enough considering the welder power.
Welder Settings
Looking at the control panel of Lincoln Electric Century FC-90, there is nothing fancy about it. It is perfectly straightforward, without a digital display or too many advanced controls. You can set up the amperage and wire feed speed, and there are thermal and voltage indicators, which will ensure your welder is protected.
Since this is an inverter welder, there is continuous amperage control. On transformers, the settings are tapped and predetermined, but here, you can get an exact temperature setting for consistent welds. Additionally, infinite flux cored wire feed speed control will help you produce smooth arc and strong welds.
90 Amp Welder Capabilities
As we noted at the start, Lincoln Electric Century FC-90 is a 110V-only welder, with maximum output of 90 amps. Therefore, you shouldn't expect some miraculous work and performance. However, I was pleasantly surprised with the capabilities and weld results of this small machine. At maximum output, you can use it to weld 18 ga. up to 1/4″ steel, which is surprisingly high. But, knowing that flux core welding produces deeper penetration, you can get excellent results.
The rated duty cycle of 30% at 80A is somewhat low in the same category, which means you will be obligated to frequent breaks during welding. However, with good penetration and high speeds, you will finish your job in no time.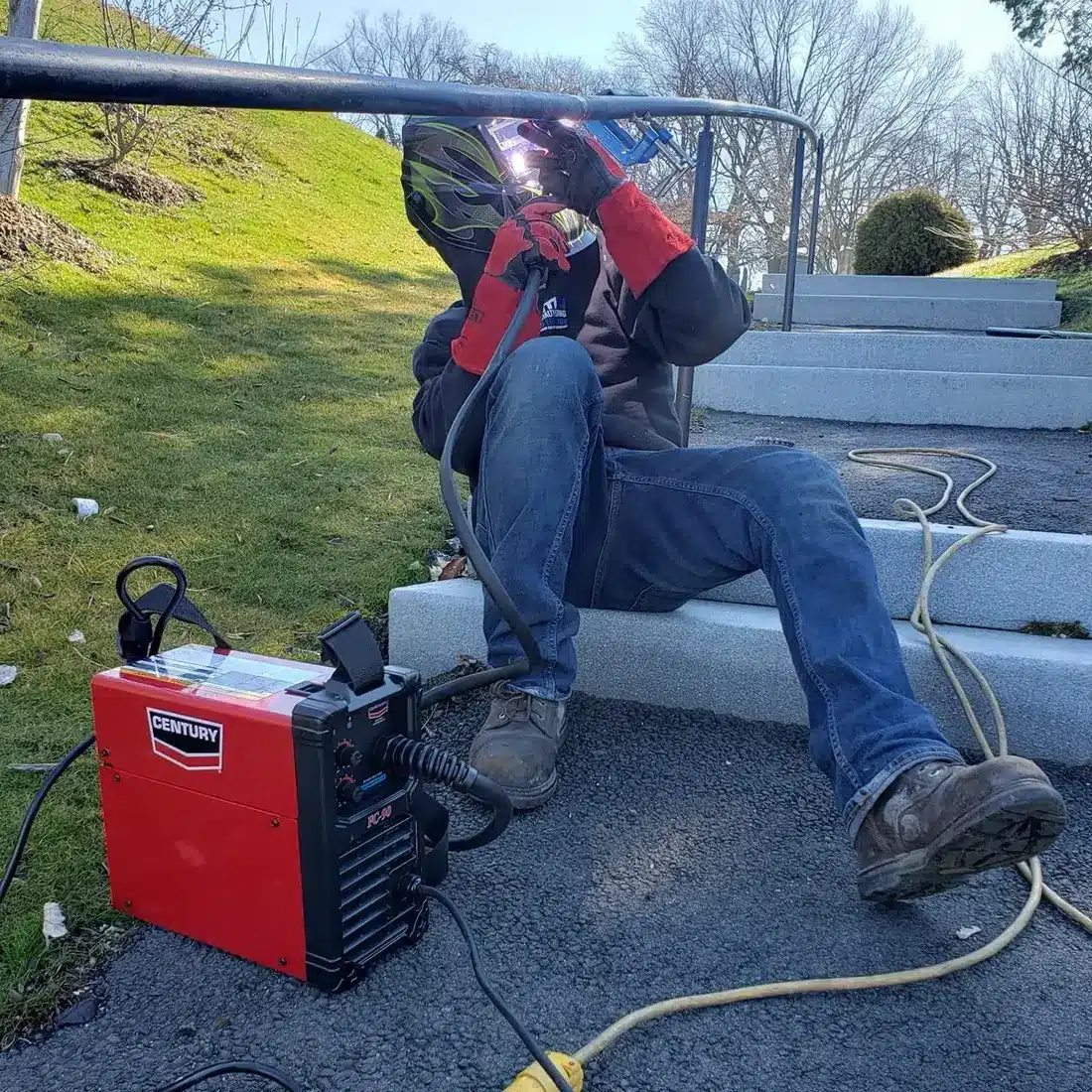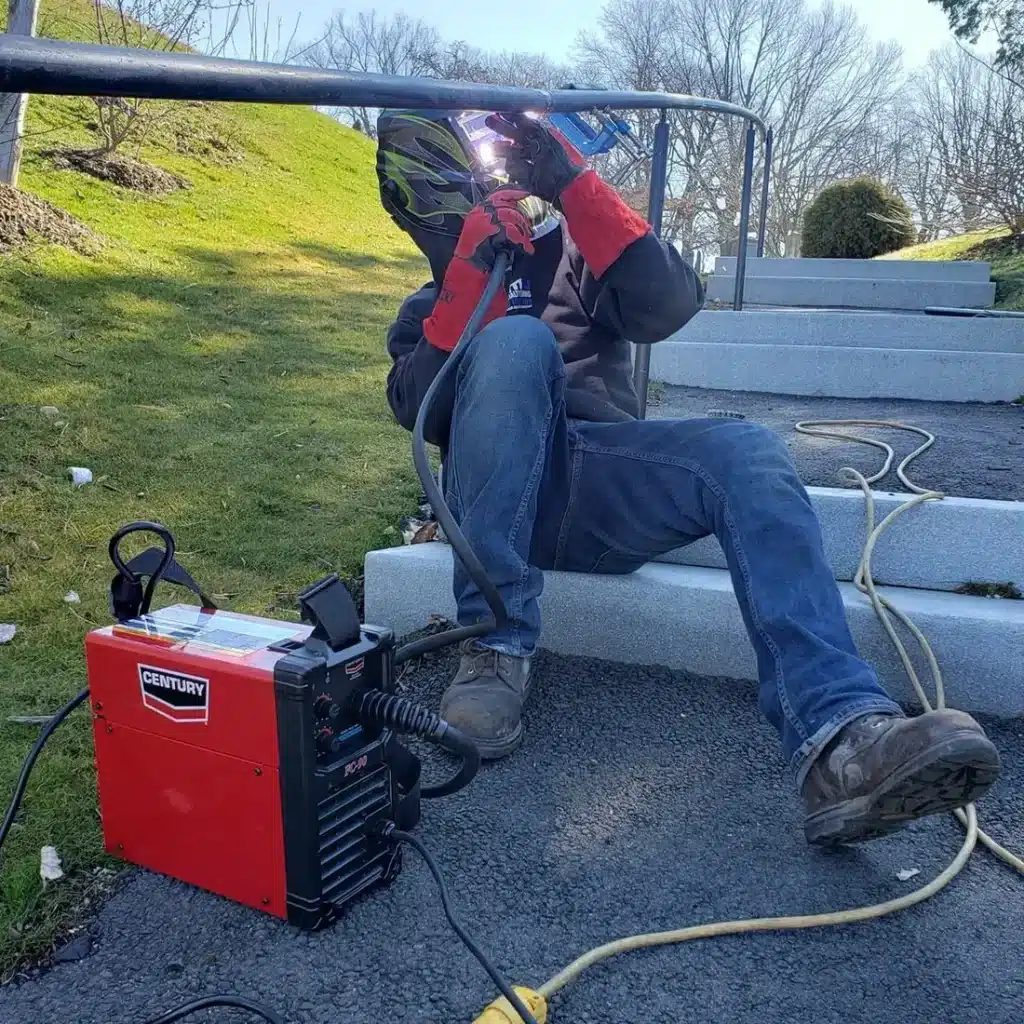 If you exceed the duty cycle, the automatic thermal protector shuts off the output until the machine cools to a normal operating temperature. The weld quality is something you can expect from Lincoln Welder, but I was a bit skeptical due to the price tag. However, Century FC90 proved me wrong, as it was more than capable of producing smooth arc and consistent welds.
Value And Warranty
Looking at the price tag, this is one of the cheapest Lincoln welders you can find. However, don't think that cheap means poor quality. The low price simply comes from the fact this is only a flux core welding machine rated pretty low, at 90 amps. You don't get more processes such as MIG welding or TIG welding, or fancy features such as synergic MIG and digital displays. However, the value you get for the money spent is quite decent.
Therefore, before purchase, you should set your goals straight. This Lincoln Electric Century fc 90 flux core welder is a simple machine for medium-thickness material, DIY home projects, and repairs around the garage or in the field. Welding performance-wise, there is nothing wrong with it. You get a signature Lincoln weld performance but with fairly limited versatility. If you need a more capable welder, you will have to browse for more products.
The 6-month warranty is also not the highest on the market, but my experience with Lincoln welders is quite positive. Lincoln's servicing network is widely spread, and you can shop for replacements easily.
The Bottom Line Of Lincoln Electric FC90 Review
Lincoln Electric Century FC 90 is a small welder for home use, DIY, and repair projects that is characterized by excellent efficiency, portability, and good value for the money spent.
This is a perfect little flux core machine for your house projects and field repairs. The best part about it is that you get a Lincoln machine at a reasonable price.
However, the versatility is fairly limited. This is a 90-amp welder with a 30% duty cycle, so you won't be able to tackle the more challenging tasks. Additionally, you are limited to flux core welding with smaller diameter spools and sizes.