If you are after a little budget welder, and you obviously are since you are here, the Longevity Migweld 140 might be a way to go. Or is it?
You should carefully consider all of this machine's aspects to see if you will be getting your money's worth because while this machine is cheap, it also has some flaws.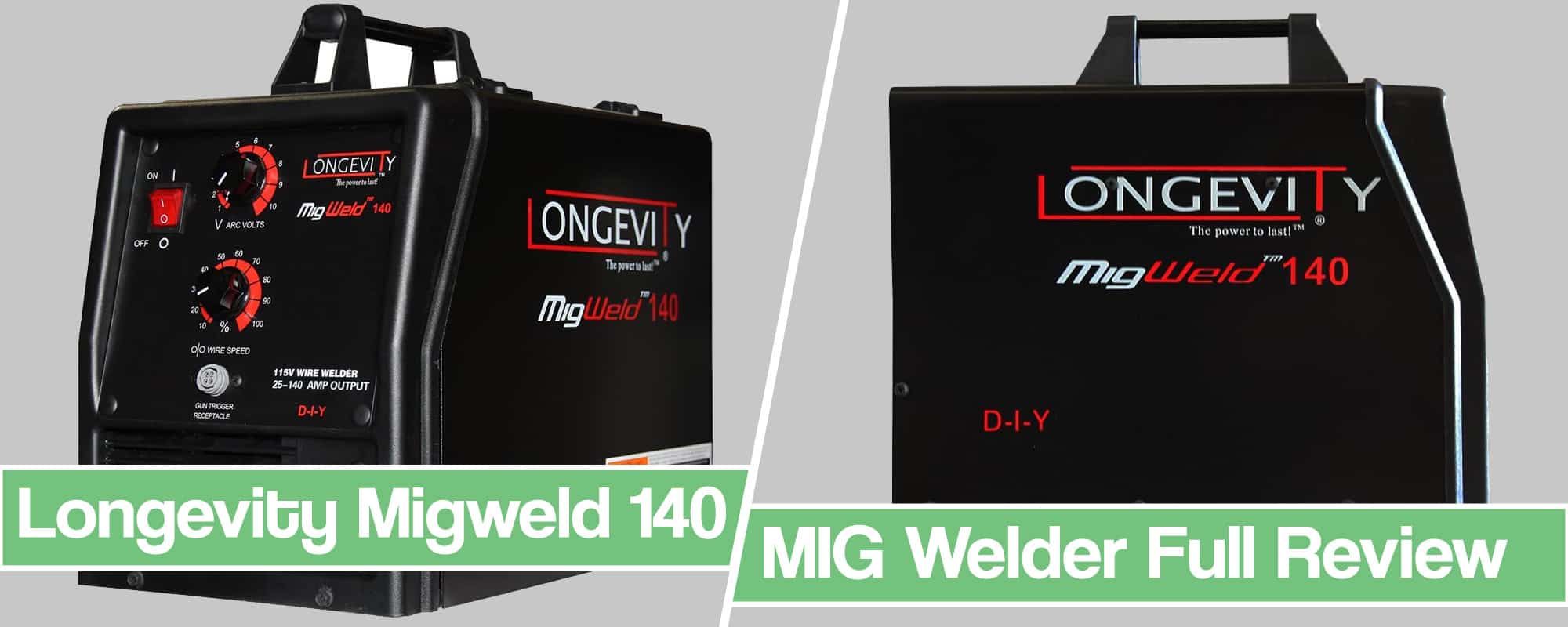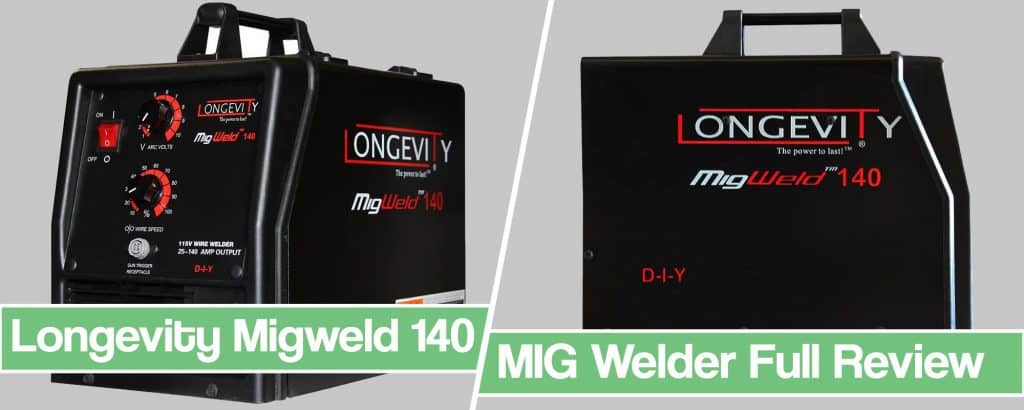 In this article, you will learn about the Longevity Migweld 140 power, value, portability, and a few other critical features that will help you make your decision.
Longevity Migweld 140 Review First Look
Longevity Migweld 140 is a MIG welder that will do both gas and flux-cored welding. It is a 110V welder, which means that it is meant for regular work around the house or for welding around your garage.
From what I can tell, this MIG welding machine is aimed at beginners and people looking to get something on the cheaper end because they don't need to do serious work with it. It has a decent amount of power and a duty cycle that is usually found in this price range.
More on this below:
A big plus you will appreciate right away is the fact that consumables like contact tips are readily available in your local tool stores because they use many universal-style consumables.
It offers a year warranty, which is good. Cheaper machines should provide you with at least that much.
The only thing I really dislike is the weight. It weighs about 56lb, which is not really portable when compared to other MIG welders in a similar price range and aimed at a similar market.
Now let's see this machine in a bit more detail.
Longevity Migweld 140 Power
The Longevity Migweld 140 has an excellent power output considering that it is meant for use with a 110V wall outlet. It will provide you with a maximum output of 140 amp, and it will weld mild steel up to 3/8″ thickness.
Pros & Cons Summarized
Pros
Versatile
Easy to use
Full metal wire feed system
Thermal overload protection
Readily available consumable parts
Power efficiency
Cons
Welding can be inconsistent on 20-gauge metals
Heavy machine when compared to competitors in similar price range
Specifications
Processes: FCAW, GMAW.
Weld Thickness Range: 24 ga – 3/8" mild steel.
Weldable Materials: Steel, Aluminum, Inox.
Input Voltage: 110v 50/60hz.
Input Phase: 1 phase.
Current Type: DC.
Rated Output: 20% @ 90A 18V duty cycle.
Amperage Range: up to 140A.
Wire Range:.025"-.030" (0.6-0.8mm) solid steel, .030"-.035" (0.8-0.9mm) Flux-Cored.
Weight: 62 lbs total
No products found.
The duty cycle is where it missed an opportunity to shine. It offers a 20% duty cycle at 90 amps. This is just decent, but it would really round up this machine's whole power element and would be much better if it had like 35-40%.
Regardless, it is still a reliable machine when it comes to power and especially considering the safety feature for thermal overload protection. In case that you overdo it, the machine will shut itself off so that any damage is avoided. This is good for beginner welders that don't really pay attention to the duty cycle yet.
Features
f there is one thing you should consider from this Longevity Migweld 140 review, that would be the features of the machine.
Now while it doesn't have all of the features the high-end machines have, this MIG welder has enough of them to really stand out from many others in its price range.
Where do I start?
How about a full metal wire feed system. There is only a handful of welders on the market at this price point that have the quality wire feed.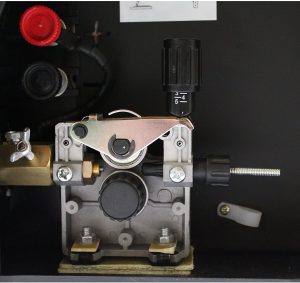 The Migweld 140 has an easy to set wire system that allows for proper flux-cored wire and regular steel wire use with confidence and ease. It has support for an optional spool gun so that you can also weld aluminum. Many cheap welding machines skip out on this effectively, not providing beginners a chance to try working on aluminum.
This longevity welder can accommodate up to an 11 lb spool, which is more than enough for any smaller jobs that this welder is meant for.
What is included?
Besides the Longevity welder itself, the package contains a lot of good quality parts. The MIG gun, which uses a "tweco" style connector, is of high quality, and so is the ground clamp. A spool gun is optional.
It comes with a quality gas input hose that actually has threads on both ends so that you can screw it in place instead of using cheap solutions that require the use of hose clamps.
It also comes with a decent gas regulator that is on the cheaper end but in line with the welder price.
The rest of the items that you get are the chipping hammer, a cheap and really no use weld mask, a set of contact tips, and a few other bits and pieces.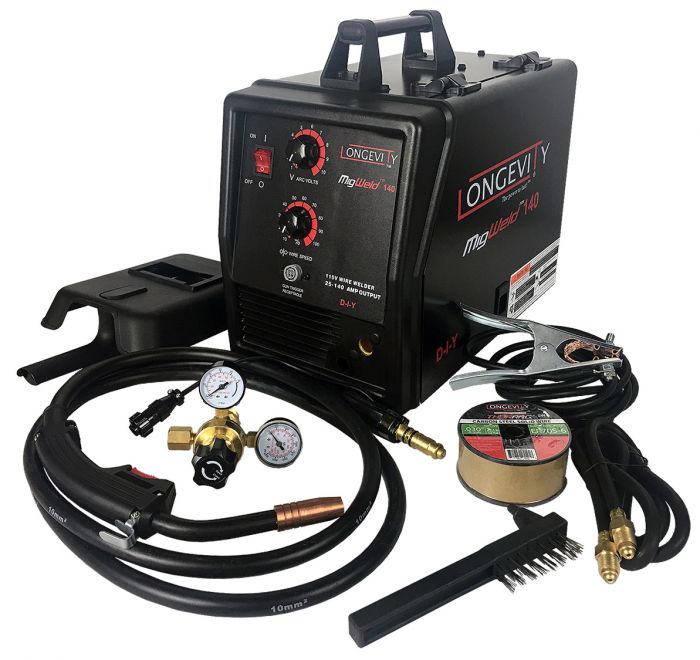 Ease of use
This Longevity 140 MIG welder is easy to use and setup. Regardless if we are talking about the flux core welding or regular MIG machine setup.
It is as easy to set up as others in its market range, so I won't really talk much about it. You plug your MIG gun and the ground clamp inside the welder. You can switch the polarity if you need to, the spool is easy to attach, and the wire can easily be fed through the system of the product.
What I do love is the fact that you can manually adjust the wire speed. This is where it sets itself apart from the competition and is one of the reasons to buy it. This can be very helpful for work, and while many cheaper machines want you to use their automatic wire speeds, you can actually set it yourself with the Longevity.
The Cost
When it comes to deciding if you want to buy it or not, the cost will play a significant role. While I believe that this is one of the welders on the market that offers a lot for the money, I am still not happy with the weight and the duty cycle.
The good thing is that Longevity offers a good warranty, which further makes them a value choice, all things considered.
Conclusion
As you may have noticed, the entire review of Longevity Migweld 140 kept a focus on the cost and value provided. It is a budget welder, and it sure welds as it is expected. But it goes further than that, and if you think about all of the features that it offers, from the ability to flux core weld without gas and the quality wire drive, you will see that this is a quality MIG welding machine.
Sure, when compared with machines like from Hobart, it may look a bit inferior, but it is also much cheaper. The weight issue is the only bigger downside that I see as this welder welds quite well while offering a bunch of useful features and coming out of the box with quality accessories.