MIG welding is one of the most straightforward processes to master, but you need the right tools to do it properly.
If you got through the basics with a 140 amp welder, so you want a versatile, more powerful, but also budget-friendly machine, then you might consider Lotos MIG175.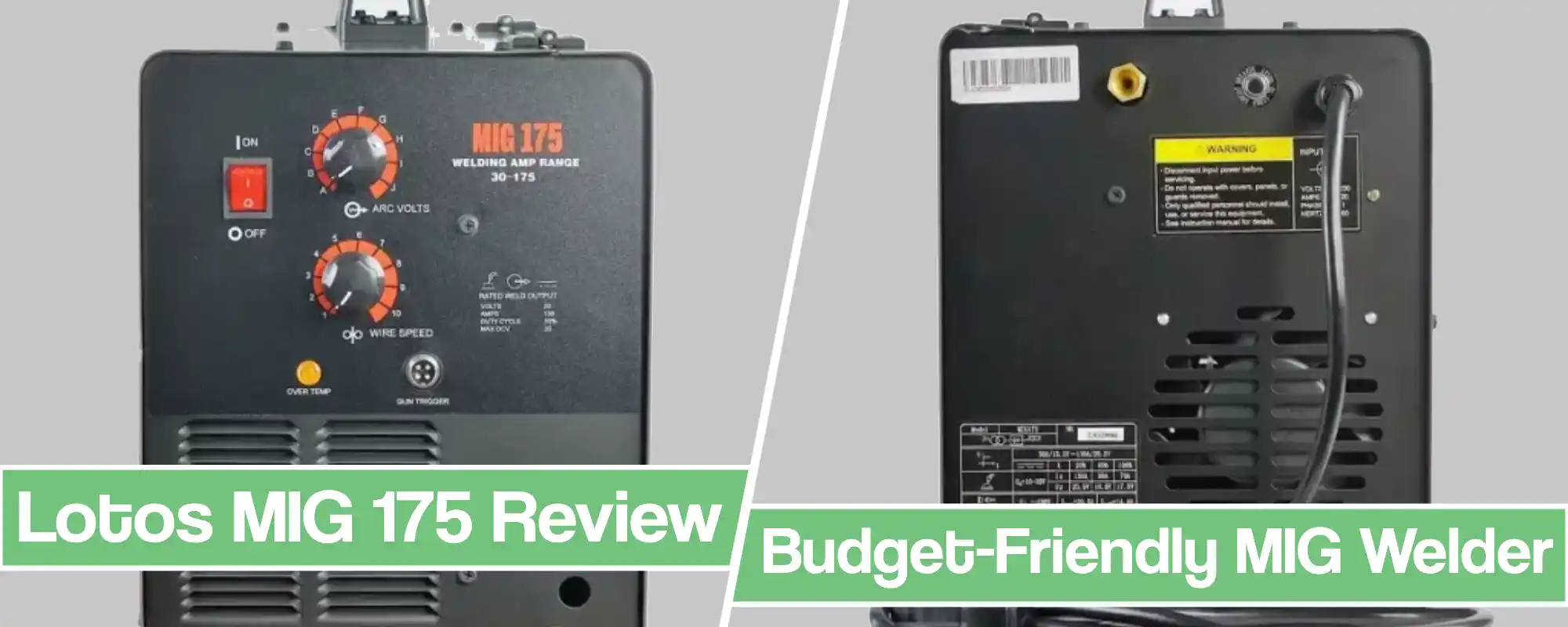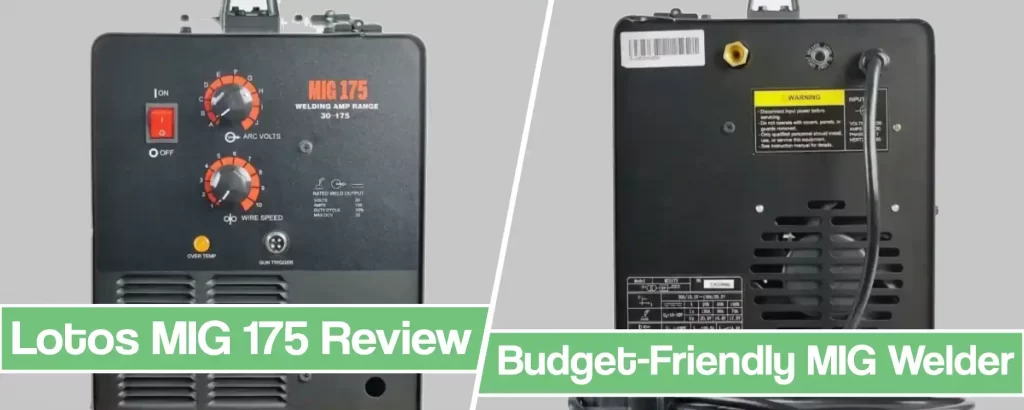 Lotos MIG175 – 175amp MIG welder with Flux Core option is a unit that offers great value for the money spent. This machine won't break your bank, and maybe the main advantage is the free spool gun! You don't usually get one in this price range, so MIG175 might be a perfect first aluminum welding machine.
Still, there are a couple of flaws that nearly all cheap MIG welding machines deal with. So, read this Lotos MIG 175 review to find out if it will suit your needs.
Lotos MIG 175 Review, MIG welder specifications, and package content
Lotos MIG175 is a pretty decent MIG and Flux Core welder for occasional and non-industrial use. For the money spent, you get:
MIG welding torch,
MIG Spool Gun for aluminum,
Ground Clamp Cable,
Gas Hose, Argon Regulator,
0.023" & 0.035" Contact Tips,
Welding Mask, Cleaning brushes
0.025 in. – 0.030 inches wire
One of the things that stand out is an included spool gun. With an argon gas regulator and aluminum welding wire, all you need is a cylinder of shielding gas, and you are ready to weld aluminum straight out of the box.
It is scarce to see a provided spool gun when buying a budget welder. To get an ability to weld aluminum, most brand-name welders offer more expensive bundles, meaning you get an excellent value with Lotos MIG 175.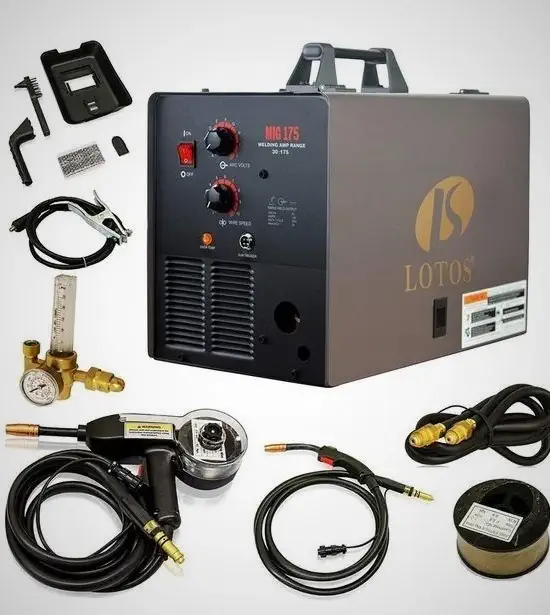 Nevertheless, you won't be surprised with the rest accessories. Most owners had problems with the provided argon regulator, which didn't read the exact values, or tends to break. In addition, you might have to deal with excessive gas consumption. Finally, contact tips are pretty much useless, as they will stick fast, so you might want to get more.
The welding mask seems more like a toy, so I suggest getting a proper welding helmet. Even though you get a free spool gun, some buyers had problems with the feed or need to make some adjustments. Nevertheless, you still get a decent value since some spool guns might cost as much as a machine.
Technical Specifications
Welding Process:
MIG (GMAW)
Input Power:
200-240V, 50-60 Hz
Weldable Materials:
Mild Steel, Stainless Steel, Aluminum
Welding Output:
30-175 Amps
Duty Cycle:
30% at 130 Amps,
20% at 175 Amps
Welding Capability (Mild Steel):
18 Gauge – 1/4″
Welding Capability (Aluminum):
3/16″ and thinner
Spool Capacity:
4″ or 6″
Weight:
85 lbs.
Warranty:
1-year,
30-day refund
No products found.
Lotos MIG175 Power Input
To use this MIG welder, you will need a 220V outlet. This welding machine uses reliable and advanced transformer technology, but still, you can use a generator to power it.
Nevertheless, you will need at least a 7000-watt generator to achieve a minimum power output of 30 amps. In addition, if you don't have a 220V outlet in your shop, you might want to consider a dual-power MIG welder or possibly a 140 amp Lotos MIG, which is a 110v only unit.
Keep in mind that With the accessories you get, such as a spool gun, argon regulator, and aluminum wire, you can plug in, set up your machine, and start welding aluminum in a matter of minutes.
Welding Power and Settings
If you spent some hours learning steel welding with your 140 amp welding machine, you could step up your game with Lotos MIG 175.
The machine can output 30-175 amps, making it a great intermediate MIG and Flux core welder for welding stainless steel, steel, and aluminum.
You can weld stainless and mild steel ranging from 18 gauge up to 1/4″. In addition, you can weld a 3/16 inch or thinner aluminum plate with a spool gun included.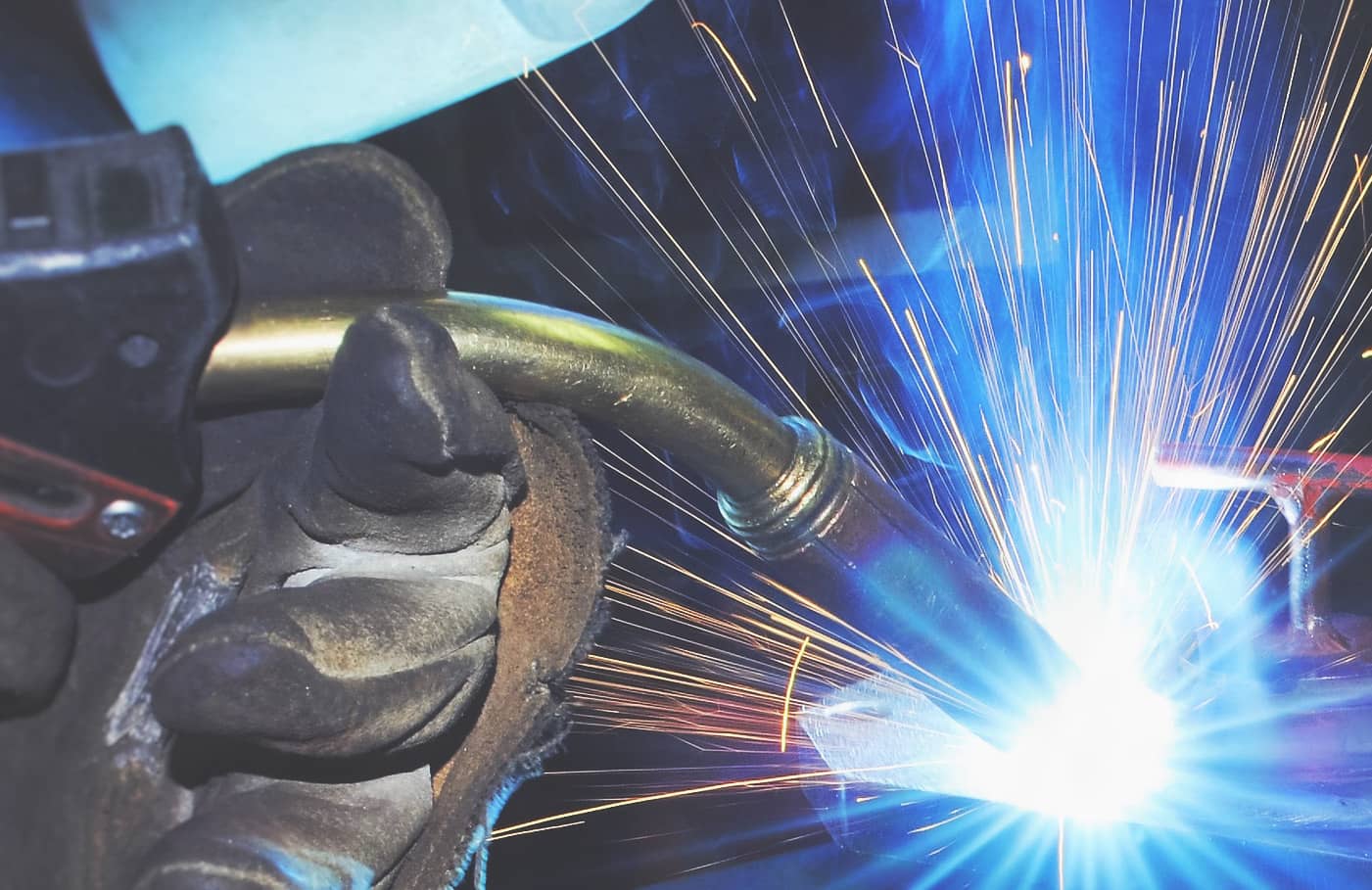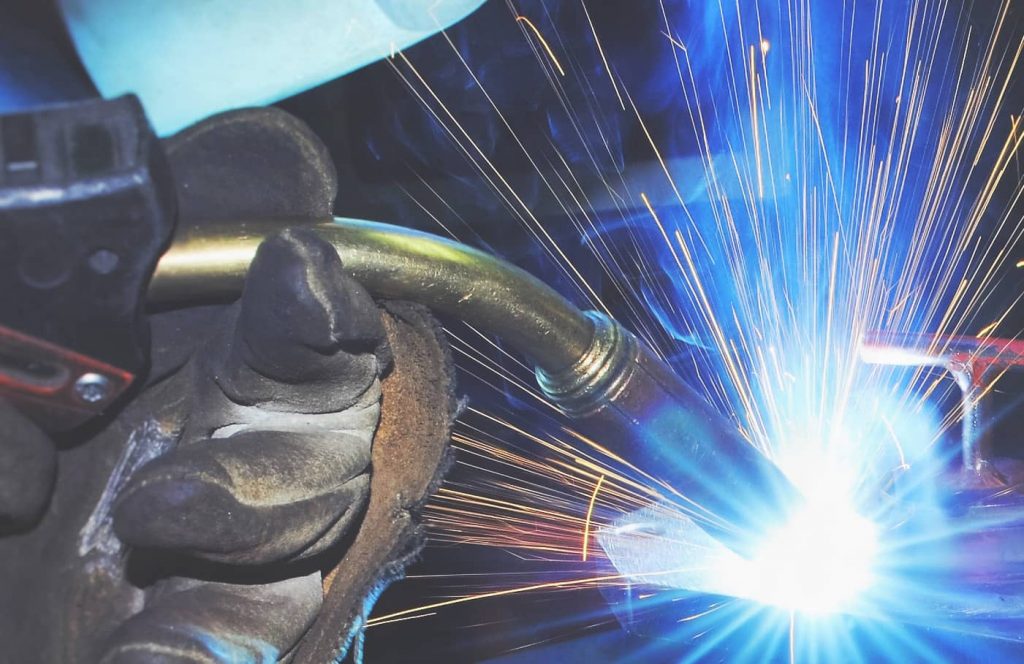 This MIG welder has a rated duty cycle of 20% at 175 amps and 30% at 135A. That means you can weld at maximum power for two minutes straight, then have rest for another eight. In addition, most 180 amp MIG welding units, such as Forney 318 or Lincoln PowerMIG 180c, have rated duty cycle at 20-30%.
As you can deduce, this is quite a powerful intermediate MIG welder, and most owners didn't have a problem exceeding the duty cycle. Still, this is a budget-friendly MIG welder, meaning it can be hard to achieve a perfect bead.
Also, the arc can be inconsistent, as frequent amperage changes may occur. In addition, recommended settings for aluminum might be either too hot or too cold, so you will have to spend some time to adjust it properly.
So, it seems like you will need some welding experience to get the adjustments right, while beginners might have some trouble ensuring a steady arc. On the other hand, if you are a professional welder that requires perfect beads or a smooth arc, you might want to consider one of the high-end MIG welding machines, such as Hobart, Lincoln, or Miller ones.
Build Quality
Taking a first look at Lotos MIG 175 welder, the thin casing might not seem that sturdy. Nevertheless, satisfied owners report it has run flawlessly for many years. Still, numerous buyer reports of receiving the damaged unit, but the customer support dealt with the issue quickly and shipped a replacement.
The control panel looks pretty straightforward. There are only arc volt and wire-speed adjustment knobs, an on/off switch, and an overload light.
You will find this MIG welder easy to use and adjust, but some prefer digital displays, such as one Lotos MIG 140 feature.
Even though digital displays might be a liability in the workshop, they will help you with settings since you don't have to remember an exact knob position for the given material thickness.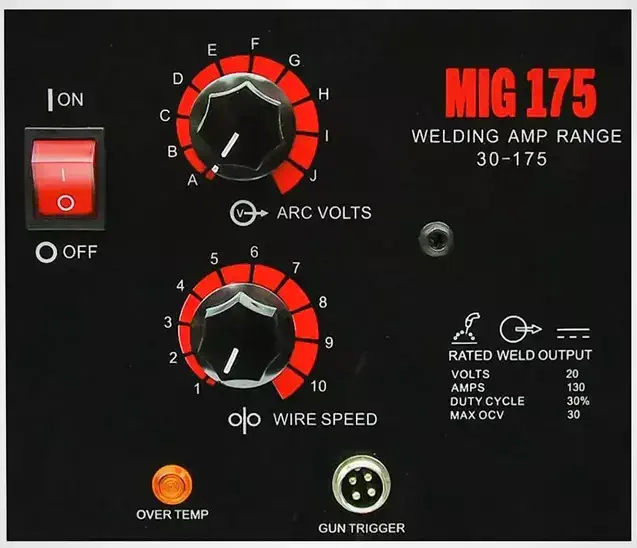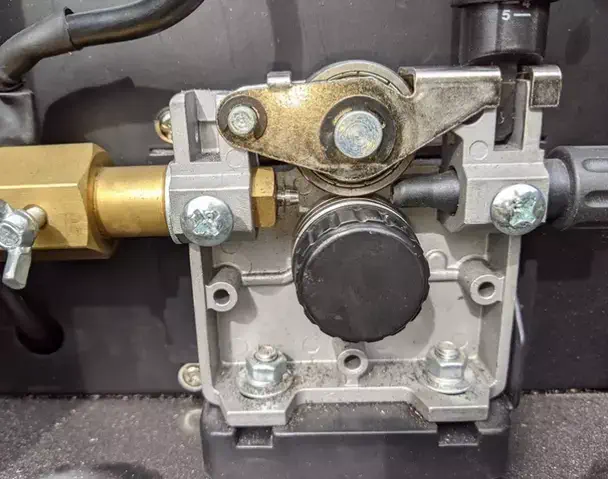 Opening the wiring compartment of this MIG welder, you find a pretty standard adapter, which can handle industrial standard 4″ to 6″ wire spools.
In addition, there is an upgraded aluminum wire feed motor system of decent quality.
Still, you might have some problems ensuring the smooth fire feed, as birdnesting may occur frequently.
Keep in mind that Lotos MIG 175 uses transformer technology, which weighs 85 pounds. As a result, you may find it hard to move it around, so I suggest a welding cart for improved portability. Meanwhile, most 180 amp-rated MIG welders weigh approximately 60 pounds, meaning this isn't the lightest one on the market.
Price and Value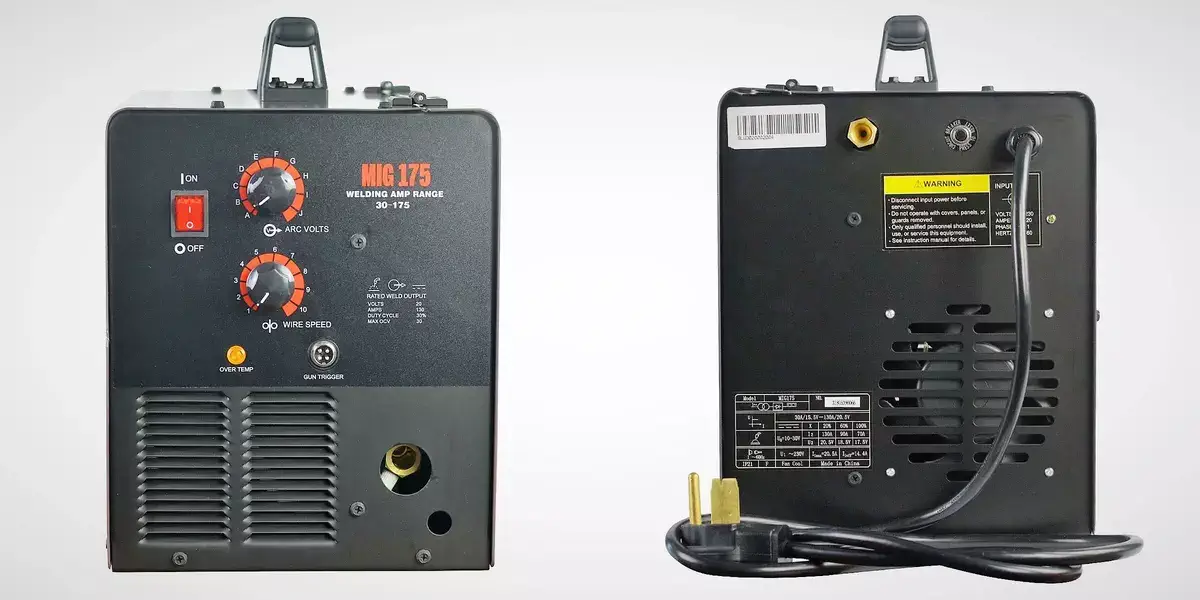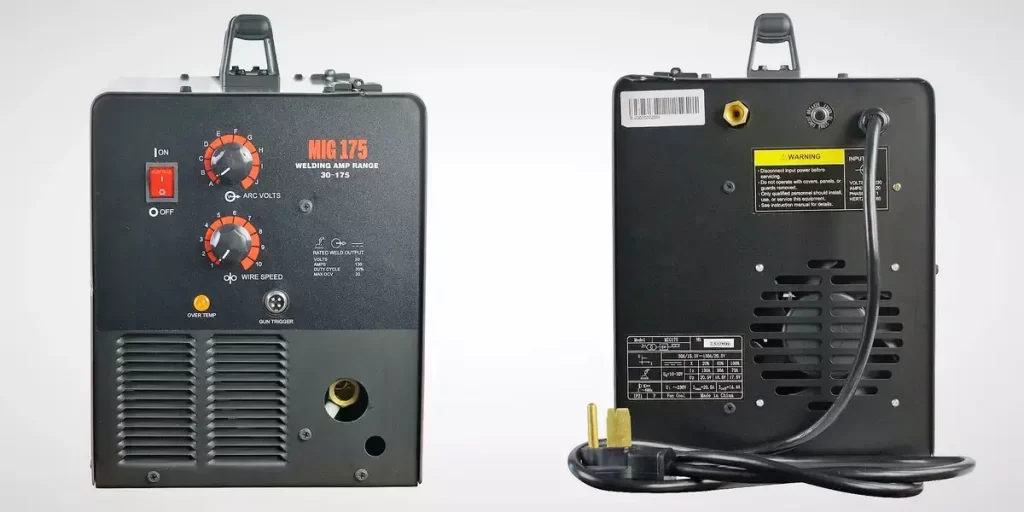 Even though this welder has good and bad sides, this unit still offers great value for the money spent. Additional spool gun increases the value considerably, as you get what you pay for. In addition, Lotos MIG 175 costs almost half the price of other brand-name welders, such as Hobart, Miller, or Lincoln, which don't even include a spool gun.
To protect the buyer's investment, the company offers a 1-year warranty. In addition, you get a 30-day return policy. In addition, there is a temperature controller and overload breaker, which will shut down the machine once you exceed the duty cycle. Protection features assure long operating life, but you still want to take good care of your MIG welder.
Remember that high-end machines usually provide a 5 to 3-year warranty. Meanwhile, most Lotos MIG 175 owners complimented the customer support, which dealt with their problems accordingly.
Pros and Cons Summarized
Lotos MIG 175 is one of the intermediate MIG welders, and most buyers choose its aluminum welding option. For the money spent, you get a free MIG spool gun, MIG torch, and other accessories such as solid wires, flux core wire, and aluminum wire, helping you weld metal materials straight out of the box.
Still, accessories might have questionable quality. For example, wire feeding spool gun can break, tips can stick to stainless steel metals—That's why welding aluminum and other metal materials can be challenging.
Nevertheless, this MIG welder can weld aluminum and other mildly thick materials well. On the other hand, some might struggle to maintain a stable arc and a smooth feed. Transformer technology provides reliability, but it makes this MIGG welder heavy.
Overall, Lotos MIG 175 is a decent quality machine that incorporates resettable overload protection, offers a 1-year warranty and 30-day return policy. So while it is not one of the best MIG welders, it is one of the most versatile welders that welders love for its price, welding capacity, and power efficiency.