Are you having trouble choosing the right helmet for welding? A good welding helmet is an important asset in every welder's arsenal. Welding, in general, is not a safe job, so the helmet acts as the first line of defense in protecting your eyesight. But you also have to have a good one that enables you to see the weld pool clearly.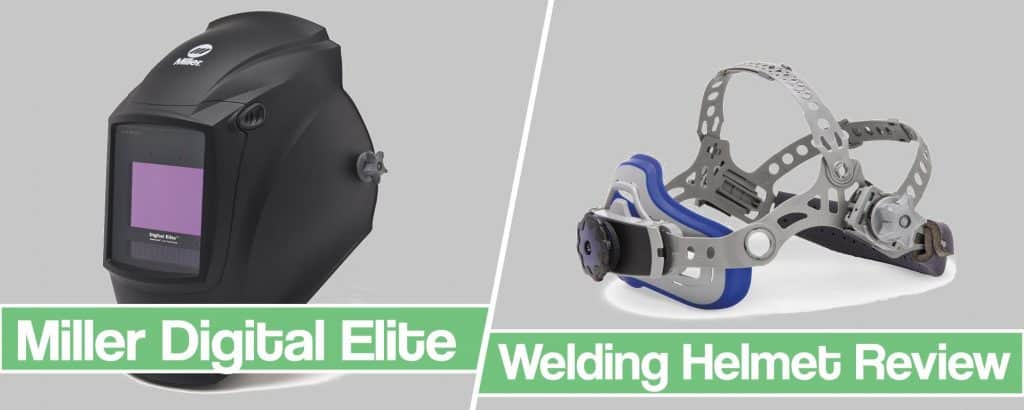 We are here for you and have the perfect solution for your welding needs!
The Miller Digital Elite welding helmet is a modern helmet equipped with contemporary technology. Its purpose is not only to stop you from going blind; it is there to improve the quality of your weld. Also, it comes in various design options, so you don't have to look like a rusty, old barge welder from the early 90s.
Don't believe It?
Check out our Miller Digital Elite review for more clarification about the product.
Miller Electric Digital Elite Welding Helmet Review
Miller Electric's Digital Elite series provides professional welders with the best, currently available technology for welding. Actually, this black welding helmet is absolutely suitable for all types of welders. Whether you are a professional, an absolute beginner, or just a hobbyist, the Digital Elite helmet is suitable for all.
First of all, this helmet is priced a lot less than most of the other Digital Elite series helmets that Miller provides in regards to the price. As with all of their products, this one too is very light (1.13 pounds), relieving tension on both the welder's head and neck. It enables ease of use with improved digital control, adjustable headgear, four arc sensors, and a larger viewing area (3 4/5 inches x 2 2/5 inches).
This welding helmet meets the expected safety stands of the United States (ANSI Z781.1), it also meets the CSA and CE standards.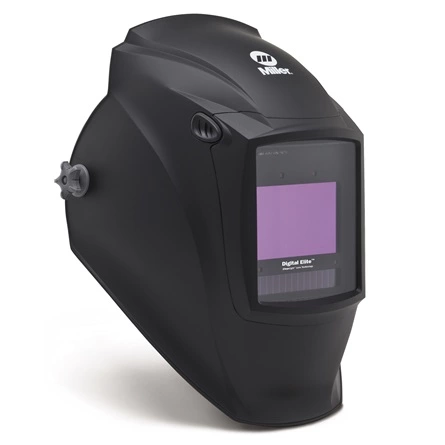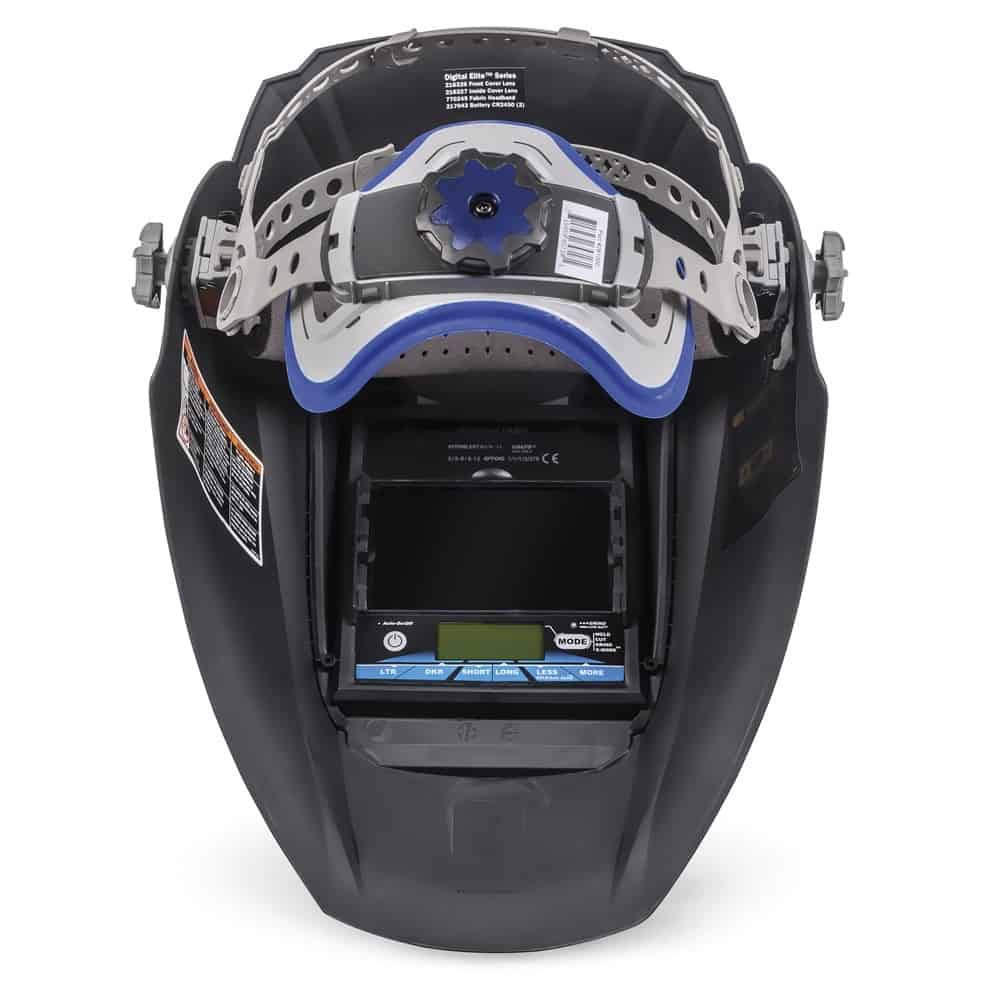 Furthermore, the Miller Electric Digital Elite is an all-purpose helmet as it includes four operating modes (Weld mode, Cut mode, X-Mode, and Grind mode ). The available options are more than enough to help you perform better in different types of situations.
Finally, the auto-darkening lens technology helps welders see better, reduces the strain on your eyes, and increases security. It comes packed with lithium batteries with solar assist. So you are not going to have to worry about your helmet giving up on you in important circumstances.
All in all, the Miller Electric Digital Elite is a reliable and durable welding helmet with advanced features.
But let's talk more about those features, shall we?
No products found.
X-Mode Feature Option
One of the most innovative features of Miller's welding helmets is the inclusion of the new, all rights reserved X-Mode feature.
One of the biggest flaws of auto-darkening helmets is that they fail to react on time, leaving the welder compromised. Sunshine usually interferes with the helmet's sensors, so the lens reaction can either be delayed or fails completely.
The X-Mode that the Elite helmet uses is designed to sense the weld electromagnetically. The idea is to prevent low-amp and the presence of sunlight interrupting the darkening feature of the cover lens, allowing you to continue working on the arc without any impeachment. The addition of the X-mode allows for more grind and offers shade from #8+13.
This is perfectly suitable for MIG, TIG, and Stick welding.
What are the Rest of the Features of the Miller Electric Digital Elite?
But the Miller Digital Elite welding helmet comes with so much more. You will be getting an additional 5 outside cover lenses and 2 inside cover lenses. Plus, you can tuck your black welding helmet in a durable welder bag that comes provided as well. And let's not forget the user's warranty!
Welders will be able to enjoy the use of the following:
4 arc sensors
The addition of four arc sensors account for superior reaction time as opposed to other helmets on the market. This is great during low-amp welding and in obstructed areas. The response time is 1/20,000 of a second during light changes. It improves both the clarity and the quality of the weld.
CR2450 lithium batteries
The welding hood is equipped with long-lasting lithium batteries to secure continuous welding. It even comes with solar assist, so you won't have to worry about the helmet powering down. When the batteries run out, simply pop open the lens assembly, so you exchange them, and you are good to go.
Highly durable
Despite being extremely light (482 g) Miller's Digital Elite hood is very durable. They are excellent for any type of job in all kinds of working conditions. Besides durability, it also meets the ANSI (high impact) standards.
Comfortable
The headgear of the hood has been specifically adjusted for comfort. The new helmet improves on the already high comfort standards by adding an extra strap which makes a whole lot of difference. The offered settings make for a better fit for the welder and help adjustability.
Auto On/Off
The Miller welding helmets come with an automatic ADF function. Meaning that the auto-darkening feature is going to turn on with the strike of the arc automatically. This saves battery life and increases security as it prevents the welder from getting flashed.
Improved digital controls
Bigger and simpler digital controls provide a means for the user to work faster when switching between the mode settings. Now there are only four buttons that control everything. You can seamlessly switch between operating modes while you work or adjust sensitivity settings without taking your gloves off. They are straightforward to use, and you don't need a lot to learn how to operate them.
Wide viewing area
The biggest problem with welding helmets is the small field of view that most of them allow. There is very little that people can see when wearing such hoods. But this black welding helmet comes with an extensive viewing area with a range of 9.22 sq. inches. This does not only helps to improve the clarity of the weld but also safety. You will be much more aware of the environment around you, and you are not going to feel boxed-in.
Technical Specifications
Shade levels: inactive: shade level 3.0 active, manual: shade level 5-8, 8-13
Power supply: Solar cells, lithium batteries (CR2450)
Sensors: Four (4) Sensors
Sensitivity: Digitally adjustable, AutoSense™ option to auto adjust the sensitivity for the environment.
Switching time: 1/20,000 second
TIG rating: 5A and below
Optical clarity rating: 1/1/1/2
Viewing Area: 9.22 sq. in. / 59.48 sq. cm
Weight: 18 oz / 510 g
Warranty: 3 Years, Miller's True Blue Warranty
F.A.Q
How long is the battery life on Digital Elite Miller Electric Helmets?
As far as batteries go, the helmet comes with two lithium batteries that you could exchange when one runs out. It also comes with a solar assist to help with additional cutting. The battery is supposed to last for 3,000 hours, allowing for prolonged work and operating under all kinds of conditions.
Can Digital Elite Miller Electric Helmet hold the magnifying lenses?
If you are in need of a magnifying lens for work, the black welding helmet from Miller allows the use of it. However, the helmet itself does not come equipped with them, and users will have to purchase them separately. But if you need or are thinking of using magnifying lenses for work, you can easily obtain them and add them to the helmet.
To Sum Up
We are well past the old medieval days where workers used lackluster protection when curring. The dark ages are behind us. Protection is key, and nowadays, workers can't go without quality protective gear. Full protection will get you to finish the job properly and in a quality way.
Therefore, the use of the new advanced helmets is very much welcomed. Sure, you have to pay a bit more to purchase them, but it is all worthwhile once you can see the quality of work you are doing. More so, you don't have to look like a medieval knight with a blow torch. You can look like a modern badass if you get a hood like the Digital Elite from Miller.