If you are new to TIG welding and are just starting, you should get yourself a reliable welder.
My recommendation is the Miller Diversion 180 TIG welder.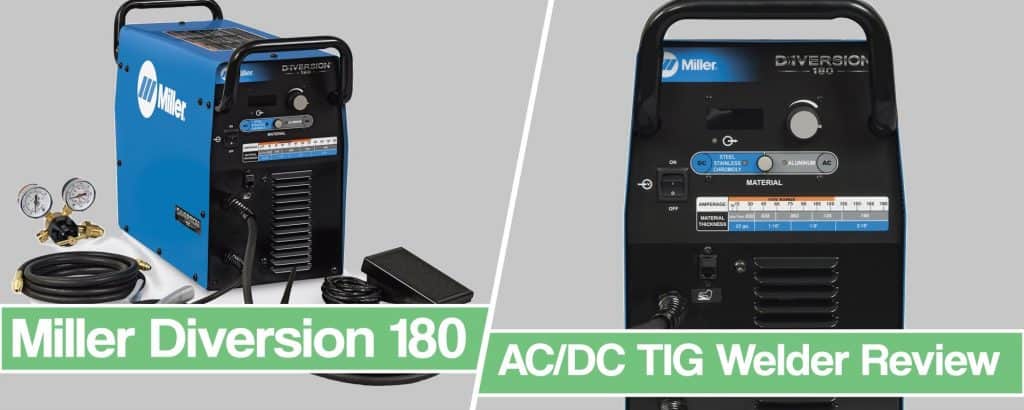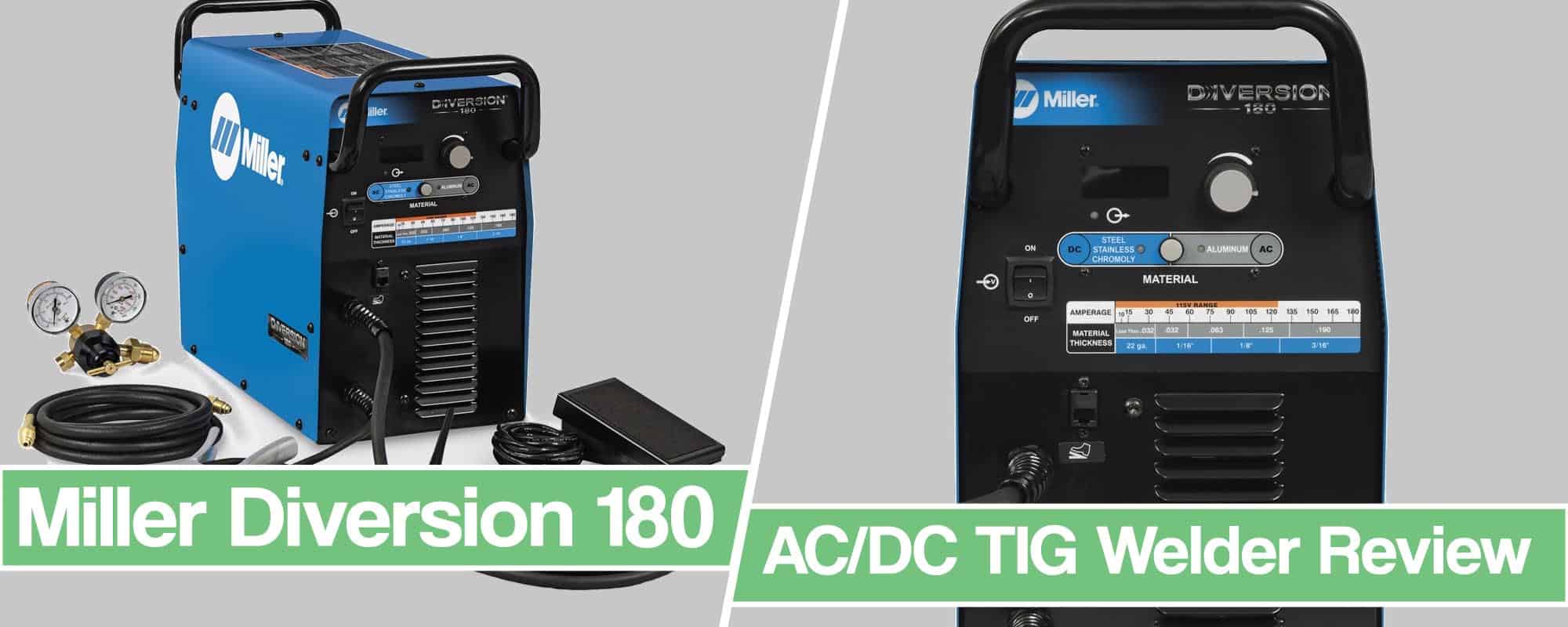 Whether you are a novice or an experienced welder you probably know that TIG welding is the process that creates the most beautiful welds. But at the same time, it takes more time to finish. Also, learning requires patience and diligence. So in my Miller Diversion 180 TIG welder review I will explain just how important it is to possess a good machine at your side.
The Miller180 has enough power for smaller jobs and is seen as quite versatile. Let's dive into more details now.
Miller Diversion 180 Brief Review
The MIller Diversion 180 TIG welder is a welding machine specifically aimed for beginners. It has both 120v and 240v input power capability and you can upgrade to it if you wish. This allows you to chance to applications that require a bit more power as opposed to simple projects that useless.
However, its prime aim still remains easy jobs like shop work jobs, work around the garage, DIY projects, and other simple stuff. But a Miller product definitely comes with all the quality you expect it to. It is among the best TIG welders for beginners but at such, it costs a bit more than the others.
Its price tag is a bit higher due to the brand but also because of its quality build. The Miller Diversion 180 TIG has out of this world quality and you can rest assured that you have bought a reliable welding machine.
However, in my opinion, it is still a bit costly even though it brings the best build and performance in the beginner range. But it will definitely not leave you hanging.
Pros & Cons Summarized
Pros
Works with 120 and 220v power input
Great for hobbyist welders and lighter pro use
High Frequency start
Advanced AC squarewave for deeper and fast freezing weld puddle
Foot pedal included
Fan on-demand feature
Relatively low unit weight and size
Easily avaiable spare parts
Serious USA brand
3 Year warranty
Cons
Specifications
Processes: TIG (GTAW).
Weld Thickness Range: Plain Steel – 22 ga. – 3/16 in.
Weldable Materials: Steel, Stainless Steel, Aluminum
Input Power: 120/220 V, 60 Hz.
Input Phase: 1-Phase.
Current Type: alternating/direct current.
Rated Output: 150 A @ 20% duty cycle.
Amperage Output Range: 10 A – 180 A.
Weight: 50 lbs.
No products found.
Power and Welding Performance
The Miller 180 welder packs more power than you would expect to see in a beginner-tier welder. At 180 amp it is one of the stronger welders and provides more than enough for hobbyists and novices.
But, the duty cycle suffers it only offers 10% with its maximum output of 180 amps. But things do get slightly better as the duty cycle goes to 20% at 150 amps.
These Miller 180 welders have a dual voltage input with a maximum amperage output of 125A at a voltage input of 115V. This is more than favorable as beginner type units do not give that many amps at 115v.
Easy to Use and Setup
What makes the Miller Diversion TIG welder perfect for beginners is how easy it is to use. The setup is more than intuitive and you can start working in as much as 20 seconds. The only thing you need to do is to select the type of metal you are welding on the control panel and the thickness and off you go.
Selecting the metal will switch it between the AC DC TIG welder while the thickness will show you how much amperage you need for the job. If that sounds too difficult, you still have the DVD with instructions and an easy to understand manual that will show you how.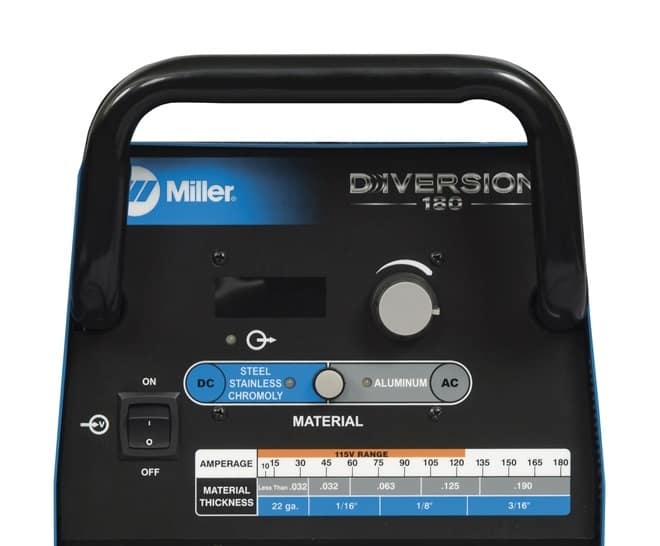 Miller Diversion 180 Features
The Diversion 180 TIG welder is brimmed with useful features. Some of them are even found in more advanced units.
This is an AC DC TIG welder as it offers both AC DC welding capabilities. It additionally comes with preset AC balance and frequency so it automatically adjusts the post flow depending on the amperage.
This feature is not really needed for experienced welders but it comes in handy for beginners.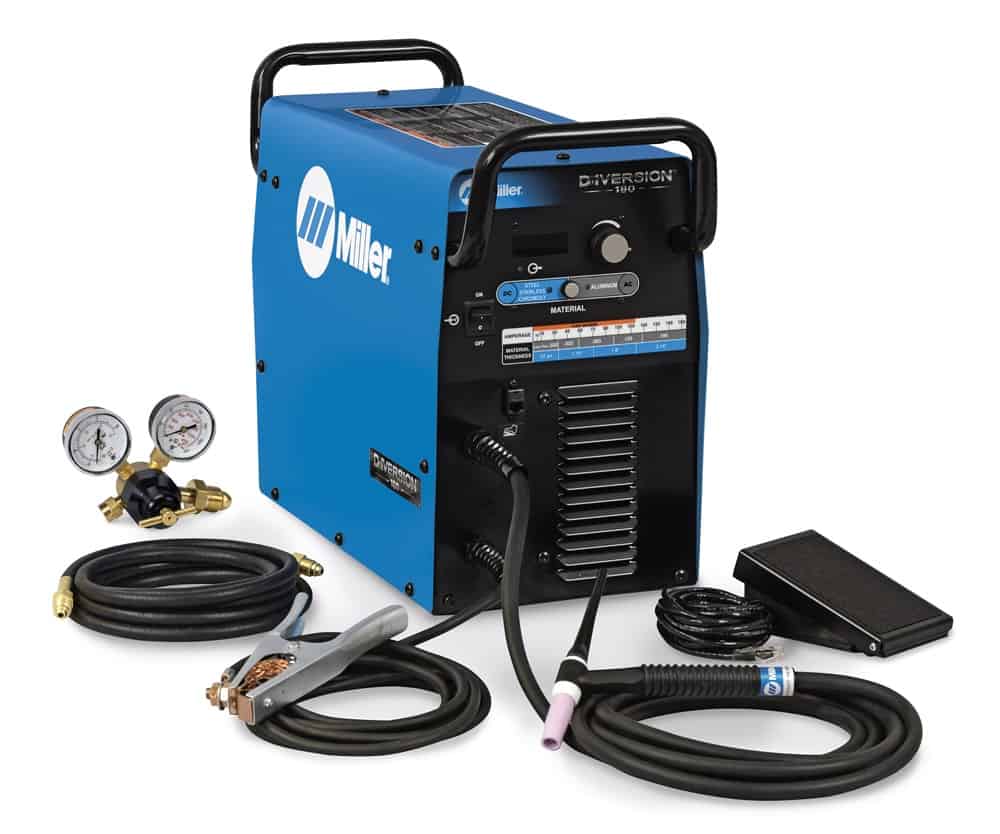 Next, the Miller Diversion 180 comes with a High-Frequency arc start and advance AC square wave. These features will allow you to make really smooth and quality welds. Also, they are usually found on high-end TIG machines.
Input voltage switching is a breeze as you can do it with the foot pedal and the added multi-voltage plug.
However, even with all the features that I mentioned this is not a pro machine. It still lacks AC balance, frequency, and pulse settings to be considered as such. But the offered features are more than enough for a beginner and will also prepare them when switching to a more serious welding machine.
The Build Quality Compared to the Price
As I already mentioned, this is a Miller product so the Miller TIG 180 comes with the exceptional build quality. Nothing on this machine feels cheap. In fact, it looks more than great and is an excellent piece of equipment to use for TIG welding. Additionally, both the foot pedal for foot control is of exceptional make as well as the added TIG torch.
But the catch comes with the price tag This TIG welder is actually pricier than some beginner lightweight welders and surprisingly even costs more than some professional ones. This does not come surprisingly as it is a USA brand used for the given market so you should be aware that you are paying for quality here.
Who Should Buy Miller TIG 180?
The Miller Diversion 180 welder is aimed at the use of beginners. If you want a machine for some less demanding work, something that you can do around the house, or DIY projects, hobbyists and beginners will definitely make great use of it.
On the other hand, pro welders are not going to benefit from this machine at all as they probably have a much better one in their arsenal already. they might benefit from other products from the manufacturer like the welders from the Miller Dynasty line.
Conclusion
To conclude my Miller Diversion 180 review, this is definitely one of the more expensive TIG welders in the beginner range on the market. But as you will see with the review Miller Diversion 180 capabilities mentioned above, the brand is what counts.
It does come with phenomenal features that make arc welding, stainless steel, and aluminum welding much easier for beginners. The results speak for themselves as you will see from the weld puddle you will get.
But besides being able to work on various material types, the build quality is what it counts. It is exceptionally well made and with the dual power source of 120V and 240V it is a good machine to have in your set.
That is if you don't mind the price which in my opinion is a bit too high.