Choosing a perfect MIG welder can be difficult, as there are way too many machines on the market.
Therefore, before making a choice, you should get the best value out of the money spent.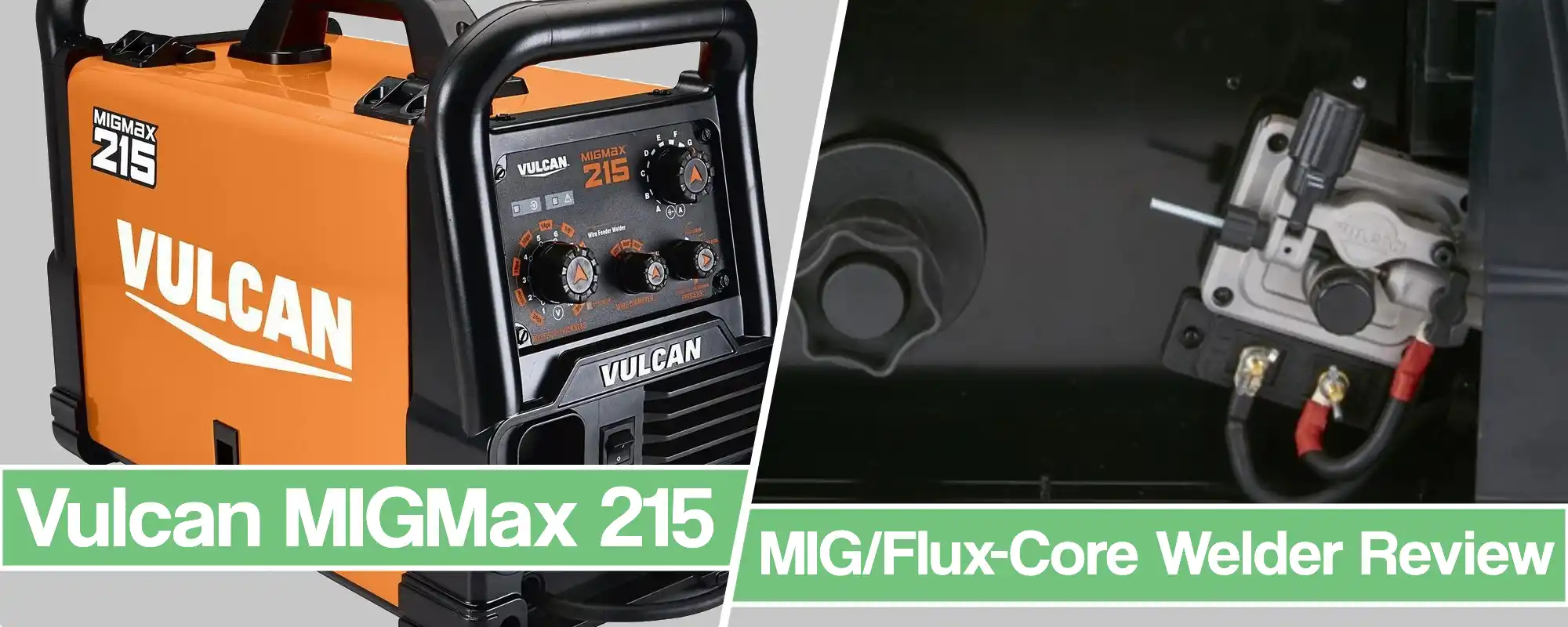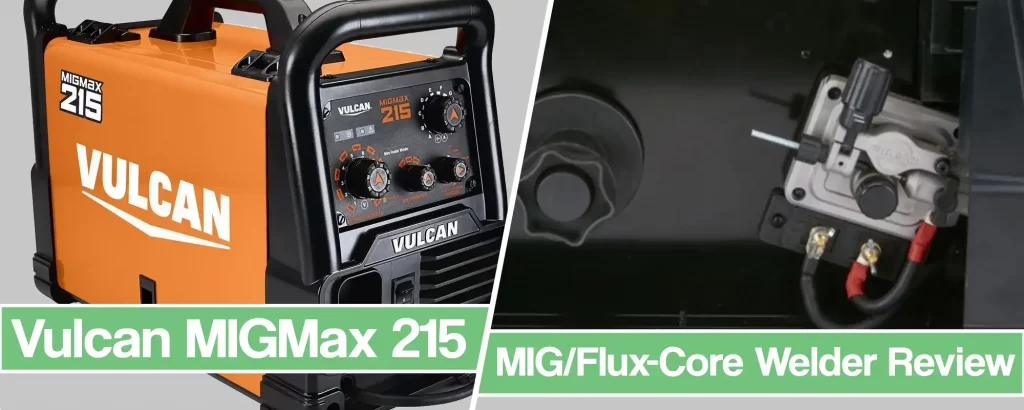 You can always opt for powerful brand-name machines made in the US, but sometimes tight budget can be a limitation.
Luckily, that's where Vulcan MIGMax 215 steps up, as this welder offers excellent versatility and some nice features for the money spent.
Still, this welder might not fit your needs as it has some limitations. That's why you should read this Vulcan MIGMax 215 review to find out if this is a suitable machine for you.
Vulcan MIGMax 215 [VW215-MM] Package Content, Specifications, Pros & Cons
Let's have a quick overview of package content, technical specifications, and pros & cons that this budget helmet has to offer.
Keep in mind that this is not an industrial welder, but still, it is best used in small to medium-sized shops.
What do You Get For Money Spent
Vulcan MIGMax 215 Welder
Suitable MIG welding gun with 10 ft. long cord
Dual voltage power cords (120/240)
Gas and gasless nozzle
Circular metal thickness gauge meter
0.030″ contact tips, with a replacement
10 ft. long work cable and clamp
Dual gauge Ar, Ar/CO2 regulator with hose
Vulcan solid MIG wire (2lb spool of 0.030 wire)
Vulcan flux core wire (2lb spool of 0.030″ wire)
0.025″ to 0.030″ V-groove drive roll
0.030″ and 0.035″ Knurled drive roll
12 lbs. spool adapter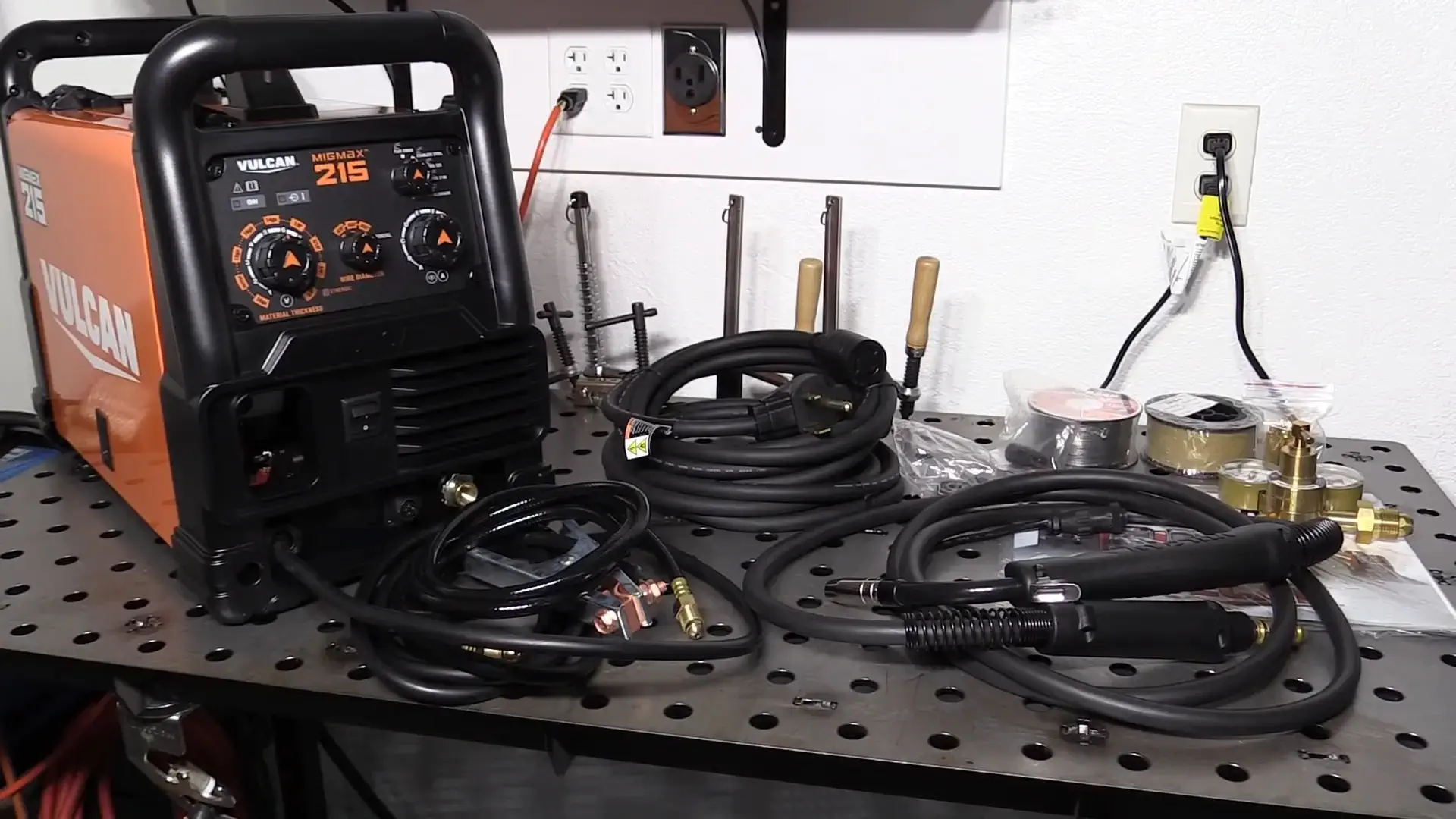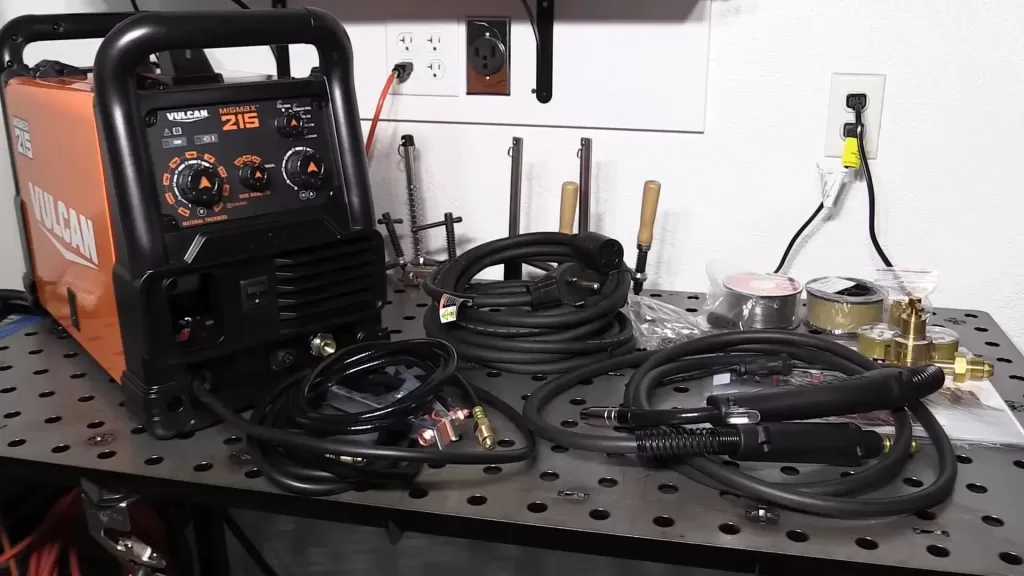 Technical Specifications, Pros & Cons
Welding Processes:
MIG, Flux Core Welding
Input Voltage:
120V, 240V
Technology
IGBT Inverter
Voltage Settings
Infinitely adjustable
Amperage Range:
120V: 30 – 140A
240V: 30 – 215A
Weldable Materials:
Mild and Stainless Steel, Aluminum (w/ optional spool gun)
Rated Duty Cycle:
120V: 30% at 115V (19.75V / 20.7A)
240V: 25% at 200A (24V / 24.8A)
Torch and Ground Cable Length:
10 ft.
Welding Power (Mild Steel)
120V: 24 ga. to 1/8 inch.
240V: 24 ga. – 3/8 inch
Welding Power (Aluminum)
120V: 16 ga. to 1/8 inch.
240V: 16 ga. to 3/8 inch.
WFS – Wire Feed Sped:
Infinitely adjustable 50-500 IP
Machine Dimensions:
16 in. x 11 in. x 21 inch
Weight:
44 lbs.
Warranty:
90 days
Warranty Options:
Three-year warranty
Pros
A budget welder that offers great value for money spent
Can weld up to 3/8 thick mild steel, stainless steel, and aluminum with optional spool gun
You can use it for MIG welding and flux core; input voltage is adjustable
Twist locks cables, so you don't have to use adapters.
IGBT Inverter technology makes it lightweight and portable
Beginners will find the synergic interface easy to use, as the machine selects the perfect settings according to material thickness and wire size.
Experienced welders can choose the right settings manually.
Decent build with a high-quality wire feed mechanism
V-groove and knurled rollers for MIG and flux core welding are included.
Cold wire feed switch and smooth arc feature
Spool gun ready to weld aluminum
High-quality metal thickness gauge meter
The package includes everything you need to start welding straight out of the box.
Cons
The adapter can withstand 12 lbs. of wire, meaning heavier rolls can easily exceed it.
When using a synergic mode, settings are stepped, not infinite.
Amperage goes down only to 30 Amps, so you can't weld significantly thin materials.
To increase aluminum welding capability, you need a spool gun which is sold separately.
You can't use it for longer weld because of the limited duty cycle.
Continuously running fan
Great Features Vulcan MIGMax 215 offers
Here are some of the great features I liked about this Harbor Freight Vulcan MIGMax 215 welder. Keep in mind that some of them you find in much more expensive machines, making this welder stand out in the crowd.
Dual Voltage Power Input
Dual voltage power input is one of the must-have features most modern machines offer, including Vulcan MIGMax 215. That means you can use a 240V input to weld thicker materials without sacrificing the ability to weld thinner stocks.
In addition, the package offers separate 120V and 240V power cords, so you don't have to buy different adapters.
Amperage Output and Welding Capability
When looking at Vulcan MIGMax 215 welder, you can notice this is quite a capable machine. When using the 220V input, you can achieve a maximum rated amperage of 215A. That's more than enough power for everyday use, as it welds up to a 3/8 inch thick mild steel plate.
However, when using a 120V input, this MIG welder can produce up to 140 amps. That's enough to weld about 1/8 to 3/16 inches if you decide to push the limits.
Remember that Vulcan MIGMax 215 only goes down to 30 Amps, meaning you can weld significantly thin materials. Still, it is enough to join 24 ga thin stocks.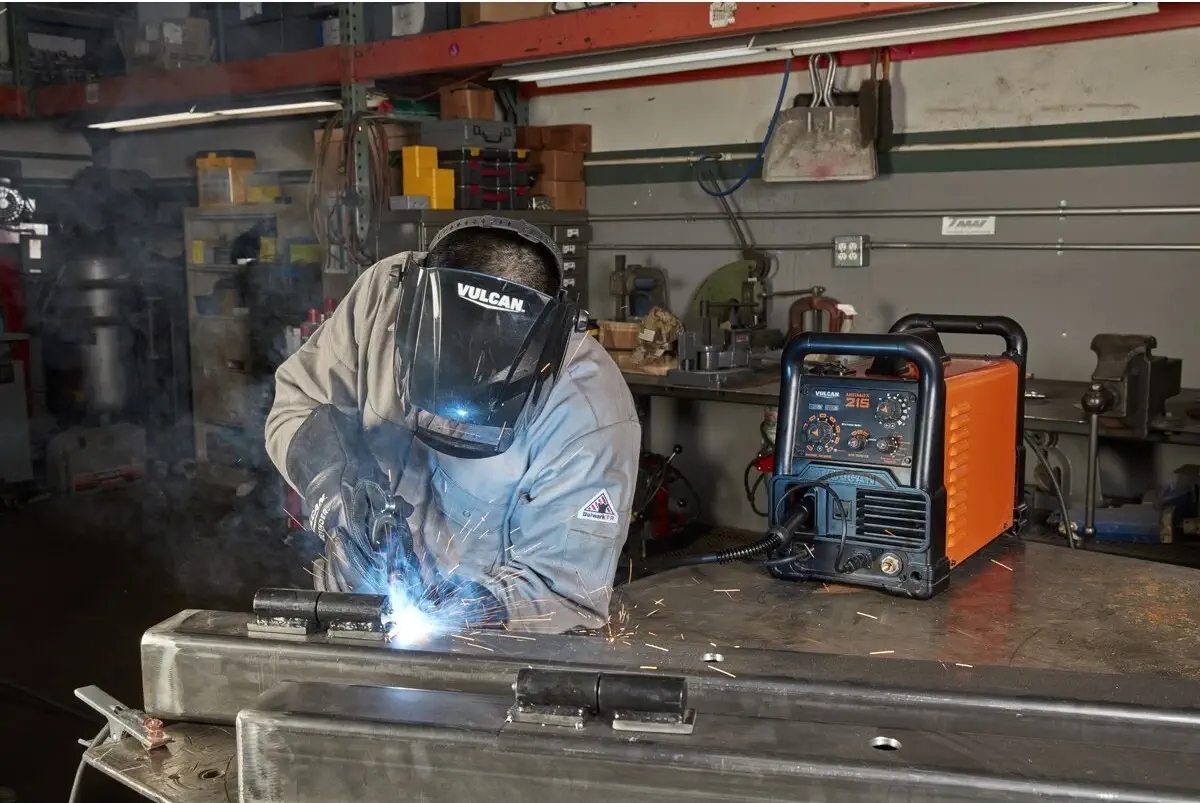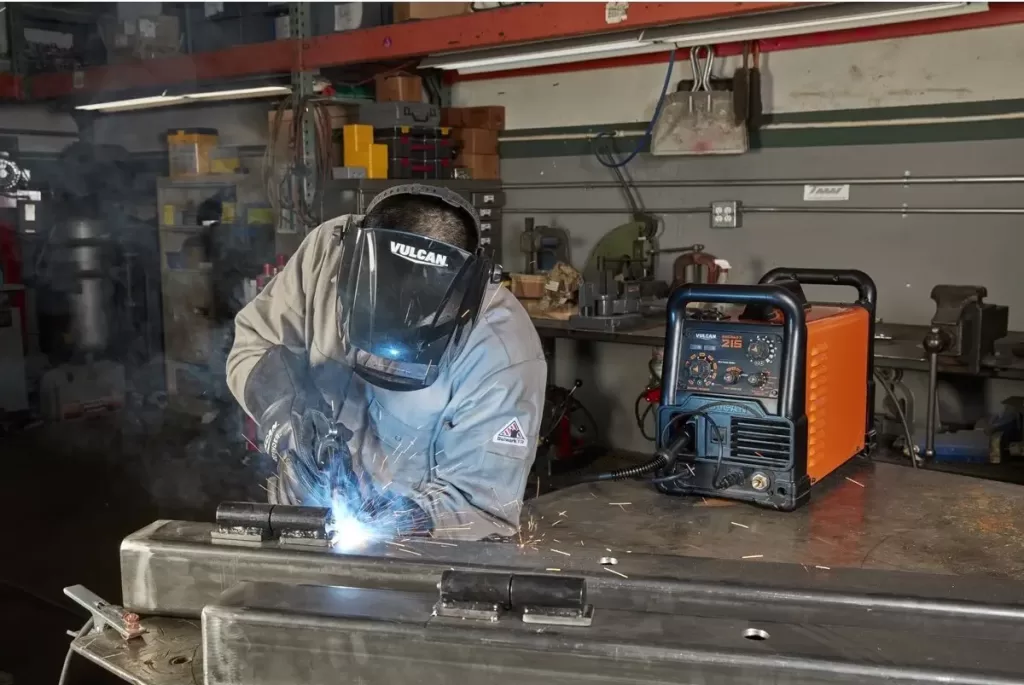 One of the things you should pay attention to is a rated duty cycle. For example, at 110V, this welder is rated 30% at 115A, while at 240V, the welder is rated 25% at 200A
IGBT Inverter Technology
Most manufacturers started using an IGBT inverter technology design to make their machines smaller, lightweight and portable. Luckily, Vulcan MIGMax 215 is one of them.
This welder weighs 44 lbs, which is noticeably lower than older transformer units, such as Hobart MPV 210, which almost weighs 80 lbs. Nevertheless, once you add 10 lbs. of MIG or flux core wire, welder weight goes up to 55 lbs, which is still lower than older transformer units, but not a fact to ignore. Adding the shielding gas cylinder can reduce portability significantly, and that's why I suggest using a welding cart to move it around.
Besides portability and design, inverters like Vulcan MIGMax 215 offer a synergic control feature, also known as auto settings mode, and smooth arc benefits. In addition, you can power inverters with a generator, which increases flexibility.
Build Quality
Compared to other welders with affordable price, Harbor Freight Vulcan MIGMax 215 overall design and build seem pretty decent. The device is surrounded by a metal shell which makes it feel durable. Still, the front and back panel feels pretty cheap. Nevertheless, plastic is not so flimsy.
One of the things you don't usually see is a cast aluminum housing for the wire feed mechanism. I was amazed at how durable the feed mechanism looks.
In addition, manufacturers put detailed instructions on how to set up and change your wire.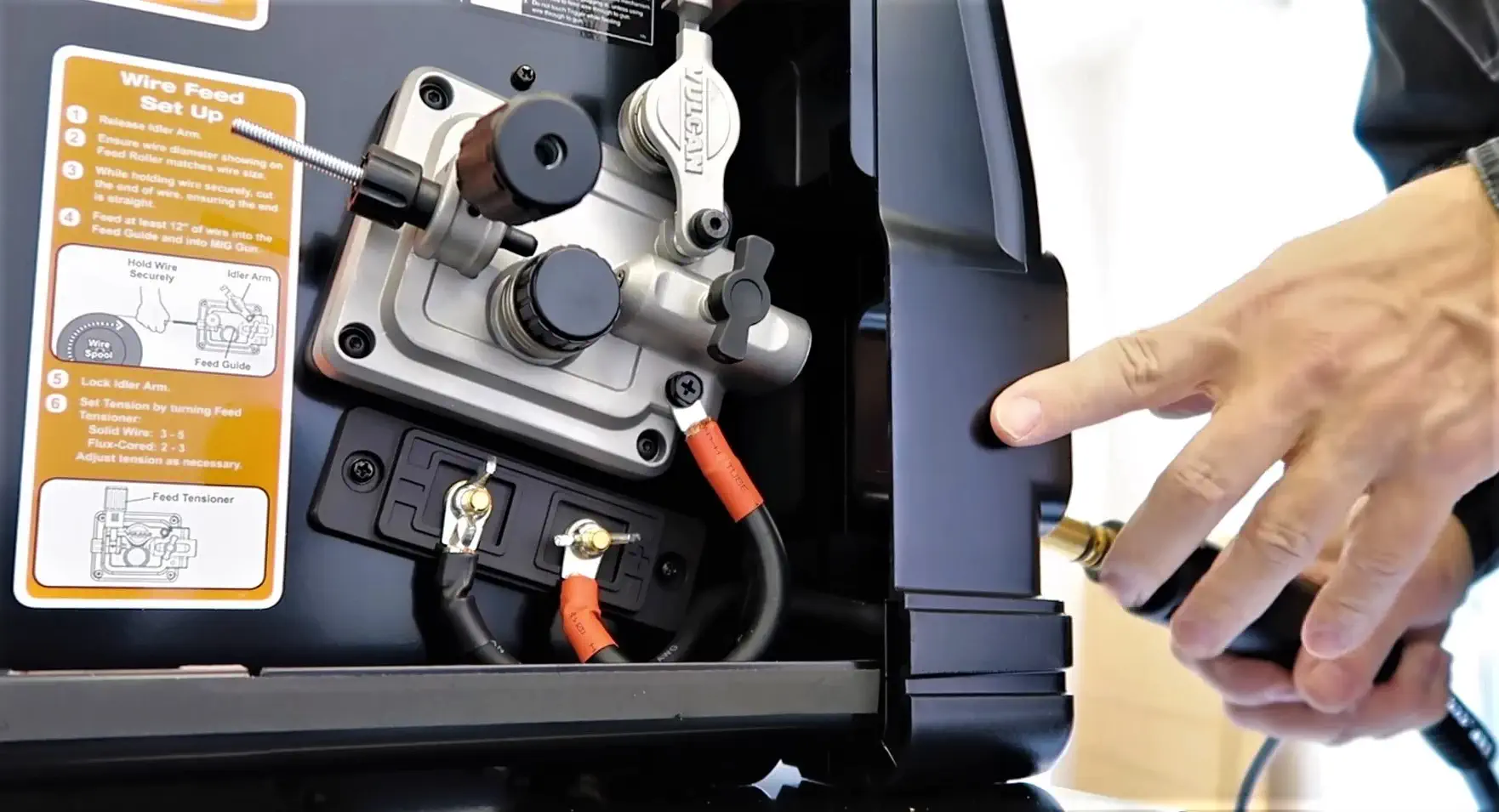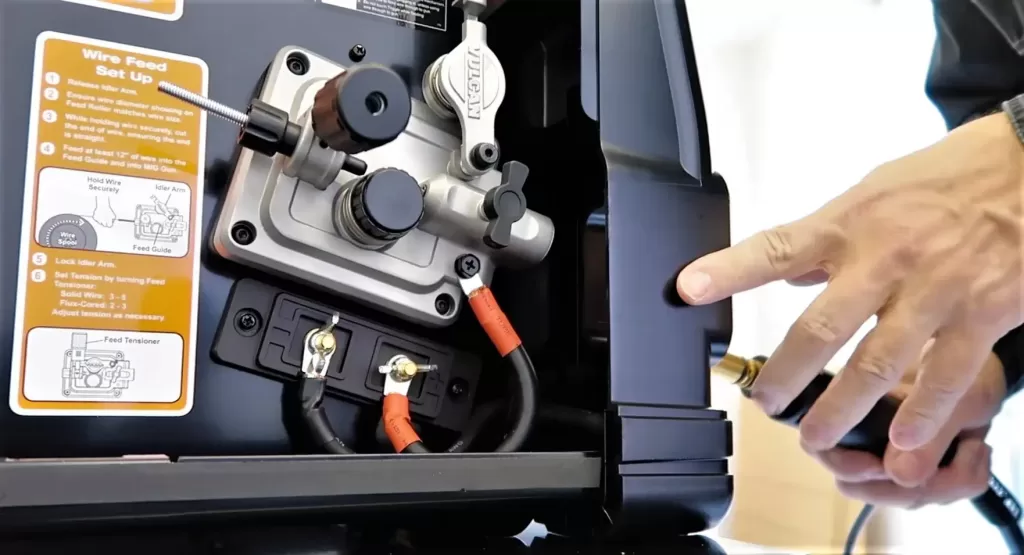 Most beginners find these instructions as one of the great features. Vulcan MIGMax 215 also features a momentary cold feed switch. A cold feed switch is a decent feature that makes this welder easy to use and increases the welder's safety.
MIG Welding Aluminum With Spool Gun
If you are a welder that works with aluminum more than just in your free time, you should consider buying a spool gun. Luckily, Vulcan MIGMax 215 welder is a spool gun-ready unit.
Even though you can try welding aluminum with a regular MIG gun, you might have to deal with wire birdnesting. Spool guns increase welding capability, and Vulcan MIGMax 215 can handle up to 3/8 inch thick aluminum in a single pass.
Welder Controls and Synergy Mode
Vulcan MIGMax 215 control panel offers some great settings for beginners, but even experienced welders can fine-tune it. One of the features that stands out is synergy mode control.
Synergy mode, also known as an auto-set, allows beginners to select the material thickness and wire diameter. Once you use the full synergic interface, the welder sets the appropriate voltage and wire feed speed according to the given commands.
Nevertheless, some users found synergic mode too hot when welding thinner materials, so you might want to tune the welder manually. In addition, when using a synergy mode, settings are tapped, not infinite.
Overall, welder controls offer great versatility. Ribbed knobs are easy to use, even with welding gloves on. Experienced welders can set their machine manually as it offers infinitely adjusted voltage and wire feed speed, while first-time workers can also use a hinged door chart to change it.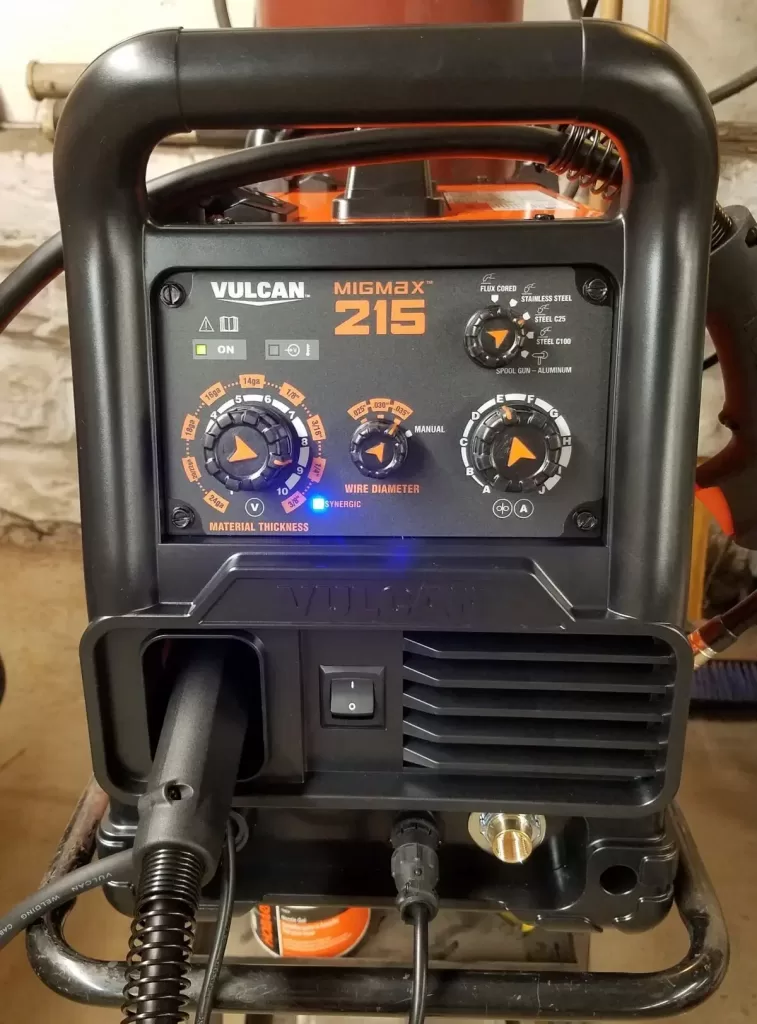 Keep in mind that there is no LCD screen. While some welders are used to them, some consider it a liability in the shop.
Things I Disliked About Vulcan MIGMax 215 Welder
While this welder offers some useful features for more than a reasonable price, I've noticed a couple of drawbacks while looking into it.
Before you make your final choice, you should also consider the bad sides. For example, you should pay attention to the duty cycle, limited warranty options, maximum allowed wire weight, and continuous fan that might be loud for some.
Rated Duty Cycle
One of the first things you should know before picking Vulcan MIGMax 215 is that this is not an industrial welder. This machine is rated 25% at 200A using a 240V input and 30% at 115A.
That means you cannot use it to weld all night long, as you will make occasional breaks. Nevertheless, this duty cycle is enough for most auto, Maintainance, farm/ranch, and DIY shops.
If you exceed the duty cycle, the thermal overload protection circuit will shut your unit down. That feature protects your welder from overheating and eventually breaking.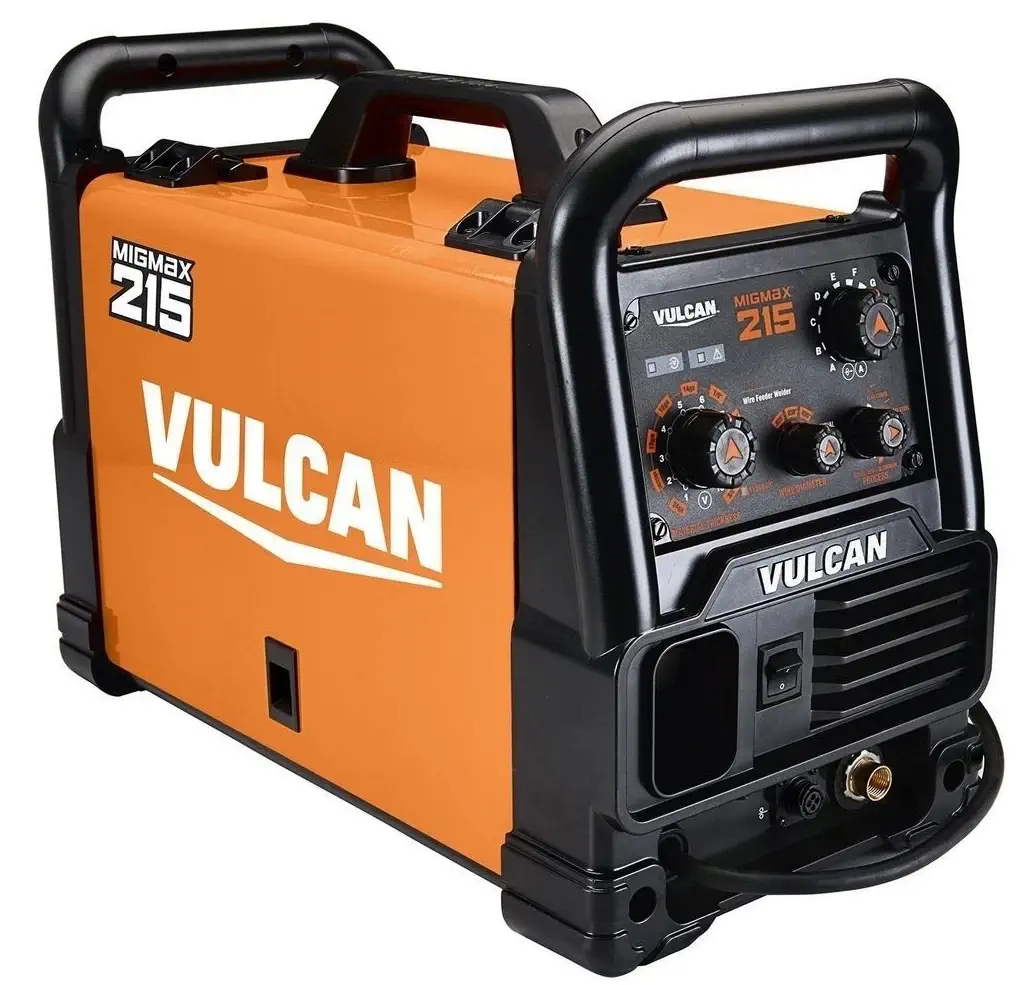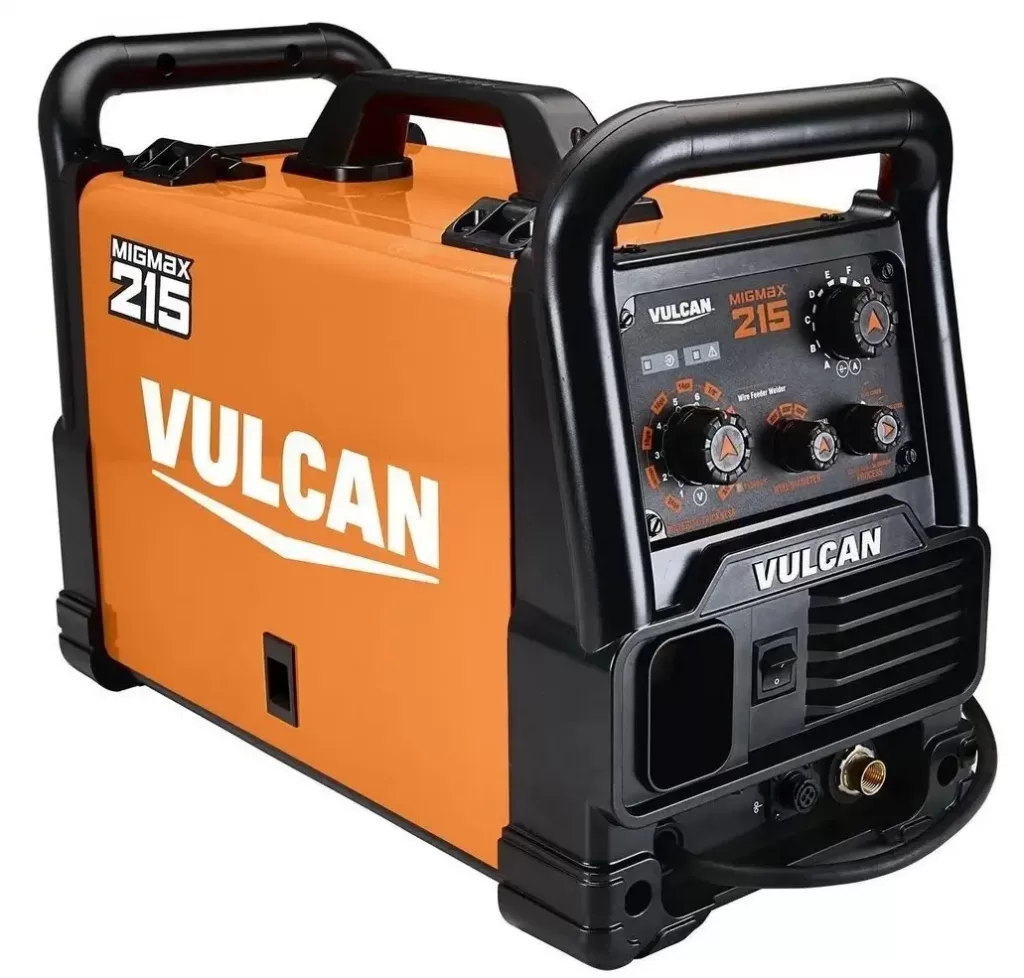 Limited Warranty Options
Compared to some US-built machines, such as Hobart and Miller, Vulcan offers somewhat limited warranty options.
While more expensive units usually offer a three to five-year warranty, Vulcan MIGMax 215 guarantees only 90 days.
This information might concern some future buyers, and if you find it a crucial factor when buying a welder, you might want to look further.
Allowed Wire Spool Weight
Vulcan MIGMax 215 can use a 4-inch wire spool weighing 2 lbs, but with an additional adapter, you can set an 8-inch wire spool weighing up to 12 lbs. Keep in mind that some heavier rolls can easily exceed the maximum weight of 12 lbs.
Continuously Running Fan
Some more expensive welders, such as Miller Millermatic 211, offer an on-demand fan feature. That means the fan will start once a welder reaches higher temperatures.
Unfortunately, Vulcan MIGMax 215 has a continuously running fan. Once you turn it on, the fan will start automatically. Some owners say that continuously running fans can drive you mad, but the sound becomes less obnoxious once you get used to it.
Vulcan MIGMax 215 Owner Reviews
While browsing various forums, amazon reviews, and videos, two words keep appearing – smooth and reliable. That's how satisfied owners usually describe Vulcan MIGMax 215.
In addition, many users compliment the arc quality, and some of the owners like the less spatter.
When comparing it to some brand-name welders such as Miller or Hobart, users noticed a slight difference. They report that knobs feel a bit flimsy and control slightly less precise, but they are overall satisfied with the value.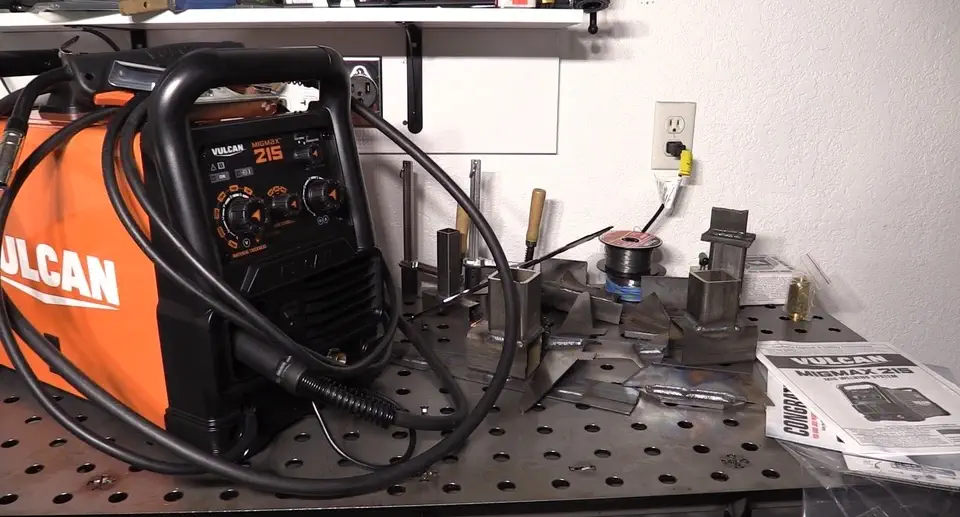 Some videos even show how durable the welder is after a couple of years of use, just by maintaining it regularly and with a little dose of care.
Conclusion
Vulcan MIGMax 215 is not an industrial welder by any definition, but this is a light, robust and portable unit. If you are on a tight budget, you should put this welder on your shortlist, as it offers excellent value for money spent.
This excellent welder offers some of the great features you find in Miller and Hobart welders, with almost half a price. You can use the money you saved to buy some higher-quality consumables and accessories, and you are set for success.
The arc quality and reliability surprised many skeptics, but there are still some concerns. Even though a 90-day warranty is not encouraging, different reports show this unit is working well even after a couple of years.
Overall, with Vulcan MIGMax 215, you get power, versatility, and reliability at a reasonable price.