If you are new to welding wanting to learn, or you occasionally weld around the house, you shouldn't go straight away for the most advanced and expensive welding machine.
Luckily, there are welders such as Arccaptain Arc200 that pack decent features and the latest technologies at a fairly reasonable pric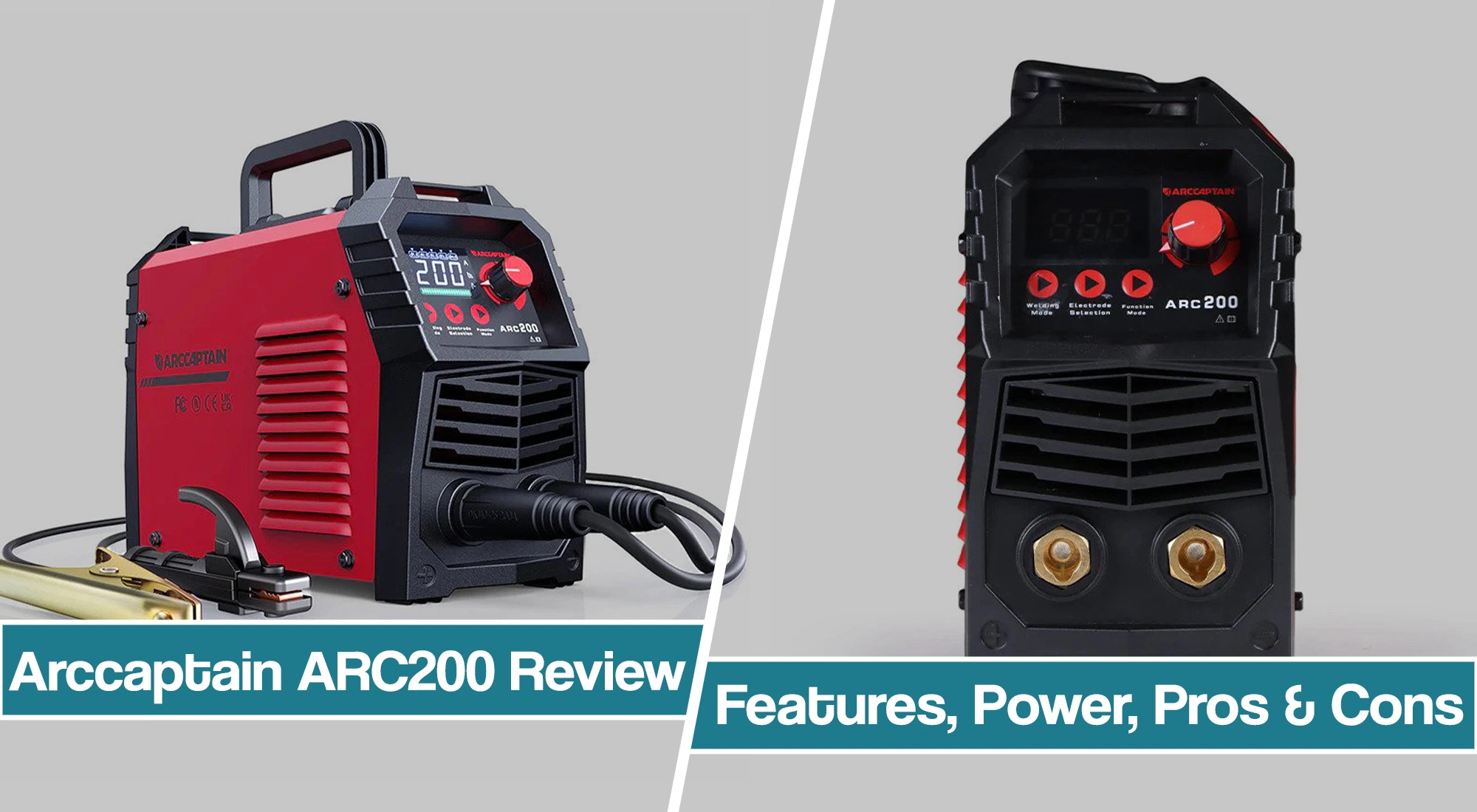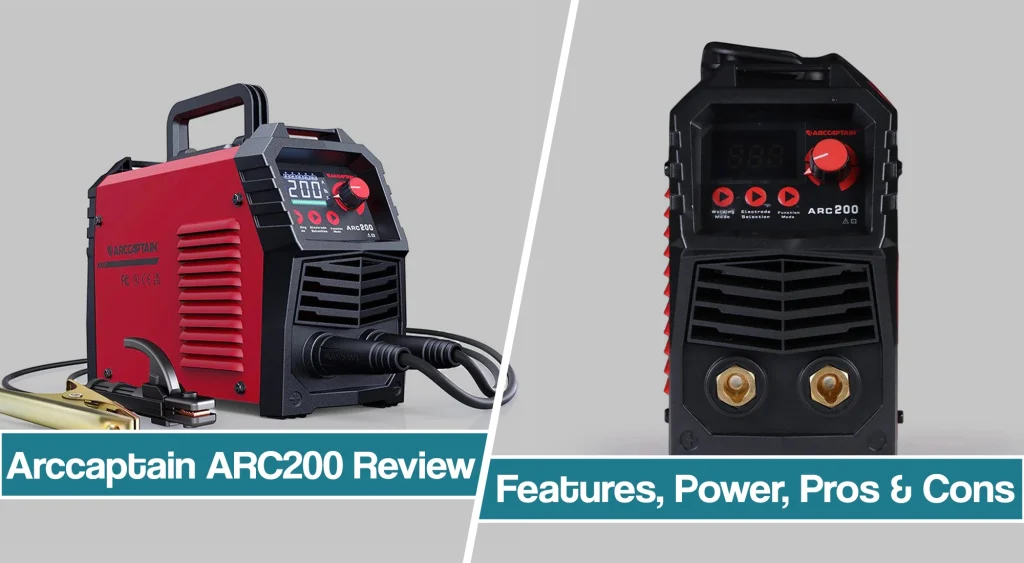 Arccaptain Arc200 is a stick welder with a lift TIG option that offers excellent value for the money spent. For less than 200 bucks, you get a reasonably capable, lightweight, but well-built machine rated at 200 amps.
In this Arccaptain Arc200 review, we will discuss its value, features, and the good and the bad.
Arccaptain ARC200 Package Content & Technical Specifications
Arccaptain ARC200 is a compact inverter Stick welder that provides excellent performance and high welding output, unlike small buzz boxes. The best part about it is that you get everything you need to weld straight out of the box, including:
Budget-friendly SMAW Welder With Advanced Features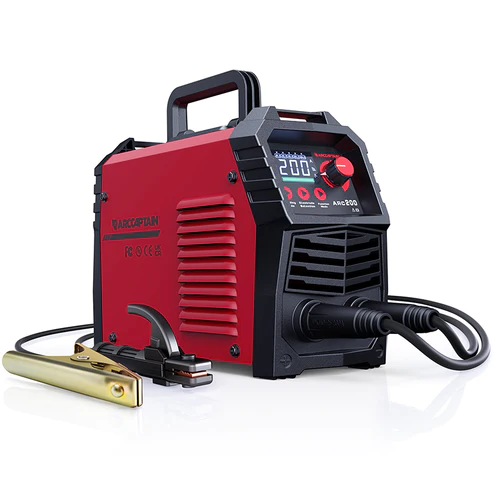 Arccaptain ARC200 Arc Welder
ARCCAPTAIN Stick Welder machine
10 ft Electrode Holder
10 ft Earth Clamp
110/220V Power Adapter
User Manual
Shoulder Strap
Brush
The included accessories are decent, and the leads are long enough so that you are not strictly tied to your welder. The holder has strong clamping force, and it will hold the electrode tight, but some find the clamp a bit loose, but it will get the job done. Finally, I love the shoulder strap that is quite useful when carrying around your welder or welding on a ladder.
5% Discount Code: "WELDPROS"
Even though ARC200 can perform lift TIG welding, you don't get a TIG torch to do it. This seems to be the case with all budget-friendly welders that don't include torches or spool guns, so it shouldn't surprise you. In addition, the TIG weld function is rather basic, so it really isn't necessary unless you wish to practice some TIG.
Technical Specifications
| | |
| --- | --- |
| Welding Process: | Stick (SMAW Welding)/Lift TIG |
| Input Voltage: | 110/220V |
| Input Power: | 110V(6KVA)/220V(9.4KVA) |
| Current Range: | 110V(20-200A)/220V(20-200A) |
| No-load Voltage: | 78V |
| Rated Duty Cycle: | 60% |
| Electrode Diameter: | Ø1.6-5mm |
| Efficiency (%): | 85 |
| Protection Degree: | IP21S |
| Insulation Grade: | H |
| Machine Weight: | 11.73 lbs |
| Machine Size: | 15.35″ 6.30″ 13.00″ |
Arccaptain ARC200 Review – Build, Features & Protection
After a brief overview of the package content and technical specifications, let's get to the central part of our review. Looking at specifications can be enough for some seasoned welders to tell if they are on the right track or if the machine suitable for them. However, you shouldn't take words on paper for granted, so we will find out if things are the same in practice. Shortly said, yes, this is a good welder, but let's look at each aspect.
ARC200 Build Quality
The first look at Arccaptain ARC200 leaves an impression of a stylish, sturdy, and well-built welding machine. My claims are backed by the IP21S protection rating, where this stick welder has passed various authoritative laboratory tests simulating extremely harsh environments, such as condensation, vibrations, and metallic dust. These are actual welding conditions that can occur in your garage or small fab shop, so you can be sure your welder is well protected.
Another thing that I really liked was the size. This compact, 15.35″ x 6.30″ x 13.00″ stick welding machine weighs only 11.73 lbs due to the latest IGBT inverter technology. Therefore, with the added shoulder strap, you can carry it around like a fully packed purse or when welding on a ladder.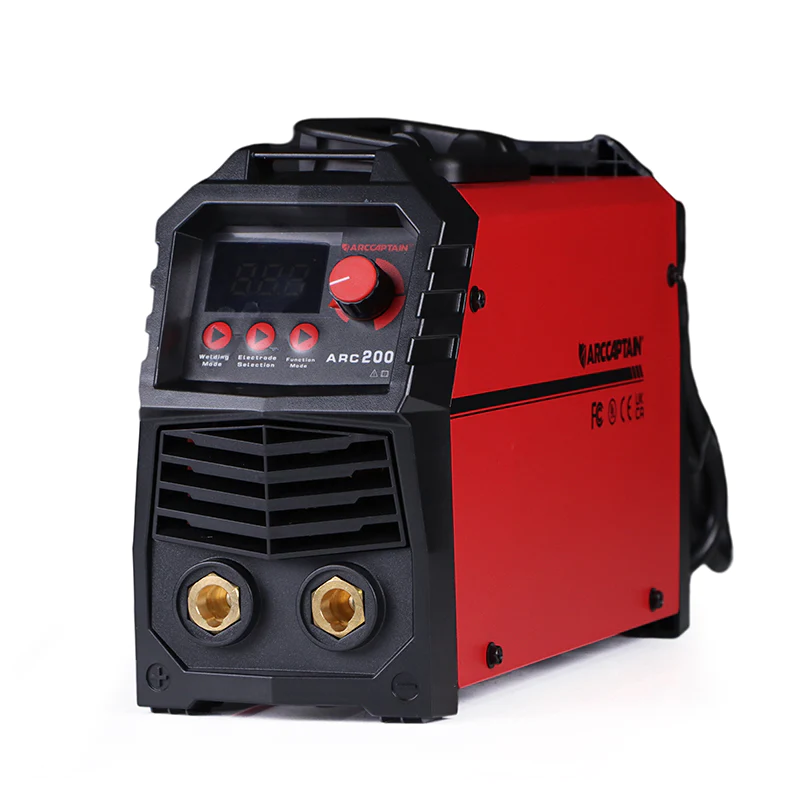 Welding Parameters And Ease of Use
The Arccaptain ARC200 is extremely easy to use and set up. The control panel is straightforward, and it features a large high-definition LED display for accurate data display, one knob for amperage control, and three buttons for advanced features and welding mode selection.
The HD-LED digital display panel is not something you see with budget-friendly welder machines, and I liked how visible it is even in daylight or with a helmet. The buttons will help you switch between welding modes, stick electrodes, or function mode, while the infinitely adjustable knob adjusts amperage.
The real cherry on top of this welder, which is the reason I recommend it to all beginners out there, is the synergic control.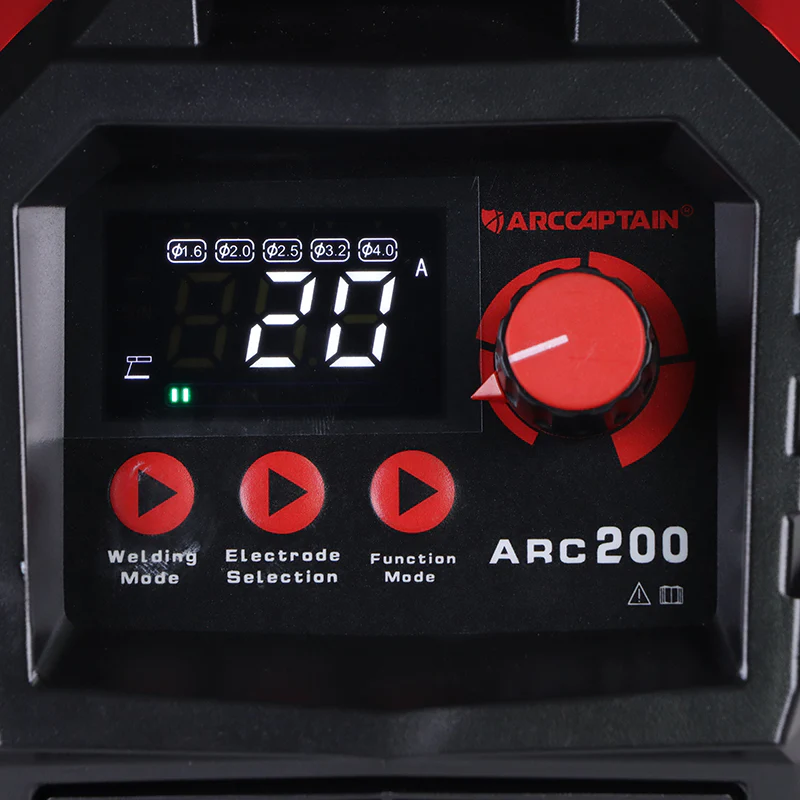 This feature was reserved for MIG welder in the past and seen in much pricier machines from Miller. However, now you can input the stick electrode diameter, and the welder will automatically adjust the current range and voltage.
You will appreciate this feature as a beginner and someone new to welding who doesn't know where to start. But remember that electrode diameter is expressed in the metric system, so you might need a converter if your welding electrodes are marked by inches and their fractions.
Advanced Stick Features
While synergic control makes ARC200 beginner-friendly, this welder machine is not strictly aimed at novices. Advanced technology offers features such as arc force, hot start, and anti-stick, which are excellent for anyone with welding habits or who like to fine-tune and get the best out of welding machines.
Setting the arc force will result in a stable welding arc, as the machine compensates for the voltage fluctuations, retaining good arc stability and resulting in smooth welds. This is a must-have feature that any modern inverter arc welder needs to successfully use the notorious E6010 electrodes with continuous arcing stability. However, make sure you don't over-tune it since it may cause inconsistent results.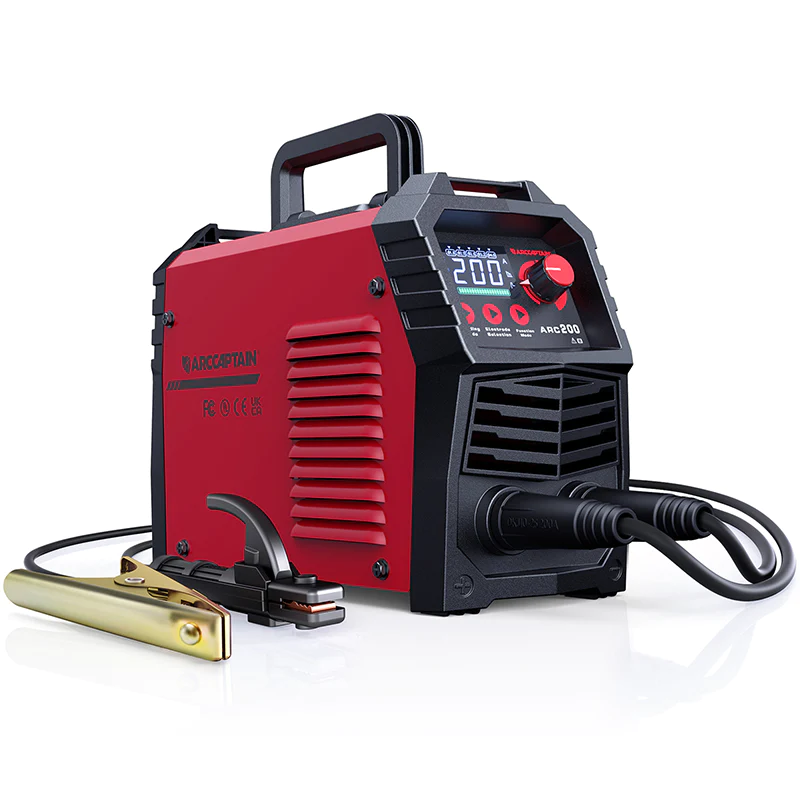 Hot start is an excellent feature to have when you need high-quality arc starting and good performance. Meanwhile, anti-stick provides no sticking and smooth welds, which is crucial when welding stainless steel, mild steel, or other metal materials. If you got the settings just right, the welding machine saves the last welding parameters, so you can pick up where you stopped your last welding project.
Welding Process Performance And Capability
SMAW welding with Arccaptain ARC200 inverter stick welder is really decent and smooth, and with a rated output of 200 amps, you can tackle more challenging projects. This is also a dual-voltage machine, meaning you can plug it into 110V common power supply or a dedicated 220V outlet when you need more power. The specifications state you get 20-200 A output at both 110v. 220v, but I highly doubt it can go over 140 ish amps at 110V.
Nonetheless, you get a 60% duty cycle at maximum output, meaning you can weld longer before making a break. ARC200 is also generator friendly stick welder, which with added performance and portability, makes it perfect for outdoor maintenance, farm, road equipment, and home DIY.
Stick Welding Machine Protection Features
The Arccaptain ARC200 and its stick welding electronic are highly protected by various safety features, such as overheating protection function, over current protection, overload, VDR and more. If any issues with current, voltage, or heat occur, the welder will automatically shut down to prevent damage to internal components.
VDR (Voltage Reduction Device) reduces the open circuit voltage to keep you safe when changing stick electrodes or connections between welds, as it reduces the risks of electric shock. In addition, there is a 2-year warranty, which is longer when compared to other budget manufacturers from Harbor Freight or YesWelder.
Pros And Cons Summarized
Arccaptain ARC200 is a decent little stick welder with inverter technology rated at 200 amps that is capable of welding both sheet metal and thicker plates. It is aimed at indoor and outdoor work for beginners and seasoned welders. Beginners will enjoy intelligent synergy settings, while professionals can fine-tune the machine to get the perfect weld.
Besides stick, ARC200 can lay a TIG weld with lift start, but unfortunately, you don't get a TIG torch to do it. On the other hand, stick welding is quite smooth, and there are features such as adjustable hot start, arc force or anti-stick, which you find at much more expensive welding machines from ESAB.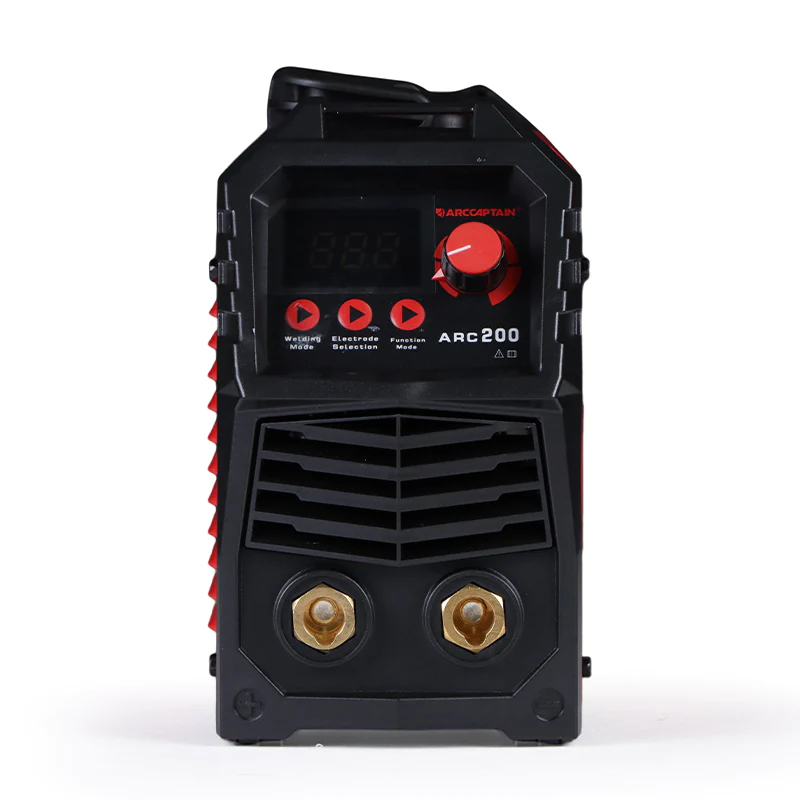 Overall, this sub $200 stick welder will perform well as long as you treat it according to its price tag. That means you shouldn't force it and exceed its capabilities, but with all the protection features and a 2-year warranty, you can weld at peace.