If you are wondering why there aren't any reviews about the Yeswelder MIG – 205DS online, the answer is rather simple.
Yeswelder is a fairly young company that produces welding equipment. People haven't still heard about it.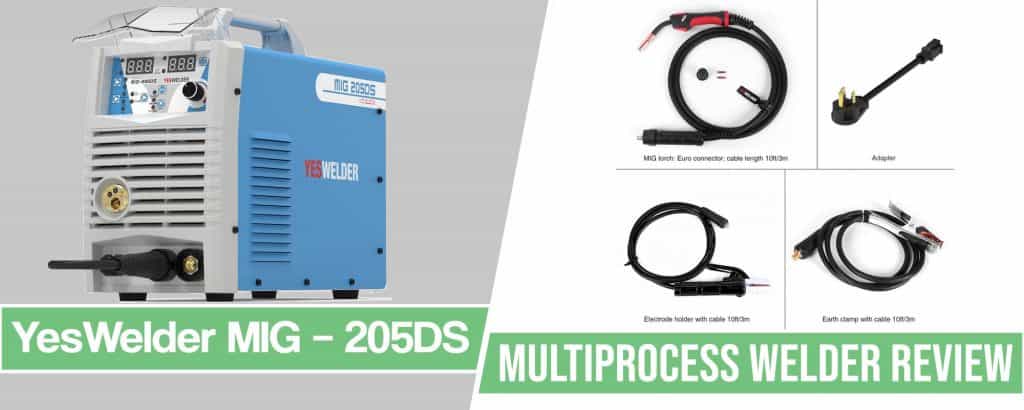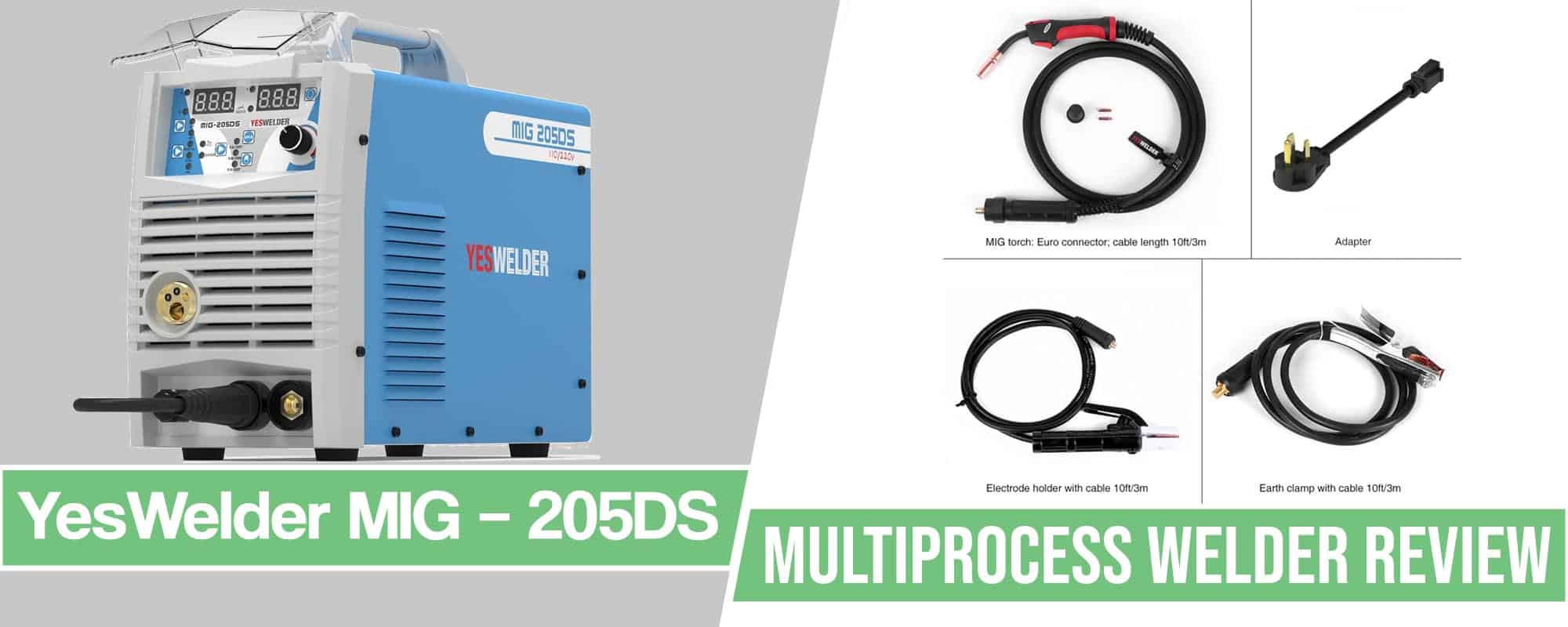 So it is my duty to spread the word about it as I really think that their products provide good value for money. To start with the aforementioned Yeswelder MIG – 205DS, which I think is one of the best welders in its price range. I will give you my personal and honest opinion about the welding machine and you will get to read the benefits of this machine and what it is able to offer.
What is Yeswelder MIG – 205DS and What is it Good for?
The Yeswelder MIG – 205DS is a multifunctional machine that is capable of MIG welding, TIG welding, Flux, and Stick welding. The machine is light and well built and more than suitable for a variety of welding applications.
Welders can easily maneuver with it and move it around the worksite while Synergic controls make it very easy to use. This is particularly good for beginner welders.
The biggest advantage that the Yeswelder MIG-205DS has is its price to quality ratio.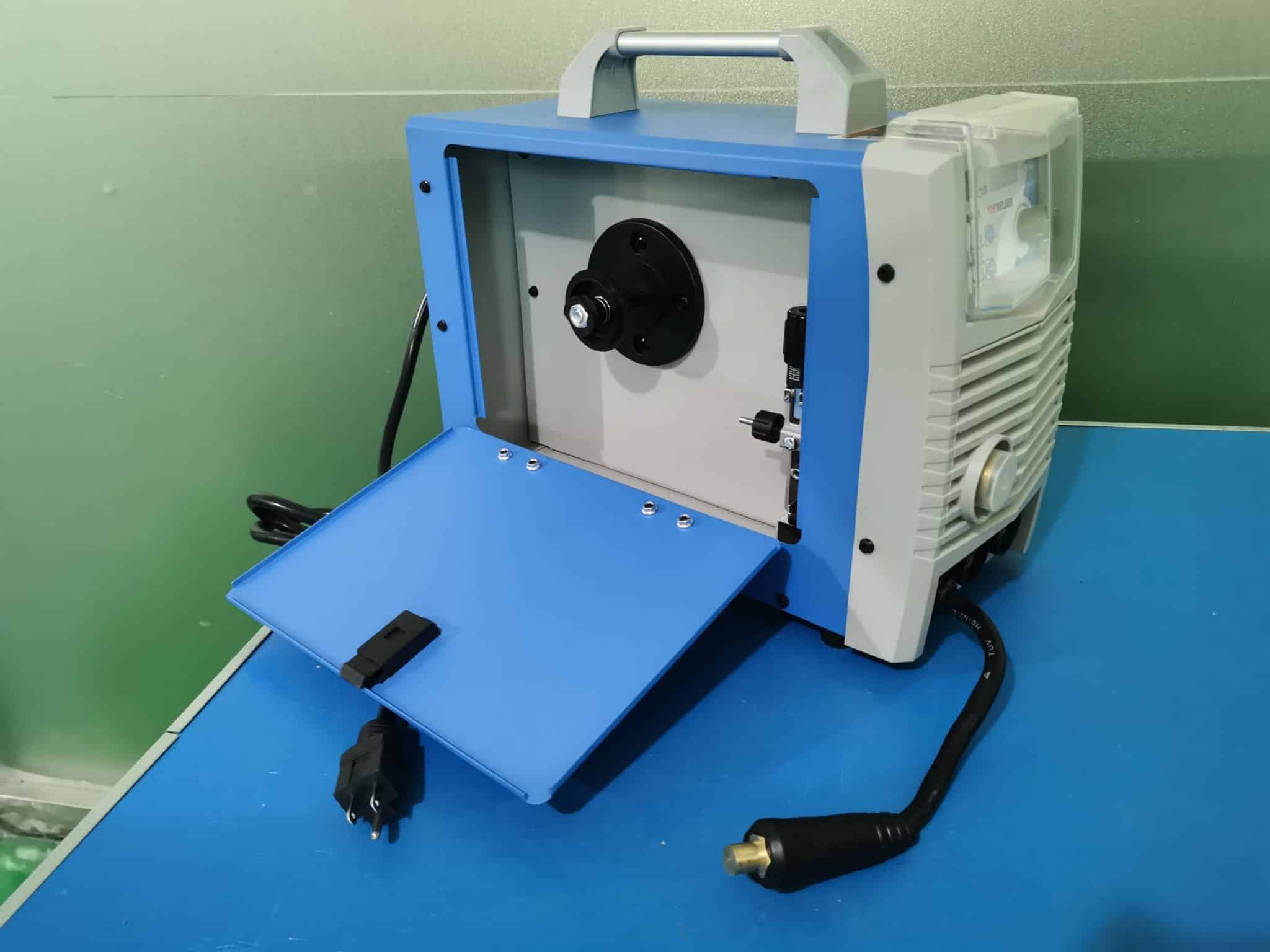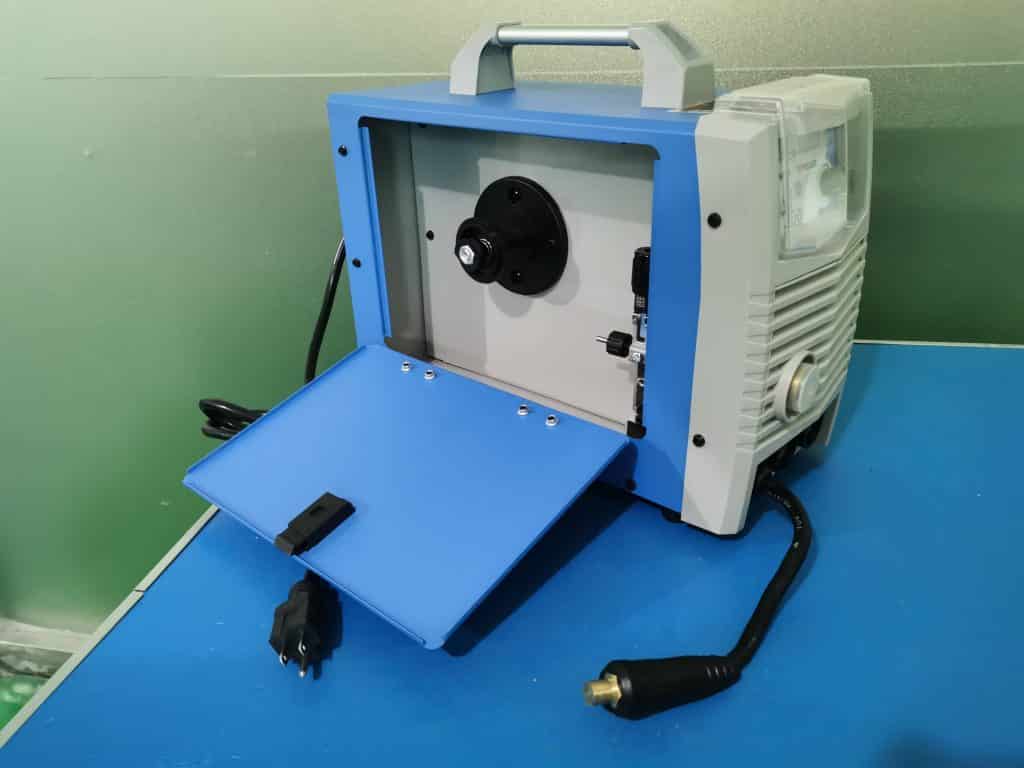 It is one of the most affordable welding machines in its price range with the ability to offer quality work. You can easily use it for any type of job you have around the house or some DIY projects that you have in mind. Finally, it is more than powerful and offers a good duty cycle, making it suitable for longer types of jobs.
Pros & Cons Summarized
Pros
Versatile and Easy to use and Easy to setup
Lightweight design and compact for usage and storage
Synergic Controlled on MIG function, very easy and simple operation.
4 Functions in 1 of Gas MIG /Gasless MIG / Lift TIG / Stick
Can take up to 1.0mm(.035″) MIG solid wire(Gas MIG) and 1.0mm(.035″) MIG FLux wire(Gasless MIG)
Only Apply to D200 rolls (<10lbs) of MIG wire
1-year warranty
Metal wire drive system
Cons
Not made in US
Not a well-known manufacturer
Specifications
Processes: MIG (GMAW), Flux Core(FC), Stick (SMAW), TIG (GTAW)
Weld Thickness Range: Welds 24 ga up to 3/4 in mild steel
Weldable Materials: Steel, Stainless Steel, Aluminum
Input Voltage: 110/115/120v, 60 Hz.
Input Phase: 1-Phase.
Current Type: DC
Rated Output: 60% Duty Cycle 160 A
Amperage Range: 200 Amp Gas/Gasless MIG welder with a 50 Amp plug(220V), 160 Amp Gas/Gasless MIG welder with a 35 Amp plug(110V)
Weight: 33 lbs
10′ Mig Gun
10′ Electrode holder,Cable35-50 quick connector
10′ Earth clamp, Cable35-50 quick connector
American gas hose
1 additional .030″ & .035″ contact tip
110V/220V Adapter,
Hammer &Brush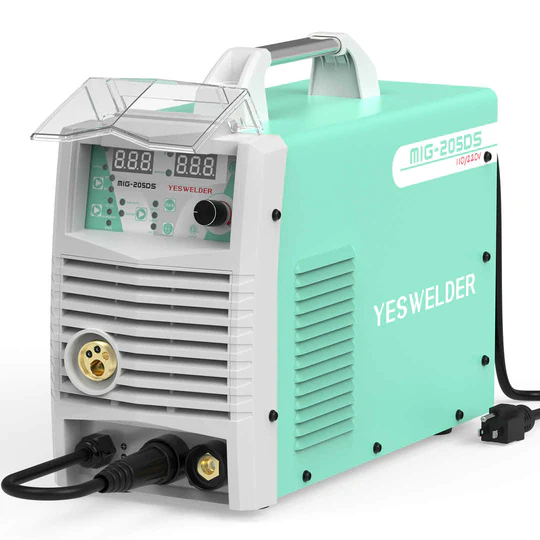 Get 10% Off With Coupon: "-10% WELDPROS"
Price Compared to Quality Ratio
Right off the bat, I have to talk about the price as my favorite thing about this welder. You will probably won't be able to find a better welding machine for this price.
You may think that the Yeswelder MIG – 205DS offers a standard set of features. You are right, it does. But not all of the other welders offer it for this price. That's what ultimately makes the biggest difference about this one.
Professional welders will more than likely appreciate having a quality backup machine like this one as you don't have to spend a lot of money on it.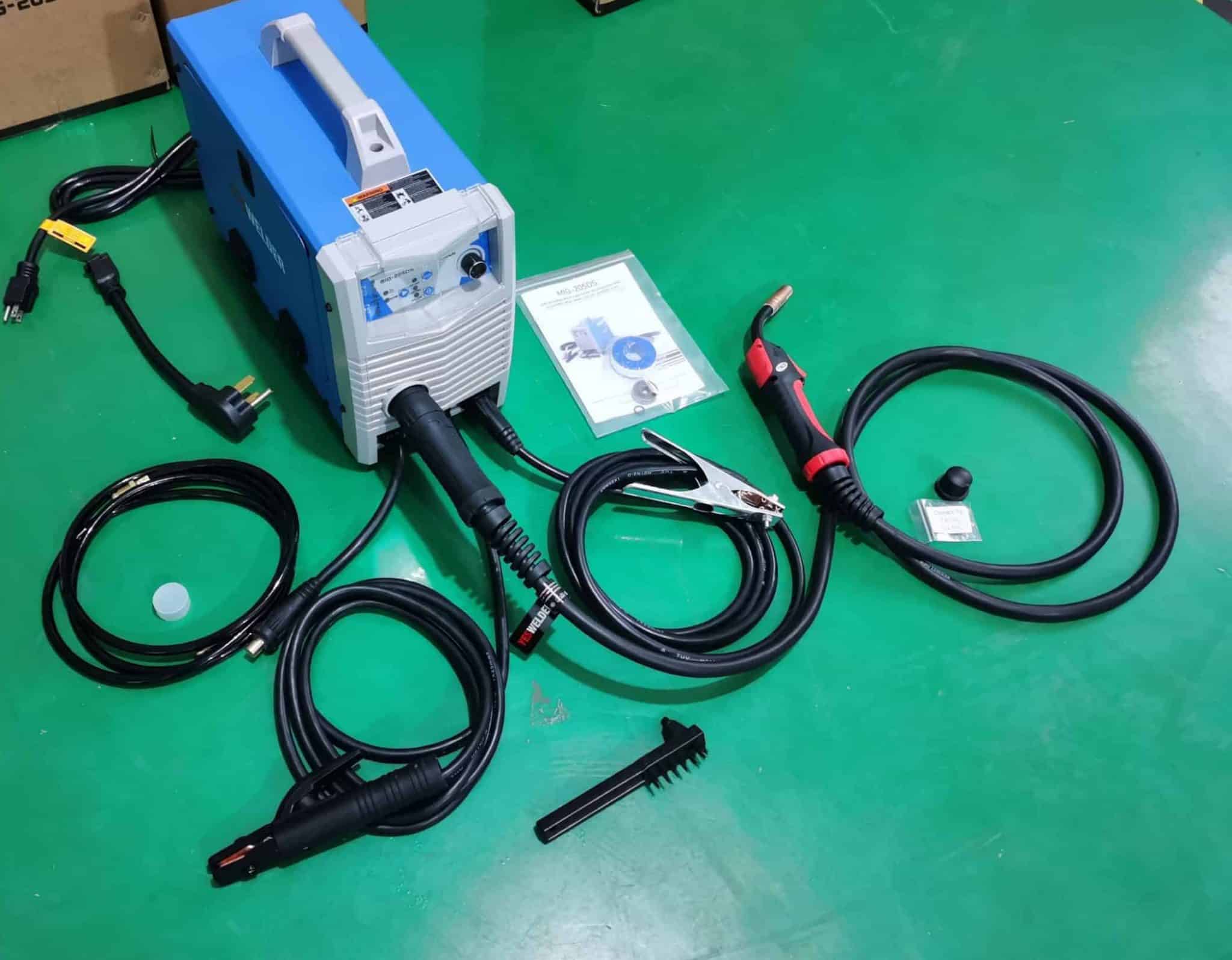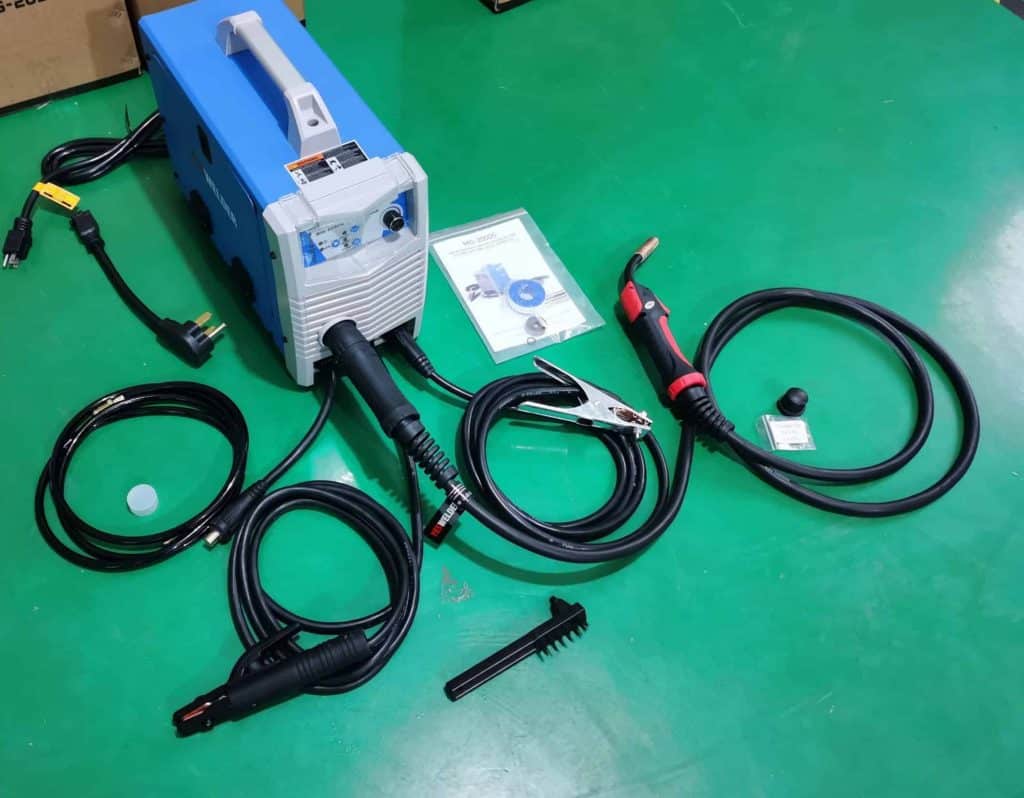 And it is always good to have a MIG welder by your side. Also, if you are a beginner and are still learning, this one is perfect for you as you get quality for a low amount of cash spent.
Versatility and Usability
The versatility that the Yeswelder MIG 205DS welder provides is another great advantage that it possesses. Besides MIG welding, you can do Stick and Flux welding. Even TIG welding if you really need to.
This feature makes this machine more than suitable for people who don't want to spend money buying separate machines. Getting an all-that-you-can-weld machine is a lot better both for your budget and while you work.
Additionally, it offers dual voltage settings and can perform at 110v and 220v.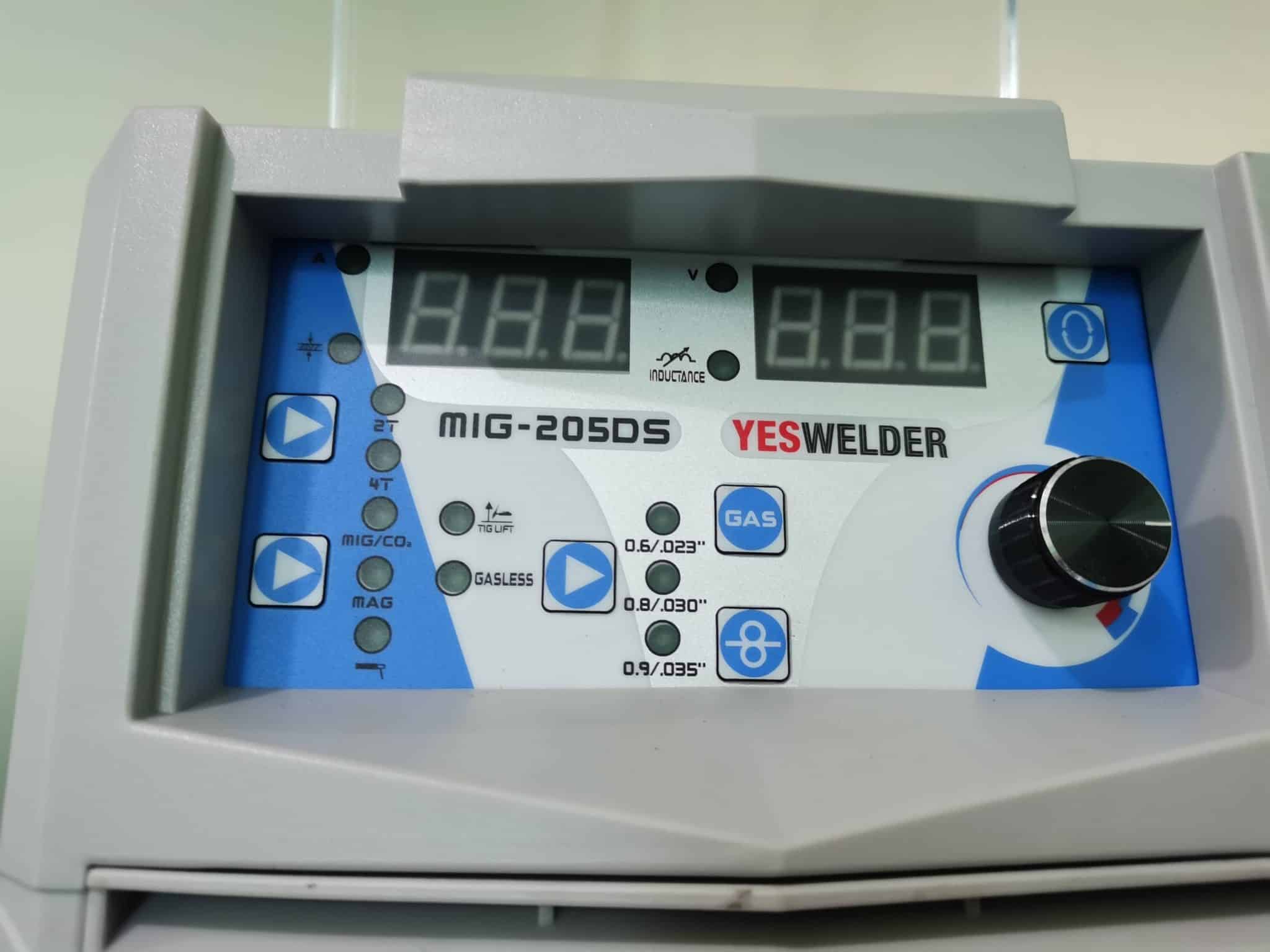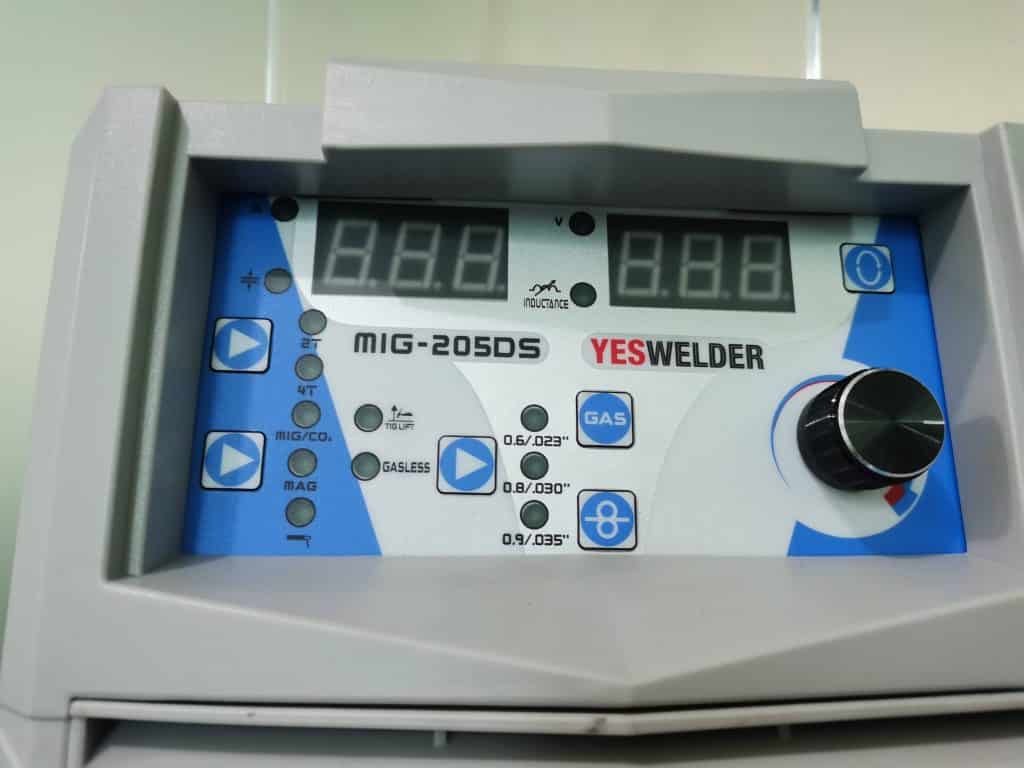 Power and Performance
By looking at the price, you wouldn't expect so much power and especially not a duty cycle. But somehow, the Yeswelder MIG 205DS is capable of providing it all for such a lower price.
Although there are welders in a similar price range that provide 200 amps, most of them end up cooling down all the time. This machine does not do that and does not interrupt my work.
Also, the welder offers a duty cycle of 60% at a maximum amperage of 200 amps.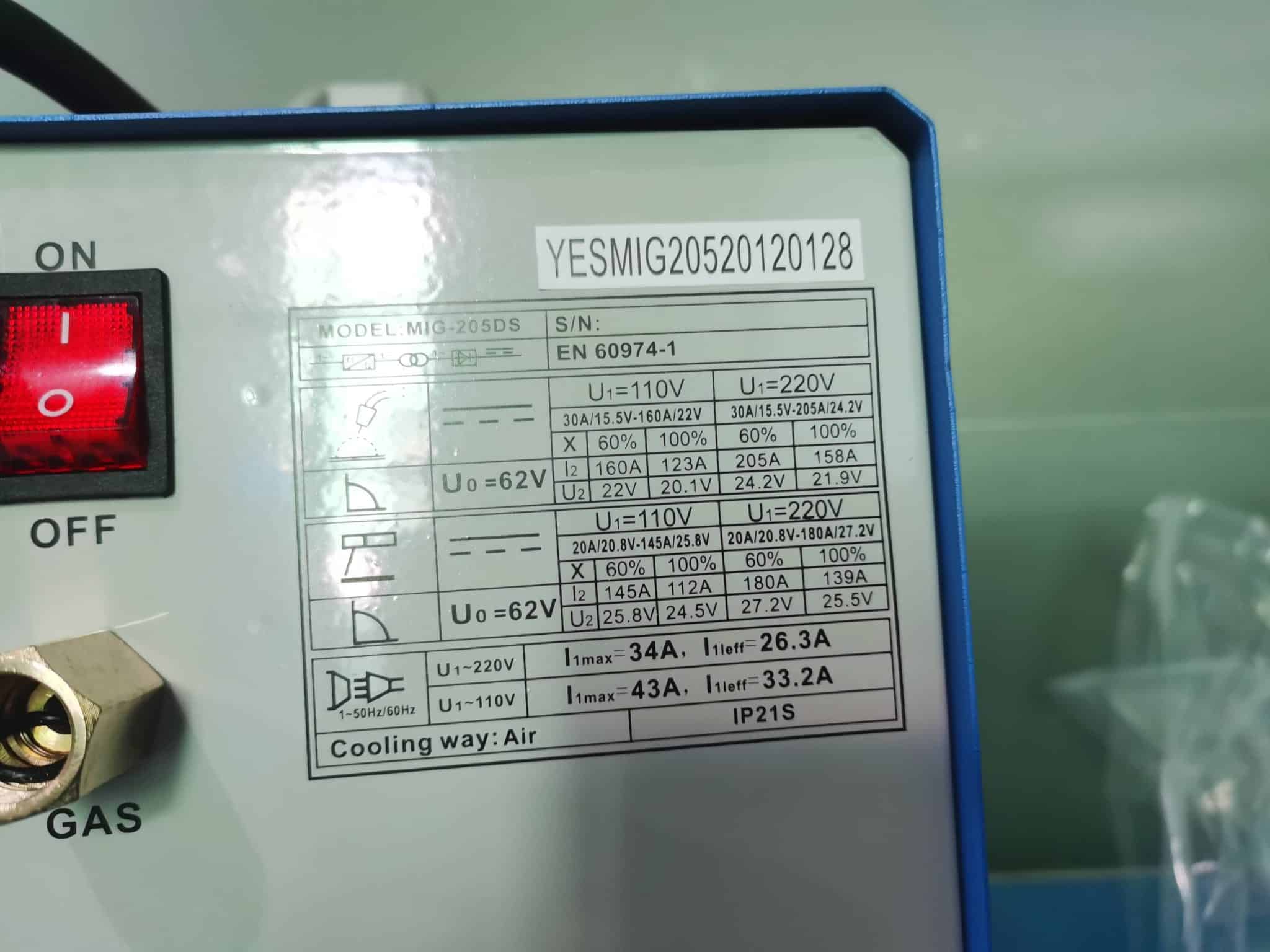 This is not something that you would see in a machine of this price range and sometimes not in more expensive welding machines. (1.)
Ease Of Use
Everybody enjoys a good LCD display, but the Yeswelder MIG – 205DS still has very intuitive controls. They are very accessible on the front panel of the machine and the numbers clearly lit up so one can use it properly.
But what many beginner welders will appreciate the most are the Synergic control settings. It is particularly good for those who are still not used to manual settings (which are also available) as it allows you to simply input the thickness of the material and the amperage and the voltage will adjust itself automatically.
Build Quality
For a cheap welder, the Yeswelder MIG welder has a really good build quality. It has a simple and compact design that also comes with an ergonomic handle that allows you to move it around more easily.
But what I really like is the full metal wire feed system, which is extremely rare at this price.
Most machines at this price range have a plastic one or a mixture of metal and plastic. But not this one though. You can really see that the creators gave it a lot of thought and actually built this product to last and provide quality work.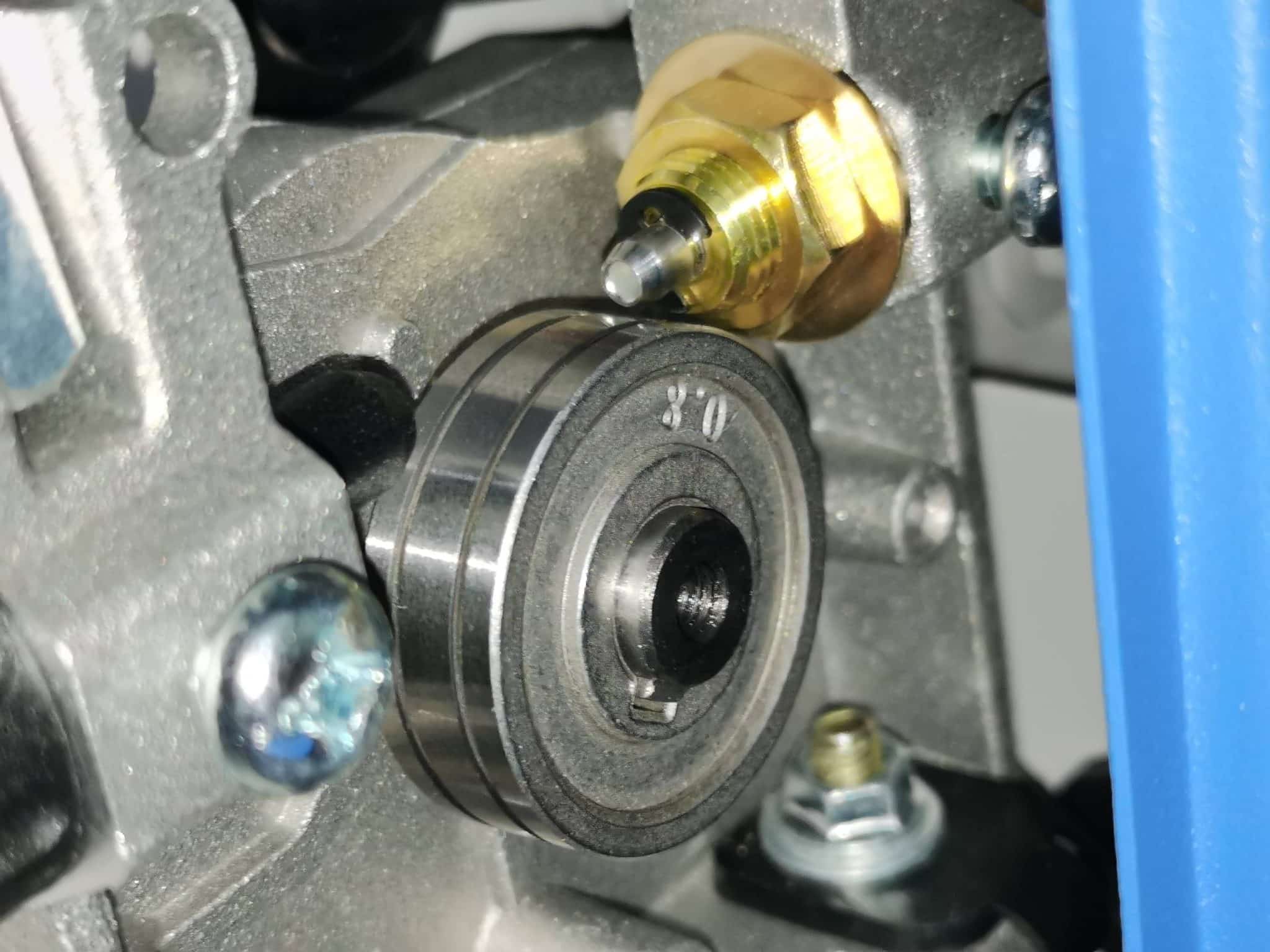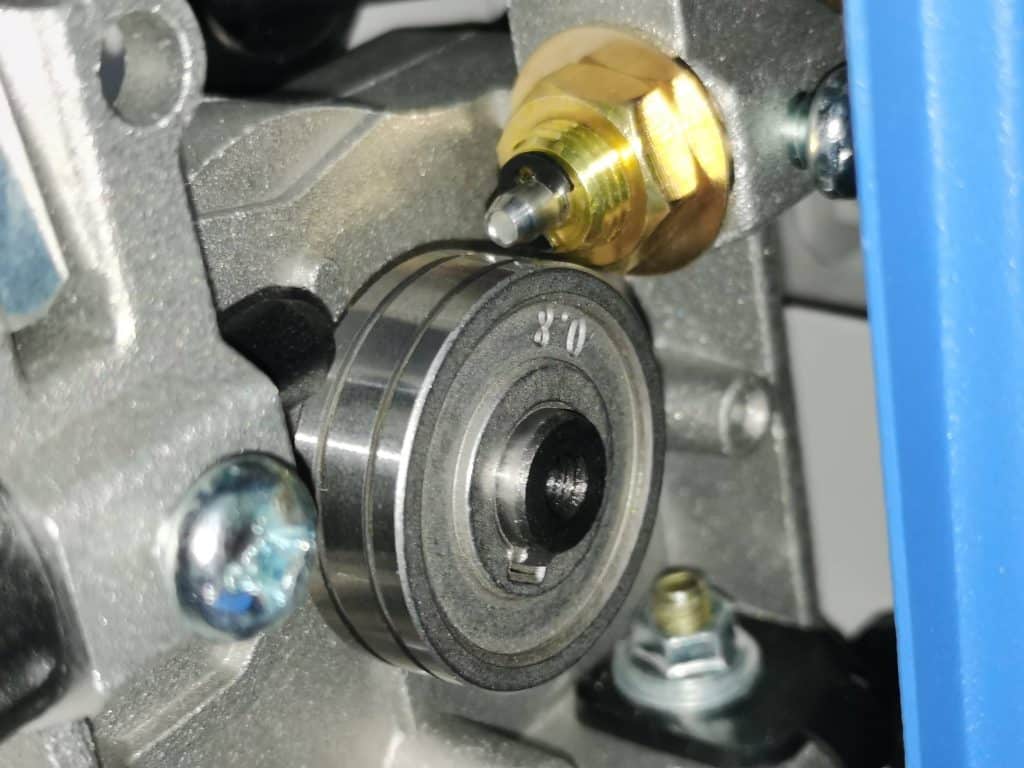 Conclusion
Overall, I want to say that I am extremely happy with how the Yeswelder MIG – 205DS works. It is portable and easy to carry but also extremely easy to use. More so, the power that it offers you can actually use.
It is perfect for any mid-advanced job that you have in mind, garage work, or DIY projects like the rest of these 120v welders.
I really think that it is one of the best welders that I have ever handled and certainly the best one at this price range.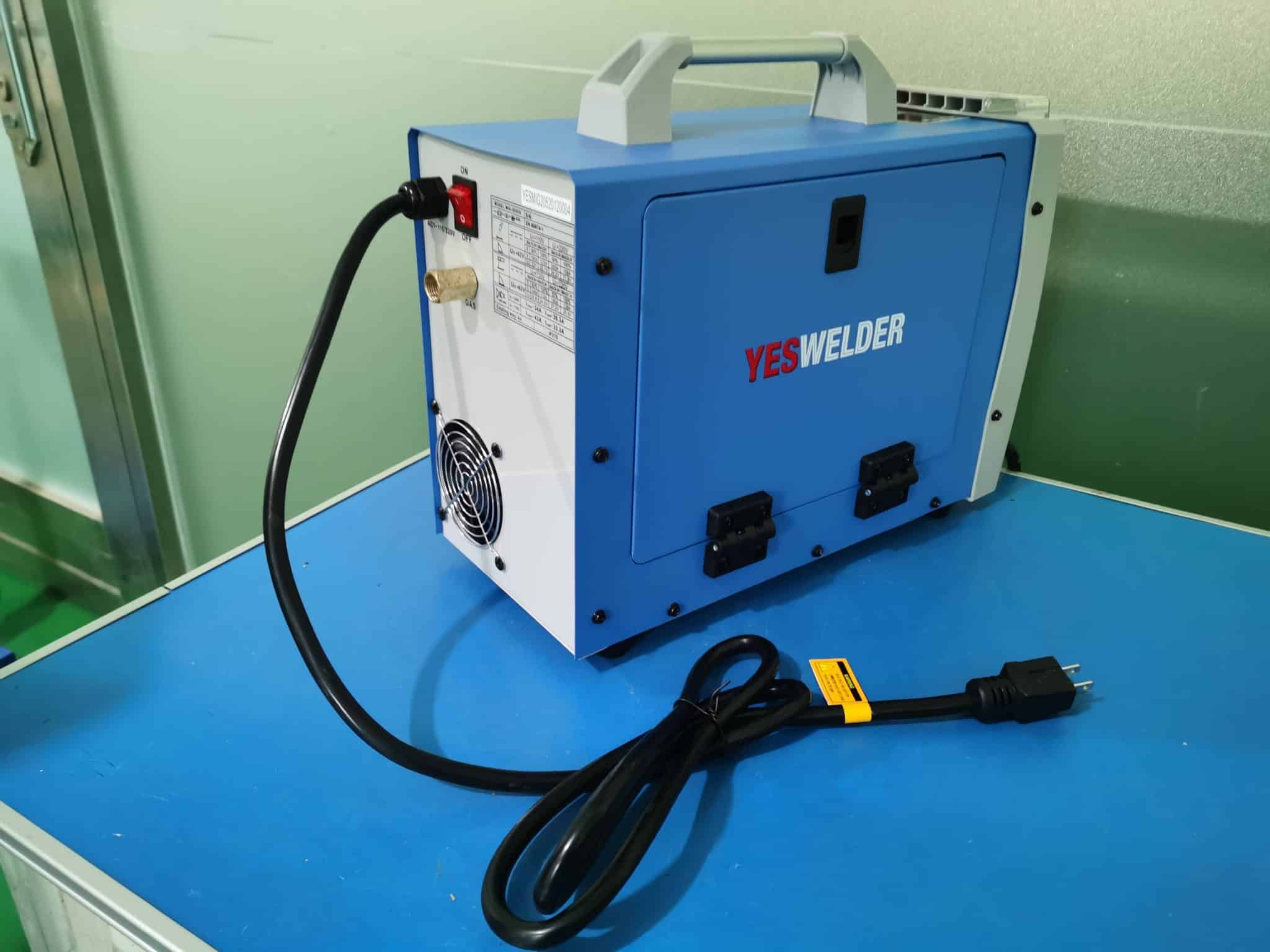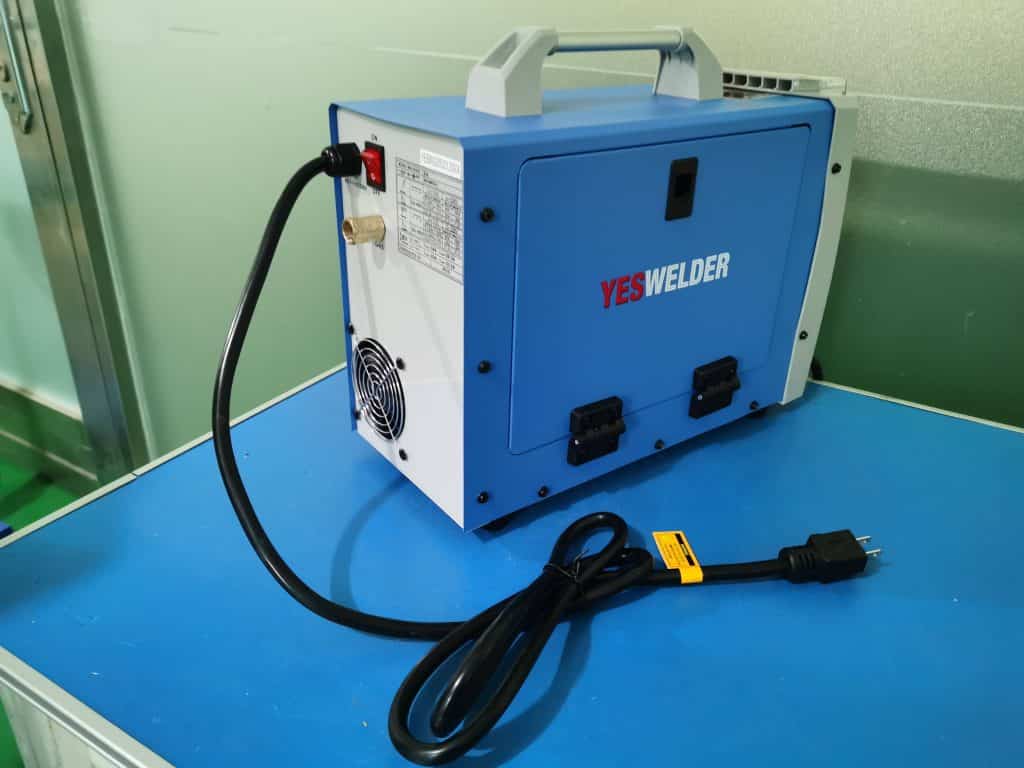 In the past year, we have written a number of reviews on welders and plasma cutters from YesWelder. If you are still interested in this brand and wish to read them, you can find links to the rest of them here.