The YesWelder TIG 250P ACDC is a new mid to low-cost TIG welding machine on the market, so naturally, it doesn't really have many in-depth reviews written about it.
Despite that, based on what I see (durable parts, weld's aluminum, excellent warranty, and customer support) and based on an awesome price, I believe that it is an outstanding welder.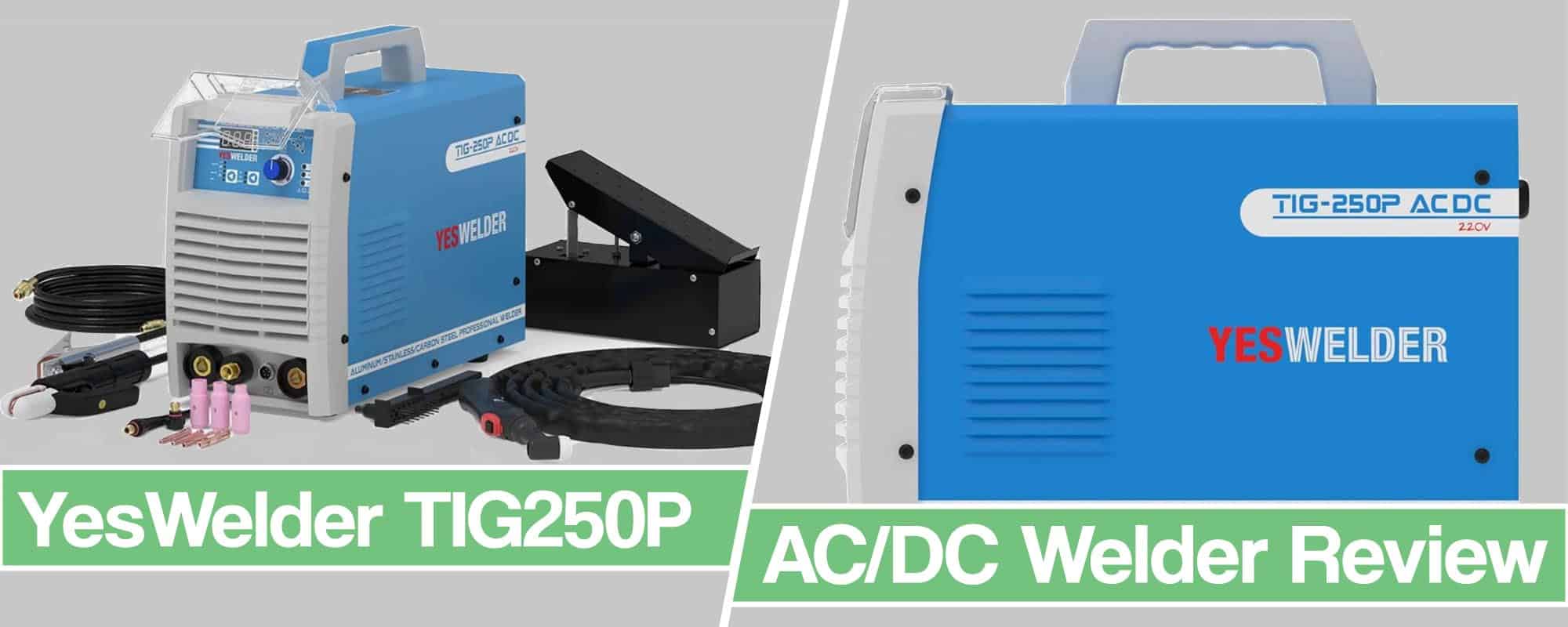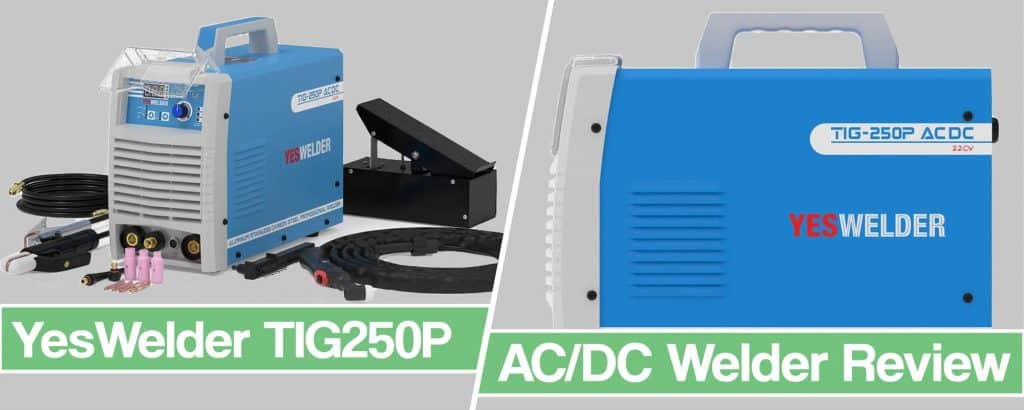 Bear in mind that this is not an industrial heavy-duty expensive TIG welder. Still, since you are reading this article, you probably don't need one.
What you need is a welding machine for your home or shop, a welding machine that is reliable, versatile, but not too expensive and basically the machine that will pay off in a short amount of time…
Well, I believe this is the one…
In case you want to see the rest of the best tig welders from my list visit this page.
What is YESWELDER TIG 250P ACDC, And What is it best for?
The YesWelder TIG 250P ACDC is a highly professional TIG welder that sits somewhere in the mid-price range when it comes to the TIG welders overall. In other words, my opinion is that this machine's costs are low compared to what it offers. Other TIG welders that have this level of quality are significantly more expensive.
This is what I mean…
This welder is meant for a small welder shop type of professional work. Still, due to its relative affordability, it is also great for beginners who are interested in buying something that is highly capable. I say relative affordability because there are, of course, cheaper machines explicitly made for beginners and hobbyists.
The amount of features packed in this machine is astonishing and really worth it. The only welders that are better than this one are found in the high-end TIG welder category, but they are way more expensive, and when compared to this one, they do not have a good price to quality ratio. In other words, the highest tier welders are maybe 30% better but are 300% more expensive.
This machine also has a 3 Year warranty, which further proves that this is a machine you can buy for serious work that will last you a long time.
Pros & Cons Summarized
Pros
Easily a top pick TIG welder for the money.
TIG welds with a completely adjustable pulse rate
Offers High-Frequency Start
Supports controls for start and end amps
AC balance control
Squarewawe AC
Easy to set up and use
Very good at Aluminum TIG welding
A brand with good customer service support
Cons
Specifications
Processes: TIG (GTAW) and Stick arc welder (SMAW).
Weld Thickness Range: Steel – 24 ga. – 3/8 in.
Weldable Materials: Steel, Stainless Steel, Aluminum.
Input Power: 220 V, 60 Hz.
Input Phase: 1-Phase.
Current Type: alternating/direct current.
Rated Output: 250 A @ duty cycle 60%
Amperage Output Range: TIG 5 A – 200 A.
Weight: 35 lbs.
TIG-250P AC/DC Welder
WP-26 TIG torch 13ft
Electrode Holder 10 ft
Earth Clamp 10 ft
Gas hose
Additional TIG accessories: 3 Collets, 1 Collet Body, 3 Alumina Ceramic Cup, 1 Long Back Cap, 1 Short Back Cap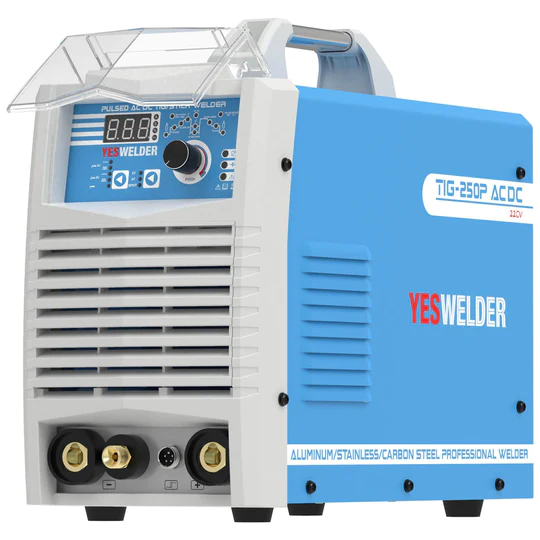 Get 10% Off With Coupon: "-10% WELDPROS"
The Best things about TIG 250P ACDC
The Features
This machine's best selling point is its features that are "leaking" from the sides considering how many of them are packed tightly in the welder. I cannot write about all of them, but I will try to cover the most important ones.
When it comes to TIG welding, this machine can do pretty much anything.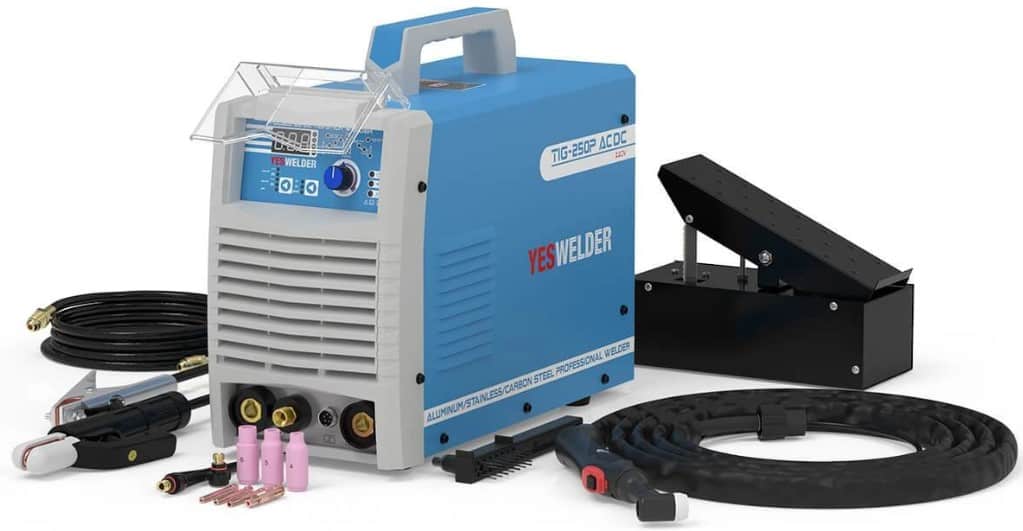 It is an AC and DC TIG welder, which means you can weld aluminum and various other types of steel. TIG welding is packed with features like Square wave support for AC TIG welding, which unlike standard sine wave, rapidly and instantly switches between the positive and negative half cycles of alternating current. This results in a way easier and more quality AC welding. Only expensive and high-quality machines have this feature.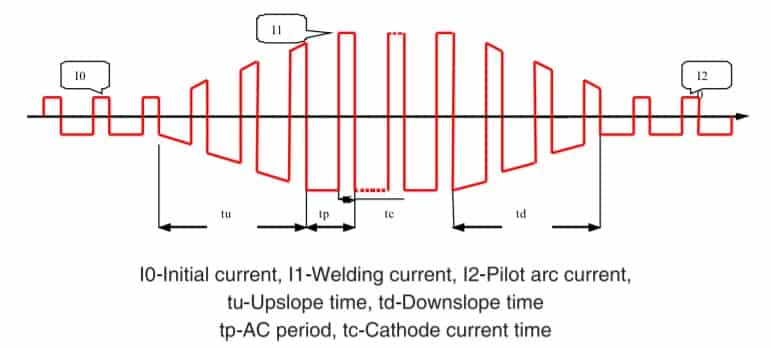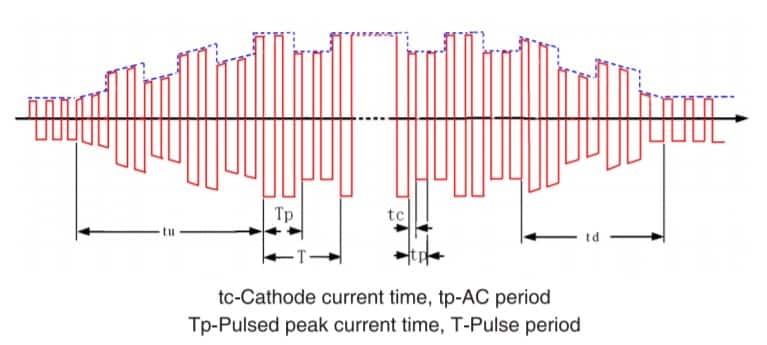 The machine has a High-Frequency start, which is, of course, expected considering it is meant for pro use. The welder allows you to control up and downslope as well as pre and post flow settings. And one special note is the ability to make a low amp start. The TIG arc start can be achieved at only 5 amps, which is crucial when welding thin metals. The machine allows for TIG pedal use, and both the pedal and TIG torch are included with the purchase and of good quality.
This TIG welder can do both AC and DC pulse TIG welding, and it has a crater, start and pulse current control. You also have AC balance control ranging from 15 to 85%.
When it comes to the stick features, some of the notable are the MMA hot start, anti-sticking, and self-adjustable arc force current. All there to make your life easier.
The Versatility
This is a very versatile machine because it can do both AC and DC TIG welding and do AC and DC stick welding. Stick welding is usually done in DC mode, but sometimes as you know, you will need the AC to get the job done.
Specific electrodes work better with AC, or if for whatever reason you need to work at a greater distance from the machine, it is better to use AC because of the voltage drop. Either way, it is good to have a lot of options available.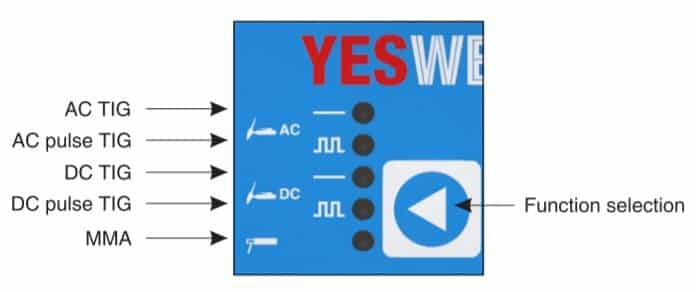 This machine is also highly portable, which means you can easily use it at your garage, welding shop, or on-site work. It is a lightweight machine that can be easily moved around.
The Power
The power of this machine comes like a cherry on top. 250 amps! Now that's a lot of power. You don't see that every day on the TIG welder marketplace. But what is more impressive is the fantastic duty cycle of 60% at its maximum amperage output.
And since you probably will not be using this machine all the time at its maximum capacity, you will get even better duty cycles because the lower amps you output, the less heat it generates.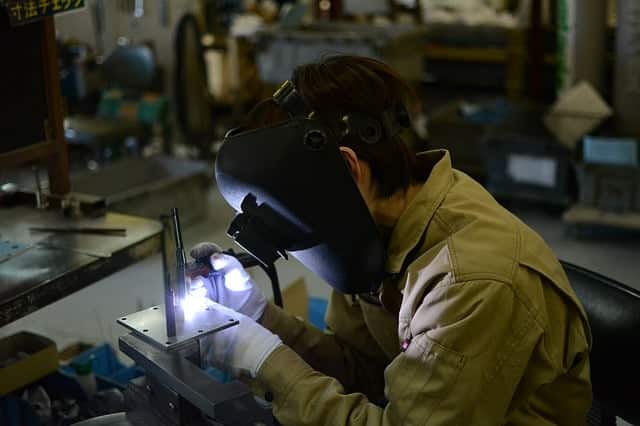 This machine runs on the 220 volts of input power. Make sure that you have an appropriate outlet with the proper voltage output because it will not run at your regular home 110v outlet.
Ease of Use
This welder is simple to set up and use. It has a nice diagram form on the front panel for both easy and intuitive settings. The controls are rather simple and well explained in the user manual, which is most important.
The machine can save the used settings so that the next time the welder is turned on, you can automatically recover the last used settings. This way, you don't have to set it all every time you turn off and on the welder.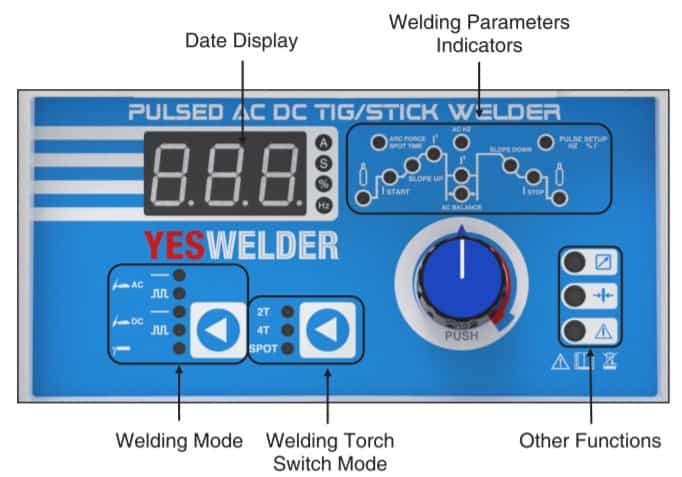 Build quality
The build quality of the YesWelder 250P ACDC is great and in line with its price. It doesn't feel cheap, nor does it have any flaws that would result in weaknesses or potential problems.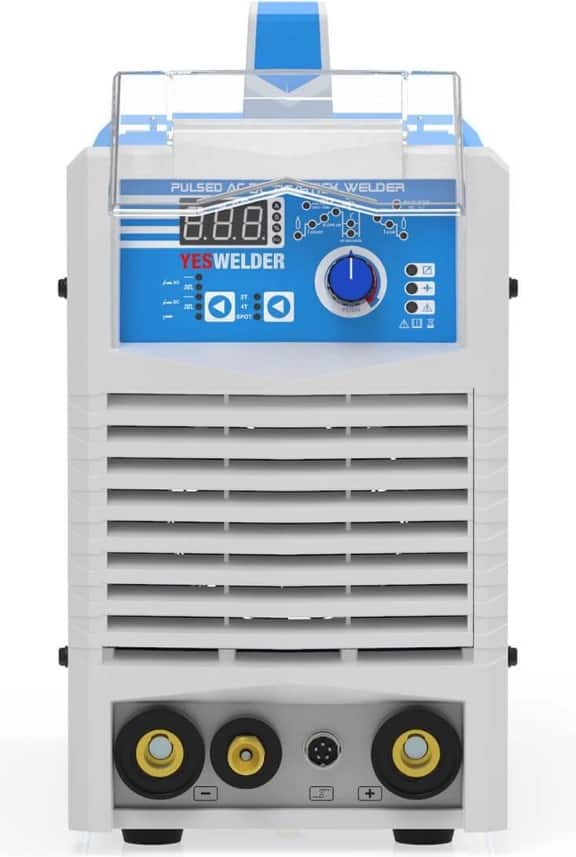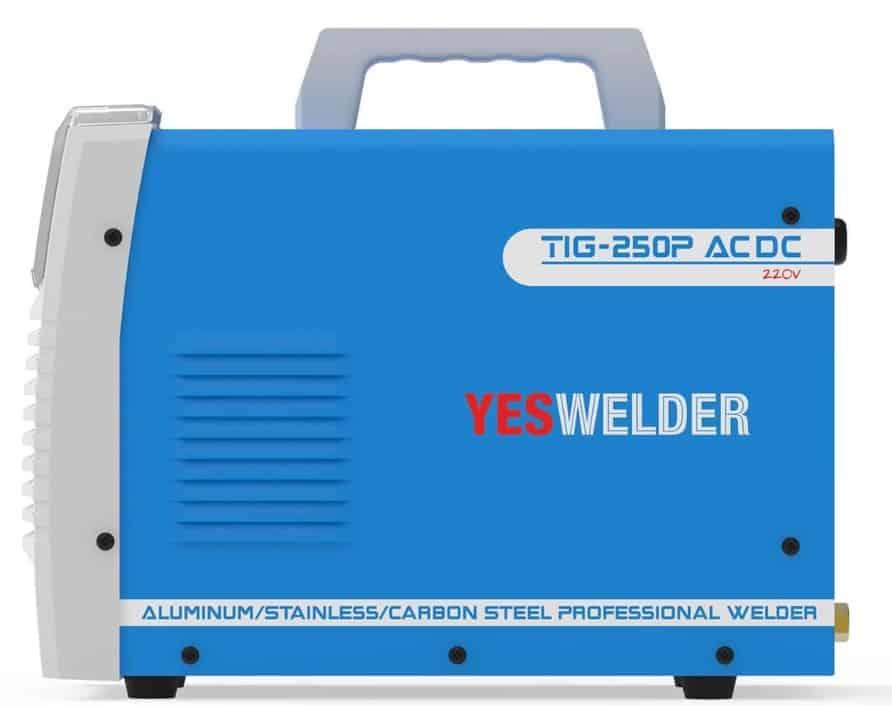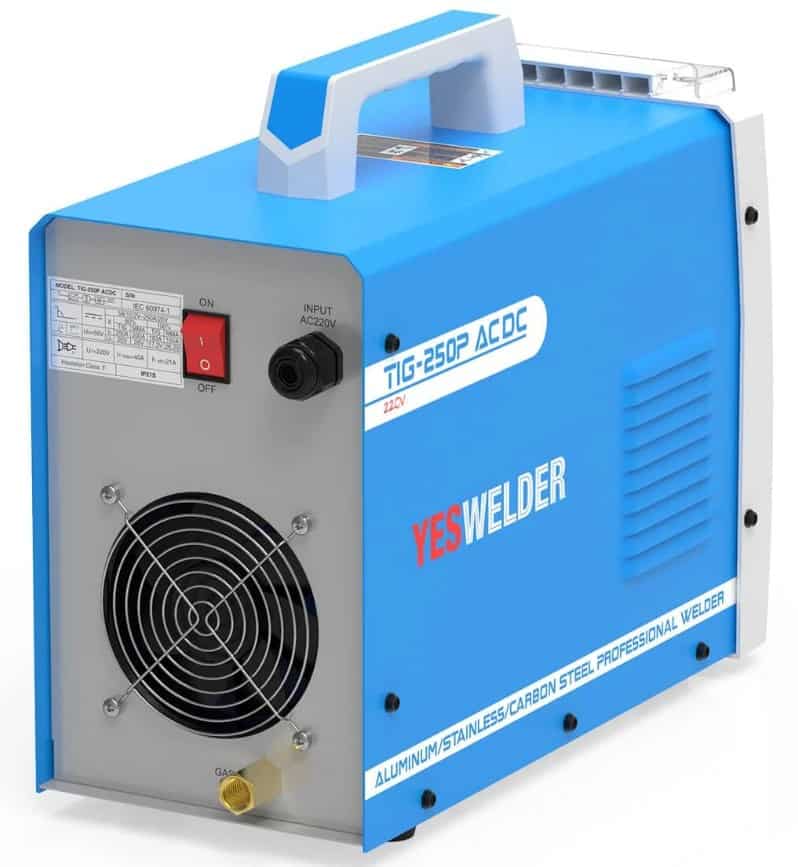 This welder has a unique electric structure and air channel design that is designed for better heat dissipation, which improves the duty cycle but, more importantly, prevents damage from the heat and dust particles.
The welder is made of durable materials with a high degree of strength in case of sudden drops or something like that (although its best not to be brutal to your machine). This TIG welder has an excellent build quality and will easily endure any kind of shop work or on-site work.
Conclusion
In the end, I would like just to state that in my opinion, this machine provides you with so many features that it has a phenomenal price to quality ratio. For its price, you will not find a better TIG welder.
I couldn't cover everything in the review because there is so much to say. This machine is optimized for auto voltage protection, it stores in its memory accumulated welding time for diagnostics, it is capable of spot welding, it is capable of self-adapting to different cable cross-section and length, it is not sensitive to heat and humidity, has an excellent IGBT inverter technology and more…
I love this machine, and I am sure that it will be loved by many pro-TIG welders.
In the past year, we have written a number of reviews on welders and plasma cutters from YesWelder. If you are still interested in this brand and wish to read them, you can find links to the rest of them here.