Last Updated on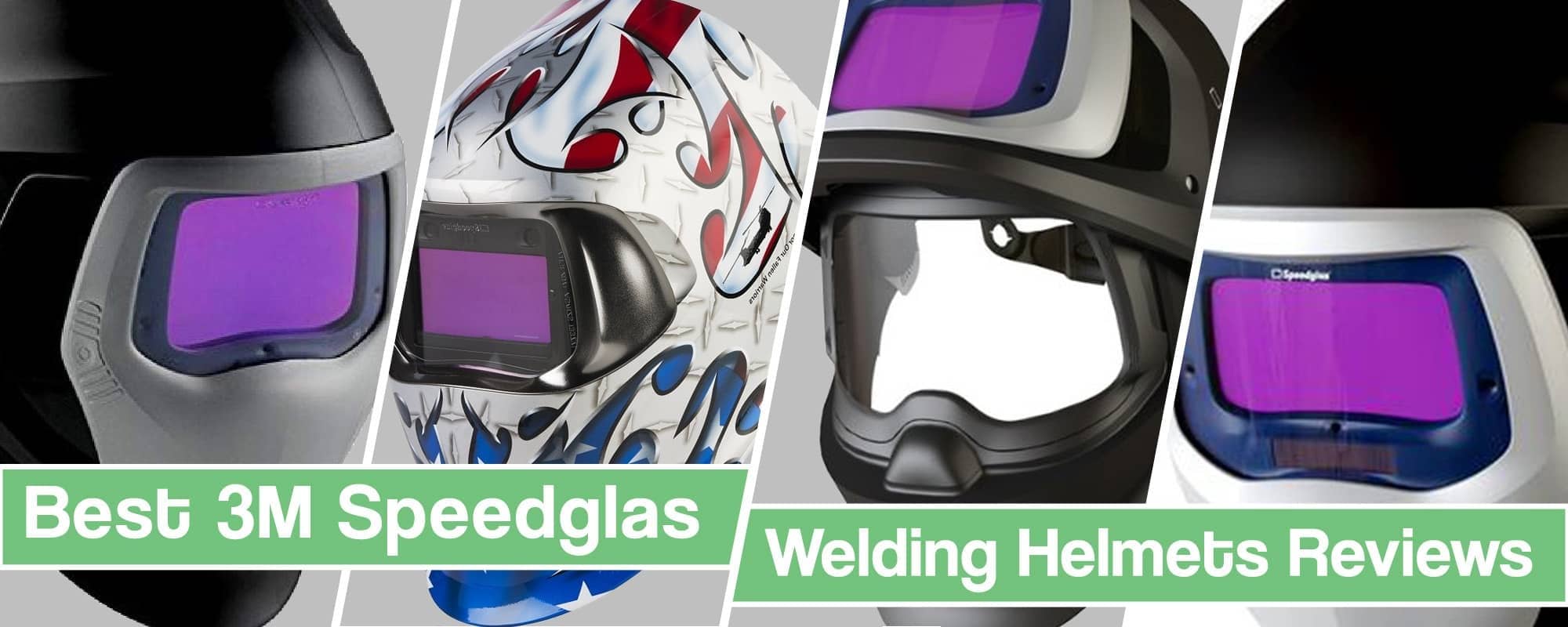 During my time as a welder I have searched high and low for the best possible equipment to help me protect myself. Longevity at work may be a rarity, but can only be achieved if you learn how to properly protect yourself. Therefore, the right sort of equipment is the key element when working and all professional welders know this.
The question that everyone is begging to ask is – How can I protect myself when welding? There is no uniform answer, but there is all sort of ways that one can do so. I found that everything needs to start with a proper helmet. So the ones that I want to present to you today is the line of 3m Speedglas welding helmets.
But there are a few Speedlgas helmets that I wanted to suggest, so making a list of my favorites was the best possible choice to start. I also aimed to include all the elements that will help you make a proper decision when choosing which one to buy. The idea is that after you are done reading these 3M Speedglas welding helmet reviews, you will be able to assess the best choice by yourself and you will know exactly which one to buy.
So without further ado, my choice of Speedglas welding helmets.
Best 3m Speedglas Welding Helmet Comparison Table
Image
Name
3M Speedglas 9100 XXi Welding Helmet
3M Speedglas 9100 FX Welding helmet
3M Speedglas 9100 V Welding helmet
3M Speedglas 9100 X Welding helmet
3M Speedglas 100 V Welding helmet
Rating
Specials
Clarity
Improved Optics
Traditional Colors
Improved Optics
Improved Optics
Traditional Colors
Shade Selection
5, 8-13
5, 8-13
5, 8-13
5, 8-13
Fixed Shade 11
Magnifying Lens Compatible

Yes

Yes

Yes

Yes

Yes

Optical Sensors
3
3
3
3
2
Viewing Area
2.8 x 4.2 in
2.1 x 4.2 in
1.77 x 3.66 in
2.13 x 4.21 in
1.73 x 3.66in
TIG Amp Rating
Down to 1 Amp
V – Down to 20 Amps
X – Down to 1 Amp
Down to 1 Amp
Down to 1 Amp
Down to 10 Amp
Battery Lifespan
1800 hours
2500 hours
2800 hours
2500 hours
1500 hours
Weight
7.05 oz.
23 oz.
5.46 oz.
6.53 oz.
16 oz.
Where to Buy
Check Current Price
Check Current Price
Check Current Price
Check Current Price
Check Current Price
Best 3M Speedglas Welding Helmet Reviews
When I'm looking to buy a new welding helmet nowadays, prime protection and reliability are the two key components that I primarily look for. However, with the advancement of technology, there are a few other major factors that come into play. These would include added features, comfort, and work performance.
I found that 3M Speedglas welding helmets offer by far the most appropriate welding protection for a variety of users. You can't focus only on the present and the very moment you are welding, you have to consider the side effects that might come long-term. Exhaust vents are useful but a helmet with improved ventilation does the work much better for you, which I noticed that the creators of Speedglas helmets have considered.
Not only that, but these come with leading optical clarity, the largest viewing area, and have managed to bring together quality protection by being mindful of the personal preferences of welders. That is why some come with additions like a magnifying lens holder, a storage bag, or a hard hat adapter. The result is having a versatile welding application with comfortable headgear on your noggin.
1. 3M Speedglas 9100 XXi Best Welding Helmet Overall
Having used some similar helmets in the same range (the Lincoln Electric Viking 3350 and the Miller Digital Elite for instance), I would say that the 3m Speedglas welding helmet 9100 XXi is a far superior piece of safety equipment. It truly stands out as it is lightweight and has very comfortable headgear, so it is okay to use for long hours of work.
The side panels serve both to protect and allow you to see clearly where you are going. The XXi auto-darkening lens is not only there to protect your eyes, but also allows you to see all the colors vibrantly and clearly. But the best part has to be the respirator. You rarely find a hood with a good exhaust system. It doesn't fog up the lens, keeps the inside cool, and prevents you from breathing in bad fumes.
The only thing that I do have a fuss with is that the headgear of the JACKSON helmet is a lot better and even locks up. And for all of you neat freaks up there, know that the matte finish of the hood tends to get dirty fast. But you can apply some car wax and it is good to go. Not to mention that it helps to remove all the splatter from the silver shield from time to time.
The Speedglas welding helmet 9100 is also very sturdy and it is aimed for fabrication settings and not really for garage work. I would say that it is a bit on the pricy side for a hobbyist, but in my opinion, the clarity, the comfort, the clear view of the grind mode, and the ventilation with fog breathe resistance is quite enough to get me sold on this gear.
There is a more extensive and the detailed review of this particular welding hood on this page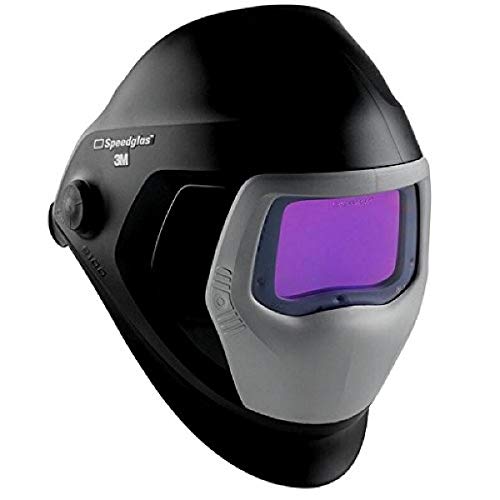 Last update on 2021-07-24 / Affiliate links / Images from Amazon Product Advertising API
Specifications:
| | |
| --- | --- |
| Clarity | Improved optics |
| Shade Selection | 5, 8-13 shade |
| Operating Controls | Delay and Sensitivity, External Grind Button |
| Sensors | 3 sensors |
| View Area | 2.8 x 4.2 in |
| Compatibility | Cheater Lens and Hard Hat Compatible |
| TIG Amp Rating | Down to 1 Amp |
| Power Source | CR2032 Battery |
| Switching Speed | 0.1 ms |
| Weight | 7.05 oz. |
Pros:
One of the best ADF welding helmets on the market
Lightweight and comfortable
Side windows improve peripheral vision
Improved clarity offers great view of the puddle
Great exhaustion system that prevents fogging
Heat protective silver shield
One of the most popular helmets on the market
Fine tune settings and memory modes
Sturdy helmet, great for professionals
Cons:

People find headgear a bit uncomfortable
Can be expensive
Tends to get dirty
2. 3M Speedglas 9100 FX Industrial Grade Welding Helmet
The 3M Speedglas 9100 FX may not be the cheapest option out there but is in my opinion well worth spending some extra bucks for. It looks pretty badass and the FR cover on the back looks really tight. The designers gave a lot of thought when creating this helmet. Unfortunately, the front cover lens is a bit expensive to replace and it is nearly impossible to see through a burned-up auto-darkening filter, so keep in mind that if things go southwards and your battery runs out you are left to your own devices.
To put it simply, the helmet is reliable and very effective for usage on various types of welding. Not to mention that it is sturdy. Things can get really hot inside fast, but there is enough air supply for you to breathe through. You will need to fiddle with the sensitivity settings a bit to get the airflow right. The really annoying part was the fan noise. It is really irritating so it forced me to put in some earplugs while working.
I am not sure about the flip-up feature. First of all, wearing it makes the front side a bit heavier. Secondly, the polycarbonate grinding lens gathers visible light from all angles and makes it really hard to see. I do like all the accessories though especially the Lithium heavy-duty battery with extended battery life. You can choose your view are size by choosing an FX helmet with V, X, or XX lens, there are also 3 hard hat models.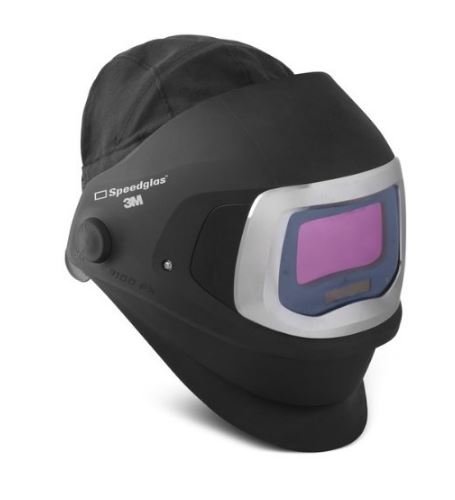 Last update on 2021-07-24 / Affiliate links / Images from Amazon Product Advertising API
Specifications:
Clarity
Traditional Colors
Shade Selection
5, 8-13 shade
Operating Modes
Weld, Flip-Up Grind and Cut
Sensors
3 sensors
View Area
2.1 in x 4.2 in
Protective Visor Area
8 in x 4.25 in
Compatibility
CL and Hard Hat Compatible
TIG Amp Rating
V – Down to 20 Amps

X – Down to 1 Amps

Power Source
CR2032 Battery, Solar Cell
Switching Speed
0.1 ms
Pros:
Great design and super sturdy
A reliable and effective helmet
Side windows can be opened or closed
Backside helmet protection
You can adjust how close is it to your head, to increase the airflow
Industrial grade helmet
Different models offer various viewing area sizes and quality
Cons:

Helmet and replacement lens are expensive
You need some time to adjust airflow
Flip up feature makes it a bit heavy
3. 3M Speedglas 9100 V Great Value Welding Helmet
Right off the bat, I can say that the 3M Speedglas 9100 V is well worth the money invested in it. The headband fits comfortably, you can see everything clearly through the auto darkening filter, and it caters to most welding needs.
Now the price tag could be a big hurdle for most welders, but believe me when I say that it pays off in the long run. It is far superior compared to some other cheaper options. The workmanship is far better as well and the ergonomically designed helmet helps to prevent neck strain.
The side windows may be a bit too much for some, but believe me when I say that they make a big difference as they offer improved peripheral vision. The helmet is very durable, so don't worry about dropping it as it is built to withstand a massive impact.
The main drawback, and possibly the only one, is that the auto-darkening filter is on the smallish size. In fact, it is, smaller than the 9100X and the 9100XX. So if this is an important factor for you, I suggest looking into the other two models instead. Also, I would say it is more than appropriate to use it for TIG welding processes.
Sale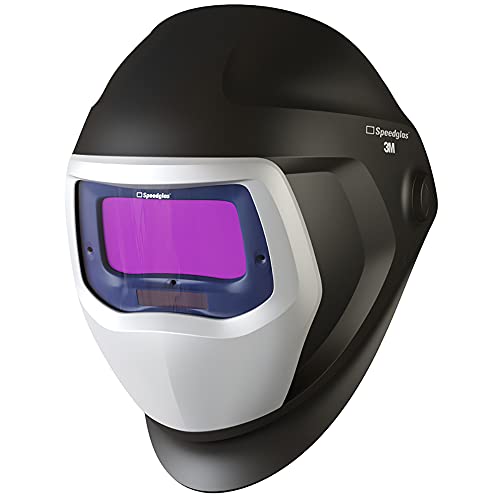 Last update on 2021-07-24 / Affiliate links / Images from Amazon Product Advertising API
Specifications:
Clarity
Improved Optics
Shade Selection
5, 8-13 shade
Controls
Delay and Sensitivity
Sensors
3 sensors
View Area
1.77 x 3.66 in
Switching Speed
0.1 ms
Compatibility
CL and Hard Hat Compatible
GTAW Amp Rating
Down to 1 Amp
Power Source
CR2032 Battery,

2800 hours Lifetime

Weight
5.64 oz.
Pros:
Great value for the money spent
Super lightweight and comfortable
Quite durable, can withstand various impacts
Best used for TIG welding
Improved airflow and anti fogging system
Superior quality build
Cons:

Price
Smallest viewing area in Speedglas series
4. 3M Speedglas 9100 X Welding Helmet
The 3M Speedglas 9100 X is expensive but is well worth giving it a chance. I found that both the user-selectable dark shades and the sensitivity settings are easy to use. More importantly, the vision on the auto-darkening lens is crystal clear. But make sure that the front cover and the side windows are clean to improve vision. I confess, it does take a little bit of time to get use to, but is not distracting to work with once you get used to it.
The auto-dimming response is quite fast, thanks to the three arc sensors. It can be used for a variety of welding methods like MIG, TIG, and stick welding. The grinding shade is durable and the entire helmet is impact resistant.
However, I do feel that the cost will be a massive hurdle for some. It is a fantastic welding helmet primarily aimed at professional use. But the weight can also be an issue as it does feel a bit heavy. That's why some people find it hard to work 8 hours a day with it.
Comparing the Speedglas 9100 X to the Digital Elite, the side panels make a whole lot of difference. Not only is the clarity and comfort superior, but it makes it seem as if there is more room within the helmet. The specifications say that it has a battery life of 2500 hours, but I am none too sure. It may depend on the usage.
Sale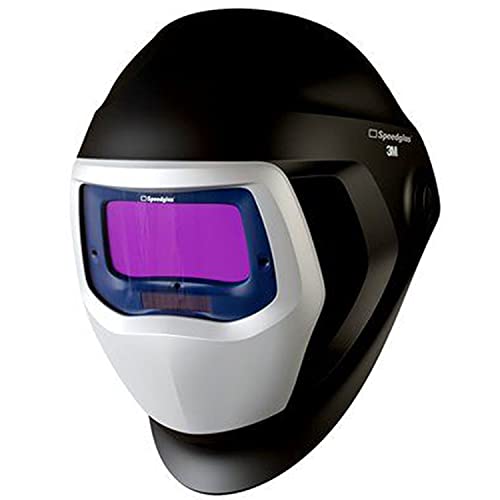 Last update on 2021-07-24 / Affiliate links / Images from Amazon Product Advertising API
Specifications:
Clarity
Improved Optics
Shade Selection
5, 8-13 dark shades
Controls
Delay and Sensitivity
Sensors
3 sensors
View Area
2.13 x 4.21 in
Switching Speed
0.1 ms
Compatibility
CL and Hard Hat Compatible
GTAW Amp Rating
Down to 1 Amp
Power Source
CR2032 Battery,

2500 hours lifetime

Weight
6.53 oz.
Pros:
Great shade selection and sensitivity controls that are easy to use
Improved optics
Quick ADF feature, make sure you don't get flashed
Quite durable, can withstand various impacts
Great value compared to other helmets
Improved ventilation and exhaust system to reduce heat
Great battery lifespan
Cons:

Can get dirty easily and reduce the clarity
Some find it a bit heavy
5. 3M Speedglas 100 Entry-Level Welding Helmet
If you are looking for an entry-level model that you are not going to spend an arm and a leg for, then the 3M Speedglas 100 is the helmet to purchase. It does not have all the specifics as the higher models have. It may have a smaller viewing area (1.73 x 3.66) but the auto-darkening sensors pick up quickly and the side windows are of great help to clearly see what you are doing.
The helmet is also very comfortable and adjustable. Not to mention that the adjustment straps are of good quality. I also like the ease that you can change out the lenses. Unfortunately, it does not come with options like cutting, grinding, or a shade range that you see on other Speedglas helmets. But that is to be expected as you get what you pay for.
But the thing that disappointed me the most was the painted graphics. The picture of the helmet looks really cool and I hope I was getting the one that I ordered. But the reality is much different. If you are an aesthetic freak, this might be a bit of a letdown. But if the appearance is not something that bothers you so much, then go ahead and get this helmet.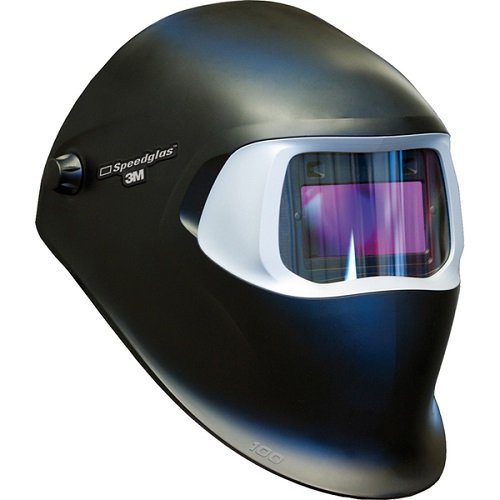 Last update on 2021-07-24 / Affiliate links / Images from Amazon Product Advertising API
Specifications:
Clarity
Traditional Colors
Shade Selection
Fixed Shade 11
Controls
Delay and Sensitivity
Sensors
2 sensors
View Area
1.73 x 3.66in
Switching Speed
0.1 ms
Compatibility
CL and Hard Hat Compatible
GTAW Amp Rating
Down to 10 Amp
Power Source
CR2032 Battery,

1500 hours lifetime
Pros:
Affordable entry-level helmet
Adjustable headgear offers great comfort and reduces fatigue
You can swap fixed lenses
Quite a durable build
Offers nice value to beginners and occasional welders
Quick ADF function for a budget helmet
Cons:

Doesn't offer fancy features
Painted graphics on other models
Rather small viewing area
If what you read was not to your liking, and you would like to take a look at other welding helmets from other brands or their budget alternatives, we made a similar article about the best welding helmets on the market today that you can check out here

3M Speedglas Welding Helmet Features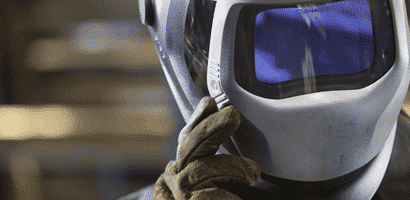 What I am trying to stress is that each welder is different, meaning that we all have contrasting preferences. So the best way to choose the right welding helmet is basing everything on the most relevant factors.
So in order to choose the correct Speedglas welding helmet, you have to determine based on:
The type of equipment – Emphasizing protection of the head, eyes, hearing, face, etc.
Personal needs – Making a choice based on comfort, style, and maintenance.
The level of protection needed for specific welding applications.
Reliability
3M products are designed to withstand various welding environments for prime face protection. They are created with durable materials and built for long operations. Plus enabling different shades to be switched. The technology implemented within these helmets enhances durability, offers impact resistance, and provides various solutions for workplace problems.
Additionally, professional welders will benefit from external controls that help to switch the welding filter mid-work without stopping. There is no need for helmet nodding before next weld.
Comfort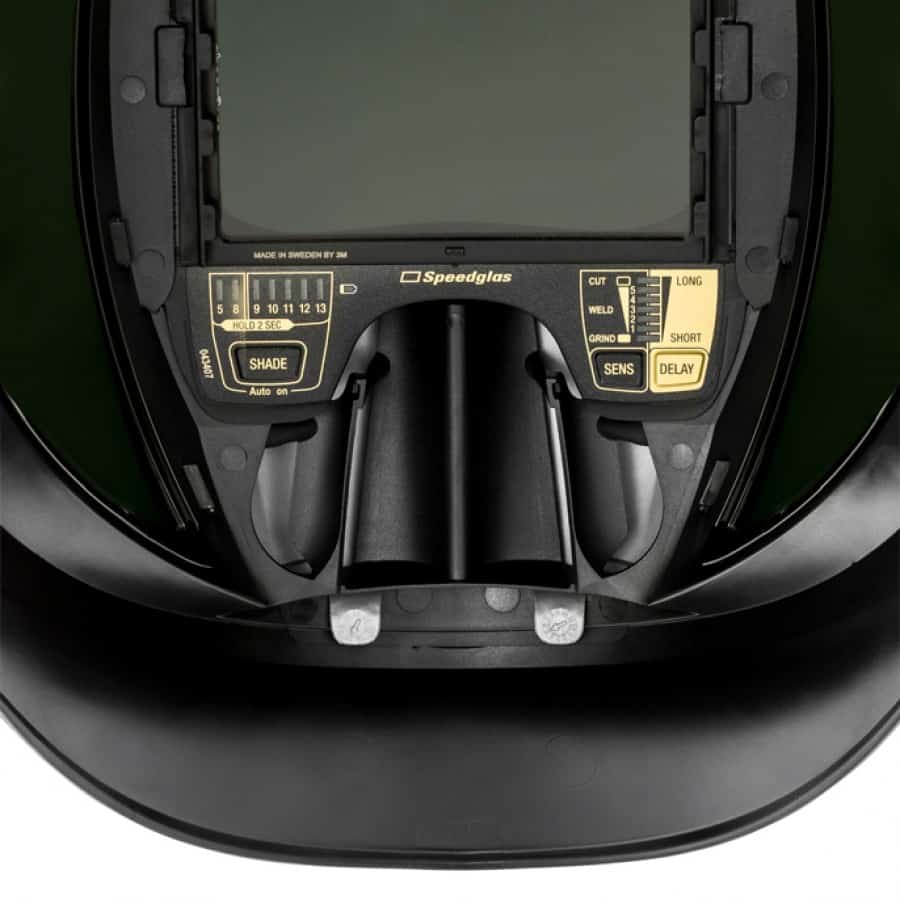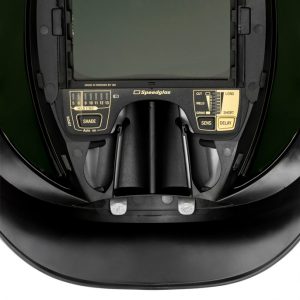 There are various factors that improve the comfort of a welding helmet. These would include proper, exhaust vents, proper headband fit for your head size, whether it is ergonomically designed, weight distribution padded, and if it includes acupuncture points. But let's not forget the viewing area as eye strain can be an issue during long hours of work.
The comfort mode setting helps to reduce eye fatigue as your eyes won't need to constantly adjust to a different light shade. The tacking mode will activate an intermediate light state (shade 5) and if an arc is not struck within 2 seconds of activation, it will revert back to a normal light state (shade 3).
Protection
Workplace hazards come in various forms. Whether it is UV or infrared radiation, grinding particles, objects that could fall on you, it can all be prevented with proper equipment. The best way to achieve full protection is to combine the best Speedglas helmet, safety accessories, and proper respirators. For instance, a good addition is the 9100's silver front plate that reduces heat coming to your face by reflecting it with the shape and the color of the lens.
View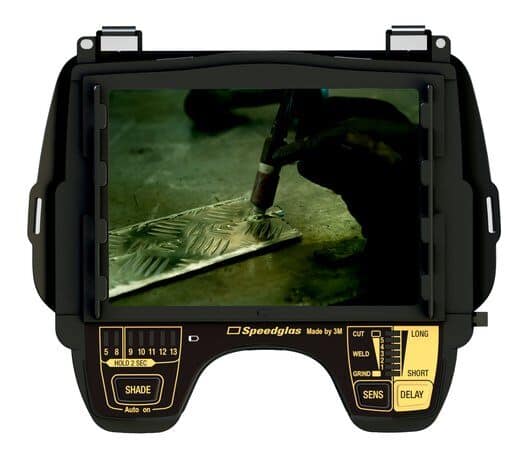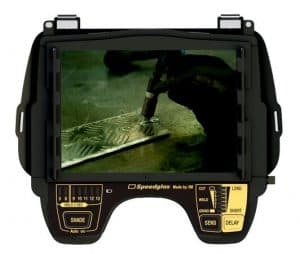 Even a small detail can affect your seeing the weld pool properly. Having a proper auto-darkening filter, side windows to improve peripheral vision, and a large viewing area on your side can really help. Combining all of these into one will basically manifest the best working conditions for a welder.
Some welders value lesser neck fatigue, but others give advantage to being able to clearly see what they are working on. The 9100XX or 9100XXi Speedglas models are specifically aimed at the latter people.
Conclusion
These are my two cents when it comes to choosing proper welding helmets for a variety of work. I truly think that Speedglas has surprised everyone with the selection that they were able to put together. Not only are you able to protect your head, face, and eyes, but these helmets are going to improve your work and overall performance.
This is what I like with my helmet, so don't be a stuck up and wear the same helmet all the time. I suggest you try one of these and see just how much they will be able to help you.