Finding the best cordless angle grinder requires paying attention to many areas. It's not just about the RPM and build quality. We have to discuss battery life, how fast the disc stops spinning, safety features, and above all, the actual quality, not what the brand claims.
For starters, do yourself a favor and stick to quality brands. This doesn't mean paying a lot more money.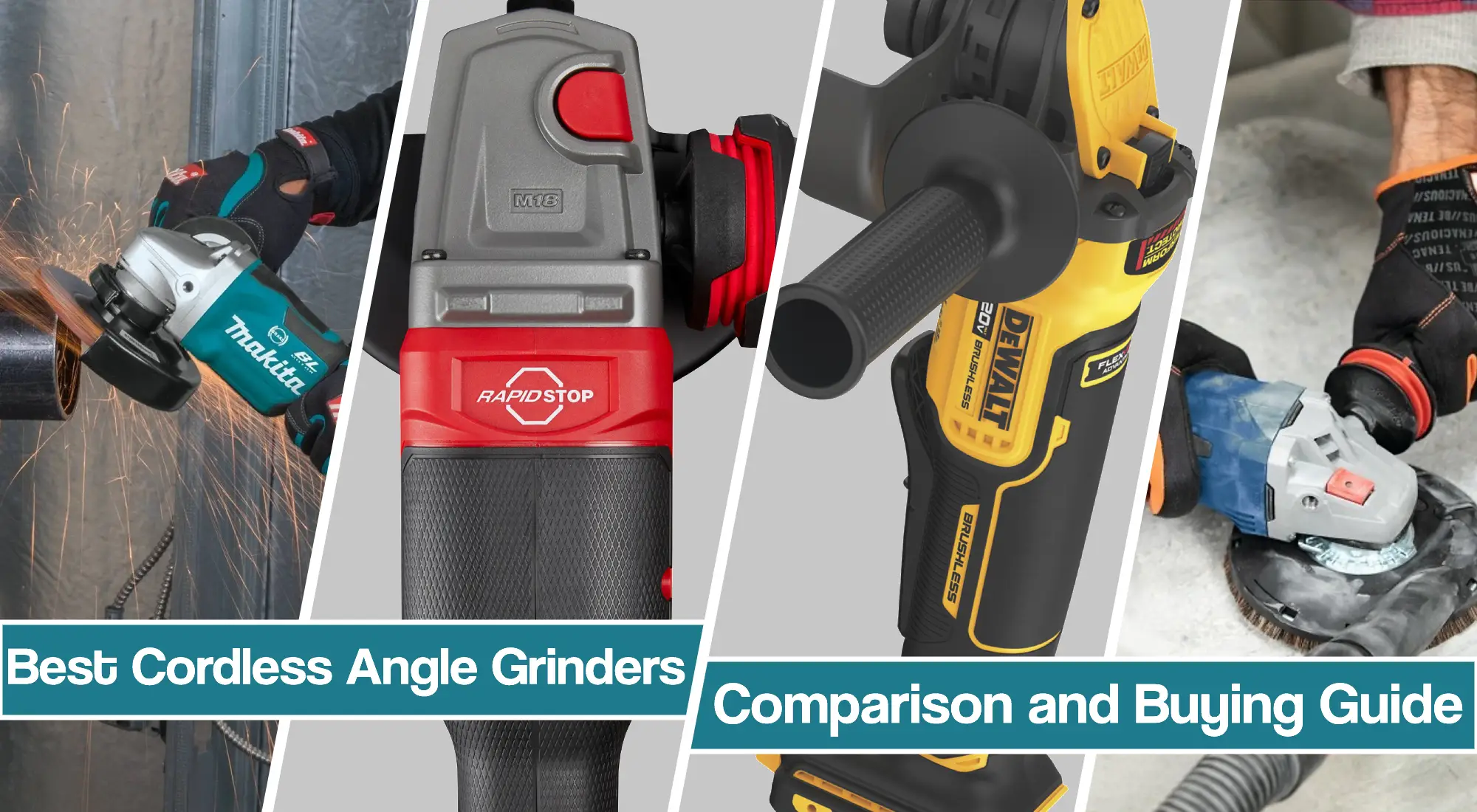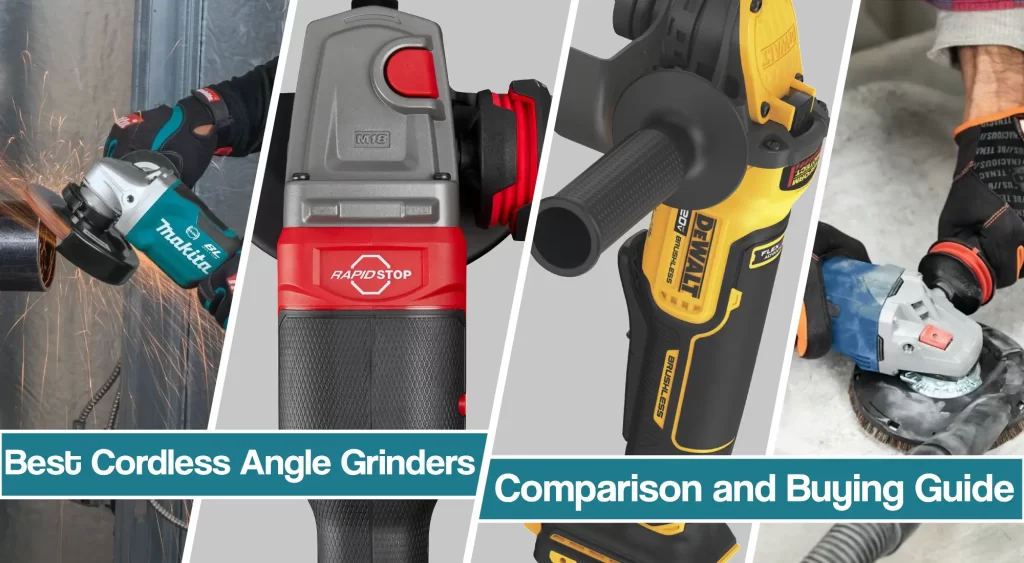 However, if you are a new tradesman building up your arsenal, it's definitely worth investing in good power tools than wasting your money on cheap import brands that will stop working when you need them the most.
So, let's get started.
Best cordless angle grinder comparison chart
Best Cordless Angle Grinder Reviews
Most cordless grinders we reviewed use 4 1/2 in. wheel size because those are most commonly used by professionals and DIY hobbyists. But, we also included bigger angle grinders for more demanding work.
Let's start our review with the top value choice and move on from there.
1. Milwaukee M18 FUEL Cordless 4 1/2in. – 6in. Kit Angle Grinder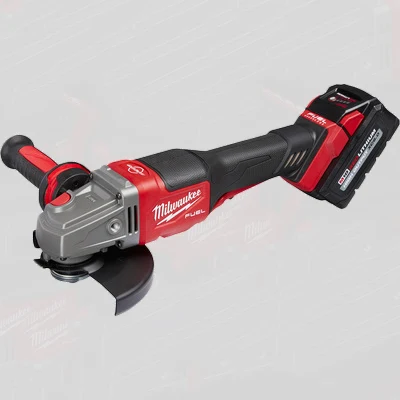 Cordless angle grinders are typically sold without a battery or a charger. But since many people haven't previously bought those, I chose this Milwaukee kit for the first spot.
The Milwaukee M18 Fuel line of angle grinders comes in a few versions. This version is the most versatile, with the ability to accommodate 4 1/2 in. to 6 in. wheel size. The kit includes two batteries and a charger at a much lower price than if you bought everything separately. So, if you don't already own the batteries, this makes a better deal.
This is a highly professional cordless angle grinder. It has an exceptional build quality, and it's the most powerful small angle grinder from Milwaukee. You can easily grind-heavy steel used in mining, construction, pipeline, and similar industries. The M18 FUEL provides corded angle grinder performance even if it's a battery-powered tool.
It uses a brushless motor for maximum performance and longevity. And the electronic brake and overload protection keeps you and the tool safe. The Milwaukee angle grinder also has one of the fastest stop times, faster than DeWALT DCG416B we'll discuss soon, but slower than Makita stops under 2 seconds. However, Milwaukee is also a bit heavy at 4.5lbs, so it's something to consider if you expect to grind a lot. But it's lighter than Boch or Makita we'll review below.
The brand offers a 5-years warranty. The most extended warranty of all best angle grinders in our review and market. That's because Milwaukee designs the gear system, housing, and airflow to prevent dust contamination and any manufacturing flaws. Their gear system is flawless and should last you for years. That's also why their tools are so expensive, but many professionals rely on Milwaukee just like on DeWALT, Boch, or Makita.
One big problem is that it doesn't support variable speed like many cordless angle grinders. So, if this is important to you, it may not be the right choice. Another Milwaukee M18 FUEL model does provide it, but it supports a maximum of 5 in. wheel diameter.
Pros & Cons Summarized
Pros
Exceptional build quality.
Powerful brushless motor.
Everything is included (including battery and charger) at a lower price than bought separately.
Fast stop time.
Excellent dust prevention system with guards at air intake vents.
It provides a very fast speed at 6 in., making it a perfect choice for professional work.
Tool-free burst-resistant wheel guard adjustment.
Electronic brake.
Compact cordless angle grinder.
5-Year warranty.
Cons
No variable speed support.
Specifications
Size: 4 1/2 in. to 6 in. wheel.
Battery type: M18, Red Lithium XC5.0, 18V.
Maximum power: 13A.
Speed: 9,000 RPM.
Variable speed: No.
Switch type: No lock paddle switch.
Country of origin: Vietnam.
Weight: 4.5 lbs.
2. DeWALT MAX DCG416B FlexVolt Avantage 4 1/2 to 5 in. Angle Grinder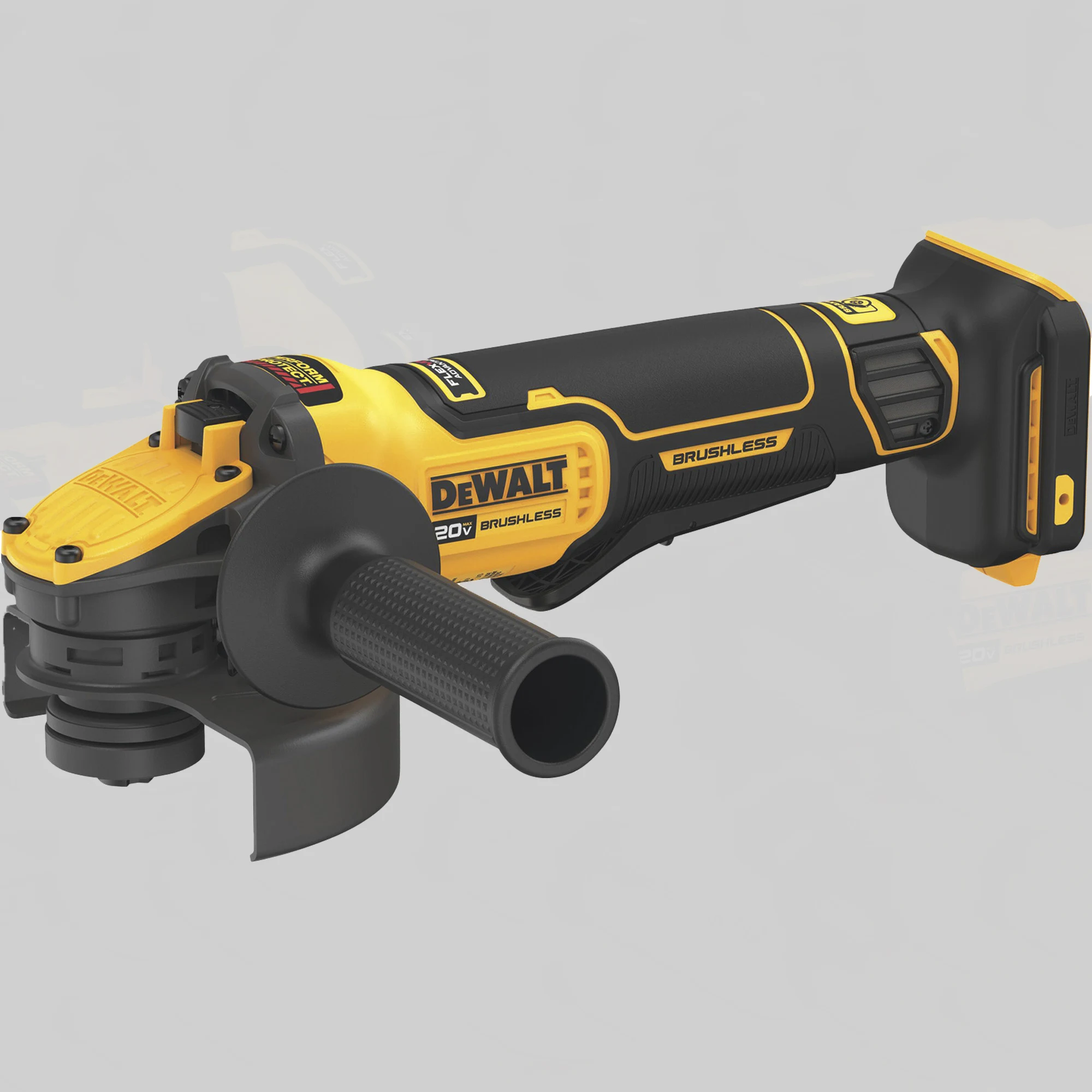 Like Milwaukee above, the DeWALT DCG416B is an angle grinder for professional work. It's expensive and offers a lot of power. However, unlike Milwaukee, it has "just" a 3-year warranty. This is a standard warranty, and some brands even offer shorter than that.
The DeWALT includes some features many people won't need, making their tool unnecessarily more expensive than Milwaukee's. For example, the Tool Connect feature lets you use the angle grinder with the smartphone app and track its performance. While sometimes helpful, it's not a necessity.
On the other hand, DeWALT's exceptional build quality rivals Milwaukee and their safety features like kickback brake, e-clutch, and e-switch protection offer the same level of safety. If the pitch occurs, the e-clutch shuts down the motor in under one-tenth of a second.
DeWALT supports their "FlexVolt advantage" batteries, which supposedly provide up to 54% more power. While it's hard to say if that's an absolute truth, the FlexVolt batteries definitely give a noticeable increase in power. So, if you need a very powerful angle grinder, the DeWALT + FlexVolt is a good choice. Expensive but good.
Of course, the angle grinder uses a brushless motor and delivers up to 9000 RPM. However, like Milwaukee, it doesn't offer a variable cutting speed. This is rather disappointing at such a high price.
Pros & Cons Summarized
Pros
Top-notch build quality.
A powerful brushless motor offers excellent cordless angle grinder performance.
A highly professional tool used by many contractors.
E-clutch stops the motor in case of a stall/pitch.
A kickback brake prevents accidents in case of a bind-up.
FlexVolt advantage for more power.
Light compared to other cordless angle grinders.
Ergonomic grip.
3-Year warranty.
Cons
No variable speed support
Expensive
It provides the same rotation speed as Makita's large angle grinder above
Specifications
Size: 4 1/2 in. to 5 in. wheel
Battery type: Lithium-ion, 20V
Power: 1550W
Speed: 9,000 RPM
Variable speed: No
Switch type: No lock paddle switch
Country of origin: China
Weight: 3.92 lbs
3. Bosch 18V PROFACTOR 5-6in. GWS18V-13C Angle Grinder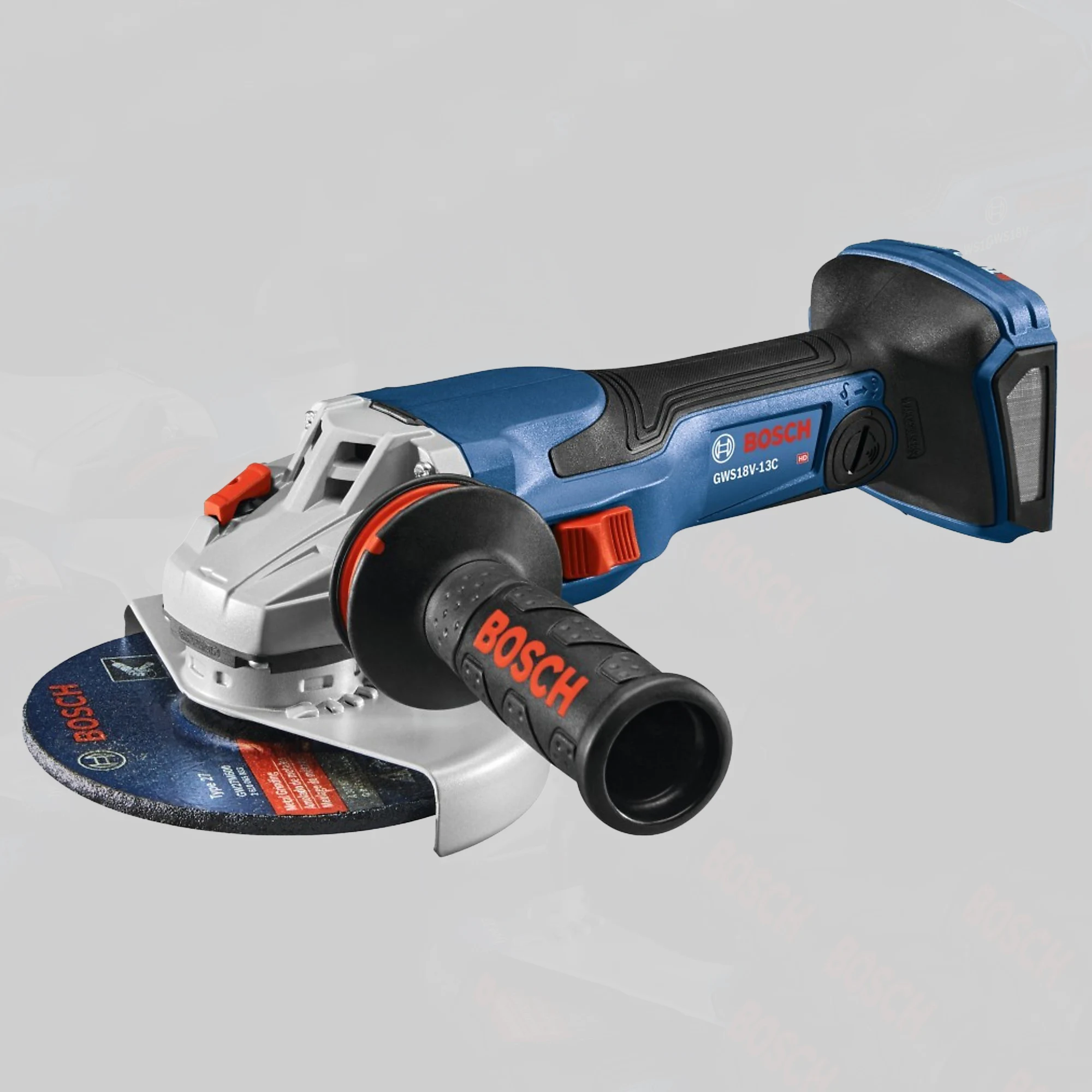 Bosch was always somewhere on the third spot compared to Milwaukee and DeWALT when it comes to cordless angle grinders. However, their new GWS18V-13C elevated this brand somewhere on par with Milwaukee. We placed in on the third spot but keep in mind that the GWS18V-13C is far better than the old Bosch GWS18V-50, which used a brushed motor.
The new GWS18-13C is a brushless cordless angle grinder that's very difficult to stall out. You'd have to apply your entire body weight while grinding to bring this grinder to a halt.
It supports 5 or 6 in. wheels making it a good choice for heavy-duty work, and its 13A motor gets the job done. It supports an electronic clutch to shut off the tool if it gets jammed, restart protection to prevent accidental startup, and most importantly, a brake system similar to Milwaukee's and DeWALT's that brings the tool to a stop in less than a couple of seconds.
Bosch has a lower price than DeWALT, but it's also warrantied for just one year. Still, Bosch is an exceptional brand, and they have high standards of tool production. This model is made in Germany, so you shouldn't experience any issues post-warranty.
Another important issue with this Bosch model is the 5.1 lbs weight. That's more than 1 lbs heavier than DeWALT's or Milwaukee's angle grinders. But another point in Bosch's advantage is the anti-vibration control. It's more convenient to hold and exert less strain on the wrists, making grinding easier for prolonged periods.
Pros & Cons Summarized
Pros
High build quality.
Powerful brushless motor.
Professional tool with 6 in. wheel size support.
Kickback control stops the motor in case of a bind up.
Drop control turns off the power if the fall is detected.
Anti-vibration control.
Ergonomic grip.
Bosch Tool Box App support.
Cons
No variable speed support.
1-Year warranty.
Expensive.
Specifications
Size: 5 in. to 6 in. wheels.
Battery type: Lithium-ion, 18V.
Power: 13A.
Speed: 8,500 RPM.
Variable speed: No.
Switch type: Sliding switch.
Country of origin: Germany.
Weight: 5.1 lbs.
4. DeWALT Max 4 1/2 in. DCG412B Angle Grinder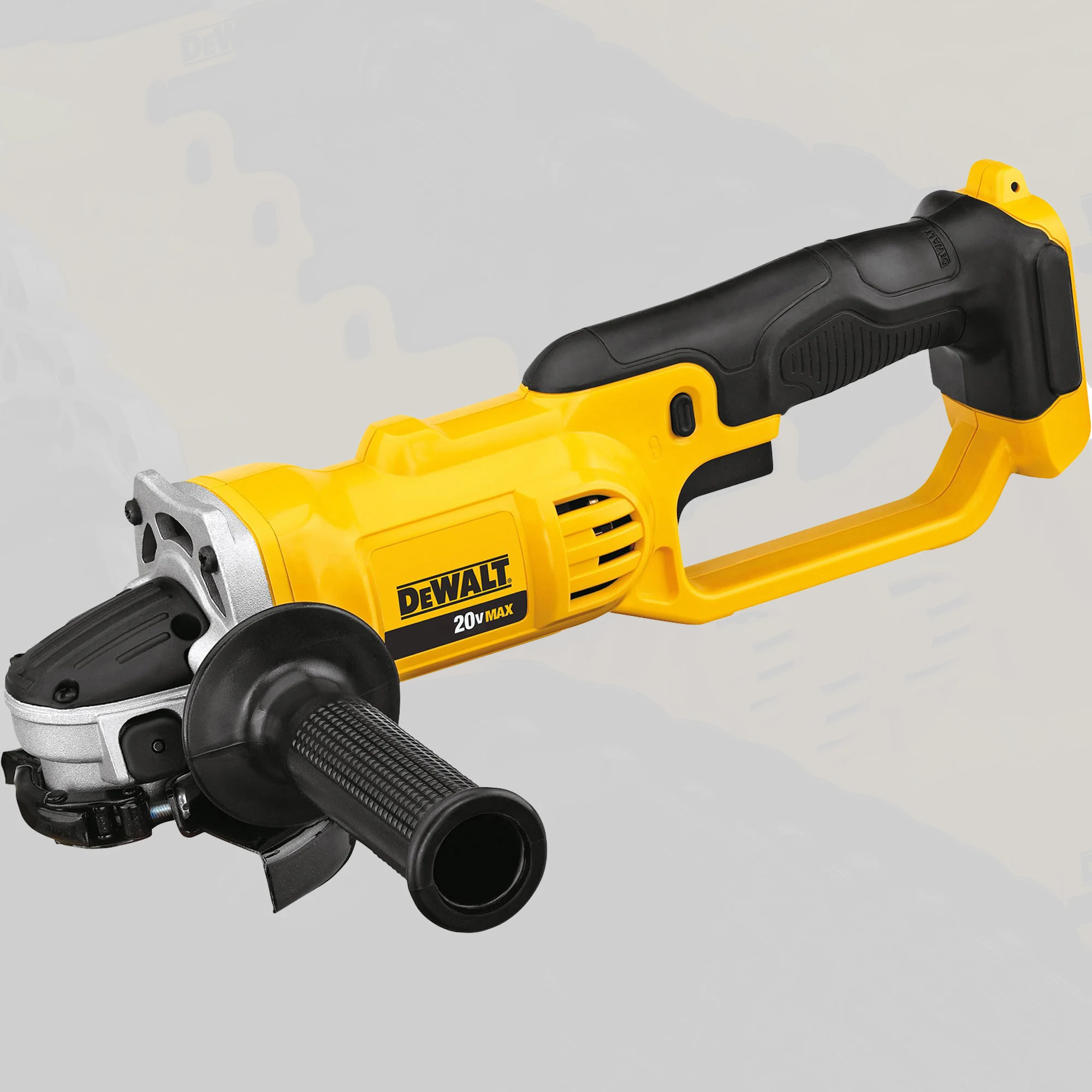 The DeWALT DCG421B is less expensive than the high-end DCG416B model. So, it's more accessible to hobbyists and light metal fabricators. However, it's still backed by DeWALT's 3-year warranty and exceptional build quality.
You will not get the same power as with any of the three grinders listed above.
The maximum 6500RPM no-load speed and the absence of FlexVolt advantage bring a noticeable drop in power compared to DeWALT DCG416B.
Still, this is a good, less costly choice for most work. It's a brushed motor angle grinder, so you can definitely stall it by applying some pressure. But it's much better than what you could get from some random no-name brand.
It supports a quick-change wheel release for a tool-free wheel change. This is particularly convenient, and it's good that DeWALT made it available for their less expensive angle grinder. The grip handle is very comfortable and provides a firm grip over the tool, while the 2-finger trigger switch is an additional safety feature.
Pros & Cons Summarized
Pros
High build quality.
Affordable.
Suitable for hobby work and light professional use.
Two fingers trigger the switch.
Ergonomic grip and excellent control over the tool.
Quick change wheel release allows for tool-free grinding disc change.
3-Year warranty.
Cons
No variable speed support.
Much lower speed than other models in our review at 4 1/2 in. size.
It uses a brushed motor.
Specifications
Size: 4 1/2 in. wheel.
Battery type: Lithium-ion, 20V.
Speed: 8,000 RPM.
Variable speed: No.
Switch type: Trigger switch.
Country of origin: Mexico.
Weight: 5.1 lbs.
5. Milwaukee M12 FUEL 3 in. Compact Cutoff Tool Kit 2522-21XC Angle Grinder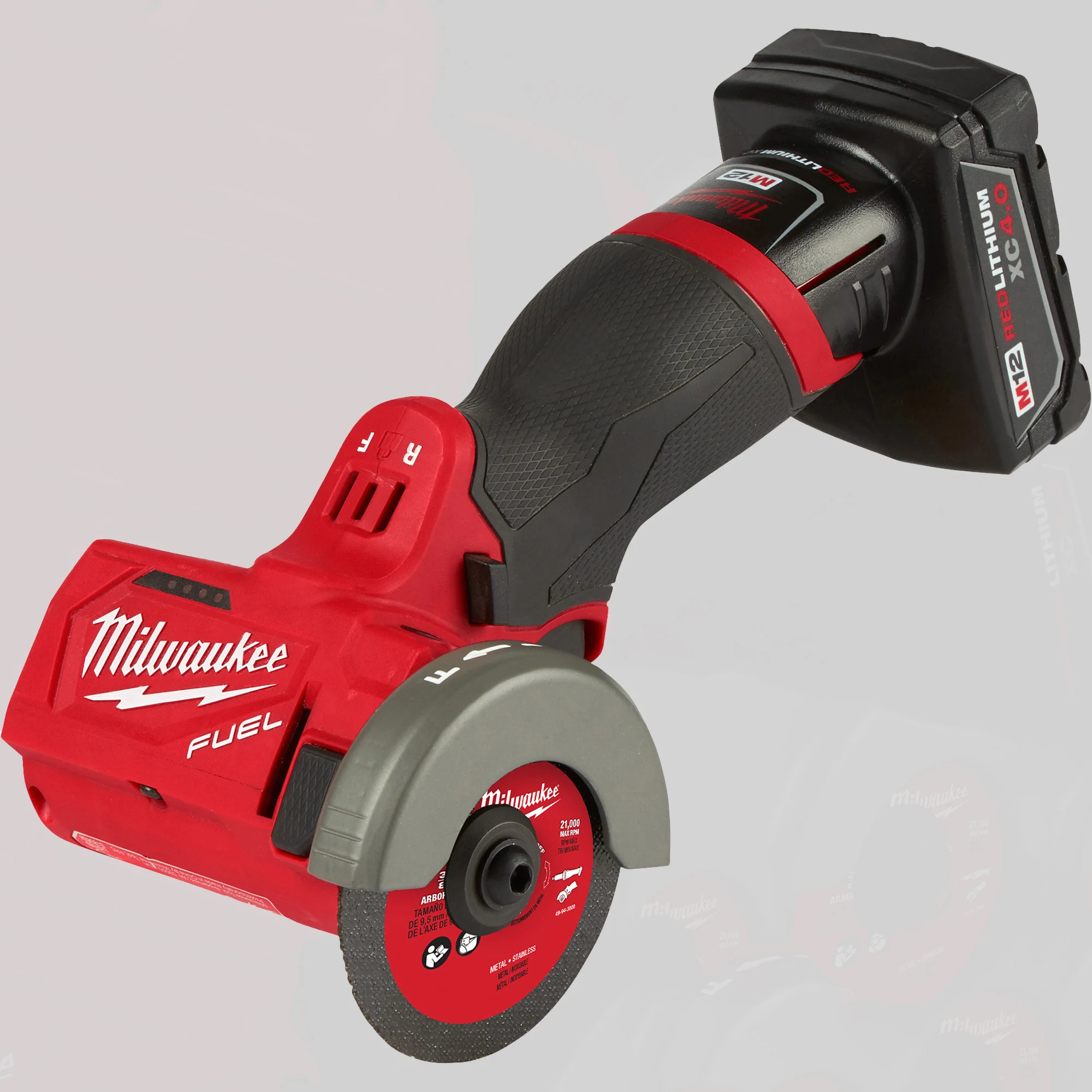 This is a really handy tool for professionals, ESPECIALLY tile installers and HVAC contractors. But all kinds of tradesmen can significantly improve their workflow with this tiny cutoff tool.
However, this is not a regular angle grinder, so you can't grind or perform many activities the rest of the angle grinders can. So, I wouldn't recommend this to a hobbyist. Only contractors find use with this Milwaukee. That said, this little cutter works great in tight areas, and its exceptionally low weight makes your work easier. The 20,000RPM 3 in.
disc cuts tiles like a knife cuts butter. But it works well to cut plasterboards, cement boards, screws, nails, PVC pipes, sheet metal, HVAC duct tunnels, etc. One thing you cannot cut is wood. It's not designed for it. It's optimized for one-handed use and allows you to switch the disc's rotation direction. Boch also makes a similar tool, but it doesn't permit rotation change and doesn't include the dust collector, which Milwaukee does.
But keep in mind that this is a supplemental tool for pros. It cannot replace the angle grinder. Additionally, it doesn't have enough power to cut a 3/8 in. glazed ceramics quickly. If you attempt to apply pressure to increase speed, it will stall. But, other than that, this is a 10/10 win for contractors.
It's one of those tools that just makes things faster. The brushless motor improves durability, and the compact gear design reduces weight while still providing high rotation speed. The kit includes a battery, charger, dust collector, and three cutting wheel types. The kit is relatively affordable, considering that everything is included.
Pros & Cons Summarized
Pros
Excellent build quality.
Affordable considering everything you get in the kit.
One of the best supplemental cutting tools for professionals.
One-handed operation.
Perfect for sensitive work where high precision is required.
Extremely lightweight compared to other grinders.
Very high rotational speed.
Reversible blade rotation.
Brushless motor.
Includes cutting wheels.
It comes with a shoe and guard.
Supports vacuum dust collector.
Very portable grinder.
5-Year warranty.
Cons
No variable speed support
Not a substitute for a real angle grinder
Low depth of cut
It doesn't have the power to cut dense, thick material
Specifications
Size: 3 in. wheel.
Battery type: Lithium-ion, 12V.
Speed: 20,000 RPM.
Variable speed: No.
Switch type: Trigger switch.
Country of origin: Mexico.
Weight: 2.43 lbs.
6. Makita XAG20Z 18V LXT 4 1/2 to 5 in. Angle Grinder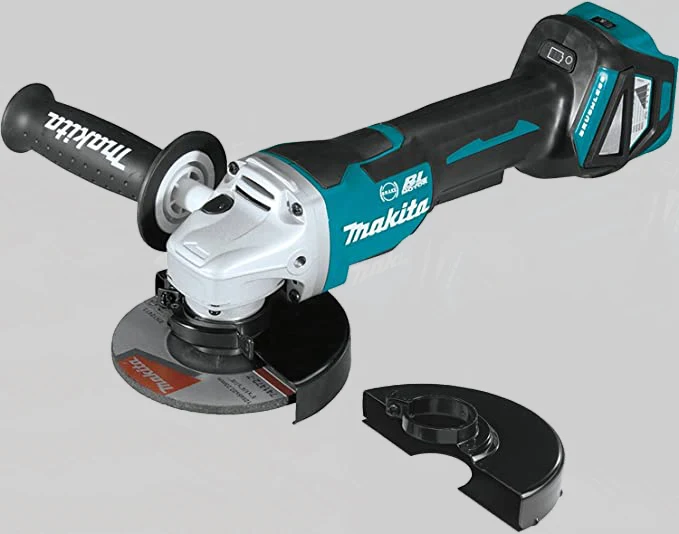 The Makita XAG20Z is a variable speed cordless angle grinder with the exceptional build quality and very good power output. But, be careful of knock-off Makitas. I linked to the original Makita store on Amazon to avoid any confusion.
Covered by a 3-year warranty and equipped with a brushless motor, the Makita XAG20Z will last you a long time.
Makita's build quality rivals DeWALT, Boch, and Milwaukee. However, it is pretty heavy at almost 6 lbs. Still, the added weight is responsible for this power tool's sturdiness and ruggedness. You don't have to worry about Makita falling apart.
The maximum speed of 8,500 RPM holds very well under load, and it's difficult to stall out. But, I particularly like how fast it stops. The integrated electric brake stops Makita in under two seconds, making it easier and faster to put down once you are done grinding. Overall, this makes you more productive because you don't have to wait for the motor to stop running. The Makita is somewhere on par with Boch in this regard, but Boch does seem to stop a bit faster depending on the attached grinding wheel.
The soft-start prevents kickback and ensures a long gear life. Plus, the rubberized ergonomic body helps achieve a higher grip and reduces the vibration impact on the wrists, making the grinding process less straining.
This Makita has a similar dust and debris protection as the Milwaukee and DeWALT we reviewed earlier, and better protection than Boch's model. However, Boch is lighter than Makita even if it's a 6 in. grinder. Still, the Milwaukee and DeWALT are much lighter than Makita, but Makita has a sturdier body than any of the other angle grinders.
The most significant advantage of Makita XAG20Z is variable speed control. There aren't many cordless angle grinders with this feature. But, if you are interested in Makita with fixed rotation speed, the Makita XAG04Z is cheaper and otherwise offers the same specs.
Pros & Cons Summarized
Pros
Makitas XPT protects the tool from dust, debris, and water.
Brushless motor.
The electric brake stops the wheel in under two seconds.
Variable cutting speed.
Soft start for easier tool handling.
Anti-restart protection prevents accidental startup.
Active feedback technology turns off the motor if the wheel is suddenly jammed.
3-Year warranty.
Cons
Lower rotation speed than DeWALT and Milwaukee
Heavier than others
Specifications
Size: 4 1/2 in. to 5 in. wheel.
Battery type: Lithium-ion, 18V.
Speed: 8,500 RPM.
Variable speed: Yes.
Power switch type: Paddle switch.
Country of origin: China.
Weight: 5.7 lbs.
How to Choose a Cordless Angle Grinder
If you are new to cordless angle grinders, you may be unfamiliar with some terms used above. So, to help you choose a cordless angle grinder, we made a comprehensive buyer's guide.
However, if you are looking for the best-corded angle grinders, please refer to our separate article.
Electric Motor Power
Most cordless angle grinders on sale today don't publicly disclose the electric motor power. That's just pathetic on their side. If you go to Makita's website, for example, and look at the grinder I recommended from them, you won't find this information anywhere. Not even in the manual.
But DeWALT's DCG412B has the same problem as many cordless angle grinders. They just like to hide the maximum amperage and wattage of their cordless power tool.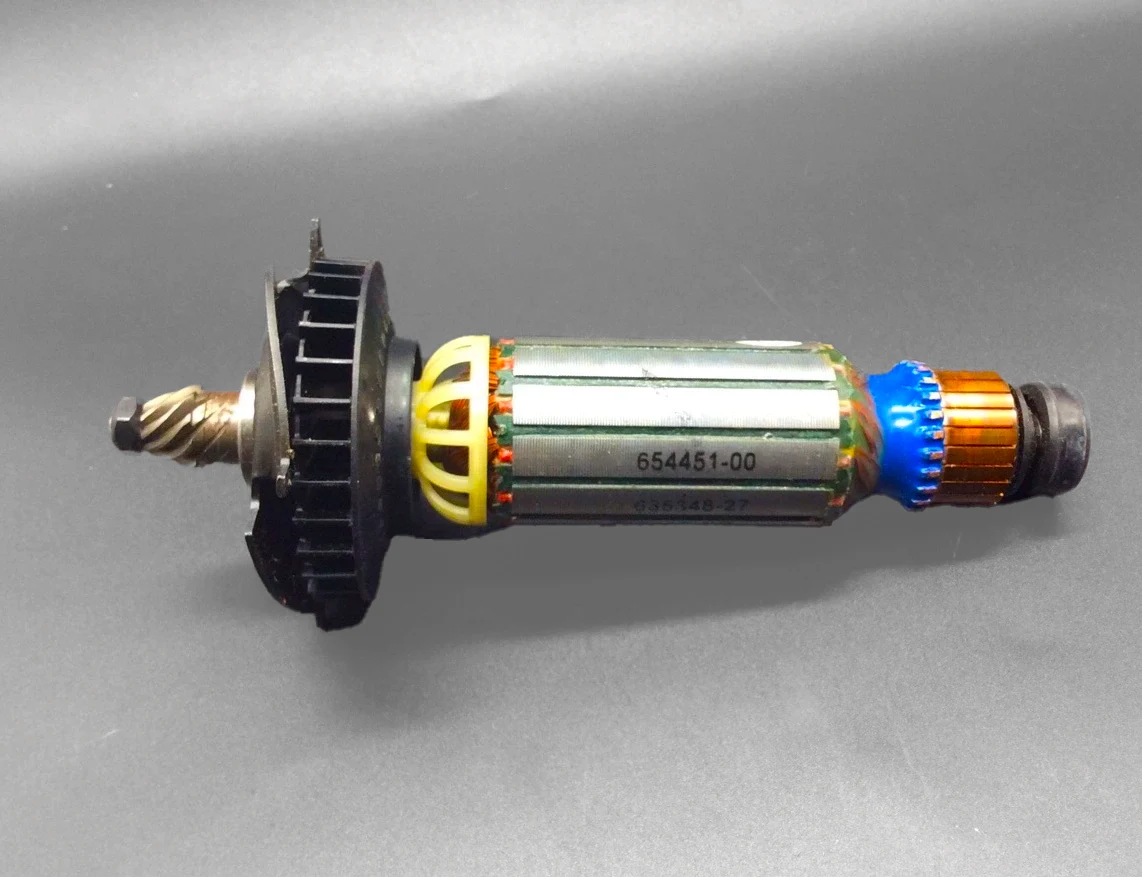 Still, all the grinders we recommended in this review have powerful motors. Milwaukee, DeWALT, Boch, and Makita are top of the line in cordless tools in general, not just for angle grinders. But, I wish they were more transparent about their motor capabilities.
Disc Size And Power
The bigger the disc size, the less power you'll be able to input into the workpiece, and the slower the RPM will be. So, if you take our number one pick. the Milwaukee cordless angle grinder that supports 4 1/2 in. to 6 in. wheel size and install the 6 in. wheel, it will have less power than the 4 1/2 in. However, the 6 in. is better suited for professional jobs requiring faster cutting and grinding time.
But, some angle grinders are designed better than others in this regard. So, the Milwaukee we mentioned has a higher RPM than Makita's XAG20Z, even if Makita has a smaller disc size.
Battery Capacity And Power
A battery depleted by 50% will not output the same power as a freshly charged battery. The angle grinder will start losing its power as the capacity is spent. The RPM may remain the same, but it will be less likely to endure applying pressure, making it easier to stall it out.
Better brands we reviewed in this article handle power management better than no-name brands and provide a more consistent power output when using their battery packs. But, even Milwaukee and DeWALT will weaken as the battery capacity is depleted.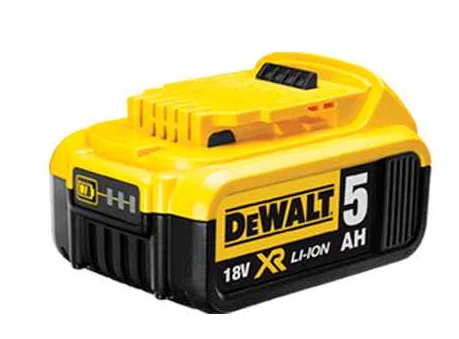 The higher the battery capacity, the longer you can use the cordless grinder. So, we recommend the Milwaukee M18 Fuel model no. 2980-22 (our kit review on the no. 1 spot), and DeWALT DCG416B (our no. 2 pick) for longest battery run time. These two tools support 6A batteries and handle power sag quite well.
Most cordless angle grinder batteries have a capacity between 1.5 and 6A. I recommend getting the biggest capacity battery you can, but keep in mind this adds weight to your angle grinder. Best cordless angle grinders have support for "superior" batteries. Support for batteries like FlexVolt from DeWALT and Red Lithium from Milwaukee improves tool performance. Sometimes significantly, other times just barely noticeably, depending on the workload.
Still, it's useful to get these brand-name batteries and pair them with their supported brand models.
Brushless Vs Brushed Cordless Angle Grinder
Regardless of the brand, a brushless motor will consistently outperform the brushed angle grinders. That's because it uses electronic circuitry to create a magnetic field that causes the rotation, while the brushed motor relies on carbon brushes to transfer DC power to the motor armature and creates the magnetic field.
The brushless motor doesn't rely on a physical connection between brushes and the commutator. There is no heat generation, and the created power is higher.

Additionally, the brushless motor has a significantly longer lifespan, but these angle grinders are often more expensive. Still, if you want the best angle grinder, you should go with the brushless angle grinder.
Weight
The angle grinder's weight is often related to its build quality, except in the case of DeWALT. Their angle grinders are exceptionally built but have a low weight. Still, the Makita model we reviewed is sturdier than any other on the list, but it's also the heaviest.
If you plan to use cordless grinders often during your workday, consider getting a lighter grinder, even if that may cost you some sturdiness. Adding the battery weight to the angle grinder weight may be heavy and can cause wrist injury, especially if the angle grinder has poor vibration control.
Speed (RPM)
The revolutions per minute ("RPM") value provided by a manufacturer is rated at no load. So, a 9000 RPM angle grinder operates at that speed without a grinding blade attached. Once you install any grinding wheels, the speed will reduce. After you start cutting, the tool will slow down even more.
However, in our review, any quality angle grinder will keep most of its rated speed unless put under severe load.
Another thing to note is that the larger the supported disc size, the lower the RPM will be. However, this is not always the case. A powerful motor may handle bigger disc sizes better than a weaker motor. For example, our no. 1 pick from Milwaukee supports disk sizes up to 6 in. at a speed of 9000 RPM, but DeWALT, Makita, and Boch have lower RPM at 5 in. disc size.
The higher the RPM, the faster you'll cut or grind out the metal. However, your grinding wheel will wear out faster.
Safety Features
The best cordless angle grinders support multiple safety features to prevent injury or accidents. Let's take a look at these below:
Soft start – This technology prevents gear wear and allows the operator to get ready as the tool starts with a slow speed and ramps up the RPM. It's more challenging to control the angle grinder without a soft start.
Electronic clutch – Also referred to as E-clutch by DeWALT, or AFT by Makita, stops the motor if the wheel gets pinched/stalled and is forced to stop spinning. This prevents the tool from violently reacting and injuring you or damaging the workpiece.
Kickback protection – Similar to an electronic clutch, the kickback brake is faster and acts quickly to stop the motor almost instantly if the bind is detected.
Anti-restart protection – A vital safety measure that prevents accidental startup in case of a power outage or battery change. If the tool was left in an "on" state, it prevents the motor from activating the grinder until the trigger has been cycled (turned off and back on). Without such a feature, the grinder can damage the work area or injure someone if it turns on and starts jumping around the work area.
Conclusion
We reviewed the best cordless angle grinders and considered only premium brands. You shouldn't bother with no-name import brands that don't have a long history. Makita, Milwaukee, DeWALT, and Boch have hundreds of employees and top-of-the-line engineers. But, most importantly, they have decades of experience and reputation.
There is a reason why any angle grinder from these brands outlives others on average by a long margin. An angle grinder is a versatile tool that you'll grow to rely on a lot. So, as with any power tools, especially cordless power tools, don't get the cheap stuff because it will cost you more long-term.