Let me tell you something about welding protection – take it seriously! Very, very seriously! Our job as welders is dangerous enough and we can't risk using any old safety equipment.
Spare no expenses when it comes to welding safety, especially welding helmets.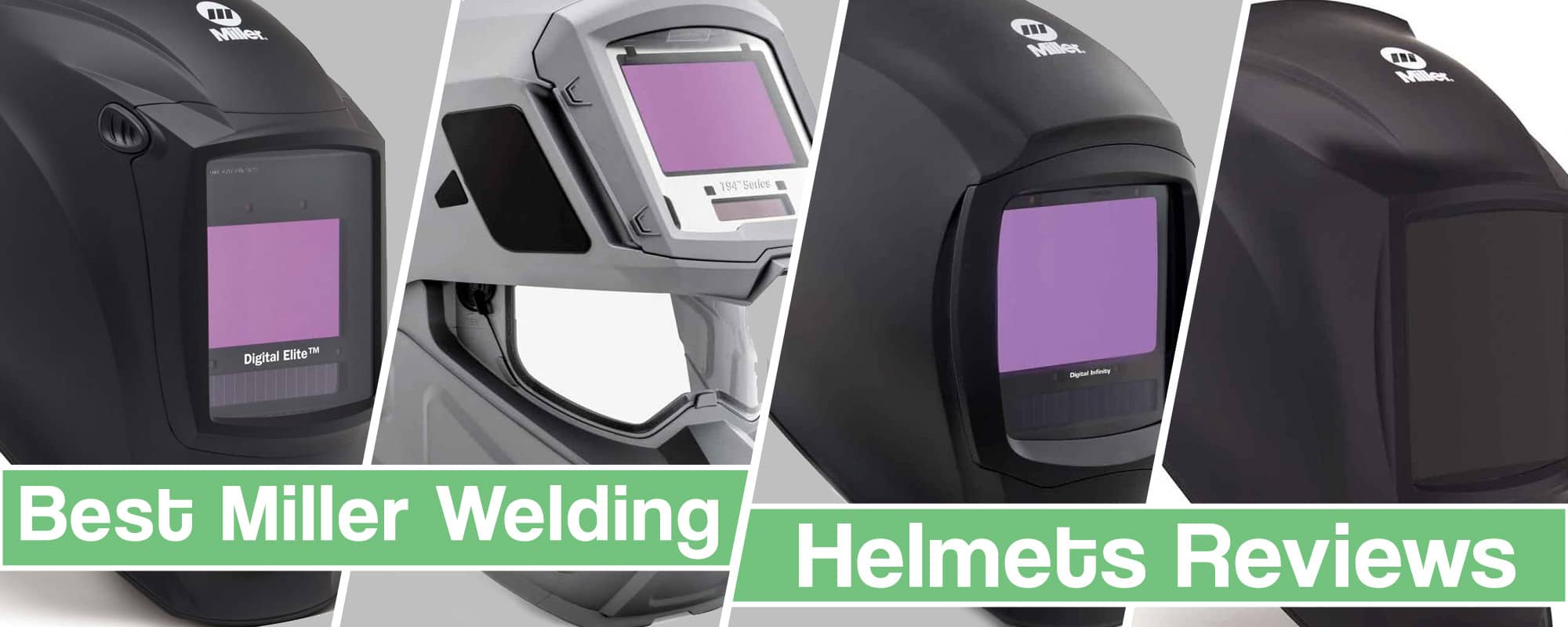 I have had my fair share of buckets that I wore. I can say that not all of them were good. But there have been some top-notch choices that I had the pleasure of wearing. I can say that Miller welding helmets are by far one of the best that I have tried.
Therefore, I decided to give all of you guys some hints at what to look out for when choosing a Miller welding helmet. The choice is not as easy as you think as there are many options. You have to consider features like lens technology, auto-darkening welding, and the viewing area itself.
Not sure about what those are? Then you are in the right place as I explain it all. Here are my choices about the best Miller welding helmets and a list of reviews.
Best Miller Welding Helmet Comparison Table
Best Miller Welding Helmet Review
When it comes to Miller welding helmets, they are by far my favorite choices when it comes to welding safety standards. The majority of helmets that I have decided to go with have a sleek design, include a variety of auto-darkening lenses, and are also suitable for DIY work.
Even though the manufacturer has a variety of series that it offers (Infinity, Elite, Titanium), the Classis series is the most affordable one. It does not only come in the price range of beginner and inexperienced welders but can be used even by experienced workers. Nevertheless, if you do decide to spend some more money, there are some excellent gems to purchase.
Let's not mince words any further and check out the Miller welding helmets that I have highlighted for you.
1. Miller Digital Elite –Truly an Elite Helmet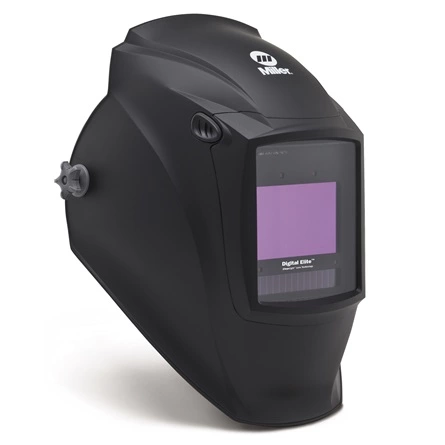 If you are looking for a first-class helmet, the Miller Digital Elite could be a nice way to start. First of all, it is lightyears away from the Miller Classic. It has a wider viewing area, the headgear offers better adjustment for comfort, and has more modes to choose from.
The modes are actually the part that makes all the difference as you can go from welding to cutting or grinding seamlessly. My personal favorite is the X mode, which is what distinguishes this helmet from other cheaper ones that are more appropriate for DIY projects.
The ClearLight lens technology is amazing, it's like working with an HD screen. If you plan on working on some more serious projects, better invest a few bucks more than going for a $50 hood, if you want to keep your eyesight that is. I found that the technology that they got packed in this helmet helps to protect a welder and improve work.
Not to mention that it is really comfortable, so you can work for 8-10 hours without strain. However, the biggest takeaway that I found was that it feels a bit flimsy and that it could do with a bit more headspace. In terms of comfort, I would give the Vulcan helmet an advantage, but the Millier Digital Elite takes the cake when it comes to clarity and battery life, particularly as it comes with CR2450 lithium batteries but no solar power assist.
I also like how it fares compared to a more expensive model like the Speedglass. It fits better when working in tight places. And if you happen to need any spear parts, you can easily go to the store and get brand new ones.
You can learn more about this popular Miller helmet in this article.
Pros & Cons Summarized
Pros
CL technology offers an HD view of the puddle
Great improvement over Miller classic series
Fine-tune settings and digital controls
Four different mods, including unique X mode
AutoSense feature that helps with sensitivity problems
Lightweight and comfortable
One of the most popular helmets on the market
3-year warranty
Cons
People find headgear a bit uncomfortable
There is a limited head space inside the helmet
No memory options
Specifications
Clarity: 1/1/1/2 CL Technology
Shade Selection: 5-13 shade
Controls: Weld, Cut, Grind and X-Mode
Sensors: 4 sensors
Viewing Area: 9.22 sq. in
Compatibility: Hard Hat and Cheater Lens Compatible
TIG Amp Rating: Down to 5 Amps
Power Source: CR2450 Helmet Battery
Light to Dark Switching Time: 1/20,000 second
Warranty: 3 years
Weight: 18 oz.
2. Miller T94i Flip-Up – Industrial Welding Protection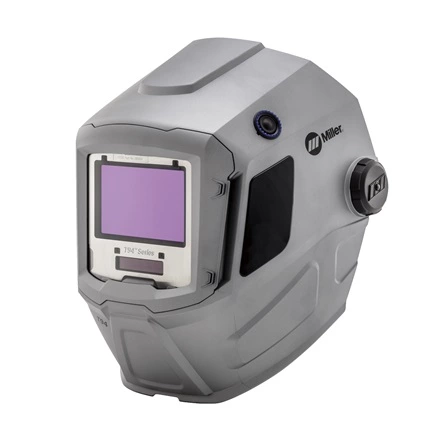 The Miller T94i Flip-up welding helmet is meant for some heavy-duty work. Besides a welding mode, it comes with a plasma cutting mode and grind mode. But the biggest advantage that I personally liked was the flip-up lens.
Even with four sensors, an auto-darkening welding helmet may cause flashing problems, but with this one, you can just flip the lens on without grinding through a tinted lens.
The price range may be out of reach for some. But believe me, it is well worth the added cost. The ClearLight lenses are out of this world, the battery life is great (has CR2450 lithium batteries), and the headgear itself is comfortable to wear especially with a padded belt and shoulder straps. The only downside is that it is a bit too heavy for long-term work.
The side windows are pretty awesome and the filters are crystal clear, so no more green tint to hamper vision. But the hard hat adapter absolutely sucks. It could be a bit frustrating with the hood falling down on you all the time hampering overall functionality.
Pros & Cons Summarized
Pros
Offers superior clarity
Industrial grade helmet
Four different mods, including unique X mode
Flip up lens with grind shield
Great battery life
Shade 5 side windows
Helmet is comfortable
3-year Miller warranty
Cons
It is a bit heavy, can be hard to wear it whole day
Hard hat adapter is horrible
Specifications
Clarity: 1/1/1/2 CL Technology
Shade Selection: Shade 5-13
Controls: Weld, Cut, Grind and X-Mode
Sensors: 4 sensors
Viewing Area: 9 sq. in.
Grind Shield Viewing Area: 44 sq. in.
Compatibility: Cheater Lens and Hard Hat Compatible
TIG Amp Rating: Down to 3 Amps
Power Source: CR2450 Helmet Battery
Light to Dark Switching Time: 1/20,000 second
Warranty: 3 years
Weight: 25 oz.
3. Miller Digital Infinity – Great TIG Welding Helmet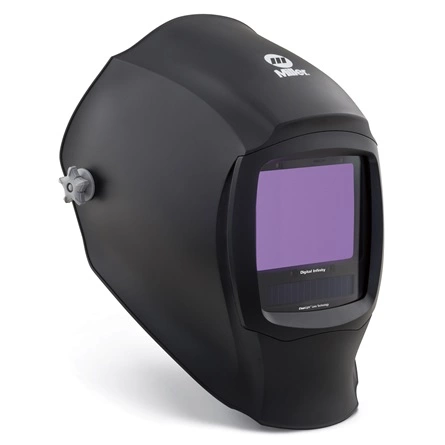 The Miller Digital Infinity is a Miller Electric product geared towards TIG welding process. This auto-darkening helmet comes with 4 arc sensors and provides excellent auto-darkening activation during TIG welding, no matter the amps nor position.
I found that the auto-darkening feature works a lot better covered to the ESAB helmet. I used an ESAB once and it kept flashing on me, which this one does not do.
Also, if you don't like grinding through tinted cover lenses, the Infinity comes with a flip-up lens to help avoid that nuisance. I also can't stress the inclusion of the X-mode which is always the main selling point for me.
The viewing screen is large (13.4-square-inches viewing area) so the clarity rating is pretty high especially with the ClearLight lens which eliminates that pesky green hue that nobody likes. The improved ventilation allows for fresh air to come in but the ducts and tubes make it a bit heavier on our head, but not so much that it torques your neck.
However, the headgear is absolutely awful. Not your best choice for long-term work. Also, the digital Infinity lenses are not compatible with any other standard helmet, so you can't swap it on a cheaper model. You may also need to swap out all the lenses a few times, which is really a pain. The Lincoln Electric 3350 Viking does not have such problems. The battery lifespan could use an improvement as well. But the things that I liked is that controls are intuitive and easy to figure out even for a beginner.
Pros & Cons Summarized
Pros
Clear light technology ffers great puddle vision
ADF works great at lower amperages
Large viewing area with enough place for head
Improved ventilation prevents fogging
Easy to set up, great for beginners
Cut, Grind, Weld and X-mode
Digital controls which are easy to use
3-year Miller warranty
Cons
Headgear will fall apart after a short time
Infinity Lenses wont fit into other helmets
Specifications
Clarity: Clear light 1/1/1/2 technology
Shade Selection: Shade 5-13
Controls: Weld, Cut, Grind and X-Mode
Sensors: 4 sensors
Viewing Area: 13.4 sq. in.
Compatibility: Hard Hat and CL Compatible
TIG Amp Rating: Less than 5 Amps
Power Source: CR2450 Helmet Battery
Light to Dark Switching Time: 1/20,000 second
Warranty: 3 years
Weight: 23 oz.
4. Miller Digital Performance – Great Value for Money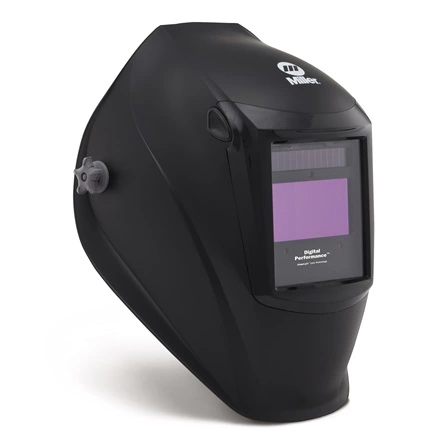 The Miller Digital performance could be used for various welding applications and offers great value for money. Its main selling point should be its color technology which helps to optimize contrast and clarity. Comes with three sensors, though. The headband may look cool but doesn't hold well, which will prevent you from welding in all positions.
I can say that the weight is decent enough. If you do have neck problems it is not going to cause any added strain. But the problem is that it won't stay up after long hours of work no matter how much you tighten the knobs.
The plastic shell is a bit frail and it does not look sturdy enough. I do wish they added an auto-off feature that would have prevented batteries from draining. I am not too thrilled about the new flip-style back. Would have preferred the olds school style better. Also, not a lot of breathing room and it can fog up between the lenses very fast.
But I do agree with some other welding helmet reviews about its price point pick. It is a definite bargain helmet. It is worth the money you pay for it, is very easy to set up for any welding project and boasts high efficiency.
Pros & Cons Summarized
Pros
Clear light technology optimizes contrast and clarity
Great value for money spent category
Lightweight
Easy to set up, you can use it straight out of box
Digital controls which are easy to use
You can switch between Weld, Grind and Cut mode easily
3-year Miller warranty
Cons
Headgear won't hold that well
Sometimes, fogging can occur
I don't prefer flip-style back
Specifications
Clarity: Clear light 1/1/1/2 technology
Shade Selection: Shade 5-13
Controls: Weld, Cut and Grind mode
Sensors: 3 sensors
Viewing Area: 7.22 sq. in
Compatibility: Hard Hat and CL Compatible
TIG Amp Rating: Less than 5 Amps
Power Source: CR2450 Helmet Battery
Light to Dark Switching Time: 1/20,000 second
Warranty: 3 years
Weight: 17 oz.
5. Miller Classic Series – Entry-level Helmet Pick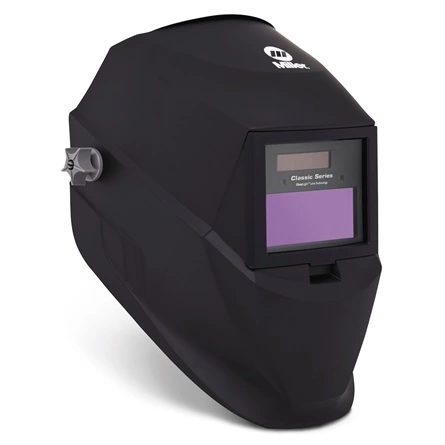 If you are looking for a more basic name welding helmet with auto-darkening and some entry-level inclusions, Miller's Classis is the one to look for. The older versions with no auto-darkening made it hard to see around you when working. They were also a bit bulky and made welding in tight places a problem. Also, compared to those helmets, it can literally slice the time needed to weld in half.
What I liked the most, and I assume that welders with stiff necks are going to appreciate, is that this Miller Electric product is the lightest auto-darkening helmet that you will come across at just 23 oz.
However, compared to the Elite Series, it does have a relatively smaller viewing area (5.88 square inches), but for this price, you can't get a better auto-darkening welding helmet.
However, sunlight interference may cause the flash when the arc is small. It is not really suitable for outside work in the sun. I think that it would be best if they moved the arc sensors to different places as it might fix the problem. Also, the plastic tabs are not seated all the way and don't hold the insert well.
But, the main impression is that you are getting what you paid for and that is absolutely splendid headgear at a bargain price.
Pros & Cons Summarized
Pros
Entry-level helmet, best for beginners and occasional welders
Great value buying decision
Lightweight and easy to wear whole day
Easy to set up and use
Analog controls
Great clarity for a cheap helmet
Cons
Small viewing area
Only 2 light sensors, so it can flash you when welding in cramped spaces and tough conditions
Not suitable for working outside
Specifications
Shade Selection: Weld Shade 8-13, Grind Shade 3
Controls: Weld mode
Sensors: 2 sensors
Viewing Area: 5.88 square inches
Compatibility: Hard Hat and CL Compatible
TIG Amp Rating: Less than 20 Amps
Power Source: AAA Battery with solar cell
Battery Lifespan: 2000 hrs.
Light to Dark Switching Time: 1/10,000 second
Warranty: 3 years
Weight: 16 oz.
6. Miller MP-10 Passive Welding Helmet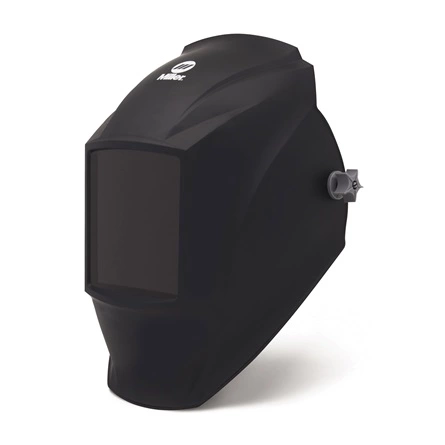 This is a simple passive non-darkening helmet-1 lens #10, with front and back covers. A very light hood with expected Miller Electric quality, but don't expect it to come with a bunch of lenses. However, you can easily change the plastic one for a better glass lens. It might put some added weight to it, but you will be able to see better.
Since it has the same insert as the auto-darkening welding helmet model, you can upgrade it with the digital elite auto filter later on. Unfortunately, the low amp TIG may not trigger the lenses fast enough.
It might seem a bit cheap, but the build quality is what you would expect from a Miller product. It is miles away from some other passive options out there. I found that it even has some better qualities than other more expensive welding helmets like the Jackson Safety helmet. But it could do with the option for quick changes as substituting the lens manually is really a pain.
The viewing area is 15-7/10 square inches, more than enough to help you see the weld puddle clearly. Also, one of the best welding helmets in terms of weight at only 1.75 pounds. No added accessories, in the pack though. Just the hood, not even a bag.
Pros & Cons Summarized
Pros
Passive shade 10 option
Great value for money spent
It can be upgraded to an auto-darkening helmet
Great quality build
Large viewing area
Lightweight, it can be used whole day
Cons
No accessories added in pack
Seems cheap first time you look at it
Plastic lens
Specifications
Shade Selection: Passive Shade 10
Viewing Area: 16 square inches
Compatibility: Hard Hat Compatible
Shell Material: Nylon
Net Width: 10.25 in
Net Height: 8.5 in
Net Length: 12 in
Weight: 1 lbs.
Something About Miller as Welding Helmet Maker
Miller Electric is a prime distributor of welding equipment, including safety gear and especially welding helmets. They offer a variety of passive and auto-darkening welding helmets. Their products possess various advanced features and come with such additions as ClearLight, X Mode, and InfoTrack.
The items on display can be used for a variety of welding processes and come at a favorable price.
T94 Series Features
The T94 products are designed to combine both industrial welding protection with comfort and visibility. The Dualtec system is supposed to customize the airflow and prevent dry nose and eyes.
The InfoTrack system allows for better helmet data-monitoring technology. It can be used to track arc on time, arc count, and allow welders to set timers and alarms.
Finally, the ClearLight technology allows more colors to come through the welding helmet and allows improved visibility.
Digital Infinity Series Features
The Digitial Infinity series has the largest viewing area of all products and combined with ClearLight technology offers HD definition optics and precise arc recognition. With the addition of the X mode, the welder is able to detect the arc even if the sensors are blocked. Furthermore, the auto-sense technology will automatically set the helmet's sensitivity based on the welding environment.
These products are most suitable for operators who need to frequently adjust their settings.
Digital Elite Series Features
The Digital Elite Series models come with a range of graphic features available. These include X Mode, Weld Mode, Cut, and Grind Mode. The Digital Elite also includes the ClearLight system with 9.2 square inches viewing ports. However, it does not come with an InfoTreck computer but saves you on added expenses that way.
Digital Performance Series Features
The Digital Performance Series includes products that have X Mode and ClearLight true color technology. They include the Weld, Cut, and Grind modes and do have fast enough reaction time.
Miller Classic Series Features
one can do you nicely. They have a nylon construction and a magnifying lens holder (5 outside and 2 inside). The Classic models do not have a grind mode feature but do come with flip-up filters.
Miller MP-10 Series Features
The Miller MP-10 offers passive, non-darkening helmets with a flip-up filter. The passive shade includes a #10 Lens industry-standard size filter plate with added inside cover lenses. The great part about these helmets is that they can easily be upgraded to auto-darkening helmets by adding the necessary lense.
Conclusion
I hope that my welding helmet reviews list has brought you wisdom and has given you enough insight about purchasing your next welding helmet. A welder has to take everything into account and that means analyzing the position of the arc sensors, the changeability of the lenses, and UV rays cover lens protection, as well as comfort.
But know that sacrificing your head or eyes is not worth it if you are thinking of getting a cheaper option. It is always good to pay a little bit more for added protection.