If you're looking for an entry-level welder then an excellent choice is a 120V model.
That's because they're built to get the job done for a reasonable price. However, how do you choose whether you want a MIG welder, a TIG welder or a stick welder, or a combination of all 3?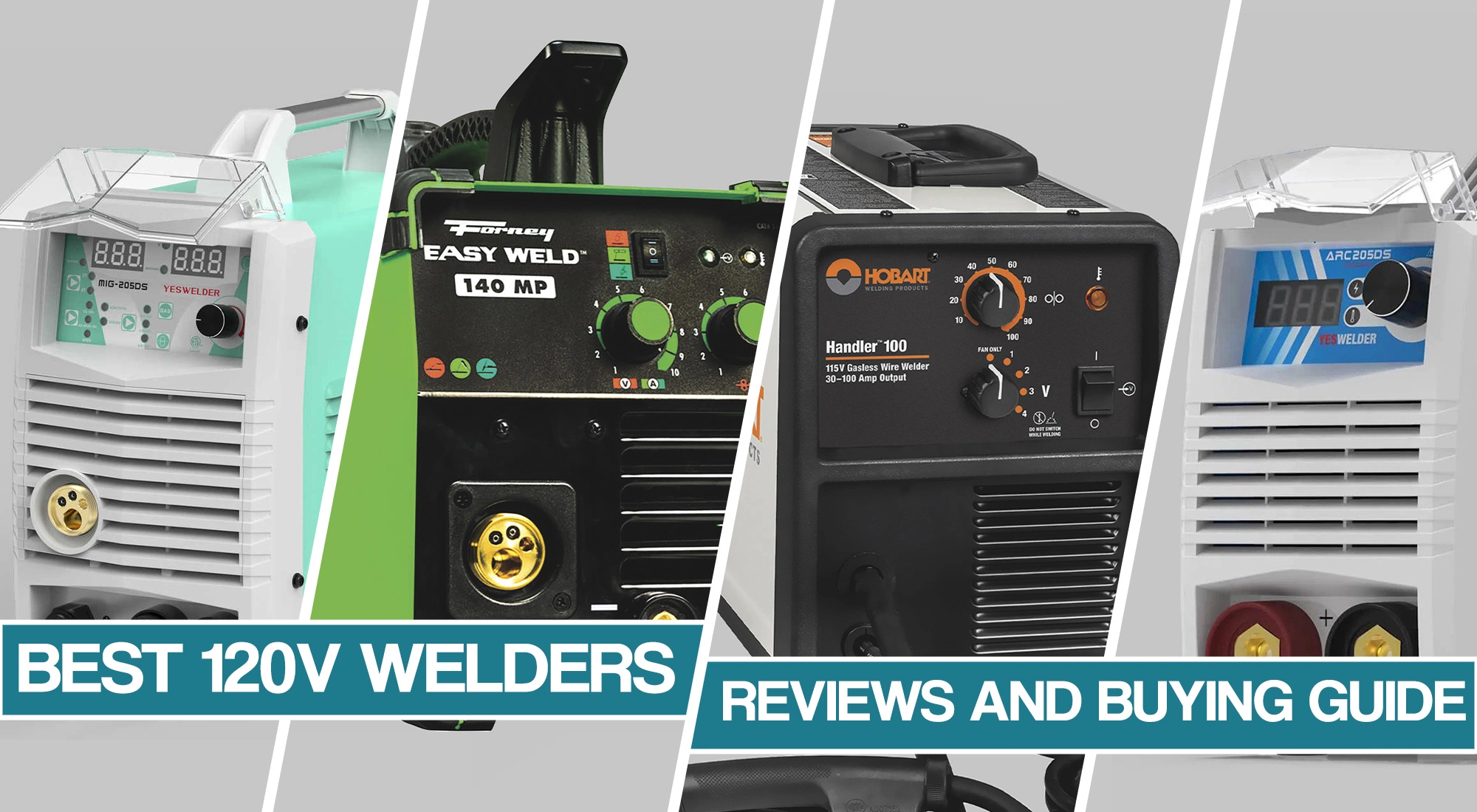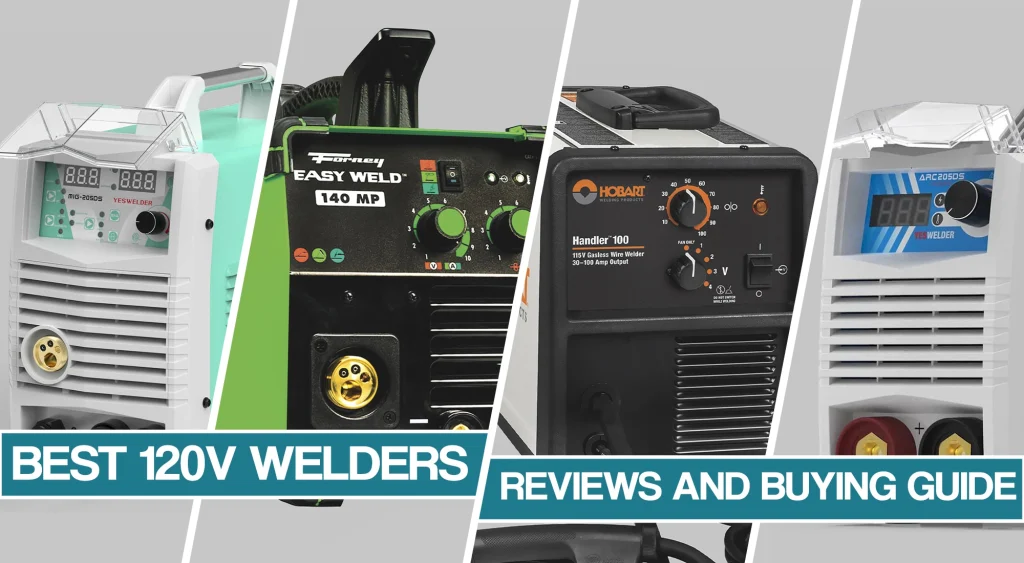 Our guide to the best 120v welders looks not just at the greatest welders on the market but also at the uses for each type of welder so that you can make an informed decision on what the best welder is for your needs.
120V Welder Comparison Table
Welder Image
Name
Voltage inputs
Duty Cycle

Amperage Output
Output Current Type
Welding Process
Check Price
YESWELDER
MIG-205DS Welder



Get 10% Off With Coupon: "-10% WELDPROS"

110V/
220V
Rated Output at 60% Duty Cycle 160A
30-160A at 110V,
30-200A at 220V.
DC
MIG/Flux Core
Stick/TIG
Check Current Price YesWelder
AHP AlphaTIG
203Xi 200Amp
IGBT AC/DC
Tig/Stick Welder
with PULSE
120V/
220V
Rated Output at 60% Duty Cycle 200A
TIG 10-200A
AC/DC
TIG/Stick
Check Current Price Amazon
Hobart Handler 140
Flux-Cored/MIG Welder
115V/
60Hz
Rated Output at 20% Duty Cycle 90A
25-140A
DC
MIG/FC
Check Current Price Northern Tool


YESWELDER ARC 205A



Get 10% Off With Coupon: "-10% WELDPROS"

110V/
220V
Rated Output at 60% Duty Cycle 205A
20-205A
DC
Stick/TIG
Check Current Price
Forney Easy Weld
140MP
Multi-Process Welder
120V
Rated Output at 30%: - Stick @80 A,
MIG @90A,
TIG @110A.
10-140A
DC
MIG/Flux Core
Stick/TIG
Check Current Price Northern Tool
Best 120V Welder Reviews
1. YesWelder MIG-205DS Multi-Process Welder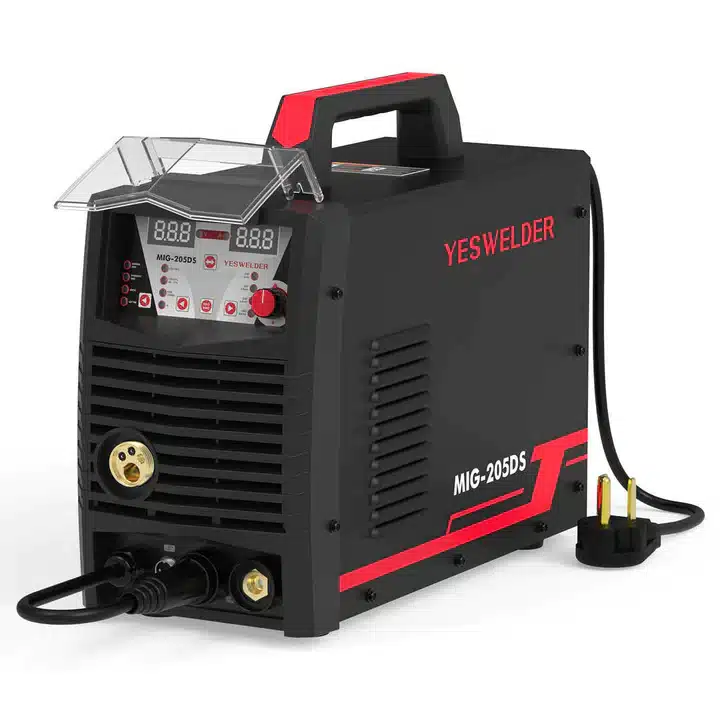 When you want TIG welding (with a scratch start only), FC (gasless) or MIG – solid wire welding (welding in an atmosphere of protective gas usually mix of argon and co2).
Even stick welding (6010 to 7018, up to 5/32-in) and you don't want to spend a fortune, then you have to look at this YesWelder 205DS 120V welder.
I am a huge fan of this brand and this may well be the greatest of the welding machines in its price bracket.
You certainly won't notice that it's running on a 120 Volt power supply for most jobs.
Sadly, it doesn't seem to get as much press as it ought to, and that maybe because it's relatively new and the company is very young and isn't getting the PR that it ought to – their loss is your gain though and it's likely that this is keeping the price down.
For MIG wire the wire feed speed is very reasonable and I didn't find it difficult to work with. The other types of welding were also very satisfactory. This is everything you need for a small workshop or home setup.
The instruction manual in the box is quite detailed and if you're new to arc welding, then that's going to be very good news. It feels like a quality machine with solid build quality but we have to note that it's not manufactured in the USA.
Read more about this affordable welder.
Get 10% Off With Coupon: "-10% WELDPROS"
Pros & Cons Summarized
Pros
Very Affordable
High-quality build for the price
Lift arc start for TIG
Dual voltage machine
Has a full metal wire drive system
1 year warranty
Cons
TIG torch not included
Delivery time
Specifications
Process Type: MIG (GMAW), DC TIG (GTAW), DC Stick (SMAW)
Weld Thickness Range: Mild Steel welds up to 3/4 in.
Weldable Materials: Steel, Stainless Steel.
Current Type: DC
Input Voltage: Both 120/220V
Input Phase: 1-Phase.
Max Wire Feed Speed: 590 IPM
Amperage Range: 120V: 30 A – 160 A, 220V: 30 A – 200 A
Max Wire Roll Diameter: 8"
Weight: 33 pounds
Rated Duty Cycle:
MIG: 120v [160A @ 60%] 220v [200A @ 60%]
TIG: 120v [140A @ 60%] 220v [180A@ 60%]
Stick: 120v [140A @ 60%] 220v [180A@ 60%]
2. AHP AlphaTIG 203Xi 200 Amp IGBT AC DC Tig/Stick Welder with PULSE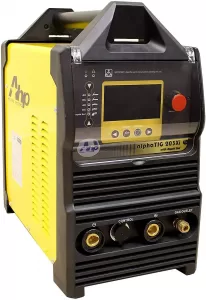 Another excellent choice is the AHP TIG welder. If you don't need a stick welder or a MIG welder, then this is one of the best AC DC Tig/Stick Welder with PULSE TIG machines in its class.
You can tackle welding mild steel, stainless steel, aluminum, and thin gauge materials and get an easy weld every time. The weld it produces is very high quality too. I really feel that you can rely on the welding power of this product.
The foot pedal that comes in the box makes welding work easier by controlling the flow of the operation much more easily.
The inverter technology used in this welder is meant to handle various amperage jobs better than a welder without this tech. The difference is a more reliable device with a design that rivals the best TIG machines in any price bracket.
If you have a decent skill level, then you will want a welding tool that features pro-level support for your welding processes, and this 120V welder is just the welder for you.
Pros & Cons Summarized
Pros
A lot of control options
AHP welder has the ability to High-Frequency start
Foot pedal
AHP alphatig works on 120/220 voltage
3 Year warranty
Cons
Specifications
Processes: TIG (GTAW) Stick (SMAW).
Weld Thickness Range: Plain steel – 24 ga. – 3/8 in.
Weldable Materials: Steel, Stainless, Aluminum
Input Power: 120/220 V, 60 Hz.
Input Phase: 1-Phase.
Current Type: AC/DC
Rated Output: 200 A @ 60% duty cycle.
Amperage Output Range: TIG 10 A – 200 A.
Weight: 69 lbs.
3. Hobart 500559 Handler 140 MIG Welder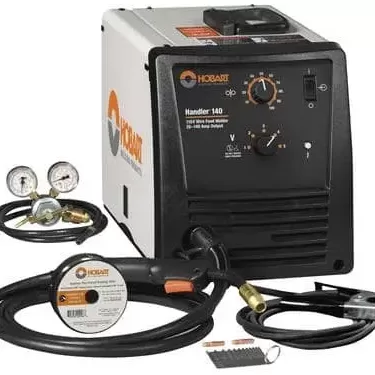 The Hobart Handler 140 is a 140 amp maximum model which like all Hobart models has excellent ease of use and one of the best brand names in the business behind it. It is probably one of the best 120v MIG welders.
That's an incredible amount of power for a 120V MIG welder and the Hobart 500559 doesn't disappoint.
It's a heavy-duty player that is going to work well in an auto repair shop, on a construction site, or even in a serious DIY setup for home use.
This welder comes with almost everything that you need in the box. The cable and clamp, the regulator (including gas hose), some consumables, MIG flux-cored wire, contact tips, a spool of MIG wire, and even a material thickness gauge. The wire feeder is very good too.
It only takes a minute after unboxing to realize this is one of the best welders on the market, everything included is high quality and well built. I'd expect this to last a long time for MIG welding in most environments.
The only things you'll need to buy on top are some more consumables and proper safety equipment for welding like a welding helmet, jacket and gloves.
The only real limitations of this model are down to the fact that it's a 120v MIG welder, there is a limit to the gauge and thickness of mild steel that you can tackle with this but that's a small price to pay for the incredible value in this machine.
Read more about this Hobart hobbyist welder.
Pros & Cons Summarized
Pros
Ease of use
Covered with 5/3/1 Hobart warranty
Lightweight design
Easy setup
Versatile
Trusted manufacturer
Cons
No dual voltage
Expensive
Specifications
Processes: FCAW, MIG.
Weld Thickness Range: Mild Steel – 24 ga. – 1/4 in.
Weldable Materials: Steel, Stainless Steel, Aluminum with Spool-gun.
Input Voltage: 120 V, 60 Hz.
Input Phase: 1-Phase.
Current Type: DC only
Rated Output: 90 A @ 20% duty cycle.
Amperage Range: 25 A – 140 A.
Wire Feed Speed: 40 IPM – 700 IPM.
Weight: 57 lbs.
4. YesWelder ARC-Welder 205A 120v Stick Welder
This is one of the best 120v welders that I've ever had the privilege to use. It's super lightweight, easy to use, and also completely affordable.
This little boy is solely a stick or arc welder (it does allow for simple TIG welding as well). Great for working outside in the wind or in hard-to-reach places.
Very light dual voltage machine with decent durability that can run up to 125amps (1/8″ Diameter electrode) and cost as your average Airmax sneakers. I could simply create a high-quality easy weld within minutes of unboxing the product.
You will need to buy your own welding mask though as there isn't one included in the box (Those included usually suck anyway). Other than that the ease with which you can set this unit up at home is something else. It has all the capabilities that you need and a very simple learning curve.
You can find a good choice of accessories for this welder too and I like the ground clamp with little more "meat" to it that they added and I found the stick electrode holder to be of quite high quality too.
This is one of the best welders on the market and at this price, it's a steal. I didn't find that 120V placed as many limitations on this product as I had expected.
Get 10% Off With Coupon: "-10% WELDPROS"
Pros & Cons Summarized
Pros
Affordable price 200 amps stick welder
Dual voltage, simple voltage switch
Lightweight
It is also a TIG welding machine with a lift start
Has a variety of useful settings
Great customer service
Basic welding tools included
Led display
Best at the price point in my opinion
Cons
Specifications
Processes: Stick (SMAW) and TIG (GTAW).
Weld Thickness Range: Steel – 25 ga. – 1/4 in.
Weldable Materials: Steel, Stainless, Aluminum (stick-only).
Input Voltage: 120v/220v, 60 Hz.
Input Phase: 1-Phase.
Current Type: Direct current.
Rated Output: 205 A @ duty cycle 60%
Amperage Output Range: 20 A – 205 A limit.
Weight: 11 lbs.
5. Forney Easy Weld 140 MP – Multi-Process Welder
The Forney Easy Weld often tops lists of the best value welders out there. Whether you want to do DC TIG welding, need a flux core welder, a stick welder, or a MIG welder then the Forney Easy Weld has got your covered.
It is worth noting that the Forney Easy Weld doesn't come with the accessories needed for TIG welding.
So, you will need to buy them in addition to the main unit but this does keep the price down and one of the biggest attractions of the Forney Easy Weld is its sub $500 price point,
The ground clamp and stinger are included for the stick welder functions and you can weld with almost any electrode up to 1/8″. I found the stick welder to be excellent in my tests.
The Forney Easy Weld MIG handling is very good and I found speed control to be particularly easy. The welding chart in the box is very accurate too.
In terms of cons, the welding performance seems to generate more spatter than some of the other machines in this budget range.
Note: if you are planning to TIG weld aluminum with this welder don't, It does not support AC current mode and it's not made for welding aluminum.
Read more about this great value welder.
Pros & Cons Summarized
Pros
Wire loads easily and quickly.
Infinite adjustability feed speed.
Compact and sturdy welder.
Low skill level needed to operate.
Lightweight.
Multi process unit.
Cons
TIG accessories are not included.
Gas regulators for MIG sold separately.
Low duty cycle.
Specifications
Processes: Flux Cored (FCAW), MIG (GMAW), STICK (SMAW), TIG (GTAW).
Weld Thickness Range: 24 gauge up to 1/4″.
Weldable Materials: Mild Steel.
Input Voltage: 120v
Input Phase: 1-Phase.
Current Type: Direct current.
Rated Output: MIG 30% @ 90A.
Amperage Range: 10 – 140 AMP output.
Wire Feed Speed: 79 – 197 ipm.
Weight: 24.8 pounds.
120V Welder Buying Guide
Before you can buy a welding machine, you really need to establish what kind of welding process you will need for the materials you want to work with. Let's take a look:
Gas Metal Arc Welding or MIG on 120v
With MIG welders you feed the welding wire (electrode) out through the welding gun and it comes out at the contact tip of that gun. The protective gas that flows through the welding gun protects the molten pool and the welding arc (usually Argon or carbon dioxide) from contaminants in the air like O2.
The wire is then melted and acts as an adhesive between two players of metal. It's a very fast way to weld.
MIG machine is best used for welding aluminum (with spool gun or aluminum wire feeder) and mild steel, sometimes stainless steel. It's much faster than stick or TIG welding. It's also kinder to your lungs as it doesn't produce a lot of smoke (when you don't use). You can weld light-gauge materials and thin metal sheets like on auto body or fences without too many issues on 120v but with ticker materials, you will need to run multi passes or get a stronger welder
Tungsten Arc Welding or TIG
In TIG Welding they use an electric arc and a tungsten electrode. This electrode won't be consumed during the welding process, and it is shielded with helium gas or other inert gas. It's harder to learn than other forms of welding because you have to use both arms in conjunction to operate the TIG welders.
However, TIG welding tends to create the highest quality welds and if you need to weld aluminum, stainless steel, nickel alloy, chrome alloy, magnesium, or gold and you want the best results, it's your best option.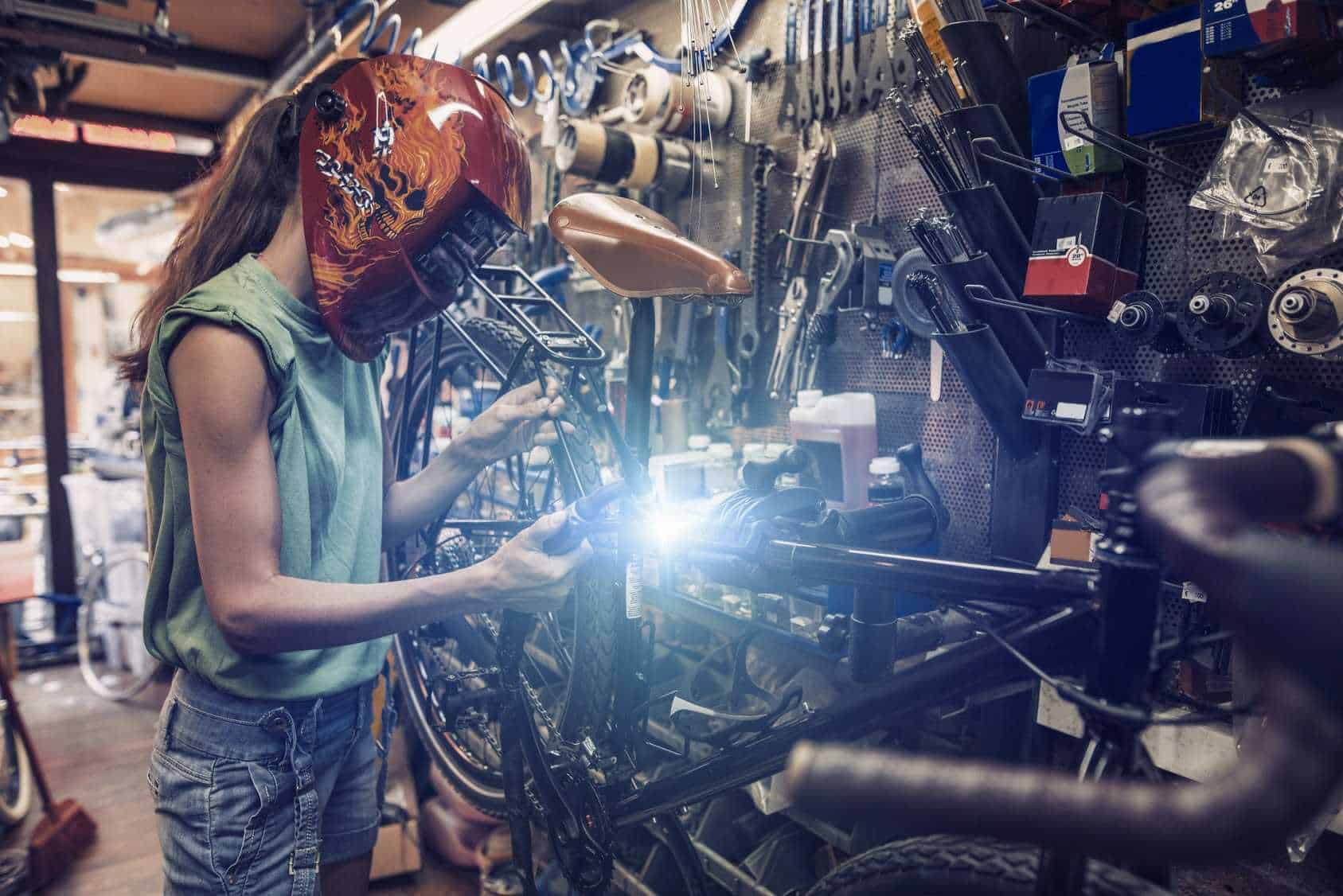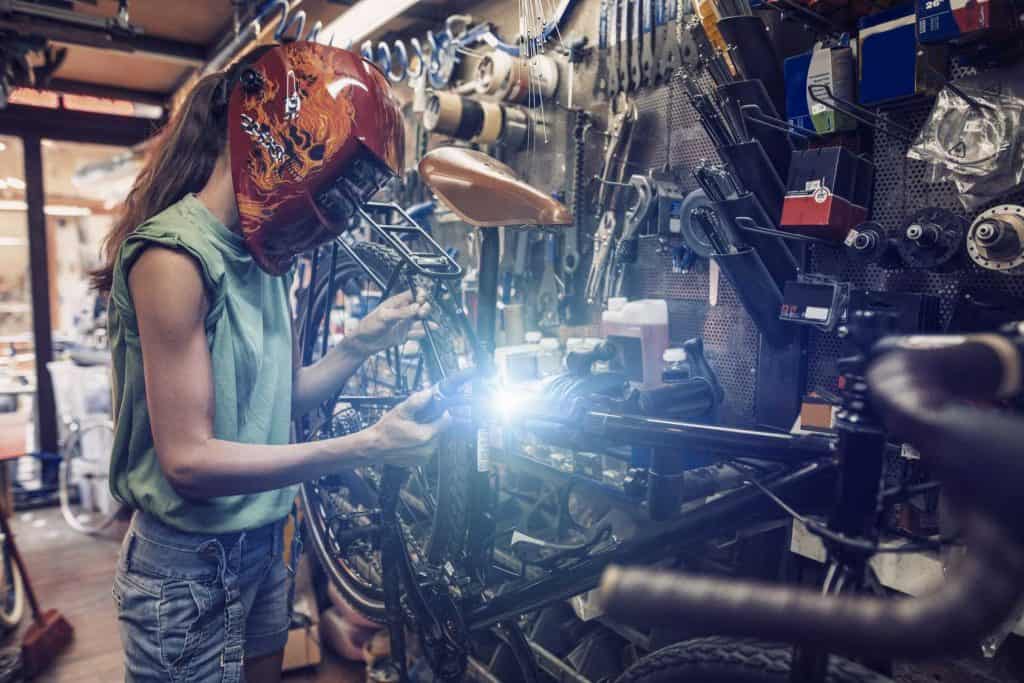 Usually, TIG welding on 120v household current will be basic DC welding with scratch start (there are exceptions), but usually, GTAW on 120v will be used for basic stuff or learning on a cheap machine.
Shielded metal arc or stick welding
Stick welding utilizes a hard flux instead of an external supply of shielding gas.
SMAW consume the electrode and the flux as it goes.
Throughout the process of metal arc welding the heat from the welding arc melts the flux from the electrode and creates a gas bubble that protects the welding pool and arc from contamination.
It tends to form a large amount of "slag" though which must be removed once the work is done, simple stick welders are extremely cheap.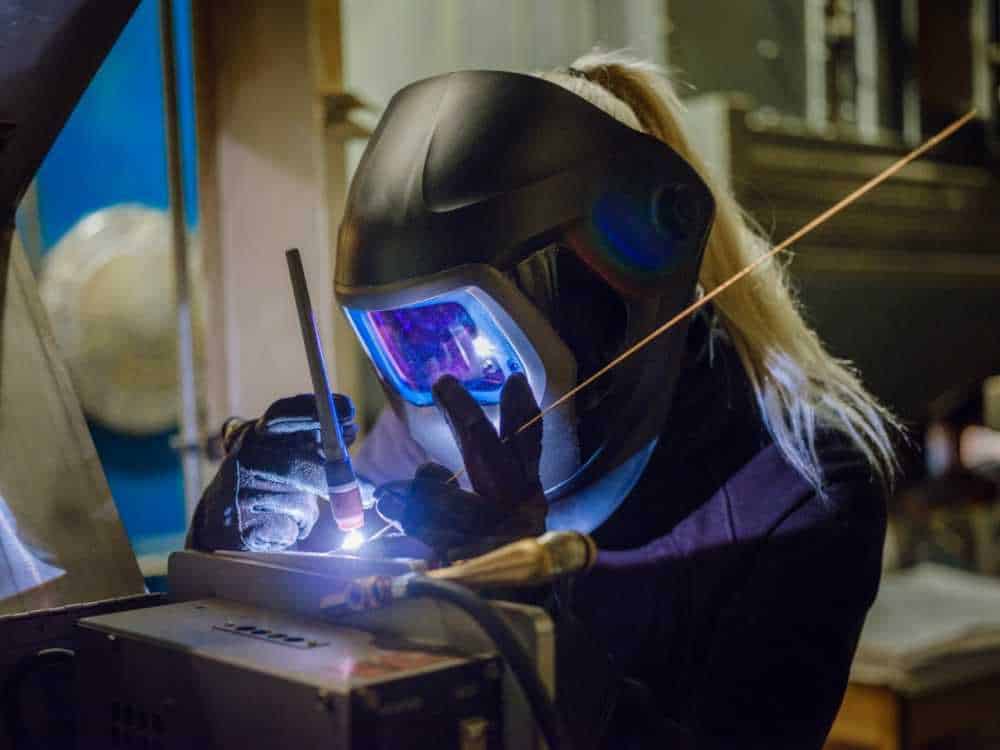 You can work on any material with manual metal arc welding from mild steel to titanium (aluminum, copper, cast iron, everything) note that: You will not do titanium on a 120v welder I was just saying.
You can work in any position and in any condition except for rain and. The downside is that its slow welding process and that it's somewhat hard to learn and the hardest to master.
Multi-process Welder
If you want the function of more than one welding machine then the easiest way to do it is to purchase a machine that offers more than one.
It's possible to get 3 – in – 1 machines that allow you to do everything in your workshop at a lower cost. But these machines are often geared more at the hobbyist end of the market and you may opt for separate devices if you are doing heavy-duty work of a specific kind.
Welder Power And Welding Thickness
You need to be clear about the thickness of the metals you will work with before you invest in a welder machine. If you're not certain about this then the best rule of thumb is
Pick a welder that has a high potential output in amps. You should also ensure that it has an adjustable range or you're going to be stuck with a welder that only does one job well.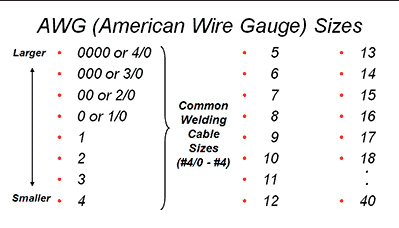 You should also pay attention to the performance at low amperage because this will dictate your ability to work with the thinnest of materials. Low amperage can cause impairments during the arc strike and that can damage the weld quality.
Duty Cycle
A duty cycle is 10 minutes long and the percentage that is given tells you how many minutes out of 10 it will run for before the welder must be left to cool down before it can be used again. So, for example, a 70% duty cycle means, 7 minutes of use, 3 minutes of rest every 10 minutes. Easy, right?
Price, Quality, And Warranty
This pretty much boils down to common sense, you don't want to spend far more than you need to on a machine if you only have occasional requirements for it. But you also shouldn't buy a welder that costs next to nothing and then breaks the first time you use it.
Balance price and quality around your own requirements and look at your welder as an investment but not as the best way to spend every penny you own.
You should always make sure that it comes with a half-decent warranty too. A 1-year warranty for cheaper machines but the more you spend, the more warranty you should demand.
Weight And Portability
This should be fairly obvious. If you want a high level of portability from your welder then you want to make sure it's light enough to move around. You may need to buy a welding cart if it's too heavy. The lighter the welder, the easier it is to move around when you work.
Frequently Asked Questions (F.A.Q)
Are 120 Volt Welders Any Good?
Yes, if you are just intending to tackle some basic welding projects that don't require high skill, high speeds, or very heavy gauge materials – then they are a super choice. You can get most welding tasks done with most types of metal at 120V without a problem.
What Size Breaker Do I Need For A 120V Welder?
If you need one for a 120 V welder then we'd recommend a minimum of 30 amps of protection. You might want to go a little lower if you're not 100% confident in your supply. The higher the voltage of the welder, the more amps the breaker requires.
Conclusion
All of these 120v welding machines are excellent. The best 120-volt welder for most people from our list is probably the Forney Easy Weld which offers a lot of functionality for a very reasonable price.
If you want a specialist TIG welder then you ought to give the AHP AlphaTIG a spin as it's an exception machine for its price bracket.
If, however, you're prepared to go with a less well-known brand then the YesWelder MIG-205DS Multi-Process welder is quite probably going to give you the best value for money of all the 120V welder options here.