If you got through welding basics with your entry-level unit and you feel like you need more power, it is time for a 230V welding machine. Browsing the brand-name market, you can come across two names – Hobart Handler 190 and Lincoln 180 MIG welder.
Both 230V welders are reliable units that provide excellent build quality, smooth arc, and decent welding performances. In addition, on the paper, they look comparable, so how do you choose the perfect one?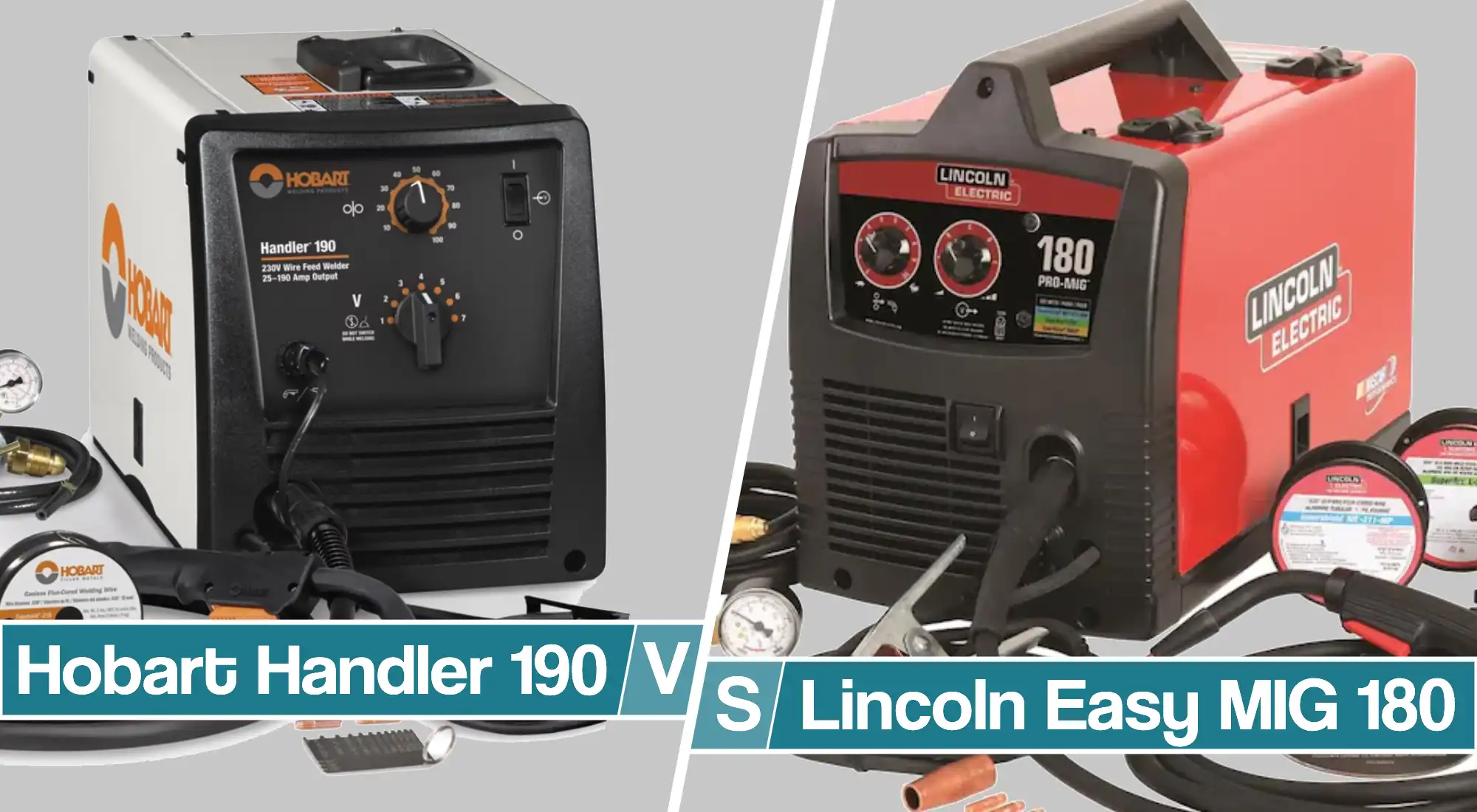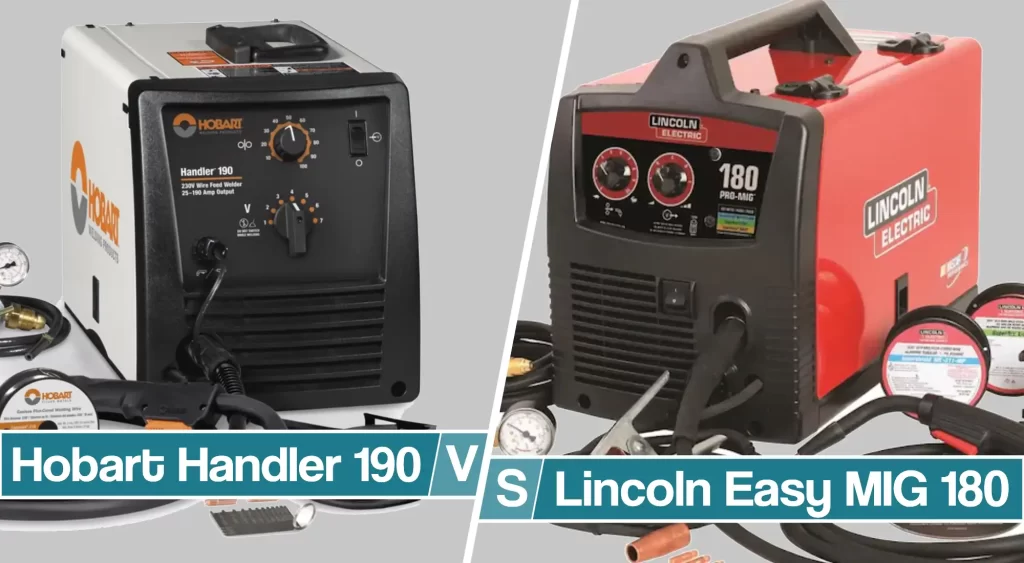 We made this Hobart Handler 190 vs Lincoln 180 to point out crucial differences and help you choose. So by the end, you should be ready to pick.
Hobart Handler 190 vs Lincoln 180 Quick Comparison Table
| | Hobart Handler 190 | Lincoln 180 |
| --- | --- | --- |
| Welding Processes | Flux Core Welding (FCAW), MIG Welding (GMAW) | Flux Cored Welding, MIG |
| Input Voltage | 220/230/240 V | 208/230 V |
| Input Phase and Hertz | 1-Phase 60 Hz | 1-Phase 60 Hz |
| Current type | DC | DC |
| Weldable Materials | Mild Steel, Stainless steel, Aluminum | Mild Steel, Stainless steel, Aluminum |
| Output Amperage Range | 25 – 190A | 30-180A |
| Rated Duty Cycle | 30% @ 130 A (21.5V) | 30% @ 130A (20V) |
| Welding Thickness | 24 gauge to 5/16 in. | 24 gauge – 3/16 in. |
| Wire Feed Speed | 40-740 ipm | 50-500 ipm |
| Wire Thickness | 0.023 – 0.035 in. solid wire 0.030 – 0.045 in. flux-cored wire | 0.025 – 0.035 in. solid wire 0.030 – 0.045 in. flux-cored wire |
| Welder Dimensions (H x W x L) | 12.375 in. x 10.625 in. x 19.5 in. | 14 in. x 10.15 in. x 18.6 in. |
| Made In | US | Mexico |
| Weight | 68 lbs. | 56 lbs. |
| Warranty | 5/3/1 years | 3 years |
Brief Overview of Hobart Handler 190
Hobart company has a long history of building reliable, and high-quality machines beginners and hobbyists love. Handler 190 is no exception.
This is an excellent autobody garage, farm or ranch, maintenance/repair shop, metal art studio, or even home shop welding machine. You will need a 230V power input to run it, but the high input requirements provide high output amperage. Hobart Handler can output 25-190 amps, which is more than enough to suit your everyday needs.
When buying a branded, made-in US welder, you get a well-built machine for the money spent. In addition, you get everything you need to weld straight out of the box, including sample wire, flow regulator, and some consumables you can work with.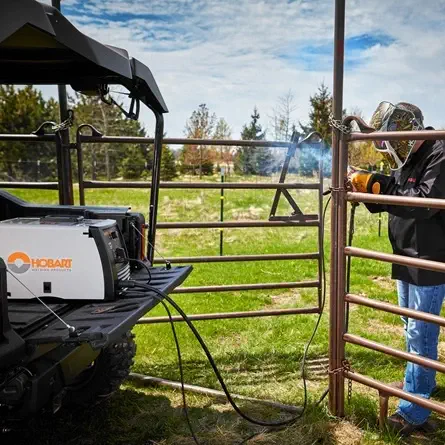 Overall, you will love how easy to use or set up this machine is. Both professionals and trainees will love the device. Compared to Lincoln 180, seasoned welders that like to fine-tune their device might give Handler 190 an edge. In addition, you get a somewhat higher wire feed speed range with Hobart, meaning you can theoretically use it for welding aluminum straight out of the box.
To protect your investment, Hobart offers an industry-leading 5/3/1 years warranty. In addition, the welder has built-in thermal protection, overload protection, and wire drive motor protection.
Brief Overview of Lincoln 180
Lincoln Electric company entered the welding industry in 1907, and since then, they have established their prominence. For this article, we have intentionally used the nametag Lincoln 180, even though that's not the case on the market.
When browsing the MIG welder market, you might have come across the names Easy MIG 180, Power MIG 180, Weld-Pak 180. These all represent a single machine we are describing here. However, the term varies from the distributor and market it is being sold.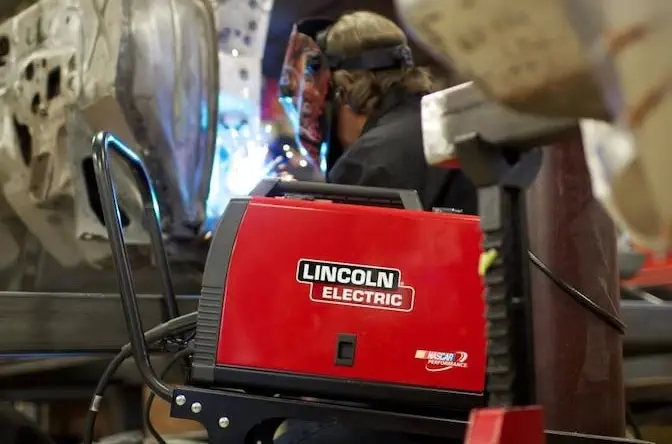 Overall, Lincoln 180 is a solid, sturdy-built, and durable welding machine that features diamond core technology. This technology provides a forgiving arc and allows you to use a 208V power input straight out of the box. However, you get a slightly less output range than Handler 190, as Lincoln 180 is rated at 30-180 amps.
Cast aluminum wire drive system provides smooth feed, but you only get drive rollers for soft MIG wire. Nevertheless, you get excellent quality accessories and a decent amount of consumables.
Even though Lincoln is a US-based company, these welders are built in Mexico, limiting to some. In addition, you get a 3-year warranty which might be shorter than Hobart's counterpart.
Hobart Handler 190 vs Lincoln 180 Package Content Overview
Hobart Handler 190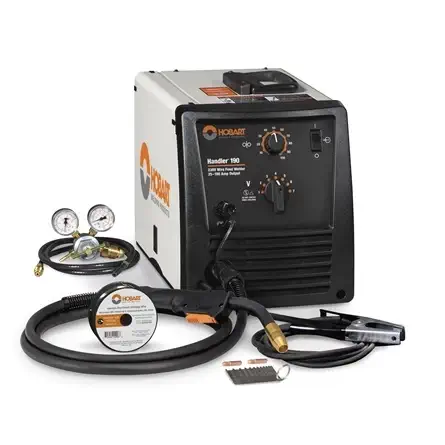 Comfortable 10 ft. (3 m) H100S4-10 MIG gun.
Owner's manual with installation, operation, and maintenance guidelines
10 ft. (3 m) work cable with clamp
Built-in gas solenoid valve
Dual-gauge regulator with gas hose.
Spool hub assembly that accommodates 4 or 8 in. spools
Sample spool of .030 in (0.8mm) self-shielding flux-cored wire
.030 in. (0.8mm) contact tips
Quick Select™ drive roll for .024 in (0.6mm) or .030/.035 in. (0.8/0/9 mm) solid wire, and .030/.035 in. (0.8/0.9 mm) flux-cored wire
Power cord with plug
Welding guide and material thickness gauge
Lincoln Easy MIG 180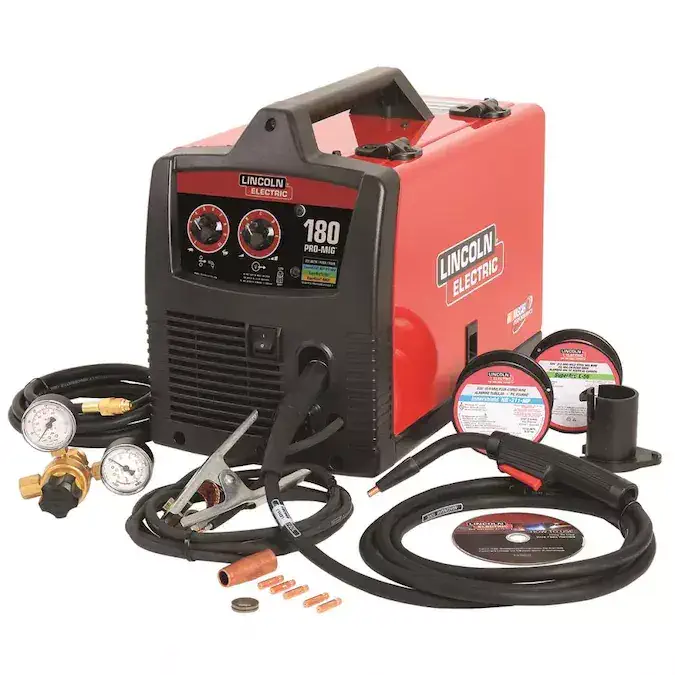 Magnum® 100L gun and 10 ft. (3.0 m) cable assembly with brass gun connection and 4-pin MS-Type connection for trigger control
Three .025 in (0.6 mm) contact tips
Three .035 in (0.9 mm) contact tips
Gasless nozzle for Innershield® welding
Gas nozzle for MIG welding (KH725)
Spindle adapter for 8 in. (203 mm) diameter spools
Harris® 3000290 Gas Regulator (S25805) and 52 in. (1.3 m) hose (S19303) for use with Ar/CO2 or CO2 gases. For use with CO2 shielding gas, order a Lincoln Electric S19298 CO2 shielding gas bottle adapter.
Sample spool of .025 in. (0.6 mm) diameter SuperArc® L-56® premium MIG wire
Sample spool of .035 in. (0.9 mm) diameter Innershield® NR®-211-MP flux-cored wire Other
Work clamp and 10 ft. (3.0 m) cable
Learn-To-Weld DVD
Fundamental Aspects and Features Compared
Seasoned welders can deduce just by reading detailed technical specifications and package contents we have listed, but sometimes things are not just as they seem. That's why we'll explain the key features thoroughly.
Let's find out what's the difference!
Input Power
While reading specifications, you might have noticed Hobart Handler 190 and Lincoln 180 are both 230V machines. In addition, both units can't use 115V input voltage to run. Still, there is a catch regarding the power supply.
Lincoln 180 features an advanced technology that allows it to run on 208V, which increases versatility. Even though this seems like a minor difference, buyers with power limitations in the workshop might find it advantageous.
Both Hobart Handler 190 and Lincoln 180 use transformer technology, but manufacturers state you can use a generator to power them. However, you will need at least a 6900-watt generator to run Lincoln welder but a 7000-watt device to run Handler 190.
Control Panel and Welding Settings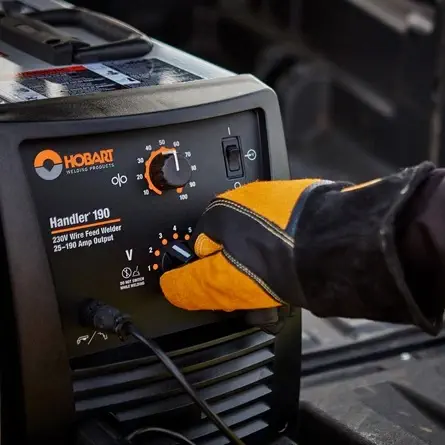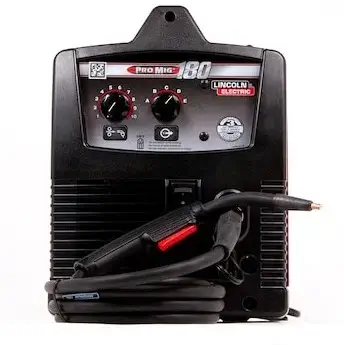 One of the things I like about both welding units is the straightforward control panels. Simplistic design features only voltage options and wire feed speed control knobs. That's it; there are no flashing lights or various buttons. Even though some prefer reading exact values from the digital display, some users find its liability in a workshop.
Still, slight differences don't play a significant role but might be subject to personal preferences. The first variation is a control knob orientation. Hobart Handler 190 settings are oriented vertically, while Lincoln 180 sets them horizontally.
The other difference is an on/off button location. Handler 190 features an on/off button on the control panel, while Lincoln 180 puts it on the back of the unit. So, as I said, both are not essential or game-changing, but you might like the one better.
MIG Welding Settings
Since both units use transformer technology build, voltage settings are tapped. However, Hobart Handler 190 offers a seven tapped voltage control. Meanwhile, Lincoln 180 limits it to five fixed positions.
In addition, Handler features a broader wire speed control than Lincoln, but both units provide infinite control.
So, if you like finer control over your welding machine, Hobart Handler 190 might be a better choice. Nevertheless, both units offer output settings that are precise and easy to use. Thus, beginners will love both devices.
Welder Build Quality
When investing in high-end welders, for the money spent, you get a high-quality build. Both units seem pretty sturdy and well constructed. Renowned manufacturers guarantee top-quality parts and construction, so you don't have to worry about breaking. Now, let's discuss the wire feed system.
Wire Feed Mechanism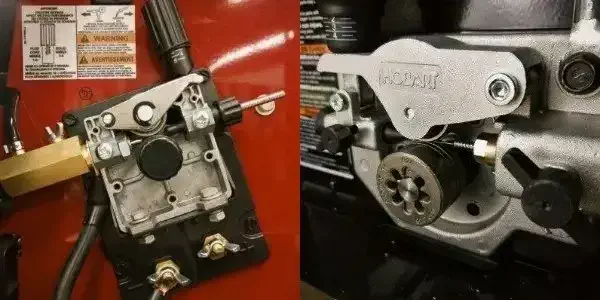 Both MIG welders feature a cast aluminum wire feed drive that seems sturdy and ensures smooth MIG wire feed. One of the great things beginners might like is a tool-free design.
You don't need any tools to swap rolls or mount a new spool of welding wire. The entire process is simple, and there is a marked tensioner.
However, after reading many reviews, I feel that the Hobart Handler 190 wire drive mechanism provides a better feed. Don't get me wrong; it is doubtful you will have wire feed issues with any of the units, but limited numbers of welders had troubles with wire tangling of Lincoln 180.
Drive Rolls
If you read the package content, you might have noticed both units provide drive rolls. This is because they are both sturdily built, but there is a difference.
Hobart Handler provides a unique QuickSelect triple grooved roll. So you can use a single roll to run various thicknesses of solid MIG wire and one knurled groove suit to fit the flux-cored wire. In addition, to change the thickens, you won't have to take off the roll or turn it around. Instead, push and lock a QuickSelect roll to change the type or size of your wire.
Lincoln 180 offers a dual grooved drive roll that fits various sizes of solid MIG wire. However, to use a soft, flux-cored wire, you will need to buy a separately sold, knurled roller. In addition, to change wire size, you will have to take off the roller and turn it around.
Welding Power and Capability
Hobart Handler 190 can output power 25-190 amps, while Lincoln 180 limits it to 30-180 amps. So with Handler 190, you get a more comprehensive range with five amps lower and ten amps higher power, increasing versatility.
With higher output power, Hobart Handler 190 features a higher welding capability. So, you can use this MIG welder to weld mild steel and stainless steel 24 gauge to 5/16 in. thick. On the other hand, Lincoln 180 can weld mild steel 24 gauge – 3/16 in. thick in a single pass.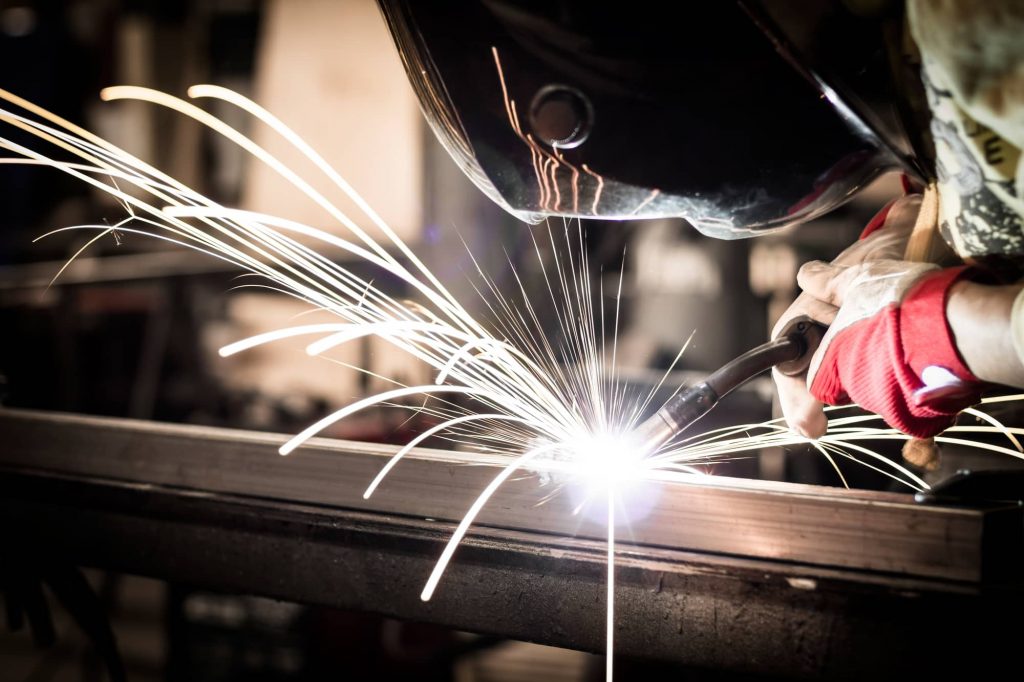 However, if you want to tackle more serious projects, you can always use gasless wire welding or a multi-pass approach. So if you are looking for more power, Handler 190 should be your choice, but if you can settle to weld thinner metals Lincoln Electric 180 is just fine.
Both units rate their duty cycle of 30% at 130A, meaning you can weld for three minutes straight before making a break. Nevertheless, if you use your MIG welder rationally, you won't have to worry about exceeding the duty cycle. And if you do so, welder protection will kick in and shut the welding machine down. But don't let this become an everyday thing, as it might permanently damage your welder.
When talking about arc performance and weld quality, both units are superior. However, Lincoln 180 features a diamond core mechanism that provides a forgiving arc that starts easier. So, if you are a complete beginner, you might like Lincoln MIG welder better. But, don't get me wrong, Hobart weld bead is just fine.
Ability to Weld Aluminum
If you read our Hobart Handler 140 vs. Lincoln Easy MIG 140 article, you could have noticed that Hobart could not use a spool gun, so Lincoln took an edge there. Manufacturers recognized the drawback, so now you can use a separately sold spool gun for MIG aluminum welding. Meanwhile, the Lincoln 180 MIG welder is also a spool gun-ready unit.
Nevertheless, Hobart Handler 190 has a broader wire speed range. So, theoretically, you can use this MIG welder to weld aluminum straight out of the box. However, spool guns are always a better solution for the best results, but if you don't want to invest more, you can go with Handler.
Provided Accessories, Consumables and Extras
The best part about buying a renowned welder is that you get high-quality accessories and everything you need to weld various metals straight out of the box. In addition, both MIG torches are comfortable and easy to use. However, there are some minor differences depending on the package content you could read in the paragraph above
Ground Clamp and Cables
Even though Hobart did their best to answer the customer's needs, some drawbacks were left unattended. For example, Hobart Handler 190 ground clamp is significantly smaller than Lincoln counterpart. In addition, the cable does not have braided bonding protection. So, establishing the ground connection is more accessible with Lincoln Easy MIG 180.
At the same time, both earth cables are ten feet long and eight gauges thick. Thus, you won't have to move your unit too much, and the lead is wide enough to withstand the high current.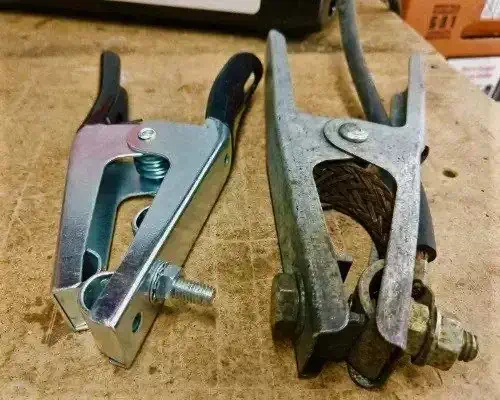 Flow Regulator and Hose
Both units provide a shielding gas regulator with a proper hose to weld straight out of the box. However, Hobart provides a Miller-branded regulator, while Lincoln features a Harris gas regulator with a hose. Both are dual gauged, one gauge showing the flow indicated by cubic feet per hour, while the other indicates the amount of gas left in the cylinder. Although there are some distinctions, gas hoses are flexible; you don't have to worry about leaks.
With a separately sold tank adapter, you can use a Harris regulator to work with pure CO2 gas. 100% CO2 is an economical choice of shielding, but you will have to pay extra for an adapter. However, if you do it more than occasionally, the additional investment is a good idea.
On the other hand, the Miller-brand flow regulator does not deal well with pure CO2, as it might freeze. Nevertheless, this regulator handles the tri-gas mixture better than the Lincoln counterpart, so you will have to set your goals before choosing.
Provided Consumables and Extras
Even though both units provide many consumables and extras compared to budget-friendly welders, there are some differences. For example, Lincoln 180 includes six extra contact tips, a distinctive gasless wire nozzle, and a spool of solid and flux-cored MIG wire.
On the other hand, Hobart Handler 190 provides three spare contact tips in one size and a sample spool of gasless wire. So, you get some more extras with Lincoln. Nevertheless, Handler features a handy gauge, which can help you distinguish metal thickness range.
Consumables and extras add additional value. In addition, they are essential to beginners that just started learning how to weld.
Welding Machine Beginner-friendly Literature
Professional welders and experienced workers might not find this aspect essential, but beginner-friendly literature may be crucial to new welders. In addition, if you are learning how to weld, an user control manual can be helpful.
Luckily, both units include well-written instruction manuals. However, I liked the Hobart one better. There are complete instructions on how to set up your welder and use it. Lincoln also did a good job, but Hobart takes an edge here.
On the other hand, Lincoln 180 comes with an informative How-To-Weld DVD. You can use it as a guideline, but I suggest excellent YouTube videos for some real stuff.
Built-in Protections and Warranty of Welding Machines
To protect your investment, both manufacturers included outstanding features to keep your units from damage. Thus, there are wire drive system protection, output overload protection, and thermal protection.
The wire drive motor helps you with a wire feed, so built-in circuit protection keeps it safe from malfunctioning. For example, changing the burnt motor can be expensive, so this feature is essential.
If you try to weld thicker metals than recommended, the welder will kick out the circuit breaker to prevent damage to components. Afterward, you will have to turn up the breaker manually.
To protect your machine from overheating during heavy projects, manufacturers test the machine and rank the duty cycle. As we mentioned above, the duty cycle is a period you can weld metals before overheating the device. So if you try to weld thicker materials in a single pass, the MIG welder will overheat. That's when thermal safety will kick in, shutting down the machine.
As you can conclude, welder protection plays a crucial role in ensuring long years of satisfied welding. However, if something goes wrong, you will need a trustworthy warranty.

Welder Warranty Options
Hobart offers an industry-leading 5/3/1 year warranty, while Lincoln Electric Company keeps your MIG welding machine protected for three years.
When buying a Hobart MIG welder, you get five years of warranty on rectifiers and transformers, a 3-year warranty on the drive system, PC board, solenoid valves, switches, and controls, and one year on a MIG gun, gas flow regulator, and spool gun.
On the other hand, Lincoln welders come with a 3-year part and labor warranty. In addition, your MIG gun is protected for 90 days. However, if you are worried about slightly shorter warranty options, you can always purchase a two-year extension. Nevertheless, it just adds to the cost.
Weight and Portability
Both Hobart Handler 190 and Lincoln 180 are transformer-based MIG welders, meaning they weigh more than a few pounds. For example, Handler weighs 68 lbs. while Lincoln counterpart is 56 lbs.
Even though these two MIG welders feature a built-in handle that can help you carry your welder around, some might find it heavy. In addition, once you add the spool of wire and a gas tank, you can have serious portability issues. Thus, I suggest getting a welding cart, or you can also build one as your first professional welding DIY projects with your brand-new welder.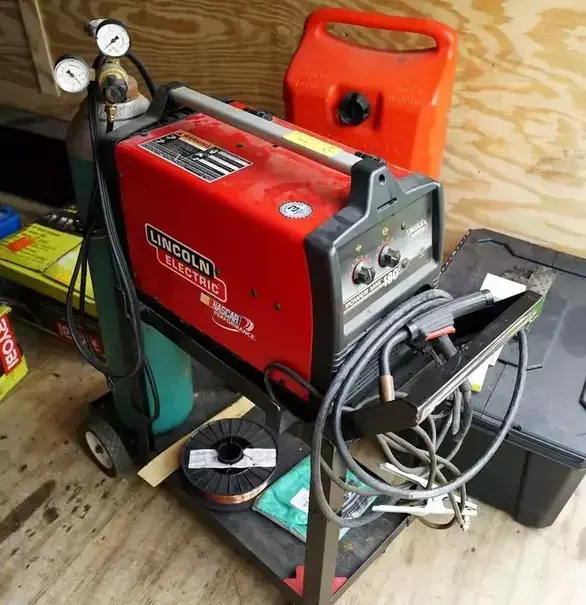 Price and Value
Once you decide to invest in a brand-name MIG welder, you will have to be ready to pay for it. Both Hobart Handler 190 and Lincoln 180 rank somewhat in the same price category.
Even though these two models won't break your bank, you will have to pay more than budget-friendly options that offer pretty much the same features. However, renowned welders provide reliability, and you don't have to worry about breaking, as cheap Chinese machines.
When considering a new welder machine, you should always get the best value for the money spent. However, this might be tricky as each unit has its pros and cons.
Hobart 190 vs Lincoln 180 Pros and Cons Summarized
You should be ready to choose by now, but if you are still in doubt, let's have a quick overview of the pros and cons.
These two welding machines are capable MIG welders, but you get more versatility with the 208V input of Lincoln 180. On the other hand, Hobart Handler 190 can weld thicker material in a single pass and deal with aluminum straight out of the box.
These MIG welders are easy to use and set up, but the Lincoln 180 arc starts easier. Meanwhile, Handler 190 provides a moderately smoother wire feed speed and provided drive rolls will help you with flux core steel welding out of the box.
On the other hand, Lincon 180 includes more consumables for the money spent. For example, the groud clamp is significantly more extensive and potent, and you get various contact tips, nozzles, and sample spools of sold and gasless MIG wire.
Hobart Handler 190 features a more comprehensive beginner-friendly literature beginner might like and extensive power output voltage settings. However, price-wise, both units will cost you more than cheap welders.
But luckily, your investment is well protected by a warranty and multiple safety features. Meanwhile, Hobart's contract is extended, but I don't think you will have to deal with issues with both renowned welding machines.
Remember that Hobart welders are built in the US, while Lincoln Easy MIG 180 counterparts are assembled in Mexico. However, both will do decent welding work on both thin metals, flux core-MIG welds.
Full reviews of these two 220v welders can be found on their dedicated pages – Hobart 190 and Lincoln 190. There is also an upgraded version of a Lincoln 190 that you can check here.

Final Thoughts
Hobart and Lincoln's welding products enjoy great popularity among welders. So whichever one you buy, you won't make a mistake.
Your choice should solely depend on your needs. Thus, before choosing, you should set your goals, intentions, and welding demands.
Once you clearly understand what you expect from your brand-new MIG welder, you should be ready to say – That's the one!
I hope this article assisted you in making the right choice, and if you are satisfied with your new welding machine, feel free to give us feedback.