Finding a perfect welder that offers the best value for the money spent can be a nightmare.
If you are looking for a name-brand machine that overs great versatility but also provides excellent value, then look no further than the Lincoln LE31MP.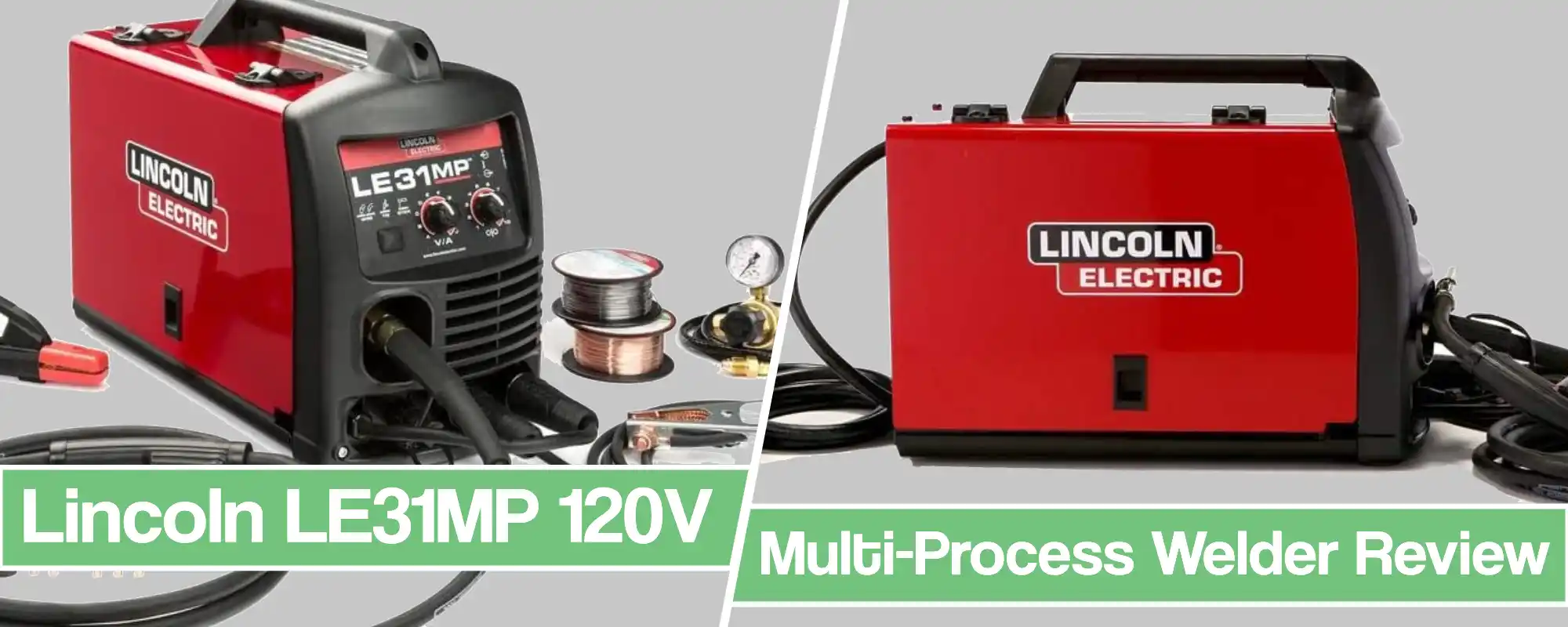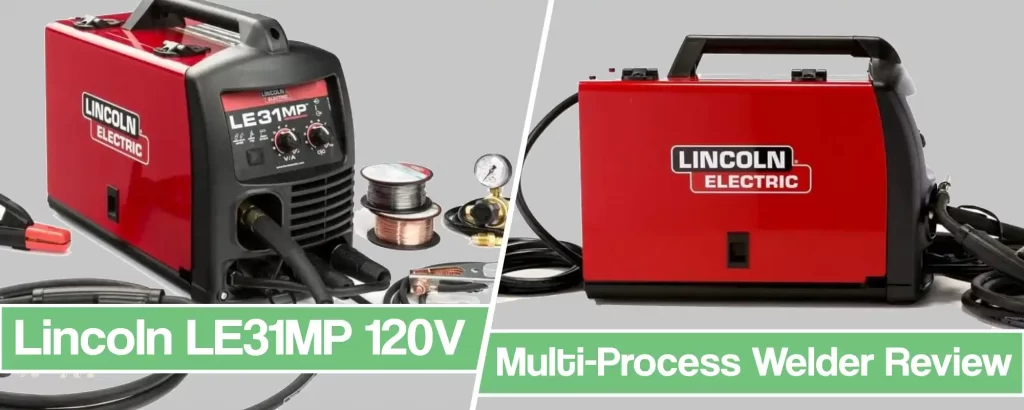 With this multi-process welder, you have the freedom of switching between MIG/TIG and Stick welding. As a result, this machine offers enough flexibility to hobbyists and experienced welders.
Lincoln LE31MP multi-process welder is great for DIY enthusiasts, farmers, and minor auto restoration shop owners. Still, it has some limitations, so read this review to determine if it is a suitable machine for you.
Lincoln LE31 Multi-process Welder Package Content, Specifications, Pros & Cons
Let's have a quick look at what this versatile multi-process welder offers, including the package content, technical specifications, pros & cons.
You will be amazed by the value this reliable Lincoln welder offers for the money spent.
Lincoln LE31MP Package Content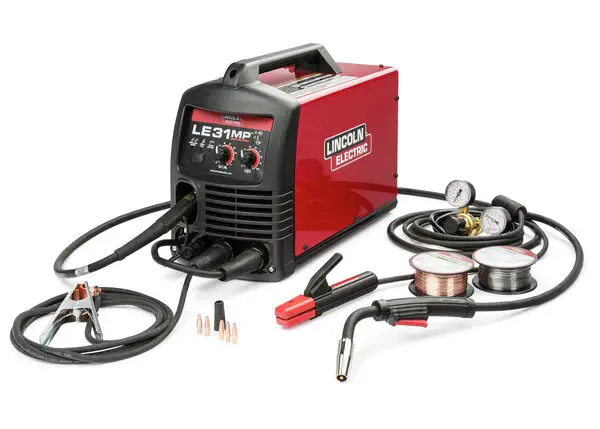 Magnum PRO 100L MIG gun with 10 ft. cable assembly with brass connection and 8-pin trigger connector
Electrode holder with 10 ft. cable
Three 0.025 inch tapered contact tips (KH831)
Three 0.035 inch tapered contact tips (KH833)
Spindle adapter for 8-inch diameter spools
0.025-0.035 inch dual-track MIG and flux core drive rolls
Welding FacHarris 3000289 Ar, Ar/CO2 gas regulator with hose
Sample spool of 0.025-inch SuperArc L56 MIG wire
Gas shielded MIG welding (Gas) nozzle (KH835)
Gasless flux-cored welding (Gasless) nozzle (KH836)
Work clamp and 10 ft. cable
3-year Sample spool of 0.035-inch Innershield NR 211 Flux-cored wire
Specifications, Pros & Cons
Welding Processes:
MIG, DC TIG, Flux core, Stick
Input Voltage:
120V 60 Hz; 20 amp circuit breaker
Rated Duty Cycle at 120V:
MIG – 60% at 95 Amps;
TIG: 60% at 115 Amps,
Stick: 60% at 80 Amps
Weldable materials:
Mild steel, Stainless Steel, Aluminum
Amperage Range:
MIG: 30-140 Amps,
TIG: 10-120 Amps,
Stick: 25-90 Amps
Welding Capability (Steel):
MIG: 24 ga. – 3/16 inch,
Flux-cored: 18 ga. – 5/16 inch,
Stick: Up to 3/16 inch,
TIG: Up to 1/8 inch
Welding Capability (Aluminum)
18 ga. – 3/16 inch in a single pass
WFS – Wire Feed Speed:
MIG: 40-500 IPM,
Flux core: 40-400 IPM
Voltage and WFS Control:
Infinitely adjustable
Electrode (Wire) Diameter:
MIG: 0.025-0.035 inch,
Flux core: 0.030-0.035 inch,
TIG: 0.040 1/16 and 3/32 inch,
Stick: Up to 3/32 inch
Spool Sizes:
4-inch and 8-inch spools
Lead Length:
10 ft.
Dimensions:
13.6 x 8.9 x 18.1 in.
Weight:
34.5 lbs.
No products found.
Pros
A portable and flexible multi-process welder that offers excellent value
You can MIG, Flux Core, and Stick weld straight out of the box
To switch polarity, all you have to do is swap the plugs on the front part of the welder.
The 60% duty cycle is rated higher than most of the 140 amp and 120V welders on the market.
120V power input means you can plug it anywhere
Heavy-duty wire drive made of cast aluminum provides quiet operation
Spool gun, TIG torch, and foot pedal ready
Once you plug in the optional foot pedal, the welder automatically switches to the appropriate mode
Straightforward control panel, easy to use and set up
Popular multi-process welding machine among homeowners
Cons
The on/off switch is located on the back of the On/Off switch is in the back of the machine and sometimes hard to use
This is a DC TIG welding machine, meaning you cannot TIG weld aluminum
Optional TIG torch and spool gun are sold separately, increasing the overall cost
You will have to buy foot pedal independently
The user manual can be confusing since it refers to different machines (Lincoln LE31MP and Lincoln Power MIG 140 MP)
Things to Consider When Buying Lincoln LE31 MP Multi-process Welder
There are a couple of things you should consider before you make a final choice and buy this welder. The first thing you notice is that this is not an industrial welder.
So, if you plan to tackle complex welding projects, you might want to look for a more powerful welder. In addition, if you decide to weld aluminum, you will have to spend some extra bucks.
Welding Power and Capability
Even though Lincoln Electric LE31MP gives you a choice of using different welding processes, the machine has relatively limited power output.
If you decide to handle the stock thicker than 3/16 inches, you might consider looking for a more powerful welder.
Still, maximum output is enough for DIY enthusiasts and small shop owners. If you don't think this is enough, you can always opt for a Lincoln Power MIG 210 MP.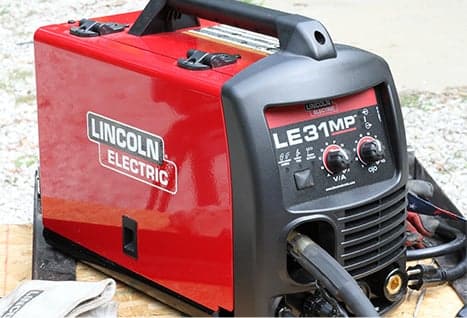 MIG Welding Aluminum Capability
Remember that Lincoln LE31MP offers DC TIG welding only, meaning you cannot use it to TIG weld aluminum. Nevertheless, you have a choice of MIG welding it, but there is a catch.
WFS is not high enough to MIG weld aluminum as the unit is sold, so you will have to buy the spool gun separately. So, if you plan to weld it more than a couple of times a week, you will have to spend some additional bucks.
TIG Welding and Accessories
If you read the package content we listed at the start of the article, you might have noticed that the TIG torch or pedal is not included.
So, if you decide to practice the TIG process, you might want to buy all the required accessories. In addition, some of the units, such as Eastwood 140 Amp Elite MP, include the needed tools.
Welder Price and Value
If you decide to buy Lincoln LE31MP, you should know you will have to spend some money on the brand. Luckily, this is not one of the most expensive welders, but it is not the cheapest either.
Still, the excellent value you get for the money spent and the 3-year warranty ensures you will spend a long time welding with it.
Lincoln LE31MP Multi-process Welder Features I Liked
Here are some of the great features I liked about this welder: portability, versatility, ease of use, duty cycle, wire drive mechanism, and many more. These excellent features correspond to Lincoln machines, as you pay for the quality.
Power Input and Portability
Lincoln LE31MP requires a 120V power supply, with included 20 amp breaker, which means you can plug it almost anywhere.
Even though this is a transformer-based unit, it is still portable and lightweight. The machine weighs 34.5 lbs, and its dimensions are even smaller than some IGBT inverter machines.
In addition, there is a built-in carry handle to help you move it. Still, you can't use the generator to power it.
Multi-process Welder Flexibility
If you own a small shop, buying an all-in-one machine that can MIG, TIG, and Stick weld is crucial.
If you are a beginner, you can start with MIG welding since it is one of the most straightforward processes to use. In addition, if you decide to work outside, or you don't want to buy an additional cylinder of gas, you can always use the flux-cored wire.
Once you buy relevant accessories and an optional spool gun, you get unlimited potential to work around.
Welder Settings and Control Panel
The first thing you notice when looking at this welder is the straightforward control panel. There are only two knobs that allow you to set the voltage and wire feed speed, with an additional button to select the welding mode.
Besides controls, there are a couple of indicator lights. They will tell you which process is currently selected but also warn you once the machine overheats. In addition, the indicator light will inform you once the device is ready to use again.
One of the features of modern welders is the toolless polarity change, meaning you won't have to open the wiring compartment to change it.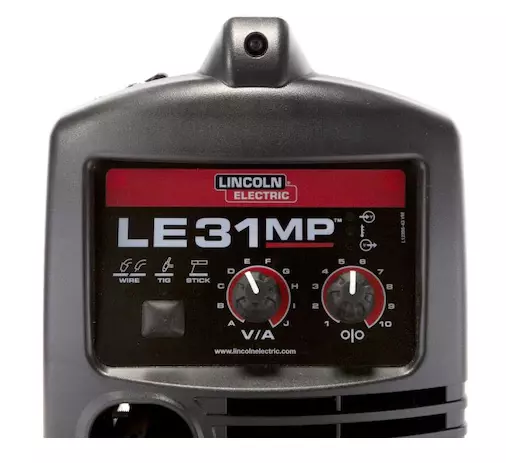 One of the things some people might dislike is that there is no LCD screen. Even though it is not one of the most important things, you might have to guess the controls every time you set up the unit.
Rated Duty Cycle
Lincoln LE31MP is rated at 60%, meaning you can work 6 out of the 10 minutes before you need to take a break. This is quite an impressive duty cycle for a 120V unit, and most of the competing welders, such as Forney Easy Weld MP140 or Eastwood 140MP, are only rated at 25-30%.
Welder Build and Fully Adjustable Drive System
If you decide to buy a brand-name welder, you know you will pay for the quality. Luckily, Lincoln LE31MP is one of those machines that look pretty sturdy the first time you look at it.
So you can be sure the welder won't fall apart like some of the Chinese units.
Once you open the unit, the first thing that stands out is the cast aluminum wire drive housing. In addition, you get high-quality aluminum drive rollers, which are rare in budget category machines.
Beginners will find it easy to change the wire with the fully adjustable drive system, as the whole process is precisely described.
In addition, the tension adjusting knob is clearly marked so that you can get the settings right every time.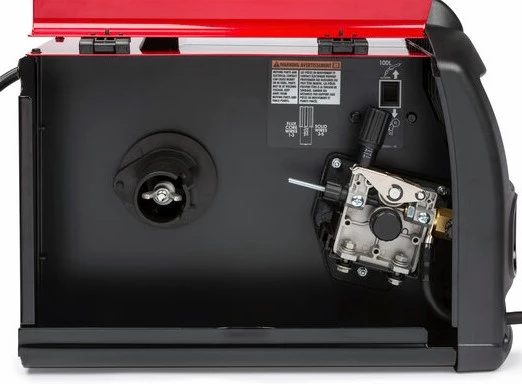 MIG, TIG, and Stick Welding Capability
Nearly all the owners that tried MIG welding with Lincoln LE31MP are pleasantly surprised with the capabilities. The smooth arc is stable, easy to start, and there is minimal splatter. You can use the MIG welding process to weld thin gauge steel and sheet metal, but also thicker steel.
In addition, Stick welding performance is decent, as you will find it easy to use.
However, TIG welding is a scratch start, so beginners or those not experienced with it might find it challenging to use. Optional Tig torch utilizes an internal gas solenoid that opens when the arc is initiated. Nevertheless, once you get enough practice, you will be more than satisfied with the performance.
TIG Welding Pedal
Even though the TIG welding pedal is purchased separately, Lincoln LE31MP is more than compatible with it. Once you plug the pedal in, the machine will automatically switch to the TIG welding process. Convenience and ease like this are always nice things to have.
Things I Disliked About Lincoln LE31MP Multi-process Welder
While this welder offers some great features that stand out from the competition, there are a couple of drawbacks you can notice while looking into it.
Here are some things Lincoln could improve in the future since many owners complained about it.
Accessories You Get
Most buyers decide to buy a multi-process unit since they offer excellent value.
But, unfortunately, while Lincoln advertises this welder as a TIG welding unit, you don't get the right accessories to do it.
That's why you get a feeling this welder loses its multi-function appeal.
You can always buy the TIG accessories separately, as the unit is fully compatible, but watching the price rise is not a great feeling.
As we noted, some competing welding machines, such as Eastwood Elite MP 140, include the TIG torch.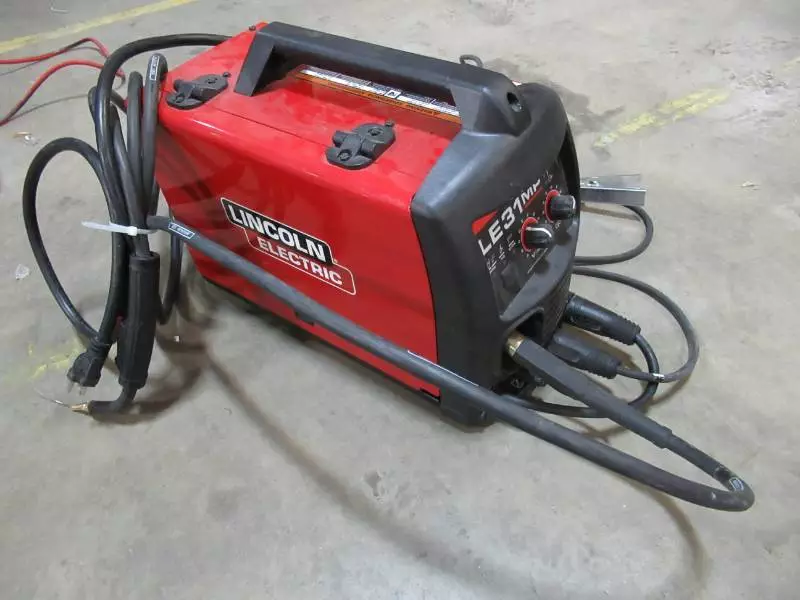 Instruction Manual
One of the most significant confusion starts once you do some more research, as the Lincoln LE31MP is often compared to Lincoln Power MIG 140 MP. We will explain the difference later in the article, but having almost identical units with different names can confuse the buyers.
In addition, some beginners find the instruction manual pretty hard to read, and older welder models didn't have the settings chart.
Luckily, Lincoln Electric noted the compliments and tried to make things right. As a result, the latest models include the settings chart, and you can find requested information online easily.
Differences Between Lincoln LE31MP and Lincoln Power MIG 140MP
Once you browse the market, you might come across two machines that look identically the same.
For example, Lincoln LE31MP and Lincoln Power MIG 140MP share the same build, appearance, size, and weight.
So, you might ask, what's the difference? Lincoln Electric company sells its units through several different outlets. That's why names may differ according to a specific market.
In addition, the company states that the most significant difference between the two units is the rated duty cycle.
Conclusion
Lincoln LE31MP is a marvelous 120V entry-level unit perfect for farmers, auto restorers, artists, and occasional welders. One of the things that makes this welder stand out from the crowd is the 60% duty cycle rated at 95 amps.
Even though this is a multi-process unit, there are few drawbacks concerning the TIG torch accessories and aluminum welding options.
Overall, Lincoln LE31MP is a reliable welder produced by a reputable brand. The unit might be more expensive than some budget options, but you get what you pay for, including a 3-year warranty and high-quality build.