While our blog is mainly dedicated to hobbyists and new welders, today we will review the industrial all-in-one welder that caught our attention.
Lincoln Power Wave 300c advanced is an all-process machine that offers superior versatility, industrial-grade performance, and power for fabricators, novices, and students.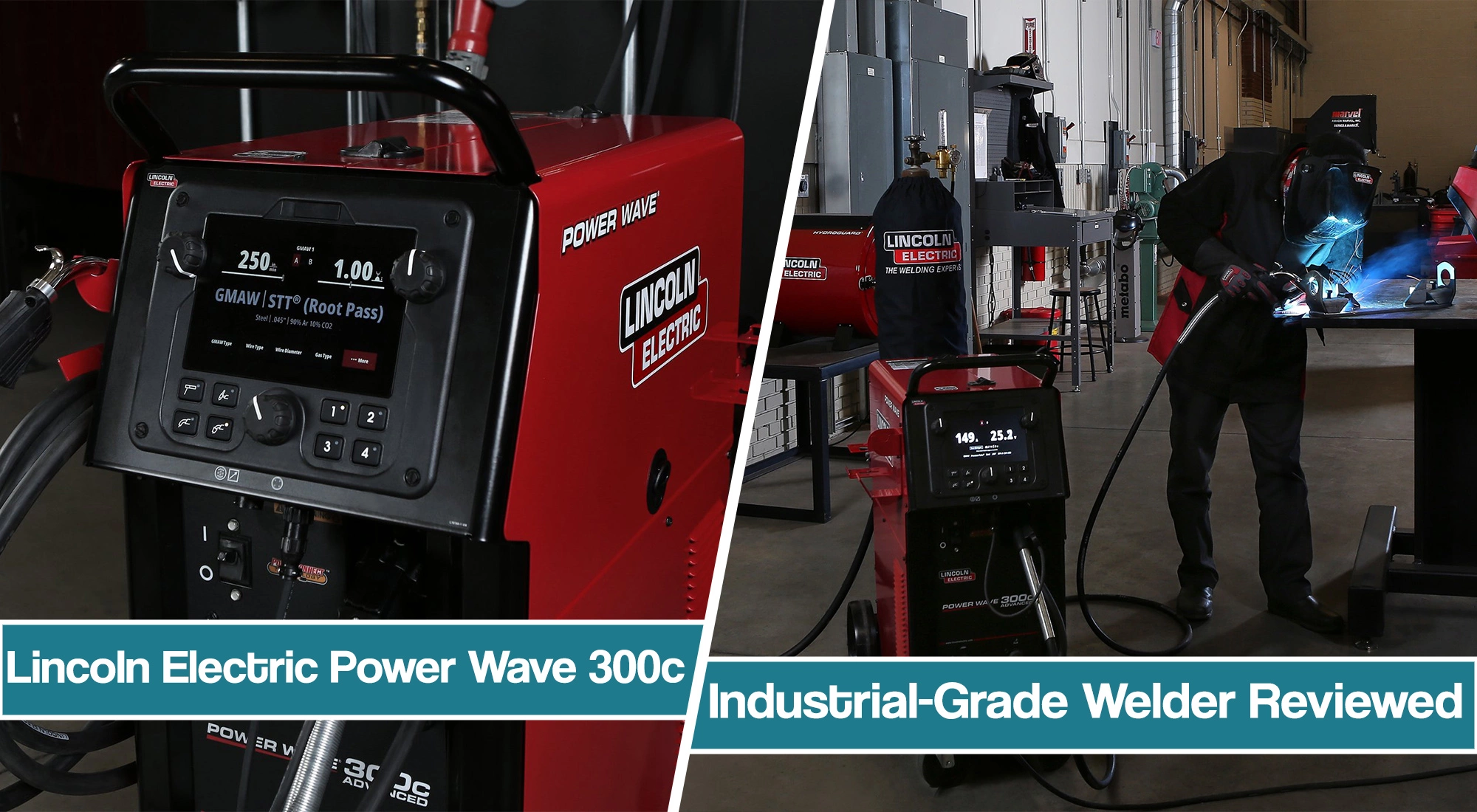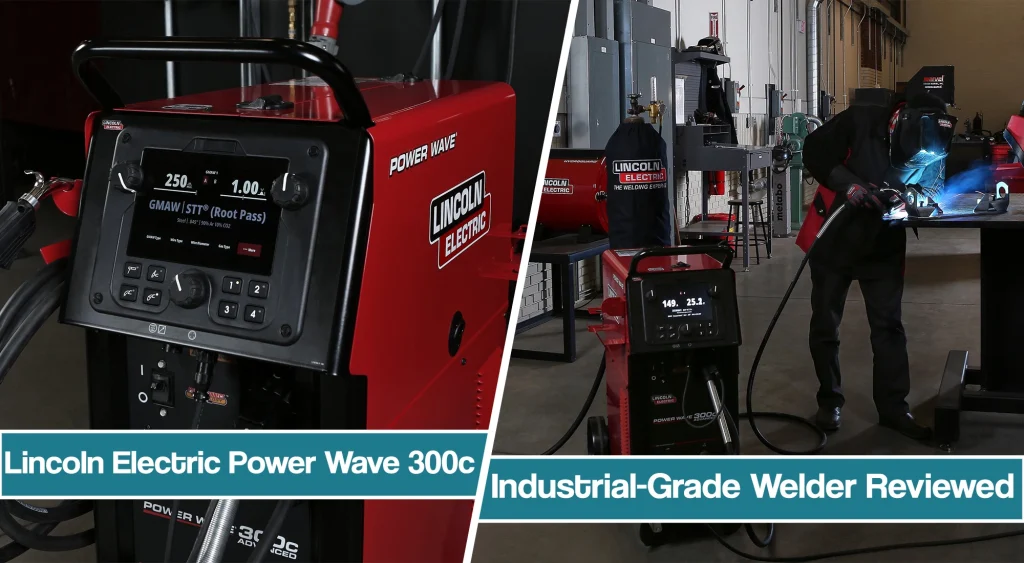 The new Power Wave line features several machines, but we highlighted the Advanced pack with AC/DC input capability. In this Lincoln Power wave 300c review, we will explain what the power wave system offers, including build, power, pros & cons.
Lincoln Power Wave 300C – All-in-one Welder
Lincoln Power Wave 300c advanced indeed is an all-process machine, and it will serve you as a MIG welder/Flux core welder, AC/DC TIG welder, and Stick welder. However, remember that Power Wave 300c standard pack doesn't offer AC input option, while advanced and advanced educational One-Pak include much more.
Even though the welder market is overwhelmed with multi-process welders, Power Wave 300C is a state-of-the-art machine that offers some of the most advanced features and controls. The best part is the fact it is both a beginner and seasoned-welder-friendly welder.
So let's see what makes this multi-process welder stand out from the crowd.
Build Quality
Lincoln Power Wave 300C is a true "red" welder with the highest-quality build, including both internal components and outer case. With 226 lbs, this is a massive, well-constructed, robust industrial welder built to last and perform.
However, the design is multi-functional with a Ready-to-Run concept. There is a built-in cart, cable management hooks, Twist-Mate TIG connection and gas solenoid, and a cylinder rack with a chain for convenient transport across the shop.
The built-in cooling fans are running on demand. That means they turn on only when needed and once the welder starts to heat up. As a result, the operation is noiseless, and they limit power consumption.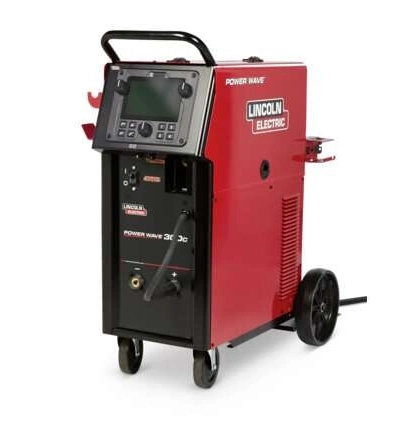 Lincoln also offers solutions for two cylinders and a water-cooling system. These are separately sold, but they offer maximal versatility in specific industrial fabrication applications, resulting in a highly compact machine.
Power Wave 300C Advanced Welder Controls
Years of manufacturing and feedback helped Lincoln create the perfect welder for simple and straightforward operation. The control panel features an operator-focused interface with a 7′ high-definition screen for convenient use.
As a result, welders can focus more on their welds rather than setting up the welder. I liked the one-button process selection, where you easily switch between stick, flux core, TIG, or MIG welding.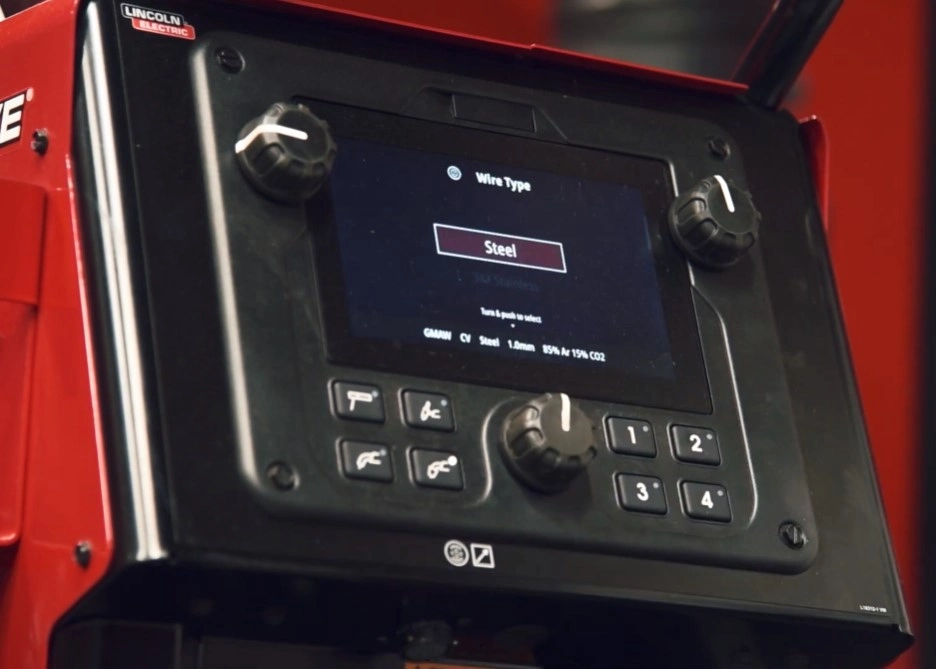 In addition, there are four memory mode buttons for repeatable welds and two knobs that select voltage and wire feed speed. ArcFX Technology provides visual arc settings, so you get an idea of how your arc will look and what you can change. But it doesn't end there.
Power Wave 300c Advanced educational and 300c advanced educational one pak include leading-edge technology with advanced weld modes for technical training and best-in-class performance. Higher package machines include AC/DC TIG Welder capability for convenient MIG aluminum welding with Smart Pulse, Low Fume Pulse, and STT.
Smart Pulse monitors the machine settings and automatically tailors the pulse to deliver the ideal arc. If you set a low WFS for out-of-position welding, smart Pulse will automatically select a narrow, focused arc. On the contrary, high WFS will make Smart Pulse provide a wide, soft arc.

Surface Tension Transfer (STT) offers a controlled, short-circuit transfer for MIG welder. This is an ideal process for thin metals that require low heat input, since it adjusts the heat independent of wire feed speed. As a result, there is no risk of burn-through in thin metals, but it also reduces fumes and spatter and boosts deposition rates and productivity.

Low Fume Pulse welding process combines maximum MIG welder performance with low fume generation. Both pulse features are courtesy of Lincoln's Waveform Control Technology for advanced arc performance, minimizing heat input and reducing weld fume generation directly at the arc.

The Rapid Arc welding process is designed for robotic or automated, semi-automated, and hard automation applications. It represents the advanced type of pulse that is highly suitable for thin material semi-automated and automated welding. With it, you can achieve up to 50% higher travel speed and 15% less spatter with lower heat input and distortion compared to traditional pulse.
Pulse-on-pulse, or double pulse,  is a Lincoln patented process particularly designed for relatively thin aluminum. This process utilizes two distinct pulse types, allowing you to control the heat extraordinarily. In addition, you can achieve TIG-like beautiful welds with a MIG welder.
Monitoring The Controls
Besides advanced control options and settings, Lincoln Electric put a lot of time and effort into monitoring the performances. As a result, Lincoln Power Wave 300c advanced has ethernet machines communication technology and a USB port for Industry 4.0 capabilities, including CheckPoint Production Monitoring.
By monitoring production and arc performances, you get a real picture of overall welding costs and productivity, which will help you troubleshoot how to get the most out of your welder with the lowest costs.
If you realize what's wrong, you can preset the parameters that affect all the arc performance. They are easily distributed via USB port, and getting the best controls is crucial in maintaining consistent welding results.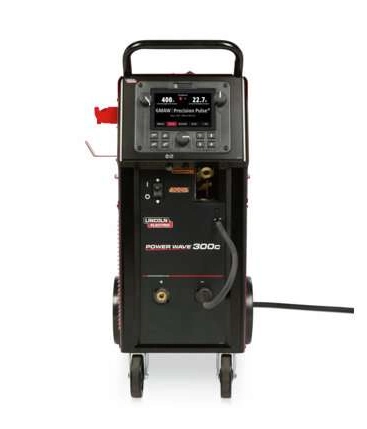 Input And Output Power
Lincoln Power wave 300c is a real industrial multi-process welder rated at 350 amps. But to get there, you will need 200-600V input, with a single phase or three phases. Nonetheless,
PowerConnect Technology automatically adjusts to input power resulting in a stable arc and consistent results.
Tribrid Power Module provides exceptional welding performance with high power factor and efficiency. As a result, your welder won't consume too much power, even at the maximum output. In addition, there is an optional 115V (10A) AC duplex auxiliary power receptacle. You can use the welder to power 115V grinders or other power tools that might come in handy in a welding shop.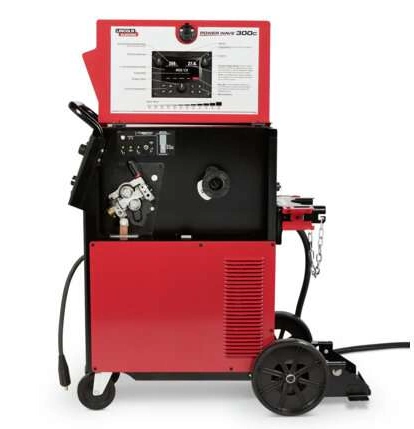 This feature is supported by Surge Blocker Technology, so turning on power tool won't impact the arc results. Regarding the output, Lincoln Power Wave 300C has a maximum power of 350 amps, but the 100% duty cycle at 300 amps offers best-in-class performance. Comparison-wise, Lincoln Power MIG 256 we also reviewed, is similarly rated, but a 40% duty cycle makes it a light-industrial machine.
As a result, you can use Power Wave 300C to weld non-stop at 300 amps, significantly increasing the overall productivity in the shop. Even though there are welders that can do everything power wave does power-wise, the arc performance simply cannot be matched.
Stick welding modes are optimized for cellulosic and low hydrogen electrodes, while MIG welding can work with 0.035-0.052 in. solid wire for steel, 0.035-0.045 in. for stainless, 0.045-0.052 in. for metal cored, and 0.035, 3/64, and 1/16 in. for aluminum. Flux-core welding mode can run 0.045 in., 0.052 in., and 1/16 in flux-cored wire, and you get integrated high frequency with an Advanced welder pack.
You can buy various adapters to fit 22-30 lb spools on 2′ spindles or to mount 8′ spools on smaller spindles. Nonetheless, with the capability to mount extremely large spools regardless of the size, you are more than covered for industrial fabrication.
Lincoln Power Wave 300C Multi Process Welder Value
I would recommend Lincoln industrial welders such as Power Wave to anyone that is looking for a state-of-the-art piece of welding equipment capable of doing all welding methods, also including arc gouging processes. Yes, you will have to break the bank to purchase this machine, but the investment is well worth it, and it might even serve your grandchildren.
Your investment is well-protected by Lincoln's industrial 5-year warranty, but in my experience, it will well outlast it. Lincoln industrial welders I got a chance to work with survived harsh conditions and years of exploitation, but even if some issue occurs, Lincoln got a widespread servicing network, so you are covered.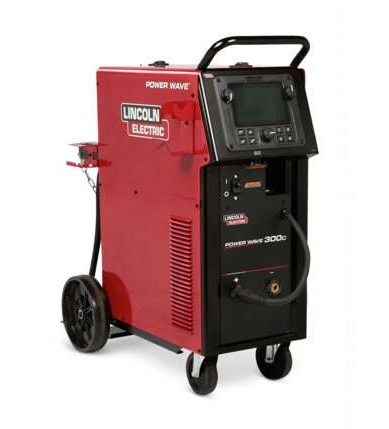 The thing I disliked is the fact you don't get too much in your package content. Standard and Advanced packs of 300C only feature a Magnum MIG gun, Harris gas flow regulator, and a set of V groove drive rolls. For TIG welding or Stick welding, you will have to separately purchase a TIG torch and electrode holder or opt for Advanced Educational One Pak, which is, you guessed it, the most expensive.
In addition, over the years, I've noticed that Lincoln welders run the best with Lincoln consumables, which are among the pricier on the market. However, they offer the best results and unmatched reliability, so you should count them in your overall welding costs while considering the purchase.
Pros And Cons Summarized
This Power Wave system multi-process welder from Lincoln Electric is, without a doubt, a state-of-the-art welder that combines advanced arc performance controls and systems with ease of use, suiting both beginners and seasoned welders. The machine is super-easy to use, so you can spend more time welding rather than adjusting.
Nonetheless, that doesn't mean you don't have enough control options. Conversely, there are advanced features many welders will appreciate, making it a perfect industrial-grade machine.The only thing I could complain about is the price, with included costs for almost everything you will need to weld conveniently. Nonetheless, the overall value makes this welder worth every penny.