The Eastwood MIG 135 was upgraded to MIG 140 and now has many advantages over the Hobart Handler 140 and the Eastwood 135. But the 135 model is still available from Eastwood, and it does have certain pros as well.
This article will discuss all three models but mainly emphasize the Eastwood MIG 135 and Handler 140 comparison.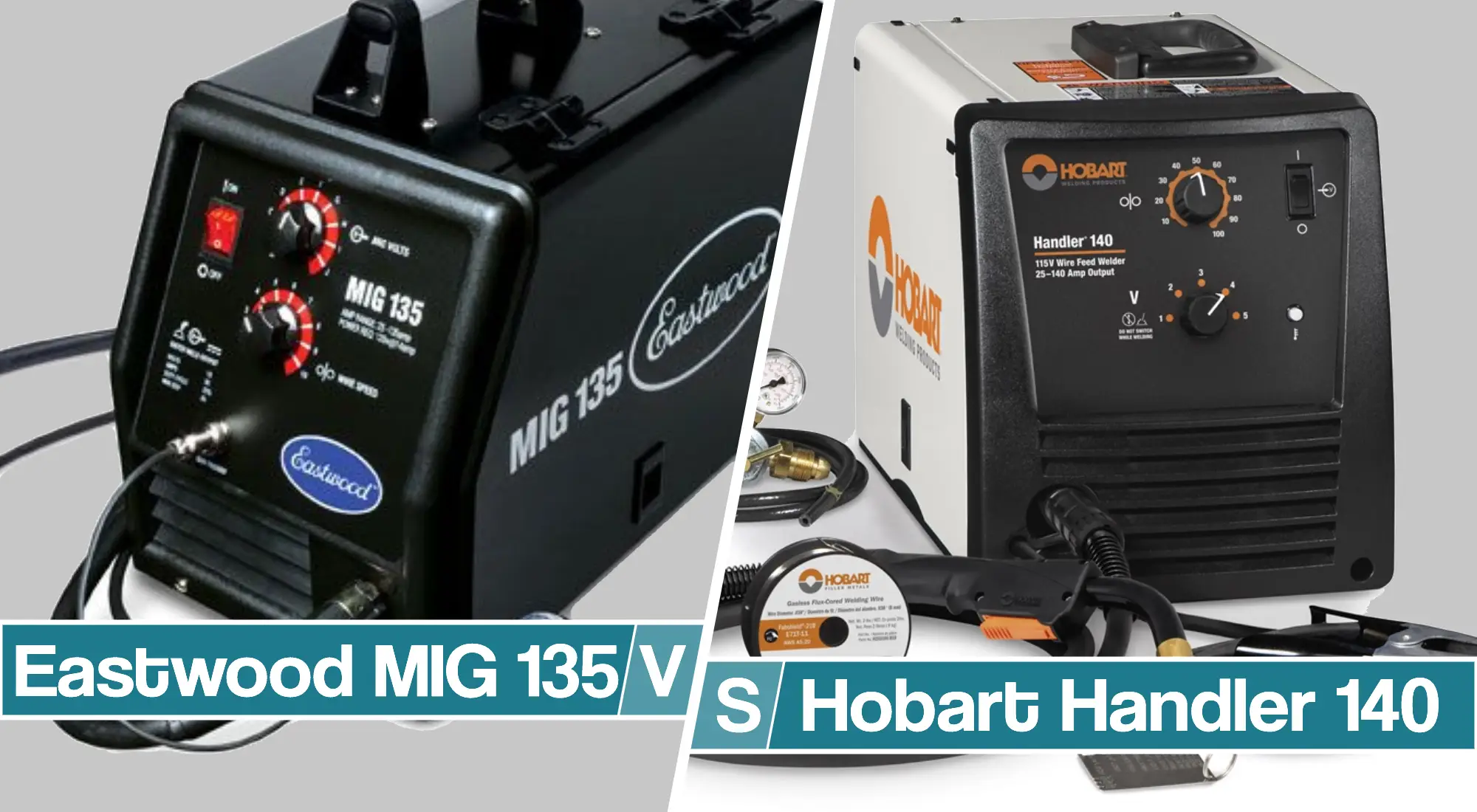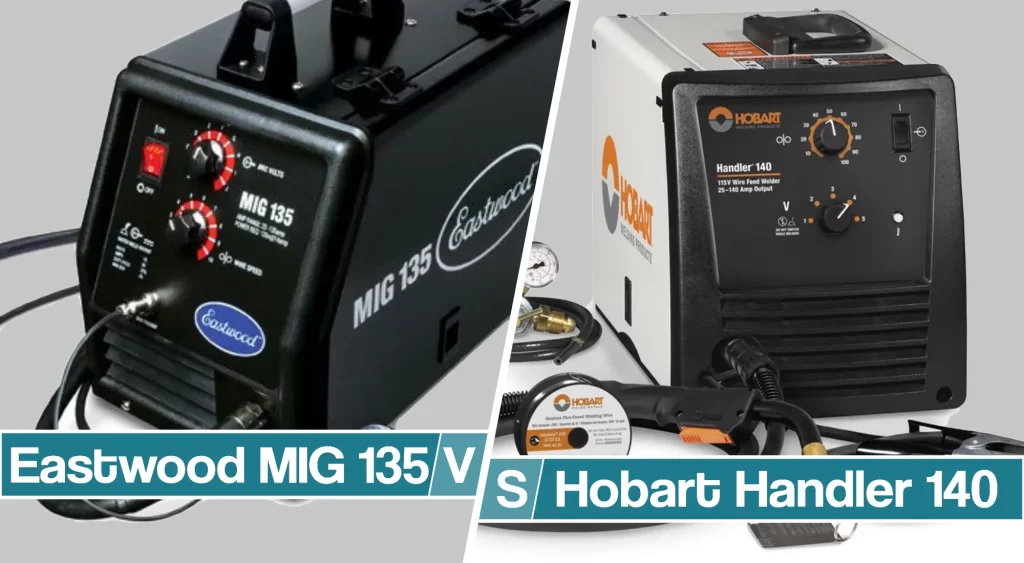 Eastwood MIG 135 vs Hobart Handler 140 Quick Comparison Table
Name
Eastwood MIG 135 MIG Welder
Hobart Handler 140 MIG Welder




Image of a Welding Machine
Welding Process
MIG/Flux-Core
MIG/Flux-Core
Build Technology
IGBT Inverter
Transformer
Input Power
120 VAC 20 Amp
120 VAC 20 Amp
Input Phase and Hertz
1 Phase 60 Hz
1 Phase 60 Hz
Current Type
DC
DC
Weldable Metals
Mild Steel, Aluminum,
Stainless.
Mild Steel, Aluminum,
Stainless.
Output Amperage Range
25-135 A
25–140 A
Rated Output
20% @ 90 A duty cycle
90 A @ 20% duty cycle
Weld Output
CV
CV
Welding Thickness Capability
Up to 3/16" with solid core wire

Up to 1/4" with flux core wire
Mild Steel 24 ga.–1/4 in
Welding Wire Thickness
Solid 0.023-0.030in
Stainless 0.023-0.030in
Flux Cored 0.030-0.035in
Solid 0.023-0.030in
Stainless 0.023-0.030in
Flux Cored 0.030-0.035in
(WFS) Wire Feed Speed
(IPM/Inches Per Minute)
40-450 IPM
40 IPM - 700 IPM
Dimensions (W x H x L)
9.5" wide X 16.1" long X 14.5" tall
10.625 in wide, 19.5 in long, 12.375 in tall
Weight
56 Lbs.
57 lbs
Warranty
3-year Warranty
3-Years
Hobart Warranty
Where to buy
Check Current Price - Eastwood
Check Current Price - Northern Tool
Eastwood 135 Amp MIG Welder
The Eastwood MIG 135 is a 120V input transformer MIG welder. It's priced more than fairly for what it offers.
But the transformer technology is rapidly being replaced by inverter welders like the new Eastwood MIG 140.
This welder is quite heavy at 56 lbs, just one pound lighter than the Hobart Handler 140. While portable, I am sure you wouldn't want to haul 50 lbs around the worksite.
Since it's meant for light sheet metal welding, and hobbyist DIY welding, the shortcomings of MIG 135 are not a dealbreaker because it's inexpensive. Still, the low price comes with multiple build quality issues the Hobart doesn't have.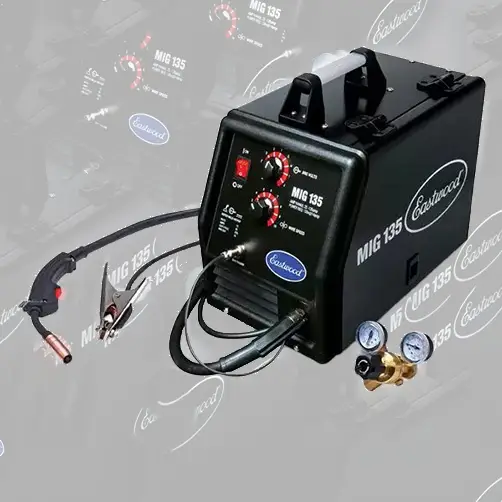 The Eastwood MIG 135 has the worst build quality of all three welders discussed in this article. It has a built-in ground clamp, which is never a good idea because if the cable becomes compromised, you'll have to open the welder and rewire the cable or send it to the Eastwood center for repairs. Still, this is typical for cheap welders. I am surprised that the MIG gun is detachable.
To top it off, the wire feeding mechanism is made of plastics. Again, typical for this price. For instance, the Forney Easy Weld 140 FC-i also has a plastic wire feed system, a built-in ground clamp, and it can only do flux core welding tasks because it's not a true MIG welding machine. So the Eastwood MIG 135, that's priced about the same, is somewhat better than most in its price category.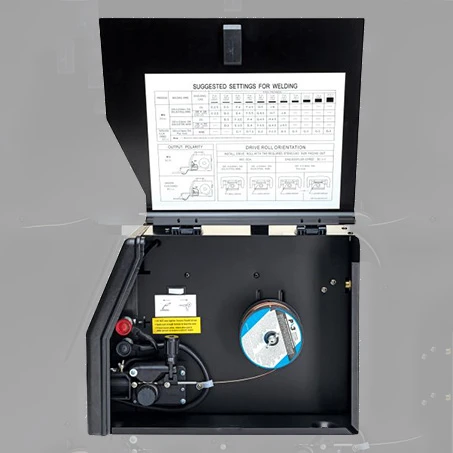 While the other two MIG welders we'll discuss below are built much better, this Eastwood MIG welder is still one of the best-built units in its price category. It's backed by Eastwood's 3-year warranty and a 90-day no-hassle return system. Not many budget welders have a warranty of 3 years, and its transformer core is likely to outlive that warranty by many years.
More on this welding machine can be read in this article.
Eastwood MIG 140 (Upgraded Version)
The Eastwood MIG 140 is superior in many ways to Hobart Handler 140 and the Eastwood MIG 135. But as an inverter welder, it's never going to outlive a transformer machine.
The newer MIG 140 has a higher duty cycle than Eastwood MIG 135 and Hobart Handler 140, removable torch, and a few useful features like 2T/4T and tack welding.
It's a strong competitor to both compared welders. I am just pointing this out in case you weren't aware that the Eastwood MIG 135 was upgraded to the MIG 140. Now, let's continue with our two transformer welders.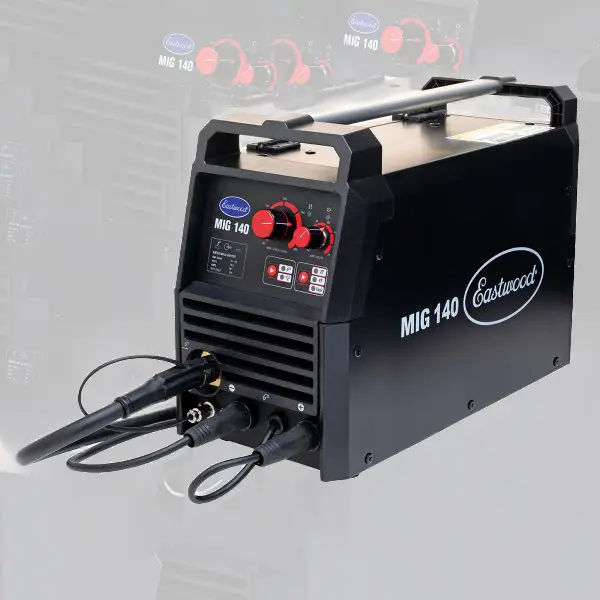 Full review of the Eastwood MIG 140 amp
Hobart Handler 140 MIG Welder
Hobart Handler 140 is in many ways a stronger competitor than the Eastwood MIG 135, but it has a higher price. It's also a transformer-based MIG welder with the same duty cycle rating. The Hobart Handler 140 has a more stable arc, typical for Hobart welders.
It's crispy and doesn't cause too much spatter. If you want the best arc possible at this price, you'll go with Hobart.
But Hobart and Eastwood's difference in arc quality is not that big, and most beginners won't really benefit from it. Even so, in our humble opinion, Hobart's arc is slightly more stable, and better overall.
The Hobart welders produce excellent bead quality, typically better than the competing welders. While not an industrial unit, this welder is a capable machine meant for welding thin steel and light fabricator use.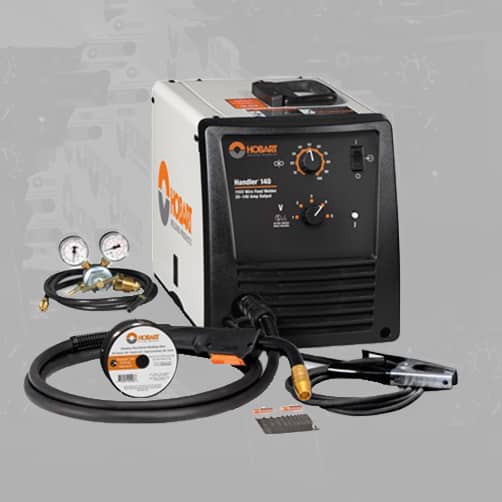 This welder uses the best wire feeding mechanism of all three welders compared, and certainly better than the plastic system of Eastwood MIG 135. The cast aluminum body houses a well-designed inlet wire guide, tension knob, retaining pin, and the idler arm.
It's these tiny details that make the difference because the inlet wire guide, for example, has an inverted cone surface on the inside to perfectly accept the wire as you push it inside manually. Overall, the entire welder is well built, much above average, but so is its price.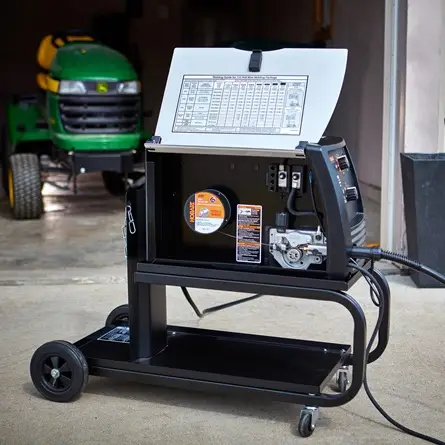 Plus, the Hobart patented 3-groove drive roll system lets you switch between different wire diameters quickly.
This is especially handy for car auto bodywork, where you would often switch between similar wire diameters.
But then there are some shortcomings of the machine. To change the polarity from DCEN to DCEP between MIG and flux-cored welding, you have to use tools to switch the wiring on the inside, just like with the Eastwood MIG 135.
The Hobart 140 is made in the USA. Its excellent build quality, Hobart's 5/3/1 industrial warranty, and notorious arc quality fully justify this price.
However, its downsides like low duty cycle, built-in ground clamp, predetermined voltage settings, and difficult polarity change will cause many buyers to look for alternatives, and the best option is probably the Eastwood MIG 140.
Package Content Comparison
Eastwood 135 Amp MIG Welder
MIG 135 Welder (57 lbs.)
0.023″ Steel MIG Wire
Extra 0.023″ Contact Tip
Gas Regulator with hose
Tweco-Style Gun and Consumables
Switchable Drive Roller
8′ Ground Cable and Gun Cable
Wire Brush
Welding Face Shield
3-Year "No Hassle" Warranty
Hobart Handler 140 MIG Welder
10 ft. (3 m) HR-100 MIG gun with
ergonomic, rubber-padded handle
10 ft. (3 m) work cable with clamp
Power cord with plug
Built-in gas solenoid valve and
dual-gauge regulator with gas hose
.030 in. (0.8 mm) contact tips
Quick Select™ drive roll for .024 in.
(0.6 mm) or .030/.035 in. (0.8/0.9 mm)
solid wire, and .030/.035 in.
(0.8/0.9 mm) flux-cored wire
Sample spool of .030 in. (0.8 mm)
self-shielding flux-cored wire
Material thickness gauge
Fundamental Aspects And Features Of Welding Machines Compared
We compared the core concepts of these welders above, but let's not take a deeper dive into specific features and use cases of these machines to help you figure out which of them fits you the best.
Control Panel
The Hobart Handler 140 and Eastwood MIG 135 have a similar looking user interface but the Eastwood has one major advantage.
There are two knobs on Hobart's control panel, just like on the Eastwood's. However, Hobart has five points fixed voltage settings which is good enough for basic adjustments of your arc and welding bead.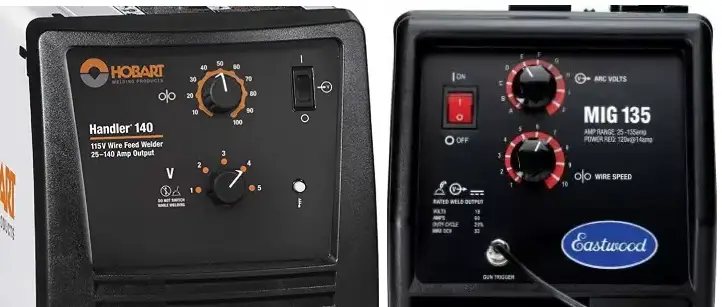 On the other hand, the Eastwood 135 supports infinite voltage control. This allows you to fine-tune the arc voltage and achieve a perfect weld every time, regardless of the thickness and other variables that can impact your weld.
Both welders have infinite adjustability for wire feeding speed, and a power switch on the front. The Hobart also has an overload LED light to warn you if the welder is overheated due to exceeded duty cycle.
Amperage And Wire Feed Speed
The Eastwood MIG 135 offers entry-level MIG welding experience just like Hobart 140. Its maximum output amperage of 135A and the duty cycle of 20% at 90A can handle small DIY welding jobs only, while the Hobart provides an additional 5A. These welders are a good choice if you are still improving your welding skills, whether you weld with solid wire or flux core wire.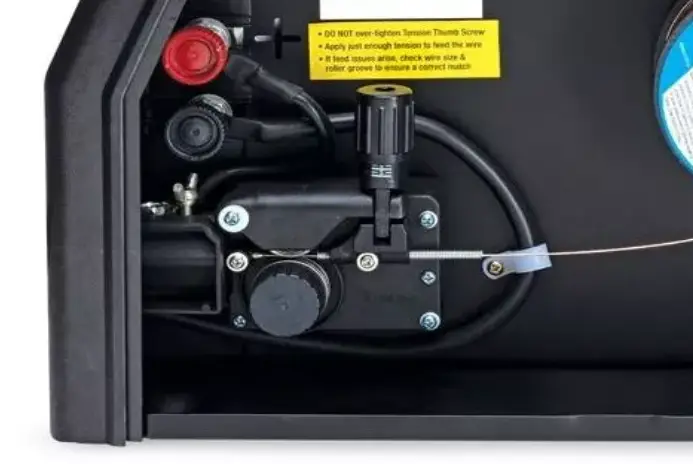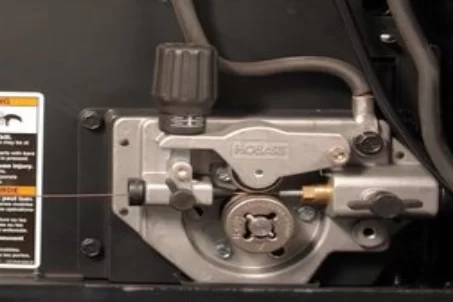 The wire feed speed range is maxed out at 450 inches per minute, far lower than the 700 IPM the Hobart Handler offers. This places the Eastwood MIG 135 at a disadvantage because it can't deposit the filler metal wire as rapidly. It's always better to have a higher wire feed speed because this helps keep the puddle wet and achieve deeper penetration, especially if welding heavily beveled joints.
Torch And Ground Clamp
Both Hobart 140 and Eastwood 135 have an integrated ground clamp, making it difficult to swap out its cable if it gets damaged. You would have to open the welder and have some electrical skills to rewire the cable. While most people could figure it out, it voids the warranty and makes for an additional hassle.
The Eastwood 135 has a better quality ground clamp. Its got full copper contact points while the Hobart 140 uses a basic sheet metal clamp that won't achieve the same level of current conductivity.
Additionally, Eastwood's clamp has an accessible bolt and nut connection so you can change the clamp itself easily.
However, the Handler comes with 10-foot leads while the Eastwood MIG 135 includes 8-foot torch and ground cables.
Both welders have adequate MIG torches, but Hobart's torch has spring protection at the connection point, while the Eastwood doesn't.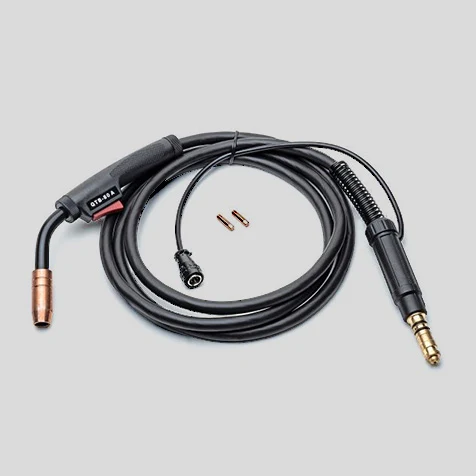 The Additional Features
The Hobart Handler 140 and the Eastwood 135 have the least number of features for MIG welding. These are your standard transformer-based welders. The Eastwood 135 can fine-tune the voltage output, which is its only additional functionality.
But that's pretty much what I would expect any welder to have in 2022 and beyond. The absence of infinite voltage control knobs on Hobart's side is a minus, as discussed previously.
Hobart's quick select drive is worth a mention too, and so is its thermal overload protection. However, these features don't really let you achieve different welding results, modify the arc, or similar.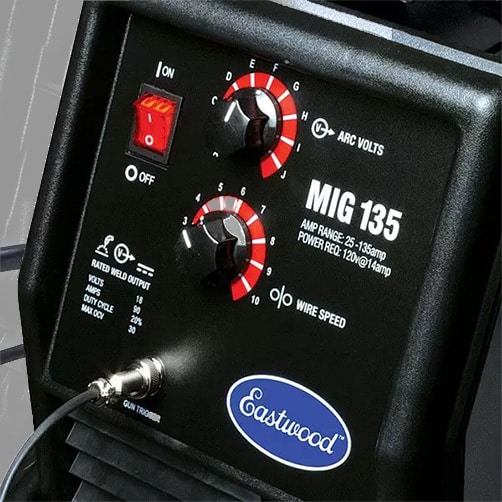 I want to see this from all welders in today's day and age. Give us inductance control, pulse settings, 2T/4T, and others. I already expect thermal overload protection. It's not 2005.
The Eastwood MIG 140 actually has some additional functions. Its tack weld setting allows you to lay consistent tack welds regardless of how long you press the MIG gun trigger, allowing you to be precise as the robotic welder. This feature is helpful for car auto bodywork, which is what this welder is primarily meant for.
By setting the length of time for how long the arc will be active upon pressing the trigger, you can tack weld sheet metal patches quickly and precisely. This is best used when modifying the car body, installing new fenders, bumpers, rear panels, and similar.
The 2T/4T mode lets you weld continuously or in a traditional manner. The 2T is your typical press-hold the gun trigger and the arc starts, release the trigger, and it stops. But the 4T lets you pres-release, and the arc will go on until you pres-release again.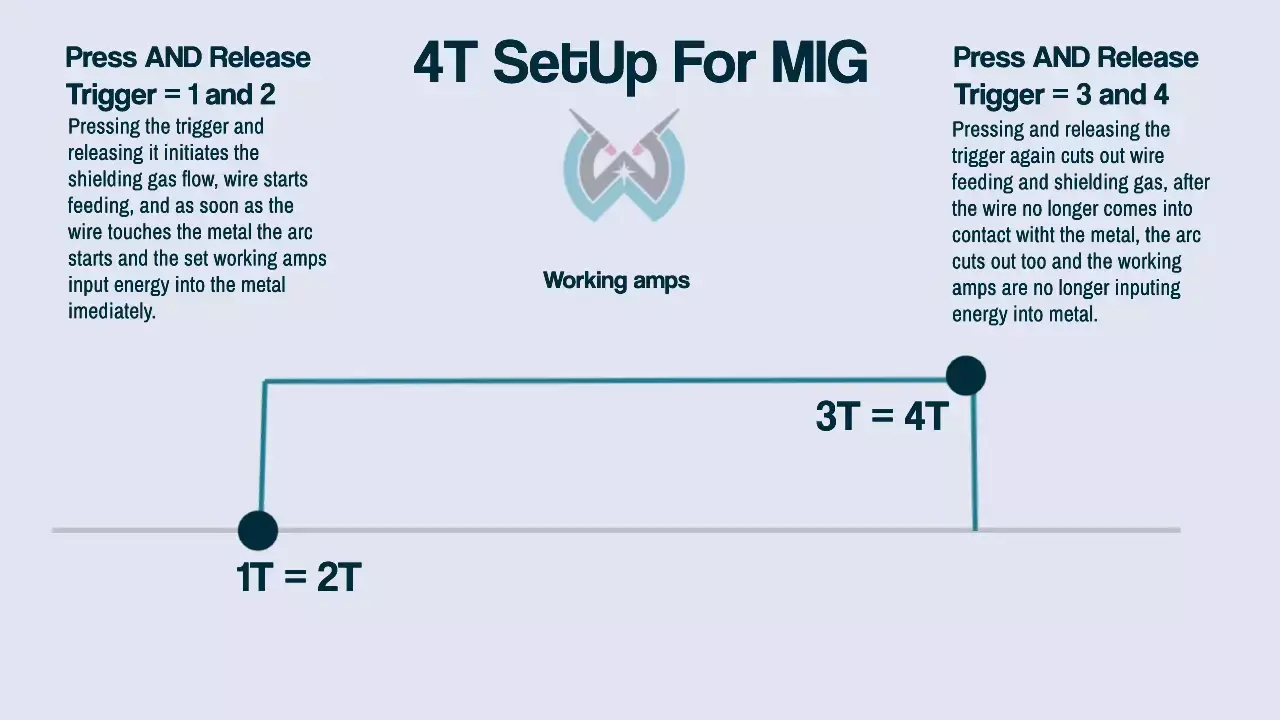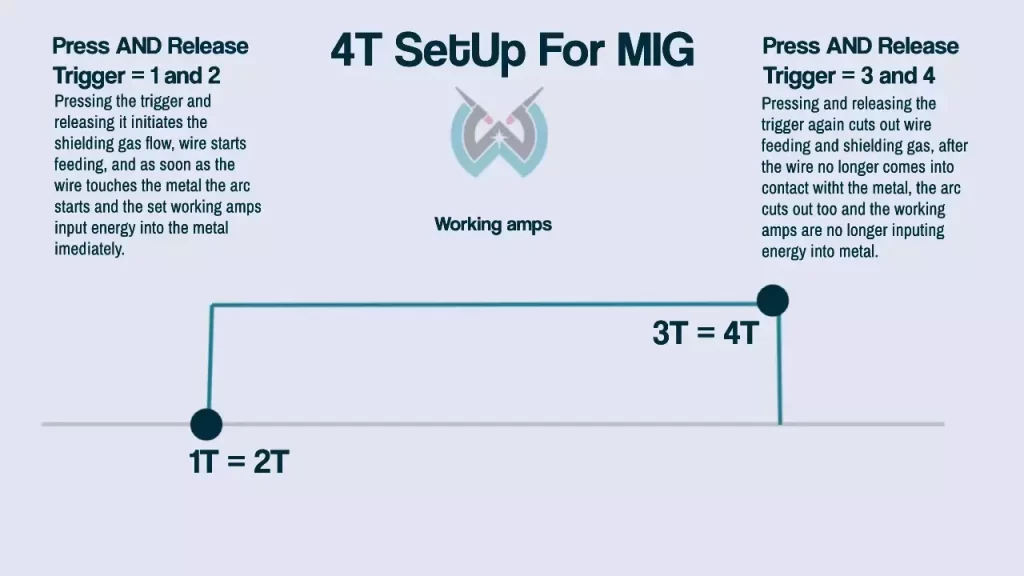 This is very handy when making long welds, but considering that the Eastwood MIG 140 has a duty cycle of 30% at 90A, it's not very useful. While this duty cycle is better than Hobart's, it's still not enough to fully use this setting. You are likely to hit the duty cycle first before your hand gets tired and make the 4T function worthwhile.
Welding Aluminum With a Spool Gun
The Hobart Handler 140 does not have native support for a spool gun. It can only accept MIG aluminum wire through the regular MIG torch and wire feed system.
However, Hobart clearly states that the findability is not as good as steel wire.
The aluminum wire is very soft and requires a specialized spool gun to prevent wire nesting, kinking, and getting stuck.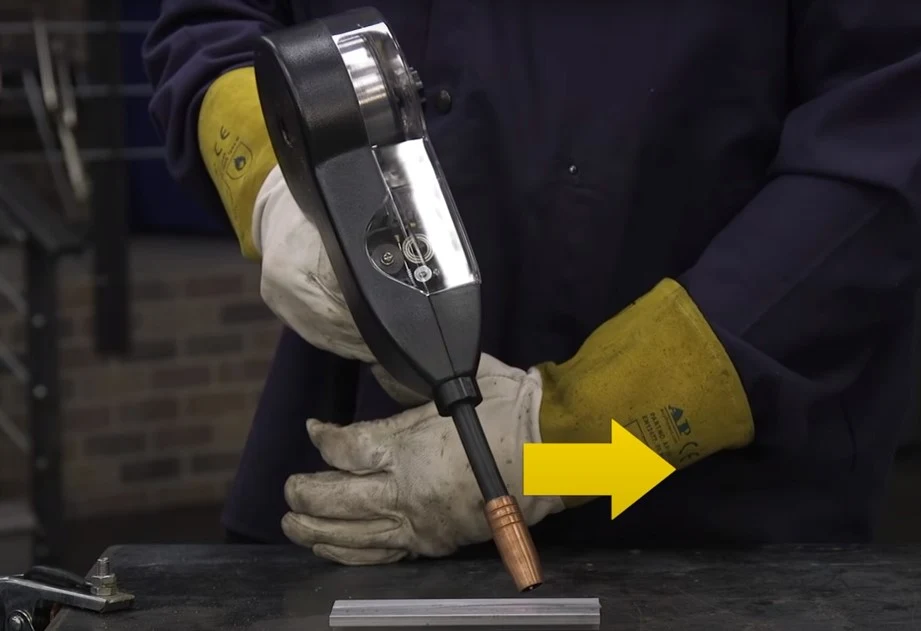 The Eastwood MIG 135 and 140 are spool gun ready that's sold separately. Luckily, Eastwood company spool gun is not very expensive, and it does the job quite well for the price. The Eastwood MIG 135 is a better choice for welding aluminum because with a spool gun you can lay more consistent welds, and you don't have to keep your MIG liner straight and worry about the wire getting stuck.
Final Thoughts
All three discussed MIG welders are good machines, but only the Eastwood 140 is a portable MIG welder. All of the compared welders are mostly suited for simple welding tasks on mild and stainless steel.
So, it's their specifics like IGBT technology or transformer technology that should influence your buying decision. The Eastwood 135 is a relatively cheap welder with higher build quality than other MIG welders in its price category, but the newer 140 version is a much more versatile welder, but a bit more expensive too.