Even do lots of people still have it and it can be found in used markets The Eastwood MIG 175 welder is discontinued and no longer available. It was replaced by a new and improved Eastwood MIG 180 welder.
We will compare the latest version with the Lincoln Easy MIG 180, but we will also talk about the old Eastwood MIG 175 in case you are looking to buy an older used machine.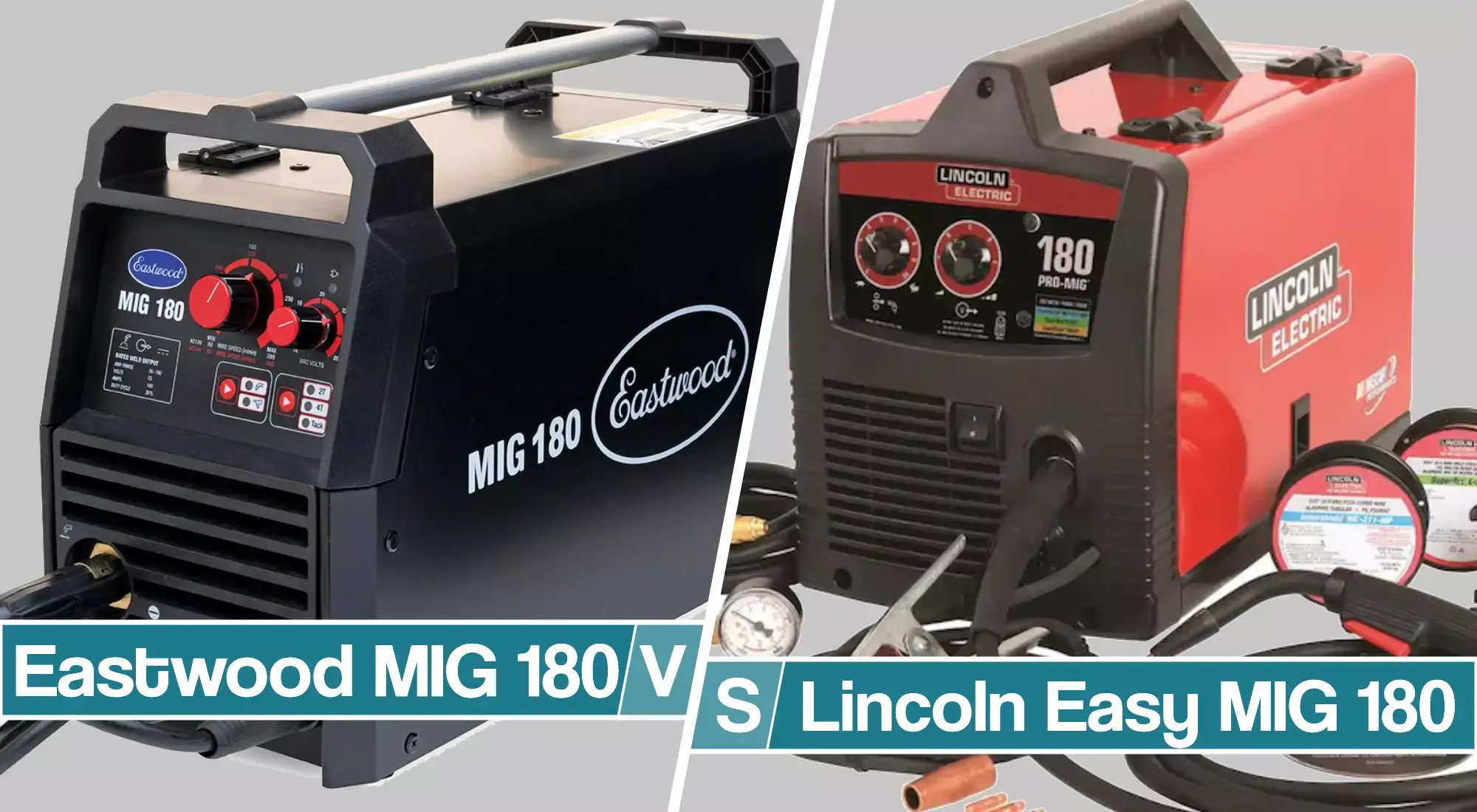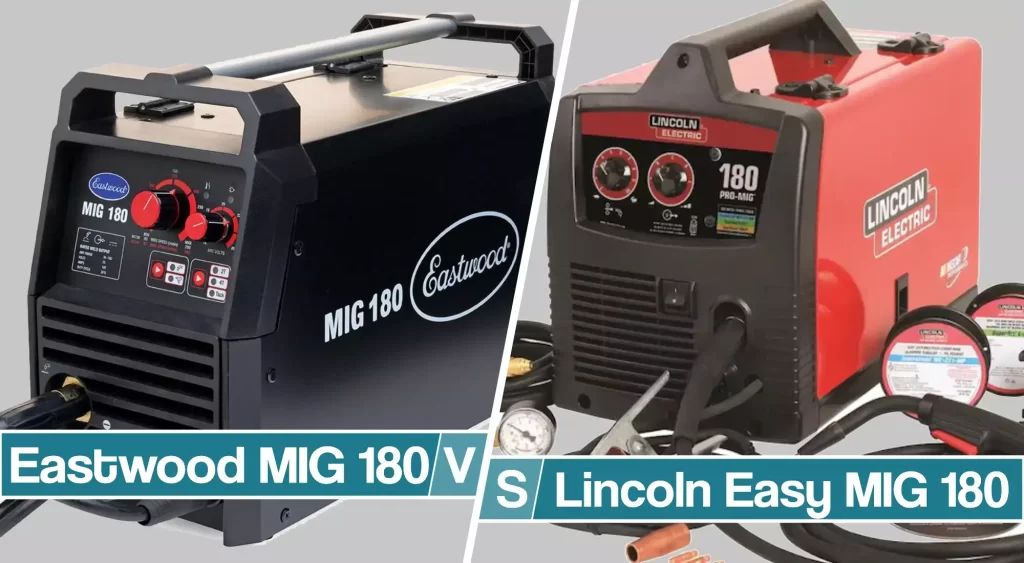 The Lincoln Easy MIG is a transformer welder just like the old Eastwood MIG 175, while the new Eastwood MIG 180 is an inverter-based welder and has multiple advantages over both. So let's dive in and discuss the pros and cons of each of the models to help you decide which welder fits your needs.
Eastwood MIG 180 vs Lincoln Easy MIG 180 Quick Comparison Table
Name
Eastwood MIG 180
Lincoln Easy MIG 180




Image of a Welding Machine
Welding Process
MIG/Flux-Core
MIG/Flux-Core
Build Technology
IGBT Inverter
Transformer
Input Power
240 VAC; 29.6 AMP

120 VAC; 24 AMP
208/230/1/60 20 AMP
Input Phase and Hertz
1 Phase, 120VAC / 240VAC, 60 Hz
1-Phase 60 Hz
Current Type
DC
DC
Weldable Metals
Mild Steel, Stainless Steel, and Aluminum with Spool gun
Mild Steel, Stainless Steel, and Aluminum with Spool gun
Output Amperage Range
120V: 30 - 120 Amps

240V: 30 - 180 Amps
30-180A
Rated Output
120V: 30% @ 90 Amps
120V: 100% @ 50 Amps
240V: 30% @ 180 Amps
240V: 100% @ 100 Amps

208: 130A/17V/30%,

230: 130A/20V/30%
Weld Output
CV
CV
Welding Thickness Capability
MAX 5/16"
MAX in MIG 24 gauge up to 3/16 in

MAX in FC 1/2 in with Innershield (FCAW-S) wires.
Welding Wire Thickness
Uses .023 - .035 wire in 4" and 8" spools
Uses .023 - .035 wire in 4" and 8" spools
(WFS) Wire Feed Speed
(IPM/Inches Per Minute)
120V: 80 - 280 IPM

240V: 80 - 551 IPM
50-500 ipm WFS
Wire Spool Sizes
4" and 8" spools
4" and 8" spools
Dimensions (W x H x L)
18" X 8.5" X 13.25"
4 in x 258 in x 18.6 in
Weight
25.3 lbs (11.5 kg)
303 lbs (303 kg)
Warranty
Eastwood's No-Hassle 90-day return policy and 3-year manufacturer's warranty
3-Year Lincoln Electric warrenty
Where to buy
Check Current Price - Eastwood
Check Current Price - Northern Tool
Eastwood MIG 175 Amp MIG Welder
The previous version, Eastwood MIG 175, doesn't support the dual voltage input and has a maximum amperage output of 175A, which is inferior to the new version and the Lincoln 180.
It supports the infinite adjustability for both voltage and wire feed speed, and it was one of the first MIG welders on the scene that didn't use preset voltage values. This allowed operators to fine-tune their arc no matter the material thickness, the bead shape they were trying to achieve, or the metal temperature. The ability to push the voltage just a little higher without jumping on the next preset value was a very welcome addition.
The Eastwood MIG 175 can MIG weld, but it is also a capable flux core welding machine. It has a maximum wire feed speed of 472 IPM, slightly lower than Lincoln's 500 IPM. This makes the Lincoln a better choice if your work requires fast filler metal deposition rates, like when working on heavily beveled plates or open root welds.
It is spool gun-ready and provides optimum MIG welding experience when joining aluminum. The spool gun was included with the welder so if you are buying this machine on the second-hand market, see if the previous owner still has the original spool gun. If not, you can always get the spool gun from the Eastwood company website.
This MIG welder is heavier than the Lincoln Easy MIG and has shorter leads for the MIG gun and the ground clamp. They both had the same duty cycle, warranty period, and the required input voltage of 210-230/240V.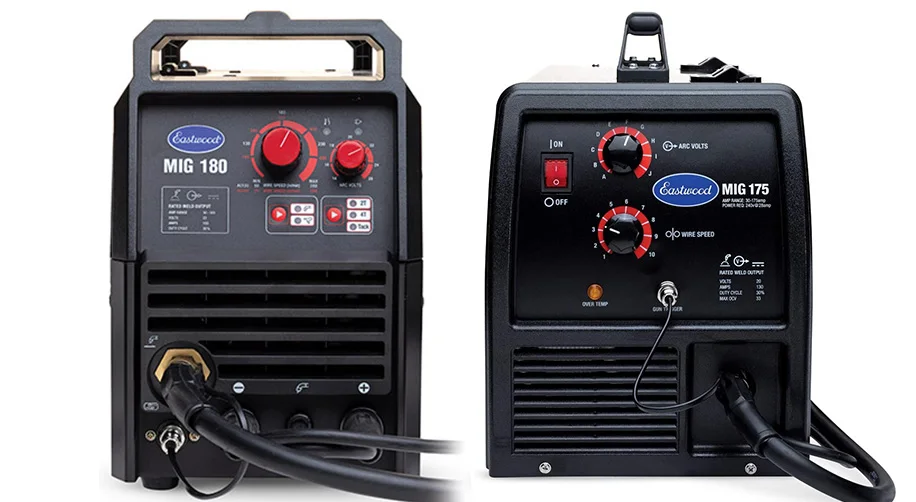 The Lincoln MIG 180 doesn't have infinite adjustability for the voltage, which is a real shame, but it outputs a higher voltage than the MIG 175. This was a short overview of this welder; since it's discontinued and won't be manufactured anymore, we will focus on the new model Eastwood MIG 180.
Eastwood 180 Amp MIG Welder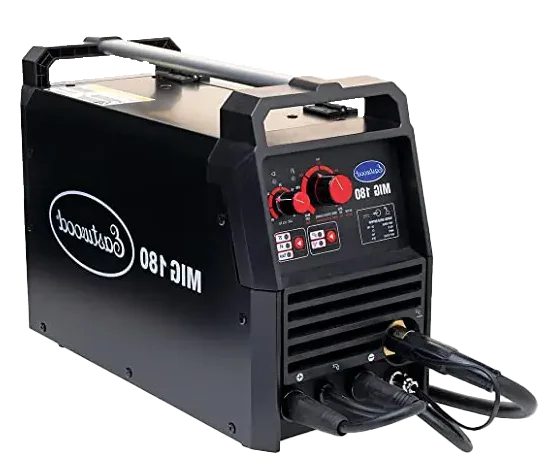 The Eastwood MIG 180 supports dual voltage input. This means it will work with 120V and 240V, while Lincoln MIG 180 needs the 208/230V input. The new Eastwood model has a critical advantage because most hobbyists don't have the 220V outlet available to run the Lincoln machine.
Plus, what if you have to weld on site somewhere and there is no 220V available? The dual voltage is always preferred. There is really no downside to it. But what I like the most is that at 110V, this MIG welder outputs up to 120A, which is quite good for a budget machine. So, if you don't have the 220V outlet, you can get most light gauge jobs done without any issues.
Since this is an inverter generator with IGBT technology, it can actually run off the generator. That's because the inverter stabilizes the "dirty," fluctuating current the generator outputs that can damage the sensitive electronics. So, if you need to weld on-site, you don't have to have a state-of-the-art generator. Even if it has voltage surges, the welder should work just fine.
This MIG welder has the same amperage output as Lincoln Electric MIG 180, but the Eastwood MIG 180 provides about 50 IPM higher wire feed speed. So, if the metal deposition rate is crucial to you, the Eastwood model can run faster. This is especially important when welding with a flux core wire, and you want to use its hot characteristics to your advantage and achieve a higher depth of penetration when welding thicker material.
The flux-cored wire doesn't require a shielding gas and runs much hotter than the solid wire. Both welders can run flux-cored wire, but the Eastwood has the advantage of flux core input voltage control which is helpful since flux core wire creates more spatter than the solid wire.
The Eastwood MIG 180 has a significant advantage on the duty cycle, with its output of 30% at 180A. Since Lincoln welder is transformer-based, it cannot have a high duty cycle.
However, there are inverter welders similar to the Eastwood model with an even better duty cycle, like the YesWelder MIG 205DS with 60% at 200A, so it's not like Eastwood maxed out the technology potential. But there are other variables at play here, the Eastwood provides some of the best arc quality in the budget category, so you should keep that in mind too.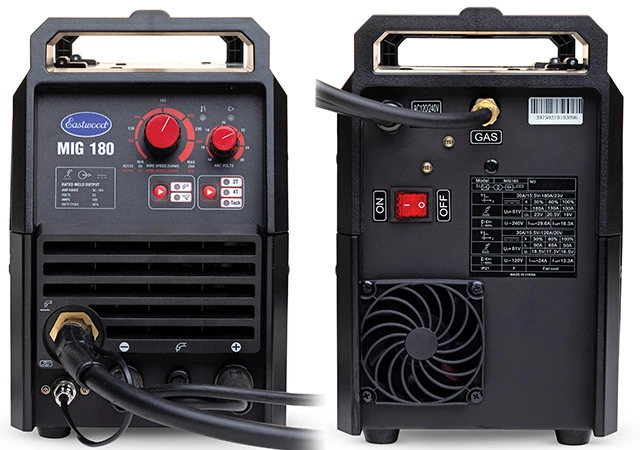 As an inverter, the Eastwood MIG 180 is significantly lighter than the Lincoln MIG welder, which is no surprise. With almost double the weight, the Lincoln welder is challenging to move around and carry anywhere.
Again, there are even lighter inverters out there, but you should keep in mind that the weight can go down only so far before that starts affecting the build quality. So just because some brand offers a 10 lb welder with a 200A output, doesn't make it a good choice because it won't last half an hour, if it even starts at all.
That was an overview of Eastwood MIG 180. Let's now see the Lincoln MIG 180 before comparing their features head to head.
A full review of this welder can be found on this page.
Lincoln Electric K2481-1 PRO MIG – 180 Welder
The Lincoln MIG 180 is a transformer welder, which means it should last a long time. So it should outlive its three-year warranty by a large margin. However, the weight and low duty cycle that come with it are a real drag and one of the reasons people moved away from transformers.
Unlike the Eastwood MIG 180 or 175 for that matter, the Lincoln MIG 180 cannot tune its voltage output. You get five preset settings on your knob, and that's it. You can adjust your wire speed, but that's not enough for maximum control over your weld.
One significant disadvantage of the Lincoln welder is its built-in ground clamp cable. It doesn't use a standard DINSE connector like the Eastwood MIG 180 welder, so you can't just change the lead if you are not satisfied with the length or if it gets damaged.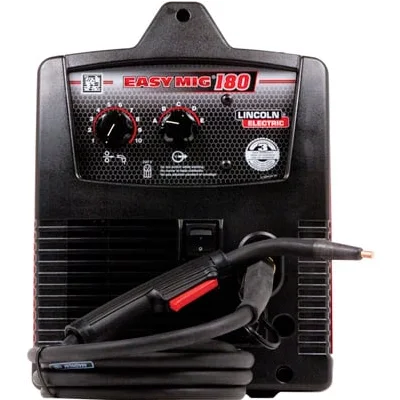 The DINSE connectors are industry standard, and I really don't see why Lincoln didn't use them in the design. While Lincoln has its downsides, you can't argue their build quality. The Eastwood is also a juggernaut in the industry, but Lincoln is a bigger name in the welding world.
Lincoln Electric doesn't just manufacture highly performing equipment but leads the welding industry forward by heavily investing in the education of fresh welders, and welding instructors. They have more skin in the game than almost any other welding brand.
Even so, the Lincoln MIG 180 is not a better machine than the Eastwood MIG 180. While I respect Lincoln, this welder of theirs doesn't provide enough features to justify its price. Better durability is its only ace in the hole, which is not enough since the Eastwood MIG 180 offers similar build quality.
If this comparison did not convince you, we dedicated a full article for Lincoln EasyWeld 180 that can ve found here.
Package Content Comparison
Eastwood MIG 180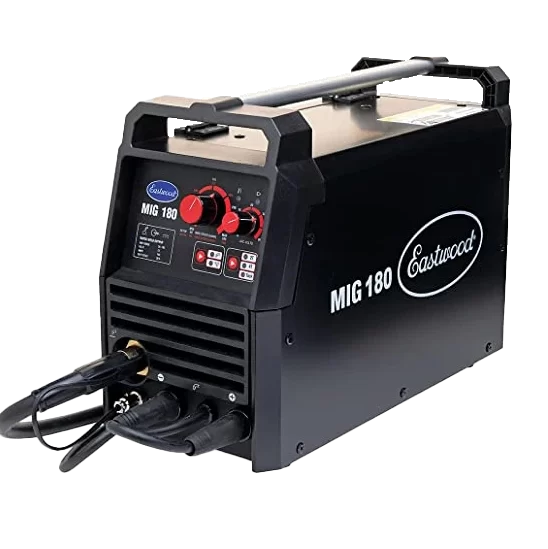 MIG Torch, Nozzle, 0.030″ (0.8mm) Contact Tip and 8.5′ Cable
Contact tip wrench
Additional contact tips (.030″ and .035″)
Gas Regulator with hose
MIG Wire Spool 0.030 (0.8mm), 4 inch (2 lbs)
9.5′ Ground Clamp
NEMA 5-15P to NEMA 6-50R Adapter Cord (240v to 120v), 2′
Face shield with lens and handle
Welding brush/hammer
Instruction Manual
3-Year "No Hassle" Warranty
Lincoln EasyWeld MIG 180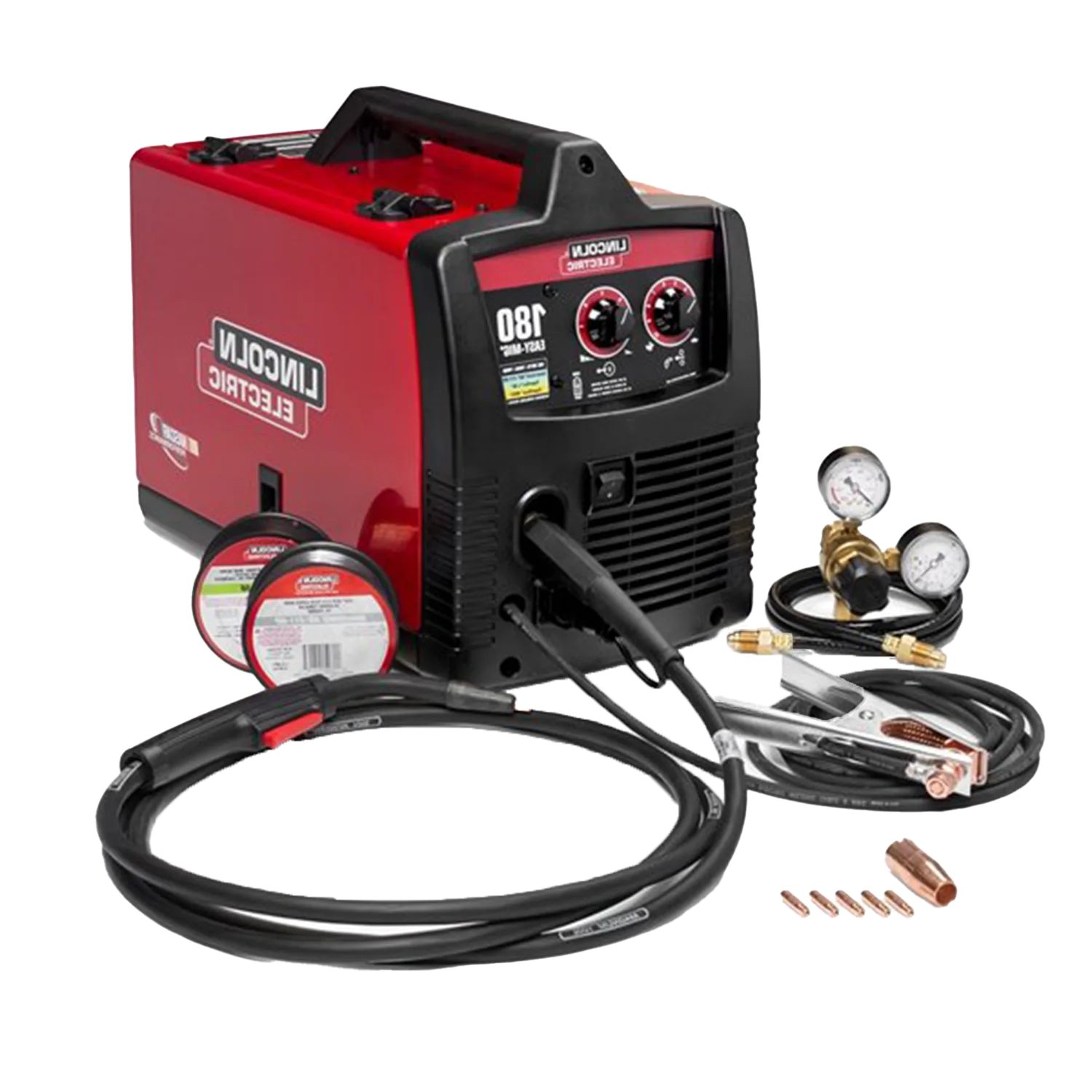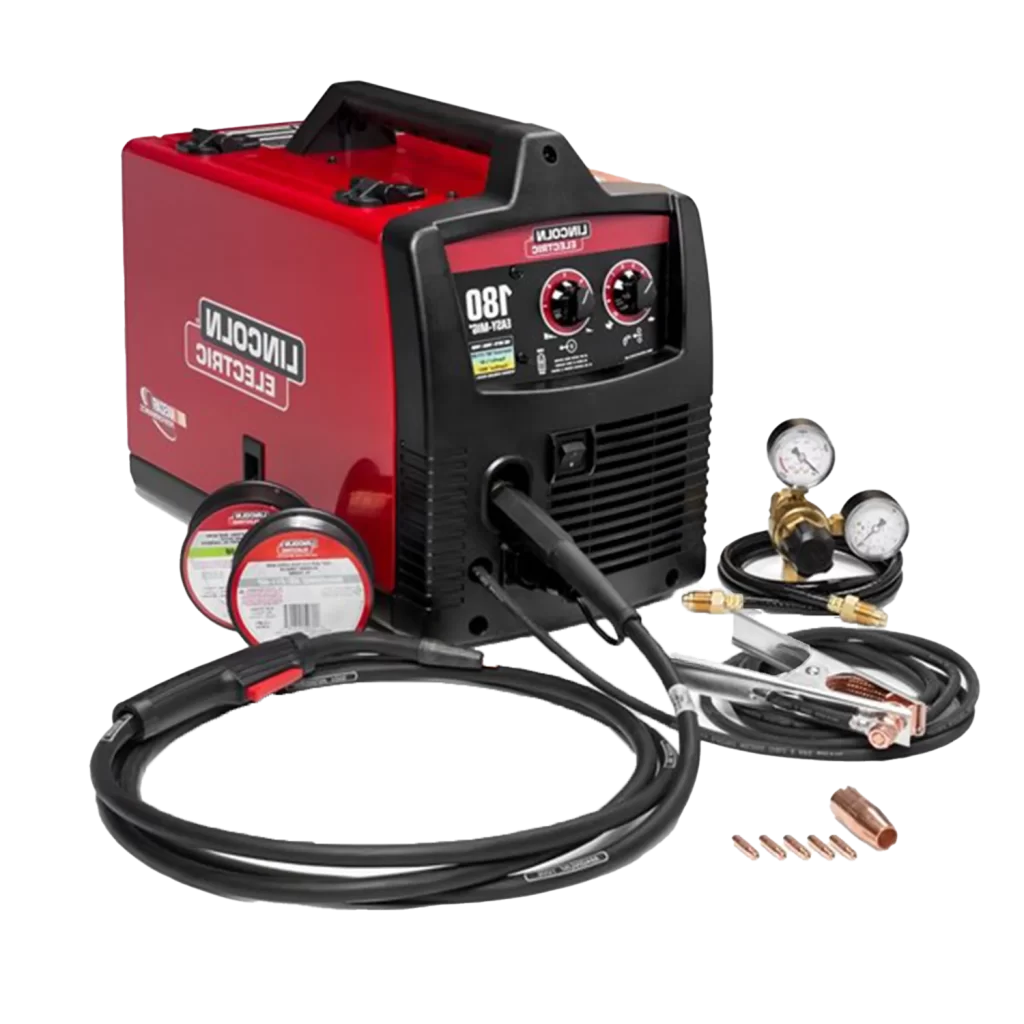 Magnum 100L gun and 10 ft. (3.0m) cable assembly with brass gun connection and 4-pin MS-Type connection for trigger control (K530-6
.025 in (0.6 mm) contact tips (Qty. 3) (KH710)
.035 in (0.9 mm) contact tips (Qty. 3) (KH712)
Gasless nozzle for Innershield Flux-Core welding (KH726)
Gas nozzle for MIG welding (KH725)
Harris® 3000290 Gas Regulator (S25805) and 52 in. (1.3 m) hose (S19303) for use with Ar/CO2 or CO2 gases. For use with CO2 shielding gas, order a Lincoln Electric S19298 CO2 shielding gas bottle adapter.
Sample spool of .025 in. (0.6 mm) diameter SuperArc® L-56® premium MIG wire.
Sample spool of .035 in. (0.9 mm) diameter Innershield® NR®-211-MP flux-cored wire.
Work clamp and 10 ft. (3.0 m) cable.
Learn-To-Weld DVD.
Fundamental Aspects And Features Of Welding Machines Compared
We have already compared the most critical aspects between these two welders. But just in case you want to see a more detailed discussion, we directly compared certain features.
Welding Machine's Build Quality
If we disregard the built-in ground cable, the Lincoln Easy MIG 180 has a slightly better build quality than Eastwood. Lincoln typically sells more expensive MIG welders, but this one offers many of their qualities in a budget category.
It has an angled fully metal wire drive system identical in design to that of the Eastwood MIG welder. But Eastwood doesn't use the angled design, making it slightly inferior to Lincoln. The angled drive lets you feed the wire from the top, instead of from the bottom of the wire spool, which should lead to less of a chance of wire nesting and making a mess inside the unit.
The full sheet metal housing of the Lincoln welder is on par with the Eastwood MIG 180 welder, but its MIG gun is lower in quality than the Eastwood's. The Eastwood unit uses a tweco style torch which uses common tweco style consumables that are standard and readily available. Plus, the Eastwood welder comes with a ground clamp with fully copper contact tips for much better conductivity, allowing you to attach it to more dirty metal.
MIG Welding Aluminum With a Spool Gun
The Eastwood MIG 180 is sold with or without a spool gun. If you buy the package with a spool gun, you will get the spool gun at half the price, making it very cost-effective for those who weld aluminum.
Aluminum is a difficult metal to weld because of its high thermal conductivity. The Eastwood MIG 180 has a slight advantage because it has a higher duty cycle, allowing you to weld with a higher current for more extended periods.
While Lincoln and Eastwood both output a maximum of 180A, the Eastwood model can sustain the 180A output longer.
Due to the heat conductivity issue, aluminum requires more amperage to form a puddle than steel. That's why Eastwood's ability to sustain higher amperage output comes as an advantage for welding aluminum.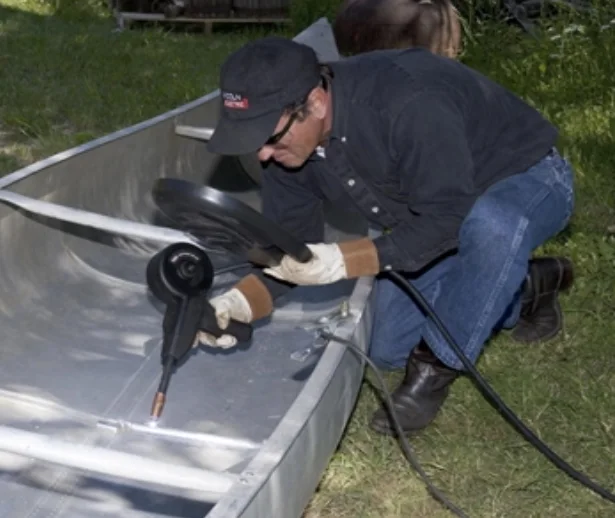 Another slight advantage of the Eastwood MIG 180 welder is that the button to switch the welder in the spool gun mode is located on the front of the unit where it's easily accessible, while Lincoln keeps this button on the inside the unit. This is not a deal-breaker, but it does mean an additional hassle of opening the machine and making the switch happen.
The Additional Functionalities
Unfortunately, the Lincoln MIG 180 doesn't offer any specific additional features. It's a basic MIG/flux core welder that doesn't even support dual voltage input.
The Eastwood MIG 180 welder offers tack weld and 2T/4T features. Most Eastwood welders include these functions, and many similar welders overall come with some additional settings.
The tack weld setting allows you to place consistent tacks regardless of how long you hold the trigger pressed on the MIG torch.
This removes human error from the equation and lets you tack sheet metal with machine-like precision.
The tack weld feature is especially useful for auto restoration. Considering that the Eastwood company specializes in auto parts and auto bodywork, it's no surprise that they included this feature.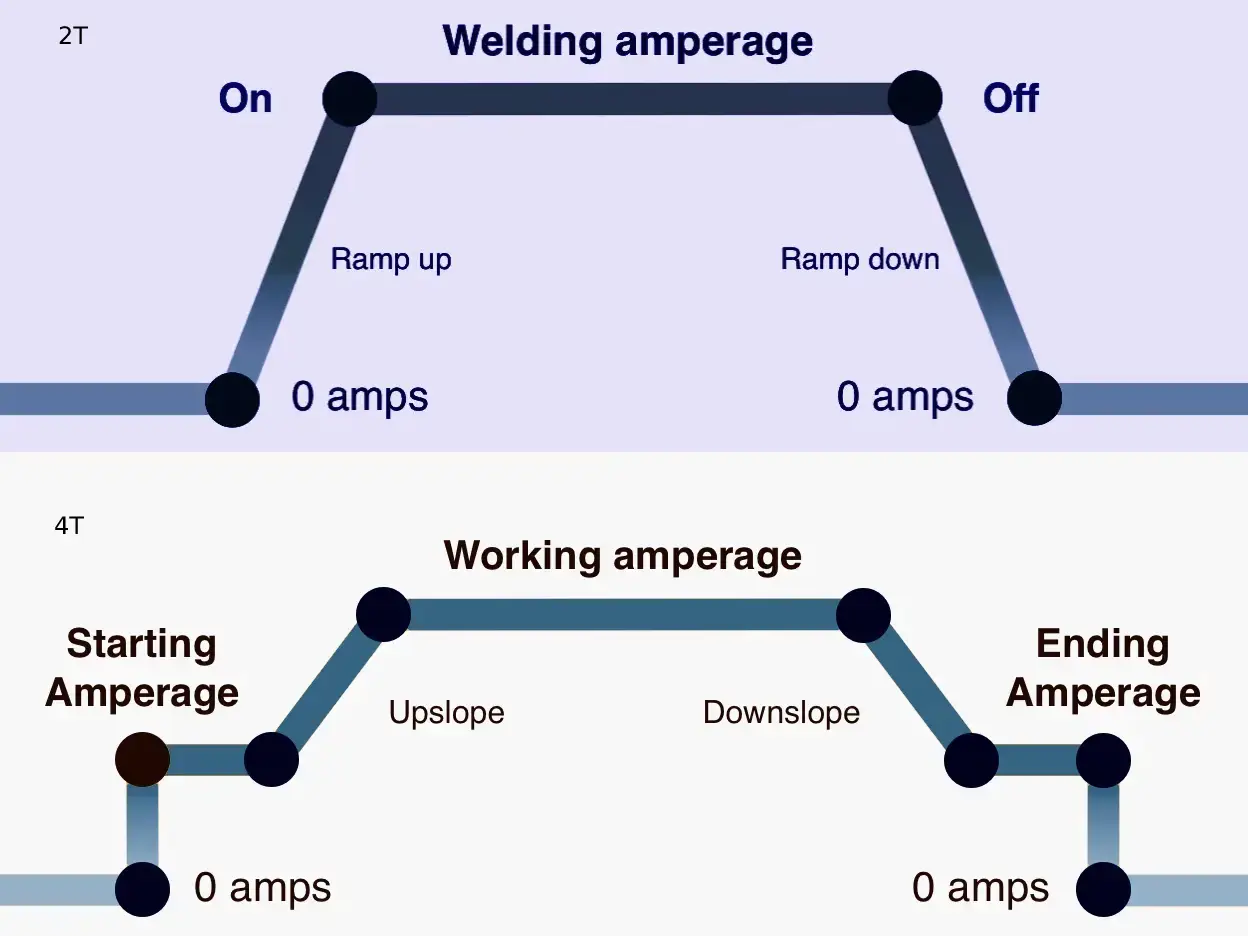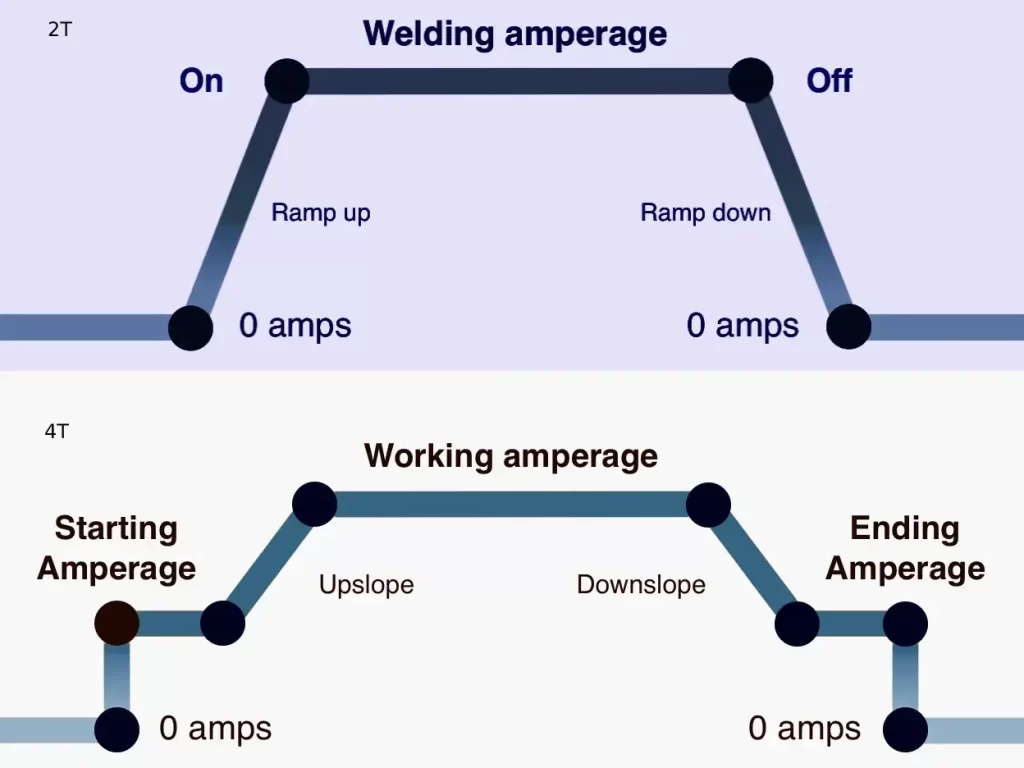 The 2T/4T settings let you modify how the arc is sustained between the wire tip and the metal piece. The 2T is your standard setting every welder provides; press the trigger, and the arc starts; release the trigger, and it extinguishes. The 4T setting allows you to press the trigger and release it without cutting out the arc, so you can weld without getting hand fatigue. To cut out the arc using the 4T, press and release the trigger again. That's why it's called 4T, as in four touch operation.
Final Thoughts
The Lincoln MIG 180 is an old-school, durable, decent unit. Even if it has downsides, many people decide to buy it, and it's still money well spent. However, the Eastwood 180 is a better choice overall because it beats Lincoln across the board.
With a higher duty cycle, lower weight, similar build quality, more functionalities, equal warranty period, the Eastwood MIG welder is a great welder you should consider.