If you browse the hobbyist TIG welding market, you will likely come across two machines with highly positive reviews: Eastwood TIG 200 and Lincoln Square Wave 200.
On the paper, there are lots of similarities between these two. But, what are the crucial differences?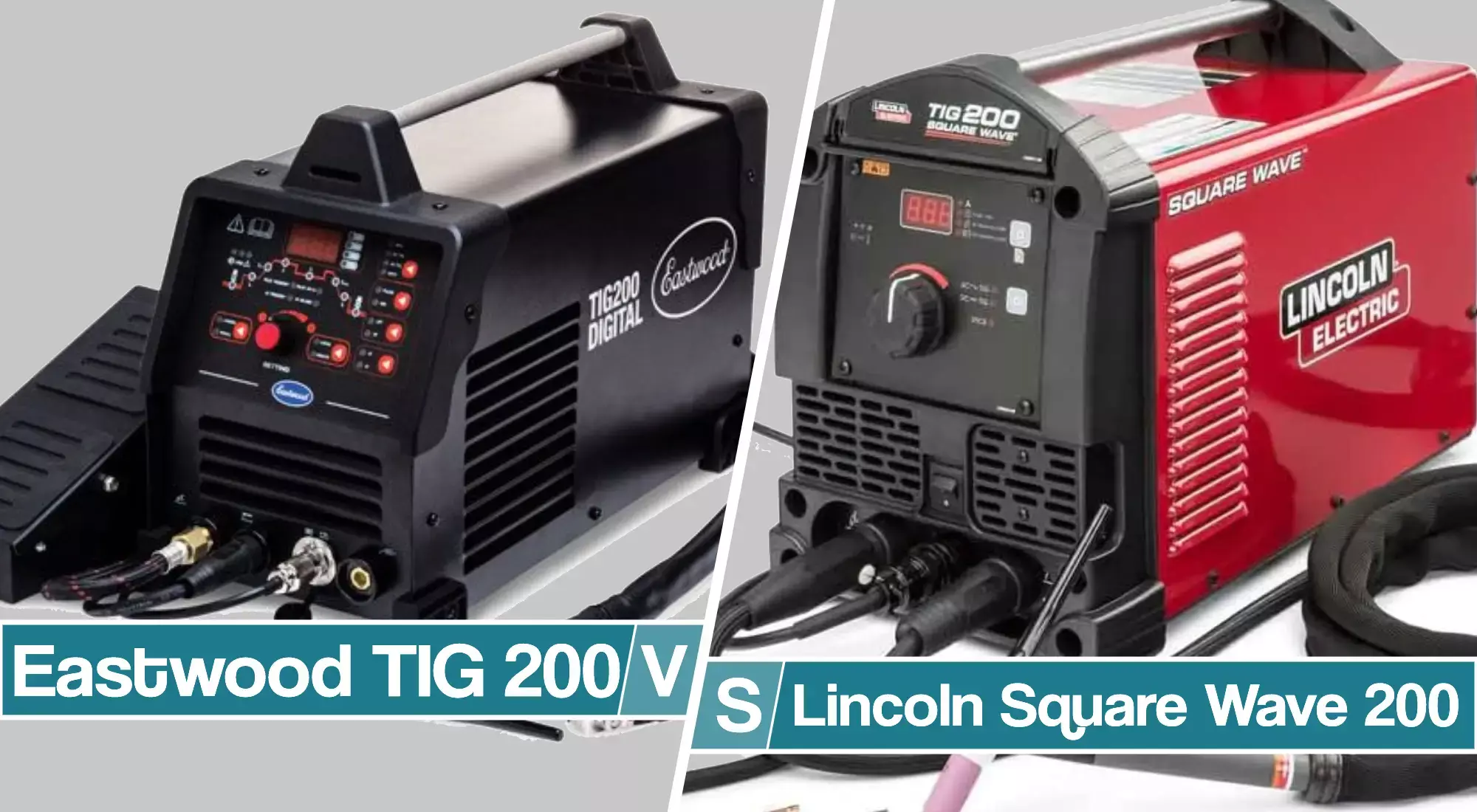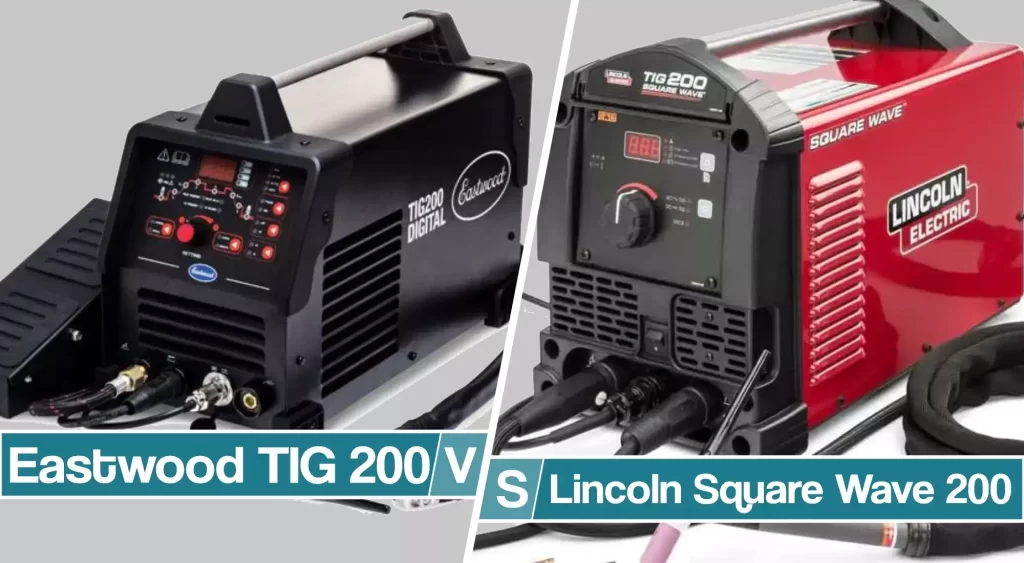 Read this Eastwood TIG 200 vs. Lincoln Square Wave 200 review to learn more about the good, bad, and critical assets.
Eastwood TIG 200
Lincoln square wave 200
Unit's Image
Welding Process
Stick welding/DC TIG/DC TIG-Pulse/AC TIG/AC TIG-Pulse/AC TIG-MIX
Stick welding/DC TIG/DC TIG-Pulse/AC TIG/AC TIG-Pulse
Build Technology
Square Wave IGBT Inverter
Square Wave IGBT Inverter
Input Power
240V (+/-10%)
120V/230V
Input Phase and Hertz
1-Phase 50/60 HZ
1-Phase 50/60 HZ
Current Type
AC/DC
AC/DC
Weldable Metals
Mild Steel, Aluminum, Stainless steel, and other alloys
Mild Steel, Aluminum, Stainless steel, and other alloys
Output Amperage Range
10-200 Amps
TIG: 10-125A
Stick: 10-90A
TIG: 10-200A
Stick: 10-170A
Rated Output
25% at 200 Amps
120V TIG: 125A/25%, 100A/40%, 85A/60%,
120V Stick: 75A/20%, 65A/60%
230V TIG: 200A/25%, 160A/40%, 130A/60%
Stick: 170A/20%, 100A/60%
120V AC TIG: 110A/25%

(WFS) TIG Start
Lift and HF
Lift and HF
Dimensions (W x H x L)
18.5" Long x 13" Tall x 8.5" Wide
14 in x 10.75 in x 19.25 in
Warranty
3 Year Warranty
3 Year Warranty
Check Price
Check Current Price
Check Current Price
Quick Overview Of Both Machines
Let's take a quick look at what both tig welders have to offer before comparing them. Then, after a brief overview, we will thoroughly explain the differences and how they might affect your choice.
Eastwood TIG 200 Digital AC/DC Welder
Eastwood TIG 200 AC/DC is a reliable, sturdy, well-built TIG/Stick welder designed for auto repair enthusiasts and hobbyists. Eastwood TIG welders, in general, became famous for their value for the money spent, and AC/DC is no exception.
Due to popularity, Eastwood company upgraded the TIG welder to try and eliminate drawbacks. In addition, the overall value is increased by introducing Flex Head TIG torch WP17 style, gas lens kit, rocker-style pedal, and new gas flow meter.
In a nutshell, the Eastwood TIG welder is quite a decent machine, capable of outputting 200 amps. With AC/DC TIG options, you can use it to weld steel, stainless steel, and aluminum up to 1/4″ thick.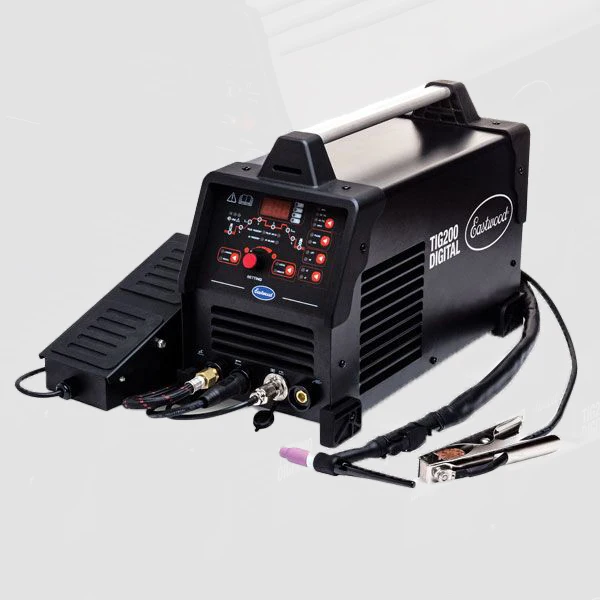 In addition, the duty cycle of 60% is rated at 190 amps, so you can tackle even more complex projects without making a break. But keep in mind that this is not an industrial-grade machine.
On the other hand, hobbyist TIG welders are not designed for professionals, so it lacks advanced TIG welding features such as pulse control. However, you will find it more than easy to use and set up as a beginner.
Lincoln Electric Square Wave TIG 200 Welder
If you TIG welded on Lincoln TIG machines, you are probably aware of the reliability they provide. However, as the hobbyist market grew, Lincoln introduced Square Wave 200, a TIG/Stick welder aimed at hobbyists and DIY lovers.
Lincoln Electric Square Wave 200 fits best in DIY, hobby, light fabrication, automotive, and educational shops. The unit is easy enough to use, and a user-friendly interface enables the operators to set it and forget it.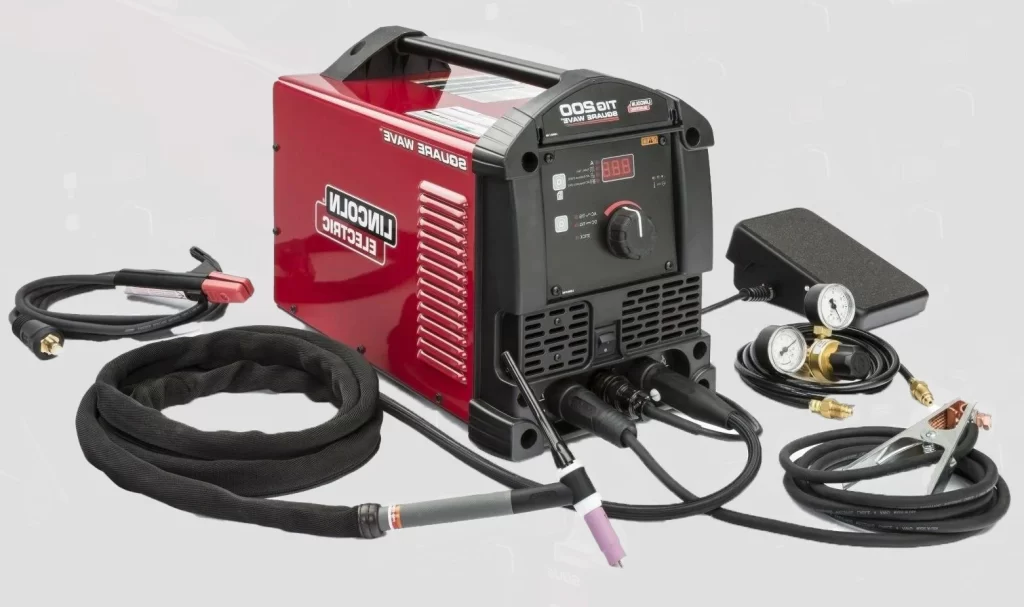 Square Wave 200 can weld aluminum, mild steel, stainless steel, and chrome-moly, just like the Eastwood TIG welding machine. The maximum output of 200 amp is the same, but you get a relatively low duty cycle of 25% at 200 amps. So it is clear Lincoln unit is designed for light-duty tasks and projects around the house.
If you are thinking about Lincoln Square Wave TIG 200, you should be ready to pay some more for the brand-name machine. However, you get a great machine and everything you need to weld straight out of the box and a trustworthy device.
Looking at this brief overview of both machines, they offer pretty much the same. So, what are the differences?
TIG Welders Packages And Content Value
If you decide to buy either Eastwood AC/DC TIG 200 or Lincoln Square Wave TIG 200, you get everything you need to weld straight out of the box (even the tungsten electrode), except the shielding gas, of course. However, there are slight differences in terms of value.
Eastwood welder TIG 200 comes with a flex-head torch, rocker-style foot pedal, gas regulator with shielding gas hose, and gas lens kit, which add a combined value of $300. However, some awful accessories are useless, such as a plastic hand-held shield and wire brush/hammer.
On the other hand, Lincoln Square Wave 200 introduces a professional-grade flex-head torch, foot pedal, and shielding gas regulator in its package of accessories. You can buy Lincoln consumables almost anywhere, but the most significant advantage is a stick electrode holder.
Remember that both welding machines offer TIG/Stick welding features. However, to Stick weld with Eastwood TIG 200 welder, you must buy an electrode holder separately.
Eastwood TIG 200 Included Accessories
Eastwood TIG 200 DIGITAL Welder
Shielding Gas Flow Meter
Shielding Gas Hose, 4.6' [1.4m]
Ground Cable with Clamp, 10' [3m]
Flexible TIG Torch (WP17F) with 14' [4.2m] cable.
Foot Pedal
#6 Gas Nozzle (3/8")
#5 Gas Nozzle (5/16")
Long Back Cap
Short Back Cap
3/32" Collet Body
1/16" Collet Body
3/32" Collet
1/16" Collet
3/32" Gray Tungsten
1/16" Gray Tungsten
Eastwood Instruction Manual
Lincoln Square Wave Included Accessories
PTA-17 TIG Torch Ready-Pak – 150 amp air-cooled torch package with «Flexible head and 12.5 ft. (3.8 m) Ultra-Flex™ cable assembly with Twist-Mate™ adapter. Includes #7 nozzle, 1/16 in. (1.6 mm) and 3/32 in. (2.4 mm) collets, collet bodies, and E3 Tungsten.
Foot Amptrol™ – with 25 ft. (7.6 m) cable assembly
Gas Regulator/Flowmeter and 10 ft. (3 m) Gas Hose Kit
200A Stick Electrode Holder – with cable and Twist-Mate™ adapter
Ground Clamp and Cable – with Twist-Mate adapter
Differences in TIG Torches On Both Welders TIG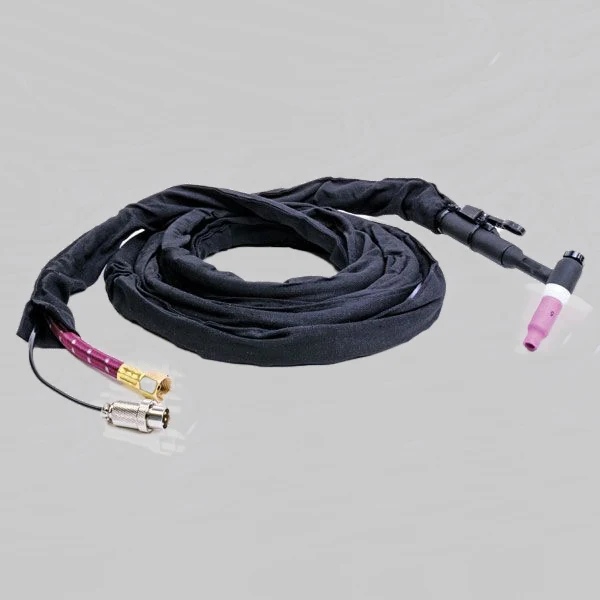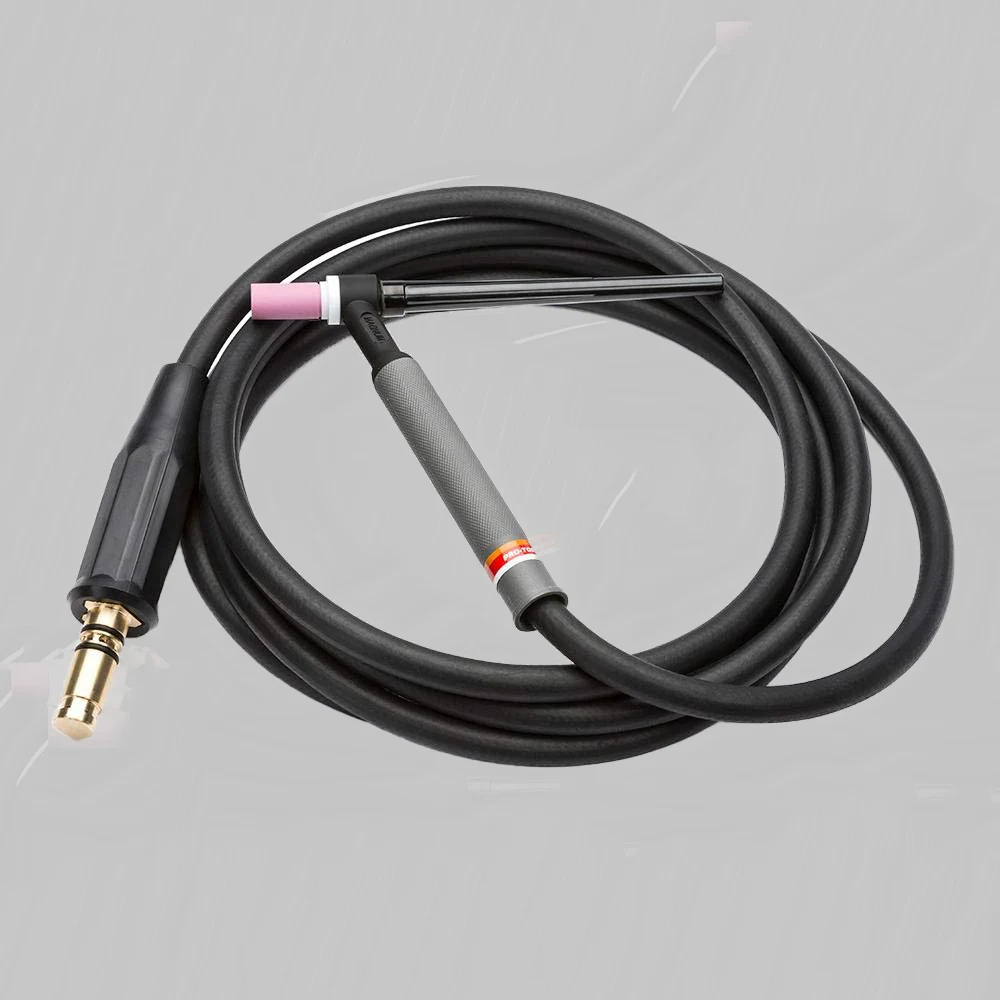 While both welders provide decent flex-head 17 series torches, there is a slight difference. Eastwood TIG 200 AC/DC welder includes a torch with a trigger. The trigger on a torch will help you start and ensure arc quality in cramped spaces. But keep in mind that you cannot tune the amps as the foot pedal allows. Torch control is not essential but is a nice feature to have. However, Lincoln doesn't provide it.
Different Welder Controls And Totaly Different Welder Front Panels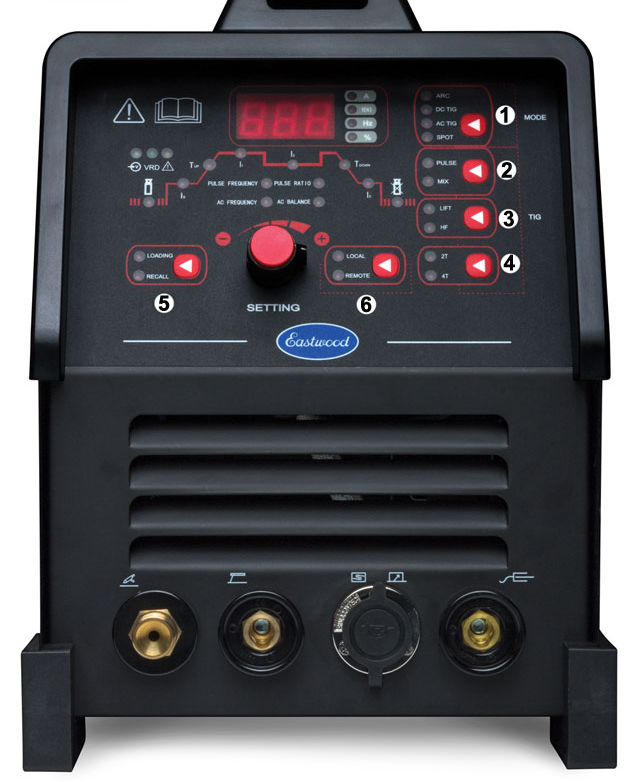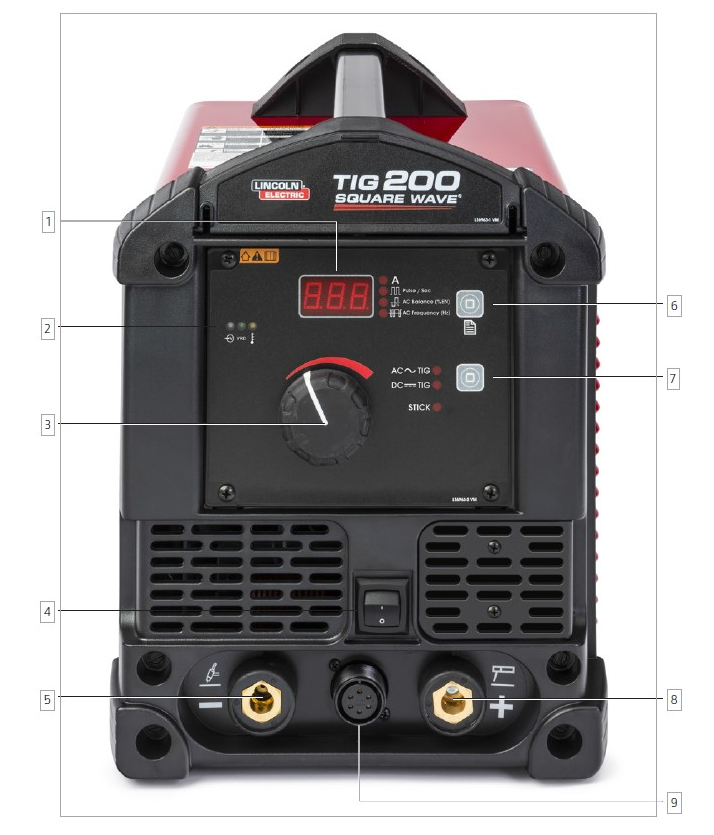 Eastwood TIG 200 and Lincoln Square Wave 200 take a different control approach.
Eastwood welders, in general, rely on knobs and switches that are easy to use with your gloves. Knobs and controls give the welder rather a traditional look, but they are easy to use.
On the other hand, Lincoln Square Wave 200 takes a modern approach. For example, the control panel features a digital display, dial, and blister buttons. A straightforward design is user-interface friendly, which is crucial to achieving the best TIG welds for beginners.
So if you prefer traditional control over the machine's settings, Eastwood TIG 200 might be better, but if you are a modern-era fan, you will be satisfied with Square Wave 200.
Welders Settings
When it comes to TIG welding, the latest machines offer an incredible amount of features. For example, they let you tune your arc to perfection by adjusting start amps, AC TIG pulse, balance, or upslope and downslope amps. Unfortunately, hobbyist machines, such are these two we are talking about, usually offer essential ones.
Eastwood TIG 200 is a square wave inverter welding machine. The welder allows you to set amperage and clearance effect, but the pleasant surprise is post flow and pre flow. You can adjust post gas flow 2-8 sec and pre gas flow 0.1-1.0 sec to ensure your bead is well-protected from defects.
Lincoln Square Wave 200 helps you adjust the pulse, providing a drumbeat-like rhythm for filler metal deposition, which is valuable when welding aluminum.
Pulse is not an essential feature, but it will help you achieve precise arc control and accurate aluminum welding. In addition, the pulse is often seen at much more advanced welders that weld materials that are not that common.
Arc Start and Ease of Use
Both Eastwood TIG 200 and Square Wave 200 offer a high-frequency arc start.
However, many welders have found that the Lincoln machine offers a higher surge, which eventually simplifies the start. Therefore, even though some prefer a lift arc option, you are limited to HF.
To be honest, you shouldn't expect 2T/4T modes with starting amperage and upslope and downslope settings at this price range.
So, if these features are essential, you should look for a professional welder such as Eastwood Digital TIG 200 or Lincoln Precision TIG.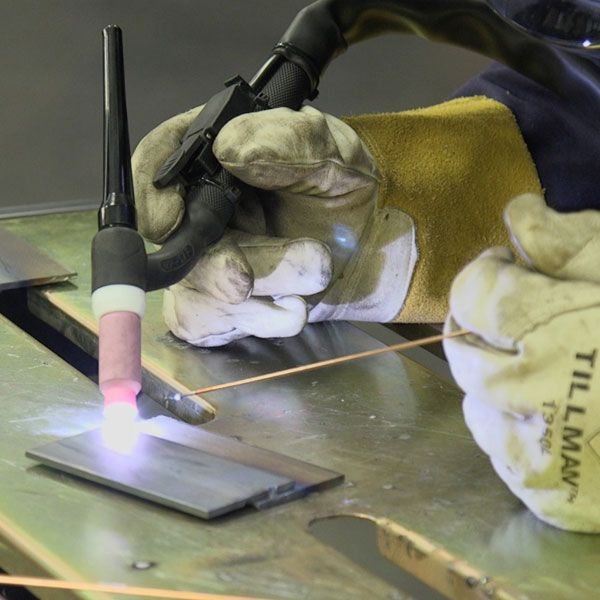 Duty Cycle
Duty Cycle refers to the time you can weld continuously without making a break. The period is usually broken into 10 minutes blocks.
Eastwood machine offers an excellent duty cycle of 60% at 190 amps. That means you will be able to weld for 6 minutes straight at the power of 190 amps. Afterward, you will need to make a 4-minute break.
On the other hand, Square Wave 200 is rated at 25% at the maximum output of 200 amps. That means you can only weld for two and a half minutes at full power before making a seven and a half break.
If efficiency is crucial for your projects, you want to opt for a machine with a better duty cycle, such as Eastwood TIG 200 AC/DC. However, you can settle with a low-duty cycle machine if you are usually welding shorter beads and tackling light-duty work.
Welder Build
Both Eastwood and Lincoln Electric are US-based companies, but there is a catch. While companies are operating on US soil, their machines are built abroad.
Eastwood machines are designed by US standards, but the machines are assembled in China. Meanwhile, Lincoln welders are produced in Mexico.
So before you think you are opting for a made in US machine, you should know these facts. Nonetheless, each device is subjected to quality control, so you are really getting what you pay for.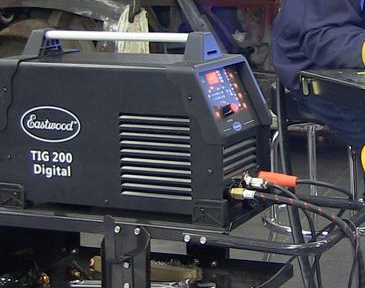 Welder Price
Looking at the price tag, you can notice a significant difference.
While other TIG welders are known to be expensive, Eastwood TIG 200 AC/DC is more than an affordable sub $1000 machine you can get for half of the Lincoln Square Wave 200 (approximately $2000).
But keep in mind that cheap doesn't mean it is poorly built or inefficient. On the contrary, it is clear Eastwood unit is quite a competitive welding machine.
On the other hand, you pay for a brand name when buying a Lincoln welder. Branded welders offer excellent weld quality and have proven reliable over time, meaning you won't make a mistake buying a new machine. Trustworthy TIG welders pay off the investment over time.