When it comes to welding, most manufacturers lack an understanding of how much they are spending, what they are spending it on, or why. However, even though welding is known as expensive labor, there are simple ways to determine the costs.
Once you comprehend welding economics and values, you will be able to compete in the market. In addition, you should know to value your hard work.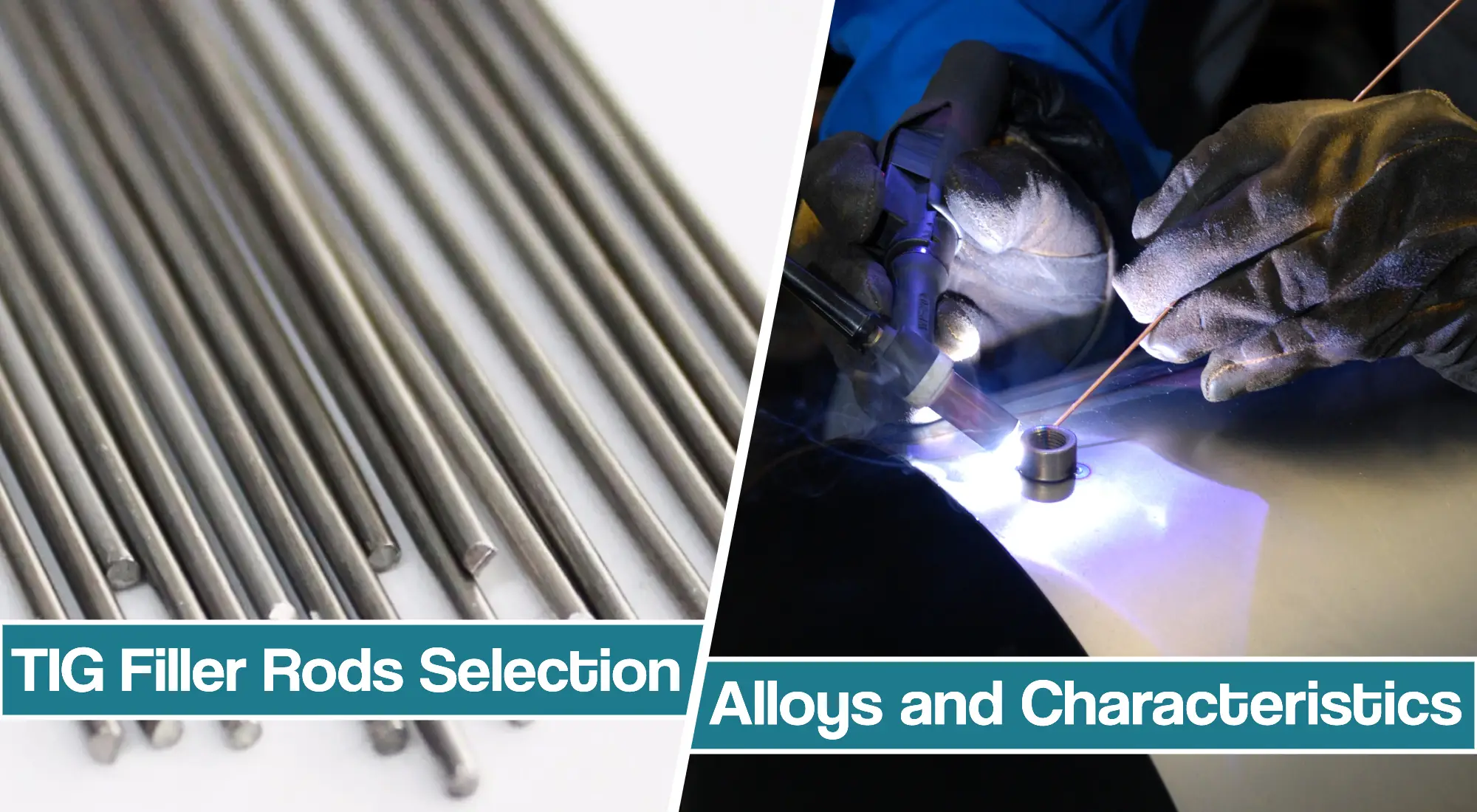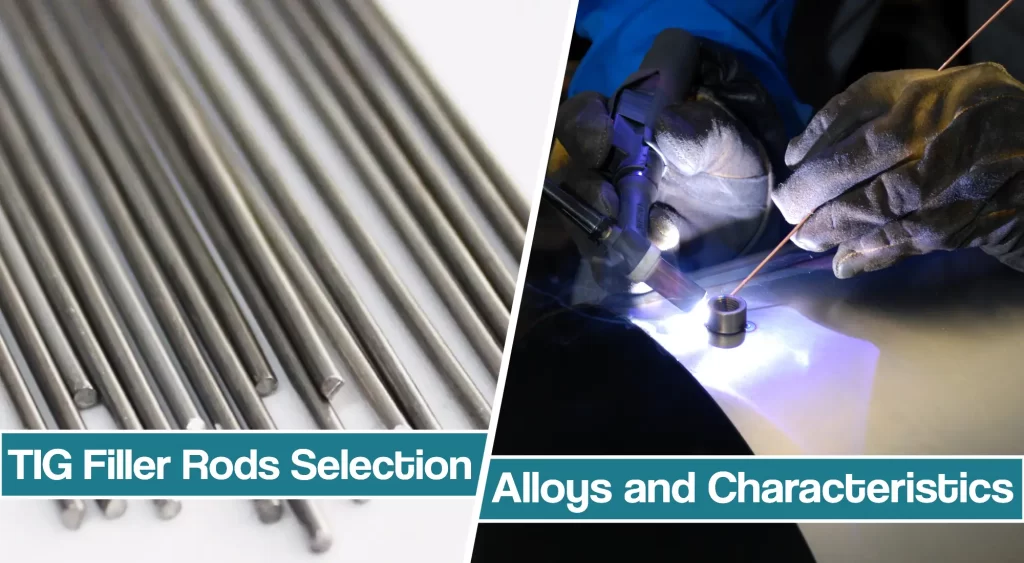 There are many "rules" welders live by when it comes to TIG filler rod selection. But it all comes down to this:
Match your filler rod with the material you are welding (not always!)
Match your filler rod with the USE CASE of the welded piece (always!)
These rules and others you may hear from welders are sometimes ignored (but you must know what you are doing!)
This article will teach you the basics of TIG filler rods and help you establish your filler rod collection because 99% of the jobs are done with the rods we will discuss soon. Additionally, we will give you TIG filler rod charts for all standard and less often used rods, including titanium.
So let's start with the essentials.
Filler Rod Basics
The filler rod is a filler metal laid in the weld joint to form a solid bond during the TIG welding process. These rods are made of special metal alloys to withstand high heat and not lose their characteristics after melting and solidifying.
There are many different rods, and each type is meant for certain metals and use cases.
The TIG rods can vary in size and thickness. The thickness of the rod determines the amount of filler metal deposited after you dab it in the weld pool, but it also determines the amount of energy needed to melt that rod diameter.
It's necessary to match the thickness of the rod with the thickness of the welded metal. For example, if you are making TIG welds on a very thin sheet metal and using a thick rod, you will need more amps on your TIG welder to melt the rod than the metal itself. This will lead to burn-through of the metal, or if you use lower amps, inefficient melting of the rod, and poor penetration.
You can also get MIG wires specifically cut in "TIG cut lengths" because the composition of MIG wires and rods for TIG is the same.
Do You Even Need a Filler Rod?
You probably need a filler rod. It is possible to make a solid TIG weld without welding rods, but a filler material is required most of the time.
When talking about TIG welding without filler, we are talking about fusion welding. Melting one piece and another, and having them join by melting into each other.
You can't use any root opening for a successful TIG fuse weld. The metal can't be very thin, or you are risking burn-through, and the fuse weld will be weaker than if you used a filler rod. That's because you "borrow" metal from both pieces to create a joint, and the joint is thinner than the rest of the section. Additionally, most of the time, the added chemicals to the filler rod are necessary to make a TIG weld with optimum strength.
Fusion welds are usually made when tack welding the pice together. They aren't structural and serve only to hold the piece while you lay the actual weld with a filler material.
Filler Rod Classification And Composition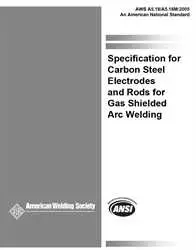 Letters "ER" stand for E – electrode, R – rod. In the case of MIG wire, it's the electrode, while in the case of TIG cut wire, it's an R – rod. Nevertheless, the filler rods are sold with "ER" in their name, not just "R."
The number "70" stands for tensile strength in 1000 psi increments. So, the tensile strength of ER70S-2 is 70.000 psi.
The letter "S" stands for solid, and "C" means composite.
The final digit indicates the chemical composition. In this case, the number "2." This is what separates different rods for welding mild steel.
Now, let's proceed with charts before we explain each TIG filler rod and what it's meant for. We will also outline which filler metal you need to have in your shop at all times because these will get the job done most of the time.
Filler Rod Diameter Chart
| Metal Thickness | Filler Rod Diameter |
| --- | --- |
| 1/16 in. | 0.045 or 1/16 in. |
| 3/32 in. | 1/16 or 3/32 in. |
| 1/8 in. | 1/16 or 3/32 in. |
| 3/16 in. | 1/8 in. |
| 1/4 in. | 3/16 in. |
| 1/2 in. | 1/4 in. |
Filler Rod Size & TIG Welder Settings
Low And Mild Carbon Steel
Metal Gauge
Tungsten Diameter
Filler Rod Diameter
Cup
Argon Gas Flow
@ 20 PSI (CFH)
Amperage
Travel Speed in IPM
1/16″
(1.6mm)
1.6mm
1.6mm
4, 5, 6
15 (7)
95 – 135
15
1/8″
(3.2mm)
1.6mm - 2.4mm
2.4mm
4, 5, 6
15 (7)
145 – 200
11
3/16″
(4.8mm)
2.4mm
3.2mm
7, 8
16 (6.5)
200 – 260
10
1/4″
(6.4mm)
3.2mm
4.0mm
8, 10
18 (8.5)
250 – 300
10
Stainless Steel
Metal Gauge
Tungsten Diameter
Filler Rod Diameter
Cup
Argon Gas Flow
@ 20 PSI (CFH)
Amperage
Travel Speed in IPM
1/16″
(1.6mm)
1.6mm
1.6mm
4, 5, 6
11 (5.5)
80 – 100
10 - 12
1/8″
(3.2mm)
1.6mm
2.4mm
4, 5, 6
11 (5.5)
120 – 150
10 - 12
3/16″
(4.8mm)
2.4mm - 3.2mm
3.2mm
5, 6, 7
13 (6)
200 – 250
10 - 12
1/4″
(6.4mm)
3.2mm
4.8mm
8, 10
13 (6
275 – 350
8 - 10
Aluminum
Metal Gauge
Tungsten Diameter
Filler Rod Diameter
Cup
Argon Gas Flow
@ 20 PSI (CFH)
Amperage
Travel Speed in IPM
1/16″
(1.6mm)
1.6mm
1.6mm
4, 5, 6
15 (7)
60 – 90
10 - 12
1/8″
(3.2mm)
2.4mm
2.4mm - 3.2mm
6, 7
17 (8)
125 – 160
10 - 12
3/16″
(4.8mm)
3.2mm
3.2mm
7, 8
21 (10)
200 – 250
10 - 11
1/4″
(6.4mm)
4.8mm
3.2mm
8, 10
25 (12)
250 – 320
8 - 10
Titanium
Metal Gauge
Tungsten Diameter
Filler Rod Diameter
Cup
Argon Gas Flow
@ 20 PSI (CFH)
Amperage
Travel Speed in IPM
1/16″
(1.6mm)
1.6mm
1.6mm or no filler rod
4, 5, 6
15 (7)
90 – 150
8 - 10
1/8″
(3.2mm)
2.4mm
1.6mm
5, 6, 7
17 (8)
150 – 210
7 - 9
3/16″
(4.8mm)
2.4mm
3.2mm
6, 7, 8
21 (10)
210 – 280
7 - 8
1/4″
(6.4mm)
3.2mm
3.2mm
8, 10
25 (12)
270 – 320
7 - 8
Selecting Your TIG Welding Rods
You should always have the basic mild steel, stainless, and aluminum rods on you, but also some rods of silicon bronze because it's helpful when welding cast iron and similar metal.
So, let's discuss each metal and go through all of the rods.
I will outline the rod type you should have for each of the metals because some rods are generally preferred over others.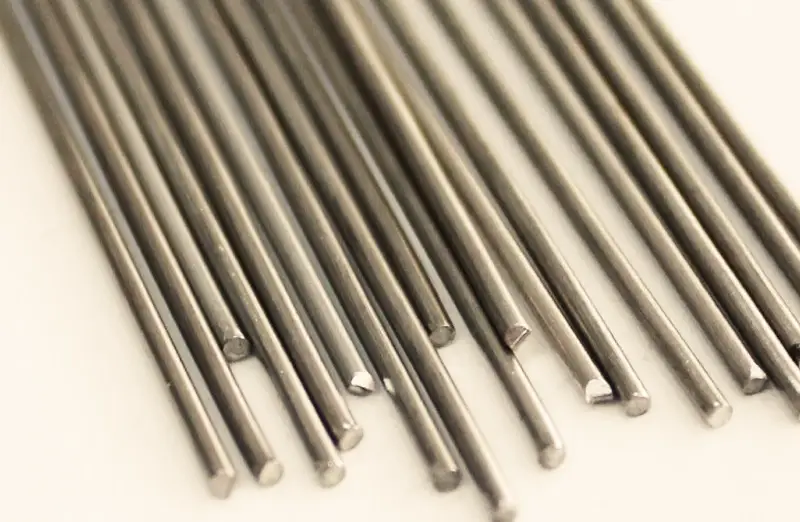 Eastwood company sells some of the best filler rods out there, and they package them in excellent plastic tubes you can use as storage containers in your shop. So, I can recommend their rods for beginners and pros.
Mild Steel (Low Carbon Steel)
The most popular TIG welding rods for mild steel are ER70S-2, ER70S-3, and ER70S-6. Any of these will be a good choice for basic welding tasks, but I recommend getting a batch of ER70S-2 and others only if needed.
ER70S-2 contains triple deoxidizers (Zirconium, Titanium, and Aluminum), making it one of the best TIG welding rods for welding dirty metal. In theory, it can even handle rusty metal, but you will sacrifice some weld quality. It's for a single pass only, so if you need a multi-pass rod, consider the following.
ER70S-3 contains some deoxidizers, but it's meant for general purpose welding, meaning that the metal should be clean. It's suitable for single-pass and multi-pass welds.
ER70S-6 is best suited for sheet metal welding and achieves smooth-looking beads. It can weld metal with moderate amounts of mill scale and rust.
Stainless Steel
The most commonly welded stainless steel is 304L, and the ER308L is the TIG rod for it. So, I recommend getting a nice batch of ER308L if you weld 300 series stainless steels. There are many stainless TIG rods, so you should definitely do some further research if you are welding something unorthodox.
ER308L works great with 300 series stainless and contains 0.03% carbon to increase resistance to intergranular corrosion. It also provides excellent puddle control, making it one of the easiest rods to use.
ER309 and ER309L are used for welding dissimilar metals. Both of these are a good choice, but the ER309L reduces the chance of carbide precipitation, preventing weld porosion.
ER316L is used to weld molybdenum-bearing austenitic base metal alloys. Most often used for valves, chemical equipment, pressure vessels, and similar.
Aluminum
For aluminum, the most commonly used filler rod is a 4043 aluminum alloy rod, and that's the one I would recommend for most aluminum welding applications. However, aluminum is a tricky metal, so make sure you know what alloy you are welding and what the part will be used for.
4043 alloy rod contains 5% silicon alloy and is used for welding heat-treatable base alloys. It's most commonly used for welding 6000 series of aluminum alloys. The silicone additives improve molten puddle fluidity. This rod is less sensitive to cracking with 6000 series of aluminum.
5356 alloy rod is an all-position non-heat-treatable TIG rod used to weld 5000 series aluminum alloys when 40,000 psi tensile strength is unnecessary. Its widely used as an aluminum filler metal.
Silicon Bronze
The silicon bronze TIG filler rod is not meant for structural work. However, it's beneficial to have it in your garage. If you are not doing any critical welds that require higher strength, the silicon bronze filler rod can be used for brazing and combining dissimilar metals like copper to steel and others. It can also achieve a more ductile weld if needed.
Titanium
When welding this metal, you should correctly match the titanium filler rod with the grade of the welded base material. There are exceptions to this rule. For example, if you need to improve the ductility of the weld, you could use a filler rod with a lower yield strength than the base titanium alloy. But such actions should be thoroughly tested because titanium is a tricky metal to weld.
ERTi-2 is used with grade 2 titanium and provides good resistance to high temperatures and aggressive chemical environments. However, it does experience elongation of 20%, so that's something to consider
ERTi-3 is used with grade 3 titanium
ERTi-5 is used with grade 5 titanium, and it has high ductility, toughness, fatigue strength, and heat-treatment capability
ERTi-7 contains additional palladium (Pd), creating a strong corrosion resistance at a low density. The ERTi-7 rods weld titanium metals like 2, 16, and 26 grades.
ERTi-9 is used with grade 9 titanium
ERTi-23 is used with grade 23 titanium, but it's also used to weld pure industrial titanium in all of its grades. It's characterized by good weldability and flawless corrosion resistance
Conclusion
Whether welding stainless sheet metal or doing some basic mild steel welding, you need proper tungsten electrodes and filler metal to achieve a quality weld. This article provided an overview of which rod to use for what metal. But you should always research the metal you are working with, especially when making a critical weld.