Welding machines can be clunky, heavy, and hard to maneuver.
In my lifetime, I owned many welders of different shapes and sizes, and believe me when I tell you that convenience helps you complete the job right.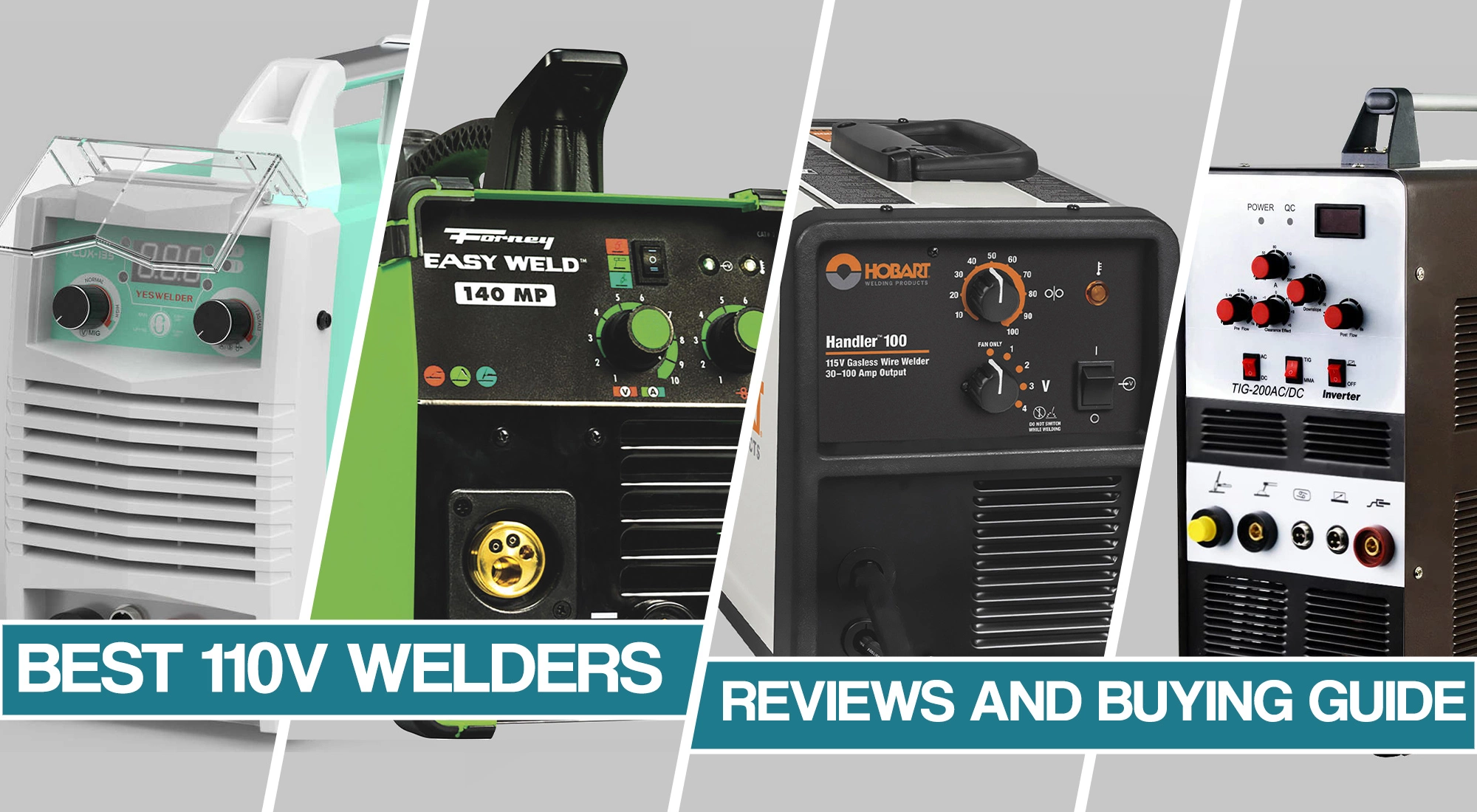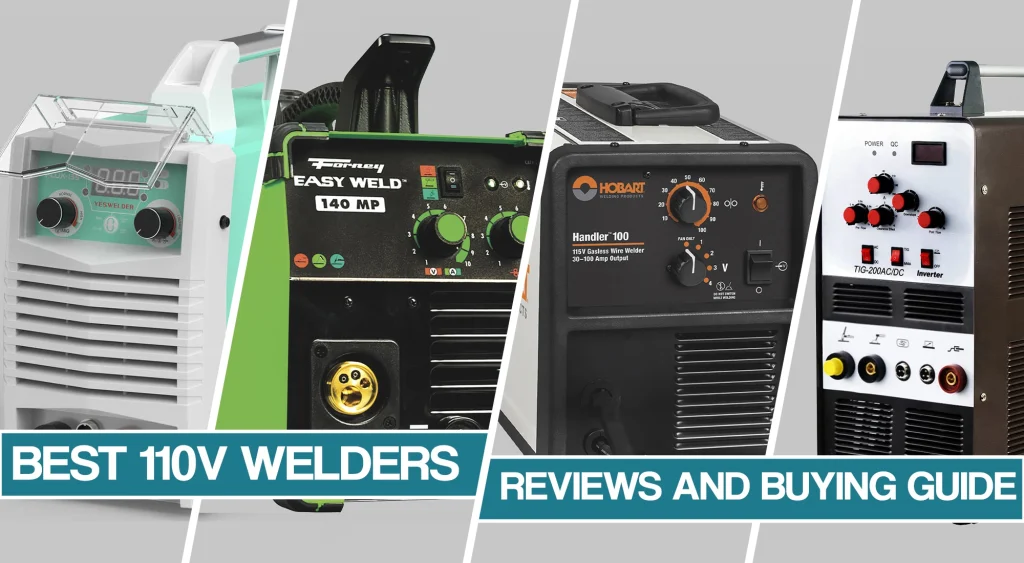 This goes double when working around the house and doing some home repairs. In that case, you are never going to need a professional welder that could only get in the way. Luckily, the industry has evolved so much that we have a number of 110v MIG welders that you can plug in any socket around the house and do the job in two minutes flat.
But you can't do anything properly if you don't have good features, quality, and enough power to complete your work. That's why I went out of my way and took all those parameters into consideration to devise a list of the best 110VMIG welders and help all of my fellow welders in need.
The article starts in one… two… three… GO!
(In case you want to see the list of the best MIG welders we picked out, check this page.)
Best 110v Welders Comparison Table
Welder Image
Name
Voltage inputs
Output Current Type
Amperage Output
Duty Cycle
Welding Process
Check Price
Hobart Handler 140 Flux-Cored/MIG Welder — Transformer
110v, 60 Hz
DC
25-140A
20% Duty Cycle at 90 A
MIG/Flux Core
Check Current Price Northern Tool
YesWelder MIG-205DS



Get 10% Off With Coupon: "-10% WELDPROS"

120v/220v
DC
110v: 30-160A
220v: 30-200A
60% Duty Cycle MIG: 160A
TIG and Stick: 140A
MIG/DC TIG, DC Stick
Check Current Price YesWelder
Forney Easy Weld 140 MP Multi-Process Welder — 120V
120v
DC
10-140 A
30% Duty Cycle at 90 A
MIG/FC/ TIG/Stick
Check Current Price Amazon
Eastwood MIG 140
120v 60 Hz
DC
30-140
30% Duty Cycle at 90 A
MIG/Flux Core
Check Current Price Eastwood
Weldpro Digital TIG 200
110v/240v 50/60 Hz
AC/DC
TIG:5-200 A,
Stick: 20-180 A
60% at 200A AC,
40% at 200 A DC
HF TIG, Stick, MMA
Check Current Price Amazon


YesWelder 135AMP 110v Gasless MIG Welder



Get 10% Off With Coupon: "-10% WELDPROS"

110v 60 Hz
DC
30-135 A
60% Duty Cycle
at 135A
MIG/FC
Check Current Price YesWelder
Best 110v Welders Reviews
If you are not a professional welder and only need a machine that can help you do some work around the house a 110V MIG welder ( or any other ) is more than enough. With it, you can work on light to medium gauge metal with ease. Plus, you don't need a generator nor any separate power source as they are made to work on your basic 110v power input found in every home.
Unfortunately, these machines can be either a hit or miss when it comes to performance. They are not built to handle a lot of power, so don't even expect it. Picking the best 110V welder is not impossible and can be done if you know where to look.
1. Hobart Handler 140 Flux-Cored/MIG Welder — Transformer
The Hobart 140 MIG welder/flux core welder probably the best MIG machine for light-duty MIG welding jobs. In my opinion, it is one of the best 110V MIG welder machines on the market based on its reliability. I do recommend any machine made by Hobart, they have a consistent to deliver quality machines for years now.
It does have a multiple-input voltage, offering 110, 115, and 120V, and should be used for MIG welds of up to ¼-inch of mild steel and some basic simple use.
The Hobart handler 140 isn't a complex machine but it does have vast capabilities.
I would categorize this machine as a perfect beginner welder as it is simple to use. You can get it up and running with only basic knowledge of welding. It is even capable of MIG flux core welding.
I was also able to assess that this machine produces a quality bead and does not create so much spatter. It has a stable and consistent arc and you can even turn down the amperage lower to adjust to the weld thickness range needed.
The MIG welder Hobart 500559 handler is still versatile but does not offer any extensive MIG settings except flux core capacity, so what you see is what you get. If you are looking to use it beyond basic MIG welding, then look further.
The downside is of course, the price of this welder. One would say that for this price, you can get 110v multi-process, dual voltage machines that have extended veracity of uses, but on the other side, you know what you are buying with this machine – quality and durability.
Pros & Cons Summarized
Pros
Easy to set up and use, which makes it great for beginner welders
Standard Hobart products 5/3/1 warranty
Aluminum wire feeder that reduces spatter
High-level build quality and durability
HR-100 MIG welding gun, work cable with ground clamp, dual-gauge regulator with gas hose, .030 in. contact tips, quick select drive roll
Great arc control provides consistent arc
Cons
High price for 110v only device
Spool gun is not included, so you cant weld aluminum straight out of box
Specifications
Processes: MIG, Flux Core.
Weld Thickness Range: Mild Steel – 24 ga – 1/4 in.
Weldable Materials: Carbon and Stainless Steel, Aluminum with Spool-gun.
Input Power: 110v, 60 Hz.
Input Phase: 1-Phase.
Current Type: DC only.
Rated Output: 90 A @ 20% duty cycle.
Amperage Output Range: 25-140 A.
Weight: 57 lbs.
2. YesWelder MIG-205DS – B Multi Process MIG Welder 110v/220v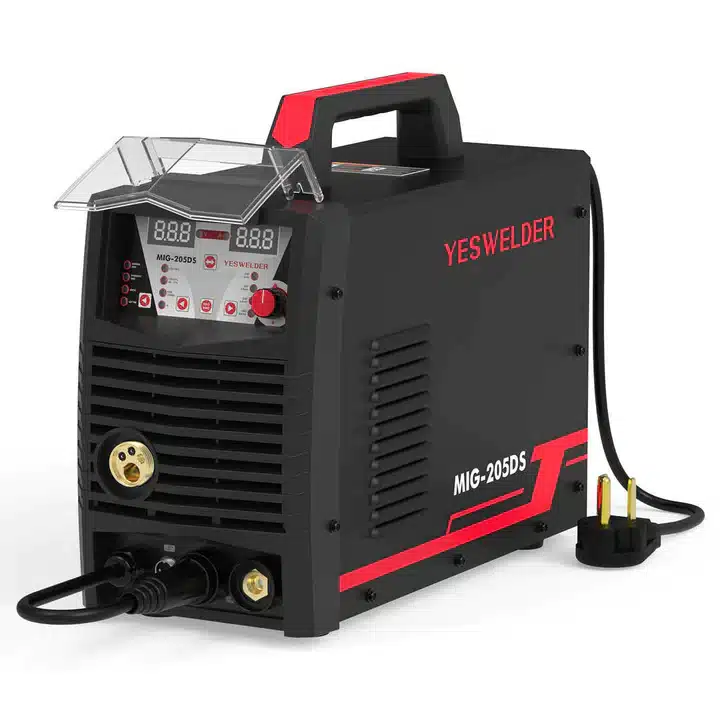 The YesWelder MIG-205D is a multi-process unit and dual voltage (110v/220v) MIG welding machine that can create quality welds at its price level. You can do MIG and Flux Core and Stick welding. Also, adding the optional TIG torch enables you to do Lift Arc TIG welding.
Other advantages include its weight and price and 30 days return policy. It comes with auto set feature Synergy settings and you don't really need a high skill to operate this machine.
I would rate MIG-205DS as perfect for beginner welding projects, basic metal welding and hobby projects. Another thing that I need to point out is that it is a dual voltage machine, that offers 205 amp and a really good duty cycle.
It can take up to 0.9mm MIG solid welding wire and 0.9mm flux core wire for gasless welding. What I didn't like is the 1-year warranty. When compared to other brands and machines like Hobart handler, you are bound to find one that offers at least 3 years. Also, there is no added equipment or accessories that come with it.
Read more about this best-for-money MIG welder.
Get 10% Off With Coupon: "-10% WELDPROS"
Pros & Cons Summarized
Pros
Offers great value for the money spent.
Metal wire feeder that is not often seen in this price range.
High-quality build with decent performance.
IGBT inverter technology. which makes it highly portable
Lift arc TIG start.
Full metal wire drive system provides smooth feed.
Overload protection keeps the device safe.
Cons
Not compatible with spool gun which means you cannot weld aluminum.
Only 1 year warranty which is low compared to manufacturers like Hobart.
Specifications
Processes: MIG, DC TIG, DC Stick.
Weld Thickness Range: Mild Steel welds up to 3/4 in
Weldable Materials: Steel, Stainless Steel
Input Power: 110/220v.
Input Phase: 1-Phase.
Current Type: DC only
Rated Output: MIG: 110v [160A @ 60%] 220v [200A @ 60%]TIG: 110v [140A @ 60%]
Amperage Output Range: 110V: 30-160 A, 220V: 30-200 A
Max Wire Feed Speed: 590 IPM
Max Wire Roll Diameter: 8″
Weight: 33 lbs.
3. Forney Easy Weld 140 MP Multi-Process Welder — 120V
I examined the Forney Easy Weld 140 MP wire feed welder and decided to add it to the list because it offers plenty of welding features at an excellent price.
What differentiates this machine from other MIG welders is that it has more safety features, like thermal overload protection.
Besides MIG welding (and some added MIG welding modes) you can use it for Stick and DC TIG welding. I would evaluate this machine as very beginner-friendly as it comes with Synergy settings.
It also has infinite voltage and speed settings/wire feed speed control which will help you create a great weld. I recommend using 42285, 42286, 42290, and 42291 Mild Steel MIG Wire and 42300 and 42301 Flux Core MIG Wire/flux-cored wire.
Unfortunately, it does create a lot of spatter. I know that even the best 110v MIG welders do, but you really have to find the sweet spot with this one. If you do decide to get it, be sure to clean up the workpiece as best as possible.
Read more about this Forney multi-process welder.
Pros & Cons Summarized
Pros
Wire feed drive that loads wire easily.
Adjustable feed speed to ensure smooth delivery.
Compact and lightweight, easy to carry around workshop.
Synergy settings make device beginner-friendly.
Sturdy construction with various protection.
Cons
Gas regulator and TIG accessories are not included.
Can create a lot of spatter until you get a hand of it.
Specifications
Processes: MIG, Flux Core, Stick, TIG
Weld Thickness Range: 24 gauge up to 1/4″
Weldable Materials: Mild Steel
Input Power: 120v 60 Hz.
Input Phase: 1-Phase.
Current Type: DC only
Rated Output: MIG 30% @ 90A
Amperage Output Range: 10-140 A
Wire Feed Speed: 79 – 197 IPM
Weight: 24.8 pounds
4. Eastwood MIG 140 Inverter MIG Welder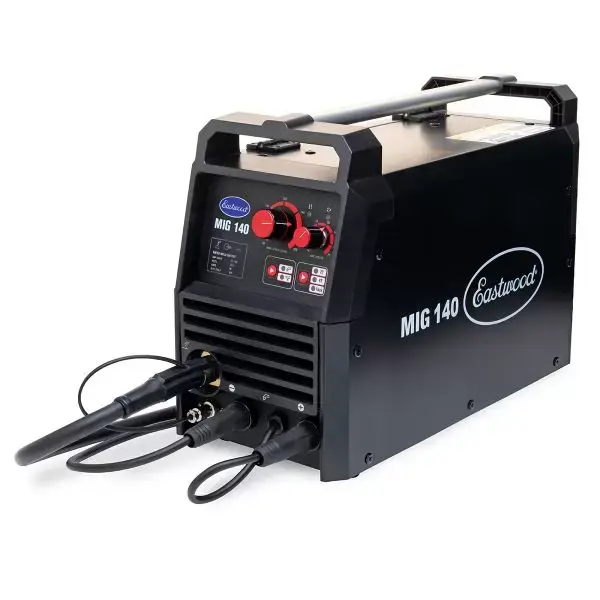 The Eastwood MIG 140 is the new-and-improved version of the popular MIG 135 welder. This is a perfect 120V MIG/Flux core welder made for hobbyists, DIY lovers, and auto-body shop owners.
Unlike its predecessor, MIG 140 utilizes inverter technology, which makes it efficient, lightweight, and powerful. With 25 lbs and a specific design, you can easily move it around the shop or garage. You can use .023 – .035 wire in 4″ and 8″ spools, and the feed is smooth due to an improved, metal wire drive mechanism.
With a maximum output of 140 amps, you can weld mild and stainless steel 24 gauge to 3/16″ thick. However, the 30% duty cycle at 90 Amps is not the highest on the market. Still, Eastwood uses common Tweco-style consumables that you can buy everywhere, even after hours. This Eastwood MIG welder has a 3-year manufacturer's warranty and lifetime tech support.
Besides a high-quality build, MIG 140 also offers some decent features, such as tack welding or 2T/4T mode. These will help you when dealing with longer welds, and once you want to keep everything in place.
Pros & Cons Summarized
Pros
Light duty choice can be used for everyday projects.
Decent price compared to the provided performance.
Efficient, lightweight, and portable
Excellent welding performance and arc stability
Tweco-style consumables
Cons
Somewhat lower duty cycle
Specifications
Processes: MIG/Flux core welding
Weld Thickness Range: 24 gauge to 3/16″
Weldable Materials: Mild Steel
Input Power: 110/220 V, 60 Hz
Input Phase: 1-Phase.
Current Type: DC
Rated Output: 30% duty cycle at 90 Amps
Amperage Output Range: 30-140 amp welding range
Wire Diameter: .023 – .035 wire
Weight: 58 pounds.
5. Lincoln Electric Century FC-90 – Entry-level Branded Flux Core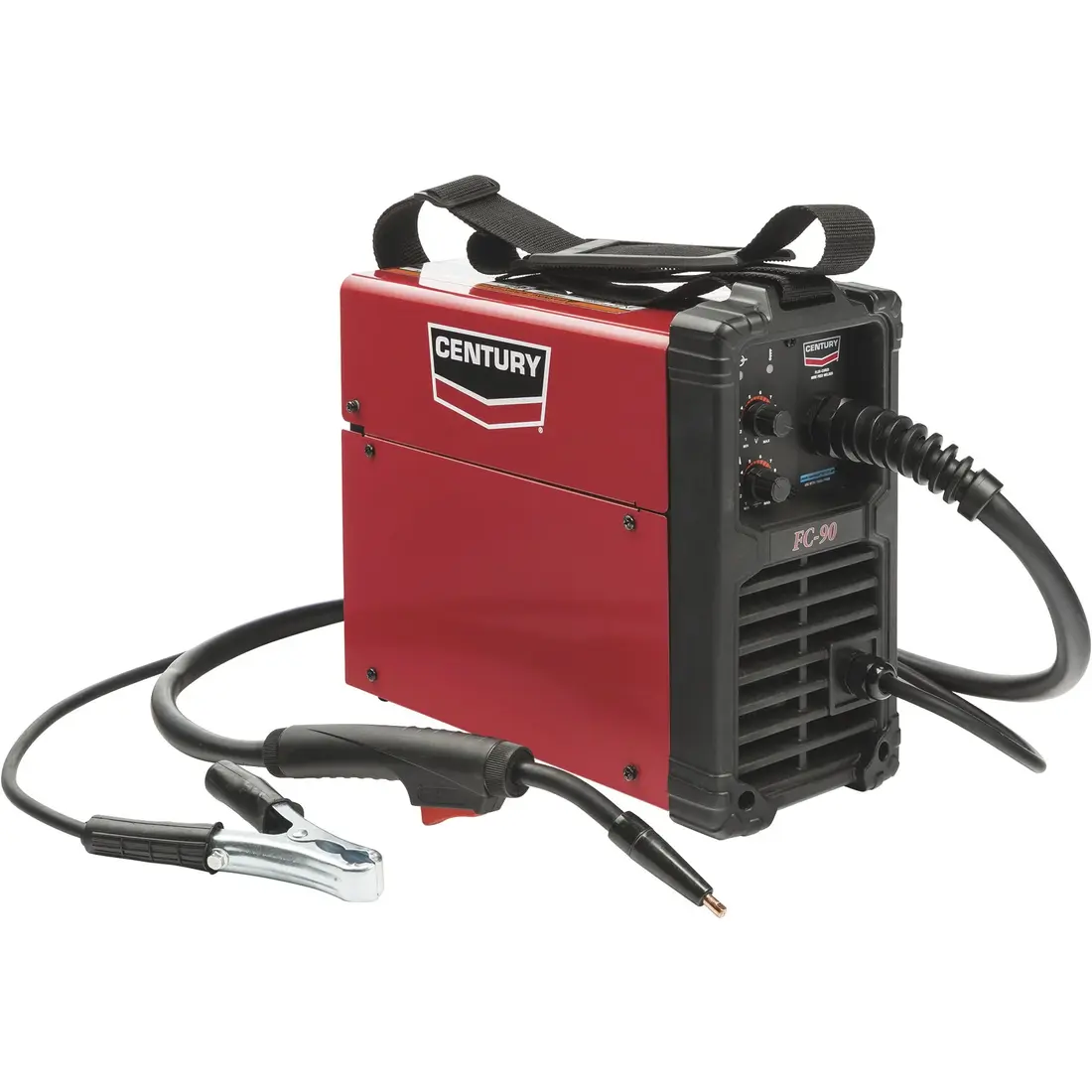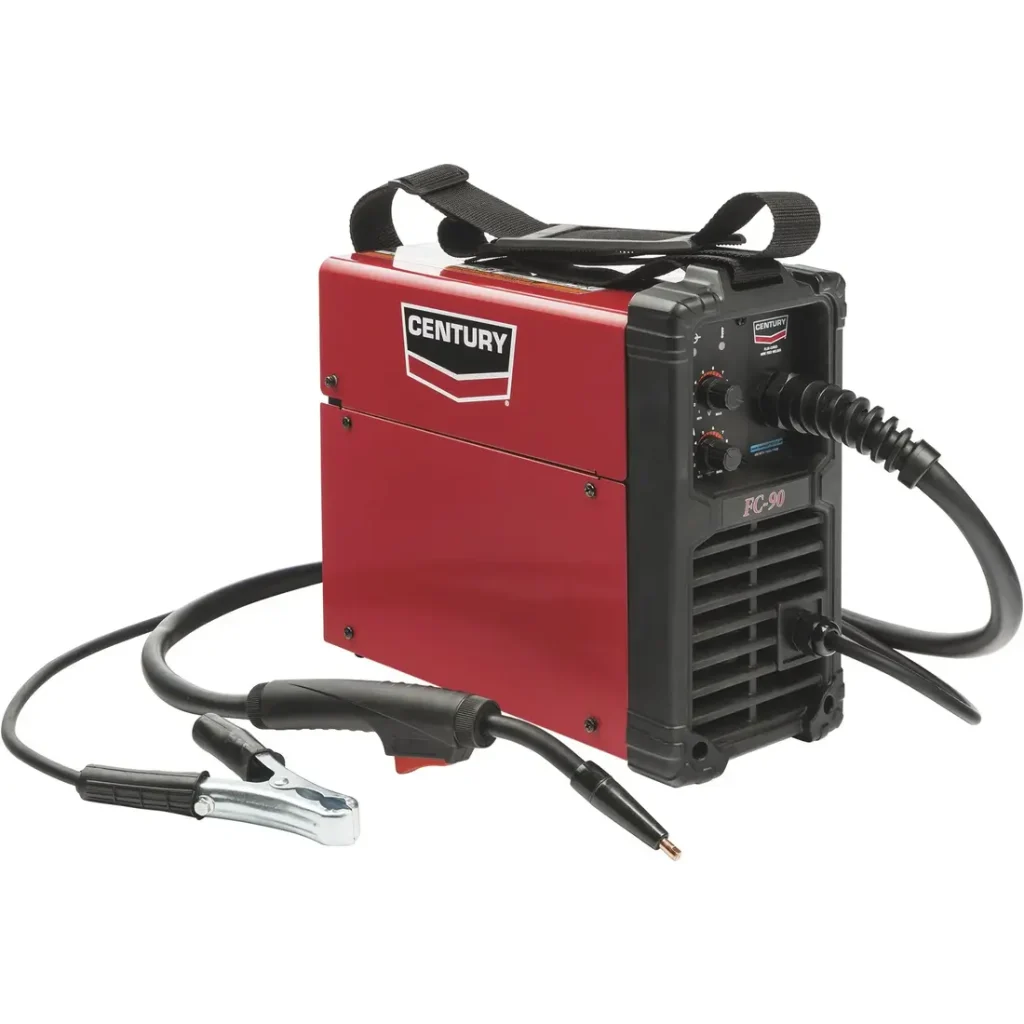 Lincoln Electric is known for its excellent machines for high-end professionals, but today, we will be presenting a compact welder for everyday welding, repair, and DIY needs. Lincoln Electric Century FC-90 is a 110V welder flux core machine rated at 20-90 amps, that is portable, lightweight, and easy to use.
Century is a Lincoln brand, which means the quality control is at the finest level. I loved the compact build, which makes the welder easy to store or transport. Despite its small dimensions and lightweight (18 lbs), this is still a durable and sturdy welder.
Due to the smaller size, the compartment can only fit smaller spools, up to 2 lbs. Additionally, you can use up to .035″ flux cored wire, which is enough considering the welder power. The wire is mounted on the top side of the welder, but the feeding mechanism is made of plastic. Still, I found it really durable and well-built.
At maximum output, you can use it to weld 18 ga. up to 1/4″ steel, which is surprisingly high. The rated duty cycle of 30% at 80A is somewhat low in the same category, which means you will be obligated to frequent breaks during welding.
Check the full review on Lincoln Electric Century FC-90.
Pros & Cons Summarized
Pros
Brand-name welder at a reasonable price
Great for DIY projects and home use
Lightweight and portable
Good welding performance
Cons
Specifications
Processes: Flux Core.
Weldable Materials: Mild steel
Input Power: 110v, 60 Hz.
Input Phase: 1-Phase.
Flux Core Wire Diameter: 0.035″
Spool Size: Up to 2 lbs
Rated Output: 80 A @ 30%
Amperage Output Range: 30-90
Weight: 18 pounds
6. Weldpro Digital TIG 200GD AC DC 200 Amp Tig/Stick Welder with Pulse
The Weldpro Digital TIG200GD does have dual voltage capabilities and offers 220 input voltage, but we still recommend it be primarily used for 110v when TIG.
But the justified measure I used with this one is that it has a very wide amperage range.
The Weldpro also has a very good foot pedal. Even though most TIG welders do include a stock foot pedal with their machine, but this works amazing.
But I do advise only doing TIG work with the pedal as it does not have the same results with a stick. Nevertheless, this unit offers welding diversity, has extensive settings, and is easy to use. Compared to other machines of its kind, Digital TIG200GD is sturdier and endurable.
Pros & Cons Summarized
Pros
For novice and professional use.
AC pulse and HF for aluminum
Hot start feature makes it easy to use.
Sturdier and more durable build than similar devices.
Gas regulator and Foot pedal High quality CK torch are included which makes welding easy.
Cons
Even though great torch is included, only CK consumables fit.
AC aluminum welding can be really loud.
Specifications
Processes: HF TIG, Stick, MMA.
Weldable Materials: Carbon Steel, Stainless Steel, Copper, Aluminum
Input Power: 110v/240v 50/60 Hz.
Input Phase: 1-Phase.
Current Type: AC/DC
Rated Output: AC 200 A @ 60% duty cycle, DC 200 A @ 40%
Amperage Output Range: TIG: 5-200A, Stick: 20-180A
Weight: 31.3 pounds.
7. YesWelder 135AMP 110V Gasless MIG Welder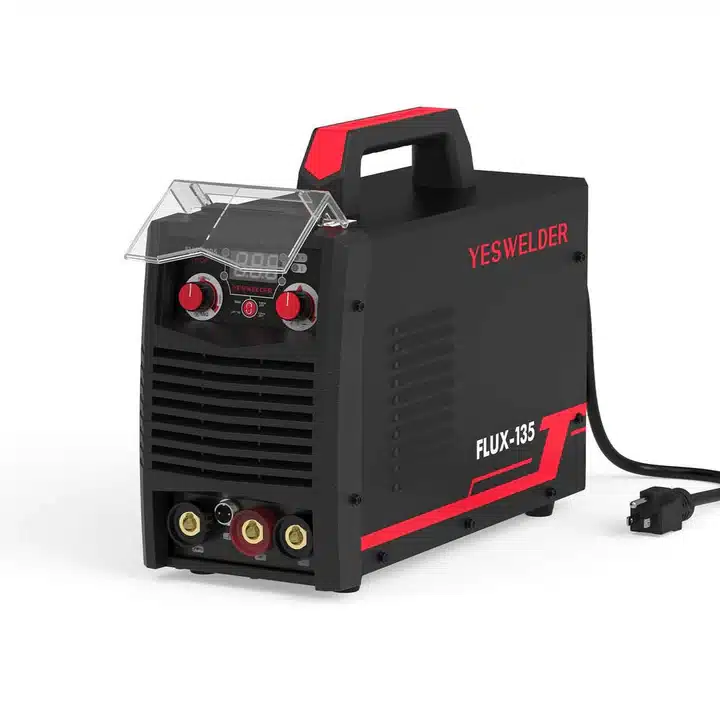 The YesWelder 135 AMP might be tiny but packs a wallop of a punch. It is meant for simple projects, home welding, and working in a garage, but can satisfy limited outside welding needs as well.
This only has a 110v input power but sports a massive amperage of 135 amp. You are rarely going to find so much output power with home input voltage. It is also rated with a 60% duty cycle.
Novice welders will appreciate the Synergy settings while more experienced workers will value the fine-tune settings from -5 to 5V.
The machine is also very easy to set up and use with a clearly written instruction manual. The one thing I didn't like is that it has a built-in MIG welding gun. You would have to disassemble the machine if you want to change it.
Get 10% Off With Coupon: "-10% WELDPROS"
Pros & Cons Summarized
Pros
Great amperage output for 110v only input which is rare.
Synergy settings make it easy to set up and use.
Budget-friendly as well as beginner-friendly, but also offers fine voltage tune for experienced users.
IGBT technology makes it lightweight and portable.
Great customer service, combined with 30 days return policies from YesWelder.
Cons
Built in MIG gun is hard to change.
Specifications
Processes: Flux Core
Weld Thickness Range: Mild steel up to 5/32" in the plate
Weldable Materials: Steel, Stainless Steel, Aluminum
Input Power: 110v, 60 Hz
Input Phase: 1-Phase.
Current Type: DC only
Rated Output: 35 A @ 60% duty cycle.
Amperage Output Range: 30-135 A
Adjustable Voltage: -5 V, 5 V
Weight: 15 lbs
Buying Guide to the Best 110V Welder
Choosing the best 110v MIG welder can either be heaven or hell. But if you are in the ballpark about what you need, things get a lot easier. Here are some things to consider.
How Portable It Is?
The area where you are going to be working could determine the type of welder you buy. Consider If your idea is to work in a garage or at home close to a power source as opposed to having to move your welder around. If you do have to hit the road and pick up your machine with you, then a compact, lightweight, and portable unit is needed.
Welder Price Range
You can't expect a really cheap machine to work wonders. What you pay for a MIG welder is what you get. But you can still purchase a unit that can work even for small bucks. To select a good one you have to dig deep or look at my list above. Household current 110V MIG welders usually don't come at a high cost, but the trick is to choose one that has satisfactory features for you.
Welder Safety and Protection
To tell the truth, welders are doing some pretty dangerous work all things considered. So safety has to be our number one priority. Picking a welder with great safety features should always be given an advantage.
Luckily, a 110V MIG welder is safer than others. Due to its inherent low electrical usage, it is less likely that you are going to be electrified with a 110v welder compared to others with higher electric potential.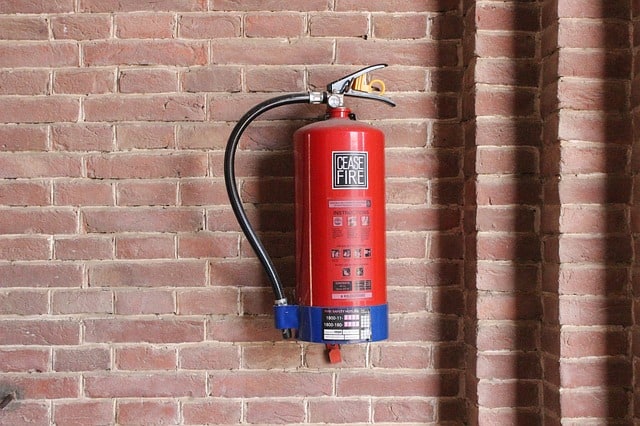 Multi-Amp Settings
A machine that uses multi-amp settings can greatly affect your electricity bill. Having a machine with a wider amperage range can enable you to switch seamlessly to different operations and processes while working. You don't have to use the same amount of heat for different jobs and it can even result in a better-looking weld.
Welding Power and Material Thickness
Choosing the correct MIG welder depends on the thickness of the material you are working on. The least it can cut should be 1/8 inches. The thicker it gets, the more versatile a welding machine is needed with greater welding power.
Duty Cycle
A duty cycle of a welder measures how much it can work before needing to give it a rest to cool down. So if a MIG welder has a duty cycle of 60%, this means that it can work without interruption for 6 minutes. If you have to work on bigger projects and for longer periods, pick one with a greater duty cycle.
Ease of Use
Properly controlling a welding process takes time and practice. You have to know how much heat is generated and how to control it. Luckily, this can be done a lot easier with a 110V welder and is the reason why it is recommended for beginners primarily.
Welding Processes
MIG welders are the most bought types of welders on the market. But there are some that can do Stick and TIG exclusively, while others multi-process welders offer a 3 in 1 special.
MIG/Fluxed-Cored Welding
MIG welding is the best process for home usage diy repairs. It is the easiest to learn and you don't have to worry about "sticking." The result is often a good-looking weld meant to last.
Flux core welding is a lot messier with a flux core machine and creates a lot of spatter. But it's still cleaner than stick.
Stick Welding
Stick welding is one of the oldest but most common welding processes used today. It is a bit harder to learn but it is more reliable. The best part about stick welders is that it is affordable lightweight, and you can work with it outdoors.
TIG Welding
TIG is best used for thinner metals. It requires the use of a tungsten electrode and a shielding gas to prevent the weld from contamination. Its advantage lies in its versatility of use for different materials.
Power Options
A 110V MIG welder can be plugged into any household outlet.
You don't require an adapter, a generator, nor a dedicated power socket like you would when using a machine with 220v power output.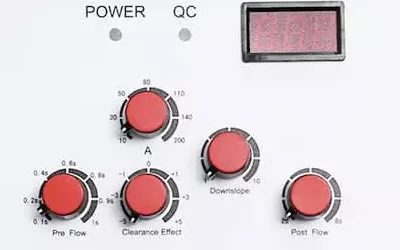 Frequently Asked Questions (F.A.Q)
What is the amp output of 110v Welders?
The amperage rated output of 110v welders is around 80-90 amps.
Can you use a generator to run 110v welders?
Yes, you can but you probably don't need to. You can plug a small welder into any household socket.
Are 110v welders any good?
110V welders are perfect for small applications, DIY projects, fixing things around the house, or working on thinner materials.
What thickness can 100v welders weld?
They can weld up to 24 gauge sheet metal up to 1/8-inch mild steel.
Conclusion
By all accounts, a 110v machine is pretty much a low power supply, but a lightweight machine that is very useful, particularly if you need it for quick work as something that you can set up quickly. Even if you are a seasoned welder, I would recommend having one in your arsenal, but especially if you are a beginner this would be a good entry-level welder to test your metal and see if you really like the job.