There aren't many reviews online of the YesWelder machines, and since you are here, it is apparent that you would like one.
Well, you are in luck today because I decided to do an honest YesWelder ARC welder 205A review.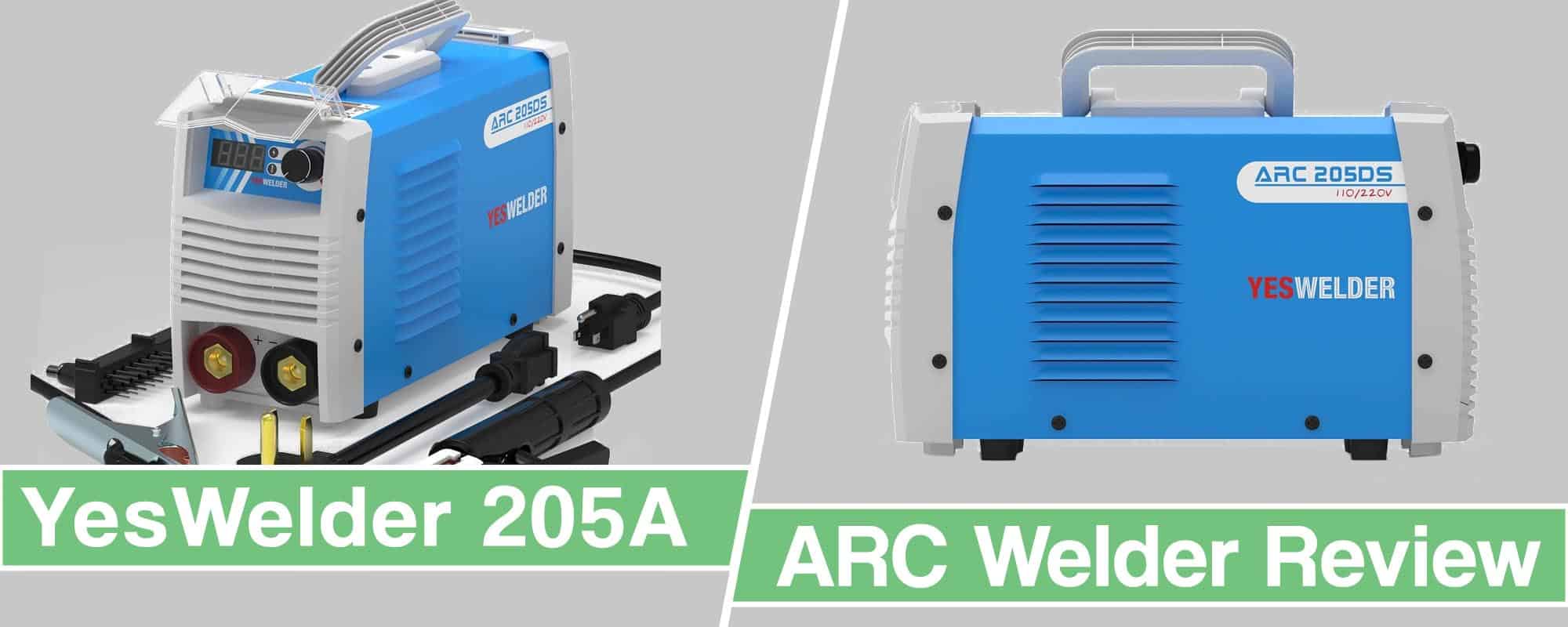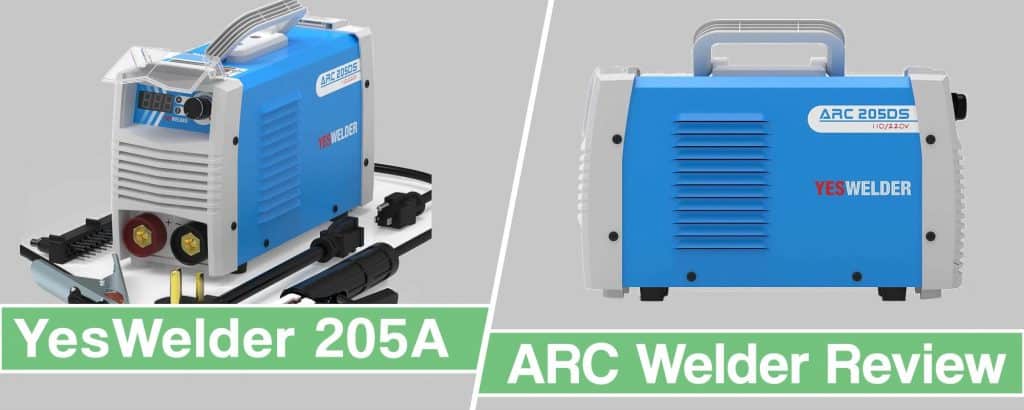 YesWelder is still somewhat new on the welding market, and their products haven't become very well known yet, but in time I believe they will.
This little arc welder is precisely the reason why they will succeed in this market. People want something good, affordable, and reliable. As simple as that.
This welder, in my opinion, possesses those most essential three characteristics that any tool or a machine needs to have and is the best stick welder for the money.
Now let's get into it.
What is YESWELDER ARC welder 205A And What is it best for?
This welder is meant for beginners and the established working welders. Now let me elaborate.
The beginners will benefit significantly from its affordability and quality. If you are just starting to stick weld, then this machine is easily accessible in terms of the price, but it is also easy to set up and use.
Thanks to its features like hot start and arc control, it is effortless to start the arc and maintain it.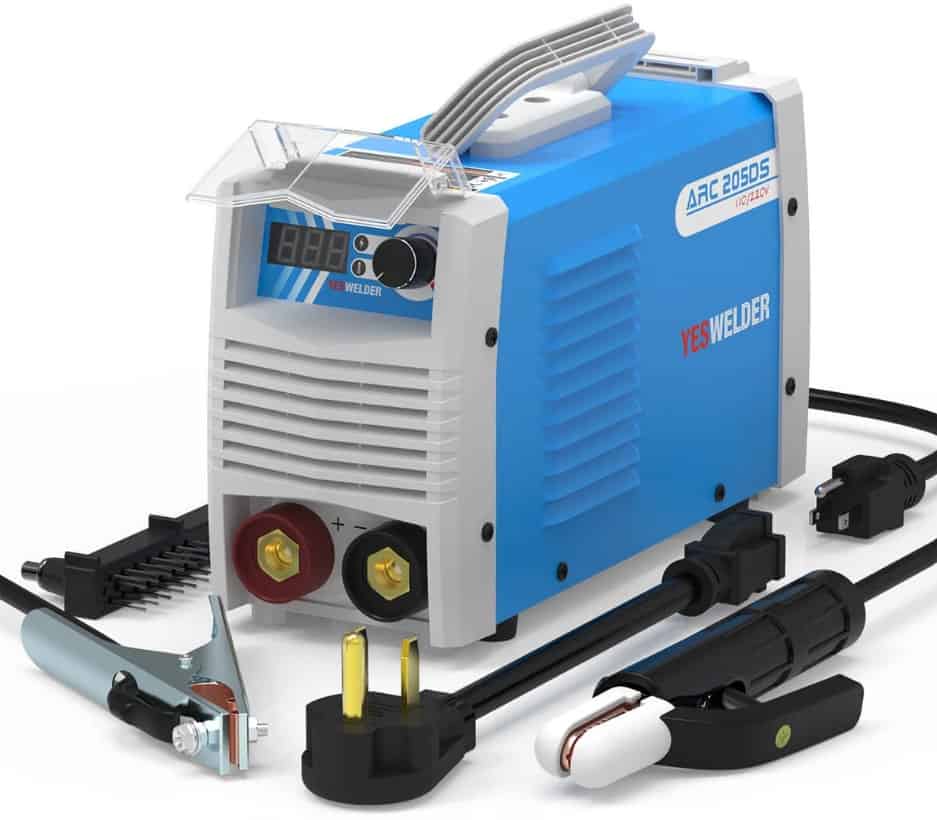 For all of the professionals reading the review, I would also recommend snagging one of these little machines just to keep them in a garage. It is not every day that you can purchase an actually good machine at a low cost.
You never know when you will need a backup machine or an easy-to-transport welder that can actually get the job done when you get on site.
This welder can easily handle any garage work, at homework, or be used for DIY projects. It can also be used for more cumbersome tasks, but I wouldn't say that it can be used day in and day out for heavy work.
Pros & Cons Summarized
Pros
Affordable stick welder
Dual voltage input that has a simple voltage switch
Fantastic performance
Very lightweight
It is also supports TIG welding with a lift arc start
Has plenty of useful adjustments and settings
Great customer service
Basic welding tools included
Led display
Best at its price point
Cons
TIG gun doesn't come with the machine
Specifications
Processes: Stick (SMAW) and TIG (GTAW).
Weld Thickness Range: Steel – 25 ga. – 1/4 in.
Weldable Materials: Steel, Stainless Steel, Aluminum (stick-only).
Input Voltage: 110/220 V, 60 Hz.
Input Phase: 1-Phase.
Current Type: Direct current.
Rated Output: 205 A @ duty cycle 60%
Amperage Output Range: 20 A – 205 A limit.
Weight: 11 lbs.
The Best things about this welder
The Price
Let's jump straight into the most crucial aspect here. A lot of welders on the market are of high quality, but not a whole lot of them with a low price point of the YesWelder ARC welder 205A.
We will talk below about its qualities, but the fact is that you simply cannot find a stick welder with the same attributes at this price range. There are some welders in a similar price range with similar features and specs, but in my opinion, not of this build quality and reliability.
The Versatility
This little machine offers you the ability to work at home and on-site/field using a generator. It supports 110 and 220v inputs. Besides the input versatility, it is good to mention that the machine can be used for TIG lift arc welding, which is nice.
Most stick welders can be used for TIG welding, but not all of them offer the TIG lift start. Cheaper machines may be TIG ready, but usually, it is a scratch start which is not good for your tungsten. It is also effortless to transport which makes it an excellent choice for people who are not work-bound but have to stay mobile and be all over the place.
The Power
Don't let the size fool you. This little stick welder packs a punch at its maximum 205Amp output at a 60% duty cycle. This welder has enough power to easily weld 1/4 inch steel and even more than that if you do multi-pass welds.
Having said that, you should also know that when used in the home environment using the 110-volt input, this machine will provide you with a maximum of 150 amperes, which is excellent.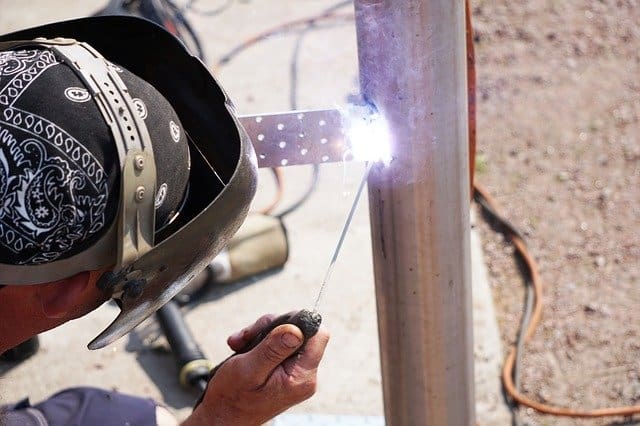 I always say that a stick welder doesn't really need more than 140-150A of power, even thoughmore is still welcome, and this welder will actually give you a good amount of power when used with your home outlet and not a generator. Most 110v welders will not provide you with this much power.
The welder is also rated at 130A at 60% duty cycle when using the 110v, which is very good.
Its output is DC, and it works great with the 6010,7018,6011 electrodes.
Ease of Use
Stick machines are generally simple to use, but some more than others. I have no downsides to address here. It is reasonably simple to set up this little machine. Simply attach your stick lead and ground to the welding machine (+ and – are present for your convenience) and start welding.
The welder has features like hot start, arc force, and it has IGBT soft switch technology. These help a lot to make arc start quickly and to maintain the arc without trouble. This sort of stability is always welcome to the new welders, but even experienced people will appreciate them.
Additional things that this machine does are automatic compensation for voltage fluctuation, overcurrent protection, overload protection, and automatic temperature control. These help in making the overall experience smoother and without much effort on your part which, in turn, contributes to its ease of use.
Build quality
YesWelder is a brand that, in my experience, does precisely what it is expected to for its price range, but also a bit more. This welding machine doesn't cost a lot, but it gives a lot in return.
The build quality is very good for its price range as I am not sure that you can find a sturdier and more reliable machine for this amount of money.
This arc welder is quite sturdy; the front panel is protected with a clear plastic lid, the machine has proper cooling vents with an inbuilt fan and the overall unit is well-screwed together with nothing cranking or squeaking.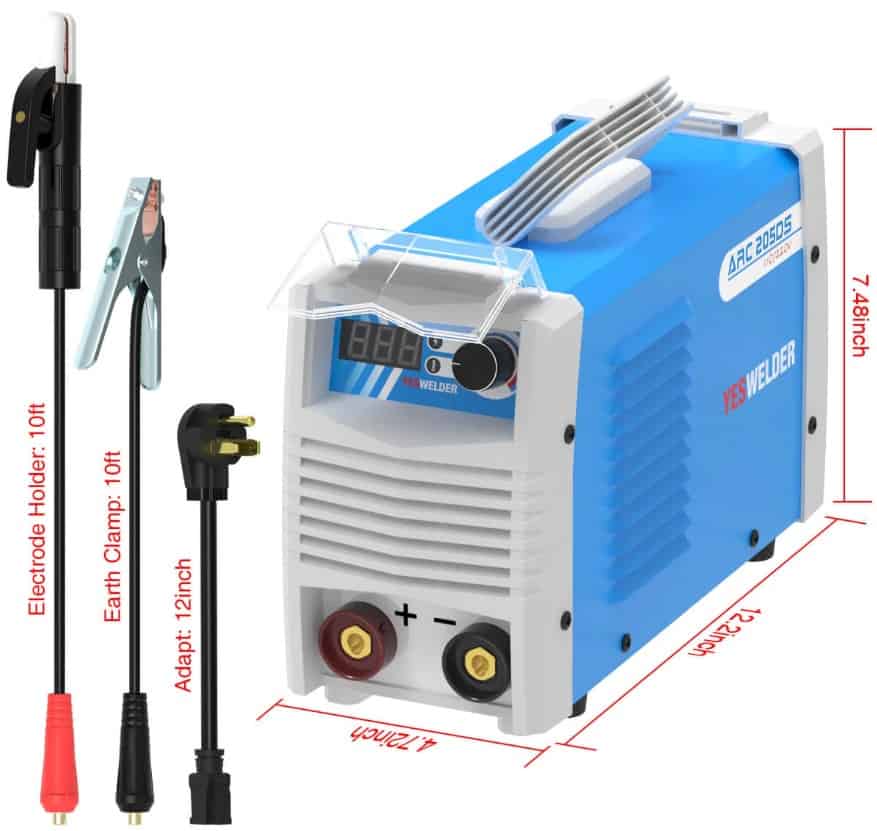 While there are brands of higher quality out there, I seriously doubt it that you will find a machine that has a better build quality and overall endurance at this price point.
Conclusion
To conclude, I would like to make a firm notion on the fact that this is a little pearl that you can find upon opening a thousand oysters. You can skim the entire welder marketplace and I doubt that you will find a machine that offers more power, has the equivalent build quality, is light and portable, and as easy to use for the same price.
I don't know how the YesWelder does it, but I am sure that they have a bright future as a budget company that doesn't really save on the quality when compared to the welders in the similar price ranges.
In the past year, we have written a number of reviews on welders and plasma cutters from YesWelder. If you are still interested in this brand and wish to read them, you can find links to the rest of them here.