The Eastwood company recognizes that change constantly takes place in the hobbyist and auto repair marketplace and continues to prove its dedication by offering unique solutions to the challenges facing restoration and customization enthusiasts.
Eastwood Elite MP200i is yet another fantastic multi-process welding machine for beginners, DIY, and hobby lovers.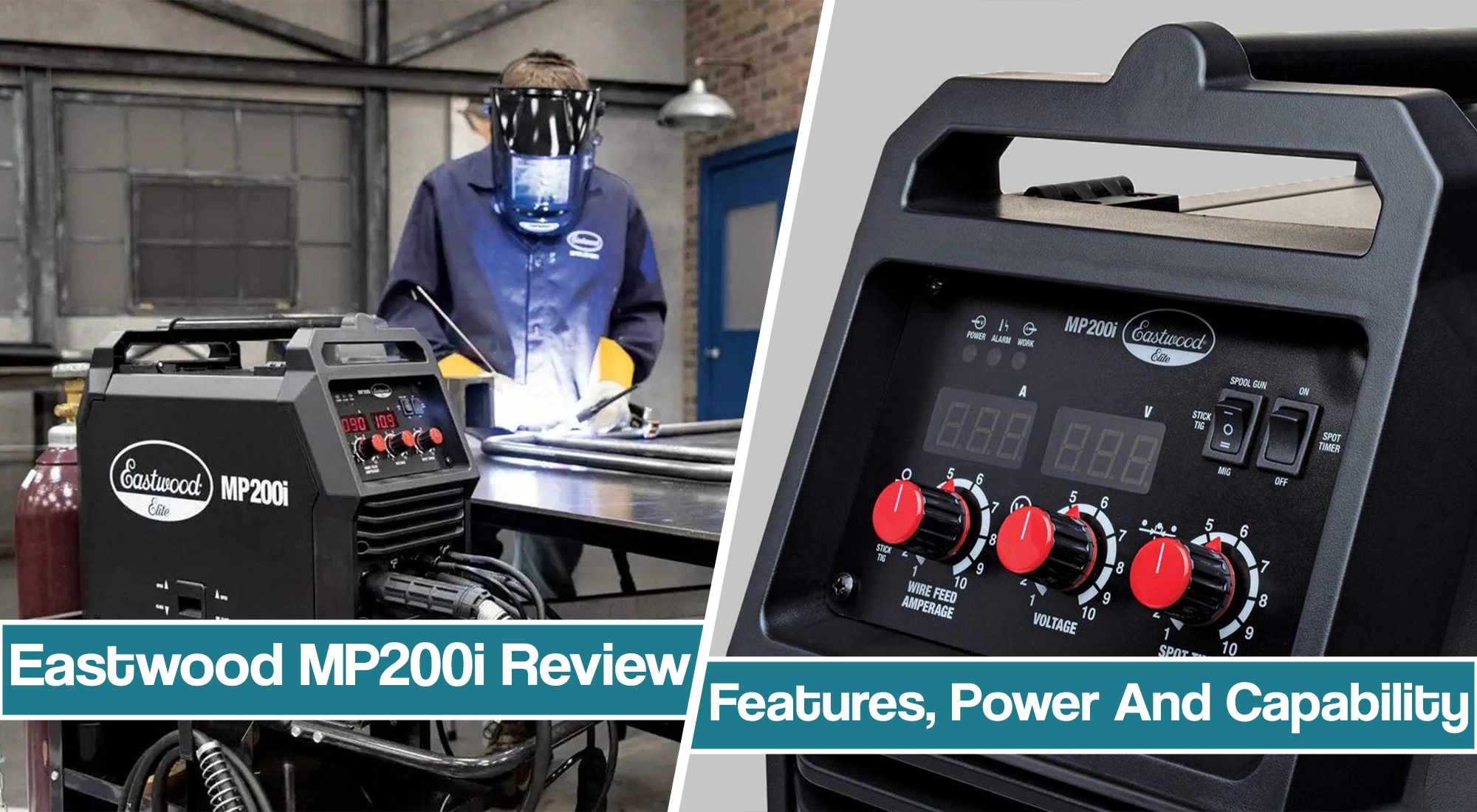 This capable MIG, TIG, and Stick welder provide excellent versatility, as it will suit your everyday welding needs.
But, with the ever-growing number of cheap Chinese machines in the welding enthusiast market, you must be wondering, is it any good?
So, we made this Eastwood Elite MP200i review to point out key features, advantages, and drawbacks. By the end, you should tell if this is the right welder for you.
Eastwood Elite MP200i Review – Package Content, Technical Specifications, and Features of This Outstanding Multi-process Welder
To point out the good and the bad sides of the Elite MP200i multi-process welder, we will first go through package content ad technical specifications. By reading these two lists, some may recognize the value, but we will explain them in detail.
However, sometimes things on the paper may differ in practice. That's why we will exemplify the features later.
Package Content
When investing in Eastwood Elite MP200i, for the money spent, you get:
Trafimet ERGOPLUS 24, Tweeco Style MIG Torch 10″ Length
WP-17v TIG Torch with 10″ cable, 14″ Gas Line
Electrode Holder with 12.5″ Cable
Ground Clamp with 10″ Cable
Shielding Gas Regulator with Shielding Gas Hose, 4.6″
Adapter Cord, 12 Ga., 3″ long, 120Volt 30 Amp Plug/NEMA 50R Receptacle
(0 .030"/0.8mm contact tip installed)
Spare 0.030 Contact Tips
#4 Gas Nozzle (1/4″)
#5 Gas Nozzle (5/16″)
#6 Gas Nozzle (3/8″) (Installed)
Short Black Cap (Installed)
Long Black Cap
Collet Body, 1/8″ [3.2mm] (Installed)
Collet, 1/16" [1.6mm] (Installed)
1/16″ x 6″ Tungsten (Gray)
Welding Wire Spool, 2lb., 0.030″ Solid Wire
Arc Welding Rods, 1/8″ E6013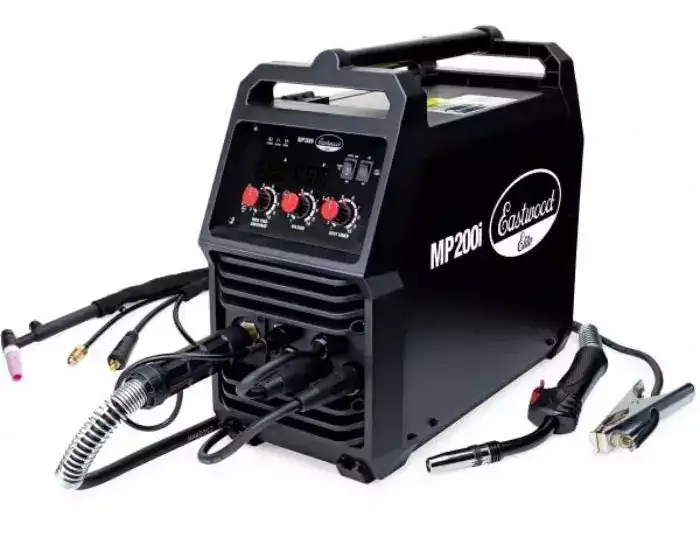 Looking at the package content, you can notice you get a tremendous amount of accessories and consumables. In addition, you even obtain tungsten, a sample spool of solid MIG wire, and stick electrodes so that you can weld straight out of the box.
Provided Tweco style MIG torch with Euro-connector is comfortable and offers excellent conductivity. In addition, you can buy consumables in any local welding shop or even after-hours. The electrode holder is sturdy, and the spring will hold well, but the biggest surprise is a TIG torch.
In my experience, multi-process welding machines in this price range usually exclude the TIG torches out of the package. You don't even get it with a much more expensive basic package of Miller Multimatic 200 or a budget-friendly option such as YesWelder MIG205-DS.
Even though included consumables will help you weld straight away, keep in mind that they won't keep you welding for too long. Nevertheless, with a 90-day return policy, it is more than enough to choose.
Technical Specifications
Welding Processes
MIG welding
Flux core welding
DC TIG welding
Stick welding
Power Input
VAC 120-230
Frequency
50/60 Hz
Build
Latest IGBT Inverter Technology
Weldable Materials
Mild Steel, Stainless Steel
Aluminum (with optional spool gun)
Rated Input Current
20 Amps 120 VAC – 36 Amps 230 VAC
Rated Working Voltage
18.5 volts @ 120 VAC – 24 volts @ 230 VAC
MIG Welding Amperage Range
30-90 A @ 120 VAC
30-200 A @ 230 VAC
Stick Welding Amperage Range
30-70 A @ 120 VAC
30-170 A @ 230 VAC
TIG Welding Amperage Range
20-90 A @ 120 VAC
20-200 A @ 230 VAC
Rated Duty Cycle
120 VAC 40% @ 90A
230 VAC 20% @ 200A
Welding capability
Up to 3/8"
Wire Feed Speed (WFS)
0-500 ipm
Recommended MIG Welding Wire
Solid and Stainless Steel: 0.023-0.035″ (0.6-0.9mm)
Flux Core: 0.030-0.035″ (0.8-0.9mm)
Dimensions
20.47 depth/L x 12.80 width x 23.62 height
Weight
34 lbs.
Warranty
3 years
Power Input
If you had a chance to work with the older Eastwood MP200i model, you might have noticed it was a 220V only machine. Latest Eastwood Elite MP200i offers a dual voltage option, as you can use both 110V/220V power input.
The latest improvements bring great versatility to this multi-process welder, as you can use a regular 110V outlet to power it. Thus, you can work in your garage, small shop, farm, ranch, or remote job location.
In addition, if you plan to tackle more serious welding projects or thicker metal, you can always opt for 220V or flux core welding for a more suitable penetration.
Welding Power and Capability
When working at 110V, Eastwood Elite MP200i can output 30-90A, while 220V output grows to 30-200A.
The provided power is more than enough to weld various metal thicknesses.
In addition, this multi-process welder is more than capable of welding up to 1/4″ thick steel, suiting your everyday medium to light-duty welding needs.
However, Elite MP200i goes down to 30 amps, which might not be great for thinner materials.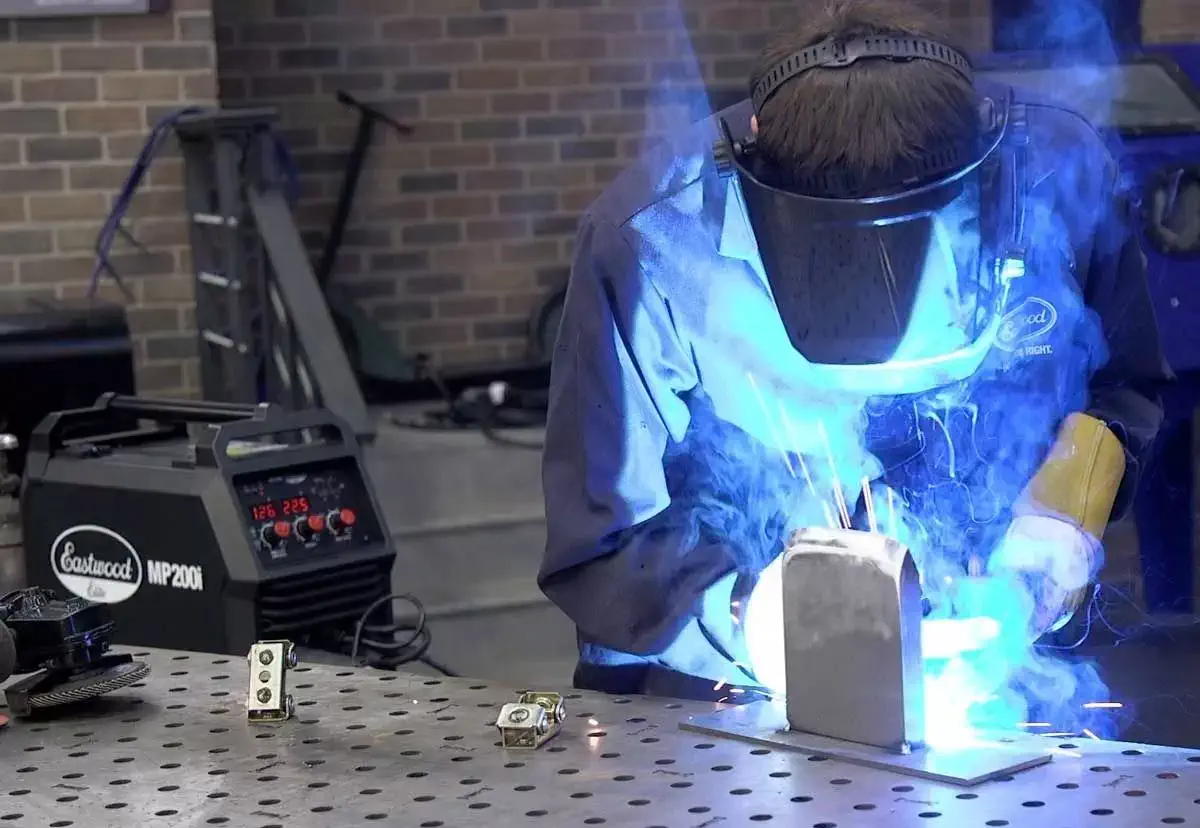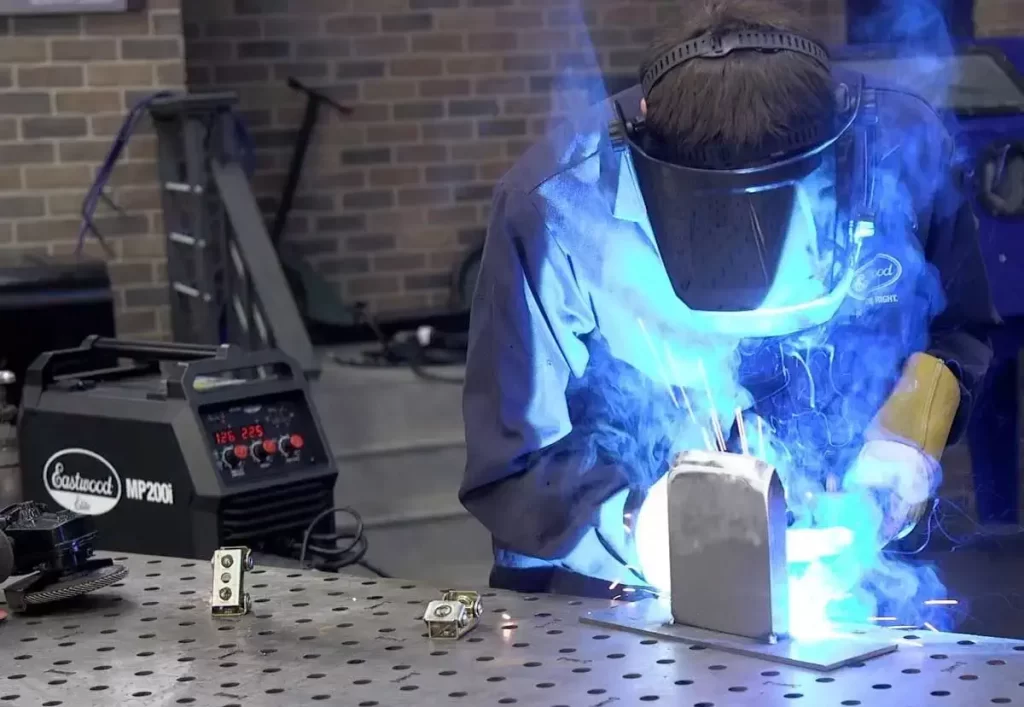 One of the additions to satisfying power output is a high duty cycle. For example, Eastwood Elite MP200i rates a duty cycle of 20% at a maximum of 200 amps when plugged into a 220V outlet. Therefore, you can weld for two minutes straight at a maximum output of 200A before making an 8-minute break.
Keep in mind that most brand-name multi-process welding machines such as Hobart MultiHandler 200 and Miller Multimatic 200 rank their duty cycle at 20-30% but at 150-165 amps. Thus, Eastwood multi-process welder will help you weld more extended periods.
Ability to Weld Aluminum
Eastwood Elite MP200i multi-process welder is a DC-only machine with a scratch start, meaning you cannot TIG weld aluminum. However, the unit is spool gun-ready. So, if you plan to weld aluminum occasionally, you will have to buy a separately sold MP140i or MP200i spool gun.
I realize buying a spool gun increases the overall cost, but you don't usually get it as part of the package, regardless of the manufacturer.
Welder Settings
While browsing the Eastwood offer, I've noticed some resemblances. Most units are beginner-friendly designed, as they offer a combination of simplistic design and additional controls. Therefore, the Elite MP200i control panel features a digital display, three knobs, and two switches.
Digital displays show precise reading so voltage and wire feed speed, so you don't have to remember exact knob positions. Knobs will help you adjust voltage, wire feed speed, and spot timer. Amperage and wire feed speed are infinitely adjustable since Elite MP200i uses the latest IGBT inverter technology.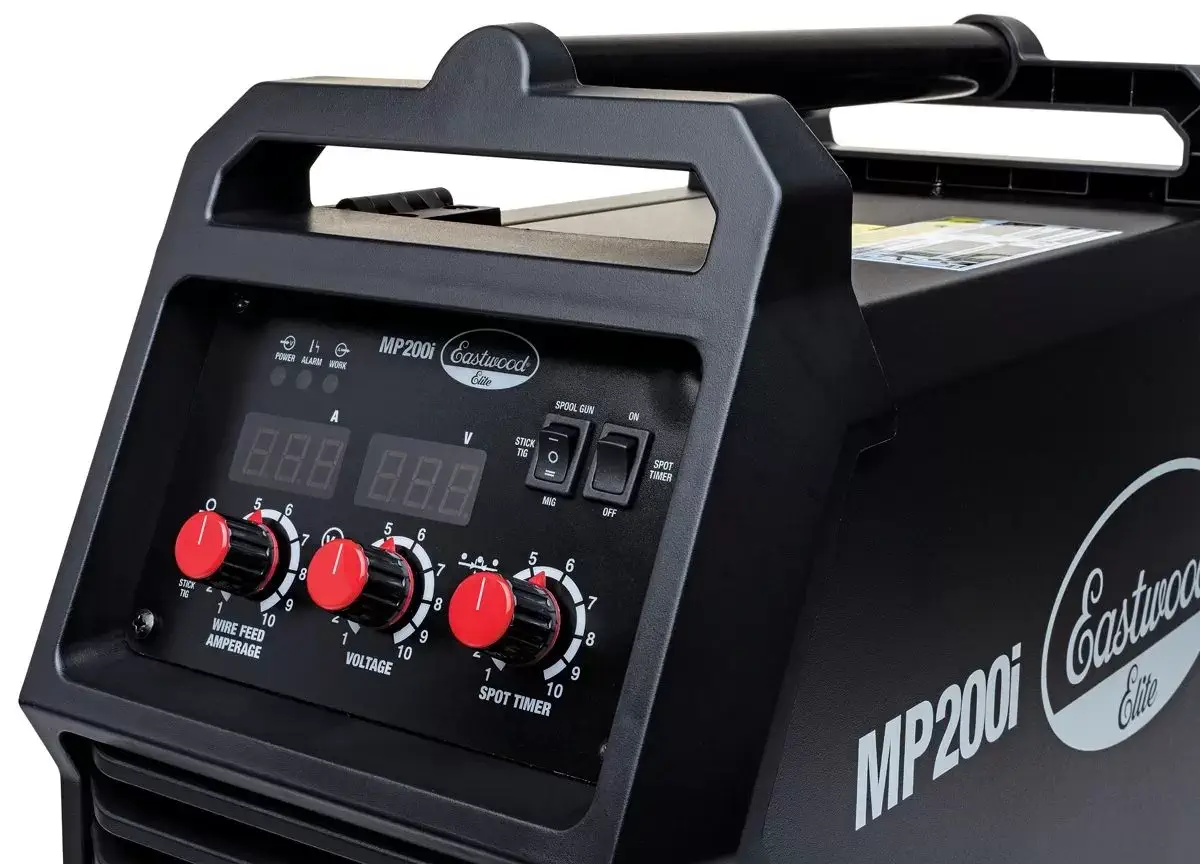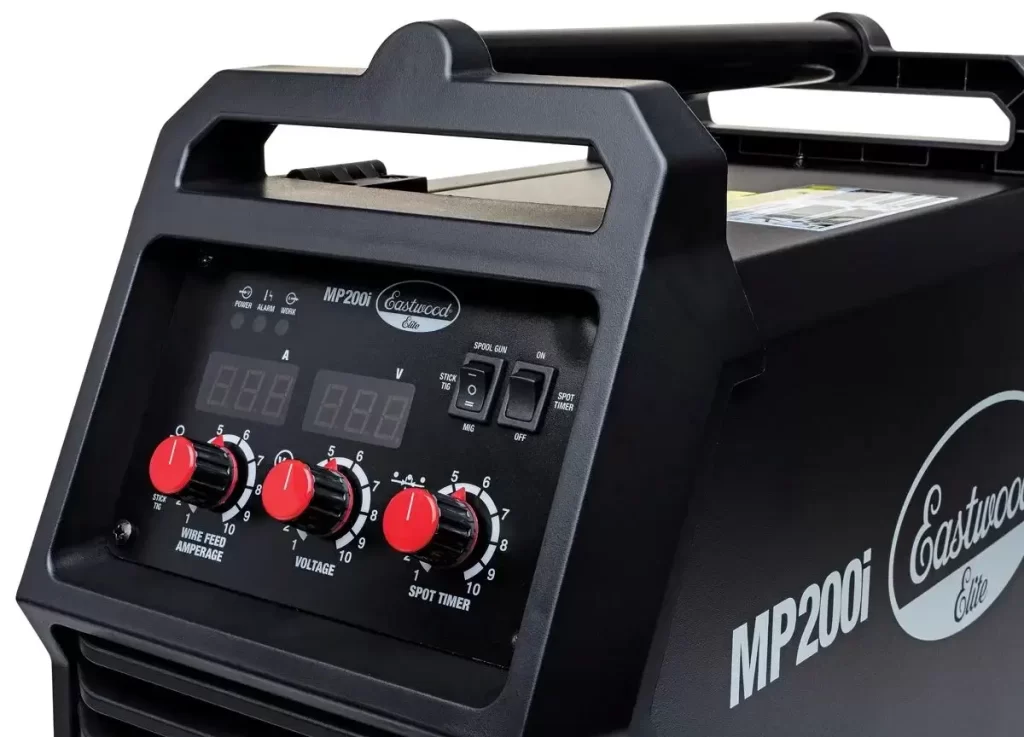 Spot timer is a significant feature for all automotive restoration enthusiasts, as you can perfectly time your spot welds. In addition, you can turn the feature by flipping one of the switches. The other switch helps you select a welding process.
Overall, all settings are intuitive and easy to use. If you are a novice, you can always follow the suggestion chart. However, seasoned welders might find given recommendations too hot or cold. Still, most owners report it took them no time from box to their first bead.
Multi-process Welder Build Quality
Looking at Elite MP200i, it leaves an impression as a well-constructed and sturdy multi-process welder. This lightweight yet durable welder seems like it is built to last and perform. In addition, it weighs 34 lbs.
One of the poor sides of the MP200i older version was the plastic wire feed mechanism. Eastwood company recognized the drawback, so the latest Elite MP200i features metal wire drive housing. Metal feeder grants smooth wire feed even after ages of service.
The casing features a built-in handle that will help you carry it around. Still, there are no parts that would help with cable management or legs, as you see at Forney MIG welders.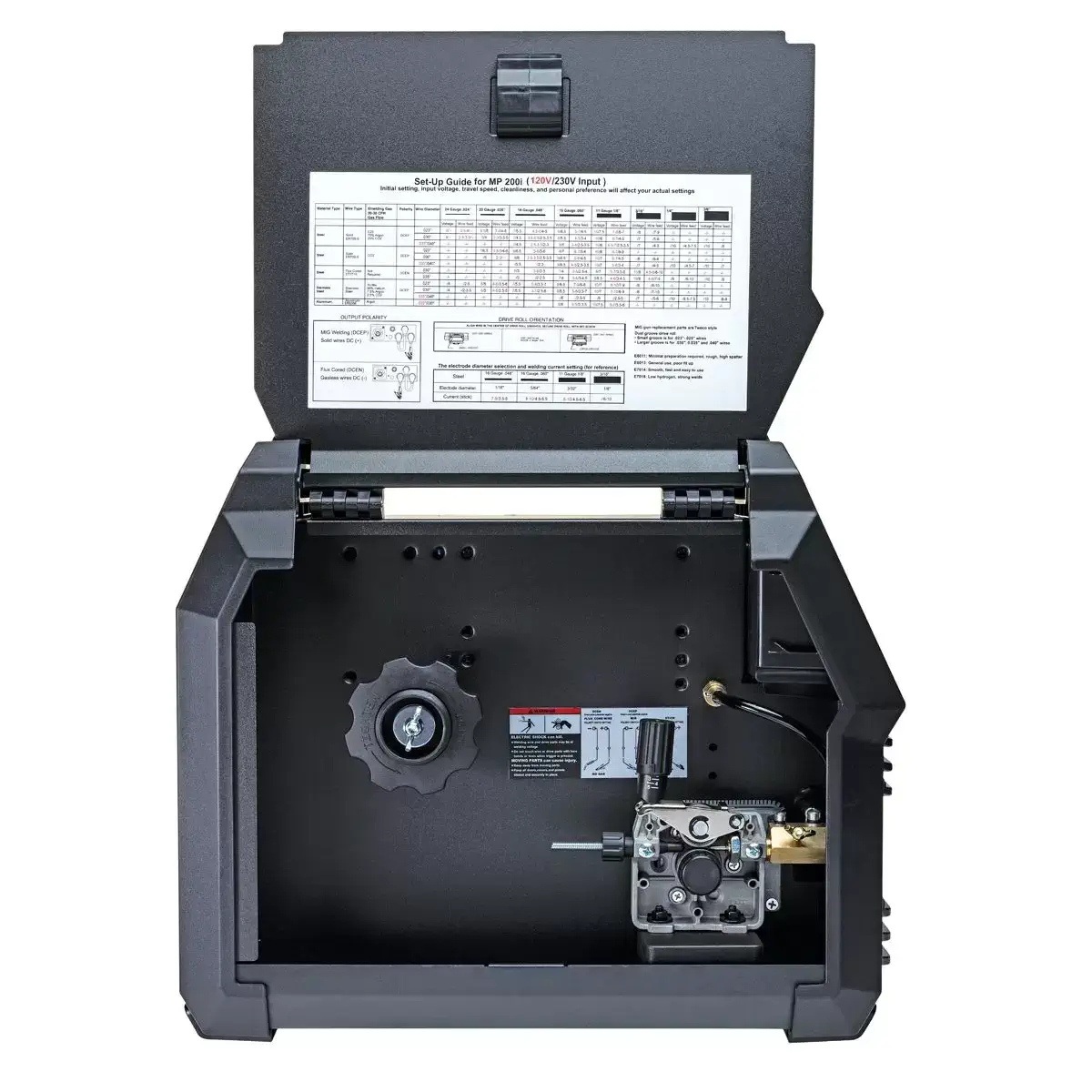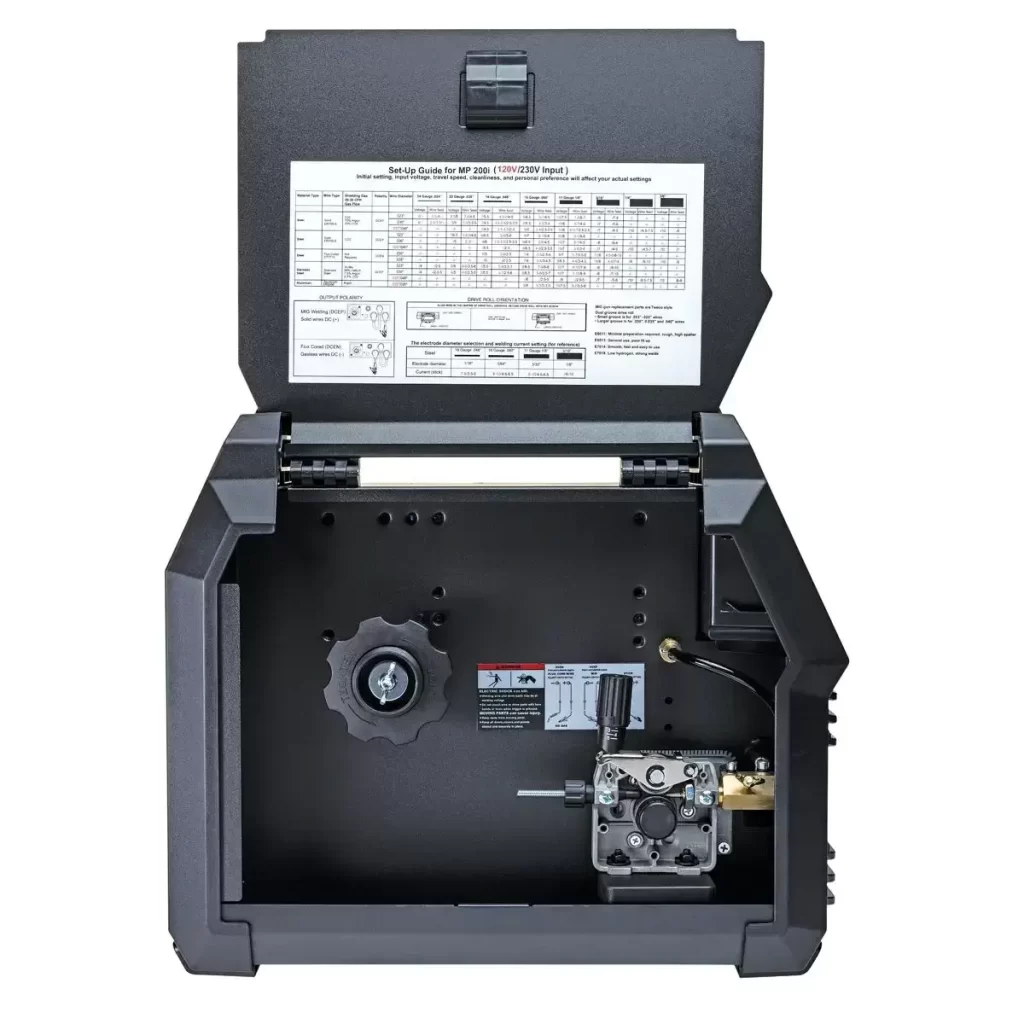 If you work outside ofter, so you have to switch to the gasless wire, you will like the front panel polarity change. You don't have to open the wiring compartment, as you only need to swap the Dinse plugs.
Price and Value
Money-wise, Eastwood Elite MP200i multi-process welder ranks somewhat in a middle price range. This unit is significantly cheaper than high-end options such as Multimatic 200 or Lincoln Power MIG 210 MP. Still, it might be more expensive than budget-friendly options such as YesWelder MIG205DS.
Overall, when considering the package content, Elite MP200i proposes the outstanding value for the price given.
Welder Protection
To make sure your investment is well-protected, Eastwood offers a 3-year warranty. Protection length is pretty standard for today's offers, but some manufacturers such as Hobart offer a unique 5/3/1warranty for their welders.
In addition, buyers get a 90-day return policy. So if you feel like this welder didn't fulfill your expectations, you can always return it. In addition, if the welder malfunctions straight out of the box, you will get a replacement.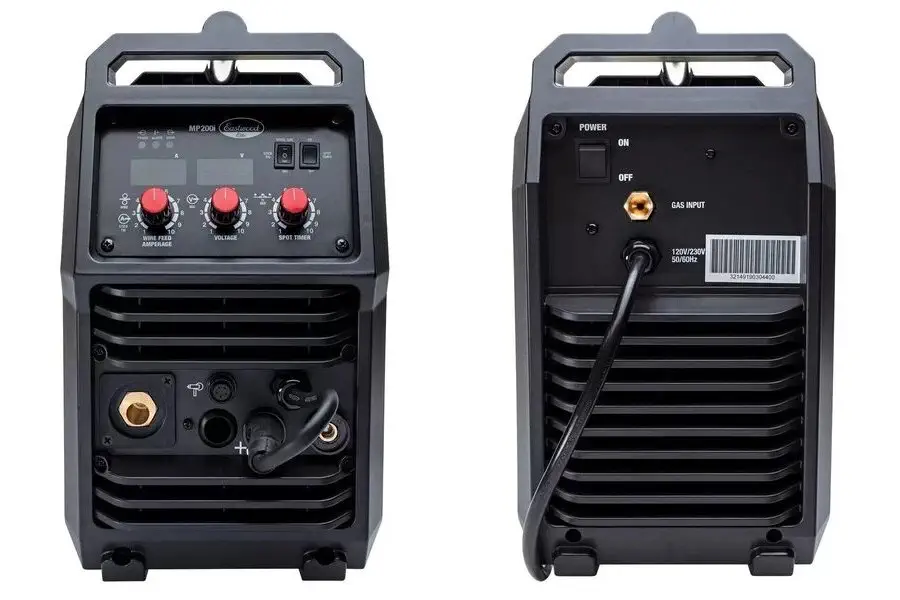 Pros and Cons Summarized
The latest and improved Elite MP200i is an outstanding, versatile, and lightweight multi-process welder best for automotive restoration projects and other DIY works. You can use 110V/220V input for MIG, TIG, or Stick welding, and beginners will love the stable arc.
This machine is capable of welding steel, stainless steel, and aluminum. However, you will have to buy a separately sold spool gun for frequent welding aluminum.
Nevertheless, package content is excellent, as you get everything you need to weld straight out of the box, including the TIG torch. Accessories are decent, and consumables are enough to start. Still, they won't keep you going for too long.
Build quality is exceptional, as you get a sturdy and well-constructed welder. However, some small things are missing, such as hooks for cable management. In addition, I'm not too fond of the fact power button is located in the back of the machine.