As a hobbyist or small shop owner, you probably had a chance to work with a Lincoln Power MIG welder, but commonly, we are talking about a 180-amp-rated machine.
However, if you feel like you need more power for your everyday tasks, you should bring the big guns, and that's where Lincoln Power MIG 256 kicks in.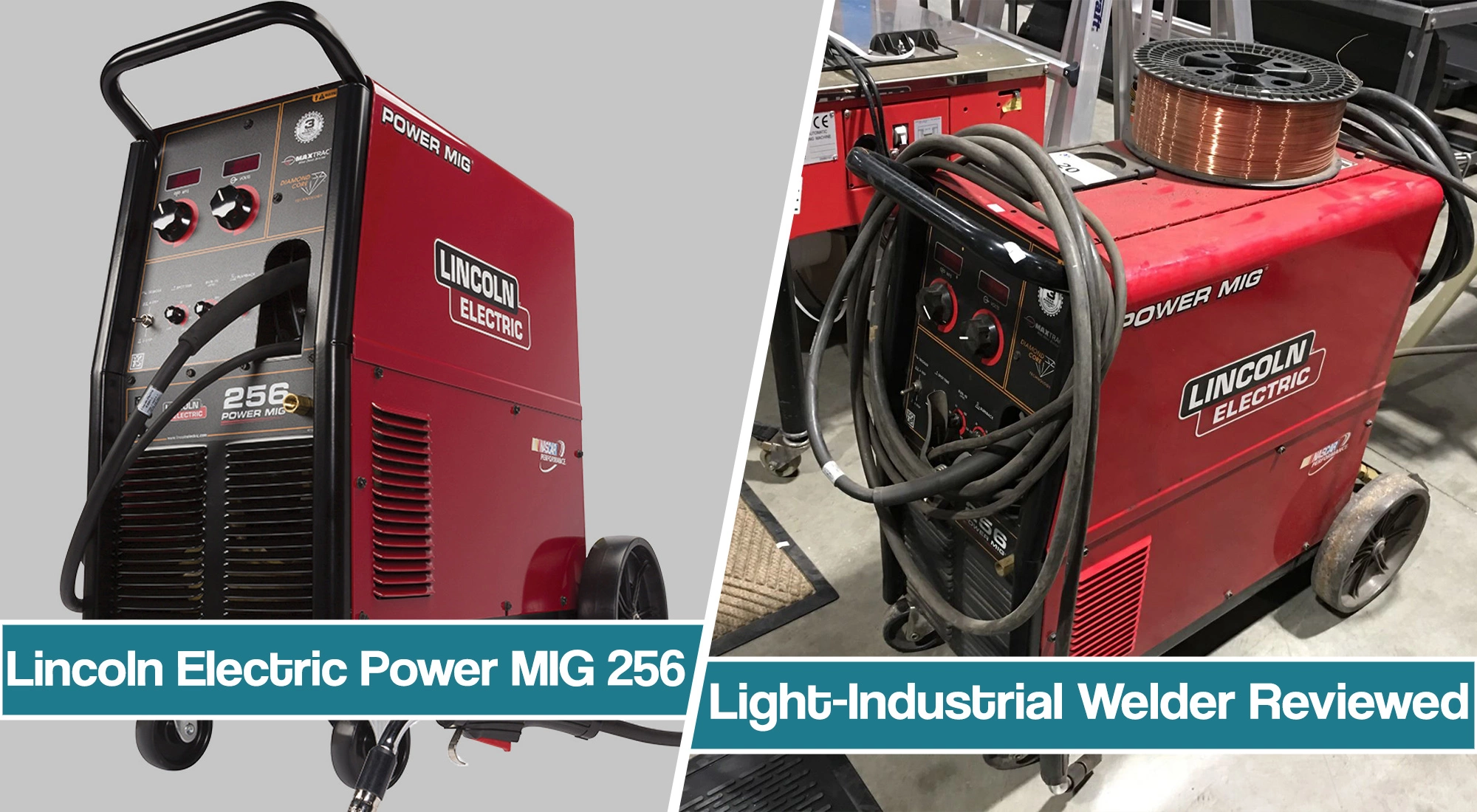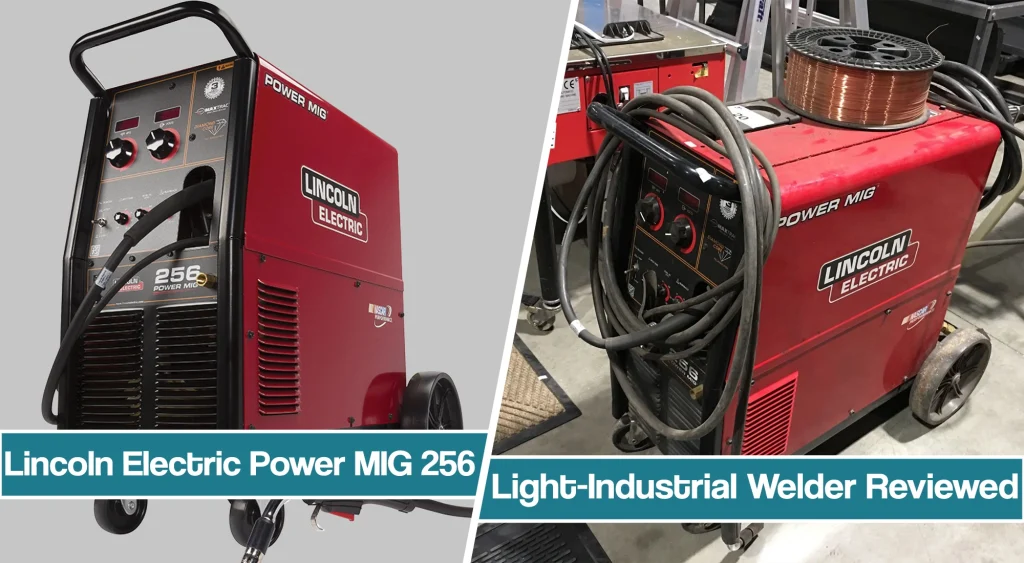 Lincoln 256 power MIG welder is a medium-duty machine you can use for your challenging MIG and flux-cored welding in light industrial job shop fabrication, maintenance, or repair work.
In this Lincoln Electric Power MIG 256 review, we will discuss value, features, the good and the bad.
Lincoln 256 Power MIG Package and Technical Specifications
Durable Professional MIG Welder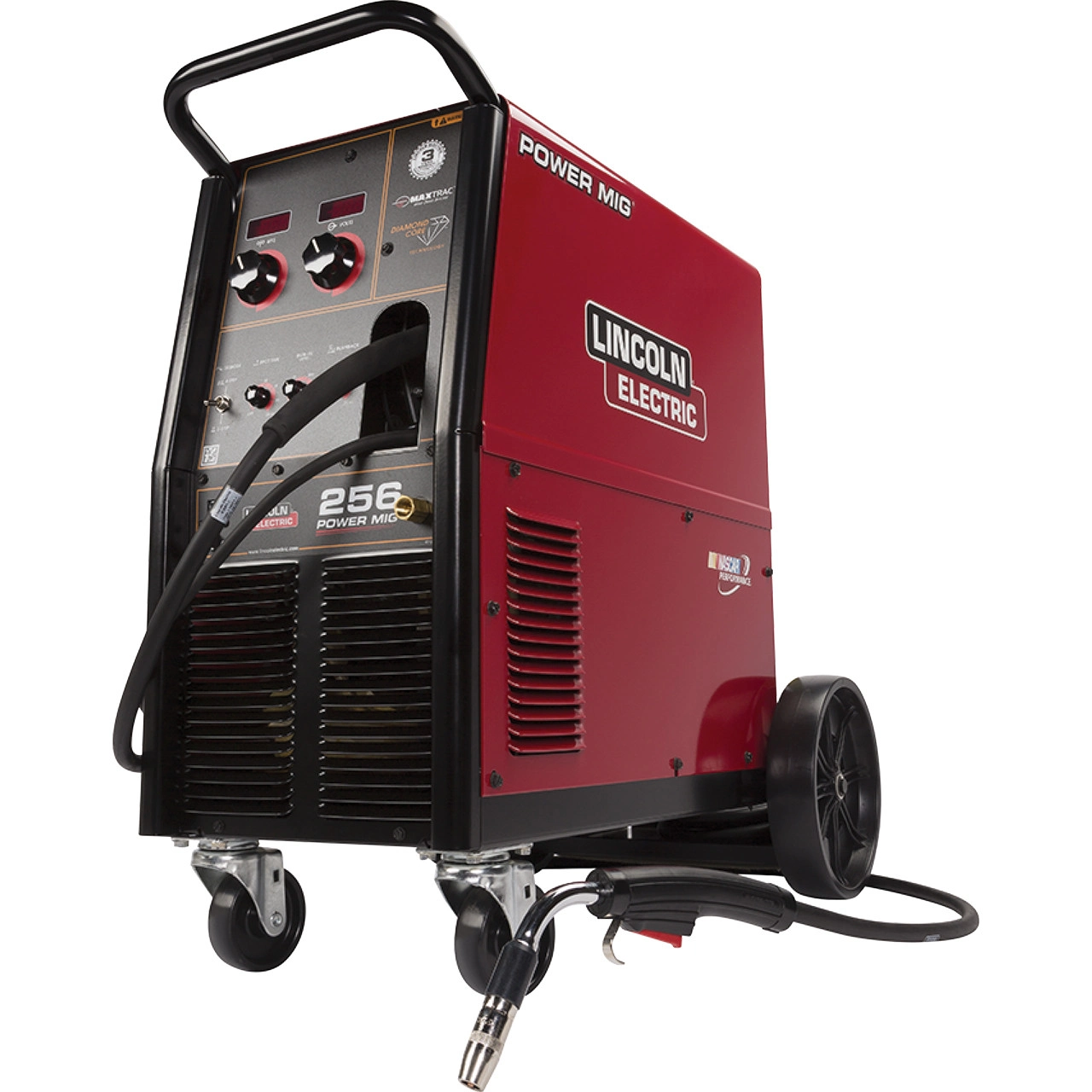 Lincoln Power MIG welder comes with everything you need to weld straight out of the box, including the following:
Magnum® PRO 250L gun with 15 ft.(4.5 m) cable assembly
Top-mounted gun expendables tray.
Built-in undercarriage with easy-load gas cylinder platform.
Work clamp and 10 ft. (3.0 m) cable. 10 ft. (3.0 m)
230V input power cable with plug.
Drive roll and wire guide to feed both .035 in. & .045 in. wire.
Gas regulator and a hose kit for argon blend gases.
Technical Specifications:
Processes:
MIG welder/Flux core welder
Input Current at Rated Output:
56 A @ 208 V
52 A @ 230 V
Input power:
208/230V, 60 Hz
Polarity:
DC
Input Phase:
1-phase
Amperage Range:
30 – 300 A
Max. Open Circuit Voltage:
40V
Rated Output:
250A/26V @ 40% Duty Cycle
Wire Feed Speed:
50 – 700 IPM
Weight:
245 lbs (100 kg)
There is no spool gun for convenient MIG aluminum welding, but you can buy a separately sold premium Magnum 250LX gun or spool gun capable of the Magnum SG, which also requires a special adapter. MIG gun is extremely comfortable and sturdily designed. I loved the 15 ft. torch leads with 10 ft. clamp and cable leads, so your work is not tied to your MIG welder.
Lincoln Electric Power MIG 256 Review – welder Build, Features, and Power
After a brief introduction of technical specifications and package content, it is time for the main part of the review. In this section, we will discuss the build, power, and features of Lincoln Power MIG 256 Welder.
Let's see if Lincoln 256 really is a powerful MIG welder.
Build Quality
The first look at the Lincoln 256 power MIG welder leaves an impression of a massive, robust, and well-constructed machine. With 245 lbs, it certainly is. However, the overall build is adjusted to maximum portability and versatility.
A built-in cart with a cylinder rack and chain will help you move it around the workshop, but it will take some effort.
In addition, there is a built-in cable hanger, Coil Claw Cable Management system, and MIG gun holder for convenient transport. I also liked the consumable part compartment, where you can leave extra contact tips and nozzles.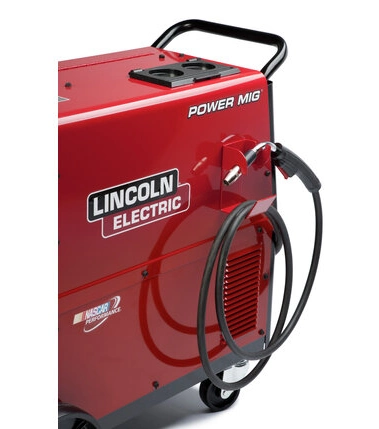 Inside the wire compartment, you will find an industrial-grade wire feed mechanism and adapter for easy spool change. In addition, there is an accurate reference chart that you can use to adjust the wire feed speed and amperage according to the application. Due to its robust dimensions, you can easily fit 10lbs and larger spools of .045.
Wire Feed System
An cast aluminum wire feed system is something you don't get with budget or off-brand machines. So Lincoln made sure the 256 Power MIG welder provides the smoothest wire feed with its MAXTRAC cast aluminum industrial wire drive.
The wire is fed through a dual-roller system into a brass-to-brass gun receiver. The brass-to-brass connection ensures excellent reliability, more effortless interchangeability, better mechanical support, and electrical current transfer.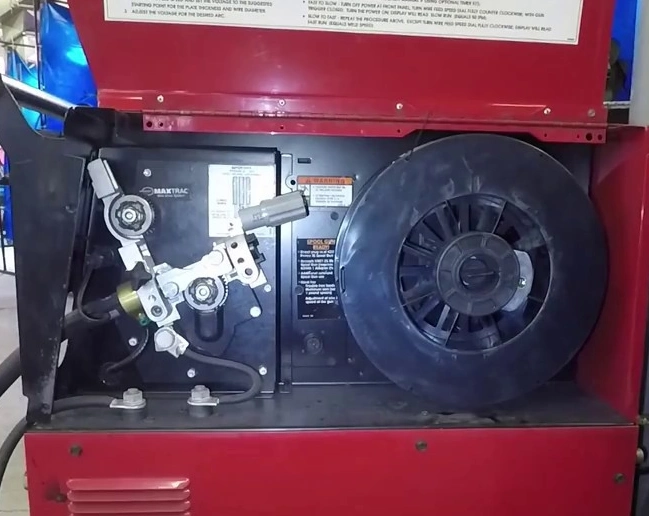 I liked the toolless design, as you don't need special tools to change the wire. In addition, there is an easy-turn numeric tension indicator with a reference chart that will also impact the smooth wire feed. While many budget manufacturers replaced plastic feeders with full metal ones, you can't really beat the
Lincoln Power MIG Input Power
Lincoln Electric 256 is a 220V-only MIG welder, but reliable Lincoln technology allows it to run in a wide range of 208/230V at various. Compared to the 180 amp model, or Power MIG 210MP welder, you can't run 256 at 120V, but it does offer a significantly higher output.
Due to high power output and input requirements, Lincoln Electric 256 Power MIG welder is incompatible with a generator. However, it offers a 115V auxiliary receptacle. You can use it to power smaller power tools such as grinders or auxiliary equipment you might find useful when welding.
Welding Controls
The control panel of the Lincoln Power MIG 256 welder is pretty straightforward and easy to use. The main part is reserved for infinitely adjustable wire feed speed and voltage knobs. There are two digital displays that show actual voltage and wire feed speed while welding, but it doesn't end there.
The additional control board offers some advanced features such as 2T/4T mode, spot timer, run-in, and burnback. Each one of these will help you get the best out of the welder, and here are brief explanations: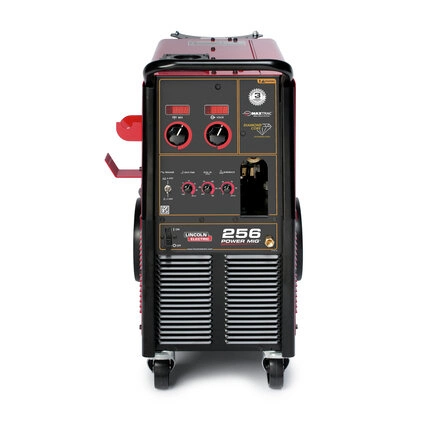 2T/4T mode chooses the number of touches to operate the welder. 2T means two touches, and it is aimed at shorter welds. For longer welds, you can use 4T, where you press and hold the button to initiate the arc and then press and hold to shut it down.
Spot timer will determine how long your welder will run, so you can get even, stitch or spot welds across the piece.
Run-in acts like hot start in Stick welding, where you can get a bit hotter start when welding thicker pieces.
The burnback control is used to set how far the wire will burn back once the torch trigger has been released.
Keep in mind that you can't use any of these additional settings with a spool gun when you weld aluminum.
MIG Welder Power And Arc Performance
Due to higher input power requirements, this Lincoln Electric Power MIG welder can output 30 – 300 A. The rated output categorize welder somewhat higher than hobbyist machines, such as Power MIG 180 or 210MP, but lower than real industrial welders, such as Lincoln Power Wave S500. Therefore, Lincoln 256 is perfect for light-industrial applications and repair work around the house and small home shop.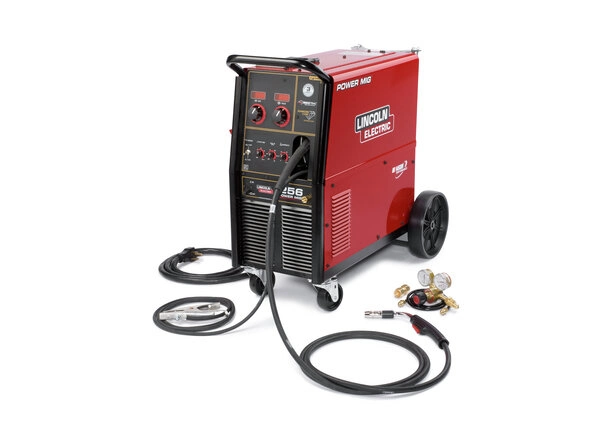 A Rated duty cycle of 40% at 250 amps also shows us that this is not a real industrial-grade machine. Comparison-wise, Lincoln Power Wave S300, which is similarly rated at 300 amps, allows a 100% at maximum power output.
As a result, you can use the Lincoln Power MIG welder to weld aluminum and mild steel up to 1/2″, or 5/16″ stainless steel. If you need more power, you can switch to Flux core welding to reach the maximum weldable thickness of 3/4″ in a single pass.
I liked the arc performance, which is really beginner-friendly due to the diamond core technology. As a beginner, you will appreciate the forgiving arc, excellent out-of-position arc stability, and low spatter that it offers. I also liked the MIG aluminum welding results with a spool gun. The feed is exceptional, but it is somewhat bulkier due to the 250 amp rating.
Lincoln 256 MIG Welder Value
If you decide to invest in any "red" machine, you should be ready to spend quite a few bucks. This MIG welder is not the cheapest on the market, but looking at the build quality, power and versatility, I think it is money well spent.
Even if you get a chance to buy a used Lincoln industrial or semi-industrial welder, do not hesitate because it will serve you and maybe even your grandchildren. As long as you keep it stocked with high-quality consumables, Lincon 256 MIG welder will last and perform.
In addition, your investment is protected by Lincoln's 3-year warranty, but in my experience, their machines well over last it. Buyers from the US and Canada can buy a two-year extension, but Lincoln's widespread servicing network will get you covered on any occasion.
Lincoln Electric 256 MIG Welder Pros & Cons
Lincoln 256 MIG welder offers everything you need for light industrial, home shop, and repair applications. It is a well-constructed and massive machine that is built to last.
With 220 lbs, you don't want to move it too much across the shop or garage, but the excellent design will help you keep everything close, including the torch, cables, cylinder, and spare consumables.
A 300 amp rating will allow you to weld up to 1/2″ thick steel, which is more than enough for your everyday needs. The arc is forgiving, and the machine is easy to set up, so it offers perfect features for both beginners and seasoned welders.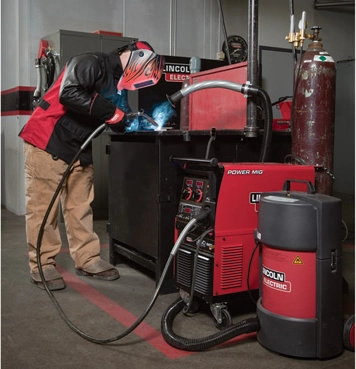 Even though you will have to spend quite a few bucks, I think that investment is well worth it, and there are no significant drawbacks to stop me from recommending this Lincoln 256 MIG welder to you.