Thinking about taking up welding at home but wondering what welder you should buy? I know it can be confusing with so many makes and models on the market for welding to choose from.
Fortunately, I've been out to test some of the best known and most popular welders for home use, and I've narrowed the field down to 8 choices for you.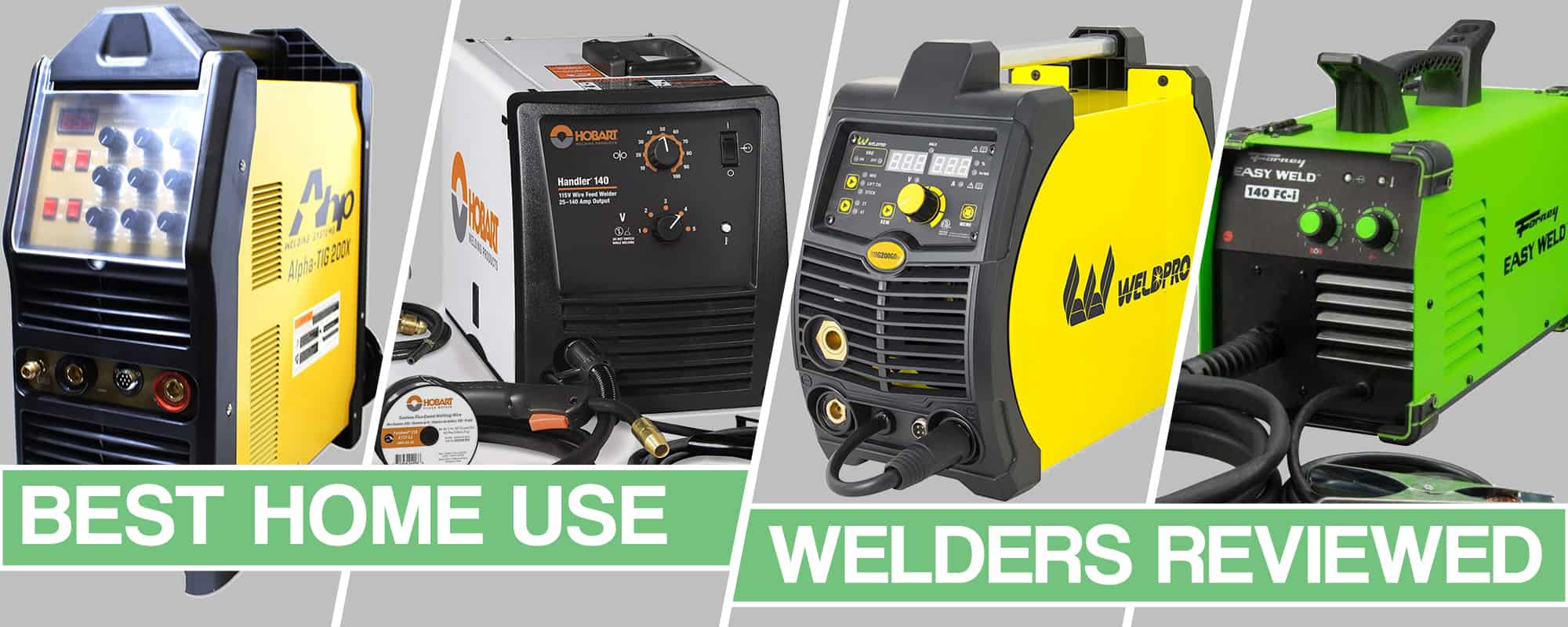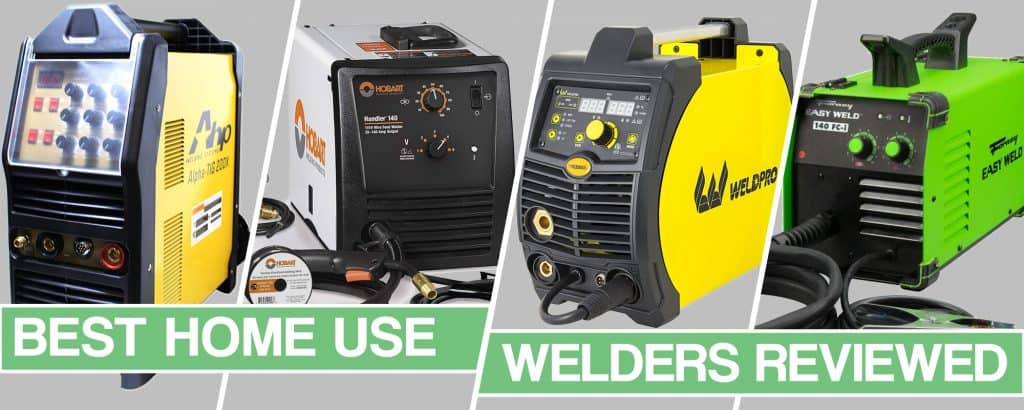 So, as long as you know what you're welding, it should be easy to select the right one for your needs, now.
Best Welders For Home Use Comparison Table
Welder Image
Process
Specials
Voltage inputs
Duty Cycle
Weight
Warranty
Check Price
Arccaptain MIG200 Multi-process Welder
MIG/Flux core, Stick, Lift TIG
Best New Machine



5% Discount Code: "WELDPROS"

110V/220V
200A @ 60%

38.2
2 years
Check Current Price Arccaptain

Hobart 500559 Handler 140 MIG Welder
MIG/Flux Core
Best For Hobbyists
110V
90A @20%
57lbs
5/3/1 Hobart warranty
Check Current Price Northern Tool
The Everlast PowerMTS 251Si
Pulse MIG,
Syn MIG,
Pulse TIG
SMAW
Multi Process Welder
110V/220V
35% Duty Cycle
@ 250 Amps
80lbs
5 year
Check Current Price Amazon

YESWELDER Digital MIG-205DS MIG Welder
MIG,
Flux Core,
Stick,
TIG.

Get 10% Off With Coupon: "-10 WELDPROS"

110V/220V
60% Duty Cycle
MIG: 160A
TIG/Stick: 140A
23lb
1 Year
Check Current Price YesWelder

FIRSTESS MP200
Welder & Cutter
MIG,
Flux Core,,
TIG,
SMAW
Plasma Cutting.

Get 10% Off With Coupon: "-10 WELDPROS"

110V/220V
60% Duty Cycle
MIG: 160A
TIG/Stick: 140A
Clean
Cut Thickness:
25/64"(10mm)
@220V@40A
26lbs
1 Year
Check Current Price YesWelder
Lincoln Electric K2278-1
MIG,
Flux Core
Brand-name Cheap Welder
115V
70 A @ 20%
26lbs
3 year
Check Current Price Amazon
Best Welders For Home Use Reviews
1. Hobart 500559 Handler 140 MIG Welder 115V
Most importantly, the quality of weld on mild steel was amazing. Whether pushing or pulling, the end product was top quality. Hobby welding has never been easier than when using the Hobart handler.
The new welder will find that the Hobart handler is the best home welding machine to learn on as well.
It just works straight out of the box, and you'll be working with steel just like a professional in no time at all. Full review of this welder is here.
There is no 220 V option with this machine but I don't think that's going to be a deal-breaker for most.
Pros & Cons Summarized
Pros
Easy to use
Covered with 5/3/1 Hobart warranty
Lightweight design and compact for usage and storage
Easy setup
Versatile
Cons
Pretty heavy at 57 pounds
Specifications
Processes: Flux Cored (FCAW) MIG (GMAW).
Weld Thickness Range: Mild Steel – 24 ga. – 1/4 in.
Weldable Materials: Steel, Stainless Steel, Cast Iron, Titanium, Brass, Copper, Aluminum with Spool-gun.
Input Voltage: 110/115/120 V, 60 Hz.
Input Phase: 1-Phase.
Current Type: DC.
Rated Output: 90 A @ 20% duty cycle.
Amperage Range: 25 A – 140 A.
Wire Feed Speed: 40 IPM – 700 IPM.
Weight: 57 lbs.
2. AHP AlphaTIG 200X 200 Amp IGBT AC DC Tig/Stick Welder 110v 220v
This may be the most versatile welder in my tests it can tackle steel, aluminum and stainless steel projects with relative ease. The stick welding mode is the best that I've encountered on any home use machine.
It's so easy to strike an arc that the first time you try it, you'll pinch yourself. It's also straightforward to manipulate and you can vary the arc length without a problem.
You can even switch between DC and AC modes while it's running!
It handles TIG welding very well too though the lower limit of 10 amps makes working with some very thin materials a bit trickier than I'd like. My only real complaint was the quality of the ground clamp, it's really poor and I don't think it will last very long at all.
Having said that, it's easy and cheap to swap this out for a clamp from another manufacturer which is what I did. Read more about this welder in this detailed article.
Pros & Cons Summarized
Pros
Offers great quality TIG and Stick welding
Offers AC and DC TIG welding
It can do AC and DC TIG pulse welding
Uses High frequency start for TIG and includes a pedal
Allows for a lot of adjustability
Can be used on both 110V and 220V
3 Year warranty
Cons
Very heavy welder with 69lb of weight.
Slippery TIG pedal provided
Specifications
Processes: TIG(GTAW) STICK(SMAW)
Weld Thickness Range: Mild Steel – 24 ga. – 3/8 in.
Weldable Materials: Steel, Stainless Steel, Magnesium, Aluminum
Input Voltage: 110/220 V, 50/60 Hz.
Input Phase: 1-Phase.
Current Type: DC.
Rated Output: 150 A @ 100% duty cycle and 200 A @ 60% duty cycle.
Amperage Range: TIG: 10 A – 200 A, Stick: 30 A – 195 A.
Weight: 69 lbs.
3. Arccaptain MIG200 – Budget-friendly Welder For Home Use
Arccaptain MIG200 is another budget-friendly welder for home use that gives you enough features and great value for the money spent. This modern machine uses IGBT inverter technology that makes it lightweight, portable, and power efficient.
The best part is that you get MIG, Flux core, Stick, and TIG welding options in a single machine, covering all your home use needs.
With a rated output of 200 amps, MIG200 will cover all your DIY, home, and garage shop uses. In addition, the high duty cycle of 60% at the maximum output will allow you to weld longer without making a break.
Dual voltage capability will help you run it off a regular household 110V outlet or a dedicated 220V source. The first look at MIG200 leaves an impression of a well-constructed and sturdy machine. It is tested in simulated harsh conditions, such as vibration, condensation, or tripping, and has rated IP21S protection. As a result, you can be sure it will last long and perform.
New welders will appreciate Synergic MIG controls that will automatically adjust welding parameters according to the wire diameter and input material. Meanwhile, seasoned welders can use manual settings to fine-tune the machine. Overall, I found MIG200 easy to use and set up, and the large LCD screen helps a lot.
Stick welding offers advanced features and controls such as hot start, arc force, and anti-stick. These improve arc start and stability while allowing you to unstick electrodes more accessible from the base metal. DC TIG with lift arc start is rather basic, but it can help you practice and learn. However, you don't get a TIG torch in the package, and you cannot TIG weld aluminum. Still, it is more than suitable for mild steel that you are likely to deal with home use applications.
Even though Arccaptain MIG200 is a budget-friendly machine, your investment is well-protected. It has built-in overload, overcurrent, heat, and voltage protection that will immediately shut down the welder to prevent damage to internal components. In addition, there is a 2-year warranty, which is scarce among budget manufacturers. You even get a 30-day return policy, so MIG200 is definitely worth checking out.
Learn more about this Arcaptain welder for home use.
5% Discount Code: "WELDPROS"
Pros & Cons Summarized
Pros
Great value for the money spent
Provides MIG, Flux core, Stick and lift TIG welding
Lightweight but durable
Dual voltage welder
Synergic MIG controls
Advanced Stick features
Overload, current, voltage, and temperature protections
2-year warranty
Cons
You don't get a TIG torch
Cannot TIG weld aluminum
Spool gun for MIG aluminum welding is sold separately
Specifications
Process: Flux Cored (FCAW), MIG (GMAW), Stick, Lift TIG
Weld Thickness: Mild Steel – 1/4 inches to 3/8 inches
Weldable Materials: Steel, Aluminum, Stainless Steel
Input Voltage:110/220 V 60 Hz
Input Phase: 1-phase
Current: DC only
Amperage: 110 V: 20–135A, 220 V: 20–200A
Rated Output: 115 V, 135A @ 60% duty cycle/230V, 200A @ 60% duty cycle
Welder Protection Rating: IP21S
Weight: 38.2 lbs.
4. Weldpro 200 Amp Inverter Multi Process Welder With Dual Voltage
The best all-around welder I found was this Weldpro 200 which handles MIG, TIG, and stick without any real problems at all. It's not the cheapest machine in the test, however.
The learning curve is a bit steeper with a machine that carries all 3 functions, and you'll spend some time with this compact welder's manual, trying to work out what goes where and what switch needs turning and when.
Don't rush this part –
you can get great welds on mild steel and stainless steel but you have to know what you are doing first. One nice feature on this machine is the ability to adjust the input voltage on the Weldpro 200, itself, which gives you more control over the look of the final weld than in some of the other models.
Pros & Cons Summarized
Pros
Dual voltage option (110-220V)
Most accessories in the box (MIG Torch, TIG Torch, Stick holder, work clamp etc.)
Has support for a spool gun
The 30% duty cycle at 200 amps power output
Very small (7" x 8.7" x 15") and light (30lbs)
Long leads
Support for Arc Lift DC TIG
The 2-year warrant
Cons
No support for AC TIG (aluminum) welding
No spool gun in the box
Lower build quality
Specifications
Output /Process Type: MIG, DC TIG, DC Stick machine (arc welding)
Current Type: DC
Voltage/phase: Both 110V/220V
Weight: 30 pounds
Amps/Volts @ Rated Duty Cycle:

MIG: [230V: 40-200A 30% at 200 Amp]
TIG: [230V: 15-200A 30% at 200 Amp]
Stick: [230V: 40-200A 30% at 200 Amp]
5. Forney Easy Weld 261, 140 FC-i Wire Feed Welder, 120V
This small welder for home use is also a very low-cost option, and if you're just starting out with wire welders this might be the model for you.
However, this is balanced with a bare-bones 12-month warranty and I wouldn't expect this machine to last forever.
I found this a very easy wire welder to get started with, the process from opening the box to laying that first bead took about 5 minutes total.
The welding on mild steel was very impressive with very little spatter. There's no wire in the box and no weld brush, so you will need to take that into account when ordering. If I was looking for portability at all costs, this would be my top choice but there are better performers overall.
Pros & Cons Summarized
Pros
Budget-friendly
Very simple to use
Infinite rotary knob for voltage and wire feeding speed
Lightweight
Ergonomic carrying handle
Good customer support
Cons
Ground clamp could be better
Plastic wire feeder
Specifications
Processes: Flux Core (FCAW)
Weld Thickness Range: 24-gauge up to 1/4
Weldable Materials: Mild Steel
Input Voltage: 120-volt input
Input Phase: 1- phase
Current Type: DC
Rated Output: Duty Cycle 30% @ 90A
Amperage Range: 140 AMP output
Weight: 19 lbs
6. Lincoln Electric K2185-1 Handy MIG Welder
When looking at small welders it's hard not to check out the Lincoln Electric K2185-1 which is a solid choice and is very good for gasless MIG welding.
When I put flux-cored wire to the test with it, the penetration depth was excellent.
However, customers say that this mid-priced model isn't without its issues, and while on my trial, I had no problems, many people had reported that when their Lincoln was delivered, it was broken in the box.
So, I'd recommend that if you choose this welder, that you order it from Amazon or another retailer with a strong returns process. That way if there are problems, they aren't your problems.
Overall, this isn't the best home welder in my tests but it's not bad and it is easy to weld with and the weld quality is fine too. If you need a gasless MIG welder as your priority for welding then I'd say that this is going to be the one for you. Read more about it on this link.
Pros & Cons Summarized
Pros
Welds both MIG and Flux core
Cold contactor safety feature
Lightweight and portable
voltage ranges for precise control
1 Year warranty
Cons
Welds mild steel only up to 1/8 of an inch.
20% duty cycle at 70A
Specifications
Processes: Flux Cored (FCAW) MIG (GMAW).
Weld Thickness Range: Mild Steel – 24 ga. – 1/8 in.
Weldable Materials: mild steel
Input Voltage: 115 V, 60 Hz.
Input Phase: 1-Phase.
Rated Output: 70 A @ 20% duty cycle.
Amperage Range: 35 A – 88 A.
Weight: 20.9 lbs.
7. Lotos LTPDC2000D Non-Touch Pilot Arc Plasma Cutter Tig Welder and Stick Welder 3 in 1
The addition of a plasma cutter to this stick and TIG welding kit is a nice touch, and it extends the functionality of the device quite a bit.
Still, the lack of MIG welding is going to put off many people from shelling it from this, particularly as a first machine.
MIG welders aside, this is an excellent welder, but you will need a 50 amp breaker to get it set upright, so you should allow for that in your cost analysis when deciding on your budget.
It's not cheap, and it's not that light either, but if you want to work on steel, stainless, or aluminum without worries then this Lotos LTPC2000D is going to make short work of your welding jobs.
I can't ignore the fact, however, that a lot of welders online are complaining about this machine breaking down after a month or two – so, please make sure to buy from a reputable dealer with a solid warranty that you can rely on.
Pros & Cons Summarized
Pros
Quite cheap for what it offers
DC TIG, Stick and Plasma Cutter support
Plasma cutting max cut 1/2″ and max severance 3/4″ sheet metal
High-frequency start for TIG welding
100-220 Volt Input support
Very lightweight machine (43lbs)
60% duty cycle for TIG at 200 amperage output
Most accessories supplied (including plasma torch, TIG torch, stick holder, ground cable and work clamp)
Cons
No TIG foot pedal included
The stick lead is only 6-feet long
Have to buy plasma cutting consumables from Lotos and they're not cheap
No AC TIG welding support
Specifications
Process Type: Plasma cutter, DC TIG option, DC Stick
Current Type: DC
Voltage/phase: 100/220V
Weight: 43 pounds
Power efficency: 85%
Amps @ Rated Duty Cycle:

Plasma cutting: [50A @ 60% /40º 35A @ 100%]
TIG: [200A @ 60% /40º C 150A @ 100%]
Stick: [200A @ 60% /40º C 95A @ 100%]

Amperage Output Range:

Plasma cutter: 110-220V 10-50A
TIG: 120-220V 15-200A
Stick: 120-220V 15-200A
8. Forney Easy Weld 298 Arc/TIG Welder 100ST, 120-Volt, 90-Amp
The second cheapest welder in my tests was the Forney Easy Weld which is, indeed, very easy to use and while it probably won't be the longest-lasting.
It's much better at getting the welding done than the price tag might lead you to believe.
The official duty cycle is a little limited at 10 minutes, but I found that I never really hit a limit when it wouldn't work, so that may be a highly conservative number from the manufacturer.
The leads are a little shorter than I'd like though and I found that there were times when welding with this model was a little awkward for it.
People, who have been welding with this model for longer than I have, said that there are very few problems with the Forney Easy Weld in the first year of welding. For this price, you really can't go wrong unless you have real concerns about the duty cycle.
Pros & Cons Summarized
Pros
Stick and TIG welder
Great for beginners
Ultra lightweight and portable at just 9.65 lbs
Lift arc TIG capable
Very affordable
Cons
No foot pedal operation possible
TIG torch and kit not included
Specifications
Processes: TIG(GTAW) STICK(SMAW)
Weld Thickness Range: Mild Steel – 16 ga. – 1/4 in.
Weldable Materials: Mild Steel, Stainless Steel, Aluminum
Input Voltage: 120 V, 50/60 Hz.
Input Phase: 1-Phase.
Rated Output: 80 A @ 30% duty cycle.
Amperage: Maximum 90A output.
Weight: 9.65 lbs.
9. DEKOPRO 110/220V MMA Welder, 160A ARC Welder
The lowest cost welder of them all is the DEKOPRO 110/220V and it's certainly not a terrible purchase.
I found that this wire welder was a little fragile in terms of construction and it certainly isn't durable enough for professional use but if you're looking just to do a bit of welding as a hobby every now and again, it's probably good enough.
Some of those welding with it for long periods of time say that it regularly trips the internal breaker when welding, but I couldn't replicate that problem in my own tests.
I did find that it sometimes struggles to maintain an arc though and the overall welding experience definitely wasn't the best. But when you consider the price you can't go wrong really. MIG welders will want to look elsewhere, of course, but for welding on a budget, this isn't a bad deal at all.
Pros & Cons Summarized
Pros
Very Affordable
Extra lightweight
160 Amps of power
Lengthy stick electrode holder cable
Cons
Can be used only for the simple tasks
Specifications
Processes: STICK(SMAW)
Weldable Materials: Mild Steel, Stainless Steel, Aluminum
Input Voltage: 110/220 V, 50/60 Hz.
Amperage Range: 10-160A.
Weight: 9.65 lbs
Buyers Guide: What Type Of Welder Do You Need?
MIG/Flux-Core Welders
MIG welding is done when the welder pushes out a wire electrode when you pull the trigger on the gun.
A current flows through the wire and the base metal that it touches to produce a high-strength weld.
If you're looking for something easy to use then a MIG welder is one of the best choices you can make.
It doesn't work so well outdoors in windy conditions but otherwise, MIG welders are very simple to work with. Flux core welding is slightly different to MIG welding because it doesn't need a shielding gas but generates its own gas using the core of the wire.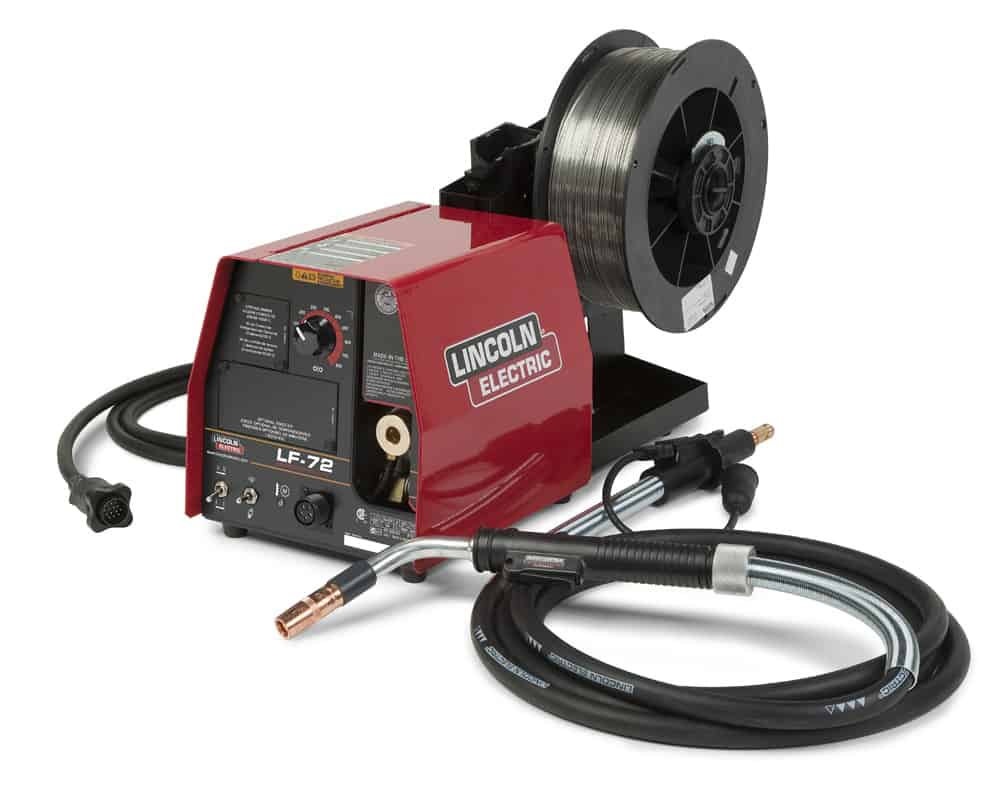 TIG Welders
TIG welding is typically carried out on very thin metal and on aluminum and stainless steel. It uses a consumable tungsten electrode, which is shielded by gas from the nozzle.
You can use different filler materials or, if your surfaces have a very clean join, you can use it without filler material. (1)
It's the hardest kind of welding to learn but it also offers the highest level of control over your weld. If you want something capable of welding top quality welds, then TIG welders are your best bet.
It is also the highest-paid welding skill to possess and possibly the cleanest way of welding. There is no slug or splatter but you will need a 100% argon shielding gas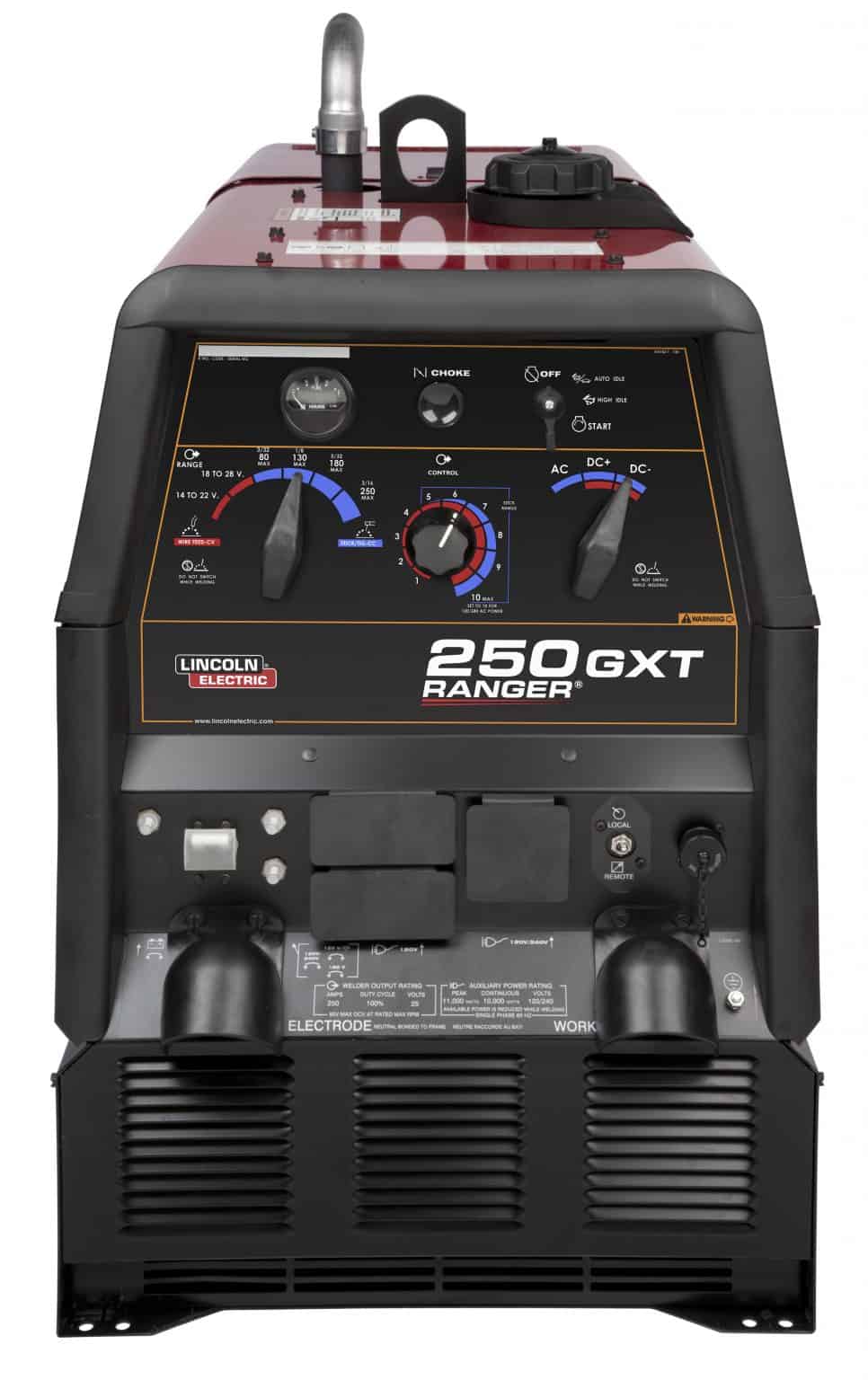 Stick Welders
Stick welding is really for outdoor use and working on dirty metal, but it's hard to learn because it requires you to hold the electrode holder while the welding machine connects to the base metal. (2)
You won't get pretty welds from a stick welder. You'll have to do more clean up than with MIG or TIG machines. You can't weld thin metal with it either.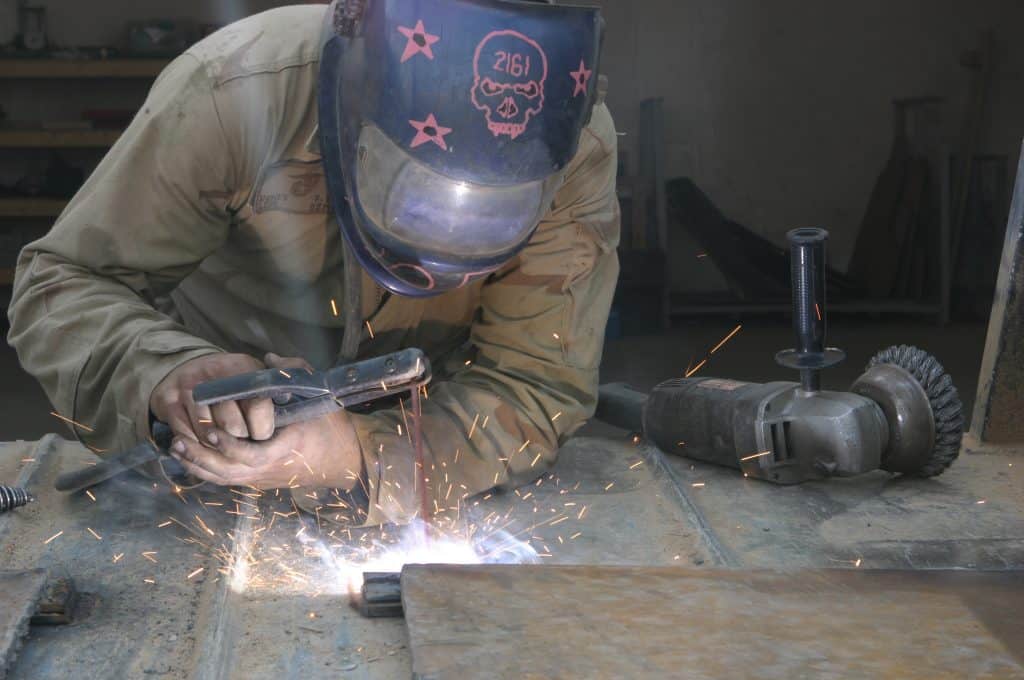 Amperage and Voltage
Amperage in welding controls the depth of weld penetration. The more amperage that you have, the deeper the weld. However, you will also use more material to create the weld, the higher the amperage goes.
Voltage acts as a kind of electrical pressure on the weld. It only affects the cosmetic surface of the weld, and low voltage welds tend to be tall and thin, where high voltage welds are smooth and flat.
Available Power Supply
Before you buy a welding machine make sure that it can work with your available power supply. That is 110V if you're using a standard outlet.
If you buy a 220V welder in this instance, you will need to purchase a generator if you don't have an outlet that supports it. You also need to check the breaker to the circuit for your welder because most household breakers will have 15-20 amp breakers and you may need 50-60 amps for your machine.
What Factors To Consider When Looking For The Home Use Welder
If you have a limited budget – you want to focus on the kind of welding that you will do most often. (3)
You should also consider how you might extend the use of your machine when you buy it – will you need more amperage or voltage at a later date? Would a MIG, TIG and Stick welder be something you'd value (there are combination welders available), etc?
Check the ratio of price to quality too. Cheap machines might not last very long or need more regular maintenance than more expensive models. Finally, make sure to leave some budget for safety equipment (helmet, gloves, jacket, etc.) and for gas, wire, and other consumables.
Frequently Asked Questions (FAQs)
What Is A Good MIG Welder For Home Use?
The best MIG welder for home use in my trials was the Hobart 500559 handler, which represented the best balance between price and performance. It's very easy to learn to use and storing it is straightforward too. It will give you excellent service for an extended period before you think about upgrading.
How Do I Choose A Welder?
The best way to choose a small welding machine for home use is to think about the projects that you will work on and focus on the times when you will most need a machine. After that, you can look to your budget to guide you to any additional functionality and for the consumables and safety equipment that you need.
What Is The Best Type Of Welder For Home Use?
A MIG welder is probably the best type of welder for home use because it's the easiest to learn to use and is very good when working indoors on all but thin materials. Home welders are, generally speaking, going to find that this meets their needs more often than any other type.
Conclusion
The Hobart 500559 Handler 140 MIG Welder 115V is my preferred option for welding at home. It's cost-effective and extremely easy to get welding with. However, if you're really on a tight budget and MIG welding's not so important, you might want to go with the DEKOPRO 110/220V MMA Welder,160A ARC Welder.
The best all-around choice though, would be the Weldpro 200 Amp Inverter Multi Process Welder with Dual Voltage 220V/110V Mig/Tig/Arc Stick 3 in 1, which gives you the most options for your home welding.