Stick welding is a common go-to welding method for repairs and DIY projects around the home and garage, and if you are on a super-tight budget, YesWelder ARC-165DS welder might be your choice.
If you browsed the internet for reviews, YesWelder ARC-165DS is often referred to as the cheapest Stick welder that will get your job done.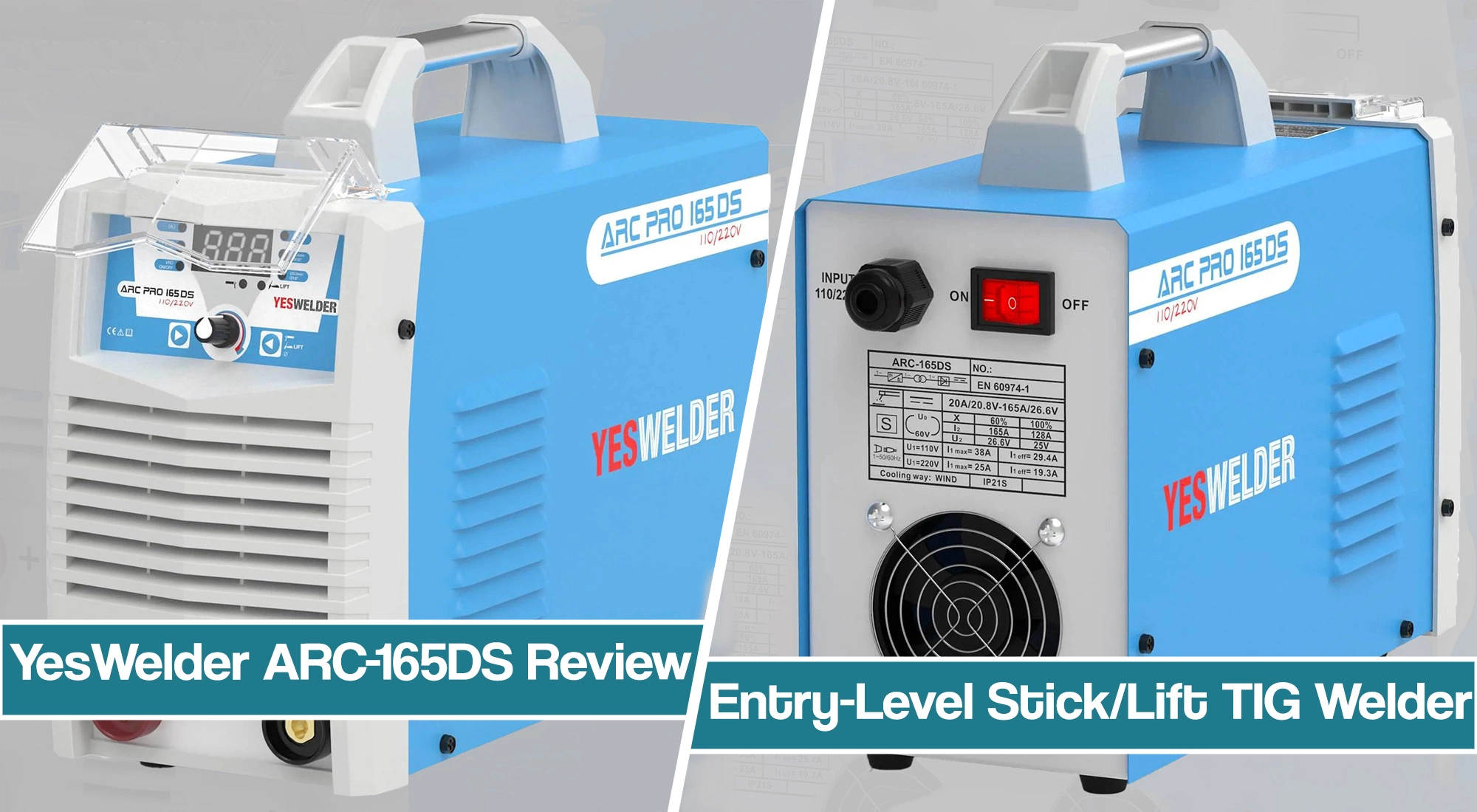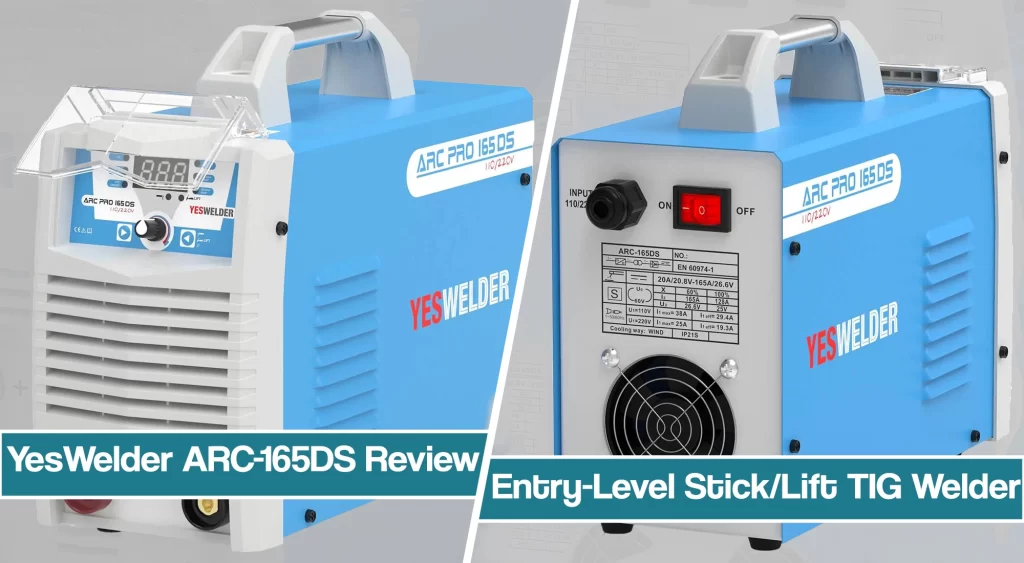 But, of course, as long as you don't expect the miracles out of a welder, that is priced at just over $100.
I was also skeptical when I saw the price tag, which was one reason to make this YesWelder ARC-165DS Review. So let's see what this little guy has to offer.
YesWelder ARC-165DS Package Content and Technical Specifications
YesWelder ARC-165DS is a budget-friendly stick welder you can use for light-duty projects and repairs around the house or start getting into the world of welding. Although it is a budget welder, you will get everything you need to weld straight out of the box.
When investing in ARC-165DS, for the money spent, you will get:
ARC-165DS Welding Machine
10 feet electrode holder cable
10 feet work clamp cable
110V & 220V power adapter
Brush (for clean welding spatter)
Owners Manual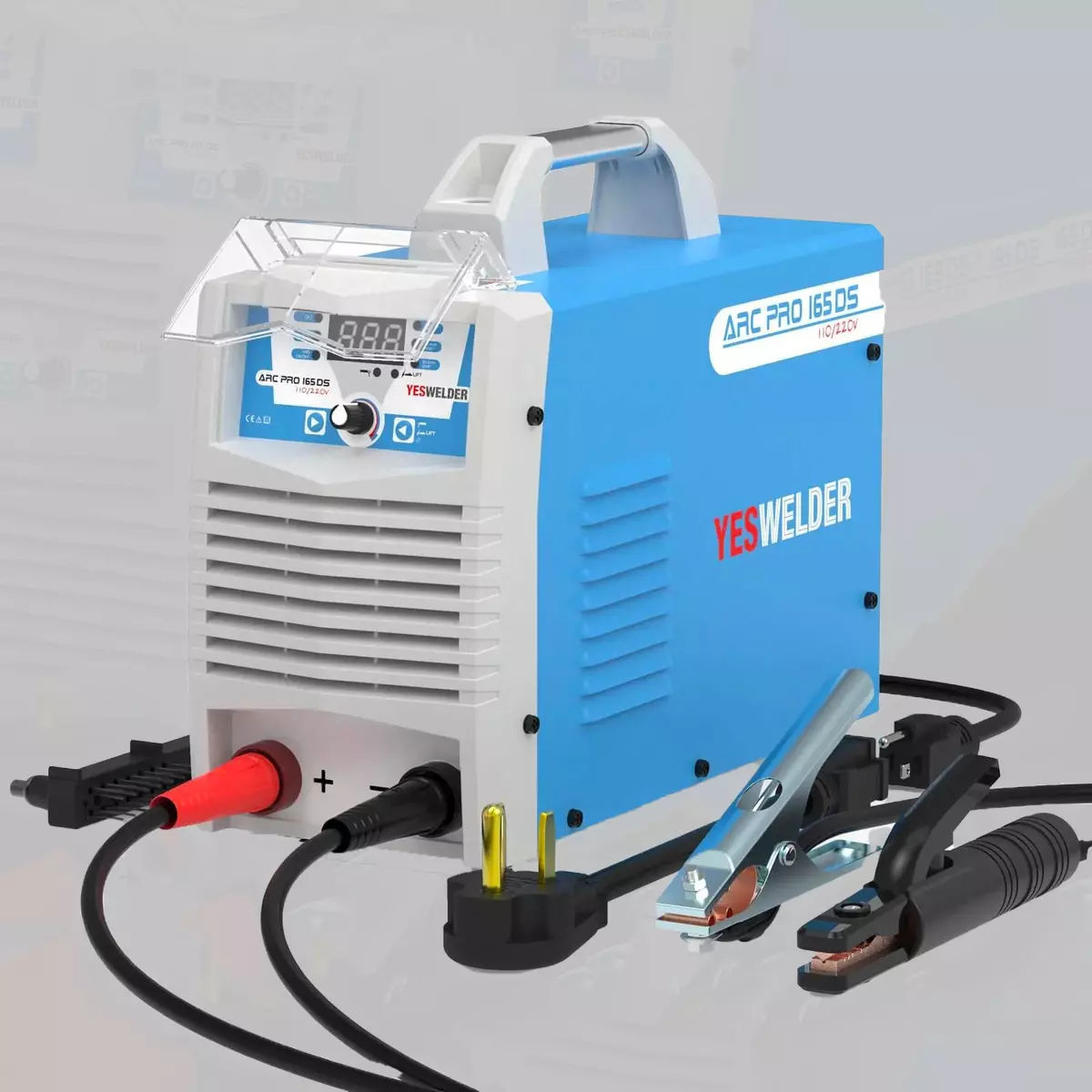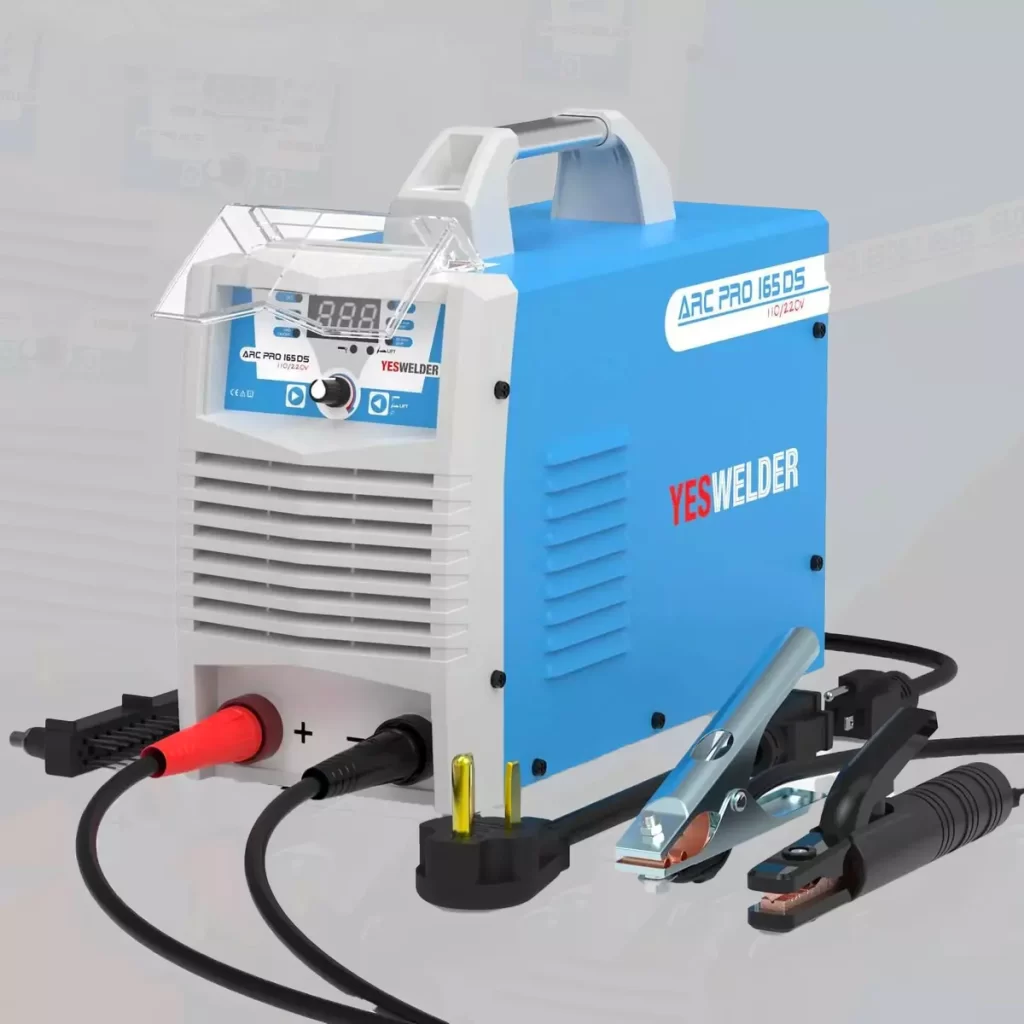 Get 10% Off With Coupon: "-10% WELDPROS"
The electrode holder and work clamp seem a bit cheap, as you would expect, but they will get the job done. You will also get a chipping hammer with a brush to help you clean spatter and welds. Finally, the 110-220V power adapter is an excellent addition to switch between power sources.
YesWelder ARC-165DS is also capable of DC TIG welding with a lift start, but you don't get a TIG torch. Excluding the TIG torch seems to be a trend in today's welding market, and you don't get it even with some pricier machines such as YesWelder YWA-160, Hobart Stickmate 160i, or Lincoln Invertec.
Nonetheless, the DC Lift TIG option in ARC-165DS is quite basic, so you shouldn't expect much. However, you can opt for it if you decide to practice some TIG welding.
Technical Specifications
Rated Input Voltage:
110V & 220V
Frequency:
60Hz Rated
Input Current:
42A at 110V
29A at 220V
Rated Output:
26.2V
Output Current:
20-165A
Rated Duty Cycle:
130A at 60% @ 110V
165A at 60% @ 220V
Efficiency:
85%
Dimension:
14.5x10x6.3
Net Weight:
11 lbs.
YesWelder ARC-165DS Review – Build Quality, Power, Features
After a brief overview of what you get for the money spent and technical specifications, we will get to the business. YesWelder ARC-165DS seems pretty decent on paper, but things can differ in practice. Therefore, let's see if this stick welder is worth investing in.
ARC-165DS Build Quality
The compact size of YesWelder ARC-165DS is one of the things nearly all welders complimented. This small machine weighs only 11 lbs, and you can easily carry it around the workshop or out on the field for repair.
As for the build, given the price tag of just over 100 bucks, ARC-165DS seems pretty decent. Even though it is lightweight, it looks sturdy and well constructed. However, given the 1-year warranty, I don't think you should stress-test it.
One of the things I disliked was the continuously running fan. Even though you shouldn't expect intelligent fan control in this price range, it might take some time to get used to the noise it produces.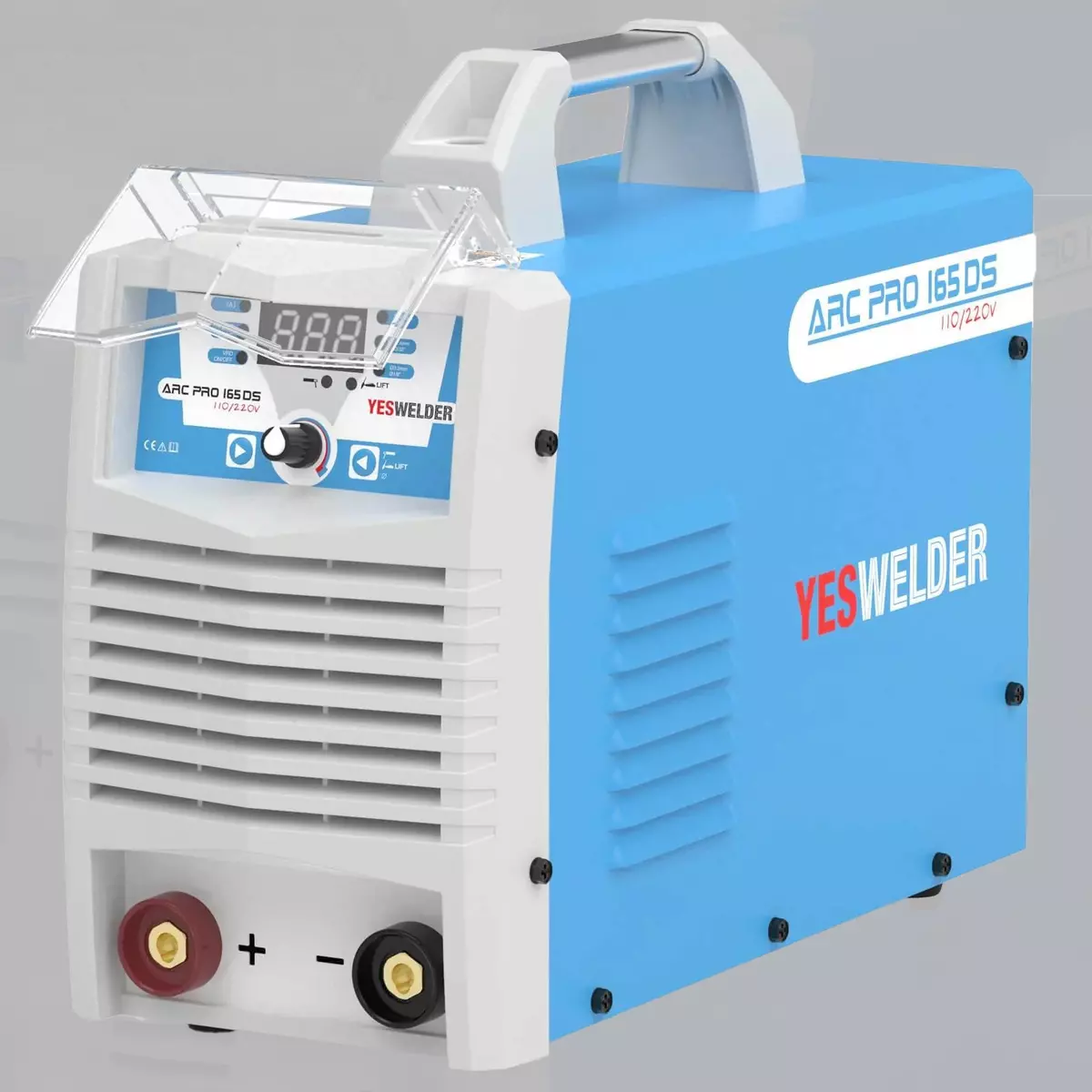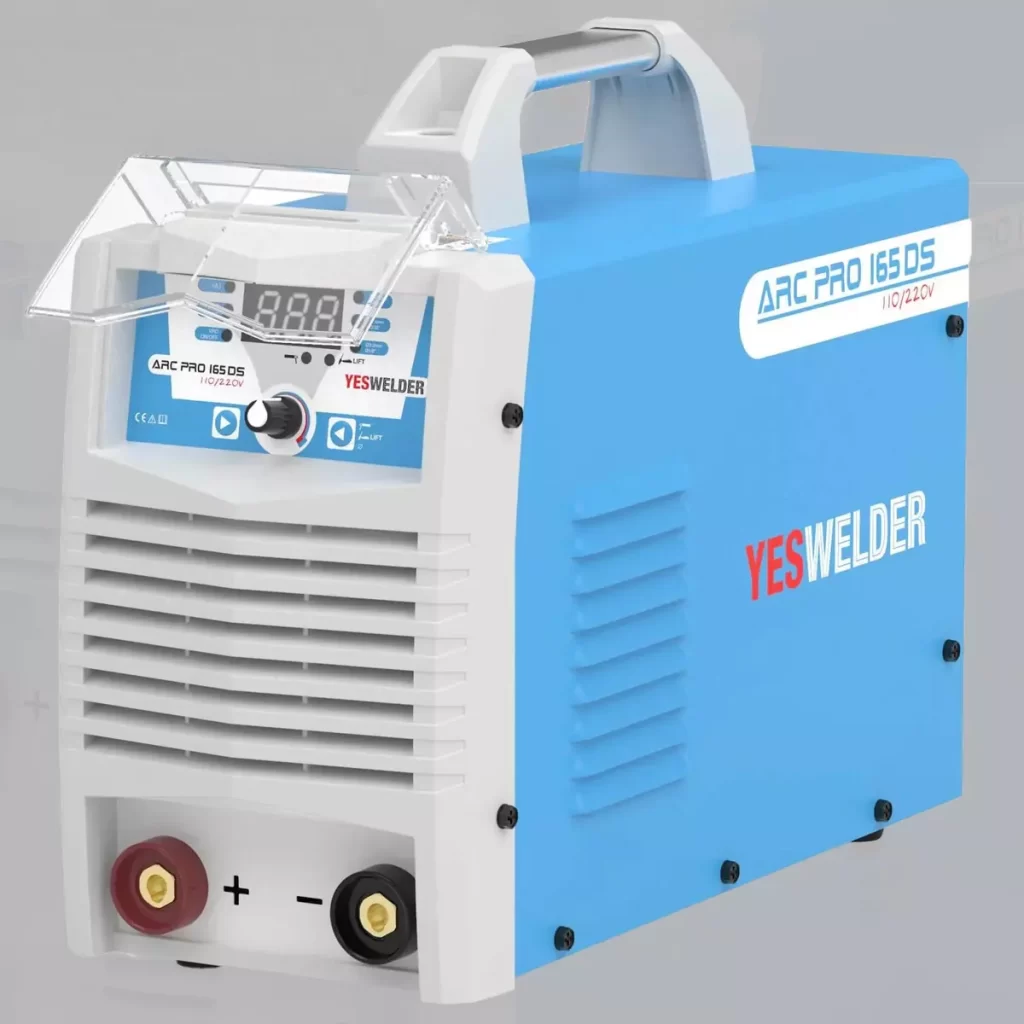 While YesWelder ARC-165DS has a built-in handle that will help you carry it around, I got fond of shoulder straps. Today's stick welders are compact and lightweight, just like ARC-165DS. Brand-name manufacturers such as ESAB or Lincoln usually provide a strap to help you put it on your shoulder when working on a ladder, or the leads are not long enough. Yet, this is just my preference, and the requirements might differ from your application.
Controls and Features
Like many stick welders on the market, YesWelder ARC-165DS is easy to use and set up. The control panel is straightforward and only features two buttons and one infinitely adjustable knob. However, some decent features will suit both beginners and seasoned welders.
Smart Settings
While Stick welding is not one of the most challenging processes to master, beginners can struggle to start or maintain the arc or deal with sticky electrodes. We have all been there, so you know how frustrating it can be.
That's why YesWelder ARC-165DS introduced intelligent settings, which can give newbies a head-start. All you have to do is select the stick electrode diameter, and the welder will adjust the welding current automatically.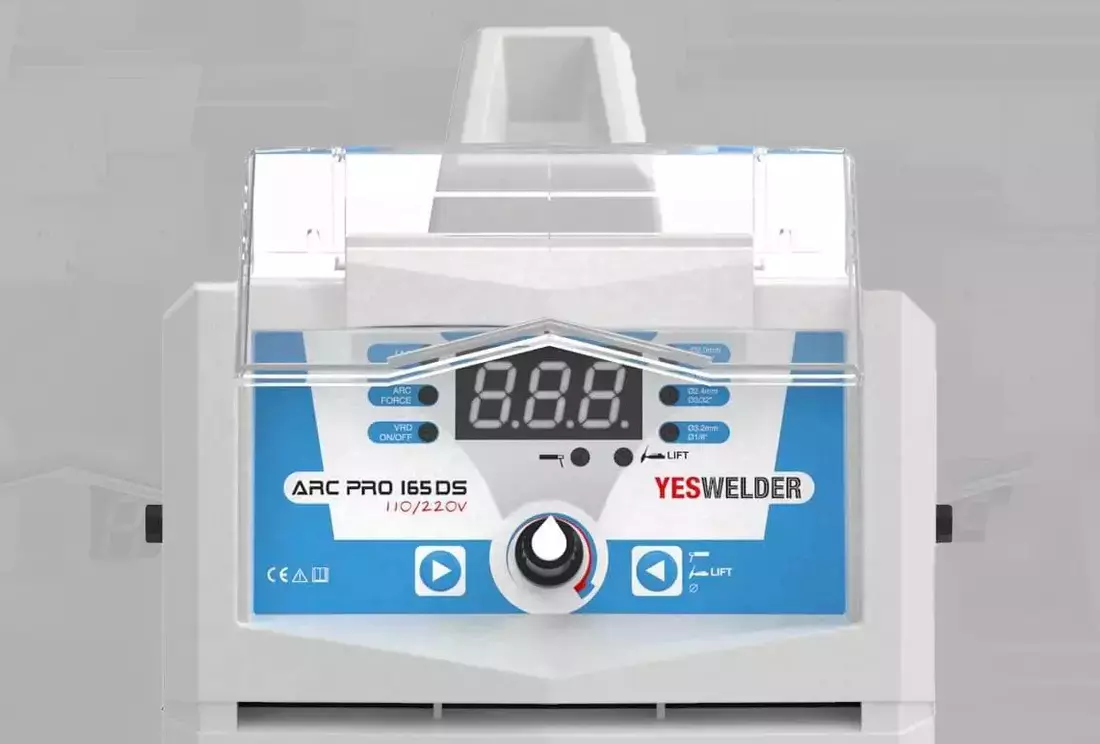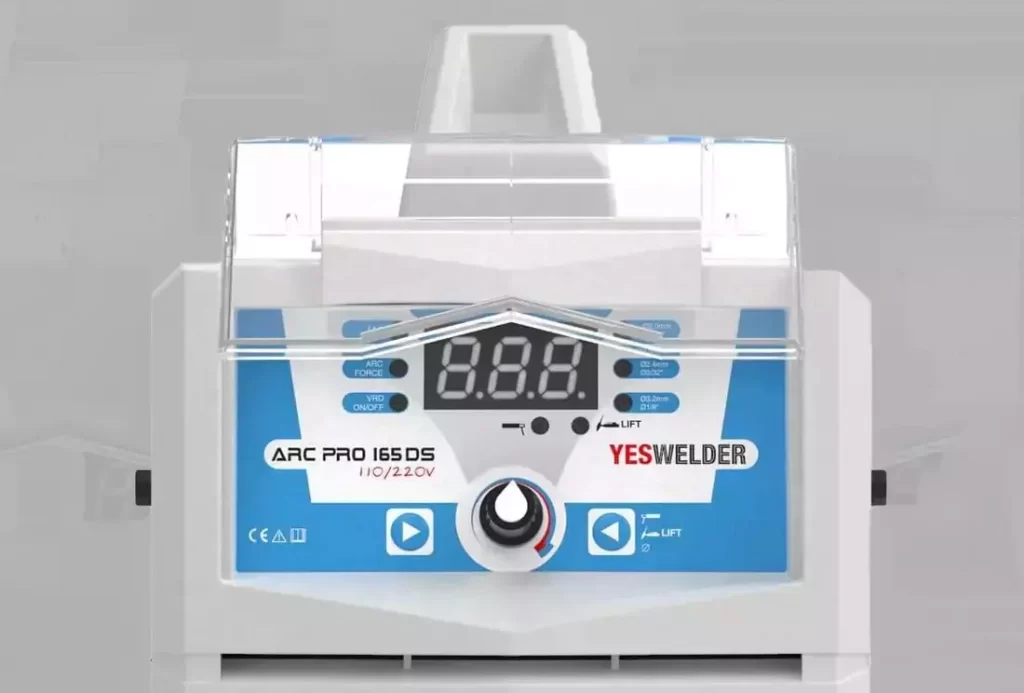 However, you should consider the given settings just as a recommendation, so you might want to tweak the current in the future.
Arc Force Feature
While beginners can enjoy smart settings, seasoned welders usually like to fine-tune their machines for the best results. While there are not too many advanced controls, an arc force feature can be helpful.
Adjusting the arc force will help the machine overcome voltage fluctuations that can impact the arc performance. For example, if you modify it, once the ARC-165DS senses the voltage drop that may occur due to unstable power input or when using long extension chords, it will compensate it to improve arc stability and overall results.
However, you should be careful not to over-tune the arc force since it can cause electrodes to stick. Nonetheless, this is a decent feature you see at the latest YesWelder YWA-160 or brand-name stick welders such as Lincoln Invertec.
VDR Safety
Welding safety should never be ignored during practice, and luckily, features such as VDR help a lot. For example, YesWelder ARC-165DS features a VDR (Voltage Reduction Device) that will lower the overall open circuit voltage after you finish welding.
Once you are done with welding, the no-load current kicks in, but the OCV usually stays high. Therefore, the electric shock hazard is present when changing electrodes or switching settings and polarity.
If you turn on the VDR, the OCV during the welding will drop from approximately 65 to a completely harmless 5-6 volts. However, keep in mind that this feature might impact the arc start.
Stick Welding Capability and Performance
The YesWelder ARC-165DS is a dual voltage stick welder rated at 165 amps at 220V and 130 amps at 110V. As a result, you can plug it into a regular 110V household outlet when dealing with 1/8″ steel or thinner, which is more than fine for light-duty home repairs and projects.
However, this welder shines at 220V, where it gives just the right amount of heat and penetration. With a maximum output of 160 amps, this welder is powerful enough to weld 9/64″ thick metals.
One of the things you should keep in mind is that YesWelder ARC-165DS is an IGBT inverter. As a rule of thumb, inverters and 6010s don't go well together. This rule can also be applied to ARC-165DS, as many welders had issues with 6010 and 6011 electrodes.
Maintaining a stable arc with these electrodes can be challenging, so even the manufacturer recommends 7018s or 6013s for best results.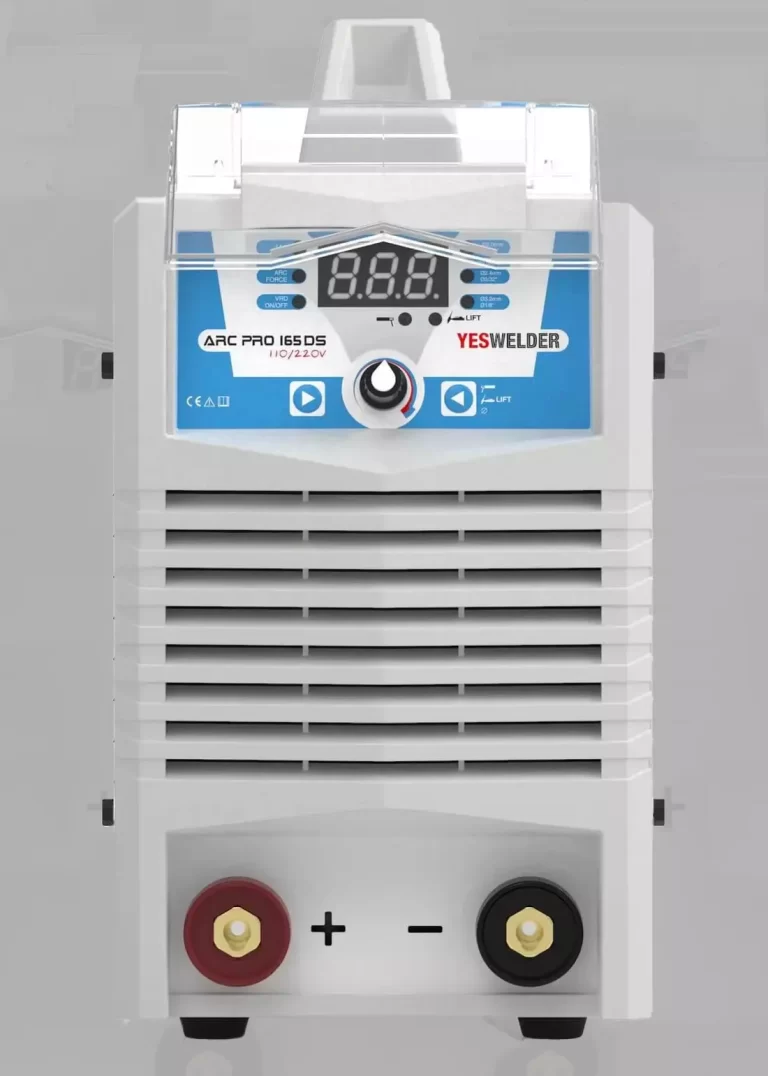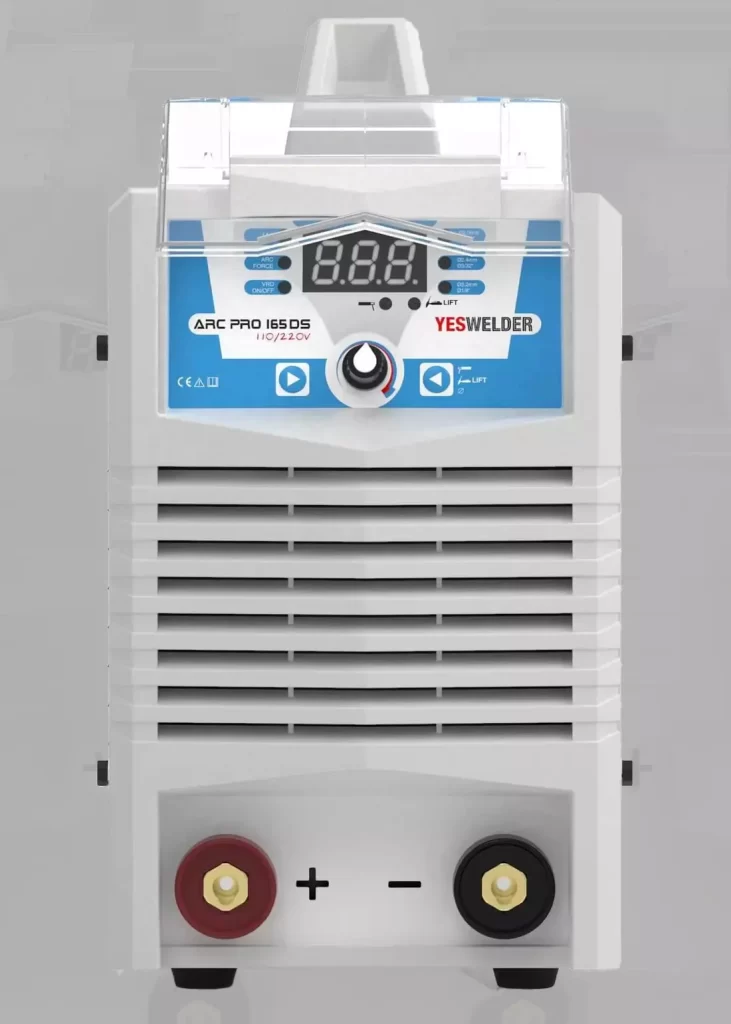 However, once you choose the appropriate stick electrodes with the right amount of heat, you can achieve decent arc performance and weld quality with ARC-165DS. So even though it is the process of trial and error, once you get the hang of it, you can get high-quality results.
One of the things I liked about YesWelder ARC-165DS is the high-duty cycle. With a 60% rate at the maximum output of 160 amps at 22V or 130 amps at 110V, you can weld for 6 minutes straight at full power before making a 4-minute break. However, be cautious when using maximum input power, as it can flip the 20 amp breaker at 110V if you overforce it.
ARC-165DS Welder Value
Given the price tag of YesWelder ARC-165DS, I don't think you can get more value for the money spent. However, this super budget-friendly machine will work well and perform as long as you treat it well.
You shouldn't expect miracles from a $100 give-or-take stick welder. So if you treat it like a $100 machine, it will last and perform. This welder is backed up by a 1-year limited warranty, but it only refers to parts or components that fail due to defects in material or workmanship.
Pros And Cons Of YesWelder ARC-165DS Summarized
Overall, I agree that YesWelder ARC-165DS is one of the cheapest welders on the market that will get your job done. This stick welder will work fine with your light-duty repairs and home projects and offers a combination of features that will suit beginners and more experienced welders.
While accessories are not the highest quality, they will work fine. In addition, I liked the ease of use, which makes ARC-165DS feel like an excellent entry-level stick welder.
The compact dimensions and low weight make it easy to carry around and store, but given the 1-year warranty, you shouldn't stress test it.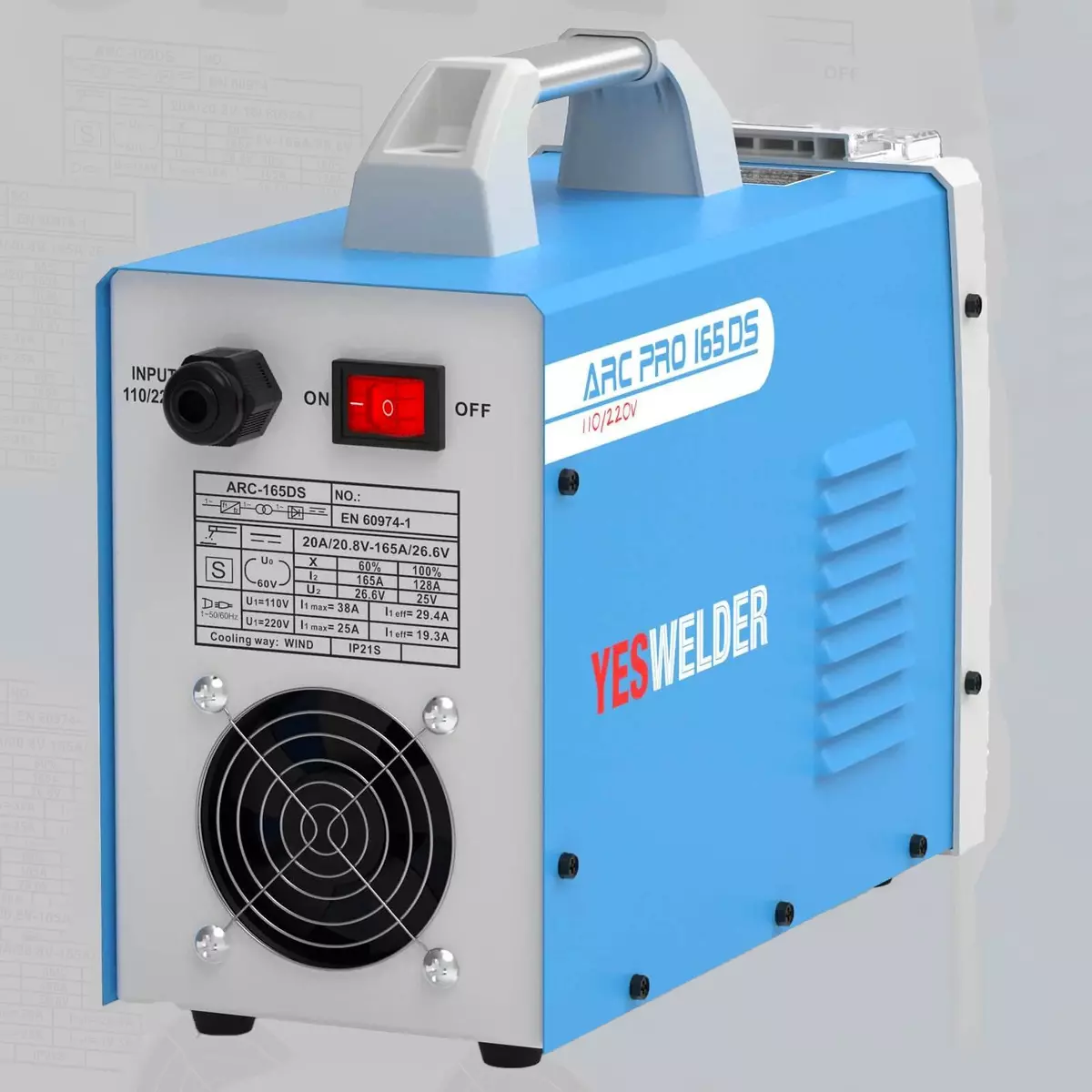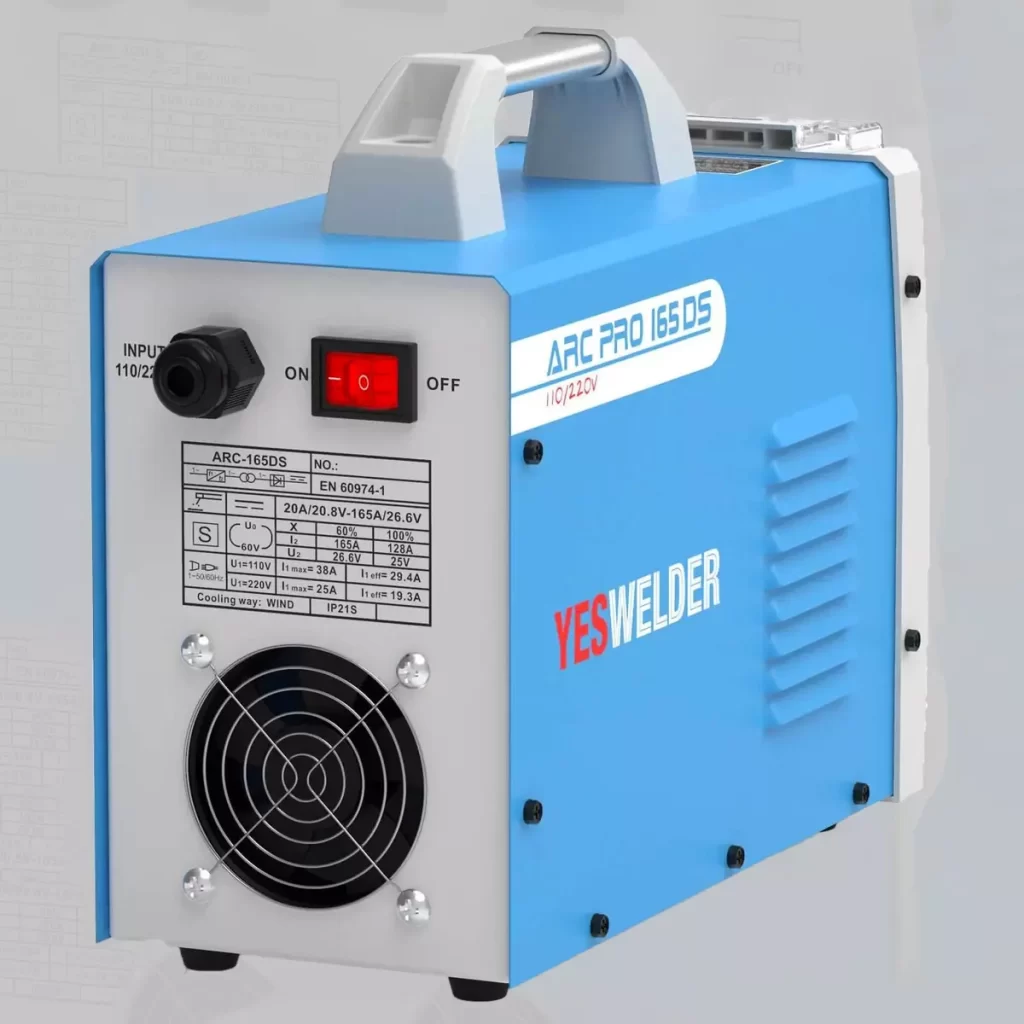 My biggest con is that ARC-165DS doesn't like 6010s and 6011s, and you just have to deal with it. Meanwhile, it will work fine with 6013s and 7018s, which YesWelder recommends. In addition, it will output just the right amount of heat when plugged into a 220V outlet, but you can work around 110V and thin steel.
In the end, expecting professional-grade performance and results from a $100 welder is unrealistic. Still, as long as you treat it well, it will last and perform over its value and expectations.
In the past year, we have written a number of reviews on welders and plasma cutters from YesWelder. If you are still interested in this brand and wish to read them, you can find links to the rest of them here.