Stick welders are tiny little workhorses that welders use for various repair, garage, and DIY projects, due to their excellent versatility and ease of use. Today, we are talking about the latest addition to the YesWelder line-up, the YWA-160 Inverter stick welder.
The YesWelder YWA-160 is an inverter Stick/Lift TIG welder that offers some advanced and excellent features over the YesWelder ARC-165DS we all loved.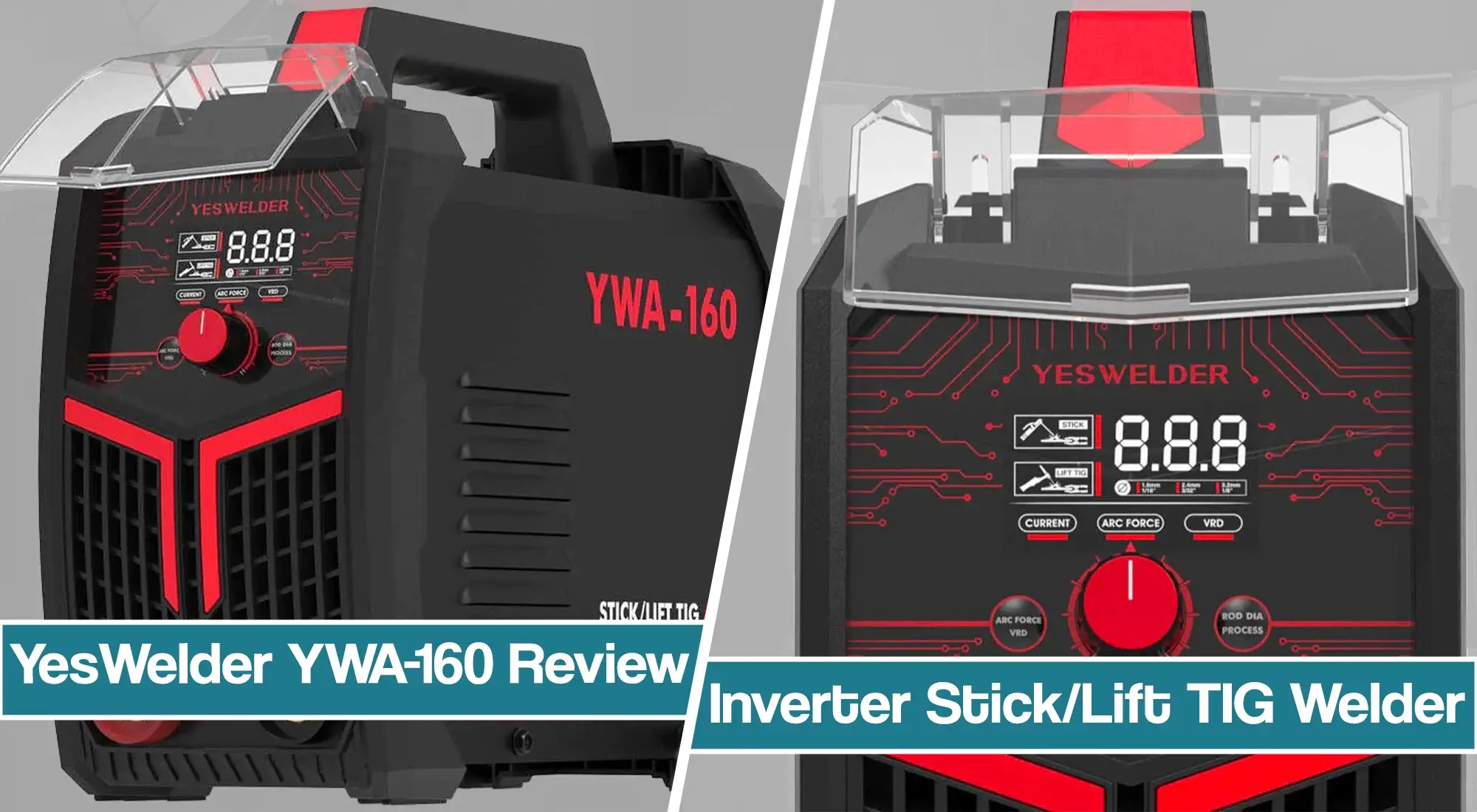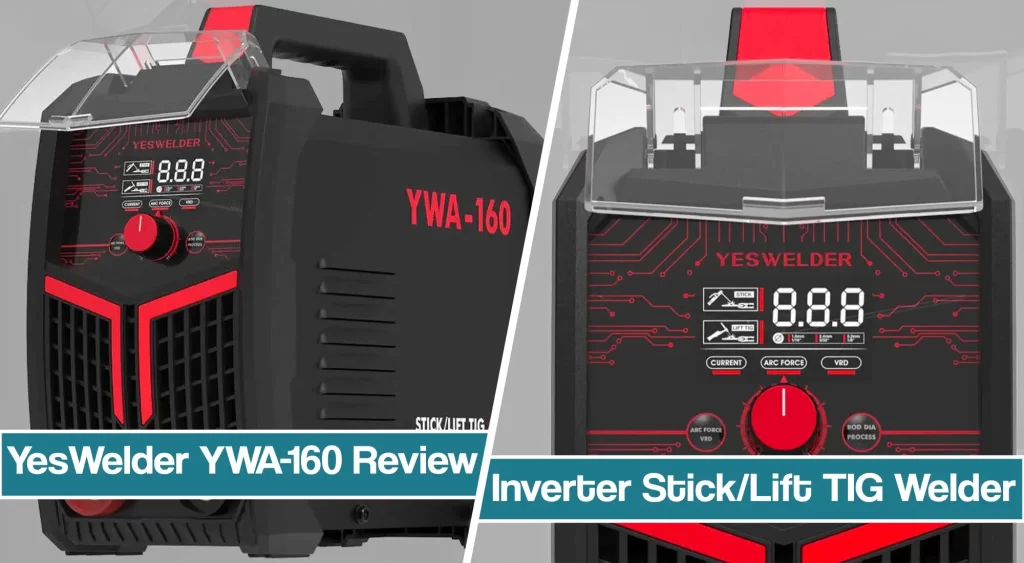 In this YesWelder YWA-160 review, we will discuss package content, specifications, and features to help you understand why this is an excellent budget-friendly machine.
YesWelder YWA-160 Inverter Stick Welder Package Content And Specifications
Like most review videos you find these days, we will first start by discussing the package content and specifications of the YesWelder YWA-160 Inverter Stick welder. YesWelder machines are known for their value, so let's find out if that's the case with YWA-160.
When investing in the YesWelder YWA-160, for the money spent, you will get a:
YWA-160 Welding Machine
10 feet electrode holder
10 feet work clamp
110V & 220V power adapter
Manual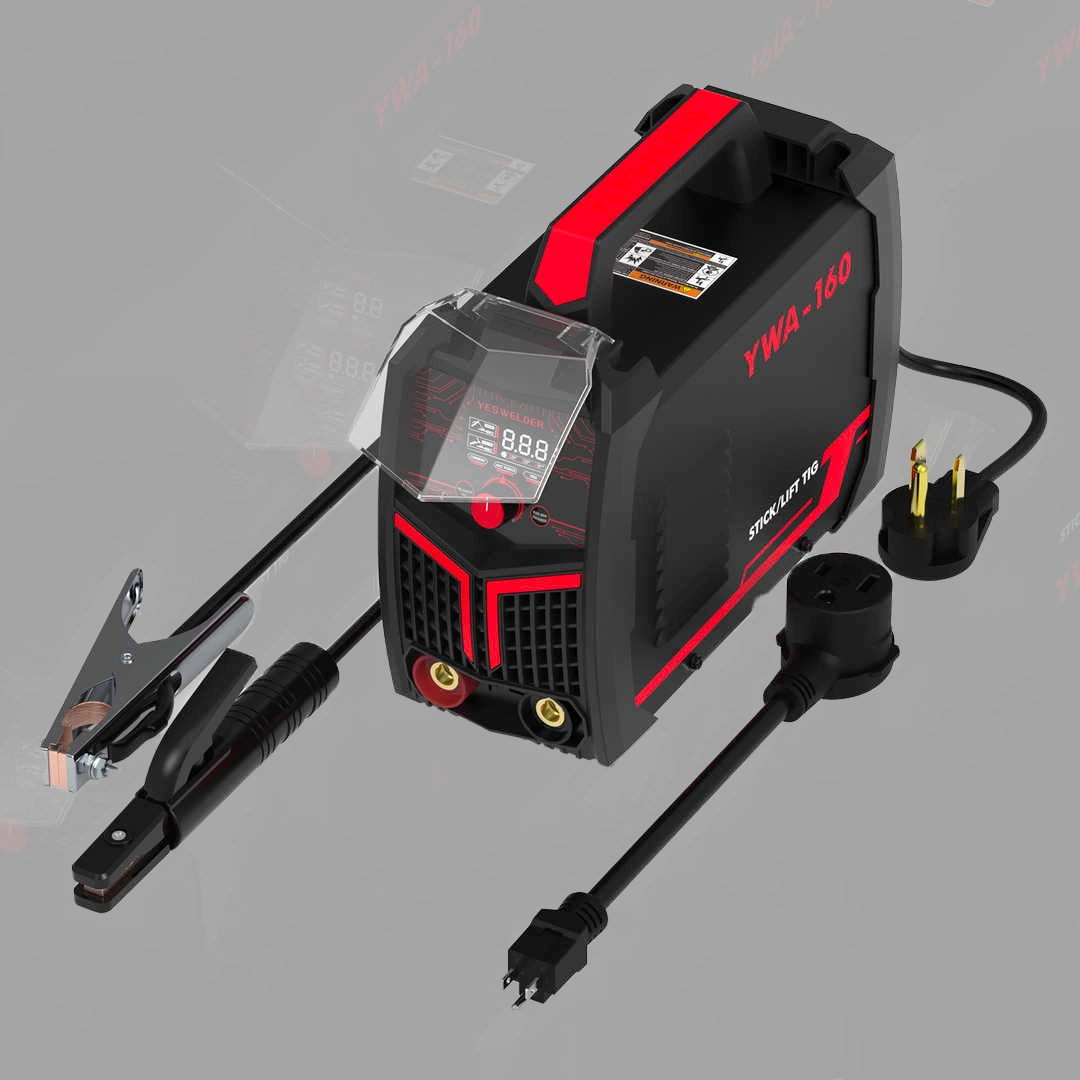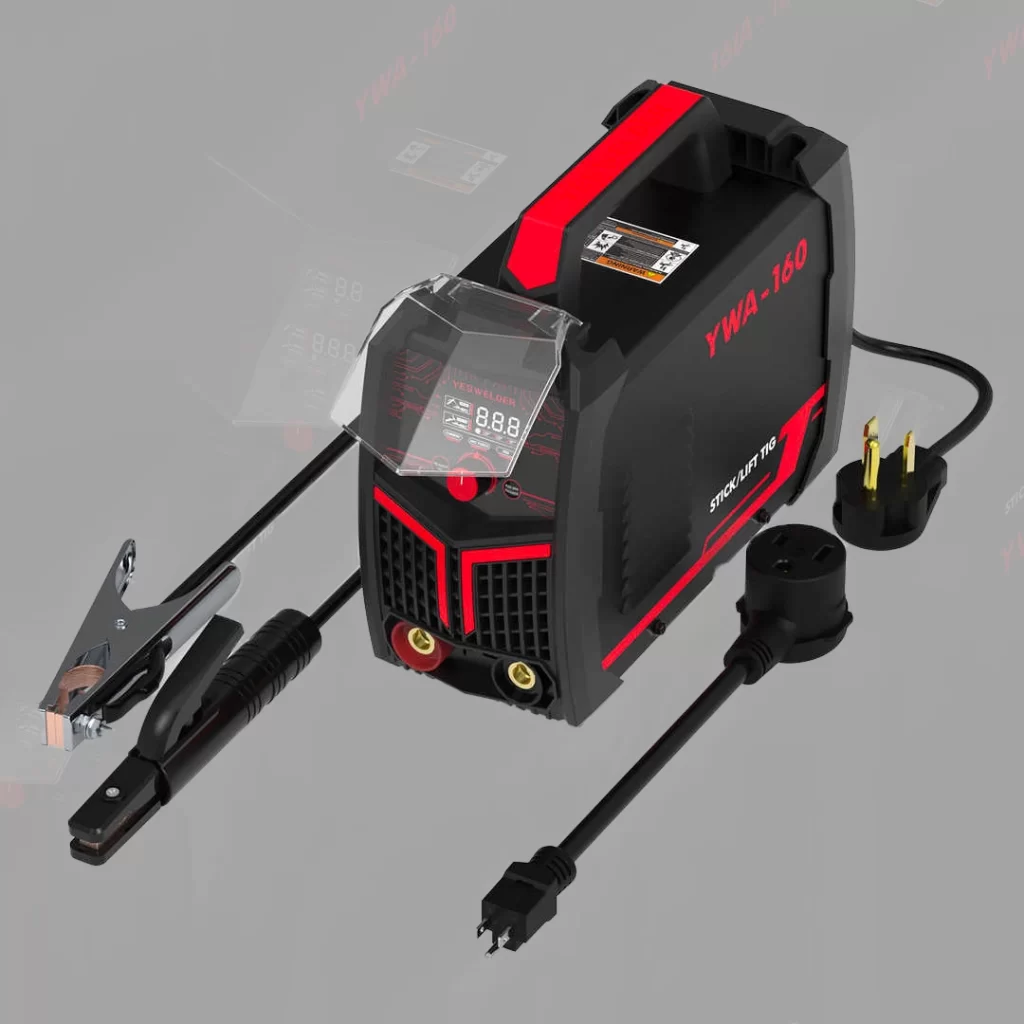 Get 10% Off With Coupon: "-10% WELDPROS"
In the last couple of years, I've noticed manufacturers started simplifying the package content, which might be a pro and a con. For example, if you look at the YWA-160, you can notice you don't get those cheap and usually useless masks and chipping hammers with a brush, which were supplied with ARC-165DS. While they were sufficient for some beginners, most people used to throw them away, so you get the feeling they only pumped up the price.
Therefore, with YWA-160, you only get an electrode holder, work clamp, power adapter, and manual. That's it, and that's all you need to weld. The electrode holder seems sturdy, holds well, and the 10 ft leads are long enough, so you don't have to move around the shop often.
However, you don't get a TIG torch just like with ARC-165DS or any Stick/TIG welder in the market, such as Hobart Stickmate or Eastwood Arc 90. So, as friendly advice, you shouldn't even consider Stick-based machines as reliable TIG welders, or you can use them for occasional welding and practicing.
Technical Specifications
Rated Input Voltage:
110V & 220V
Frequency:
50/60Hz
Input Current:
30A at 110V &
23A at 220V
Rated Output:
26.2V
Output Current:
Stick 20-160A,TIG 15-160A @ 220V;
Stick 20-120A,TIG 15-120A @110V
Rated Duty Cycle:
Stick/TIG 60% at 160A, 100%@ 124A @ 220V;
Stick/TIG 60% at 120A, 100%@ 93A @110V
Efficiency:
85%
Power Factor:
0.93
Dimension:
15.6″*7.7″*13″
Net Weight:
15 lbs.
YesWelder YWA-160 Review – Build, Input Power, Features, and Welding Power
After going through package content and technical specifications, let's discuss the things, such as features, build, or power, that make YWA-160 stand out from the crowd. This stick welder seems excellent on paper, but let's find out if things are as good in practice.
YWA-160's Build Quality As A Stick Welder
Looking at the new YWA-160 Stick welder, designers went from traditional blue/white YesWelder colors (YesWelder ARC-165DS) to new black/red combinations. With a new case and color combination, the YWA-160 looks like new YesWelder machines, where Firstress MP200 made the first step.
Therefore, appearance-wise, the YesWelder YWA-160 Stick welder reminds me of the latest YesWelder YWM-211P or YWM-200 machines.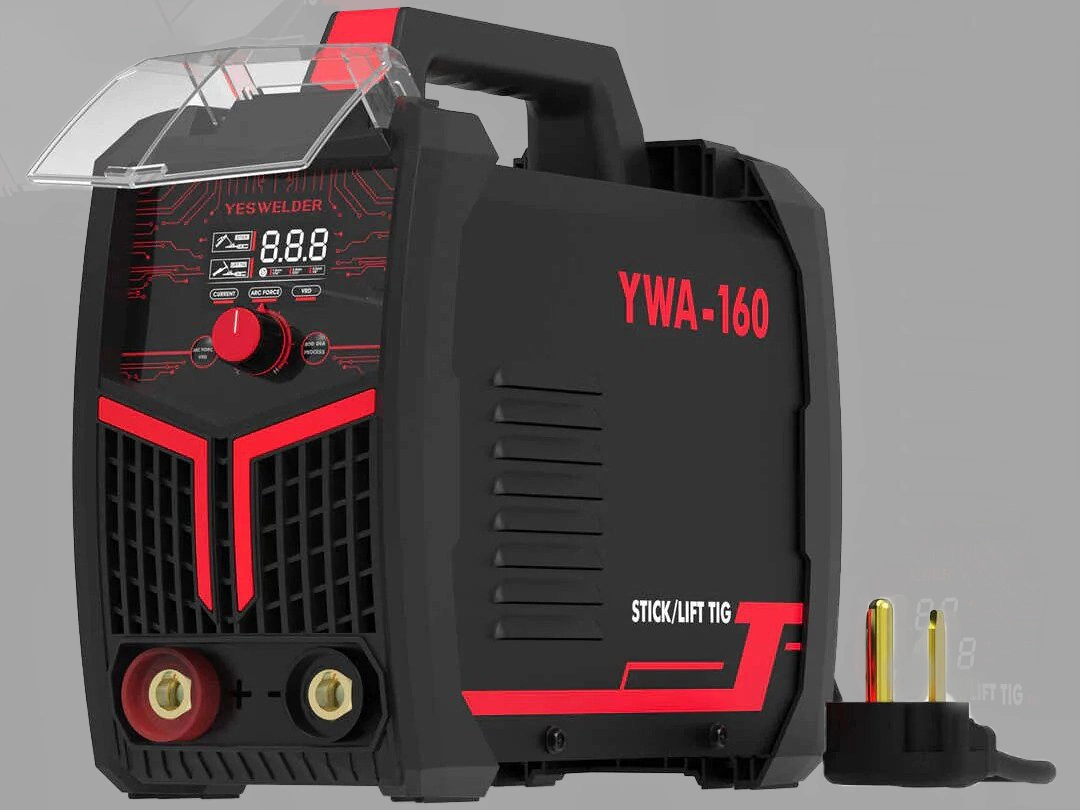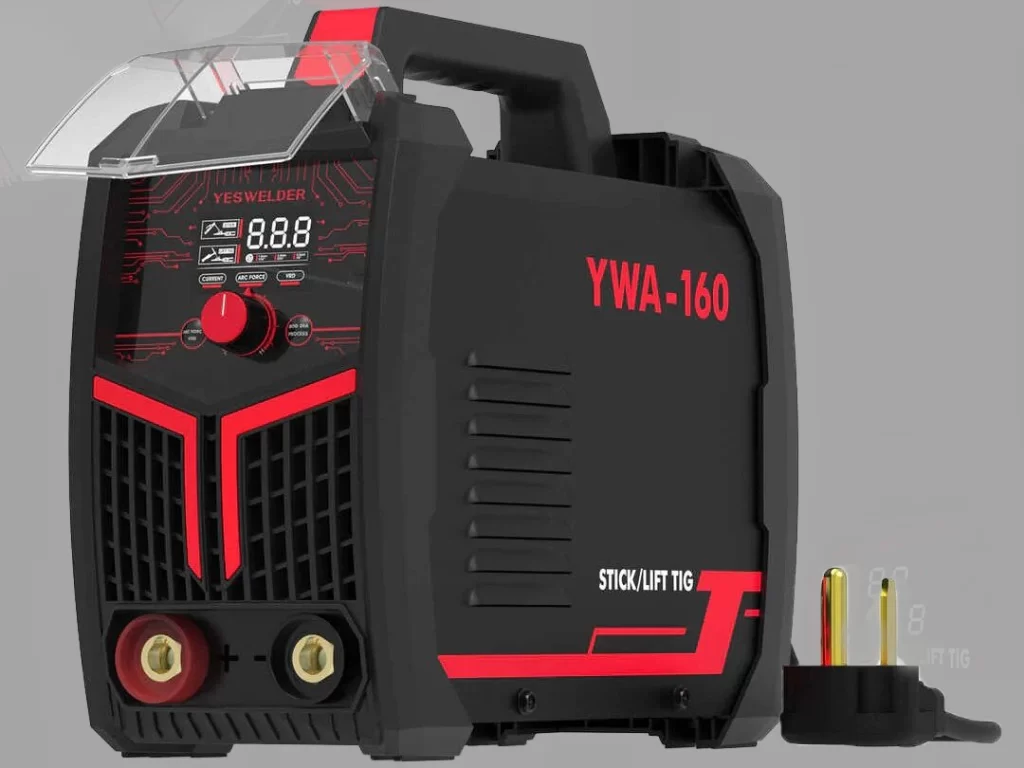 Besides the appearance, the YWA-160 stick welder seems pretty sturdy and rugged. However, with 15 lbs, it is more than easy to move around the workshop. Regarding the weight, the older YesWelder ARC-165DS was 4 pounds lighter, but 15 lbs seem reasonable for a 160 amp rated stick welder.
I have to compliment the build quality, as the YesWelder YWA-160 Stick welder seems like it was built to last. Even though we are talking about a Chinese welder, it looks pretty sturdy and well constructed.
YesWelder YWA-160 Input Power
The YesWelder YWA-160 uses an IGBT inverter technology, which is slowly becoming an industry standard. As a result, this welding machine offers high efficiency of approximately 85% and a high-rated duty cycle. However, the biggest issue of inverter stick welders is the ability to burn tricky 6010 electrodes. Nevertheless, the manufacturer states you can actually use 6010s with a YWA-160 stick welder, and we'll explain how in the features section.
To increase the overall versatility, YesWelder YWA-160 is a dual voltage stick welder. As a result, you can plug it into a regular 110V household outlet for less challenging tasks or switch to 220V with a simple adapter that is supplied, to tackle thicker steel.
YWA-160 DS Controls
The YesWelder YWA-160 offers a straightforward control panel design with simple controls, making it extremely easy to use and adjust.
There is a digital display that shows exact values, one infinitely adjustable knob, and two buttons.
Adaptive controls are one of the features many beginners and hobbyists will appreciate. By using a simple button, you can select the electrode diameter, and the welder will automatically adjust the voltage according to the needs.
If you are new to the world of welding, these will give you an excellent head-start.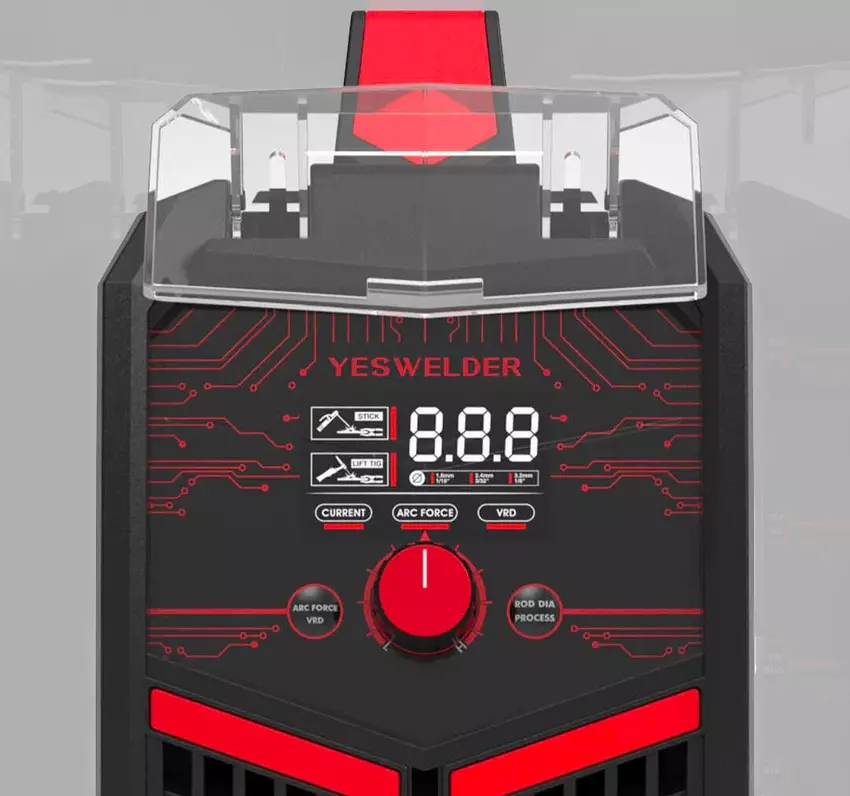 However, if you are a seasoned welder that likes to fine-tune your machine, you can always tweak it manually. Luckily, YWA-160 offers some pretty neat adjustments for the money spent. The features such as arc force, VRD, hot start, and anti-stick can affect the overall performance and increase the welder's safety.
Adjustable Arc Force
The arc force feature in the stick welding machine increases the amperage once the device detects voltage drop. Once the voltage drops, the welder will automatically increase the amperage according to settings, preventing short arc and undercut defects.
As you might know, the sole nature of IGBT inverter technology doesn't mix well with the properties of 6010 electrodes. As a result, many welders have issues maintaining the arc and avoiding defects when welding. But that's when the adjustable arc force kicks in. By adjusting the arc force, you can even run 6010s with a YWA-160 stick welder, but you should be cautious as it won't always succeed.
Since many welders had issues burning 6010s and 6011s with YesWelder ARC-165DS, we definitely see an improvement with YWA-160. However, remember to be cautious when using high arc force settings, since it can cause the electrode to stick to the surface.
Built-in Hot Start
A hot start is another helpful built-in feature that can improve your overall welding results. By adjusting the hot start, you employ a higher amp start that eliminates electrodes sticking to the workpiece. You can also increase the penetration since the hot start also heats the base metal.
Compared to arc force, a hot start feature has become a pretty standard feature in the stick welding market. As a result, most of today's welders, such as ESAB Rogue 180i, offer it.
VRD Protection
A voltage reduction device (VRD) is a safety feature that will reduce the potential hazards of an electric shock. By adjusting this feature, the device will reduce the open circuit voltage until the actual welding begins.
When the welding starts, the output terminal voltage turns into the load voltage. After the welding is complete, the load voltage turns into no-load voltage, which is usually still high. That's when VRD kicks in, as it lowers the no-load voltage, resulting in lower risks of an electric shock.
While this is a valuable safety feature, keep in mind that it might affect the arc start performance. Therefore, if you use the VRD, you might have to tweak the hot start or arc force.
Welding Power of YesWelder YWA-160
And now, for the main part, the welding power of YesWelder YWA-160. As you might have deduced from the name, the YesWelder YWA-160 is rated at 160 amps at 220V or 120 amps at 110V. This is a DC-only machine, and depending on the application, you can use it for both DC positive (DCEP) and DC negative (DCEN) electrodes and applications, such as 6010, 6011, or 7018.
You can use a 110V input to weld up to 1/8″ metals when doing light-duty jobs. However, if you feel like you need more power, you can always use a 220V input to reach the maximum output of 160 amps and weld metals up to 5/32″ thick.
With a 60% duty cycle rated at the maximum output of 160 amps at 220V, you can weld for six minutes straight before making a 4-minute break.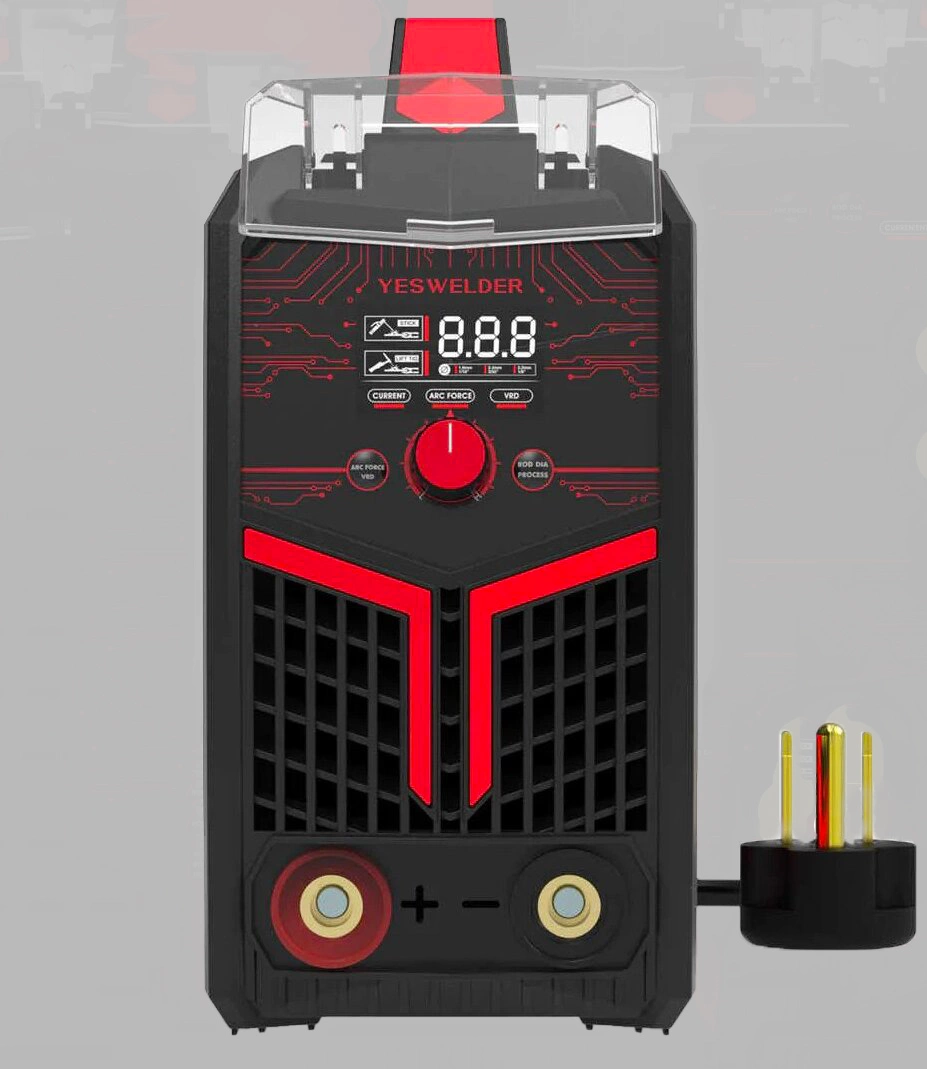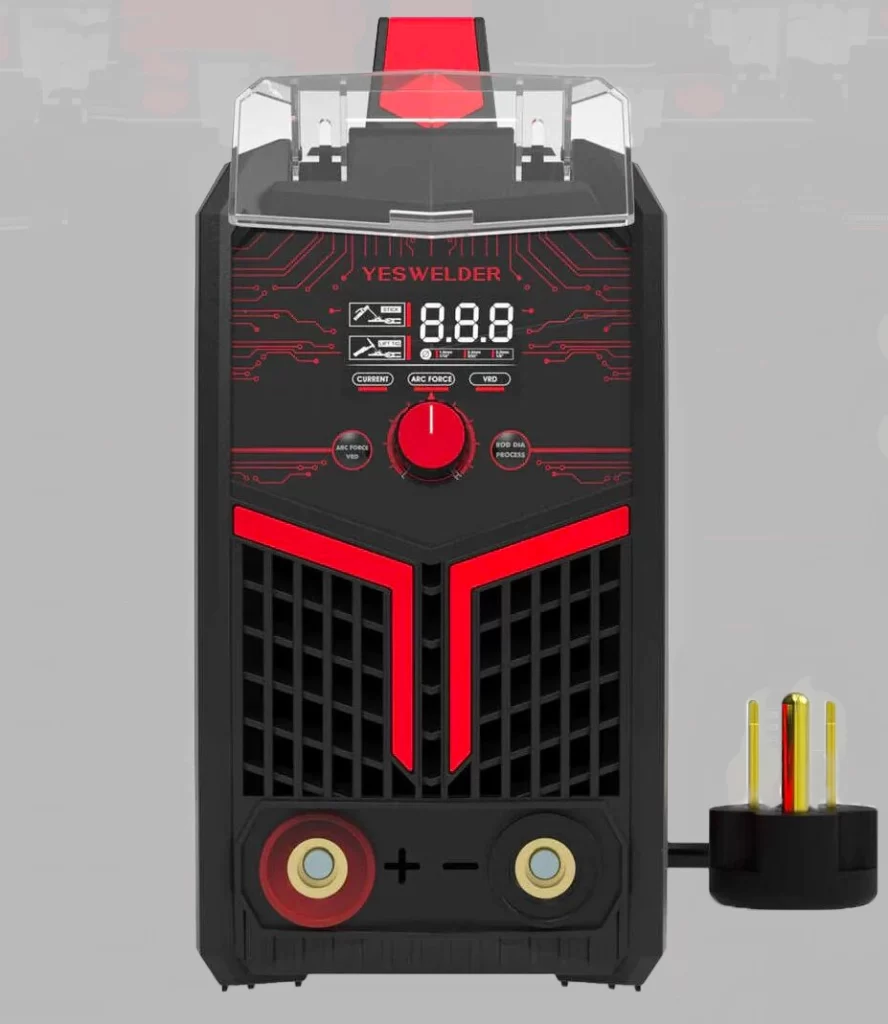 The high duty cycle is courtesy of IGBT inverter technology, and many brand-name welders such as Hobart Stickmate 160 offer only 20-30% at maximum power. The welder rates a 100% duty cycle with 124 amps at 220V, so you can do more uncomplicated projects without needing a cool-down.
By adjusting the hot start and arc force features properly, you can achieve excellent arc start performance stable and smooth arc with no weld defects or avoid electrodes sticking. So even though it might take some time to get things right, the results are satisfactory.
The Value of YWA-160
YesWelder welding machines are renowned for their value for the money spent, and the older ARC-165DS was commonly featured as the cheapest but quite capable stick/arc welder on the market. YesWelder YWA-160 is a somewhat pricier machine, but I think the build quality, performance, and features are well-above $300 price range of this machine.
Of course, you should expect the reliability of brand-name stick welders such as ESAB Rogue, Hobart Stickmate, or Lincoln Invertec, but these will usually cost you 2-4 times more than YWA-160. In addition, these welders typically offer a 5-3 years warranty, while YWA-160 is only protected for one year.
Pros and Cons Of YesWelder YWA-160 Summarized
YesWelder YWA-160 inverter Stick/Lift TIG welder is quite a capable and well-constructed machine that seems like it was built to last. You will get an excellent value for the money spent, but I think they could've put a bit more in a package, such as a TIG torch or even a few electrodes.
Nonetheless, this is a dual-voltage inverter machine that offers excellent versatility. With an output of 160 amps, you can use it in a garage, for repairs, or for various home projects. Even though it is a bit heavier and pricier than its predecessor YesWelder ARC-205A and ARC-165DS, you get some excellent features, such as arc force or hot start, that will impact the overall arc performance.
In a nutshell, you get a lot for a sub $300 stick welder, and there are no significant cons that could stop me from recommending this excellent piece of welding equipment.
In the past year, we have written a number of reviews on welders and plasma cutters from YesWelder. If you are still interested in this brand and wish to read them, you can find links to the rest of them here.