After presenting their first unique welder-cutter combination, Firstess MP200, YesWelder introduced another great all-in-one machine, a YesWelder Fristess CT2050.
YesWelder Firstess CT2050 is a 7-in-1 welder that combines AC/DC TIG, Pulsed TIG, Stick, and Plasma cutting.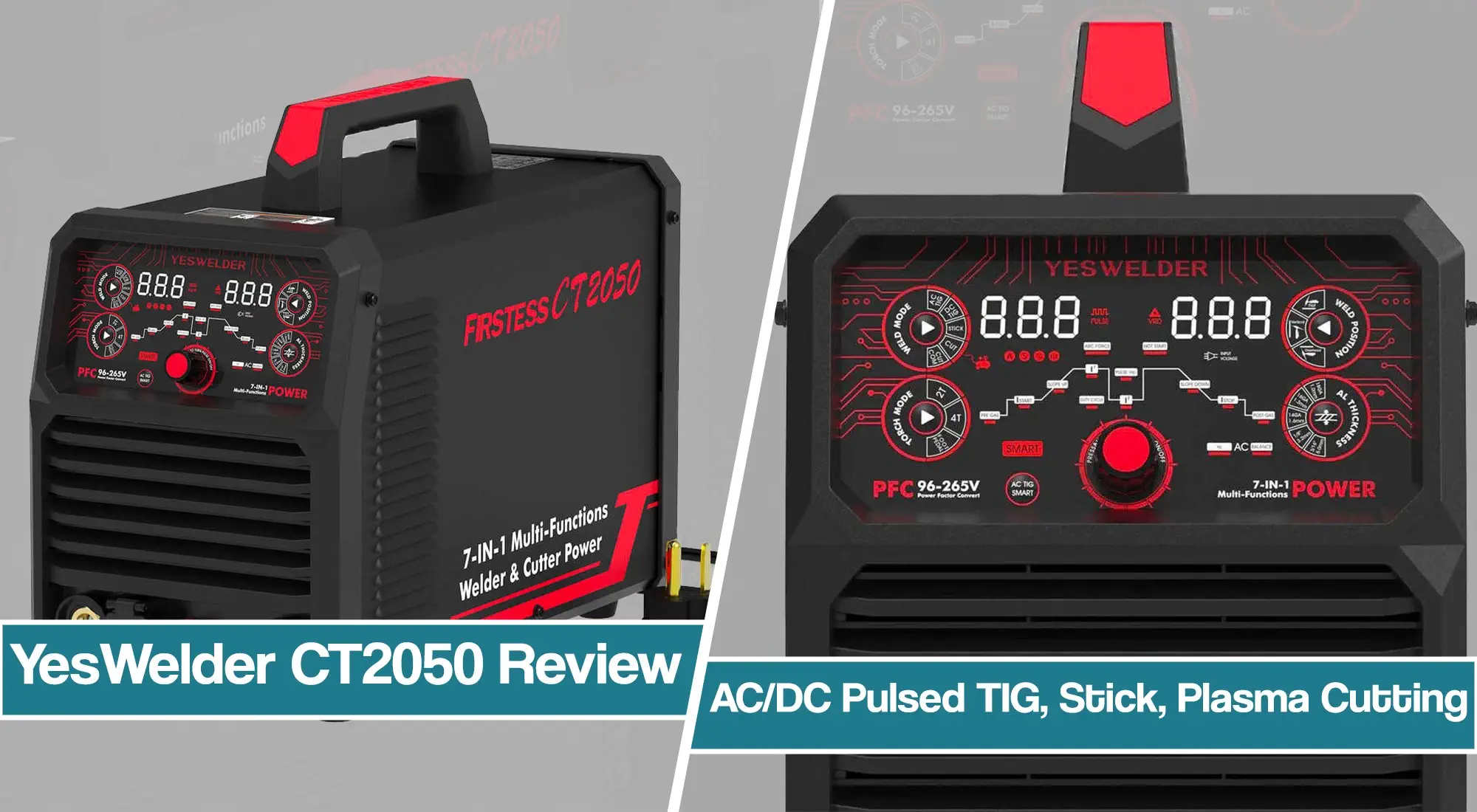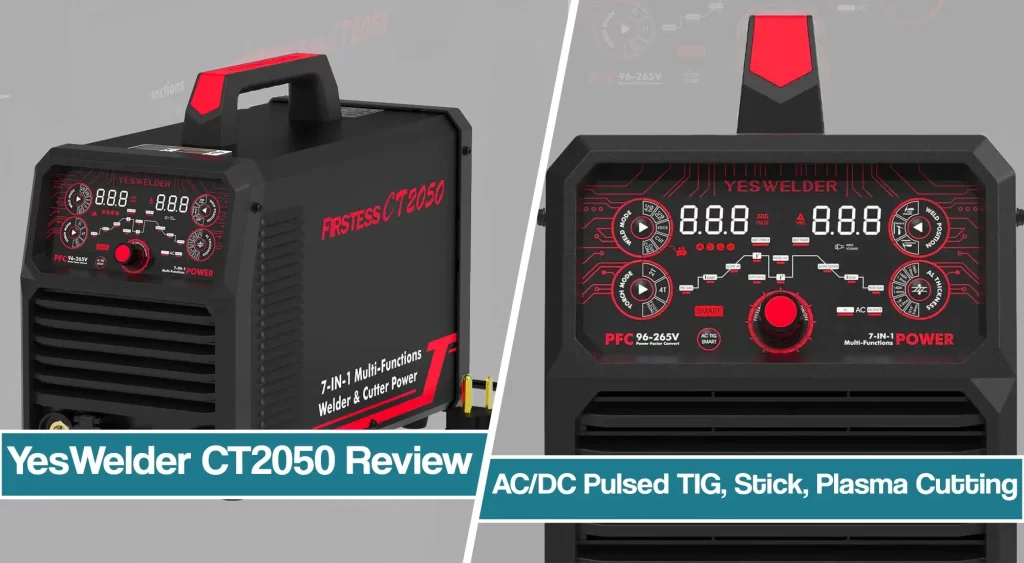 I know there is no MIG welding available, but with AC TIG, pulse, and cutting options, this all-around welder is for exotic and thin metals, such as aluminum. With fine tune options, CT2050 might be a great addition to your garage or small fab shop.
In this YesWelder Firstess CT2050 review, we'll discuss its build, power, and, overall, what you get for the money.
YesWelder Firstess CT2050 Package Content and Technical Specifications
Let's start by discussing what you get in the YesWelder Firstess CT2050 package. If you've seen the picture, you can realize you get pretty much for the money spent. Therefore, if you invest in CT2050, you will get:
YesWelder Firstess CT2050 welder
WP-26 TIG Torch with consumables
IPL45 Plasma cutting torch
Electrode holder
Ground clamp
110/220V adapter
Gas hose
Air hose
Built-in air compressor
Air compressor filter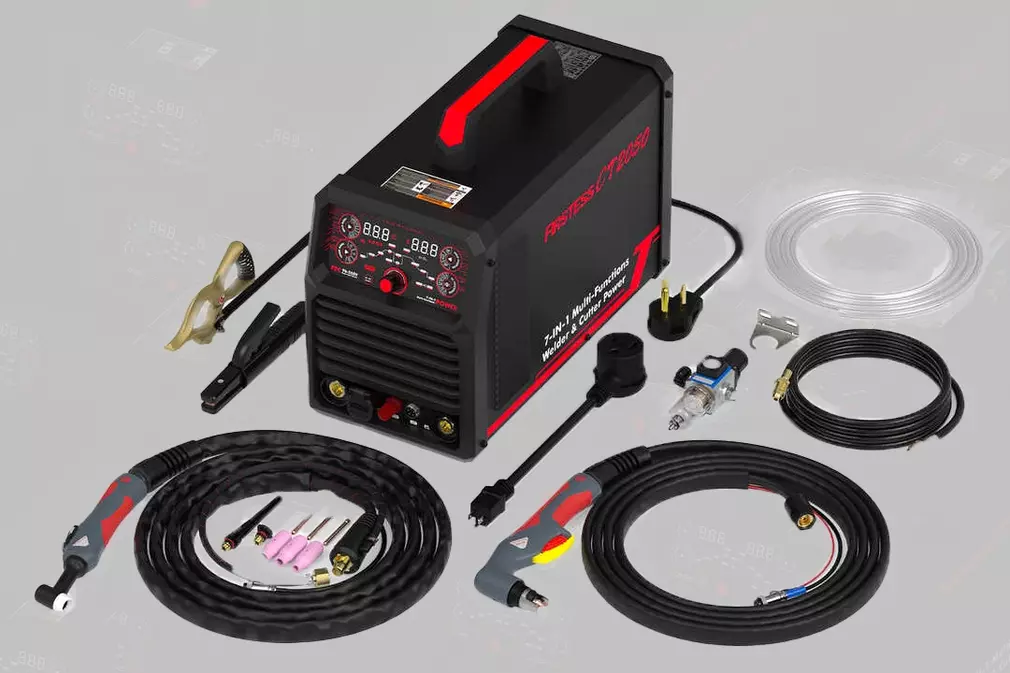 Get 10% Off With Coupon: "-10% WELDPROS"
Looking at the package content, you get everything you need to weld or cut straight out of the box. WP-27 TIG torch is decent, and I liked the fact it offers a remote amperage control. You even get some consumables, but I found the torch quite bulky and heavy. You might want to replace it with a flex-head, smaller torch if you deal with thinner materials occasionally since it can be hard to handle.
On the other hand, a plasma cutting torch is quite comfortable, but you don't get any spare consumables. Moreover, given the fact it has a blowback start, you might have to spend some more once the installed consumables wear out.
I liked the air compressor filter, as it will help you control the pressure and filter the moisture. Since moisture is the number one killer of plasma cutting systems, the filter is a valuable addition.
Technical Specifications
Input Voltage:
96-256V 50/60 Hz
Input Current:
50A
Output Current:

110V: TIG 5-160A, STICK 10-160A, CUT 12-25A
220V: TIG 5-200A, STICK 10-200A, CUT 12-45A
Weldable Materials:
Carbon Steel/Stainless Steel/Aluminum
AC Frequency:
20~250 Hz
Balance:
5-99A 10-90%
100-200A 10-65%
Arc start:
TIG: High frequency,
Cut: No-HF Pilot arc
Duty cycle:
TIG – 100% at 200 amps
Cut – 100% at 45 amps
Stick – 60% at 200 amps
Air Compressor Recommendation:
5-7CFM
Max Severance Thickness:
19/32″ @220V;
25/64″ @110V
Max Clean Cut Thickness:
1 3/16″ @ 220V;
25/32″ @110V
Product Dimensions:
21.65″*"16.92*14.96″
Product weight:
61lb
YesWelder Firstess CT2050 Review
After overviewing the package content, let's continue with the main aspects of every welder. We will discuss the build quality, power options, controls, and features.
So, in a nutshell, everything you need to know about before purchasing this welder. Keep in mind that the YesWelder Firstess CT2050 was still under development during this review, so there is a place for improvement. The first shipments are expected in mid-October, so let's find out what to expect from them.
YesWelder Firstess CT2050 Build Quality
Build-wise, the Firstess CT2050 follows the trend its older brother MP200 started. A good-looking black/red combination with a study case. A first glance at the machine leaves an impression of a well-constructed welder that was built to last. I know many welders are skeptical about Chinese machines, but this one seems solid, maybe even more durable compared to older YesWelder welders such as MIG-205DS.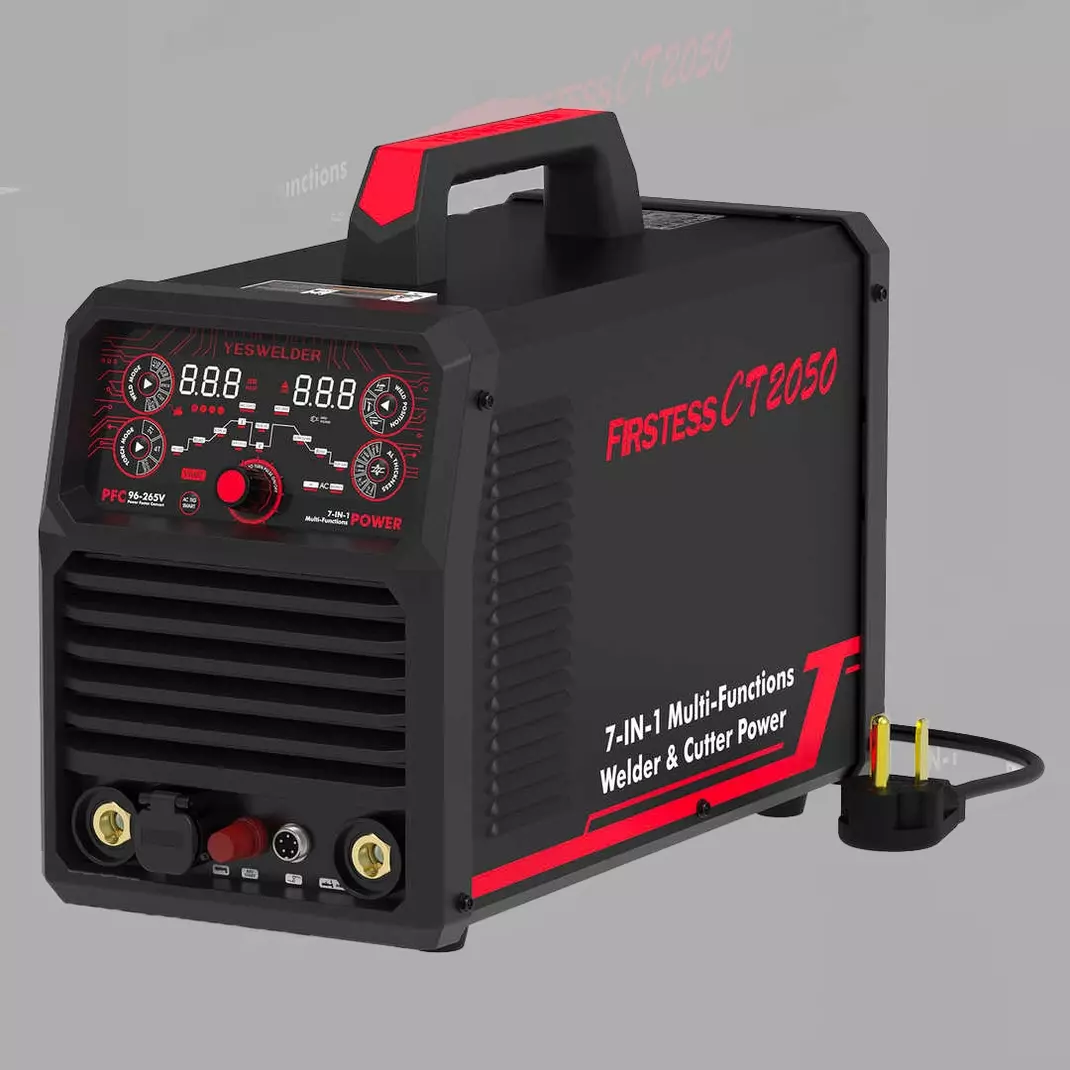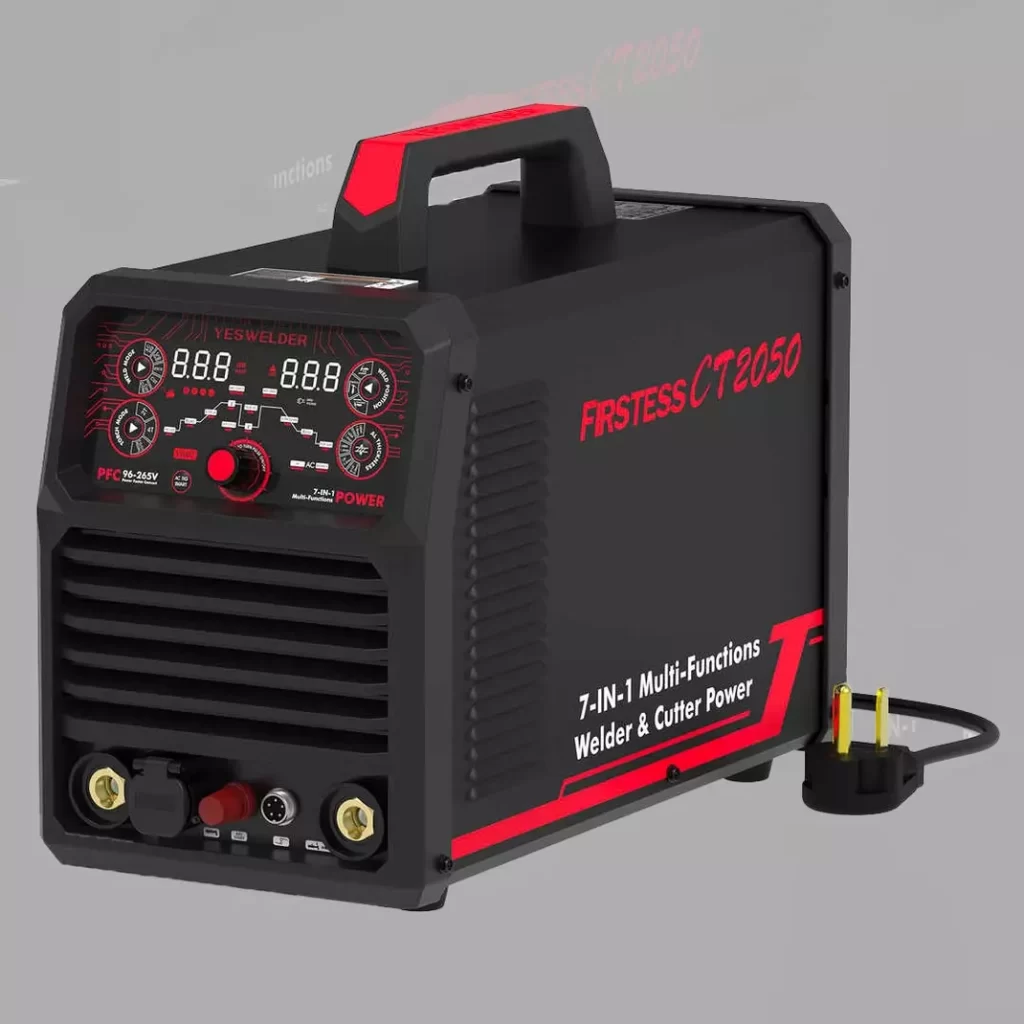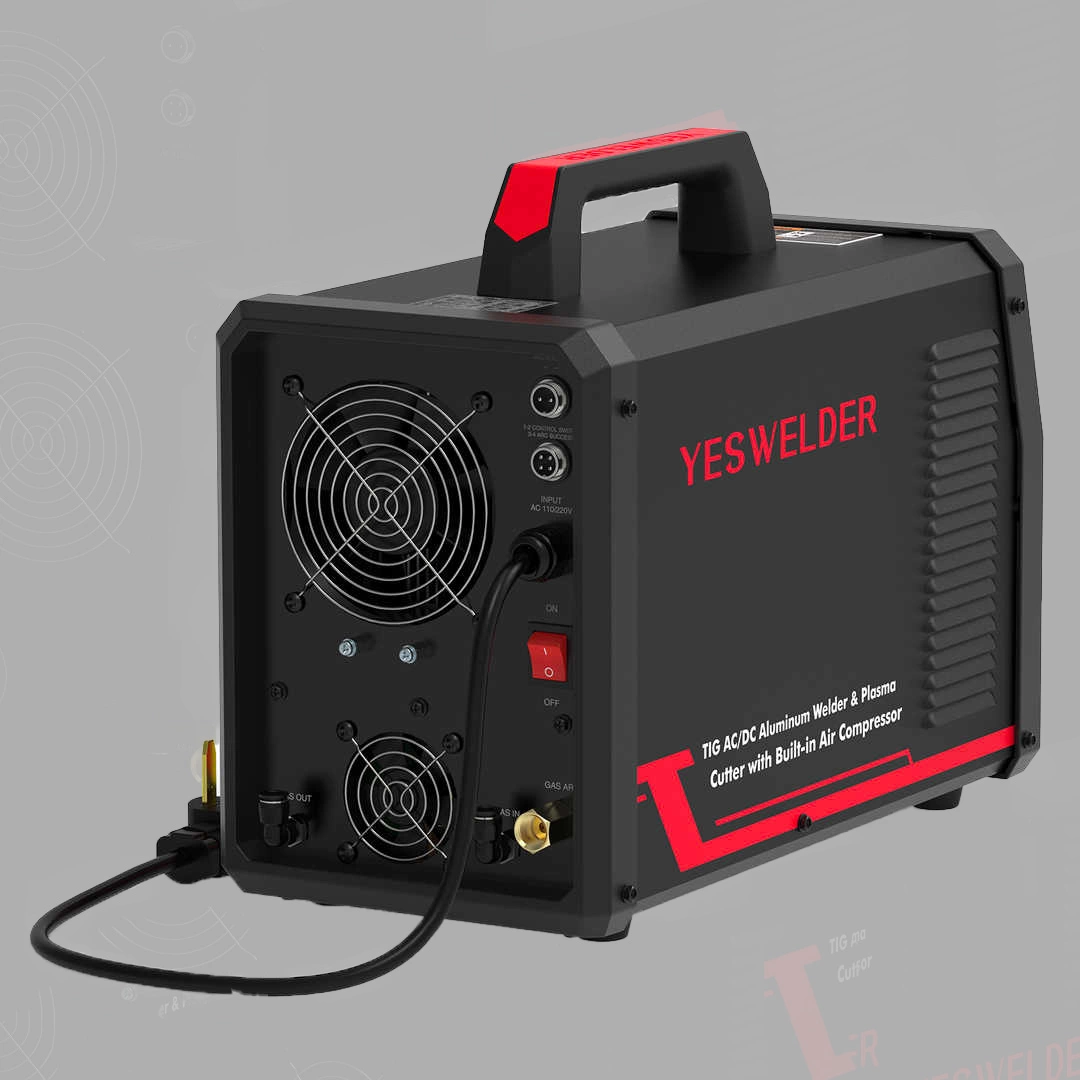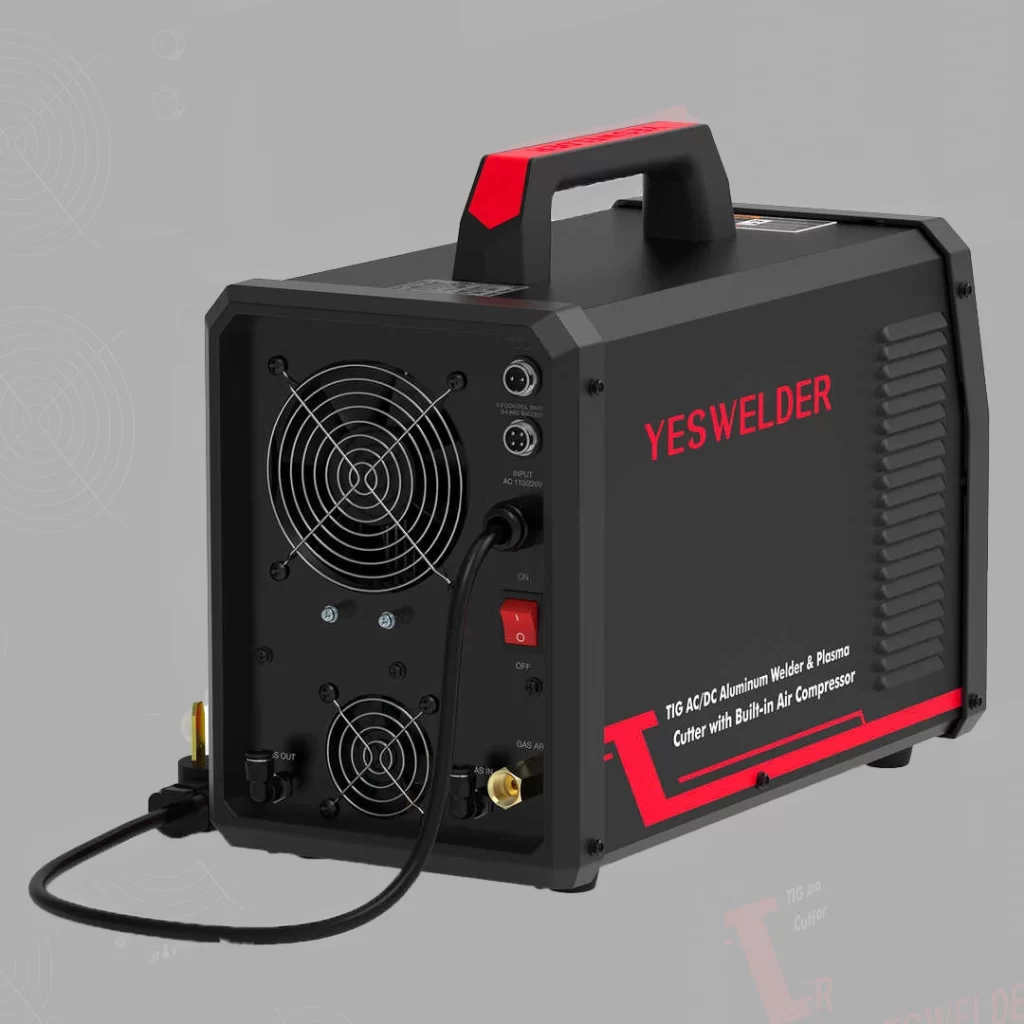 This welder offers a plasma cutting option, and there is a built-in air compressor for maximum portability. However, if you fancy your equipment, you can plug in an external compressor for the best cut quality and reliability.
One of the things that I find as a pro and as a con is the two fans. One cooling fan seems responsible for cooling the TIG welding components, and it turns on according to the temperature. However, the other fan blows out the dust, prolonging the components' lifespan but continuously running, so it might take time to get used to it.
There is a significant difference in the weight of Firstess CT2050 and MP200. The CT2050 weighs 61lbs, so it isn't the most portable machine. Meanwhile, with 28.55lb Firstess MP200 is twice lighter. Nonetheless, a somewhat higher weight seems to be courtesy of higher quality build, and it is seen in all the latest units such as YesWelder YWA-160, YWM-200, or YWM-211P.
Input Power And PFC Technology
YesWelder Firstess CT2050 is a dual voltage multi-functional welder, but the thing that stands out, and which we didn't see in the previous YesWelder machines, is the PFC technology. Power Factor Correction (PFC) technology allows a more extended input voltage so that welder can work with 96-265V.
As a result, you can use a wide variety of power sources, such as regular household outlets or industrial sites. In addition, this technology reduces energy consumption and costs as it maximizes real power drawn from the grid supply.
Additionally, the higher efficiency that PFC technology offers affects arc stability and ensures a stable cutting process, which is highly vulnerable to voltage fluctuations. It also kicks in with voltage drop due to long extension chords.
VDR Feature
A voltage reduction device (VDR) is a valuable safety feature that will reduce the overall risk of an electric shock. Once activated, the device will reduce the no-load, open circuit voltage from 68V to 7V.
That way, you reduce the chances of electric shock in case the wrong connection for cutting the torch when the OCV is high.
Control Panel and Controls
Even though Firstess CT2050 offers six different welding and one cutting process, it is still easy to set up and use.
The control panel might seem confusing if you are a beginner, but once you get the hang of it, you will love all the features and controls.
You can use five different buttons and one infinitely adjustable knob to set up and control your welding process perfectly. Controls are pretty intuitive, and all you have to do is watch the labels. Here are some straightforward explanations: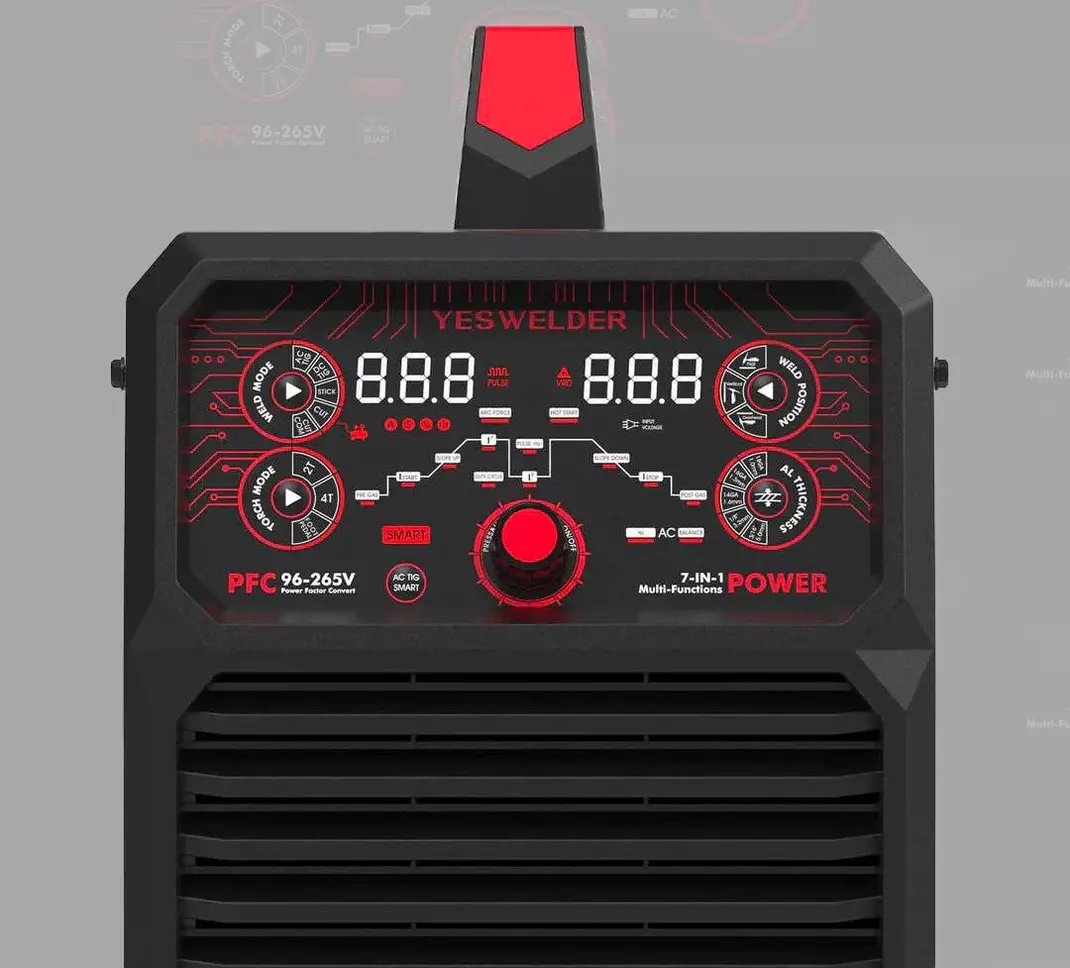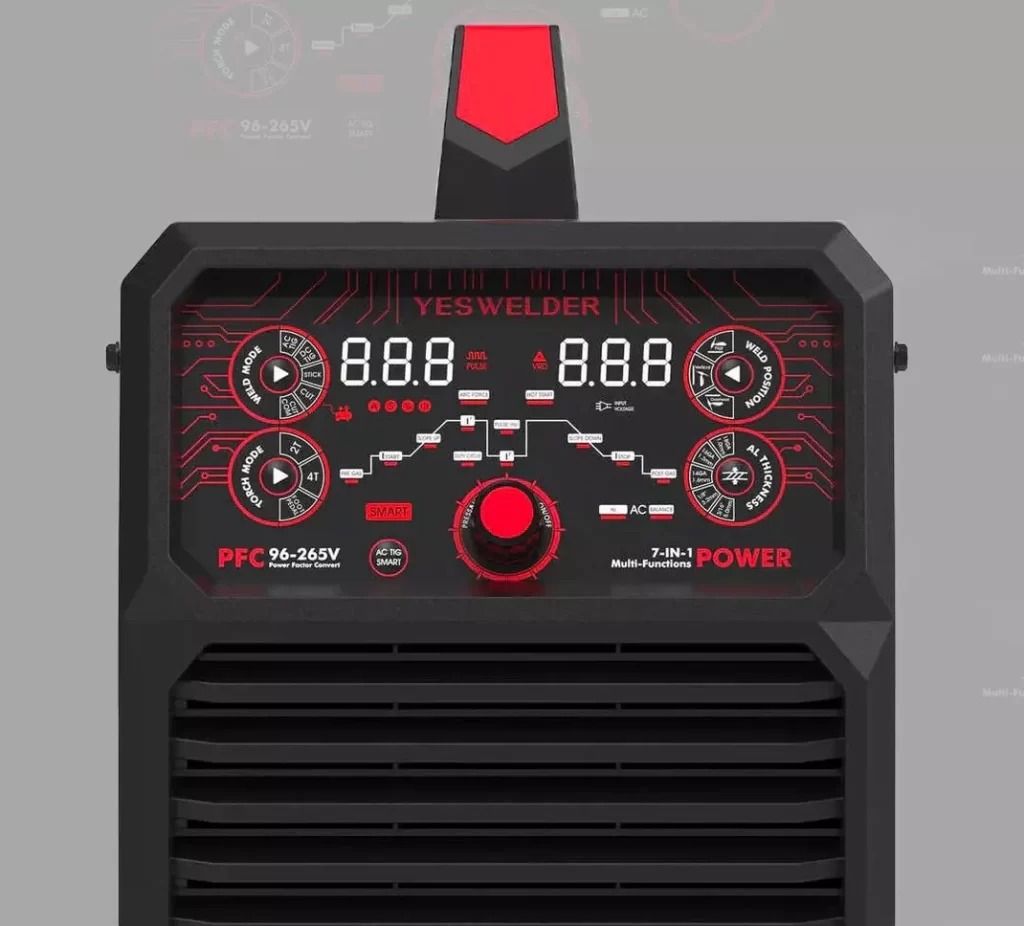 The Weld Mode button will help you switch between the wanted welding processes. You can choose AC TIG, DC TIG, Stick, Cut with external, and Cut with a built-in air compressor.
Torch Mode button allows you to choose 2T for short, 4T for longer welds or cuts, or even a foot pedal control.
AC TIG Smart Button is a top-notch feature that will make TIG welding aluminum easier than ever. Once you turn it on, you will see a flashing indicator, which means you are ready to TIG weld aluminum; to do so, you will need to input the welding position and aluminum thickness.
By adjusting Weld Position and Aluminum Thickness using the two different buttons, the welder will adjust the pulse, upslope, and downslope, pre-flow and post-flow. Therefore, welding aluminum has never been easier for beginners.
TIG aluminum welding is quite challenging, and many beginners struggle to get things right. That's why I was pleasantly surprised by the intelligent TIG AC feature, which you don't really see in today's welding market. I believe YesWelder made an excellent move by making welding easier for everyone.
However, if you know your way around the machine, you can always use manual settings to fine-tune the welder to perfection. To manually set starting amperage, pre-flow, upslope, peak amperage, downslope, post-flow, pulse, or balance, you have to press and hold the adjustment knob.
Keep in mind that control options might differ from the selected process. We will talk more about how these options affect the welding performance when we discuss the welding processes CT2050 offer.
Multi-process Welding and Cutting With YesWelder Firstess CT2050
The main advantage and the best thing about YesWelder Firstess CT2050 are that it offers seven different processes in one machine. Therefore, you can opt for AC/DC TIG, AC/DC Pulsed TIG, and Stick welding, as well as plasma cutting with an external or built-in air compressor.
I know there is no MIG welding, so if you consider it a must-have, you should opt for the older brother, Firstess MP200. However, I feel like CT2050 is aimed at somewhat more experienced welders, but the smart feature proves me wrong.
Let's discuss available options and what you should expect from YesWelder Firstess CT2050.
AC/DC TIG Welding
YesWelder CT2050 is primarily a TIG welder, but the best part is you get AC/DC current options. Most multi-process welders, such as Miller Millermatic 211, usually offer DC TIG, and you find AC TIG in much pricier welders such as ESAB Rebel EMP215 ic.
I know it is not fair to compare these machines, but they offer MIG, but the CT2050 includes cutting options. The closes welder we can compare to the CT2050 is the YesWelder Firstess MP200.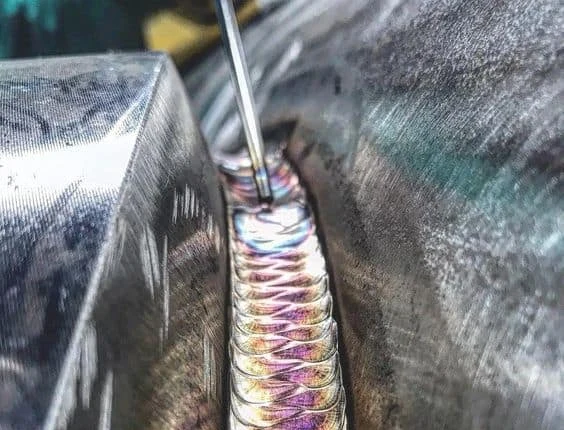 To get back to the CT2050, this is quite a capable AC/DC TIG welder rated at 5-200 amps at 220V and 5-160 amps at 110V. So due to its power efficiency, you get a pretty powerful machine, even if you use 110V input, and as it goes down to 5 amps, you can use it for super-thin metals.
However, I was surprised with the 100% duty cycle rated at the maximum power output of 200 amps for TIG welding. The high-duty cycle is courtesy of an IGBT inverter, PFC technologies, and dual fans that properly cool the machine.
AC/DC Pulsed TIG
With the high-frequency TIG start and AC options with balance and pulse, you can use YesWelder Firstess CT2050 to weld delicate and thin metals prone to distortion and contamination. In addition, once you adjust the pulse, the arc will alternate between high and low current, reducing the overall heat.
Heat control is essential when welding thin material. So by lowering the temperature, you avoid burn-through, and with a narrow heat-affected zone, there is no risk of bending in thin metals.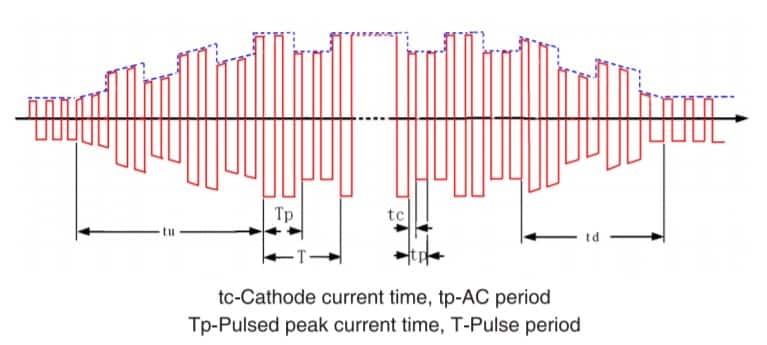 With CT2050, you can adjust the output frequency to 20~250 Hz. The pulse duty factor is 10-90%, and you can use a resolution of 0.1 Hz to set it from 0.1-25 Hz or a solution of 1 Hz to 25-200 Hz.
With AC balance adjustments of 5-99A with 10-90% or 100-200A with 10-60%, you can adjust the arc by controlling how much time the two polarities DC+ and DC- last for each AC cycle. With pulse, balance is one of the essential factors for TIG aluminum welding, and with CT2050, you can weld the pieces down to 1/25″ thick.
TIG Welding Controls
Many seasoned welders will appreciate how well you can control the entire TIG welding process with YesWelder Fristess CT2050.
First, you can select the starting amperage and pre-flow to ensure you don't burn through and properly shield the thin metals. Next, you can choose the upslope and peak amperage to reach the selected output gradually. Finally, you can also adjust the downslope to make sure you fill the joint correctly and post-flow to allow cooling of the torch and prolong the consumable lifespan.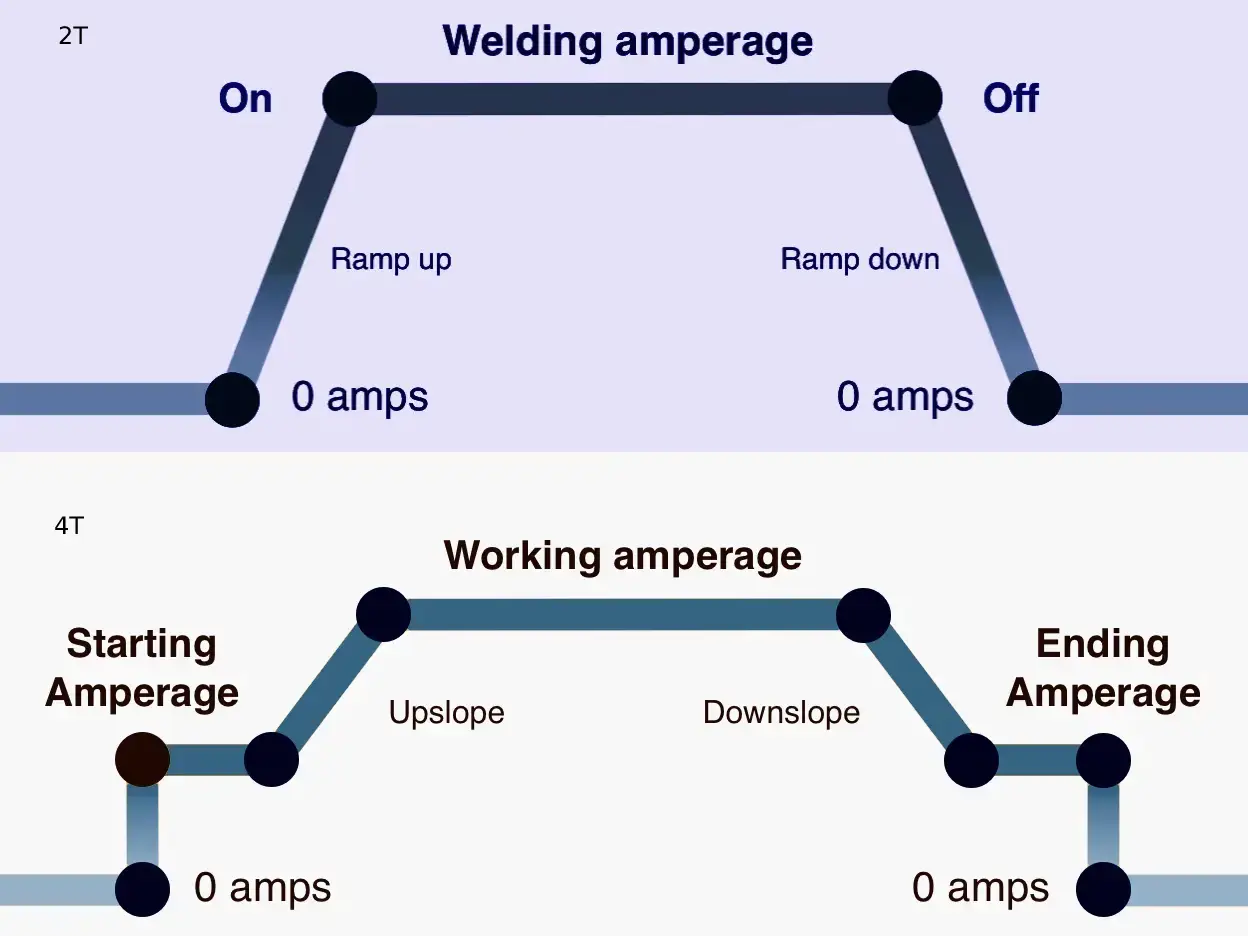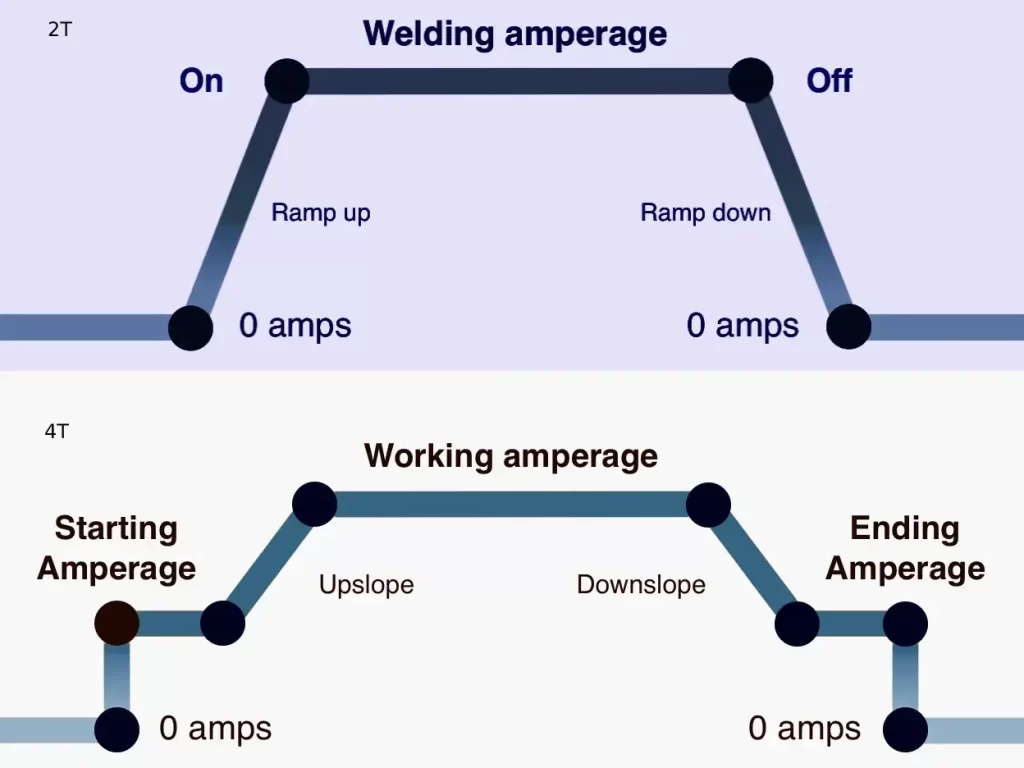 These settings have become an essential part of every serious TIG welder on the market, and you usually see them at pricier machines such as Eastwood Digital TIG 200. I really liked the remote amperage control you get on your torch. You can turn the knob on the torch once you feel like you are getting too hot or cold.
YesWelder CT2050 is also compatible with a foot pedal for a remote amperage control, but unfortunately, it is not supplied in the package. Many TIG welders today provide a foot pedal, and you see it in TIG-225P or Eastwood Digital TIG we already mentioned.
Stick Welding With CT2050
The YesWelder CT2050 is also capable of Stick welding, and you get some neat features to do it. Stick welding power is rated at 200 amps at 220V and 160 amps at 110V. The minor setback is that the duty cycle is rated at 60% at maximum output, while other processes are rated at 100%.
As for the features, you get to adjust the hot start and arc force. The arc force feature helps compensate for voltage drops due to long extension chords or lousy input power.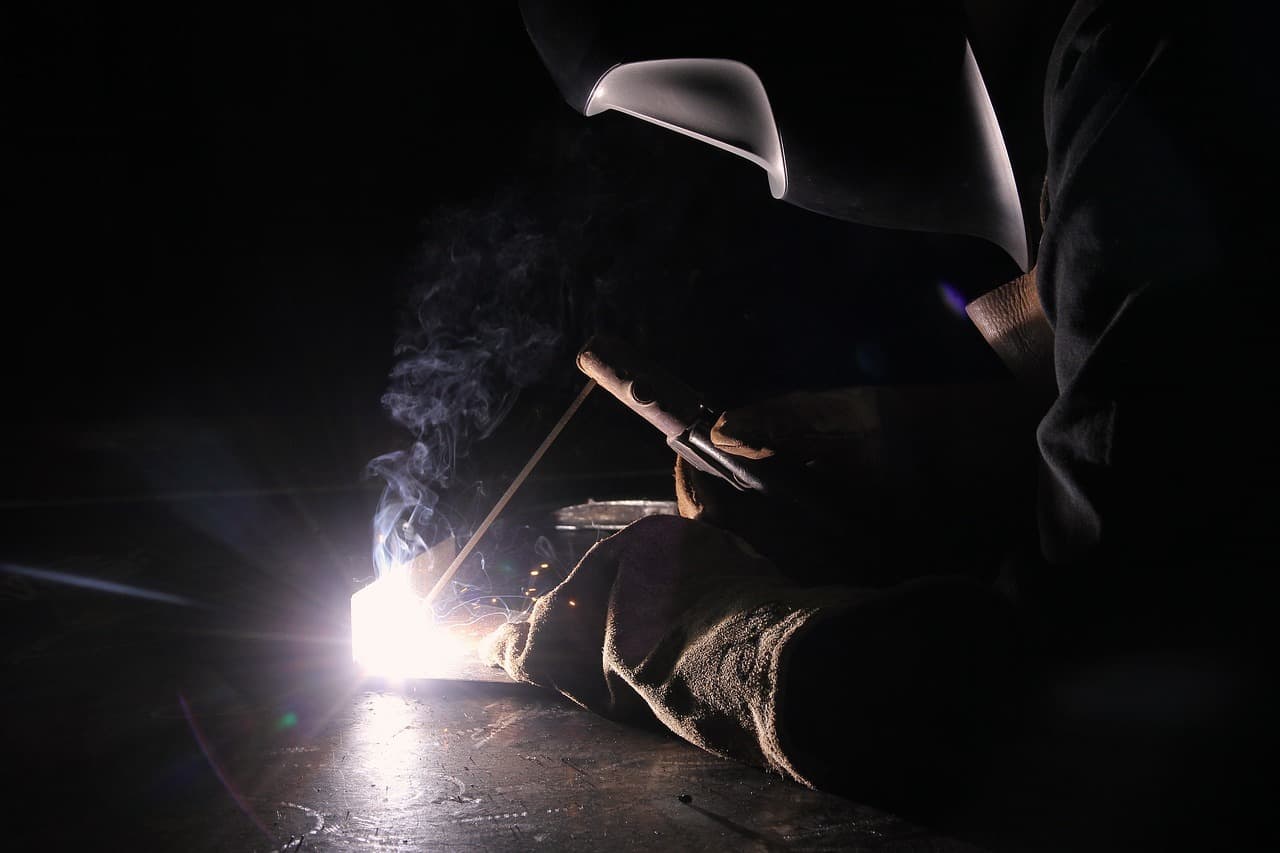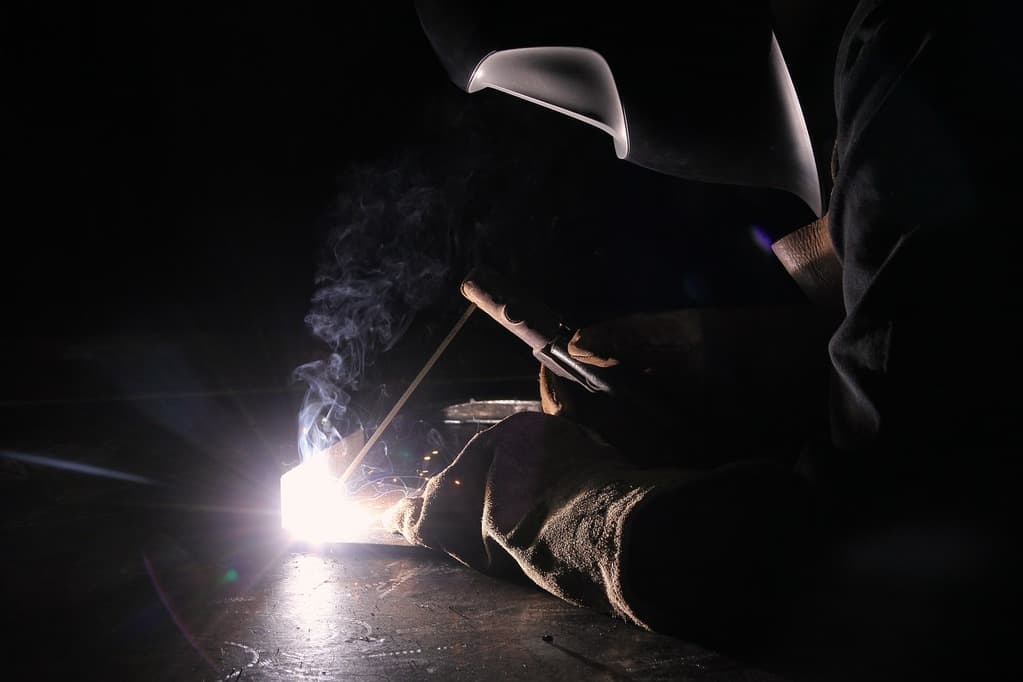 If you set it right, you get excellent arc stability and performance, but if you over-tune it, electrodes might stick. The hot start will help you boost up starting amperage to get a reliable start and preheat the base metal to increase penetration.
These are excellent Stick welding features you see at Stick based welders such as YesWelder YWA-160. In addition, if you tune them right, you can even use the notorious 6010 electrodes. However, you should do it carefully, as inverters and 6010s usually don't mix well.
Plasma Cutting
I was amazed once the YesWelder introduced plasma cutting components into a multi-process welder. Since the idea got good feedback, they have done it again with Firstess CT2050. However, here things got a bit more advanced.
With Firstess CT2050, you can use a plasma cutter rated at 45 amps to cut steel up to 1 inch thick. Yup, an entire inch and double the power of the Firstess MP200. But that's not all.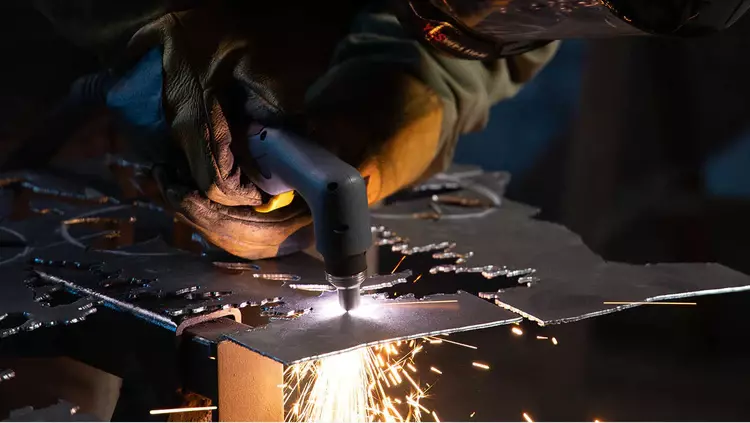 The plasma torch utilizes a Non-HF blowback start, which is safe for the operator and other electrical machines in the workshop. As a result, you can use CT2050 with a CNC table ratio of 1:1, and there is a dedicated CNC Interface port. We see these improvements in the latest YesWelder CUT-65DS, so if you only need a plasma cutter, you can consider it a valuable option. In addition, the pilot arc will help you cut rusted or painted metals without reducing the consumable life.
With a duty cycle of 100% rated at maximum power, you can easily cut thicker metal without fear of overheating. Remember that there are two plasma cutting options: cutting with a built-in or external air compressor. As a result, you can use a separate compressor for better reliability and cut performance. Nonetheless, the built-in compressor is an excellent choice for portability and convenience.
YesWelder CT250 Price And Value
Once again, YesWelder managed to make a multi-functional, highly versatile, best-for-money machine. CT2050 offers six welding and one cutting process into one, but I wouldn't describe it as a multi-functional welder. I think it is more TIG/Stick welder and Plasma cutter.
Nonetheless, the value you get for the money spent is excellent. In addition, you get everything you need to weld or cut straight out of the box. So even though it is still in a pre-order state, this $1000-1500 welder is an excellent purchase, in my opinion.
As I said, it is hard to compare CT2050 with any other welder on the market, and the closest relation is the MP200.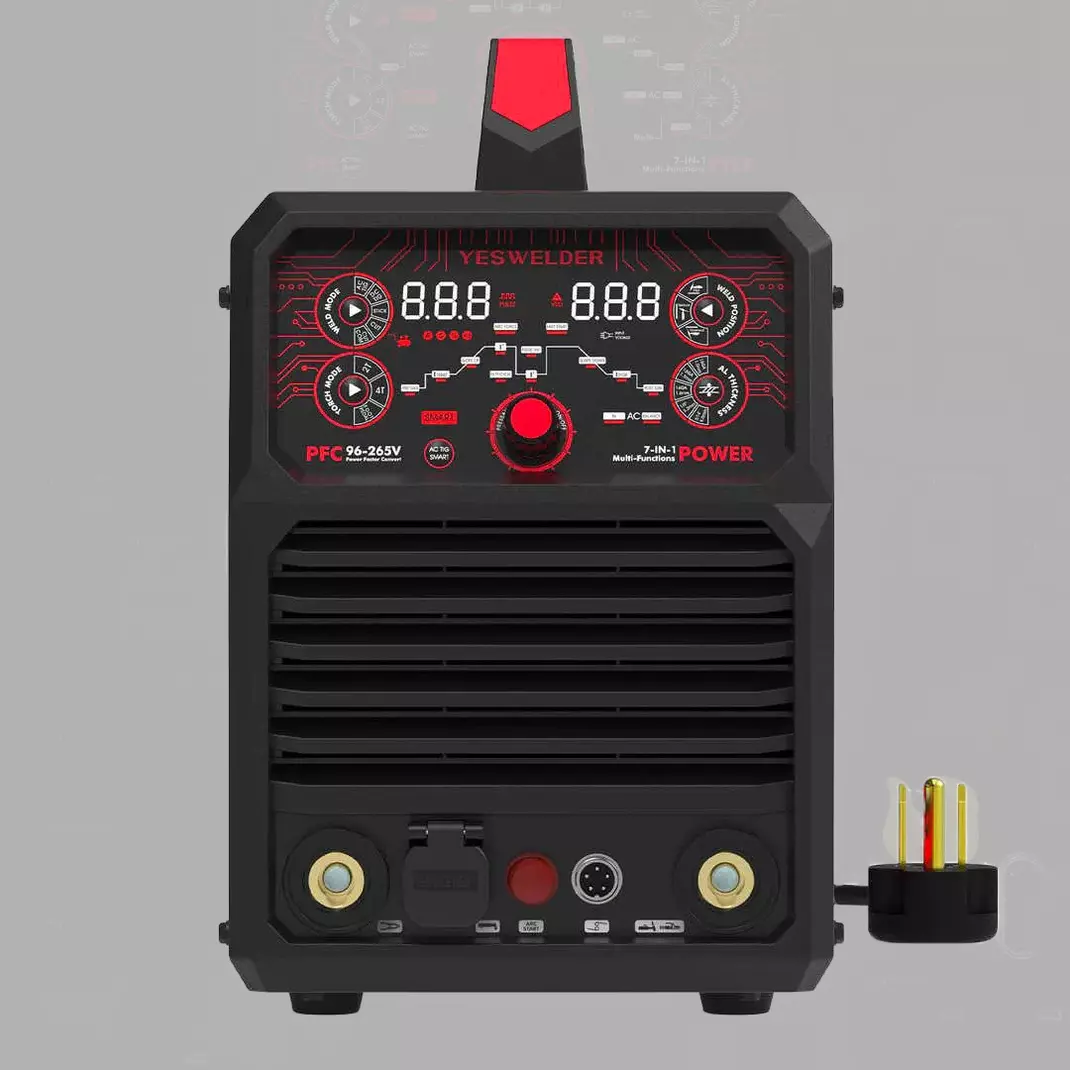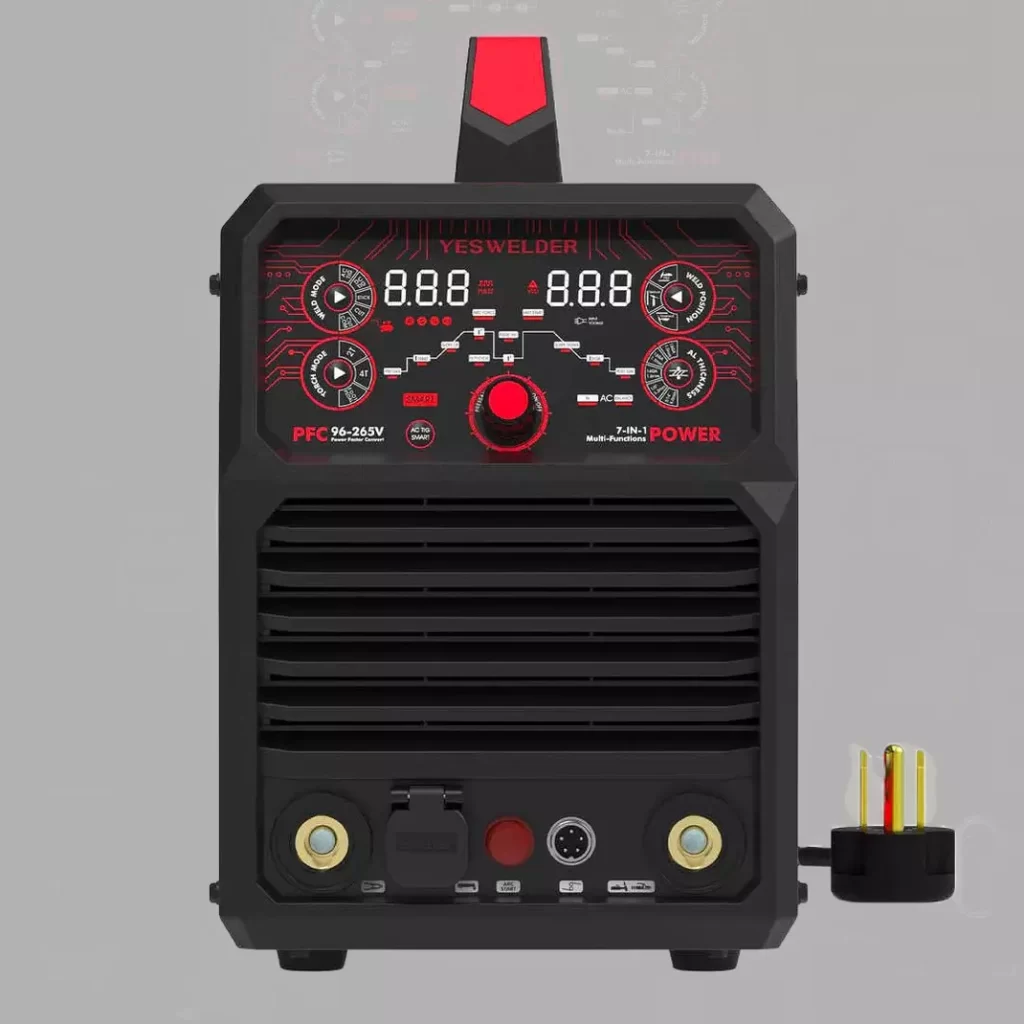 These two welders are pretty similar and different at the same time. While they combine a Plasma cutter into a welder, MP200 is more multi-process oriented as an all-around workshop machine. On the other hand, CT2050 is TIG acquainted machine that is excellent for exotic metals such as aluminum.
Pros and Cons of YesWelder CT2050 Summarized
Overall, YesWelder CT2050 is yet another great value welder that offers excellent versatility in the workshop. While it doesn't provide MIG welding, you get AC/DC TIG with pulsed and balance options and advanced controls. As a result, you can weld thin and exotic metals without fear of distortion or a burn-through. CT2050 is significantly heavier than MP200, but I think it is a well-built and sturdy machine you won't have any issues with.
Even though package content is enough to start welding straight out of the box, they will get you only so far. You might want to change the TIG torch, and there are no additional plasma torch consumables. There are a bunch of controls you can use to control the entire TIG welding process, and Stick options are just fine. Beginners will enjoy smart AC TIG, as welding aluminum has never been easier.
Overall, the YesWelder Firstess CT2050 is a powerful and capable machine you will appreciate in your garage or small fab shop, and there are no significant drawbacks that would stop me from recommending it to you.
In the past year, we have written a number of reviews on welders and plasma cutters from YesWelder. If you are still interested in this brand and wish to read them, you can find links to the rest of them here.