YesWelder has recently promoted a new line of multi-functional welders that cover most hobbyists, repair, maintenance, and DIY needs. While there are several new machines, in this article, we will talk about YesWelder YWM-200, a 4-in-1 multi-process welder.
YesWelder YMW-200 offers MIG/Flux core welding, Stick welding and Lift TIG welding in one unit.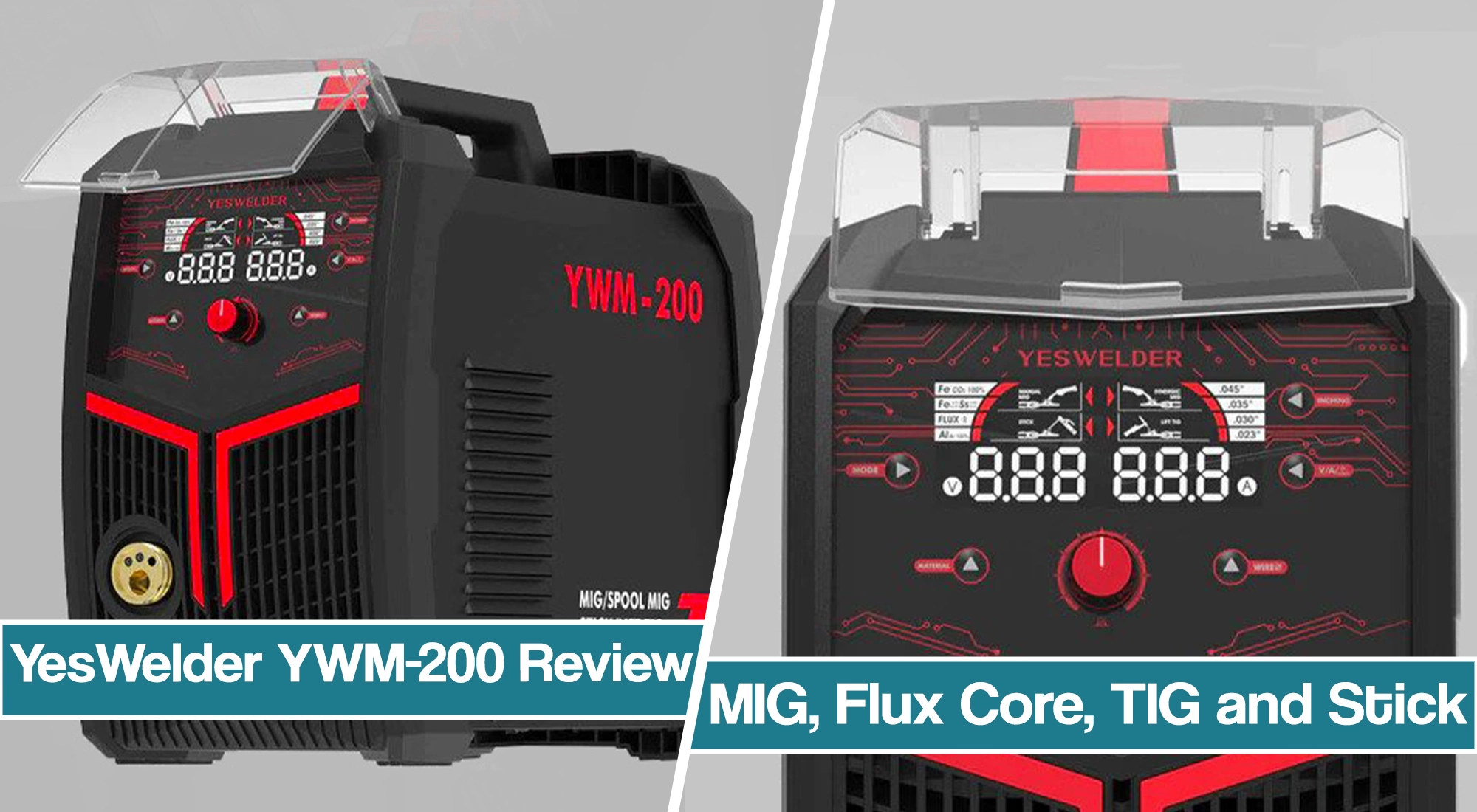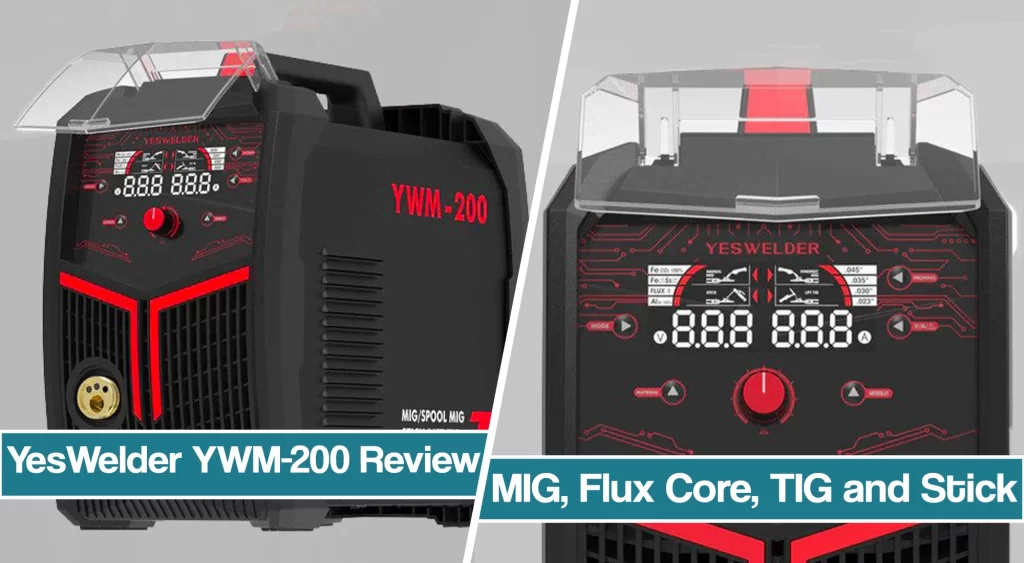 But wait, that's not all. YMW-200 is a spool-gun compatible unit, meaning you can use it to MIG weld aluminum. In this YesWelder YWM-200 review, we will talk about package content, features, and capability.
YesWelder YWM-200 Package Content and Technical Specifications
First things first, let's see what you get for the money spent when buying YesWelder YWM-200. Since YesWelder units are known for their value, we expect YWM to keep up with the trend. Therefore, when buying it, you will get.
Work clamp
Electrode Holder
24KD MIG gun
220-110V adapter
Gas hose
Gun liner
Four spare MIG gun tips
V drive roller for .023″-.30″ wire
W knurled roller for .030″-.035″ flux-cored wire
U drive roller for .035 "-0.40" wire
Instruction manual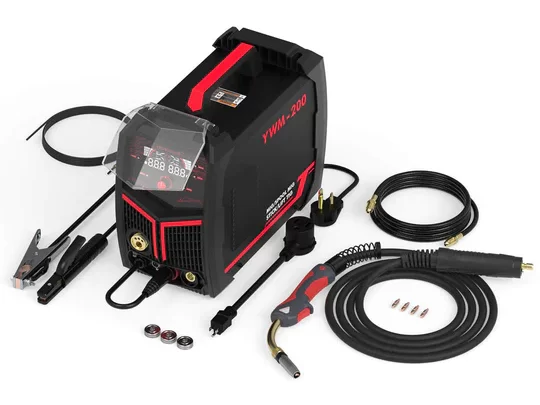 Get 10% Off With Coupon: "-10% WELDPROS"
Overall, with YesWelder YWM-200, you get everything you need to weld straight out of the box. However, even though this welder is capable of doing Lift TIG and MIG aluminum welding, you don't get either TIG Torch or Spool gun. This seems to be a trend in today's welding market, as manufacturers such as Miller or Hobart tend to sell the accessories separately. However, YesWelder used to include a TIG torch in their MP200 bundle. Getting a spool gun in this price range is pretty scarce, so if you plan to MIG weld aluminum, you will need a separately sold spool gun.
On the other hand, the provided MIG gun and Stick electrode holder seem sturdy and comfortable. In addition, you even get several replacement tips for the MIG torch, so you are set for some time welding.
The included drive rolls are one of the improvements over the older YesWelder machines. U, W, and V rollers will ensure smooth feed, regardless of the type of wire you are using (e.g., flux core wire, solid wire, aluminum wire.) In addition, these rolls will cover various size diameters, as you can use .023″-.045″ wires without fear of tangling or birdnesting.
Technical Specifications
Input Power:
110/220±10% V,
50-60 Hz,
DC
Input Current:
110V I max: 50A,
220V I max: 34A
Weldable Materials:
Steel, Stainless Steel,
Aluminum (with optional spool gun)
Welding Output (220V):
MIG 30-200A;
Stick 20-180A;
TIG 10-200A
Welding Output (110V):
MIG 30-160A;
Stick 20-145A;
TIG 10-160A
Voltage Range (220V):
MIG 15.5-24V;
Stick 20.8-27.2 V;
TIG 10.4-18V
Voltage Range (110V):
MIG 15.5-22V;
Stick 20.8-25.8;
TIG 10.4-16.4V
Rated Duty Cycle (220V):
MIG 60% at 200 amps;
Stick 60% at 180 amps;
TIG 60% at 200 amps
Rated Duty Cycle (110V):
MIG 60% at 160 amps;
Stick 60% at 145 amps;
TIG 60% at 160 amps
Wire Diameter:
Up to .035″ Sold wire
.045″ Flux Core Wire
Spool Size:
D100/D200 (less than 10 lbs)
Operating Temperature Range:
-68 F – 122 F
Power Factor and Efficiency:
0,8; >80%
Weight:
38,91 lbs
YesWelder YWM-200 Review – Build Quality, Controls, And Capability
Build Quality
The first look at YesWelder YWM-200 leaves the impression of a well-constructed and sturdy machine. The welder case is similar to YesWelder MP200, while it is a bit different than units that made a breakthrough on the market, such as MIG-205 DS. However, I liked the black/red combination, with a built-in handle that improves the overall aesthetics of the welder.
One of the noticeable differences between YesWelder YWM-200, which is also characteristic of the latest machines, is the weight. The YWM-200 weighs approximately 40 lbs, which wasn't the case in the past. For example, most YesWelder machines are twice lighter, weighing around 20 lbs.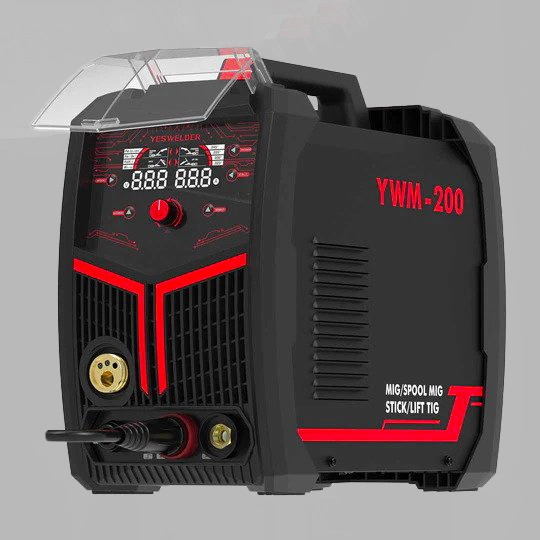 However, most multi-process brand-name welders, such as Lincoln PowerMIG 200 MP and Hobart Multi-Handler 200, are approximately 40 lbs. Even though lightweight welders are standard in the hobbyist market, some welders prefer bulkier and heavier units such as YesWelder YWM-200. The welder seems to be built to last, but it might take some strength to carry it around the workshop.
Looking inside the compartment, you can notice a sturdy and reliable wire drive feed mechanism. We already talked about roller versatility, meaning you can run all wire types (solid, aluminum, flux core) and different diameters (.023″-.045) with ease. One significant advantage over Eastwood multi-process welders is the knurled rollers that feed soft wires exceptionally.
However, I was not too fond of the fact that the welder is capable of mounting and carrying wire spools of less than 10 lbs, but that proves this is a real hobbyist welder, not an industrial workhorse. Nonetheless, a spindle adapter can help you mount both 4″ and 8″ spools, but of limited weight.
Input Power
If you browsed through the technical specifications listed above, you might have noticed that YesWelder YWM-200 is a dual voltage machine. Therefore, you can plug it into a regular 110V household outlet for everyday light to medium duty projects and repairs. In addition, you can use it at the remote job site location, at the barn, field, or in the garage for welding up to 160 amps.
However, with a simple 110/220V adapter, you can plug it into the dedicated 220V outlet once you feel you need more power. By increasing the input power, the output power rises to 200 amps; therefore, you can tackle more complex projects. Dual voltage capability increases the overall versatility of the machine, making it quite useful for any Do-It-Yourself, maintenance, repair, metal fabrication, and hobbyist project.
YWM-200 Welder Controls
The YesWelder YWM-200 control panel seems like a combination of simplistic and modern design. However, the controls are intuitive and easy enough to use. There is one central knob with infinite adjustment, which help you set your welder perfectly. Color LED screen visualizes the welding process and parameters such as welding material, wire diameter, output voltage, and output current or wire feeding speed.
I know digital display can be a liability in a workshop, but it is well protected by a plastic cover. However, if you occasionally change your settings, you will have to flip it often, so taking off the protection might be a better choice.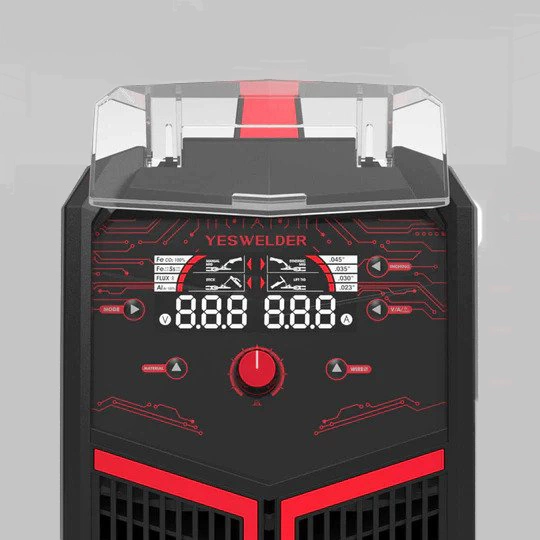 This welder offers Synergic MIG settings, an excellent choice for beginner and occasional welders just getting into the world of welding. If you are unfamiliar with this feature, it allows you to select the welding process and type of welding, wire diameter, and thickness of welded materials. Next, the welder will adjust the voltage and wire feed speed according to the input parameters. This feature is commonly found in many YesWelder MIG welders, while it is usually found in expensive brand-name machines such as Miller Millermatic.
While recommended voltage and wire feed speed controls give beginners a great head start, seasoned welders can use manual control mode to fine-tune the machine. Professional welders can manually adjust features such as:
2T/4T torch mode for longer welds,
inductance in the range of -10%-10% to provide softer arc and reduce spatter,
burnback time of 0-10%, to adjust how long is wire electrically energized after the welding
feeder speed, ranging from 0-10%
hot start, or arc starting current ranging from 0-10%
anti-stick, a feature that helps you separate electrode once it sticks
arc force, which increases the amperage once the machine detects voltage drop to ensure a stable arc and prevent electrodes from sticking
YesWelder YWM-200 Welding Capability in MIG, Flux Core, Stick, and TIG Welding
After discussing the build quality, package, specifications, and controls of YesWelder YWM-200 welder, it seems pretty decent on paper. However, things might differ in practice and everyday use, so we will now address the welding capability.
Let's see how YesWelder YWM-200 performs at MIG/Flux core welding, Stick Welding, and Lift TIG welding as it is designed. We'll go through each process separately to explain the capability closely.
MIG/Flux Core Welding
MIG welding is one of the most straightforward welding processes, and that's why it is commonly a go-to method for many beginners.
However, with Synergic MIG settings, YesWelder YWM-200 makes MIG welding even easier. As we explained above, it is quite a helpful feature that will help you get decent results, even if this is your first time welding.
When opting for MIG welding, you get an output of 30-200 amps at 220V or 30-160 amps at 110V. To do so, you can use a dedicated roller with .023″-.35″ solid wire, flux core, and aluminum wire. As a result, you can MIG weld steel and stainless steel approximately 0.031″ -0.27″ thick.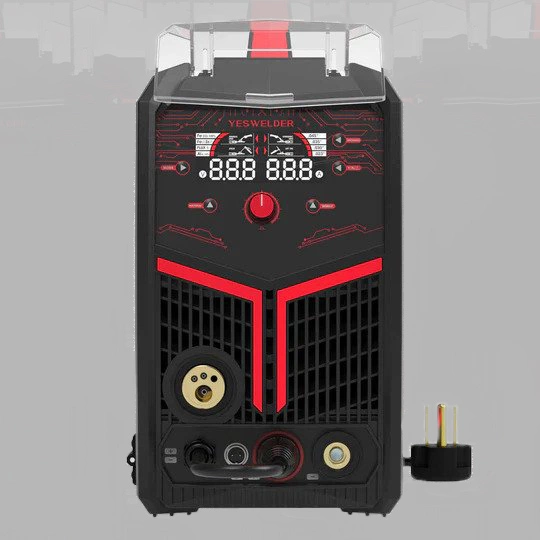 One of the things I like about this machine is the high duty cycle rating. For example, with YWM-200, you get a 60% duty cycle at the maximum output of 200 amps at 220V or 160 amps at 110V. Therefore, you can weld for 6 minutes straight at the maximum power before making a 4-minute break. On the other hand, most brand-name welders such as Miller Millermatic 211 or Hobart Handler 210 offer a 20-30% duty cycle.
You might have seen YesWelder YWM-200 advertised as a MIG aluminum welding machine, and that is true. But as we mentioned at the beginning, this is just a spool gun-ready welder, while you don't get a spool gun. So if you tackle aluminum more than once in a while, you can buy a YesWelder spool gun.
If you choose Synergic MIG settings, you can even select a dedicated shielding gas. Welder helps you choose between standard MIG shielding gas options such as 100% CO2 and 75/25 Ar/CO2 for mild steel, 98/2 Ar/CO2 for stainless steel, or 100% Ar for aluminum welding.
Flux core welding with YesWelder YWM-200 is similar to the MIG welding, as you get a similar capability with somewhat higher penetration. However, you must use flux-cored wire and mount a proper W knurled roller and don't forget to swap polarity. Compared to MIG solid wire, flux-cored wires usually come in .030-.035″ diameter.
Stick Welding With YesWelder YWM-200
YesWelder YWM-200 is also capable of Stick welding at DC+ polarity (DCEP) at 20-180 amps at 220V and 20-145 amps at 110V. The unit is compatible with standard DCEP electrodes such as 7018, 6011, and 6013. With this welder, you can Stick weld 0.059″ up to 0.19″ thick materials.
Several features increase the Stick welding performance. For example, welders can adjust the hot start to temporarily grant the welder a higher amp start that prevents the electrode from sticking to the workpiece. A hot start also heats the base metal, increasing the overall penetration. In addition, arc force is a helpful feature when a voltage drop is an issue during welding.
If you adjust it, once the voltage drops, the machine will increase the amperage, preventing short arc and undercut defects. However, be cautious when using this feature since it can cause the electrode to stick if the arc force is too high. Even if your electrode accidentally sticks to the workpiece, you can adjust an anti-stick feature. Once the electrode sticks, the welder automatically collapses the current, so you can easily break it free.
These features are often seen in many modern and brand-name Stick welders such as Esab Rogue 200i. Therefore, you get an excellent value for the money spent. However, with a 60% duty cycle at the maximum power, YWM-200 is more efficient than Rogue, with only a 25% rated duty cycle. However, you shouldn't expect to weld with tricky 6010s electrodes.
TIG Welding With YWM-200
You can use YesWelder YWM-200 to TIG weld in the garage or for your repair projects. However, you don't get a TIG torch to do it, which is a big disappointment for those who want to try or practice TIG welding. While this is common with multi-process welders from Hobart, Lincoln, or Miller, YesWelder included a torch in their MP200 welder. Therefore, you will have to buy the WP-17V-35 TIG torch separately.
Nonetheless, with an output of 10-200 amps at 220V and 10-160 amps at 110V, YWM-200 is quite a powerful TIG welder. Moreover, a high duty cycle of 60% at the maximum output will allow you to tackle more complex projects and thicker materials efficiently.
Remember that YWM-200 is a DC-only welder, meaning you cannot TIG weld aluminum. In addition, this welding machine offers a lift TIG start, which is just fine, but it would be impossible to weld aluminum due to possible contamination.
Welder Value
YesWelder welding machines are known for their value for the money spent, and YWM-200 4-in-1 multi-process welder is no exception. You get a well-rounded hobbyist machine that will cover your everyday maintenance, repair, and DIY projects. Even though there aren't several accessories such as a TIG torch and spool gun, you still get enough value for the money spent.
The best part is you won't have to spend extra funds on a brand when buying Lincoln or Hobart machine. In addition, you get quite a capable device and won't have to break a bank when buying it.
Pros and Cons Summarized
In the end, we'll spend some time summarizing everything we said through the good and the bad. While YesWelder YWM-200 is a multi-functional 4-in-1 machine capable of MIG (aluminum MIG)/Flux core/Stick and TIG welding, you don't get accessories to do aluminum MIG and TIG welding.
This is quite a capable dual voltage welding machine with a high duty cycle of 60% at maximum output. With a power of 200 amps, you can tackle your everyday light to medium duty repair, maintenance, and DIY projects. However, this is primarily a hobbyist-aimed welder, not an industrial workhorse.
I liked the build quality, as YesWelder YWM-200 seems like a pretty sturdy machine built to last. With 40 lbs, it is one of the heavier YesWelder machines, but overall it leaves a good impression.
Overall, YWM-200 offers some decent features, such as Synergic MIG, arc force, anti-stick, hot start, inductance, 2T/4T, and burnback speed. These are often seen in pricier machines, so the value for the money spent is excellent. However, since this is a multi-process machine, you shouldn't expect stuff such as pulsed MIG, squarewave TIG, or the ability to weld 6010s.
In the past year, we have written a number of reviews on welders and plasma cutters from YesWelder. If you are still interested in this brand and wish to read them, you can find links to the rest of them here.