Do you like welding aluminum? Of course you do! Who doesn't?
Well, now you can make TIG-like welds with MIG! I know this sounds too good to be true, and in a way, it is. You can't really make perfect welds like with TIG, but the YesWelder YWM-211P offers technology that gets pretty damn close to it.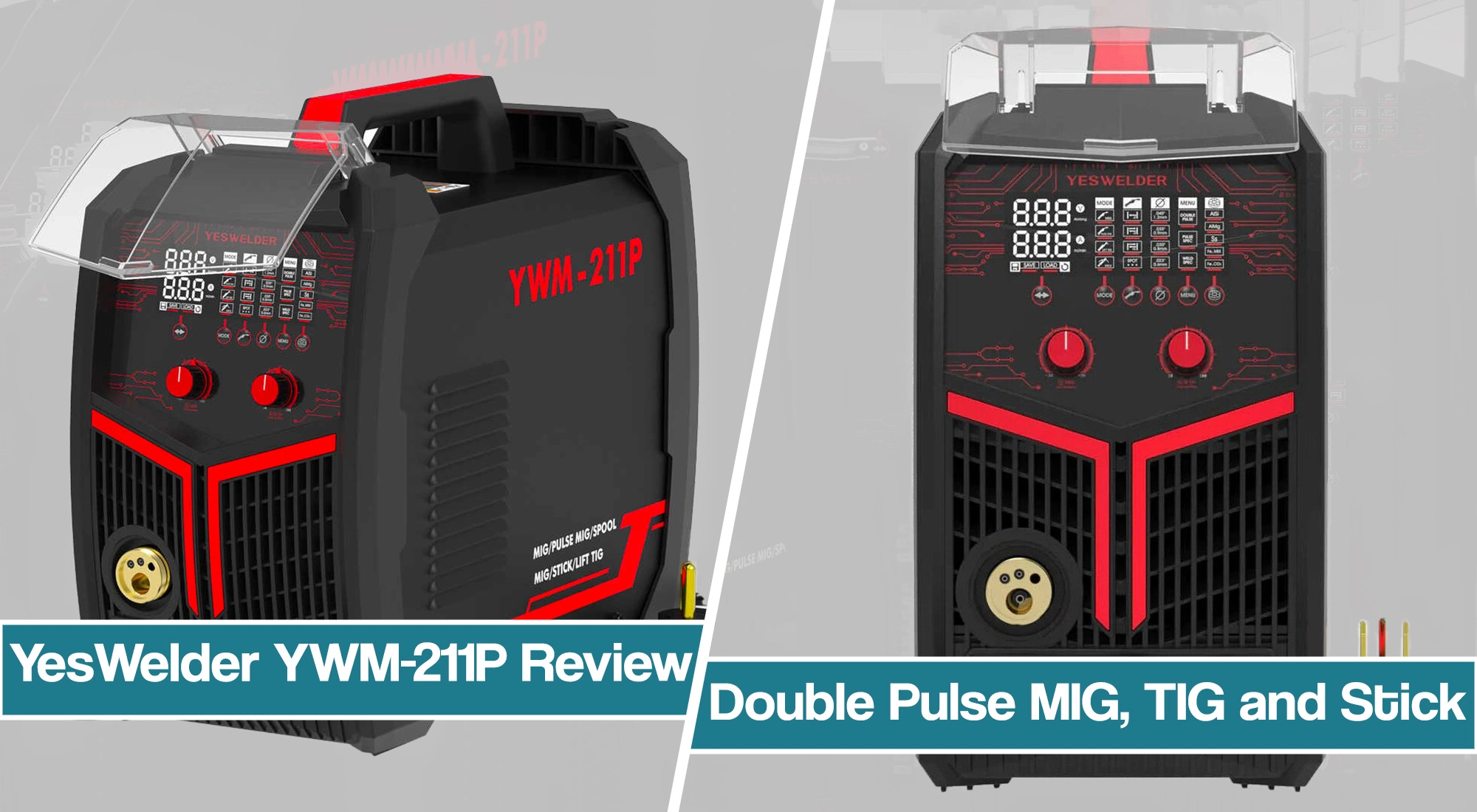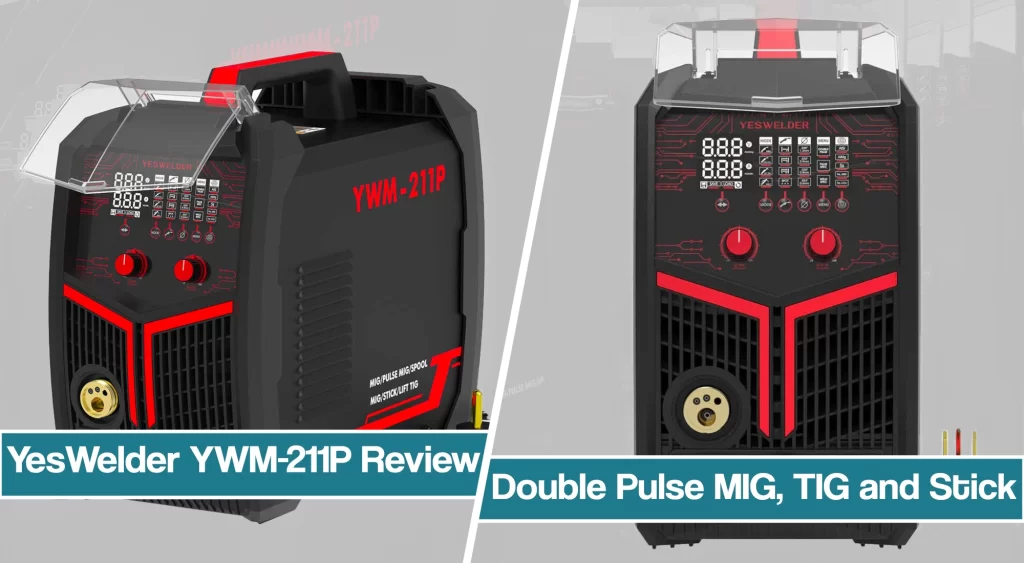 We are talking about double pulse MIG welding, of course. This technology is still somewhat new in the welding industry. It's not widely accepted, so many people still haven't caught on to the benefits.
In this YesWelder YWM-211P review, you'll learn about the features and pulse MIG technology. This is a relatively inexpensive, multi-process welder, so let's address its pros and cons to help you decide if you should invest your time and money into it.
YesWelder YWM-211 Package Content And Technical Specifications
YesWelder welding machines are known for their value for the money spent, and YWM-211P is no exception. Therefore, when investing in YWM-211P, for the money spent, you get:
Work Clamp
Electrode Holder
V Drive Roller for .023″-.030″ wires
U Drive Roller for .035″-.040″ wires
W Drive Roller for .030″-.035″ wires
220~110V adapter
24KD MIG Gun
Graphite Liner
Four MIG gun replacement tips
Gas hose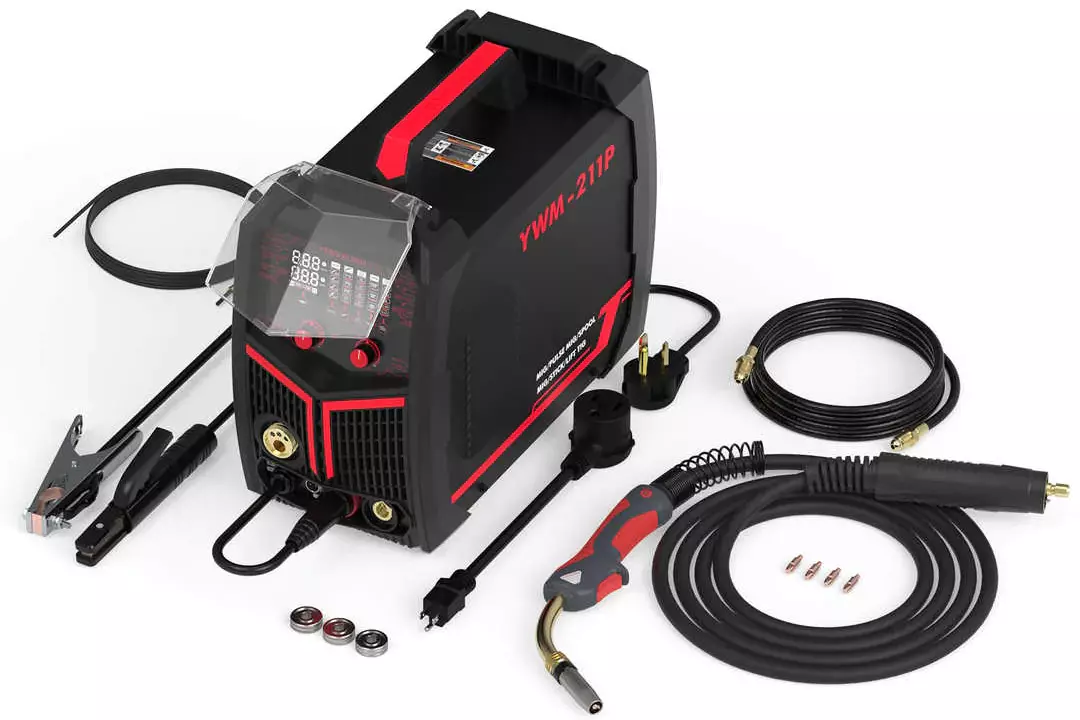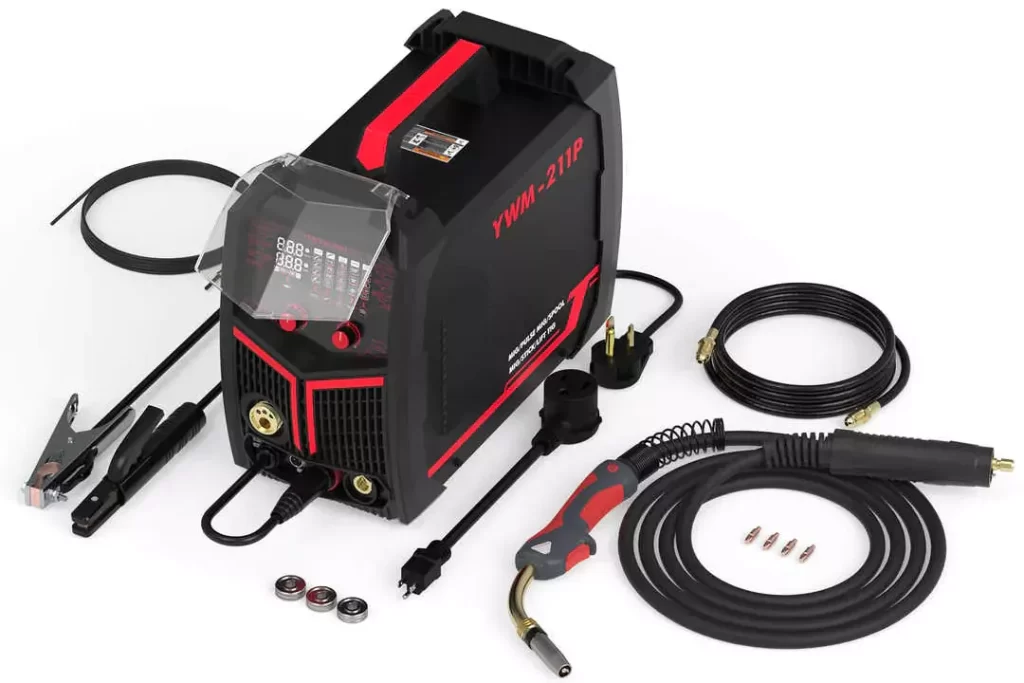 Get 10% Off With Coupon: "-10% WELDPROS"
Technical Specifications
Input Voltage
110/220V
50/60 Hz
Input Current
I max= 34A, I eff=26.3A
I max= 50A, I eff=38.7A
Weldable Materials
Steel, Stainless Steel and
Aluminum Up to 1/4″
Output Range (220V)
MIG 30-200A,
TIG 10-200A,
Stick 20-180A
Output Range (110V)
MIG 30-160A,
TIG 10-160A,
Stick 20-145A
Duty Cycle (220V)
MIG 60% @ 200A,
TIG 60% @ 200A,
Stick 60% @ 180A
Duty Cycle (110V)
MIG 60% @ 160A,
TIG 60% @ 160A,
Stick 60% @ 145A
Efficiency
>80%
Weight
39.5 lbs
Pulse MIG Welding In a Nutshell
Standard MIG offers short circuit or spray transfer. The short circuit transfer creates spatter and not so good looking welds. But, it has many advantages. For example, you can weld in all positions and use 100% CO2.
Spray transfer is the cream of the crop — the best of standard MIG welding. It offers deep penetration, low spatter, exceptional deposition rates, and best of all, it welds aluminum! Short circuit cannot weld aluminum; it's too slow and doesn't offer enough of a heat input.
However, spray transfer doesn't work well in out-of-position or vertical welding.
So, what's the deal with the pulse and double pulse MIG?
Standard pulse MIG welding offers all of the benefits of the spray MIG transfer, but none of its flaws. So, you can weld fast with almost no spatter in all positions. The current alternates between high amperage output and low, background amperage output. The high current keeps the spray transfer going, while the low current chills the weld puddle and gives it enough structure for out-of-position welding.
Plus, this chilling action helps prevent burn-through and warping.
Double Pulse MIG Technology
When I was first introduced to pulsed MIG, I thought, "okay, this is really interesting." But, then I saw "double pulsed MIG," and I thought, "this is bound to create some confusion in the welding community." But, it hasn't, at least not yet. MIG welding machines with a double pulse are so rare on the commercial market that hardly anyone ever buys one of these. As far as I know, only Everlast makes "inexpensive" double pulsed MIG welders.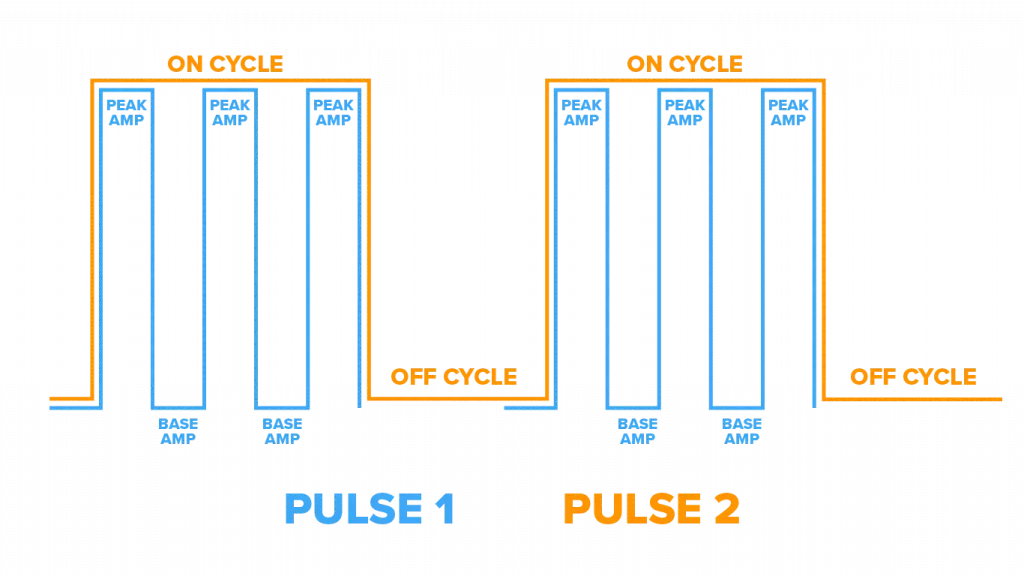 But, since YesWelder has decided to enter the market with their sub $1000 double pulsed MIG welder, I am sure there'll be some confusion when many people are exposed to this industrial-level tech.
To put it bluntly: double pulse is just better than single pulse because it combines pulsing within pulsing. Both, high and low background currents have their own high and low background currents.
It's like that old internet meme. "We heard you like pulsing, so we put a pulse in your pulse, so you can pulse while you pulse." I believe this explains it really well in a funny way.
This additional control over the pulsing waveform lets you manage heat input exceptionally well, and have two very different pulses. Whenever the high pulse (with its own high and low output) switches to low pulse (again, it has its own high and low), the puddle experiences a similar phenomenon to when you dab a TIG filler rod into the joint.
Essentially, this double pulsing action lets you create the "stack of dimes" weld appearance associated with the TIG welding process. However, this tech won't let you create perfectly symmetric, absolutely stunning welds like a highly experienced TIG welder can. Still, the improvement this technology offers is fascinating and definitely worth it, especially if you can get it at a low cost.
Speaking of low costs… Let's get back to the YesWelder machine.
YesWelder YWM-211P Review
I wouldn't in good conscience recommend double pulsed MIG welders to beginners and hobby welders. Why would you shell out a couple of thousands of dollars if you don't have to? Traditional MIG welding works rather well.
But, since the YesWelder 211P is so affordable, I can say that hobbyists can have some good fun playing with tens of features it provides.
I mean, Harbor Freight, WeldPro, Everlast, Eastwood, and other brands offer comparable, traditional MIG welders at the same or higher price. So, here at WeldingPros, we are happy to see YesWelder making moves like providing double pulsed MIG at an affordable rate.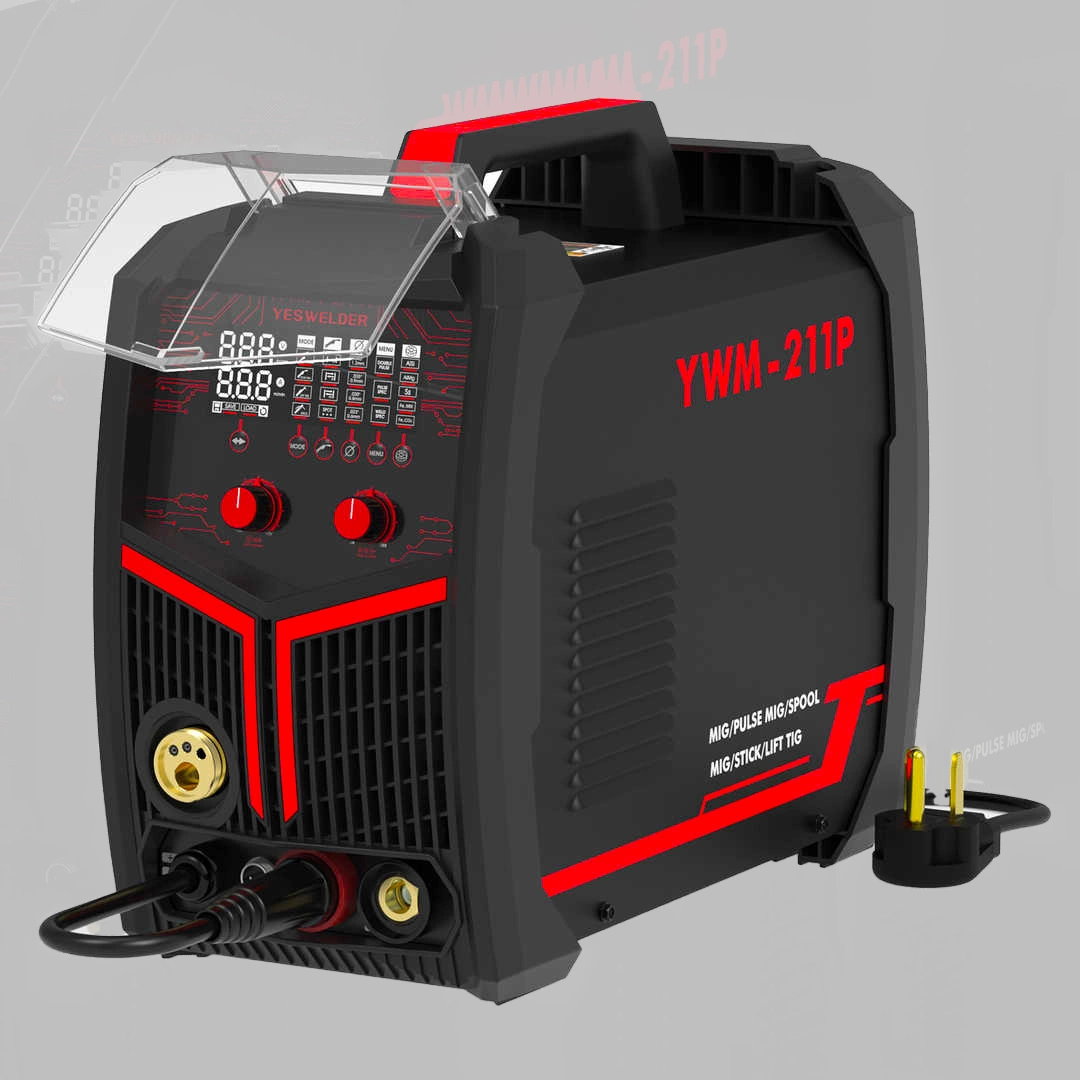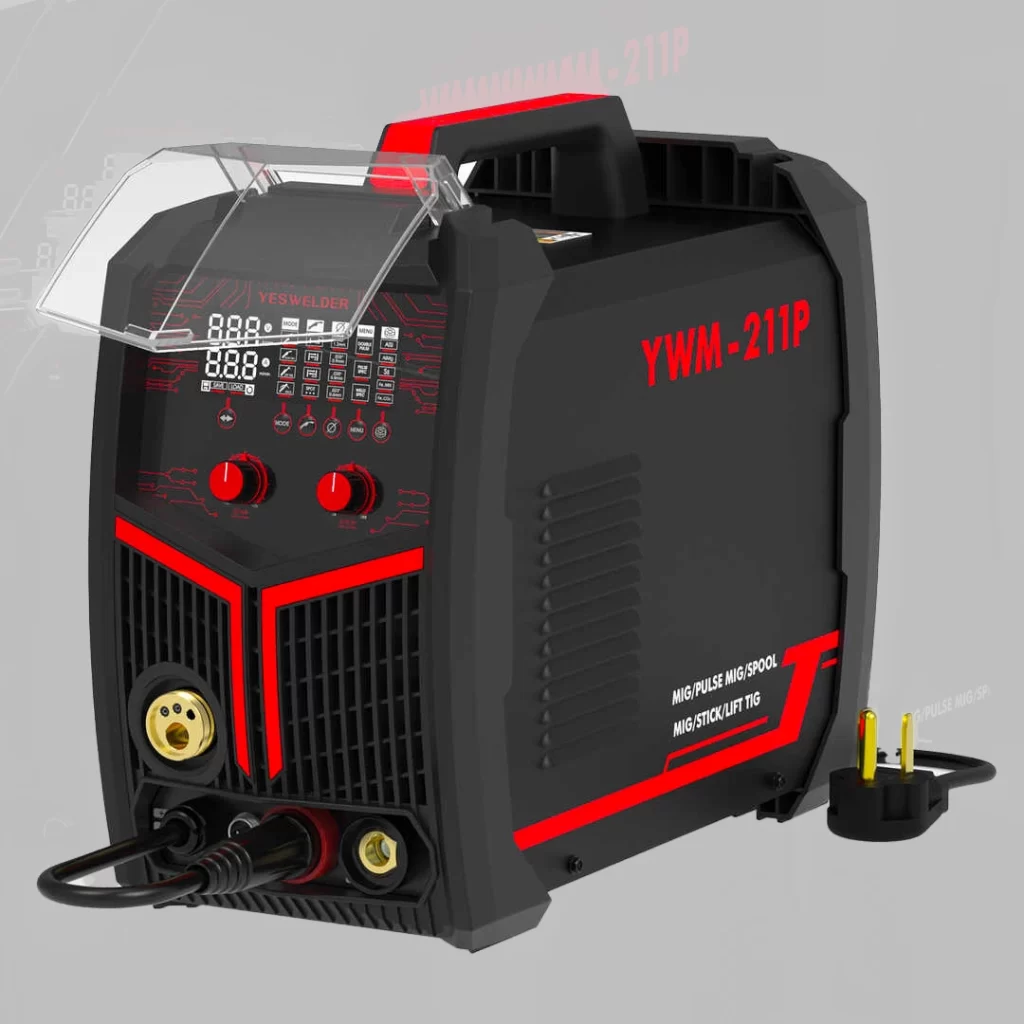 However, this machine is still very new on the market. Nobody knows how well it will behave long-term. It's dirt cheap (considering the features), but it's built decently. YesWelder is a popular brand if you want something inexpensive but with an adequate build. This is no Miller, or Lincoln, but it also doesn't cost like a used car.
While double pulsed MIG tech is fascinating, we don't expect the YesWelder YWM-211P to perform like the big boys from Miller, Lincoln, ESAB or others that offer double-pulse MIG. For example, Lincoln Electric Power MIG 360MP offers the pulse on pulse (double pulse) tech too, but it costs thousands of dollars, and for a good reason. It's an industrial-level machine.
So, don't get confused here. We are not saying that the YesWelder YWM-211P is some miracle piece of tech. But, it's an affordable unit, that's bound to shake some ground, just like YesWelder's two Kickstarter campaigns for MP200 (read review here), and the CT-2050.
Features
Look, before we dive into the features, I got to let you know that I tried really hard to find a "con" here. This machine offers EVERY function and many more than any other brand in its class. Take WeldPro, AHP, Eastwood, Everlast, Klutch, Titanium, etc. Analyze them thoroughly, and you'll see that this YesWelder provides all of their digital functions and a few they don't. But, only look at models within this price tag.
Besides double pulse MIG, the YesWelder YWM-211P offers more stuff to play with.
Multi-Process Welding
First, it's a multi-process welder. So, you can use DC TIG and stick welding too. Plus, it officially supports E6010 electrode. We can't vouch that it'll have enough arc power for welding pipe or something that requires intense penetration, but hey, if it supports E6010 that probably means that it can discharge the necessary electrical volume and start the arc.
Usually, inverter-welders don't support E6010 because of inadequate algorithms for arc management and weak arc.
The DC TIG function is rather basic. But, this is usual. We cannot expect AC TIG or similar at this price. If YesWelder had graced us with HF start, I would really have to struggle to find a con to this machine. But, the provided lift TIG is pretty much what you'd expect. Plus, it doesn't support a foot pedal control, and the TIG torch is not included.
The YWM-211P is, of course, spool gun compatible. But, the spool gun is not included. Instead, the machine ships with a regular MIG gun and a graphene liner for feeding the MIG aluminum wire natively. This works well for hobbyists, but we recommend getting a spool gun if you plan on welding aluminum often.
Digital Functions
YesWelder YWM-211P controls might seem confusing to beginners, with all the selection options and flashing lights. However, once you get the hang of them, you will realize how easy it is to use.
The control panel features two infinitely adjustable knobs that will help you select the output current and voltage, wire feed speed, and post-flow and pre-flow. The exact settings and values are shown on the well-visible color LCD screen.
In addition, welders can utilize simple buttons to select between the welding process (MIG, TIG, Stick), torch mode (2T/4T/4TL and Spot), Wire diameter (.023-.45″), weld specifications (pulse or other parameters) and wire type.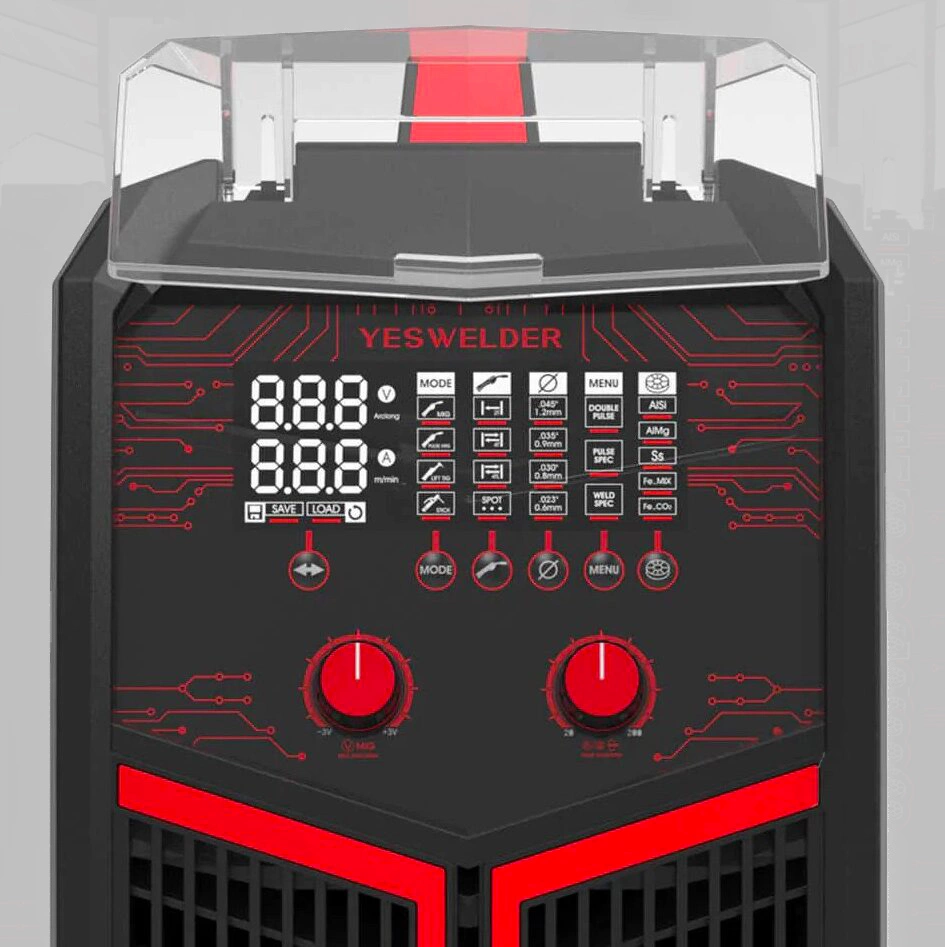 Overall, these digital functions are well-tailored for seasoned welders who like to fine-tune their machines. However, YesWelder didn't forget the needs of the beginners, so there is a Synergic MIG control. Therefore, beginners have to input the parameters such as wire type and diameter and the type of welded metal, and the welder will do the rest. Given settings are a great starting point for beginners, but you will eventually have to tweak them.
The memory mode is the best part about digital controls and the feature you don't see in this price range. If you tackle the same jobs, including the same parameters repeatedly, you can save up to 10 presets, making everyday welding easier.
YesWeldeer YWM-211P Welder Value
YesWelder welding machines are known for their value for the money spent, and YWM-211P is no exception. Some features, such as pulse, double pulse, or fine controls, are scarce in the sub $1000 price range. In addition, you get everything you need to weld straight out of the box.
There is no doubt that YesWelder units took over the budget welding machine market. They surprised us with all-in-one welders such as MP200, but they never failed to amaze us by packing incredible features in budget-range machines such as YWM-211P.
Pros And Cons Summarized
Overall, YesWelder YWM-211P is a well-rounded multi-functional machine capable of pulse and double pulse welding. These features will allow you to weld thin and delicate metals such as steel, stainless steel, or aluminum without fear of distortion or burn-through. However, even though you can MIG weld aluminum, you don't get a spool gun. So if you tackle aluminum occasionally, you will have to spend some more money.
With a maximum output of 200 amps, YWM-211P is quite a capable welder you can use for your everyday light to medium duty projects. Dual voltage increases versatility, and you can weld extended periods with a rated duty cycle of 60%.
It is tough to find cons of YesWelder YWM-211P, but I disliked the fact you don't get a TIG torch.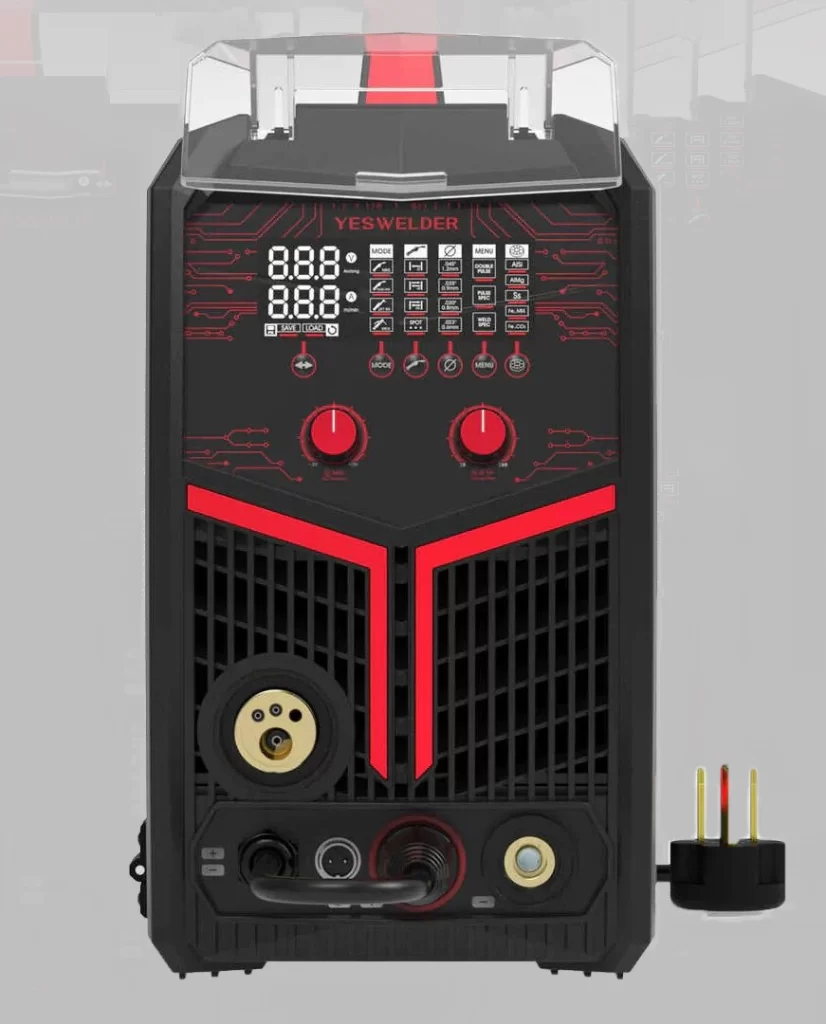 Unfortunately, this seems to be the trend in the welding market, as the many big names such as Miller, Lincoln, or Hobart sell the accessories separately. Nonetheless, buying YWM-211P won't break your bank, and the value for the money spent is excellent.
In the past year, we have written a number of reviews on welders and plasma cutters from YesWelder. If you are still interested in this brand and wish to read them, you can find links to the rest of them here.