There aren't many good TIG machines in the lowest price brackets, and since you are interested in this review, I assume that you are looking for one.
In this review, I will go over the qualities of the YesWelder IG-205DS machine and look at them from the perspective of the price-quality ratio because this is a very cheap machine.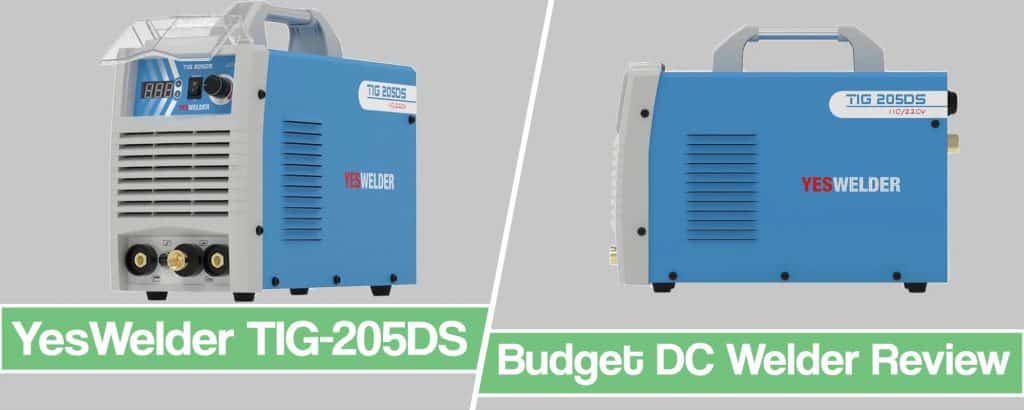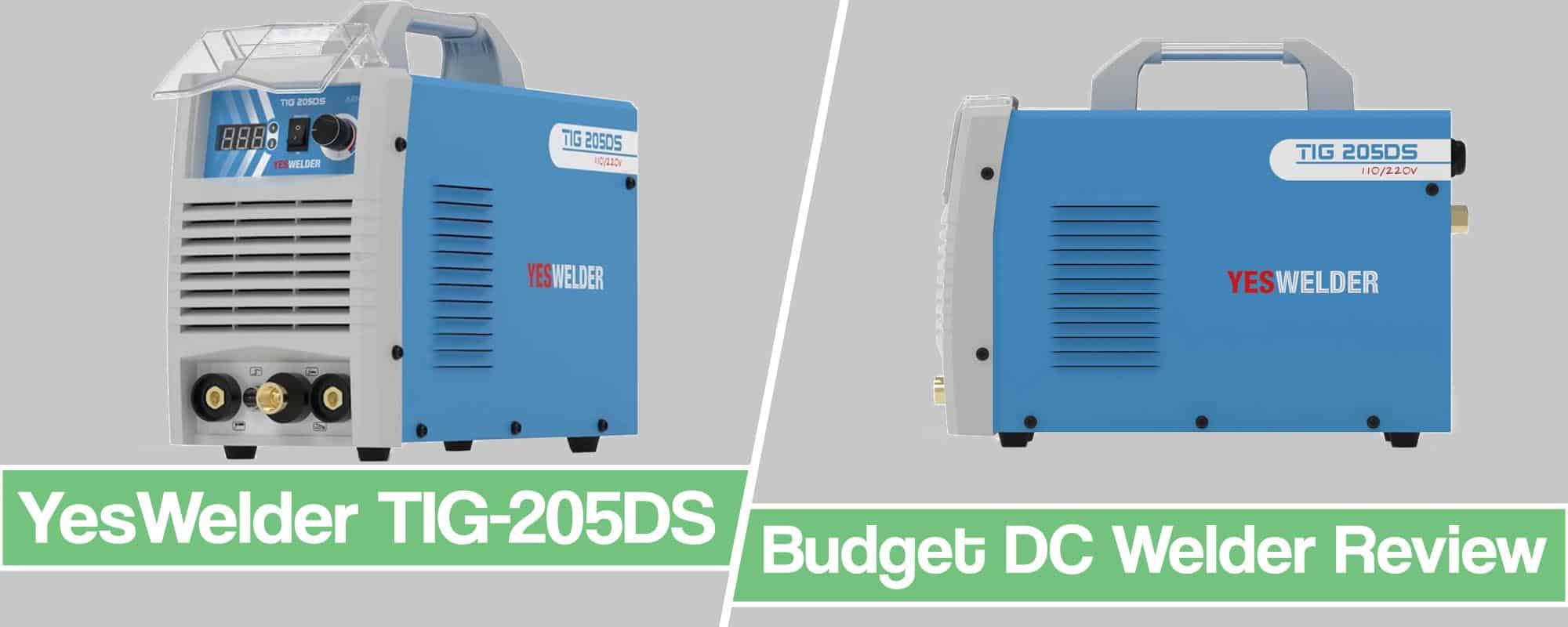 Naturally, the price is not the most relevant factor when buying a welding machine. The most crucial factor is that it works well and does not give up on you in the hour of need.
Well, in the case of this TIG welder, I think we kill two birds with one stone. Although this welding machine is priced for the lowest price range, I would easily place it in the smaller MID-range TIG machines, which are significantly more expensive.
Now let's see what I am talking about…
What is YESWELDER TIG-205DS And What is it best for?
YesWelderTIG-205DS is an affordable TIG welder that can get the job done for pretty much any DIY project, home garage, or for the light professional TIG use. Let me briefly explain why.
First of all, this machine is a High-Frequency TIG machine. Considering its price, this makes it immediately worth it, but let us not get ahead of ourselves and look at everything. HF is, as you probably know it, the best arc starting method in TIG welding, and it is reserved for the mid-range and higher TIG machines.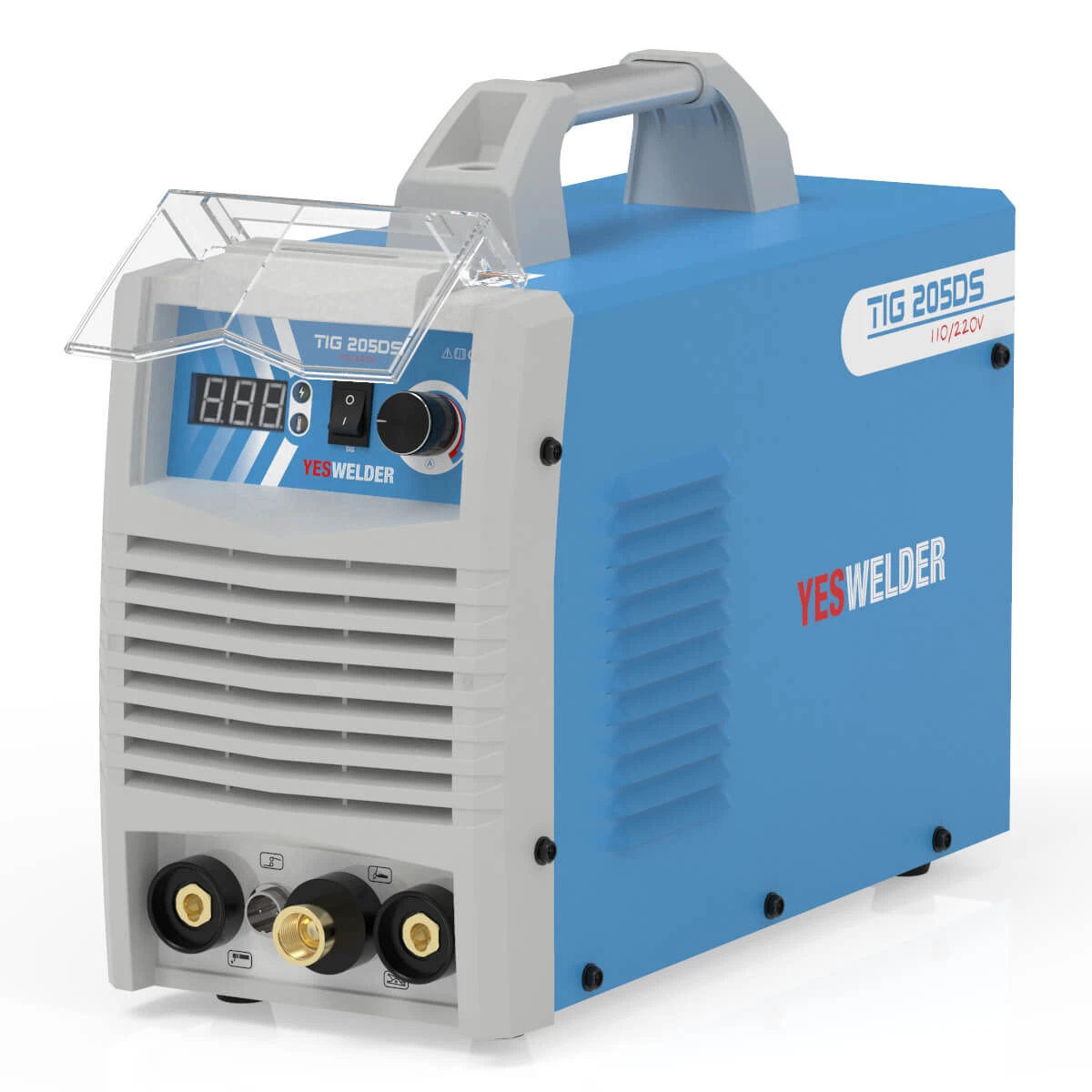 The machine has an amperage range of 15-200 amps, which is very good. It is not the best because any TIG work with thin sheets will require lower amps than 15, especially at the arc start so keep that in mind. This automatically makes the machine not really adequate for high-quality pro use, but considering its price, it is not intended for such a market anyway.
The welder is very powerful, versatile, and portable. This makes it a great starting TIG welder for people looking for an opportunity to learn, do DIY work or for the professionals who need a cheap, reliable machine that can do most of the simple work on site.
Pros & Cons Summarized
Pros
Fantastic value considering its price
Dual voltage
HF start
Easy to use for practice or as a hobby machine.
Durable and well made TIG welder
Lightweight
Welds TIG/Stick
Cons
The lowest amp setting is only 15 amps. It would allow for even thinner metals if it had ten amp setting but the fact is that considering the price, it is acceptable.
DC TIG welding only
Specifications
Processes: TIG (GTAW) Stick (SMAW).
Weldable Materials: Steel, Stainless Steel, Aluminum
Input Power: 110/220 V, 60 Hz.
Input Phase: 1-Phase.
Current Type: DC.
Rated Output Power: TIG 205 A @ 60% duty cycle.
Amperage Range: TIG 15 A – 205 A.
Weight: 34 lbs.
TIG-205DS TIG/Stick/ARC Machine
Professional TIG Torch Gun and Assembly 13 feet
Electrode Holder 10 feet
Earth Clamp 10 feet
110V/220V Adapter
2-Pin Foot pedal
One set consumables: 3 Collet(1.6MM 1/16″,2.4MM,3/32″,3.2MM, 1/8″),1 Collet Body, 3 Alumina Ceramic Cup,1 Long Back Cap,1 Short Back Cap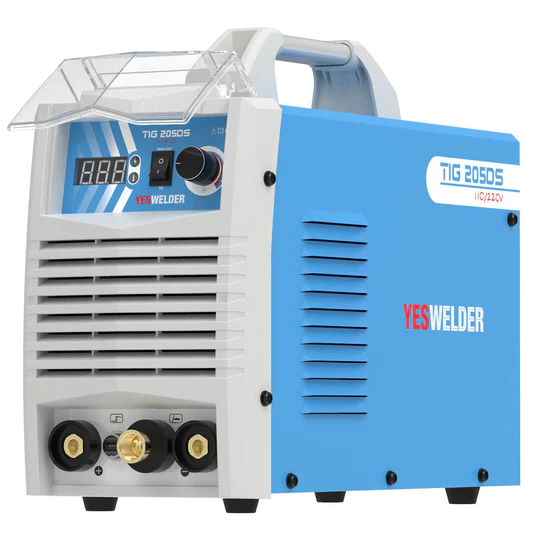 Get 10% Off With Coupon: "-10% WELDPROS"
The Best things about TIG-205DS
The Price
The best selling point of this YesWelder machine is its price. No TIG welder on the market that has these features in this price range. I was shocked when I saw that it was on sale and had to double-check that it actually has HF start. I would expect a lift arc start, but not the HF for the price.
Other than the HF, this machine offers a lot of qualities that you won't find in its competitors at this price. This is why this is its main selling point. Certainly, there are other machines with the same specs, similar or better, but their price is proportionally higher.
The Versatility
Like most welders today, this one offers you the ability to use dual volt inputs which allows you to use 110v at home or 220v input from a generator. Other than this quality, this welding machine is also a stick welder, and it comes with the stick welding gear.
This is also not a surprise as pretty much any TIG welder for sale will double as a stick/TIG, but it is good to have it as an option. I am also happy that the low cost didn't mean any equipment cutting. You get the stick and TIG gear with the machine.
The machine is also very portable which is a big plus, especially for people who are always on the go. This makes the welder a tool that can easily adjust to your work habits as it is small and lightweight. You can maneuver it whichever way you like and take it with you with ease.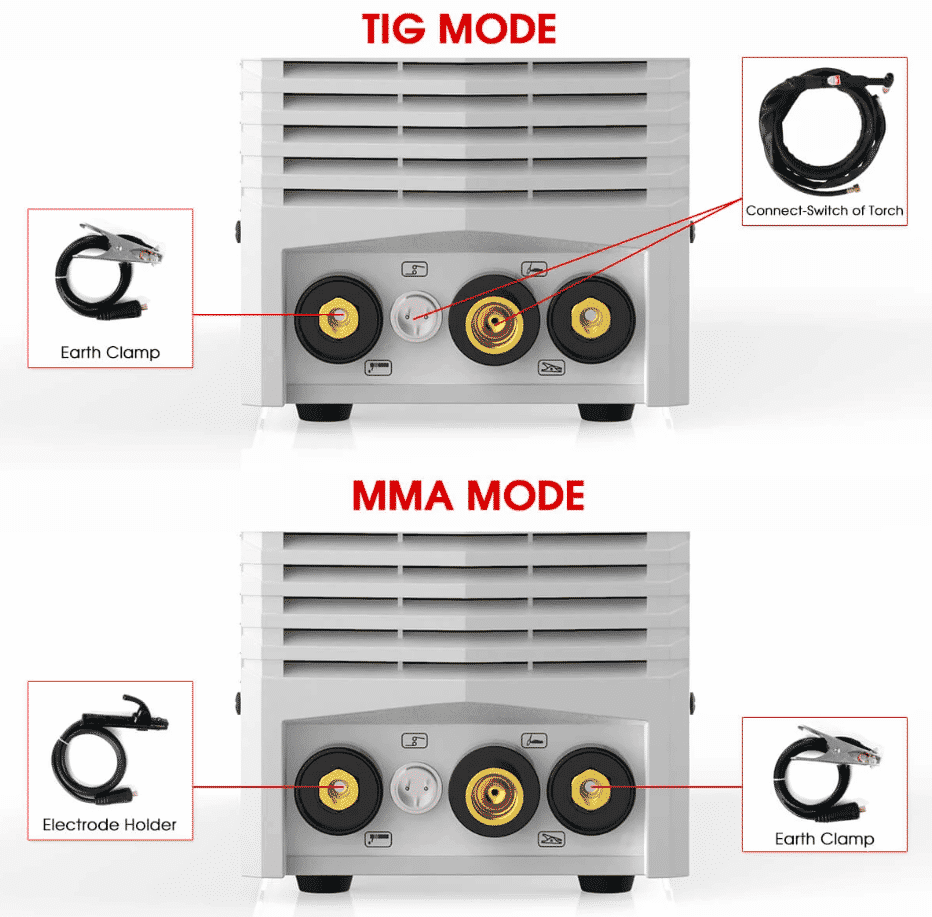 It is essential to state here that this machine is DC TIG only. Naturally, this is not a surprise considering the price. I wouldn't expect to get an AC TIG welder for the money. That is just not realistic considering all of its other qualities.
The Power
YesWelder TIG-205DS is a beautiful little welder, but it has more than just beauty to show off. It can offer severe power considering that its maximum output is 200 amps and at the 60% duty cycle.
TIG welding is a relatively slow process, and it is perfect to have a machine with a high-duty cycle, and this is where this machine really takes the cake. Also, thanks to its high amperage output, you can do some thick welding with ease. I only wish that it had the minimum amp output of at least ten amps, but I guess that would be pushing it.
When used in the home setting with the 110v input, you still get to feel its potential. Unlike most machines, this one provides you with the 165A rated at 60% duty cycle while using the regular 110v input. You will rarely need to attach it to a generator.
Ease of Use
For a TIG welder, this machine is relatively straightforward to use considering the fact that its dashboard is intuitive with an on/off switch, a few buttons and an amperage setting wheel.
It is easy to set up and use, and it has certain features that make working with it more comfortable than with most budget TIG machines.
High Frequency makes the arc starting a breeze. High-duty cycle will keep you welding with no problems, the IGBT soft switch technology helps with the arc stability without additional effort on your part, and the machine is also packed with safety features that work automatically.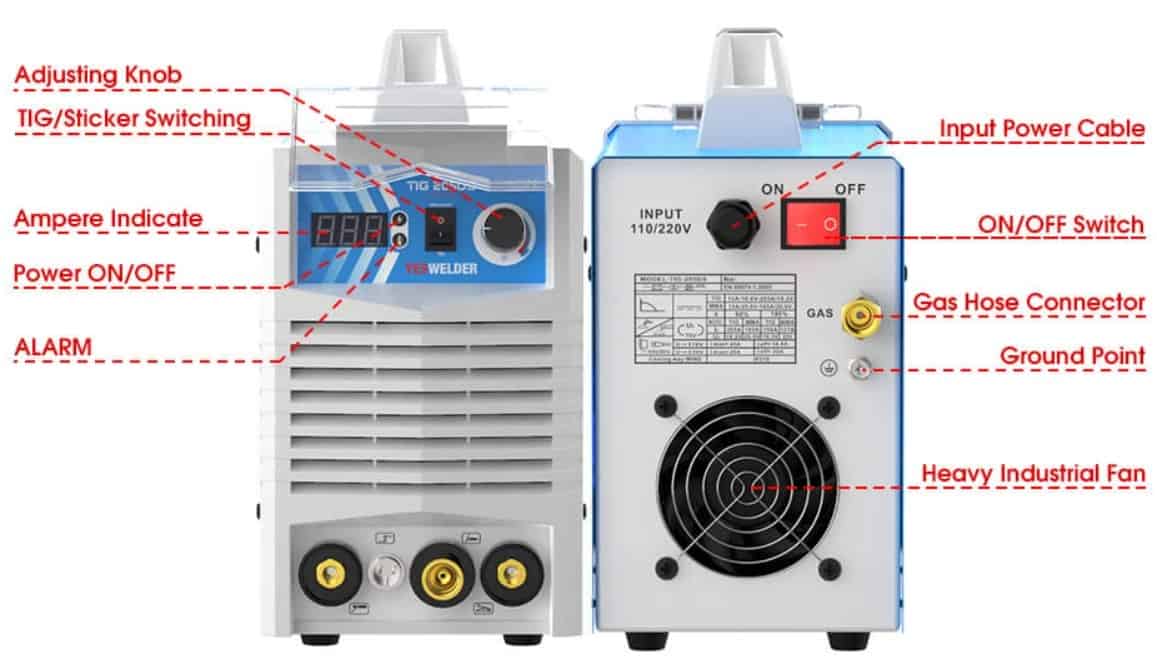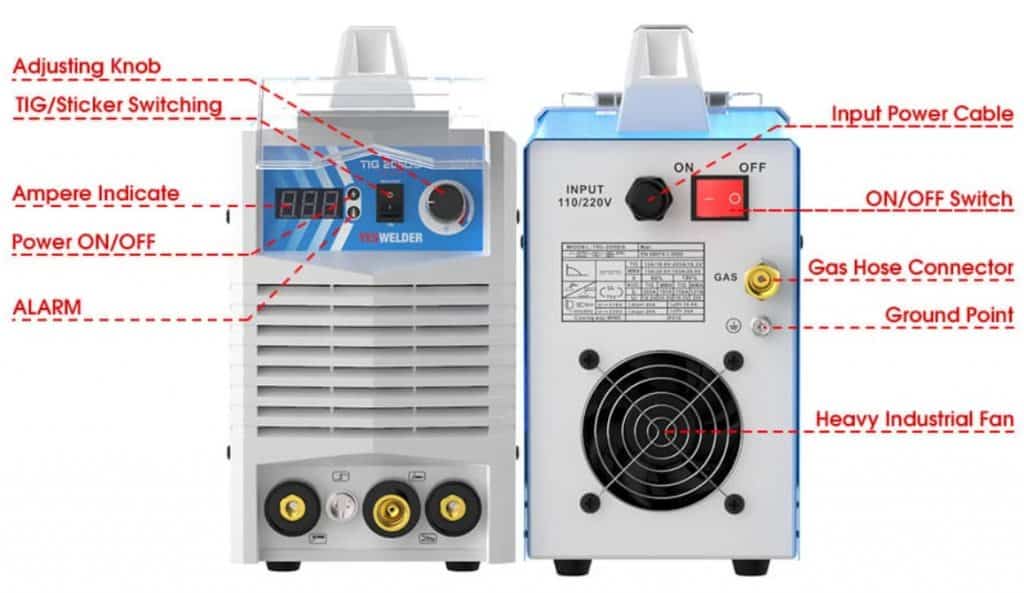 Build quality
This machine is well-built for its price and, as such, offers very good reliability. Everything on the machine appears to be packed neatly in the factory as all of the visible parts fit well alongside the other ones, everything is screwed together tightly and nothing is made of that really cheap kind of plastic.
The machine has a great protective clear plastic lid over the control dashboard, the ventilation holes are well-made, and the welding machine is overall as durable or more than those in the similar or higher price brackets.
The TIG/Stick gear is good and will last quite some time if you take care of it. Overall, the machine has a high-quality build.
Conclusion
Since this is a very cheap machine, the main emphasis of mine during the review was the amount of quality it offers for such a low price. The fact of the matter is that you will not find a TIG welder with all of these features (especially HF) in this price range. To make things better, the machine is actually of good quality and offers a lot of power and great portability.
An initial thought would be that the machine is HF and low price just to catch one's eye and that they saved the money on everything else, but that is not the case. Everything is well-made and better than the machines of a similar price. I love this little machine, and I hope you found the review helpful.
In the past year, we have written a number of reviews on welders and plasma cutters from YesWelder. If you are still interested in this brand and wish to read them, you can find links to the rest of them here.