Plasma cutters have become an essential part of modern fabrication shops or home workshops, which many DIY and welding enthusiasts love. But what if I tell you you won't have to spend a fortune on a capable and compact cutter?
Today, we will talk about The YesWelder CUT-65DS, a budget-friendly plasma cutter with a blow-back start that will get you far.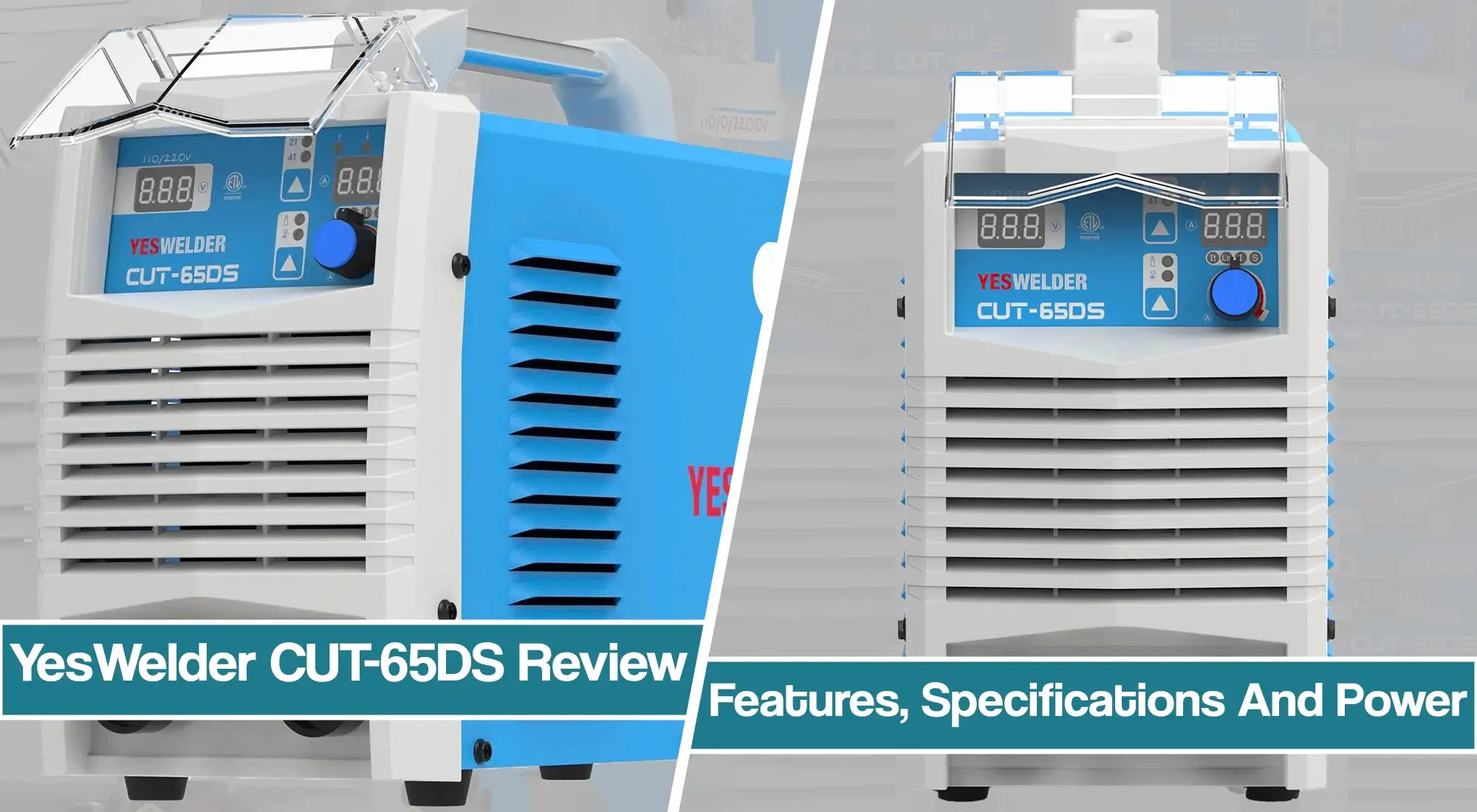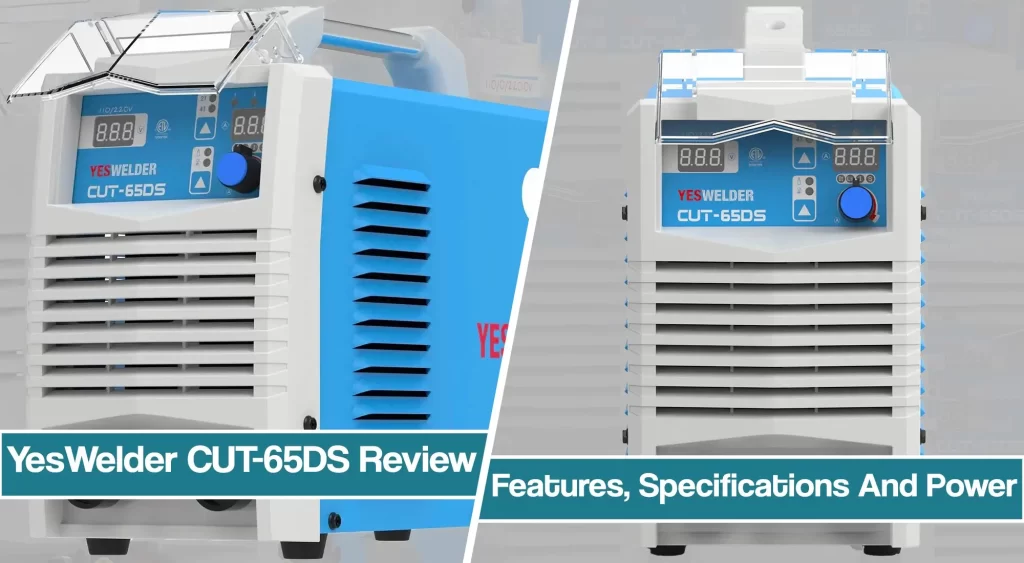 This tuned-up version of YesWelder Cut 55DS offers excellent value for the money spent. Let's see what this little machine offers in our YesWelder CUT-65DS review.
YesWelder CUT 65-DS Package Content And Technical Specifications
Let's start our review by looking into the package content and technical specifications. Some experienced welders can tell if this is a suitable machine just by looking at these two, so let's dig in.
When buying YesWelder CUT-65DS, for the money spent, you get:
No Touch Pilot Arc Cutter
13″ IPT40 Plasma Cutting Torch
110V to 220V Power Adapter
10″Earth Clamp and Cable
Gas Hose
Air Compressor Filter
User manual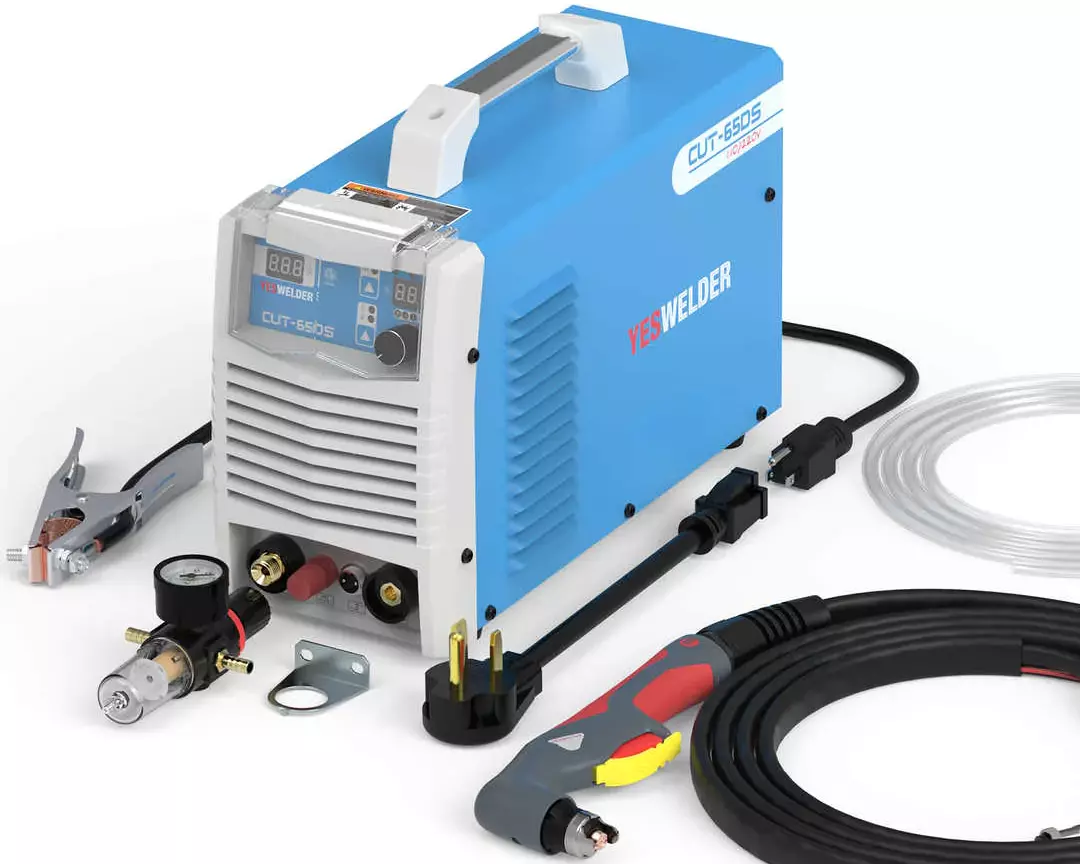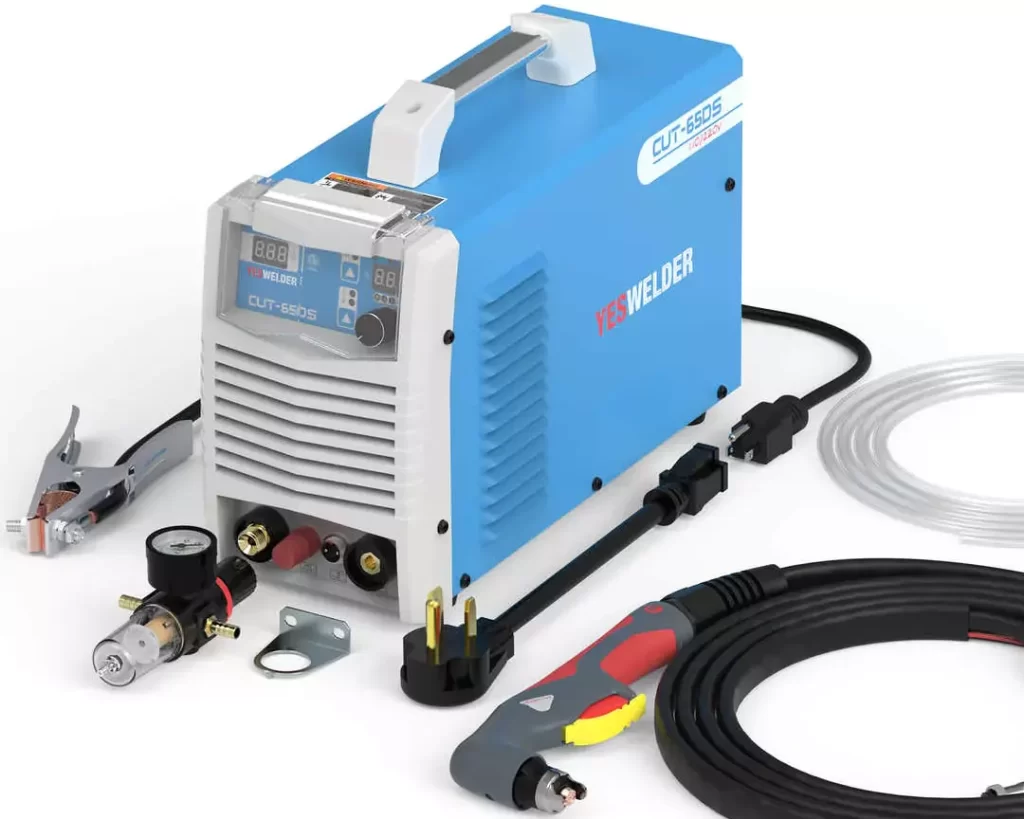 Get 10% Off With Coupon: "-10% WELDPROS"
YesWelder kept their package content pretty straightforward, so you will get everything you need to cut straight out of the box. IPT 40 Plasma cutting torch with 13″ lead is pretty decent and comfortable, but the biggest drawback compared to YesWelder CUT-55DS is you don't get any spare consumables.
Nonetheless, you get an air compression filter that is easy to mount and will keep the moisture out of your plasma cutter, prolonging its lifespan. One of the common issues that many welders on the internet mention are the consumables. Most likely, you won't find matching consumables in your welding shop, but with the evergrowing popularity of YesWelder machines, I doubt that will be the case in the future. In addition, you can buy matching consumables off the YesWelder website.
Technical Specifications
Input Current:
110/220V
Recommended Circuit Breaker (220V @ max output):
63A
Air Compressor Requirement:
4-7CFM @ 72PSI
Max Input:
33A @220V
35A @110V
Output Current:
10-43A @ 220V, 43.5-58 PSI
10-25A @110v, 58-72 PSI
Ideal Clean Cut:
5/16″ @ 110V,
5/8″@ 220V
Maximum Severance Cut:
5/8″ @ 110V,
63/64″ @220V
Duty Cycle :
100% @ 45A,
60 % @ 65A
Cuttable materials:
Stainless steel, alloy steel, mild steel, copper, aluminum, and other color metal materials.
Dimensions:
19.2″ *15″* 11.45″
Weight:
21.8lb
YesWelder CUT-65DS Review – Features, Controls, and Cutting Power
After going through the package content and specifications, let's see the features, controls, and, most importantly, the cutting power of YesWelder CUT-65DS. Finally, since things and features can seem significant on paper but differ in practice, let's see where CUT-65DS ranks.
YesWelder CUT-65DS Features
YesWelder plasma cutters are known for their price-to-value ratio, as many welders and fab shop owners recognize them as suitable but budget-friendly and compact machines. However, CUT-65DS introduces a blow-back start that is ideal for various applications.
Blow-back (Non-HF) Start
Blow-back start feature wasn't part of the previous YesWelder CUT-55DS. Using this technology, a moveable, spring-loaded electrode and a DC spark start the plasma stream. As a result, the machine doesn't emit substantial electromagnetic interference (EMI). So what does that mean for you? It means you can use your plasma cutter around CNC microcontrollers and electronics that have not been engineered to withstand high levels of electrical noise.
Nonetheless, since it is a bit complex, this type of start requires somewhat pricier consumables, but it is well worth it if you incorporate it with your CNC table.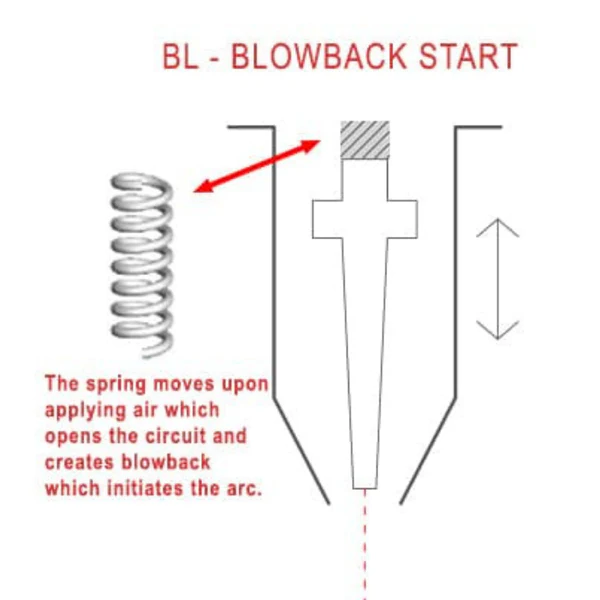 However, it is scarce to see a budget-friendly and hobbyist-aimed plasma cutter without a high-frequency start on the market. Usually, pricier and professional-grade machines such as Hypertherm Powermax 45 are compatible with CNC tables, while hobbyist cutters such as Eastwood Versa Cut 40 or Forney Easy Weld 20P.
Pilot Arc Torch
A pilot arc torch is another helpful feature that is, luckily, part of most plasma cutters, including CUT-55DS and CUT-65DS, today. Pilot arc technology helps you cut without actually touching the metal. This is quite a useful feature when cutting rough, painted, and rusty surfaces as it will prolong the consumable life.
In addition, the pilot arc grants an excellent and reliable start, regardless of the condition of the material. This makes it an essential feature for any CNC operation.
CUT-65DS Controls
Besides useful features, YesWelder CUT-65DS offers decent controls that will help you fine-tune your plasma cutting operation.
The control panel is relatively straightforward and intuitive so you won't have any issues adjusting the machine.
The control panel has a digital display showing exact values, two buttons that will help you switch between 2T/4T modes and gas cutting/checking, and an infinitely adjustable knob.
You can use a 2T mode for short cuts and 4T to reduce hand fatigue when dealing with longer cuts.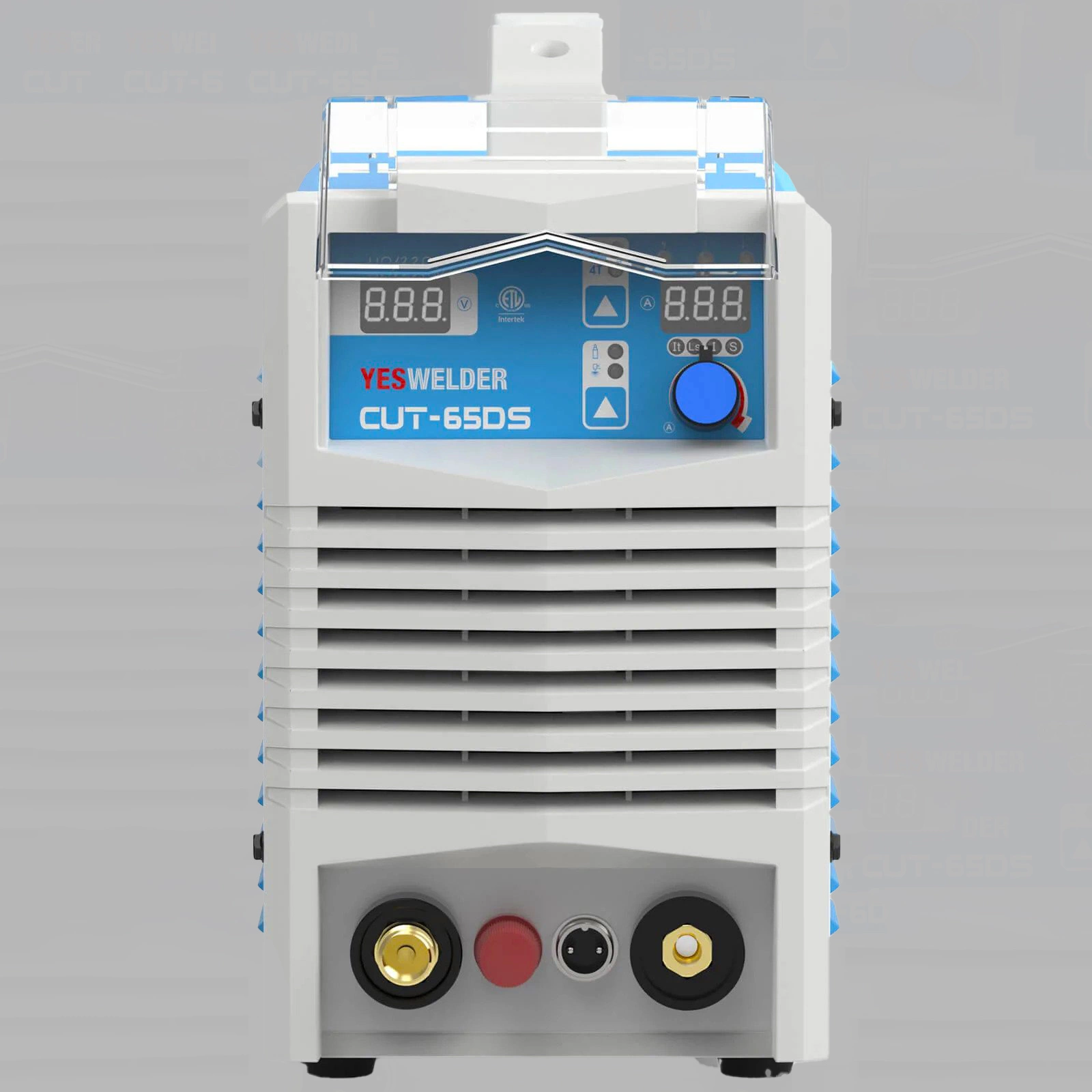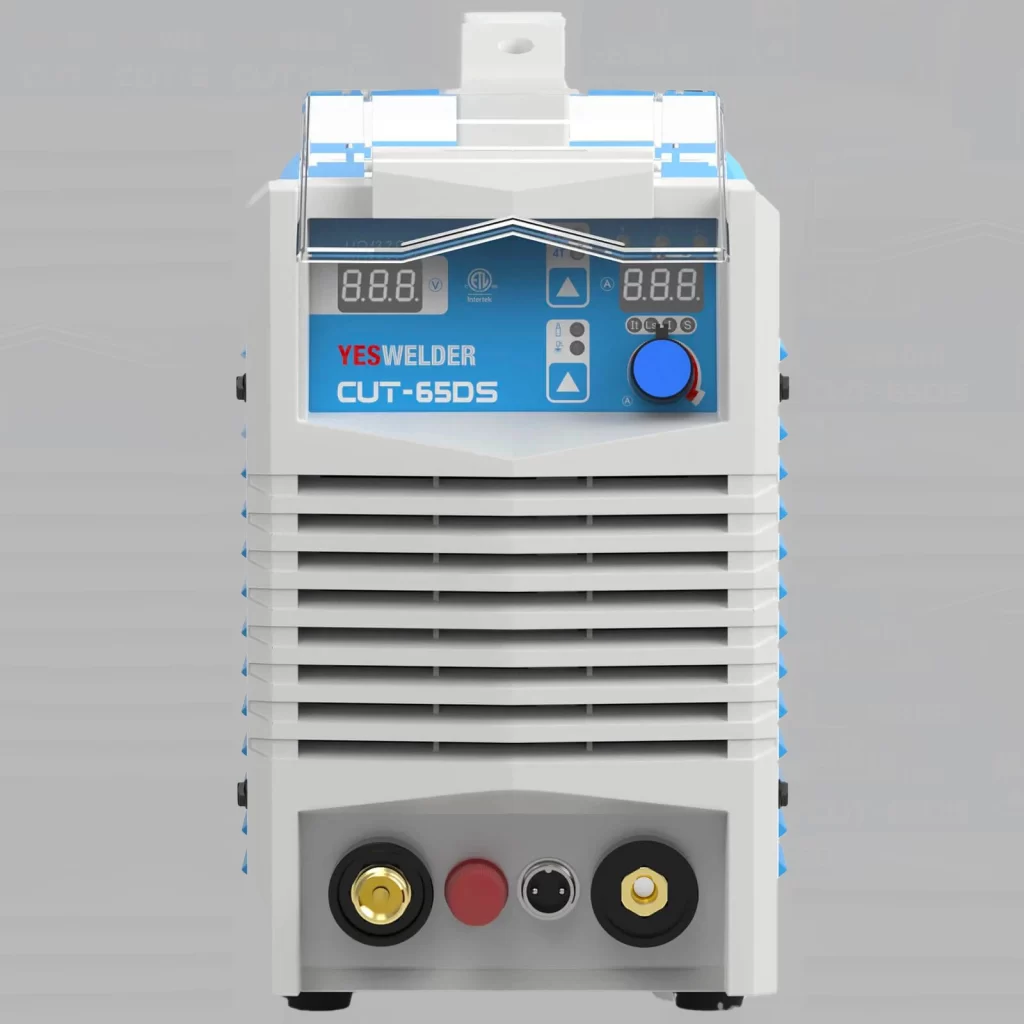 This is quite helpful control you also find in many plasma cutters, including CUT-55DS, but the improvement we see is pilot arc time in 12-20 seconds, pilot arc current in 12-20 amps, plasma cutting current controls, and post flow.
Pilot arc time and current will help you adjust and achieve a perfect start each time, according to the material thickness. Fine arc start settings are pretty important when using a CNC table. In addition, post-flow settings will cool down your torch, extending its lifespan and the lifespan of consumables.
One of the things a lot of hobbyists and beginners disliked is the fact you don't get any recommendations regarding the settings. Therefore, you will have to experiment on scrap metal until you reach the sweet spot. When cutting thicker materials, here are some guidelines that will help you start:
1/8′ metal: 35 A, 40 PSI
1/4′ metal: 45 A, 50 PSI
1/2′ metal: 55 A, 65 PSI
YesWelder CUT-65DS Cutting Power
And in the end, the most important thing you all probably have been wondering about. How powerful is YesWelder CUT-65DS? To keep things as simple, you will be surprised with the cutting power. YesWelder CUT-65DS is a dual voltage machine, meaning you can plug it into a 110V outlet to cut thin or 220V power to cut thicker materials.
110V Cutting Power
When plugged at 110V, CUT-65DS output up to 45 amps. As a result, you can clean-cut materials up to 5/16 inches thick. Although the manufacturer states a maximum cut of up to 5/8″ when plugged into a 110V, it will take you ages, and you will have issues starting and maintaining an arc, so I don't recommend trying it. Comparison-wise, CUT-55DS should also provide a clean cut at 110V when dealing with 5/16″ materials.
If you feel like struggling to start, cut, or maintain an arc, you should switch to 220V using a simple adapter that is provided.
220V Cutting Power
If you commonly deal with thicker materials in your shop, you should switch to 220V, and that's where CUT-65DS starts to shine. Even though specifications recommend a 63 amp breaker for maximum power, some welders did it with a 50 amp dedicated breaker, but usually during shorter cuts. When plugged into 220V, CUT-65DS cuts through 5/8″ thick steel like butter. This is a significant improvement over CUT-55DS, which would struggle with anything over 1/2″. In addition, most hobbyist machines rated at 40-50 amps, such as Hobart AirForce i40, and Eastwood Versa Cut 40, will only get you up to 1/2″.
Therefore, if you are dealing with thick materials in your shop, CUT-65DS is definitely a suitable machine. However, if you tackle up to 1/2″ materials, you could look for CUT-55DS or even all-in-one machines we warmly recommend, such as YesWelder FIRSTESS CT2050 Powerful 7-in-1 Welder & Cutter.
Duty Cycle and Severance Thickness
YesWelder CUT-65DS uses an IGBT inverter technology that makes it highly efficient and powerful. Innovative technology results in a high-duty cycle, rated at 60% at a maximum output of 65A.
As a result, you can cut at full power for 6 minutes straight before the machine overheats and shuts down for a 4-minute break. On the other hand, cutting at 45 amps allows for a 100% duty cycle, meaning you won't have to make occasional breaks, increasing overall efficiency.
When talking about maximum severance thickness, YesWelder claims 63/64″ at 220V. Cutting 1-inch thick metals will take ages, and there is no guarantee you will succeed.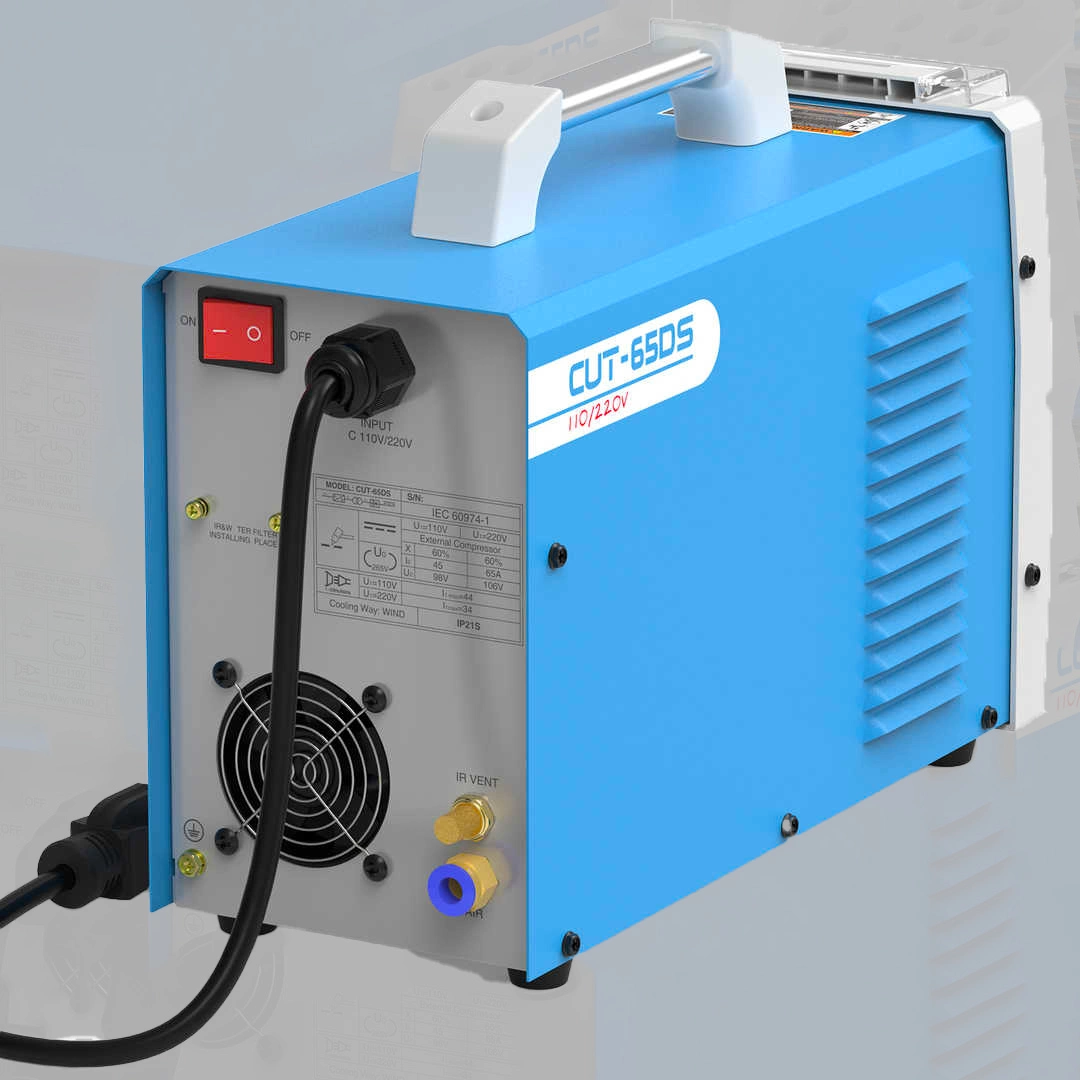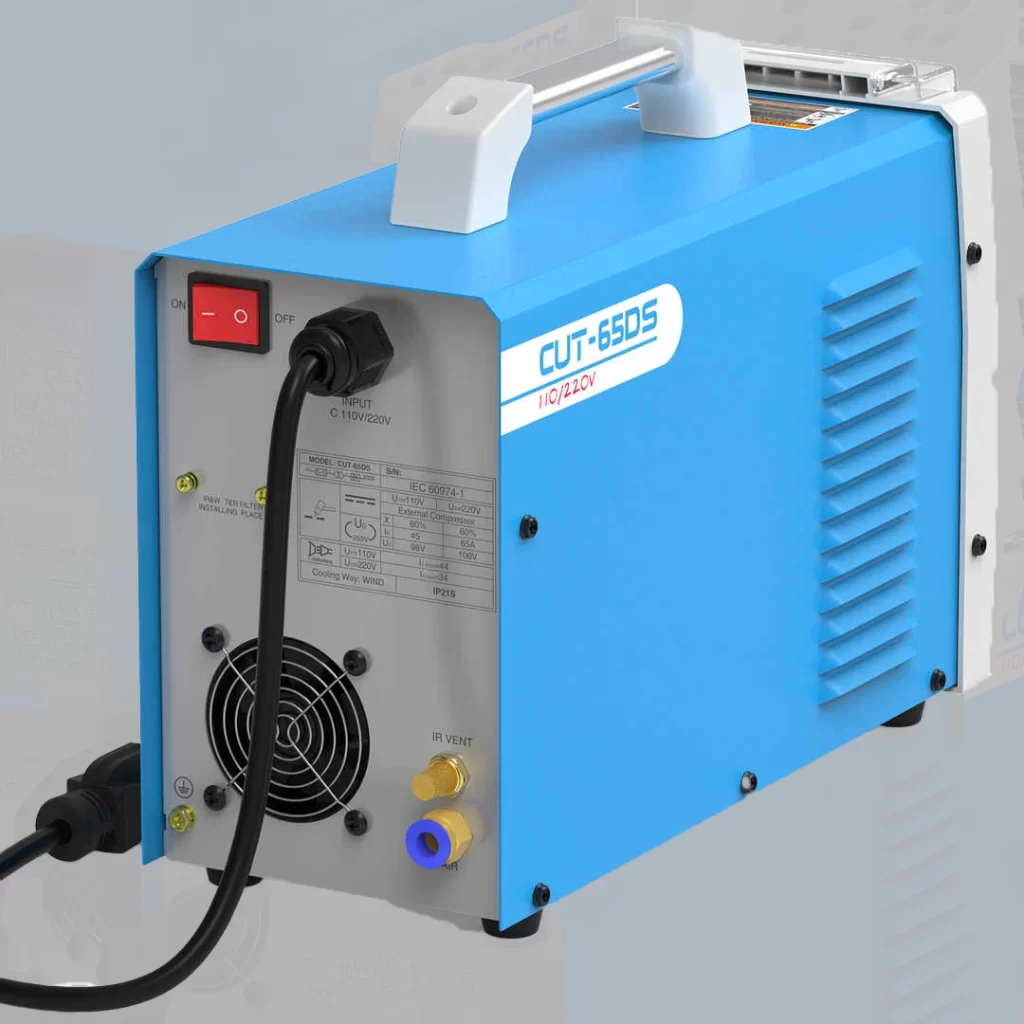 Even though it is possible, over-forcing your machine can flip breakers and cause permanent damage to components, so I recommend it only when you absolutely must do it.
YesWelder CUT-65DS Cut Quality
I was absolutely surprised by the cut quality of the CUT-65DS. As long as you cut the metal that is in between clean-cut boundaries, you will get excellent results. I did notice some dross in the back of the cut piece, but you can easily trim it off with a simple chipping hammer.
As a rule of thumb, the thicker the materials, the worse the cut quality. However, CUT-65DS doesn't have to be the case, as many welders accomplished decent cut quality results after cutting materials thicker than 1/2″, which often is not expected of budget-friendly and hobbyist-aimed plasma cutters.
Pros And Cons Of YesWelder CUT-65DS Summarized
Overall, YesWelder CUT-65DS is quite capable and budget-friendly plasma cutters you can use for everyday light to medium-duty DIY projects or small fab shops. This plasma cutter offers everything you need for everyday cutting of various metals, up to 1 inch thick.
I like the out-of-the-box performance and reliability, but there are no additional consumables that will keep you going for too long. Nonetheless, with advanced features such as non-HF start (blow-back), you will find it more than helpful in everyday applications.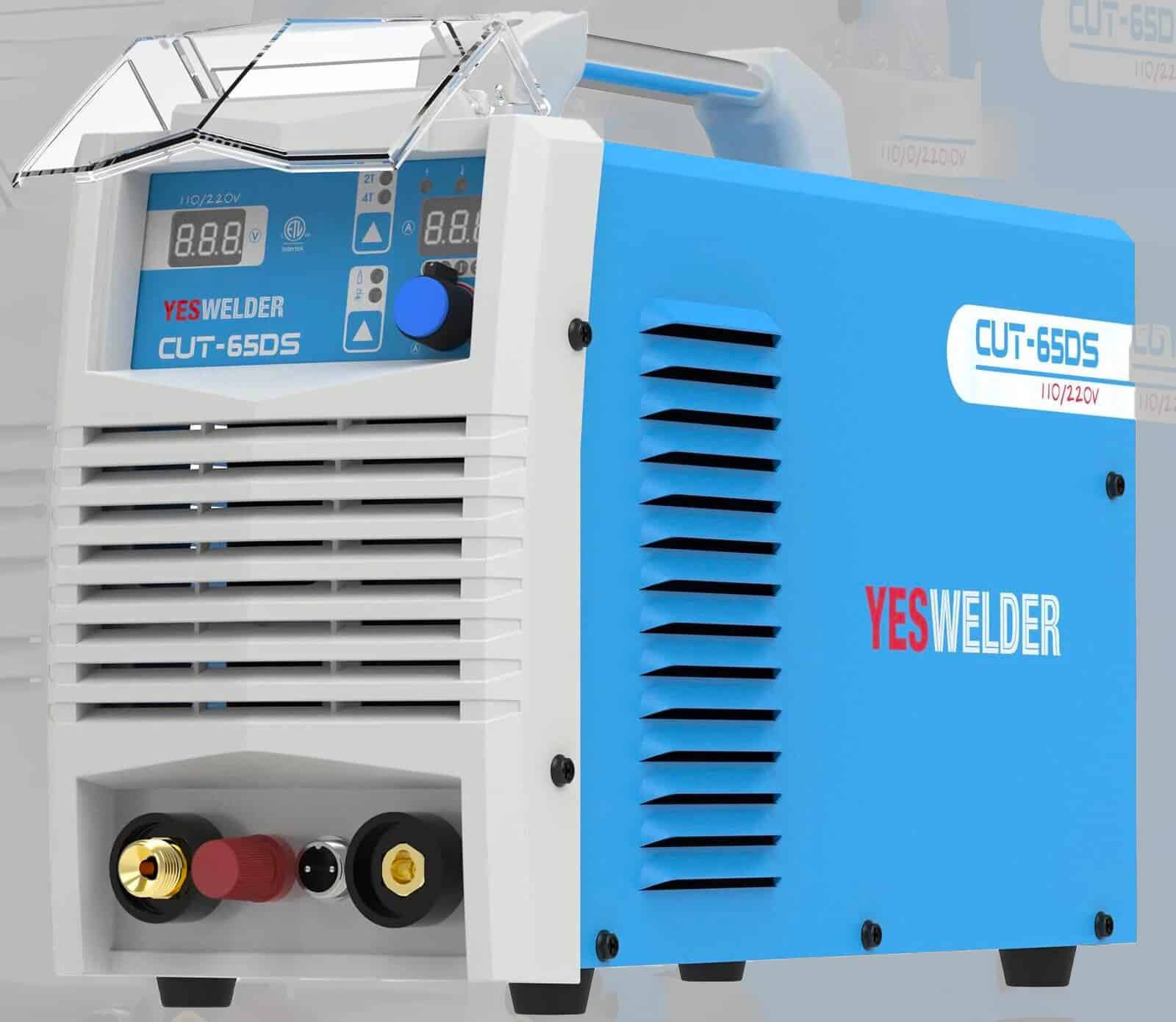 The cut quality is outstanding, even when dealing with thicker materials, but you might have to chip off the dross occasionally. Also, I was not too fond of the fact you have to experiment with settings until you get them right, and it might be a drawback for all the beginners out there.
Nonetheless, with cutting power and cut quality, supported by advanced features such as pilot arc, blow-back start, and intuitive controls, YesWelder CUT-DS is the best for money plasma cutter I warmly recommend.
In the past year, we have written a number of reviews on welders and plasma cutters from YesWelder. If you are still interested in this brand and wish to read them, you can find links to the rest of them here.