While TIG welding can be challenging to master, you can do it properly as long as you have the right tools. The latest addition to the YesWelder line-up, the YesWelder TIG-225P, is just the suitable machine to do it.
YesWelder TIG-225P is a 5-in-1 machine capable of high-frequency TIG, Lift TIG, Pulse TIG, Cold Spot TIG, and Stick welding. As a result, this welder offers a great combination of features for everyday TIG/Stick projects.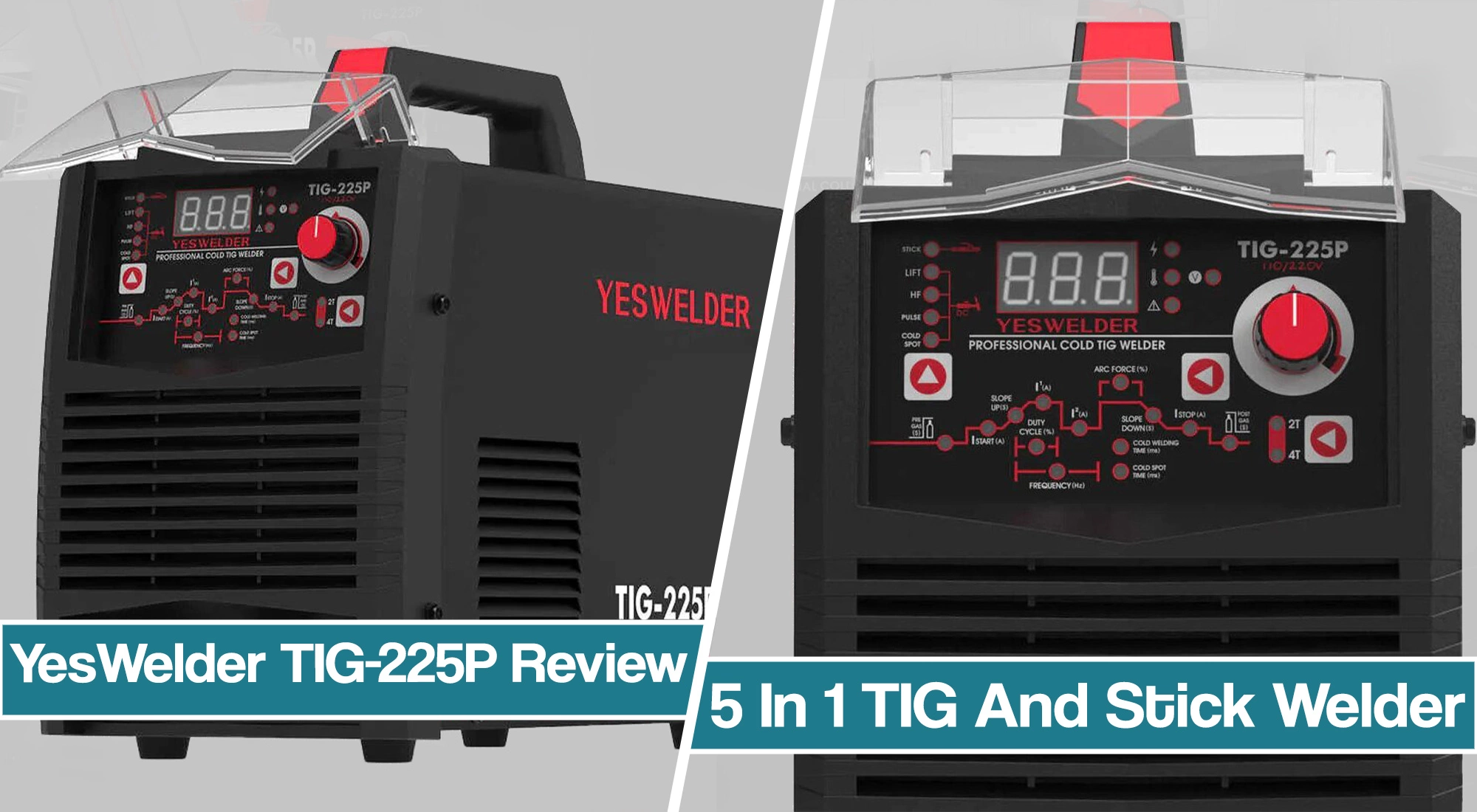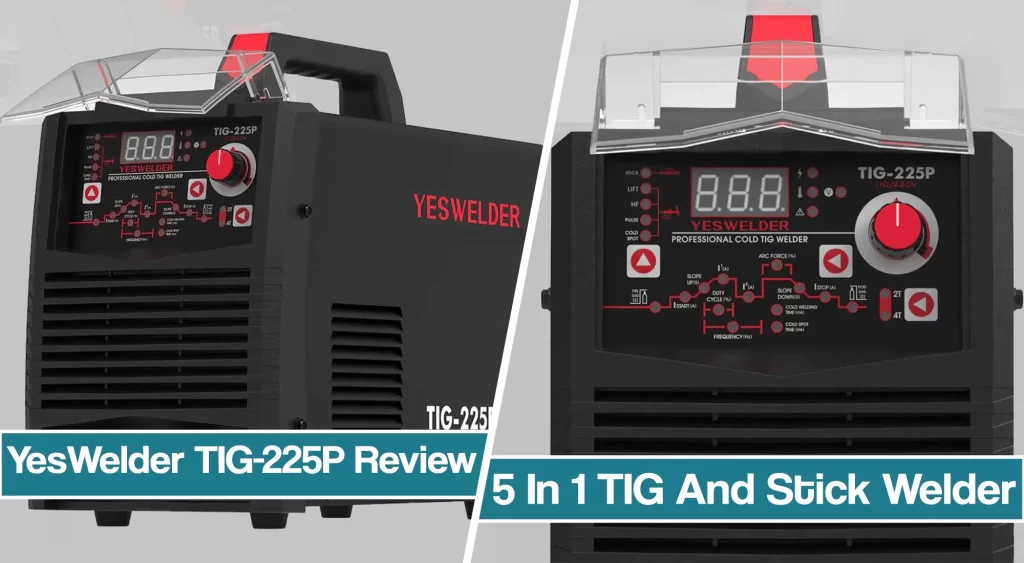 In this YesWelder TIG-225P review, we will discuss package content, specifications, features, and capability.
YesWelder TIG-225P Package Content and Technical Specifications
Since YesWelder units are known for their value for the money spent, we will first start by overviewing the package content. Let's see if TIG-225P keeps up with the trend of best-for-money machines. When investing in YesWelder TIG-225P, for the money spent, you get:
Work Clamp
Electrode Holder
Gas Hose
220V-110V Adapter
WP-17V TIG Torch with Consumables
WP-9 TIG Torch with Consumables
Foot Pedal
Instruction Manual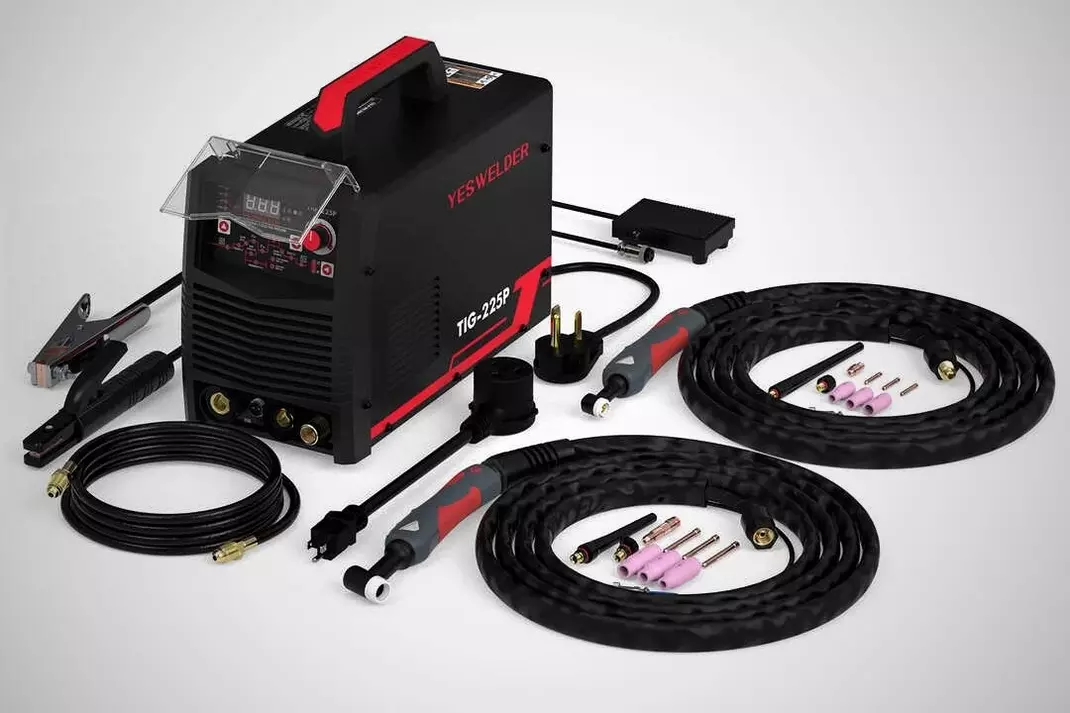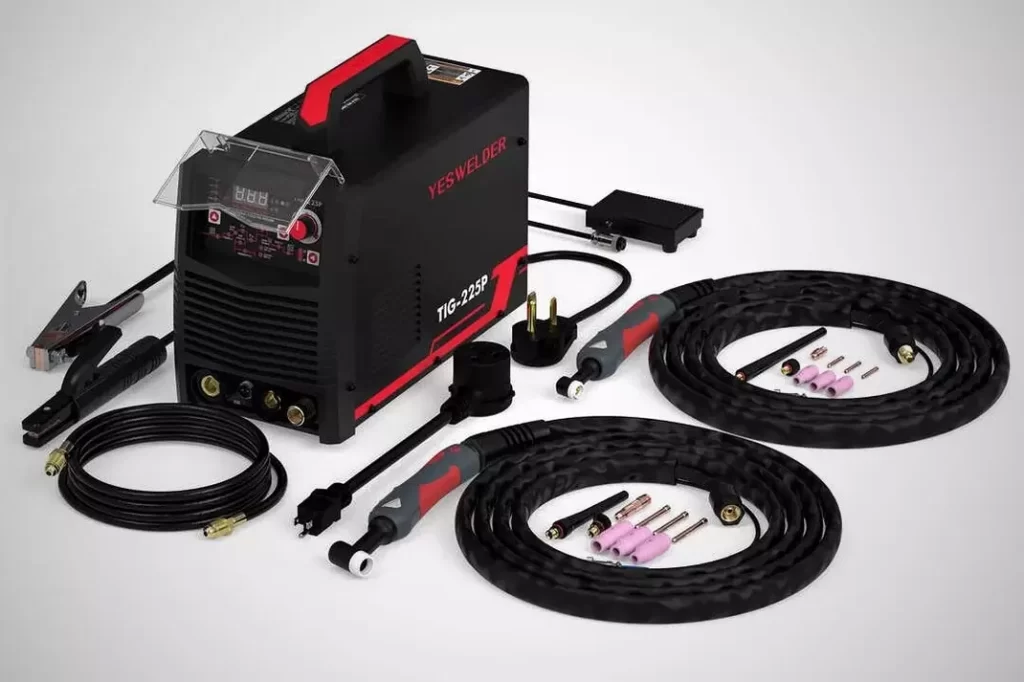 Get 10% Off With Coupon: "-10% WELDPROS"
Looking at the YesWelder TIG-225P package content, you get quite a few things for the money spent. The biggest surprise is the two included TIG torches with accessories. You rarely see two torches in this price range, and I love the fact you can use WP-9 Torch to reduce hand fatigue when dealing with light-duty projects but also switch to WP-17 Torch when tackling more complex tasks. The consumables you get with the torches add value, but they will only last for so long.
Another great addition is the included foot pedal with a two-pin connection. The foot pedal will help you control your amperage perfectly, and it has become a standard part within newer machines, such as Eastwood TIG 200. However, the pedal doesn't look that heavy-duty, but it is still a good addition.
While you get a gas hoose, YesWelder doesn't include a gas flow regulator or tungsten. That's the trend with most YesWelder machines, but some manufacturers, such as Eastwood, usually offer one in the package. Nonetheless, you get a Stick electrode holder, which is comfortable and durable.
Technical Specifications
Input Voltage/Frequency:
220V/110V±10%
50/60Hz
Input Phase:
Single phase,
DC Only
Input Current:
I1 max=42.5A, I1 leff=32.7A
I1 max=45A, I1 leff=34.8A
Open Circuit Voltage (OCV):
60V
Output Power (220V):
TIG 5-225A;
Stick 5-225A
Output Power (110V):
TIG 5-155A;
Stick 5-155A
Voltage Range (220V):
TIG 10.2V ~ 19V;
Stick 20.2V ~ 29V
Voltage Range (110V):
TIG 10.2V ~16.2V;
Stick 20.2V ~ 26.2V
Rated Duty Cycle (220V):
TIG 60% at 225 A;
Stick 60% at 225 A
Rated Duty Cycle (110V):
TIG 60% at 155A;
Stick 60% at 155 A
Efficiency:
>80%
Dimensions (L x W x H):
14.9 in.; 7.3 in.; 12.7 in.
Weight:
19 lbs
YesWelder TIG-225P Review – Build Quality, Input and Output Power, Controls and Features
YesWelder TIG-225P Build
Since the YesWelder TIG-225P is a part of a new line-up, the build combines the characteristics of the old machines such as TIG-250P and the latest welders such as YWM-200 or MP200. Therefore, the welder case has the shape of the old YesWelder welding machines we loved, but the latest welders' black/red color theme.
Overall, TIG-225P seems like a well-constructed and sturdy machine that is built to last. Another combination of the new and the old is in the weight.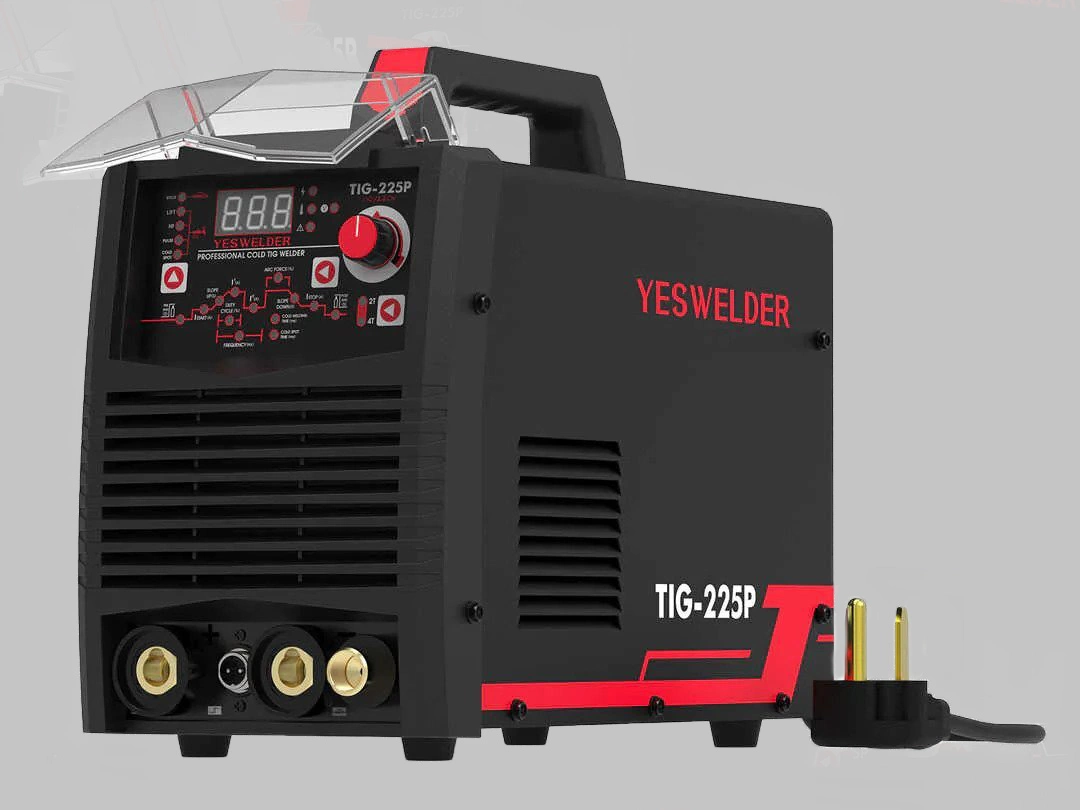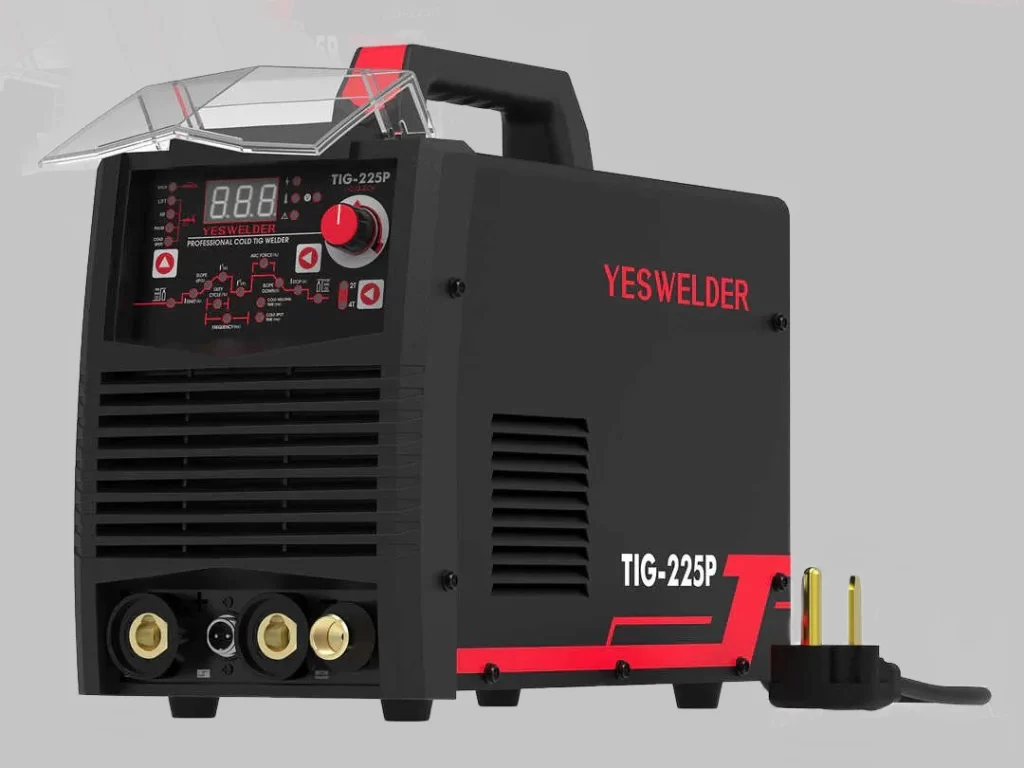 YWM models took a somewhat different approach, so they are uncharacteristically heavy with 40 lbs, while TIG-225P looks after older machines, so it is only 19 lbs. Therefore, YesWelder TIG-225P is a lightweight but sturdy and durable machine you can easily carry around the workshop.
Input Power And Current
YesWelder TIG-225P is a dual voltage machine that provides excellent versatility. As a result, you can use a 110V input to plug it into a regular household outlet and deal with everyday light-duty projects and repairs at an output of 155 amps.
Once you feel like you need more power, you can use a simple 110/220V adapter to plug it into a dedicated 220V outlet. As a result, you get a maximum output of 225 amps which will help you tackle more complex projects and thicker steels.
Remember that TIG-255P is a DC-only machine, meaning you cannot use it for TIG aluminum welding. Even though it offers a high-frequency start that prevents tungsten contamination or inclusion, you still won't be able to tackle aluminum. However, looking at the price range, several hobbyist machines such as YesWelder TIG-250AC/DC or Eastwood TIG 200 AC/DC will allow you to use AC current and weld aluminum. Therefore, you might have to look further if you plan to TIG weld aluminum occasionally.
YesWelder TIG-225P Controls and Features
The control panel of the TIG-225P 5 in 1 Stick/TIG welder might seem a bit more complex to a beginner, but once you get the hang of it, the controls are intuitive and easy to use.
There is only one infinitely adjustable knob and three different buttons with an easy-to-see display.
The knob will help you precisely control the current and adjust other settings. On the other hand, the buttons will help you select between 2T/4T mode,
choose between Stick, Lift TIG, High-Frequency TIG, Pulse TIG, Cold Spot TIG, and control options such as preflow, starting current, slope, etc.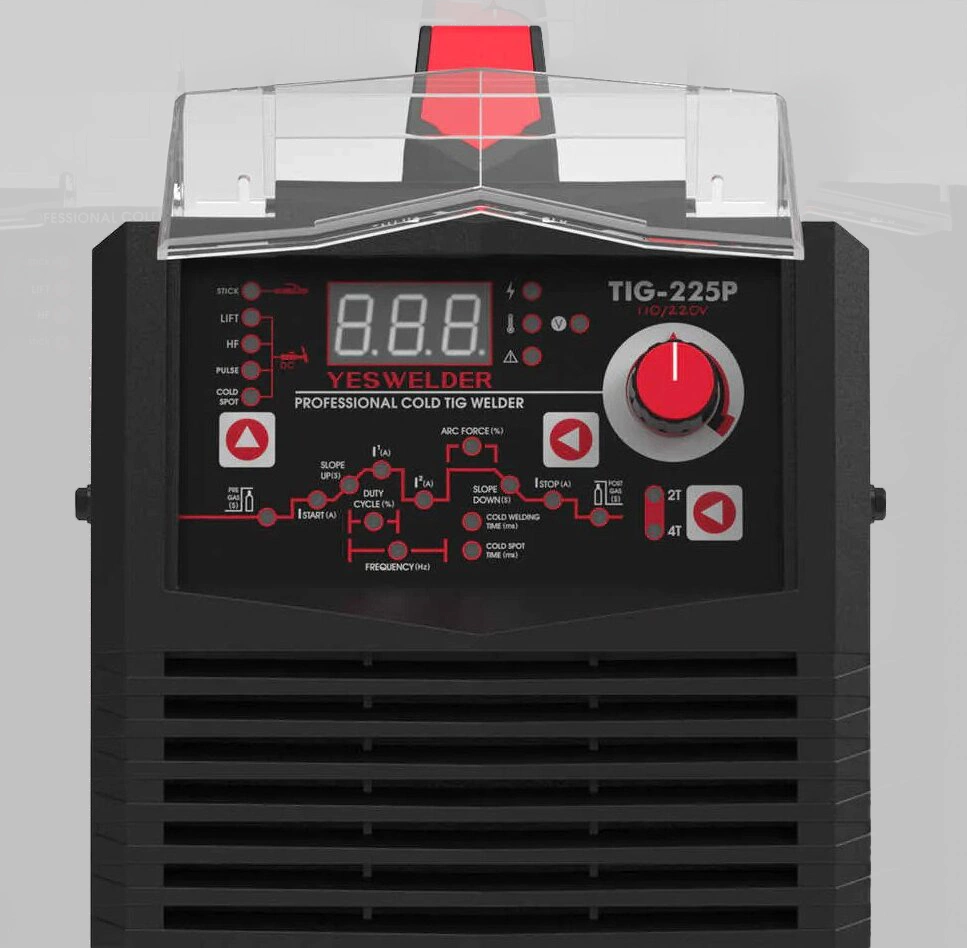 Each of these features will help you fine-tune your machine and get the best results when TIG welding exotic materials, which can be challenging to weld. TIG-225P will allow you to set the pre-flow and starting amps to weld delicate materials. That way, the machine will begin at lower amperage and gas flow to protect the weld, avoid distortion band melt-through, and gradually reach the selected amperage.
After you are done welding, you can tune the downslope amperage and post-flow rate. With a downslope, the amperage will gradually lower, allowing you to fill the crater to the point when there is no over-melting. In addition, post-flow will help you cool down your torch.
Even though it might take some time to master the controls, the overall results are satisfying. In addition, you can use the provided foot pedal to control the entire welding process remotely so that you can focus your hands on the puddle control.
TIG Welding With YesWelder TIG-225P
The YesWelder TIG-225P offers four different TIG welding options, with the power of 5-225 amps at 220V or 5-155 amps at 110V. In addition, the rated duty cycle of 60% at the maximum output at either 110/220V will help you weld for more extended periods. If you are unfamiliar, the 60% duty cycle means you can weld for 6 minutes straight at the maximum output before making a four-minute break. Comparison-wise, many brand name manufacturers such as Miller, Hobart, or Lincoln offer TIG machines, rated at 20-30% duty cycle.
As for the TIG welding options, you get Lift TIG, HF TIG, Pulse TIG, and Cold Spot TIG. Lift TIG is a somewhat basic option that some welders still prefer, but most people avoid it since it requires tungsten to touch the base material. Therefore, there is a risk of contamination and tungsten inclusion.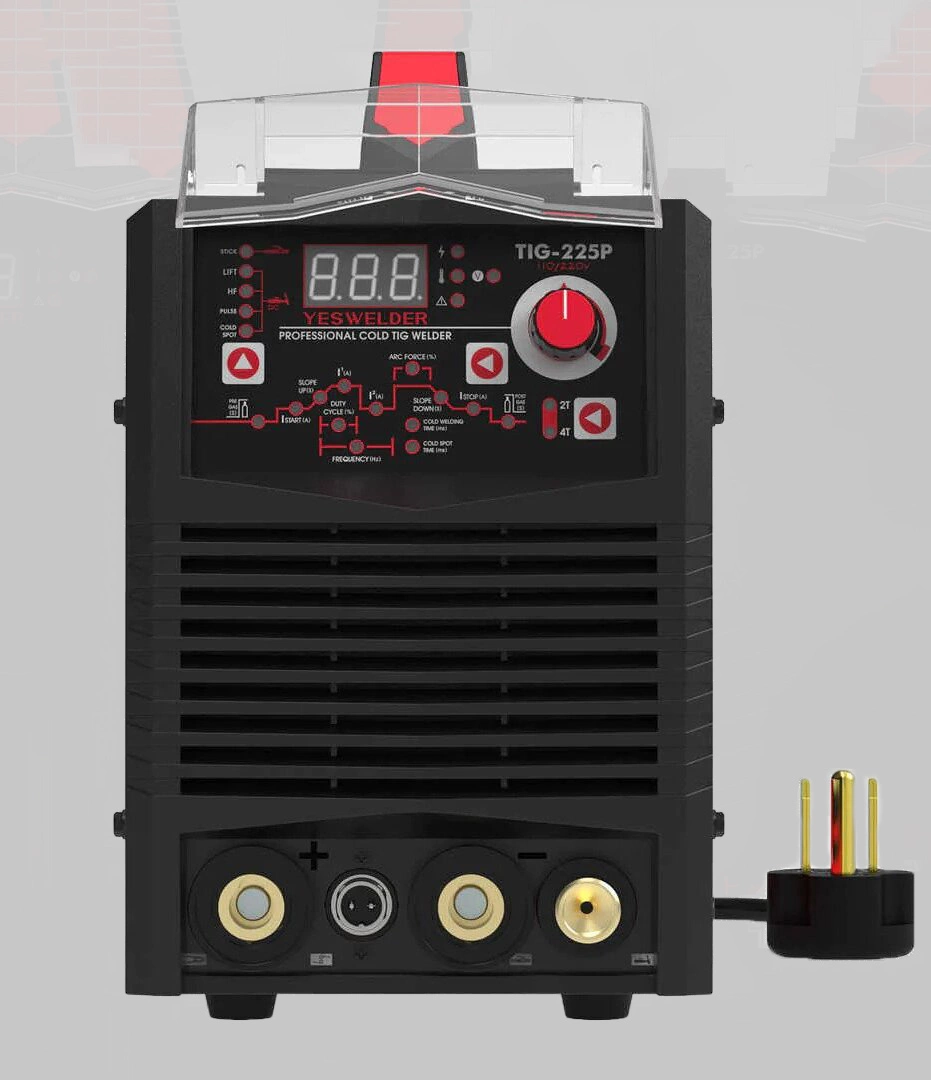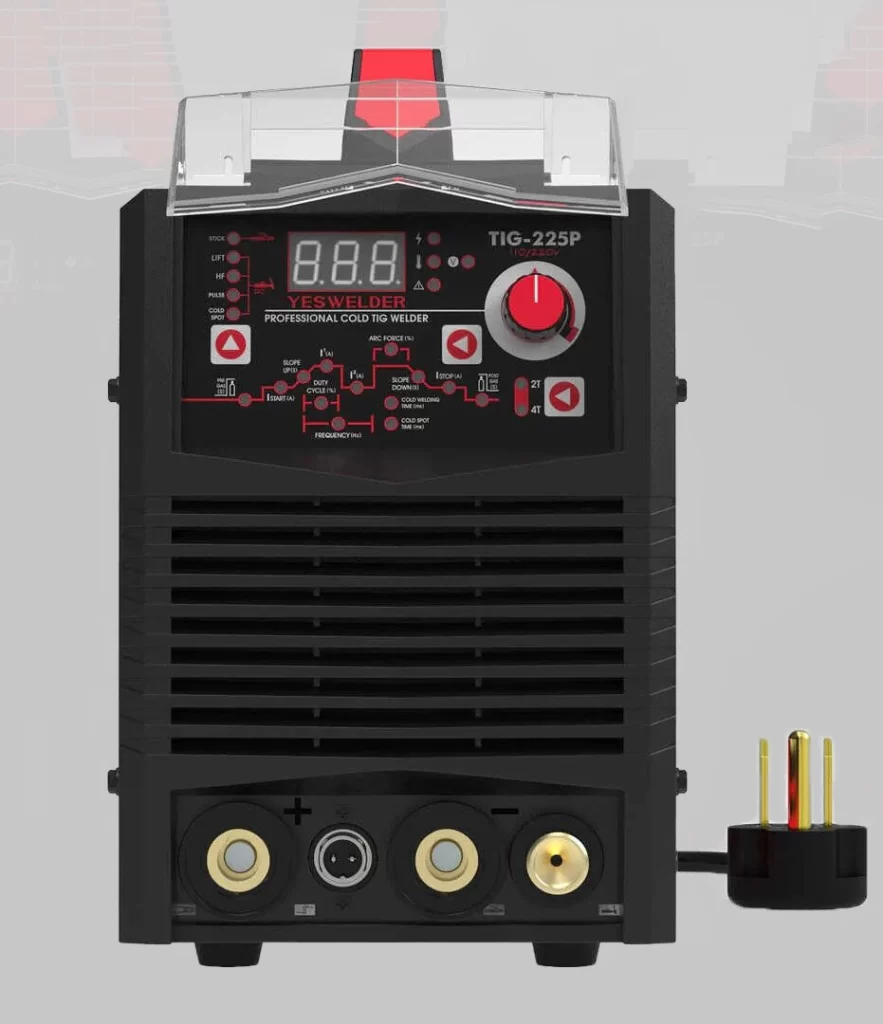 On the other hand, a high-frequency start has been today's industry standard. Again, the tungsten doesn't touch the workpiece, so there is no risk of contamination, which is excellent when welding delicate materials.
Pulsed TIG welding is an excellent option when welding thin or delicate materials such as stainless steel or non-ferrous metals. With a minimum output of 5 amps, YesWelder TIG-225P is a perfect tool. By setting the pulse option, the welding current alternates between min and max. As a result, you can successfully weld thin, highly conductive materials with little to no spatter.
One of the surprises you don't often see in today's TIG welder market is the Cold Spot TIG welding. This type of welding isn't really "cold" but the amount of heat and the time the heat is applied are limited. As a result, there is a lower risk of deformation and discoloration when welding thin and delicate metals.
Overall, these features are usually found in significantly more expensive TIG welders such as Lincoln Square Wave 200 or Miller Dynasty 200. In addition, they are sometimes part of hobbyist machines such as Eastwood TIG Digital 200. However, these machines have one significant advantage over YesWelder TIG-225P by offering AC/DC current.
Stick Welding With YesWelder TIG-225P
If you decide to Stick weld with YesWelder TIG-225P, you get a durable electrode holder you can use to weld at 5-225 amps at 220V and 5-155 amps at 110V. The duty cycle is also rated at 60% so you can weld longer at maximum output. But that's not all.
Even though TIG-225P is a TIG-oriented machine, you still get decent Stick welding features such as arc force, hot start, and anti-stick. The arc force is an excellent feature that provides arc stability by compensating the amperage in the case of a voltage drop. However, you should be careful when setting it since too high arc force can cause electrodes to stick.
A hot start increases the starting amperage to ensure a smooth arc start. In addition, this feature can affect the preheating of the base metal. Anti-stick will help you in case of electrode sticks, as the machine cuts off the current.
Welder Price and Value
YesWelder attracted many potential buyers' attention by pricing their welding machines aggressively. As a result, they got their way to satisfied customers who were amazed by the value for the money spent. Looking at everything we said in this review, it seems like YesWelder TIG-225P is no exception.
TIG-225P is yet another best-for-money machine for home repair and restoration, garage work, and DIY projects. You get excellent features packed into a durable and lightweight device, so it is without a doubt my recommendation.
Pros and Cons Summarized
YesWelder TIG-225P is a well-rounder TIG-oriented machine that offers several different functions, such as Lift TIG, HF TIG, etc., and excellent control over a welder. The biggest drawback, in my opinion, is a DC-only function so that you won't be able to TIG weld aluminum.
However, with features such as pulse or controls such as starting amperage and upslope or downslope and added foot pedal, you will have excellent command over your welding process. Even though it might take some time to master them as a beginner, seasoned welders will enjoy fine-tuning YesWelder TIG-225P.
This is a lightweight but sturdy and durable machine. The design combines new YWM and old and reliable YesWelder machines, so you get the best of both. The first surprise of this welder is a Cold Spot TIG welding option.
While the package introduces two TIG welding torches with consumables and a foot pedal, some units provide more by including a gas flow regulator or tungsten. Nonetheless, the value you get for the money spent is excellent, and buying TIG-225P won't break your bank.
In the past year, we have written a number of reviews on welders and plasma cutters from YesWelder. If you are still interested in this brand and wish to read them, you can find links to the rest of them here.