If you are loking for a decent-quality, budget-friendly welding helmet for hobbyists, YesWelder M800HP is a perfect choice for you.
Considering the features that this helmet offers for the price of less than 100$, this helmet offers great value for the money spent.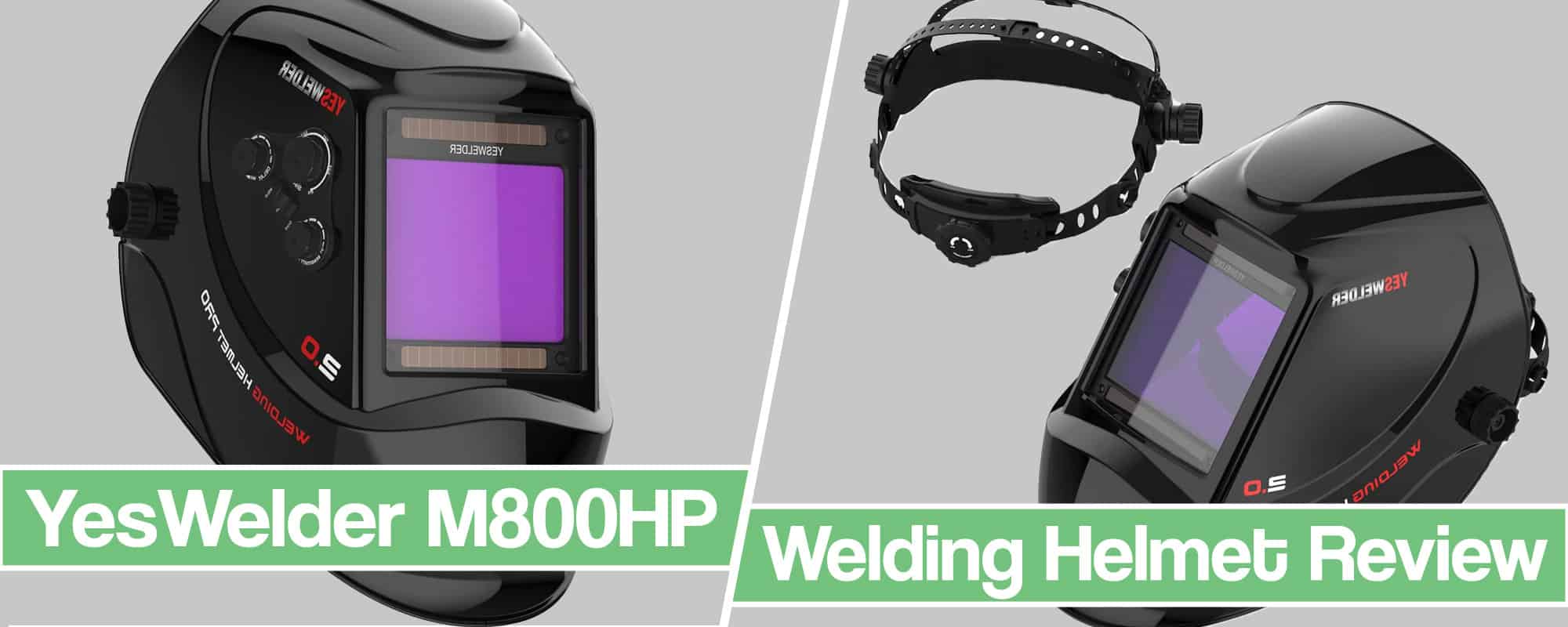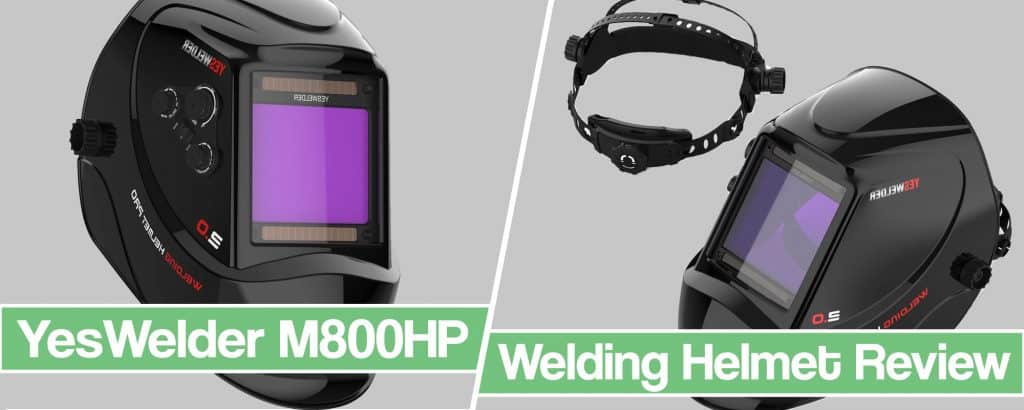 You will love the large view size and clarity which this budget helmet has to offer and you can finally throw away your old, green tint cheap helm. You can read more about the features, specifications but also things we find great and things we don't like about this helmet below.
This welding helmet meets the expected International safety standards, as well as United States ANSI/ISEA Z87.1-2015 and Canadian CSA
Features and technical specifications
Here is a list of all the features and specifications this helmet has to offer.
Features
True Color View
Large Viewing Range
External Controls
Grind Mode
Shade, Sensitivity and Delay Settings
Increased Lifetime
Sturdy and Modern Design
Specifications
Light states– DIN 4.
Dark States – DIN 5~9, 9~13 free adjustment.
View Area –3.93 x 3.66 inch.
Response time (bright to dark)– <1/10000 seconds(normal temperature conditions).
Sensitivity – Adjustable low/high.
Power on/off – Fully automatic.
Power supply – Solar cell changeable battery.
UV/IR Protection – DIN 16
Working temperature – 14 ~ 131 degrees.
Low voltage indicator and ADF self check
True color view
The first thing we should draw your attention to is the feature that is very rare for helmets of this price –a True color view feature. This feature allows you to see clearly through four premium optical lenses with the optical clarity of 1/1/1/2 which will keep eye strain down to a minimum.
However, you should be aware of the color reproduction capabilities. This helmet does not reproduce red color at all. Even though very few welders need red color in welding, if you are looking for this color, in particular, you should invest in some more expensive models.
The reproduction of other colors is satisfactory for your everyday welding.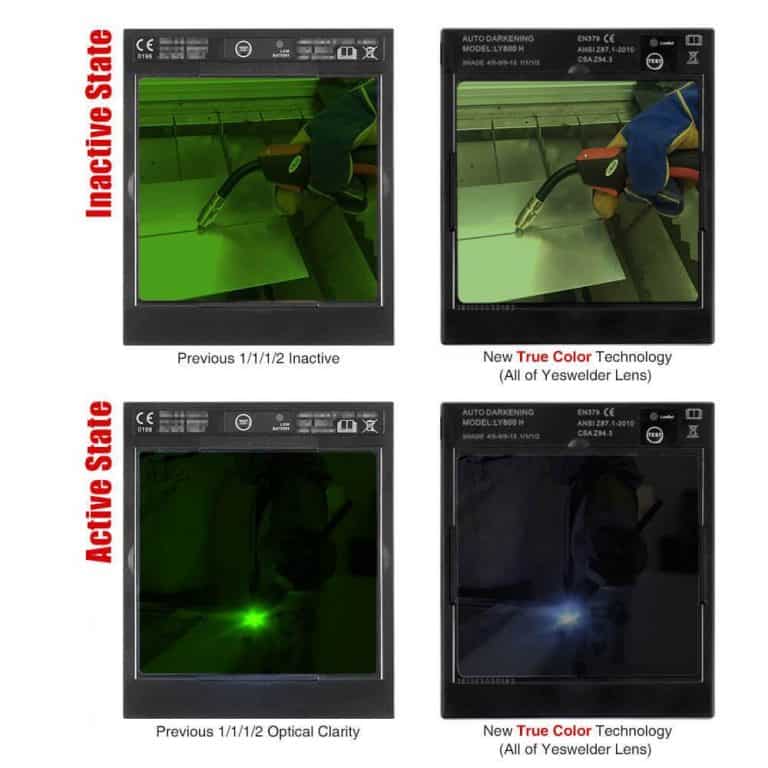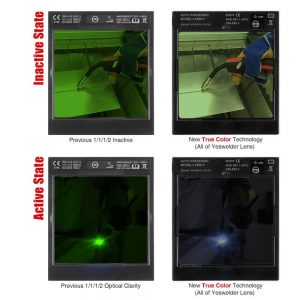 Viewport (Large Viewing range)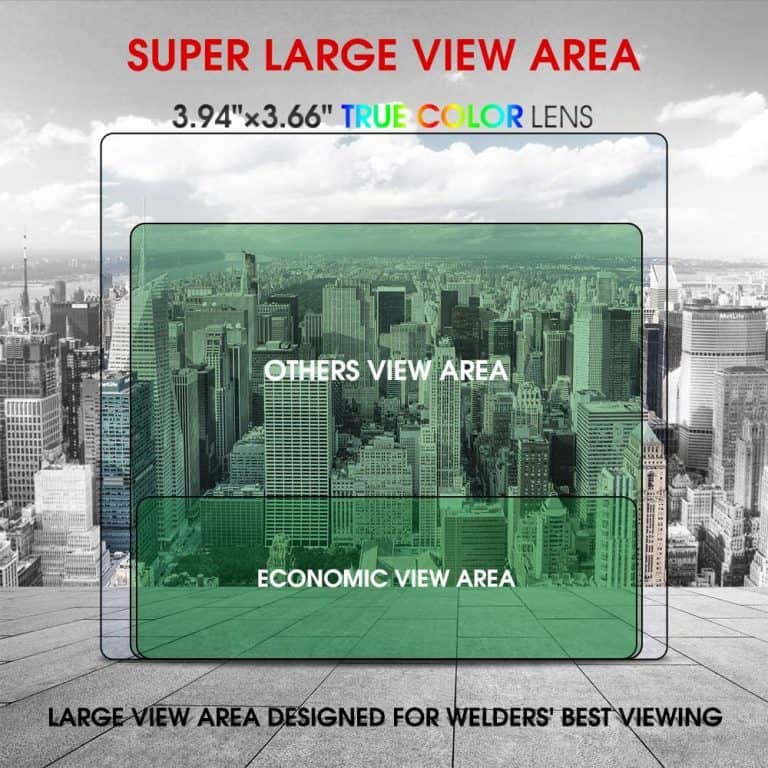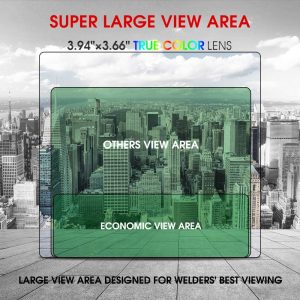 The bright-to-dark switch time of 1/10000 sec in normal temperature conditions is fast enough to protect your eyes from being exposed to the bright arc light.
Another great characteristic of this helmet is a considerably large field of view.
With its 3.93 x 3.66-inch viewing screen, you can see so much better which, combined with the true-color view, makes it perfect for your everyday welding.
External controls
External control buttons that are located on the side of the YesWelder M800HP helmet are a great choice for every welder who uses protective gloves while welding.
It also increases productivity by not having to take off your helmet while welding. Controls buttons are extra large and easy to handle.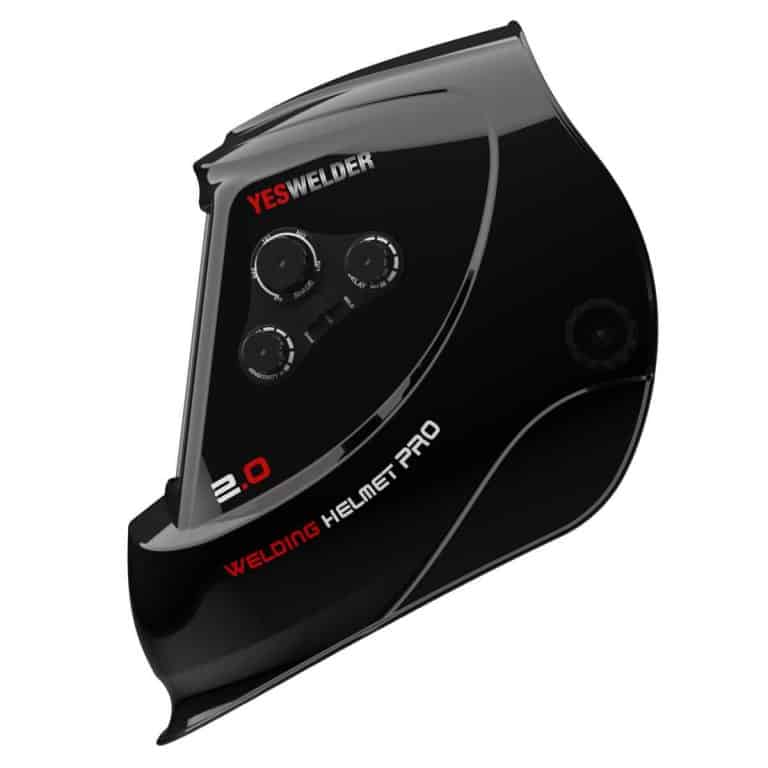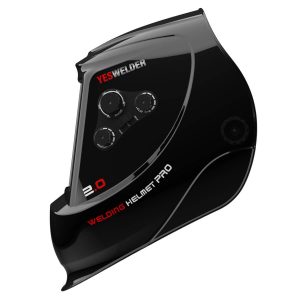 Grind mode and shade selection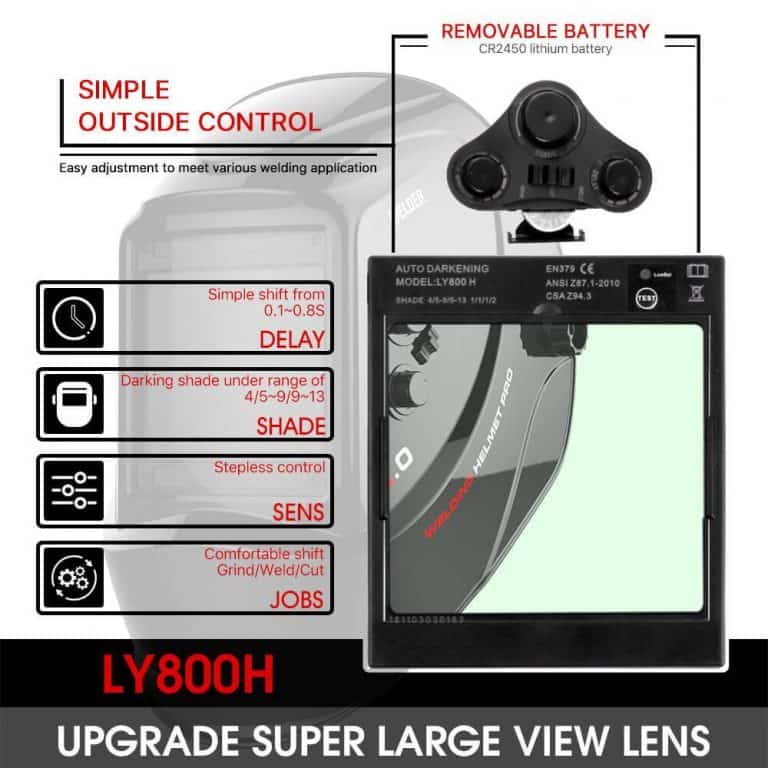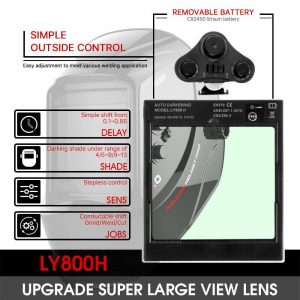 Another feature YesWelder M800HP welding helmet shares with some of the more expensive versions is grind mode. Quick switch between weld, cut and grind modes can make your whole welding process hassle-free.
Shade adjustment in the range of DIN 5~9/9~13 is great for low amps and for high amp flux core welding, but keep in mind that this is not a professional welding helmet and that it has certain setbacks.
Shading gradient problems can occur, and professional welding for several hours every day is not recommended with this helm.
1 x Auto Darkening Welding Helmet
1 x User's Manual
2 x Replacement Lens
1 x Replacement Battery
1 x Storage Bag
1 x Headgear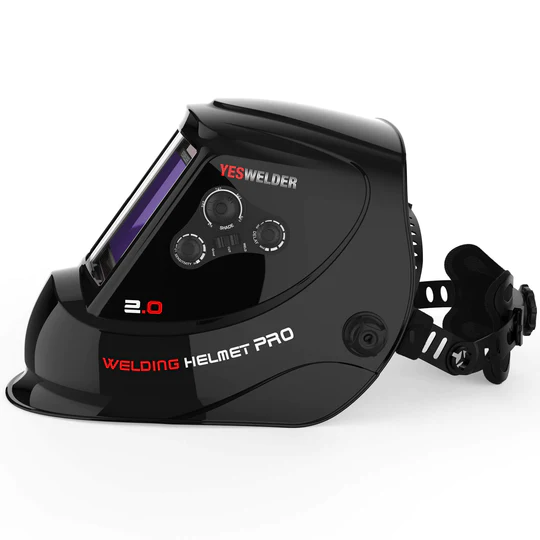 Get 10% Off With Coupon: "-10% WELDPROS"
Internal design
The overall internal design is pretty good. It includes a test button for trying out the auto-darkening before the actual welding as well as a low battery indicator to make sure your helmet doesn't fail you. YesWelder M800HP helmet is also cheater-lens compatible and you can simply slip the cheater lens inside.
Headgear
The included headgear is pretty comfortable and adjustable to fit your head perfectly, but it is of pretty low quality overall. You should consider changing it for a better quality one to ensure perfect comfort while welding with this helm.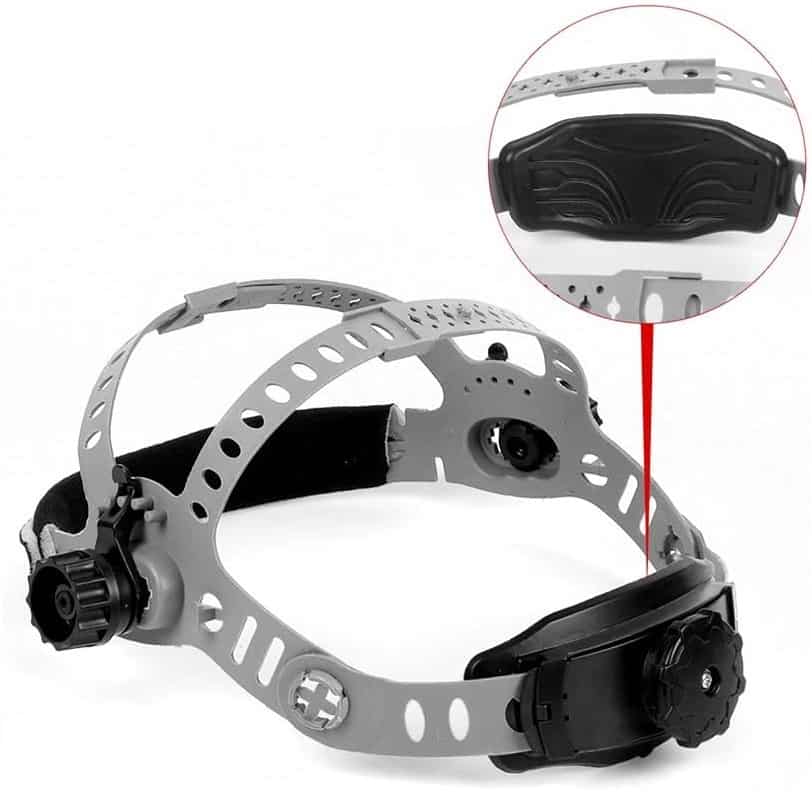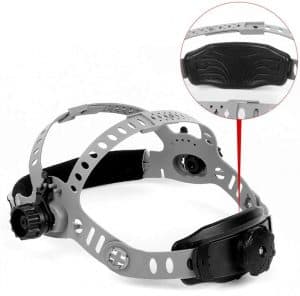 Battery and helmet lifetime
As for the battery, this helm requires only one CR2450 lithium battery which is included and located inside the helm.
A solar cell on the front part of the helmet will make sure your battery lasts longer, and there is a replacement battery included in the package in case you use it up.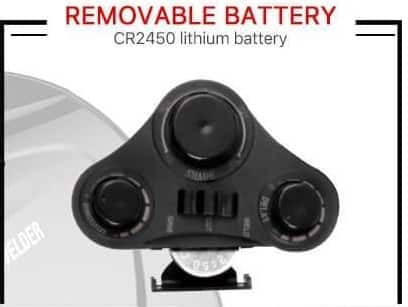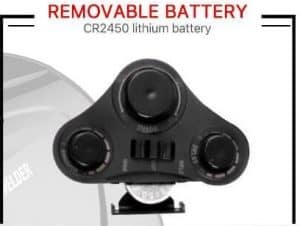 Pros and Cons
Here is a list of things we like and we dislike about YesWelder M800HP welding helmet.
Pros
Has a great value for the money spent (under 100$)
True color feature which is not so common on budget helmets
Easily adjusted and quick set up makes it good for beginners
Large viewing size helps you see more
Great for hobbyist which don't weld long hours
Solar cell charges battery and makes it last longer
Two replacement lenses and replacement battery included
Cheater lens compatible
Cons
Headgear is low quality and may break
Different shade levels on top, center and bottom area of viewing screen.
Does not reproduce red color when welding
Sensitivity and delay controls not very precise
Not for professional and industrial welders which weld long hours
Is this helm really worth the money?
If you are interested in buying the YesWelder M800HP Auto-Darkening Helmet as a hobbyist, welding enthusiast or a frequent welding user, this helm is the best choice money-wise. The value of the YesWelder M800HPwelding helmet that you get for under 100$ is amazing.
With the true-color view and four-lens technology, this helm has to offer, you can finally toss your old green tint cheap helmet away. If this is your first welding helmet, you will be amazed by how easy it is to use it and set it up. If you are a welding professional and you spent long hours welding, or if you are looking for a helmet with precise and fine shade settings to suit your everyday welding, you should look for some more expensive helmets.
For alternatives to this welding hood, check our other article about best welding helmets.
In the past year, we have written a number of reviews on welders and plasma cutters from YesWelder. If you are still interested in this brand and wish to read them, you can find links to the rest of them here.